Where to invest and where to save in a small living room, according to experts
What's worth splashing out on when creating a small living room? Top designers have the answer...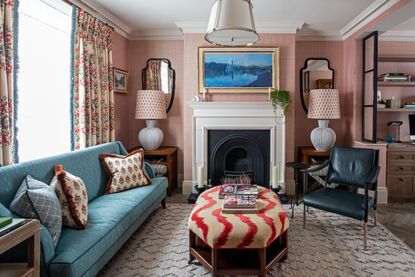 (Image credit: Henry Prideaux)
Knowing where to invest when you're designing a compact living room – and where to save – is vital. After all, our living rooms have to work hard for us, often providing the setting for everything from movie marathons and relaxing to socializing and even working – and smaller spaces have to work doubly hard.
Using small living room ideas like the suggestions below will help you maximize your space – and budget. Even if you have a healthy budget, there are some pieces that simply don't require huge amounts of money for a pleasing aesthetic, while others – such as sofas and storage – are worth the investment.
We asked a number of top designers for their advice on where to spend and where to save in a small living room for the ideal blend of form meets function. Discover which living room ideas are worth investing in and where to tighten the redecorating reins below.
Where to invest and where to save in a small living room
We have listed where to spend in a small living room first – this is where to concentrate your budget.
Then we look at where to save – you'll be surprised at where you can cut your budget without anyone noticing.
Spend on bespoke storage solutions
'When planning the interior for a small space, intelligent storage solutions are key,' says Emma Sims-Hilditch, of design studio Sims Hilditch. 'Think about where the space in the room is not being best utilized, and how you might be able to solve this. We often recess shelving into walls and incorporate hidden cupboards within bench window seating.'
Eilyn Jimenez, founder and creative director of Sire Design, concurs that built-in storage is key, particularly when planning compact apartment living room ideas, explaining: 'Thoughtfully designed storage can improve the shape and function of our interior spaces, especially in small spaces that can look busy very easily.
'In terms of saving space, utilizing built-ins as much as possible is an easy way to avoid the visual clutter that results from packing too much furniture into a small space.
'However, installing a long, low storage cabinet along the length of the living room wall can also help hide any unpleasant electrical cords – it's these small details that add up to the big picture.'
Small living room storage ideas are popular with Liv Wallers, co-founder of Yellow London, too. She says: 'When designing a small living space, it needs to have all the practicalities and comfort of a larger one.
'There are several things we would prioritize our budget on but, first and foremost, good joinery that suits the space and is used to house books, ornaments and a television if needed.'
Spend on multi-layered lighting
Small living room lighting ideas are always worth investing in, as they can make or break the mood of a room.
Emma Sims-Hilditch says: 'Incorporating a combination of wall, ceiling and floor lighting into your living room lighting ideas is always wise. Investing in a 5-amp circuit, which allows you to adjust the brightness of all lighting in a room with a single switch, also works really well.'
Interior designer Maureen Stevens agrees, saying: 'Invest in amazing lighting; ambience is key, especially in small spaces, and a great chandelier sets the mood.'
Spend on statement wallpaper
Bold wallpaper ideas are certainly having a moment, and can transform a small space.
Yellow London's Liv Waller says: 'Wallpaper and fabrics are a favored spend, as they are crucial to creating the atmosphere and feeling of a room.' The botanical wallpaper in this green living room, for instance, creates a crisp, refreshing feel.
And Emma Sims-Hilditch adds: 'We love to use wallpaper in small living rooms. This simple touch adds interest and character to a room. We recommend selecting designs that complement the aesthetic of the rest of the interior, or that reflect the home's natural surroundings.'
Spend on high-quality partitions and doors
'When designing for small spaces such as guest houses, we always recommend splurging first and foremost on function,' says Mary Maydan, founder and principal of Maydan Architects.
'For example, we encourage our clients to invest in high-quality doors that provide good sound insulation between rooms. Beautiful interior glass sliding doors or other types of high-quality partitions allow for a space to be multi-functional: part of the open floor plan most of the time, or enclosed when privacy is needed.'
Nick Cryer, of Berkeley Place, adds: 'Introduce glass (like Crittall) for visual appeal, but also to let the light bounce around and make the room feel more spacious.'
High-quality partitions are particularly important to include when planning long living room ideas that divide into separate zones.
Spend on special, stand-out pieces
Make sure you have enough in the budget for that stand-out piece that steals your heart and can be moved from home-to-home – whether it's art, a screen, a dresser, or exquisite upholstery.
Cortney Bishop told H&G that, though budgets are important, it's even more important to leave a bit of wiggle room for wishlist items. 'Designers have access to truly special one-of-a-kind finds and materials, and those killer items might come with a bit of a price tag,' the South Carolina-based designer said. 'Factor in a little extra money for these opportunities.'
Spend on your sofa or sectional
Let's face it, if there's one thing that's going to get an extraordinarily large amount of use, it's the sofa – and, for this reason, it's worth investing for comfort, longevity and aesthetics. So, knowing how to pick the right couch for a small living room is all important.
'We almost always recommend investing in a custom sofa for a living room,' says Tiffany Leigh, of Tiffany Leigh Design. 'Especially in a smaller room where seating space is at a premium, a good quality sofa tailored to your needs is a solid investment. We recommend upgrading to a bench cushion so you can maximize the number of seats, and selecting a performance fabric for durability.'
Maureen Stevens says the sofa is a key spend. 'Invest in comfortable seating, the couch or your sectional... Basically, your main seating is one thing you should definitely splurge on. It has to be both functional and aesthetically pleasing, with great longevity.'
'For any living room, large or small, the sofa is a key item,' says Charlie Marshall, founder of Loaf. 'There are styles and sizes to suit all spaces and, although a sofa can be a big investment, it's an item that will likely get the most use and that will hopefully be with you for the longest time.'
His top tips? 'When designing a living room and shopping for pieces, remember to measure up! Check that the room is big enough for the size of the sofa – you don't want to be bumping into your furniture or each other. Fitting a new sofa through any tight doorways can sometimes be tricky. Ask for advice on access. Bolt-on arms can be a great solution – making it easier when you next move home too.
'Finally, one of my biggest sofa buying tips is that customers should check that the sofa has a solid wood frame that is held together with screws and dowels – not glued and stapled chipboard versions which break easily and won't last as long. You want to ensure you're getting the best quality product for your budget.'
Spend on custom drapery
'Custom draperies are another option we recommend splurging on,' says Tiffany Leigh. 'Getting draperies customized to your windows and ceiling heights can help a small room appear taller and windows larger, and inexpensive drapes are easy to spot.'
The custom drapes fit perfectly into the bay window of this gray living room to create a sophisticated yet airy look.
Spend on plush pillows
We all put a lot of effort into selecting the perfect finishes and furniture for our home, but when decorating small spaces it's also important to invest in high-quality pillows as well.
Why? Lauren Meichtry, founder of Elsie Home, explains: 'Pillows are interactive. They are not a simple piece of decor on an open shelf that no one touches or pays much attention to. When your guests come over, they sit on your couch and experience the pillows.
'If they are made from scratchy fabric or stuffed to the brim with a cheap filler, they'll likely take the pillow off and place it on the ground, or they may just sit at the very edge of the couch because they're uncomfortable.' Luxurious pillows are a must for any cozy living room scheme.
Save on stylish rugs
Whether it's a bold geometric or a modern farmhouse-style vintage look, 'a good area to save in a small living room is on a less expensive rug that has the look of a more expensive one,' suggests Lauren Lerner, of Living with Lolo.
Other designers agree emphatically. 'Save on a rug!' exclaims Tiffany Leigh. 'There are so many great, affordable vintage-look rugs on the market if the budget is tight!'
And Maureen Stevens says: 'Go for a low-pile, outdoor, inexpensive rug. In a small space, much of it may be covered by furniture. You need it for a little color or pattern, but it won't be the focal point.'
Save on pretty accessories
You don't need to spend a fortune on accessories to create a high-end look in a small space. Opting for less costly accessories makes it easier to adapt to the latest living room trends.
Nicky Mudie, of UK-based design studio Violet & George, says: 'When accessorizing the space, you could spend less on some objets and pick up accessories from Etsy, making them easily changeable if you fancy a switch-up in the future.'
It also means you can afford to max out on artwork and create your very own gallery wall, like the vibrant collection of abstract art pictured here.
Plants and flowers used in interior décor can also look lovely when thoughtfully placed around a small room.
'We recommend foraging in local countryside to find beautiful, seasonal wildflowers and even branches to decorate your home,' suggests Emma Sims-Hilditch. 'This is a lot of fun to do with children, and looks wonderful in the home.'
Save on furniture by refreshing an old sofa
Got a perfectly good sofa that simply needs a little TLC? Reupholstering is a great option to keep a high-quality yet worn out piece looking as good as new.
'If you have tired-looking armchairs or sofas in your small space and are working within a budget, we recommend reupholstering them instead of buying new,' advises Emma Sims-Hilditch.
'We are advocates of renewing and refreshing items of furniture where possible, as not only is this more affordable, but it breathes a new lease of life into an old piece of furniture which would otherwise have been throw away.'
Yellow London's Liv Waller says: 'Once reupholstered in a new fabric, your old sofa can be kept for years to come.' She also suggests heading to furniture fairs to pick up old sofas that can be turned into a gem with a little reupholstering.
Save on flooring by utilizing existing boards
Never overlook a beautiful old timber floor simply because it looks a little rough around the edges. It can add character to a pared-back scheme, like in this chic beige living room.
'If there is a good timber floor, use it,' says Nick Cryer of Berkeley Place. 'A well renovated timber floor with the right lacquer finish is a great feature and will look as good as anything new. Add a simple rug for comfort.'
Save on vintage finds and thrift store styling
Vintage pieces, found items, and family heirlooms are definitely trending and add interest to small spaces.
Whether it's a statement dresser, art, an accent chair, table lamp, or a chic side table, a vintage piece adds character, usually at a pleasing price.
Eilyn Jimenez, of Sire Design, suggests: 'To find the right object or vintage textile, it's important to take into consideration the tonality of the space, such as the paint or wallpaper color. There should be some continuity in color that connects at least one of the objects in the room with the overall living room color scheme.'
Jimenez also advises picking light colors to make a small living room feel bigger: 'When you're working with a small space, keep it light and simple.'
Save on chic side and drinks tables
Interior designer Maureen Stevens says you can be creative with side tables, with vintage or second hand pieces working wonders.
She says: 'Thrift your side and drink tables from the local vintage store. It's practical and will give your space a lived-in look.'
Yellow London's Liv Waller adds: 'There are so many amazing furniture markets where side tables can be picked up for a great saving, rather than buying brand new.'
Save on art with up-and-coming talent
'Art is everywhere and is available to all,' says Clara Ewart, head of design at London-based interior design studio Kitesgrove. 'You don't have to have big budgets to be able to buy high-quality art.
'A good place to start is with graduate shows, start-up galleries and open studio events. For really tight budgets, you can uncover all sorts of treasures in antiques markets, boot sales and decorative fairs.'
She adds: 'Always choose your art because you love it. It will hopefully be with you for the rest of your life, so you should enjoy it just as much in 10 years' time, or when you're living in a different house.'
Artwork particularly pops in neutral schemes when set against pale gray or white living room walls, as above.
Save on paint
It's the age-old question: Is it okay to color-match a paint from a premium brand? Answer: Absolutely. Of course, it's lovely to invest in a beautiful Benjamin Moore or Farrow & Ball hue, but it's perfectly acceptable to have these shades mixed up for you so that you can recreate your favorite living room paint ideas on a budget.
Nick Cryer, of Berkeley Place, says simply: 'Our decorators prefer good quality trade paint (color-matched).' We won't tell if you don't...
Sign up to the Homes & Gardens newsletter
Decor Ideas. Project Inspiration. Expert Advice. Delivered to your inbox.
Ruth Doherty is an experienced digital writer and editor specializing in interiors, travel and lifestyle. With 20 years of writing for national sites under her belt, she's worked for the likes of Livingetc.com, Standard, Ideal Home, Stylist and Marie Claire as well as Homes & Gardens.