Best bathrobes: 6 luxury robes to rest and reprieve to year-round
From silk to cotton, slip into one of the best bathrobes to experience a spa-like experience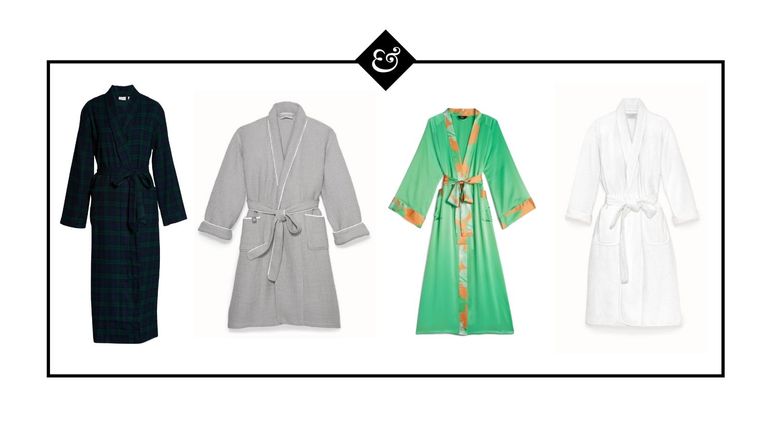 (Image credit: Future)
By Brittany Romano published
Decompressing after a long hard day is never simple, and during the holiday season, it's even more difficult. Still, one foolproof method to eliminate said stress is by having one of the best bathrobes on hand.
The best bathrobes are in a league of their own, providing comfort and warmth, and of course, some much-needed TLC.
By slipping into a silk style, you can instantly create a spa-like experience, with no travel required, compared to heavier materials such as fleece which is as warm and inviting as a weighted blanket (and can be utilized long after leaving your bed).
Yes, having one of the best bathrobes on hand is critical, but finding them is no easy task. There are tons of models on the markets, and determining which works best for you is challenging – which is where we come in.
Afterwards, and if you are redecorating your entire bathroom, peruse our bathroom ideas piece for all of the design inspiration you need.
---
6 of the best bathrobes to invest in
The Homes & Gardens team has muddled its way through the endless array of options on the markets and found six luxury styles that we are deeming the best bathrobes.
1. The White Company Cashmere Long Shawl-Collar Robe
An ultra-luxe cashmere blend that comes in two colors
Specifications
Colors: Dark Charcoal Marl, Porcelain
Material: Cashmere
Length: Length to back of hem 51.5"
Size: S to XL
Reasons to buy
+100% cashmere+Two colors+A long design that's bound to be well-received
Much like our beloved blankets or soft sweaters, the best bathrobes should be something we want to wrap ourselves up in on repeat, and The White Company's Cashmere Long Shawl Collar Robe is an excellent example.
This robe is designed from 100% cashmere and provides an ultra-luxe feeling that's both soft and stylish. You can seamlessly step into any of the two available shades (porcelain and dark charcoal marl) and reap the benefits; from Zoom calls to late-night by the fire, you'll never want to take the finest soft-yarn off.
But why would you? From the maxi-style length to the two extra pockets for storage and the adjustable tie front, it's a given that this luxury robe is a must.
2. Cravings by Chrissy Teigen Luxe Silk Robe
A vibrant full-length robe that is available in plus-size sizing
Specifications
Colors: Emerald, Ruby, Sapphire
Material: 100% mulberry silk
Length: Full-length
Sizes: 1 to 5
Reasons to buy
+Ultra-soft silk+Plus sizes available +Three bold colors
This robe is made for walking — or at least, that's what the Cravings by Chrissy Teigen brand are saying about their silky-smooth robe. Designed from an ultra-soft 100% mulberry silk, this robe is resistant to wrinkles and will hold its form all-day long.
Available in a stunning sapphire blue, gorgeous green emerald, and pink-red ruby tone, each full-length robe hits right at the foot and features a floral print among its collar and flared sleeves.
With two front pockets and an adjustable tie waist to find your perfect fit, this robe is available in sizes one to five, with one beginning the equivalent to an XXS and five being 4XL (meaning it's great for plus sizes!).
Wear to your morning work call and accessorize it up come nightfall; you'll notice this silky selection is a must.
3. Brooklinen Super-Plush Robe
A relaxed oversized fit that has a near-perfect rating
Specifications
Colors: White, Smoke, Graphite, Avocado Stripe, Ink blue, Caramel,Ochre, Striped Flamingo
Material: 100% Turkish Cotton
Weight: 380 GSM
Size: XS/S to XL/XXL
Reasons to buy
+Unisex +Oversized fit+Slew of shades and patterns
When it comes to Brooklinen's super-plush bathrobe, it's not just soft: it's unequivocally one of the fluffiest robes on the market. Ideal for creating an at-home spa-like experience, the 100% Turkish Cotton provides the strongest, smoothest singly-ply yarn, and ultra-durable weave not only prevents breaking but is unmatched in comfort.
Available in eight colors and patterns, shoppers can go for the graphite or smoke for a grey neutral hue or opt for something a bit more colorful with the gorgeous Ochre, that's a stunning mustard yellow shade. Or, in the event you want something a bit more eccentric, there are also limited-edition shades like Avocado stripe or striped flamingo (to name a few) that are even better.
No matter what shade you select, every bathrobe is OEKO=TEX certified for chemical safety and available in sizing from XS/S to XL/XXL, and according to nearly 760 reviewers, it's "everything you could want in a robe," and the "lightweight" is "snug and warm."
4. Eberjey Gisele TENCEL Modal Robe
An eco-friendly robe made from renewable resources
Specifications
Color: Sorbet Pink/ Black, Black/ Sorbet Pink, and Navy/Ivory
Material: 95% TENCEL™ Modal, 5% Spandex
Length:: Short
Sizing: XS to XL
Reasons to buy
+Machine washable+Three colors available+Anti-pilling
If you're in the market for a short style, Eberjey's shorter robe is the one for you. Available in three variations, there's a baby sorbet pink with black contrasting piping, navy with ivory piping, and black with sorbet pink piping, with all three variations mimicking a tuxedo design.
Crafted from soft, sustainable TENCEL fabric, this robe is anti-pilling, machine washable, and, best of all, will not lose its shape over time. With a perfect five-star rating, reviewers love how "soft, feminine, and pretty" this shorter-length robe is, and how the right above-the-knee cut is "flattering" on everyone, and the ultra-soft fabric and "soft draping feels so good."
Factor in the wide range of sizing (from XS to XL), this lightweight everyday robe is perfect for year-round use.
5. L.L. Bean Scotch Plaid Flannel Robe
A flannel fit that is as comfortable as your favorite blanket
Specifications
Color: Black Watch, Angus, Rob Roy
Material: 100% cotton
Length: 52 1/2" length
Sizing: XS to XL
Reasons to buy
+Three plaid colors +Comfortable flannel+Adjustable tie wrap
Once the colder temperatures settle in, flannel is essential, and this bathrobe takes preference this cold-weather season. Available in three plaid variations, there is rob Roy (a black and red plaid), Angus (a purple, red, black plaid), and black watch (green and black plaid), with all of which presenting a full-length, right-above-the-ankle cut.
Crafted from 100% cotton, the ultra-soft material provides enough comfort and warmth without the fear of overheating. Plus, the adjustable tie for a customizable fit, collared neckline and long sleeves only sweeten the pot. Add in the machine-washable feature, and we're confident this sweet style will be on everyone's shopping list.
6. Boll & Branch Women's Waffle Robe
A super-springy waffle style that's constructed from organic materials
Specifications
Color: Blush
Material: GOTS Certified Organic Cotton
Length: Mid-length cut
Sizing: Women's small to women's extra large
Reasons to buy
+Subtle blush hue+Waffle design+Under $100
Lastly, for those who want a super-springy waffle robe, Boll & Branch offers a stunning selection. Constructed from certified organic cotton, this eco-friendly design is available in women's size extra-small to extra-large; the comfortable fit is among its most flattering factors.
The relaxed, cozy fit is perfect for after-shower use, while the beautiful subtle blush tone is a step up from the traditional off-white and polished enough to wear during any at-home work call. With generously designed patch pockets that can fit phones, keys, or whatever extras you need and trimmed with Boll & Branch's signature soft fabric piping, all that's left to do is adjust the waist tie band and wear this luxurious robe on repeat.
---
What to consider when buying a luxury bathrobe?
When it comes to finding one of the best bathrobes, or at least the one that is proper for you, aside from boiling down to personal preference, it's critical to also tune into the material.
Some bathrobes are constructed with the intent to keep yourself dry, so you'll want to locate absorbent materials. In this case, we'd recommend shying away from silks, flannels, or any heavy material as those will stain the robe or leave it feeling "damp." It's best to gravitate toward lighter styles such as cotton construction to get the job done.
How should your bathrobe fit?
A good rule of thumb when shopping for one of the best bathrobes is to size up from your original size. While your regular size will most likely fit you perfectly, for lounging and comfort purposes, you'll want something relaxed and oversized without being too big.
Brittany Romano is Future's U.S. Shopping Editor, residing on the Upper East Side in New York City. Originally hailing from Connecticut and a graduate of New England College, Brittany started her career as a freelance fashion market assistant at Marie Claire. She later joined AMI, where she designed a highly profitable commerce vertical. Noted for her award-winning content, she's covered everything from celebrity beauty hacks to the most lavish home decor; Brittany has maintained her penchant for the finer things in life.
If a genie granted Brittany one wish, it would be for Kelly Wearstler to bring her vision to life and transform her living space, but until then? You'll find Brittany continuously evolving her chilled-out sophisticated style, shifting her attention to eclectic pieces (with a hint of retro), grounded by a rich understanding of history, focused on functionality, luxury, and quirkiness.
Find her on Instagram @ItsBrittanyRomano