Best bathrobes: 9 luxury robes to rest and relax in year-round
From silk to cotton, slip into one of the best bathrobes to experience a spa-like experience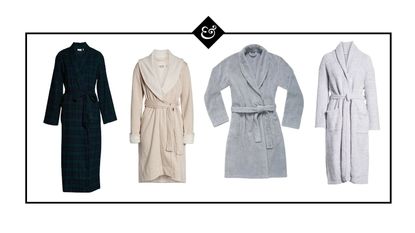 (Image credit: L.L.Bean/ UGG/Brooklinen/ Barefoot Dreams)
Nothing says self-care like wrapping yourself in one of the best bathrobes. Whether you're preparing for your day or unwinding from it, spending it in a comfy robe is the very definition of taking care of yourself.
The best bathrobes are in a league of their own, providing comfort and warmth, and of course, some much-needed TLC.
By slipping into a silk style, you'll immediately feel elevated in your choice of design, or lounge in a classic terry cloth design to instantly create a spa bathroom experience with no travel required, or indulge in heavier materials such as fleece which is as warm and inviting as a weighted blanket (and can be utilized long after leaving the warmth of your bed).
Clearly, there are lots of ways you can go about choosing a new bathrobe, you may even wish to have an entire section of your walk-in closet dedicated to this loungewear essential.
There are tons of robes out there – and the Homes & Gardens team has tried its way through an endless array of options on the market and found eight luxurious styles that we are deeming the best bathrobes. You may find yourself wanting them all!
9 of the best bathrobes to invest in
You can trust Homes & Gardens. Our expert reviewers spend hours testing and comparing the latest products, helping you choose the best for you. Find out more about how we test.
1. UGG Duffield II robe
A fleece-lined robe with a refined design
Specifications
Colors: pink heather, oatmeal heather, black bear heather, cream
Material: 94% Cotton, 6% Elastane, 100% Polyester pile
Sizes: XS to XL
Reasons to buy
+
Soft and Cozy
+
Doesn't pill or wrinkle
+
Easy to wash
Reasons to avoid
-
May be too heavy in warmer months
The UGG Duffield II is everything you could want in a robe: it's warm and cozy, luxurious without being overpowering, pocketed, and easy to wash.
The exterior of the robe has a soft jersey finish while the inside, cuffs, and lapels get the fleece treatment, for a look that is inviting us to stay in bed all day long. For added style measure, the robe has a slightly swooping high-low design for extra length in the back.
The robes are comfortably sized in standard XS-XL sizes and a substantial number of colors. We'd describe the fit as more slim-fitting, but trust us when we say there is no compromise in comfort.
2. Lunya Washable Silk Robe
A luxurious silk robe for living in
Specifications
Colors: Tan, White, Gray, Blue, Black, Limited Edition Colors
Material: 100% silk
Sizes: XS/S - 1X
Reasons to buy
+
Ultra-soft silk
+
Washable
+
Sustainably made
This robe is so stunning, you may be inclined to style it as outerwear, but this silky confection is made for lounging, or taking Zoom calls. Lunya's special and sustainably produced silk is washable, for easy care and so you can actually live in this robe, as opposed to being worried about dirtying it. Silk is also thermo-regulating so you'll never feel too hot or cold; it's perfect all year long.
Lunya emphasizes sustainability by using only bluesign®-approved dyes which are manufactured with responsible resources and components with the lowest possible impact on people and the environment.
It's available in a knee-length or a full-length version and is designed with pockets and a tie-style waist. We're particularly drawn to the loosely elasticized cuff that gives the entire silhouette an elegant shape.
Lunya's robes appear to be very in demand, and as of February 2022, not all sizes and colors are in stock, but never fear, a waitlist option is available if you're married to a particular size.
3. Brooklinen Super-Plush Robe
A relaxed oversized fit that has a near-perfect rating
Specifications
Colors: White, Smoke, Graphite, Avocado Stripe, Ink blue, Caramel,Ochre, Striped Flamingo
Material: 100% Turkish Cotton
Size: XS/S to XL/XXL
Reasons to buy
+
Unisex
+
Oversized fit
+
Slew of shades and patterns
When it comes to Brooklinen's super-plush bathrobe, it's not just soft: it's unequivocally one of the fluffiest robes on the market. Ideal for creating an at-home spa-like experience, the 100% Turkish Cotton provides the strongest, smoothest singly-ply yarn, and ultra-durable weave not only prevents breaking but is unmatched in comfort.
Available in eight colors and patterns, shoppers can go for the graphite or smoke for a grey neutral hue or opt for something a bit more colorful with the gorgeous Ochre, that's a stunning mustard yellow shade. Or, in the event you want something a bit more eccentric, there are also limited-edition shades like Avocado stripe or striped flamingo (to name a few) that are even better.
No matter what shade you select, every bathrobe is OEKO-TEX certified for chemical safety and available in sizing from XS/S to XL/XXL, and according to nearly 760 reviewers, it's "everything you could want in a robe," and the "lightweight" is "snug and warm."
4. Barefoot Dreams CozyChic Unisex Bathrobe
The softest robe you'll ever touch
Specifications
Colors: Several
Material: Polyester
Size: 1,2,3
Reasons to buy
+
Insanely soft and cozy
+
Unisex
+
Will not shrink or pill
You know that feeling you get when you come across something buttery soft and smooth... that's the feeling we get wrapped in a Barefoot Dreams robe, made with the brand's infamous CozyChic material, a plush microfiber that falls in feel between a fleece and a sherpa that is irresistibly soft and cozy. The robe can be found in a series of spa-like colors and features a rope tie in the same CozyChic fabric and roomy pockets.
The machine-washable microfiber also won't ever shrink, wrinkle or pill, so you know it'll stay in your closet for the long haul. Barefoot Dreams recommends storing flat rather than hanging which will make them stretch, and to avoid high heat when drying, and to instead air fluff, or let lie flat to dry.
Sizing is by numbers, with a 1 suggested for people who are 5'-5'6", and weigh 100-140 lbs; 2 is for people who are 5'7"-5'10" and weigh 140-180 lbs, and 3 is for people 5'8"-6' & up and weigh 180-220 lbs. The robes run large, as they are unisex, so you can size down.
5. Casper Snoozewear Blanket Robe
A robe for that wrapped in a comforter feeling
Specifications
Colors: White, Oatmilk, Indigo
Material: Cotton and Polyfill
Weight: 380 GSM
Size: S-L
Reasons to buy
+
Extremely comfortable
+
Don't feel overheated
+
Runs large
+
Unisex
+
Heavy, like a weighted blanket
Reasons to avoid
-
Not the most flattering fit
-
Bulky to store
In the name of all things cozy, Casper knows how sometimes we just want to wrap our favorite duvet around us. Now, you don't have to mess up your bed, and you can still enjoy that wrapped in the covers sensation.
Casper's new Snoozewear collection has its blanket robe at the forefront of the launch, and it's available in a crisp white, deep indigo blue, and an earthy oatmilk color. It's puffy and oversized and exactly like being wrapped in your comforter, but with a button to keep it closed, armholes for convenience, pockets for necessity, and a straight lapel for a little bit of style. It's also quite heavy, almost like the calming effect of a weighted blanket on your shoulders.
It arrives in a massive box, making it perfectly giftable, and giving off the true element of surprise as to what joy lies inside. However, because of its size, you'll want to make sure you have ample closet space because it is quite voluminous.
6. The White Company Cashmere Long Shawl-Collar Robe
An ultra-luxe cashmere blend that comes in two colors
Specifications
Colors: Dark Charcoal Marl, Porcelain
Material: Cashmere
Length: Length to back of hem 51.5"
Size: S to XL
Reasons to buy
+
100% cashmere
+
Two colors
+
A long design that's bound to be well-received
Much like our beloved blankets or soft sweaters, the best bathrobes should be something we want to wrap ourselves up in on repeat, and The White Company's Cashmere Long Shawl Collar Robe is an excellent example.
This robe is designed from 100% cashmere and provides an ultra-luxe feeling that's both soft and stylish. You can seamlessly step into any of the two available shades (porcelain and dark charcoal marl) and reap the benefits; from Zoom calls to late-night by the fire, you'll never want to take the finest soft-yarn off.
But why would you? From the maxi-style length to the two extra pockets for storage and the adjustable tie front, it's a given that this luxury robe is a must.
7. Eberjey Gisele TENCEL Modal Robe
An eco-friendly robe made from renewable resources
Specifications
Color: Sorbet Pink/ Black, Black/ Sorbet Pink, and Navy/Ivory
Material: 95% TENCEL™ Modal, 5% Spandex
Sizing: XS to XL
Reasons to buy
+
Machine washable
+
Three colors available
+
Anti-pilling
+
Can be personalized
If you're in the market for a short style, Eberjey's shorter robe is the one for you. Available in three variations, there's a baby sorbet pink with black contrasting piping, navy with ivory piping, and black with sorbet pink piping, with all three variations mimicking a tuxedo design.
Crafted from soft, sustainable TENCEL fabric, this robe is anti-pilling, machine washable, and, best of all, will not lose its shape over time. With a perfect five-star rating, reviewers love how "soft, feminine, and pretty" this shorter-length robe is, and how the right above-the-knee cut is "flattering" on everyone, and the ultra-soft fabric and "soft draping feels so good."
Factor in the wide range of sizing (from XS to XL), this lightweight everyday robe is perfect for year-round use.
8. Boll & Branch Women's Waffle Robe
A super-springy waffle style that's constructed from organic materials
Specifications
Color: Blush
Material: GOTS Certified Organic Cotton
Length: Mid-length cut
Sizing: Women's small to women's extra large
Reasons to buy
+
Subtle blush hue
+
Waffle design
+
Under $100
Lastly, for those who want a super-springy waffle robe, Boll & Branch offers a stunning selection. Constructed from certified organic cotton, this eco-friendly design is available in women's size extra-small to extra-large; the comfortable fit is among its most flattering factors.
The relaxed, cozy fit is perfect for after-shower use, while the beautiful subtle blush tone is a step up from the traditional off-white and polished enough to wear during any at-home work call. With generously designed patch pockets that can fit phones, keys, or whatever extras you need and trimmed with Boll & Branch's signature soft fabric piping, all that's left to do is adjust the waist tie band and wear this luxurious robe on repeat.
9. L.L. Bean Scotch Plaid Flannel Robe
A flannel fit that is as comfortable as your favorite blanket
Specifications
Color: Black Watch, Angus, Rob Roy
Material: 100% cotton
Length: 52 1/2" length
Sizing: XS to XL
Reasons to buy
+
Available in petites, regular, and plus
+
Comfortable flannel
+
Adjustable tie wrap
Once the colder temperatures settle in, flannel is essential, and this bathrobe takes preference this cold-weather season. Available in three plaid variations, there is rob Roy (a black and red plaid), Angus (a purple, red, black plaid), and black watch (green and black plaid), with all of which presenting a full-length, right-above-the-ankle cut.
Crafted from 100% cotton, the ultra-soft material provides enough comfort and warmth without the fear of overheating. Plus, the adjustable tie for a customizable fit, collared neckline and long sleeves only sweeten the pot. Add in the machine-washable feature, and we're confident this sweet style will be on everyone's shopping list.
---
What to consider when buying a luxury bathrobe?
When it comes to finding one of the best bathrobes, or at least the one that is proper for you, aside from boiling down to personal preference, it's critical to also tune into the material.
Some bathrobes are constructed with the intent to keep yourself dry, so you'll want to locate absorbent materials. In this case, we'd recommend shying away from silks, flannels, or any heavy material as those will stain the robe or leave it feeling "damp." It's best to gravitate toward lighter styles such as cotton construction to get the job done.
How should your bathrobe fit?
A good rule of thumb when shopping for one of the best bathrobes is to size up from your original size. While your regular size will most likely fit you perfectly, for lounging and comfort purposes, you'll want something relaxed and oversized without being too big.