Tour this contemporary English garden with a natural swim pool at its heart
Waves of colorful, perennial planting surround the formal, naturalistic swim pool at the heart of this award winning garden, which is brimming with design ideas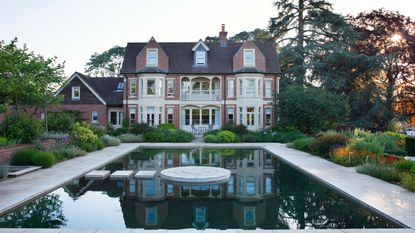 (Image credit: Annaick Guitteny)
Winner of Homes & Garden's Best Garden Reader Award 2021, this garden realises the harmonious balance between architecture and outdoor setting, which is best achieved when they are designed concurrently.
With architectural plans for the house on the drawing board, the ambitious and cohesive garden design was formulated, with shared ambitions regarding style, space, function and materials.
Be inspired by the landscaping and planting design tips for your own garden ideas.
Natural swim pool design
The concept of a formal, geometric but natural swim pool idea, strategically in line with the architecture and using the same materials of the house, was central to the entire design.
Garden designer Anthea Harrison was challenged to devise a scheme which elevated the status of the pool to become the garden's main feature.
'Aesthetically more 'classical water feature idea' than swim pool, this dual-purpose, reflective body of water creates apparent movement as clouds race across the sky, its mirror-glass face magically bounces shards of light right into the house,' reveals owner Jo Carter.
Working with the garden's sloping contours
On a more practical level, the need to filter, clean and recirculate water, became an integral part of the design.
'The pebble-filled rills are dramatically stepped to accommodate the sloping garden's natural contours, and draw water, by gravity, down through the garden to a semicircular filtration pool deftly disguised by water-purifying reeds and species Iris pseudocorus,' explains Anthea.
A waterfall clean cut pathway follows the geometry of the water-filled rill towards a circular seating area and fire pit beneath mature Blue Atlas cedar, Cedrus atlantica 'Glauca'.
A rich tapestry of textured verdant planting is pricked with white Astrantia major, blue Iris sibirica 'Caesars Brother', purple Salvia nemerosa ''Ostfriesland', lime flowered Lady's Mantle, Alchemilla mollis.
The rest of the garden pivots around this intricate and aesthetic water system, with key elements sited according to convenience, aspect and vistas.
A garden in harmony with its surroundings
The overarching scheme sought to transform the 3.5 acre, grass-filled plot, while treasuring ancient majestic trees and wide open vistas of open countryside.
'We wanted to create an intimate garden, in harmony with our natural surroundings, with different levels or spaces where we could enjoy some solitude, relax, bathe or swim and comfortably entertain,' explains owner Jo Carter.
A rich tapestry of textured verdant planting blends into the landscape beyond.
An informal earth garden path idea wends through the tree-lined stroll garden. Here Acer platanoides 'Princeton Gold' and white-legged silver birch, Betula utilis jacquemontii are under planted with shade tolerant perennials including Iris 'Cliffs of Dover', Iris sibirica 'Caesar's Brother,' purple-spired Salvia caradonna, Veronicastrum lavendelturm.
Naturalistic planting design includes waves of Euphorbia wulfenii and fountaining grasses, Stipa tenuissima, Molinia caerulea subsp. arundinace 'Transparent' and Stipa gigantica.
Formal and informal planting areas
A subtle change of touch ensures the landscaping and planting, more formal in proximity to the house, become increasingly informal as the gardens drift outwards to sit comfortably in the context of the outlying countryside.
The chiselled-stone terraces and steps around the pool and rill garden are replaced by meandering hoggin pathways in the stroll garden.
Structural blocks of clean-clipped yew hedging in the upper garden give way to lower-lying, more decorative yew topiary domes tucked in among fountaining ornamental grasses and mounded perennials.
Use of screens to create 'rooms'
The area has been loosely partitioned using garden screening ideas to create 'open' rooms, airy spaces, artfully divided using decorative laser-cut or solid Corten steel screens.
The screens gently restrain the garden's more formal elements while funnelling the view towards specific focal points or garden vistas.
Outdoor living areas conveniently placed
With clever use of garden zoning, the outdoor kitchen and outdoor dining areas and areas for relaxing and enjoying the views, are conveniently and compatibly placed in proximity to the house.
The broad, raised terrace, overlooking the pool and wider garden, caters for entertaining in numbers, large or small. A double row of young planes provides dappled shade for diners, replacing the planned trio of mulberries which 'fell short' of the task.
Planting of successional blooms for a long season of interest
The summer garden bustles with a gargantuan matrix of 5,000 seasonal and successional plants.
'The scale of the planting is immense,' reveals Anthea, delighted that the owners insisted on voluminous swathes of planting in place of more usual expanses of grass. 'The original brief was for low-maintenance garden border ideas, but the sheer volume of plants requires the full-time attention of a gardener,' explains Jo.
'The garden constantly evolves as we make our own mark, introducing new flowering plants where a few original plants have failed.'
The breadth, intensity and style of the planting seemingly absorbs and cushions the weight of the hard landscaping features. As a result, an exquisite tapestry of texture, form and color rolls seamlessly outwards from the house, wrapping around a variety of seating areas designed to catch the rising midday or setting sun.
Different planting color palettes
Jo has driven the striking overlay of color, with different garden color schemes for each area.
Vivacious and intense reds, oranges and yellows color the 'hot borders' in closest proximity to the house, while gentler, softer tones, blues and white grace the more distant planting.
The overall result is a beautifully crafted garden, perfectly designed for solitude or sharing.
How to incorporate key elements of the garden design with success
Garden designer Anthea Harrison advises on how to incorporate key elements into the garden with minimal impact.
Plan the location of seating and lounging areas before landscaping – push back seating areas, recessing them, integrating them into the actual design space, rather than protruding outwards onto walkways and terraces.
Understand the movement of the sun and shade in your garden and position seating accordingly.
Choose simple, low lying furniture which complements the contemporary style and lines of the landscaping – in this design, minimal, geometric 'slab' sofa and coffee table blend with the pavers.
Dress with cushions in colors to complement the surrounding planting – greens and purple, orange would also work.
Disguise unsightly but desirable features; a large, square hot tub is minimized, discreetly interred in front of the low box hedge, its cover resembles the stone pavers
Choose garden buildings which blend into the garden; the rectangular pool house, slots neatly into the elbow of a yew hedge, its lighter sage green paintwork mirrors the dominant silver grey/green of nearby planting.
Detract the eye and cushion the effect by surrounding but not concealing entertaining areas with mounds of lush and abundant flowering perennials and grasses.
Use living walls and decorative, filigree screens to enhance privacy and create shelter.
Sign up to the Homes & Gardens newsletter
Decor Ideas. Project Inspiration. Expert Advice. Delivered to your inbox.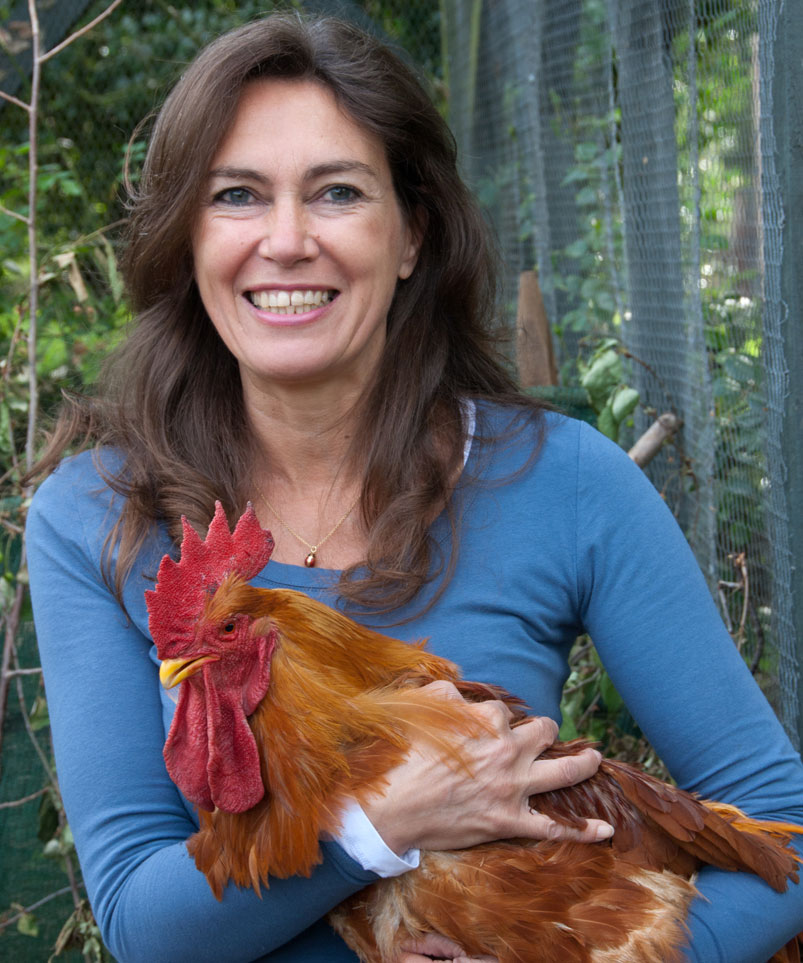 A creative freelance writer, stylist and photographer, Jacky Hobbs has created home and garden features for prestigious lifestyle magazines for over two decades.
An earlier career travelling the world as a fashion and homeware buyer developed her passion for lifestyle, interiors, vintage, travel and later gardens.