A classic English garden with contrasting all white and colorful areas – take a tour
This elegant English garden is one of two distinct parts with a more formal white garden contrasting with an area of colorful cottage garden planting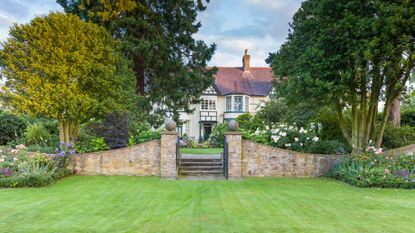 (Image credit: Joe Wainwright)
The beautiful garden at Bryn Bellan is a story of two halves, and perfectly complements the late Georgian house is surrounds, which was enlarged in the Victorian era.
The garden extends over two levels – the upper area more formal, with elegant white-themed flower borders, while the lower area is brimming with colorful blooms in the cutting garden and beds.
Now boasting many classic English garden ideas, the plot was overgrown and neglected when the owners took it on, but over the course of about 20 years they have gradually transformed a 'jungle' into the tranquil and picturesque vision it is today.
'The garden wasn't a blank canvas: it was a wilderness on two levels joined by a slope,' says owner Gabrielle Armstrong, who masterminded the redesign employing sloping garden ideas, supported by her husband Trevor Ruddle.
The remains of a carriage turning circle now form a semi-circular sunken lawn in front of the house, over which a stately Sequoiadendron giganteum – commonly known as Wellingtonia – casts its beautiful shadows.
Before redesigning the garden, Gabrielle took the time to observe things, such as the position of the sun at certain times of the day.
'The sequoiadendron is around 150 years old and I noticed how it cast the most amazing light and shade over the lawn at any time of day,' she says.
She needed to include shrubs for shade as much of the sun to his part of the garden is taken away by the trees, which meant she couldn't include a lot of perennials.
Gabrielle's solution for bringing some kind of order to the garden, and to make the two levels easier to negotiate, was to tame its slope with a flight of steps flanked by a pair of pillars, and build a new curved garden wall to create two distinct spaces.
Elegance and formality lies at the heart of the upper garden, with its semi-circular lawn surrounded by a rope-edged gravel garden path idea and framed by borders planted with structural evergreen shrubs and topiary for year-round good looks.
Flowering shrubs and perennials are chosen for their calming, variegated foliage and white flowers.
The narrow patio at the back of the property was widened to provide the perfect spot for entertaining friends, using carefully-sourced Jacobean bricks to seamlessly tie in with the original section. A semi-circular tea terrace was created to catch the afternoon and early evening sun.
'This part of the garden has been designed with structure and form and with a green and white garden color scheme. It enhances and sits comfortably with the style of the house,' explains Gabrielle.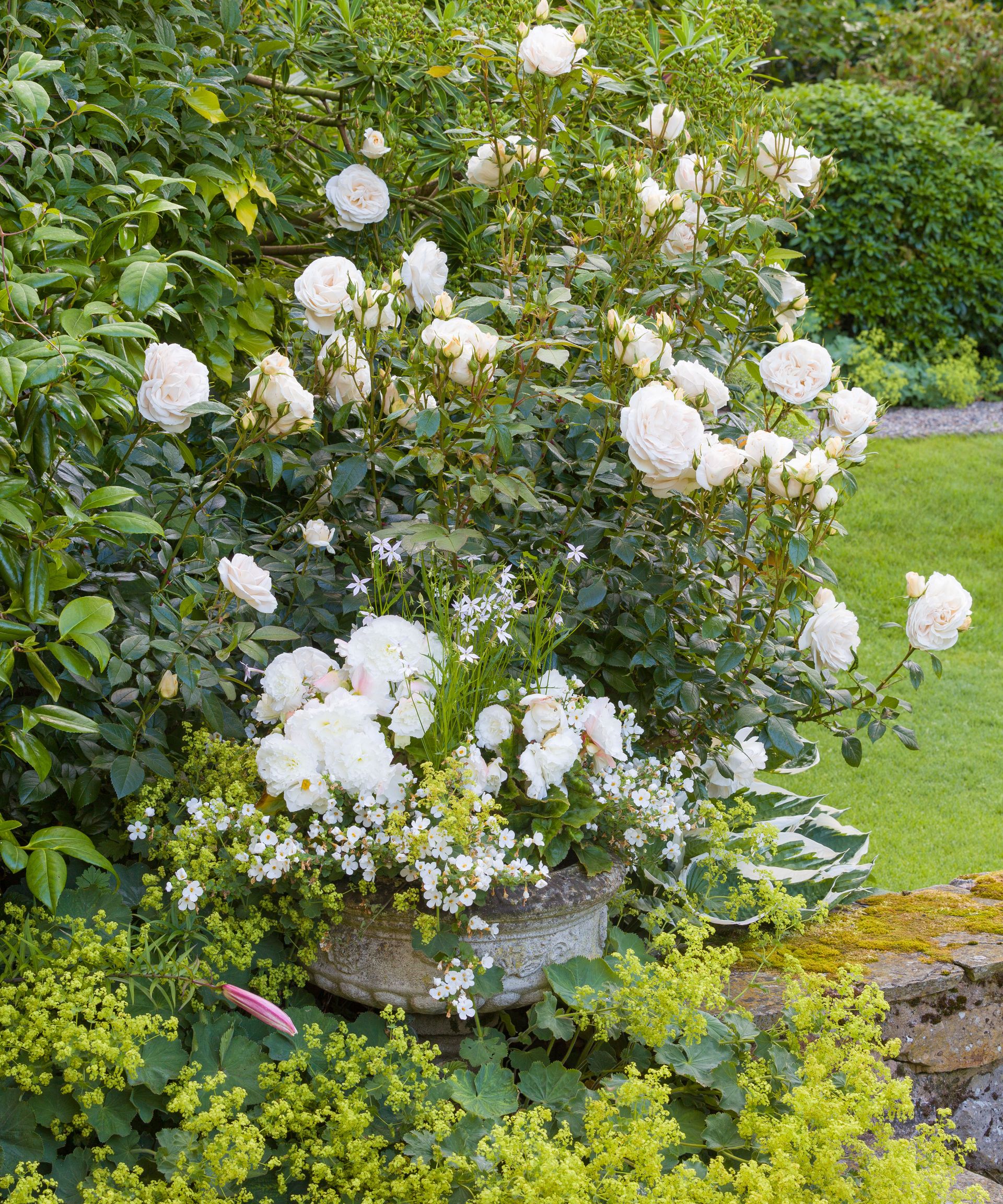 'The white garden at Sissinghurst has always had quite an effect on me, and I am greatly inspired by Wollerton Old Hall in Shropshire,' says Gabrielle.
Gabrielle chose to grow camellias, rhododendrons, spring and fall bulbs, cyclamens, Hydrangea arborescens 'Annabel' and 'Champagne Moment' roses.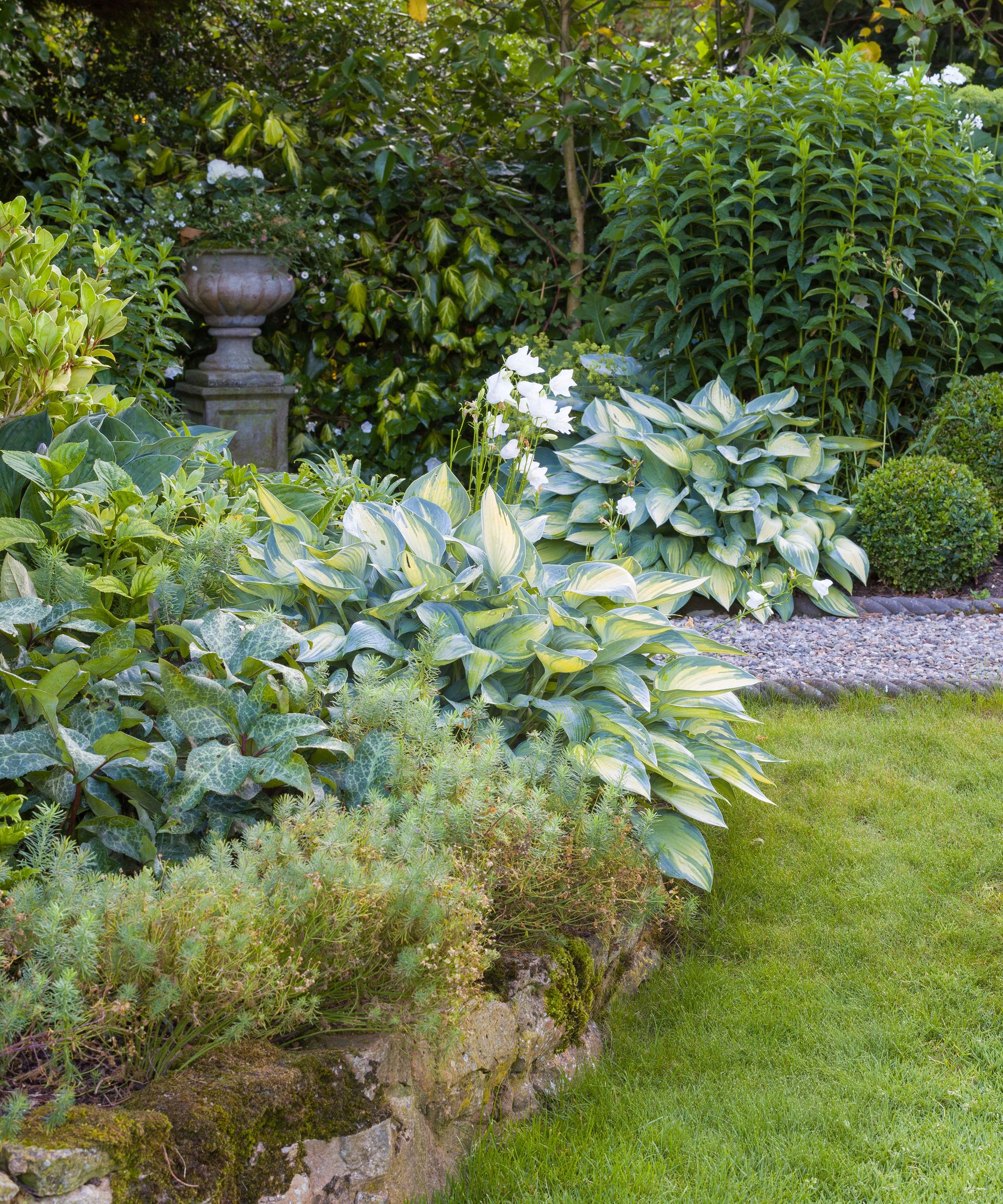 The gateway between the two gardens is positioned to create a lovely vista across a lawned area, punctuated with specimen fast growing trees.
These include a tall weeping silver birch underplanted with an oval bed of naturalized spring bulbs, starting with snowdrop and crocus and continuing with narcissi and camassias, which look iridescent in the spring sunlight.
In the contrasting lower garden area, two matching curved flower bed ideas framed with low box hedges are are positioned close to the wall, planted with roses and perennials in hues of purple, lilac, coral and apricot.
Tucked away to the far right is a romantic cut flower garden surrounded by a trellis fence, initially put in place to deter a Jack Russell terrier but now proving useful for keeping rabbits at bay and adding an ornamental note.
Here Gabrielle grows a succession of flowers over a long season in colors that complement the décor of various rooms in the house, including fragrant flower choices.
She grows sweet peas and oyster pink 'Chandos Beauty' roses, Campanula lactiflora and delphinium.
Lining the pathway through this garden are four types of allium, the ethereal seed heads of which look good even after the petals have faded, and 'Jane Phillips' irises with their vibrant blue blooms and sword-like leaves.
'While I enjoy structure in a garden, I love cottage garden plants,' says Gabrielle.
'My mother had a cutting garden and I wanted one too, but it's more of a cottage garden in style so that it looks breathtakingly beautiful throughout the season.'
Sweetly-perfumed 'Hidcote' lavender is planted at the base of the trellis fence to soften its edges throughout the year and bring a vivid blue haze to this part of the garden at the height of summer.
Its color complements that of the bijou potting shed idea, next to which is an old French bottle drier used for storing terracotta pots, creating an attractive as well as a practical feature.
The cutting garden can be enjoyed from a circular seat surrounding an old apple tree, beyond which is a gated opening through a beech arch to a composting area.
This area sits on the edge of a wildflower meadow, through which meandering rides are cut during the summer months to blend the garden with the countryside beyond.
The garden continues to evolve from season to season, as a perfect example of how to plan a garden of distinct areas and styles.
Sue Bradley writes about gardening, food and wildlife, and the fascinating people who are passionate about these subjects, for a variety of magazines. She served a newspaper apprenticeship and worked on local and regional titles in the West Country before becoming a freelance features writer. She's a member of the Garden Media Guild and the Guild of Food Writers.