12 new flower bed trends for 2024 you'll definitely want to try – experts pick the standout looks this season
From hotlist flowers and fabulous foliage choices to planting styles and the best color combinations here are the flower bed trends that count right now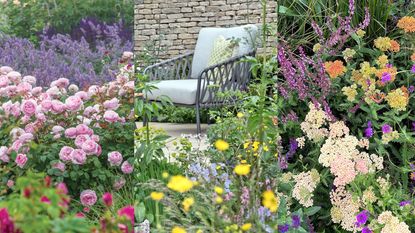 (Image credit: David Austin Roses; Jacky Hobbs/Future; Sarah Wilson/Future)
Sign up to the Homes & Gardens newsletter
Decor Ideas. Project Inspiration. Expert Advice. Delivered to your inbox.
Thank you for signing up to Homes & Gardens. You will receive a verification email shortly.
There was a problem. Please refresh the page and try again.
Working out what to plant in a flower bed has to be one of the loveliest things you can do in the garden. Whether you're starting from scratch or rethinking an existing scheme, like a formal style layout, or prefer a more relaxed planting design, the latest flower bed ideas and trends are sure to fire up your ideas.
Deciding how to plant a flower bed is a very individual thing but looking at inspirational ideas will always help along the creative process. First, think about the style of the flower bed that will work best for your space. Then decide on the look you want, taking into account the local climate and the plants that will thrive.
Once you've decided on these key factors the rest is easy with our expert inspiration. Here are the 12 flower bed trends that we think are a standout this season.
12 inspirational flower bed trends
'When incorporating flowering plants into a garden, it's crucial to consider their blooming season, duration of bloom, and overall form of the species,' says landscape architect Rituparna Simlai, of Miami-based Studio Arth.
'Garden color is important as well. To achieve harmony and distinctiveness, designers commonly choose shades of pink, purple, yellow, and orange in their planting palettes. These pops of color create a stunning contrast with the lush greenery.'
Now find out how to use color in your own flower beds, as well as new planting styles and designs, with our pick of the latest garden trends for flower beds.
Rituparna Simlai is the founder of Studio Arth, an award-winning landscape architecture firm based in Coconut Grove, Miami. The studio's philosophy is to 'design with purpose', fostering a sense of oneness with nature. With a masters degree in Landscape Architecture from Harvard University, Rituparna has collaborated with firms like AECOM, Cannon Designs, Integral Designs and Raymond Jungles on diverse projects spanning residential design, urban master planning, and infrastructure. Over 15 years of experience in landscape and architecture have led her to work on award-winning international projects in New York, Miami, California, India, Singapore, and the Caribbean. She was also honored with the Exceptional Emerging Professional Award by the Florida chapter of the American Society of Landscape Architects (ASLA) in 2020.
1. Try maximalist style with a rich layered look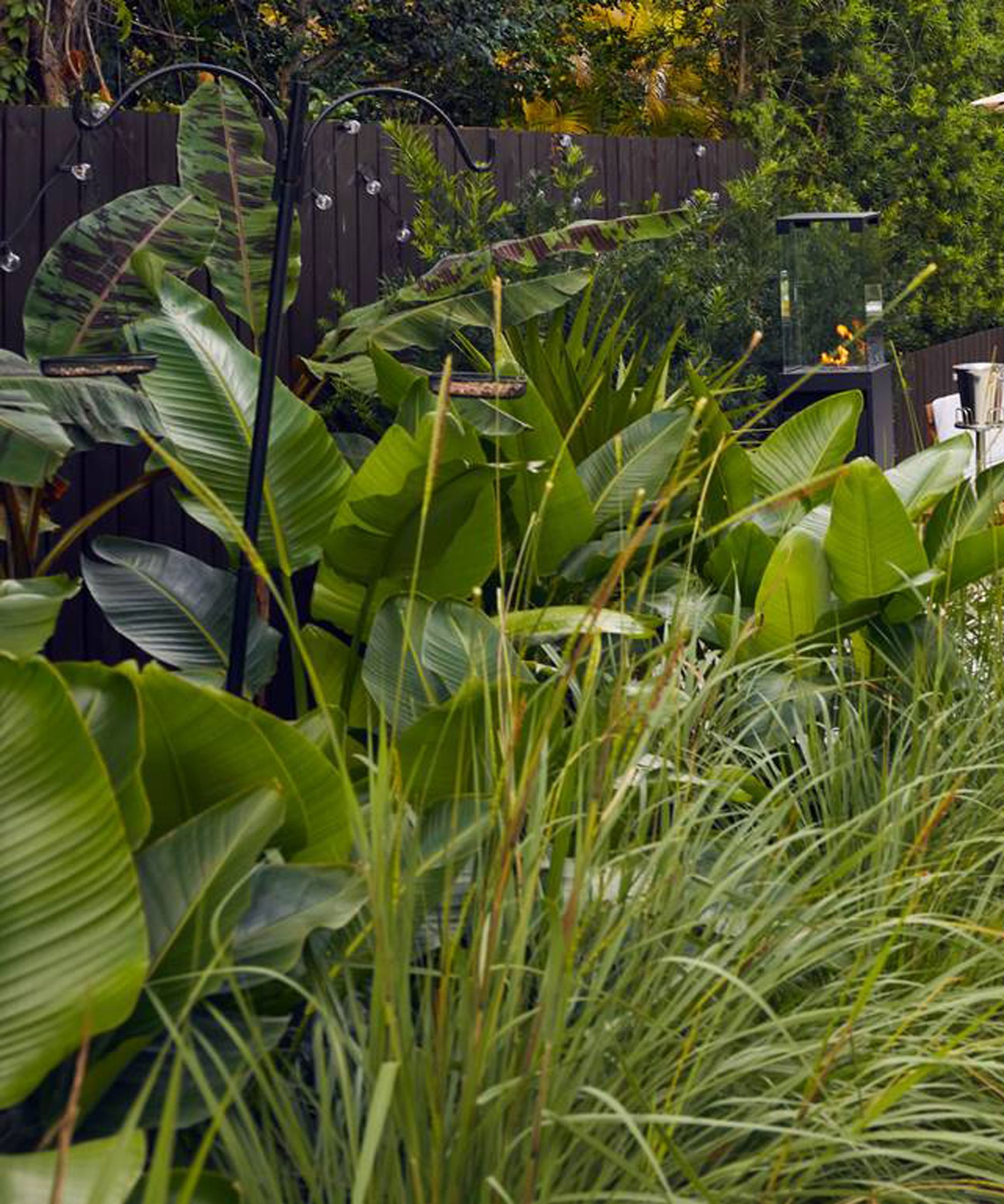 The idea of 'curated' flower beds, which pull together multiple layers of textured planting, are a key trend right now.
'Our clients are gravitating toward "full and lush" plantings opposed to "sparse" softscaping,' says Allison Messner, CEO of landscape architects Yardzen. 'This fits nicely with organic style too, which also embraces untamed and dense plantings.'
Maximalist planting in flower beds translates across different styles, from tropical to traditional to laidback and casual, covering everything from south-facing garden ideas to north-facing garden ideas. 'This natural exuberance of full plantings creates a sense of calm and relaxation,' says Allison. 'Plus, the more native and climate-adapted plants used in flower beds, the better it is for the environment.'
2. Let plants relax in a loose organic way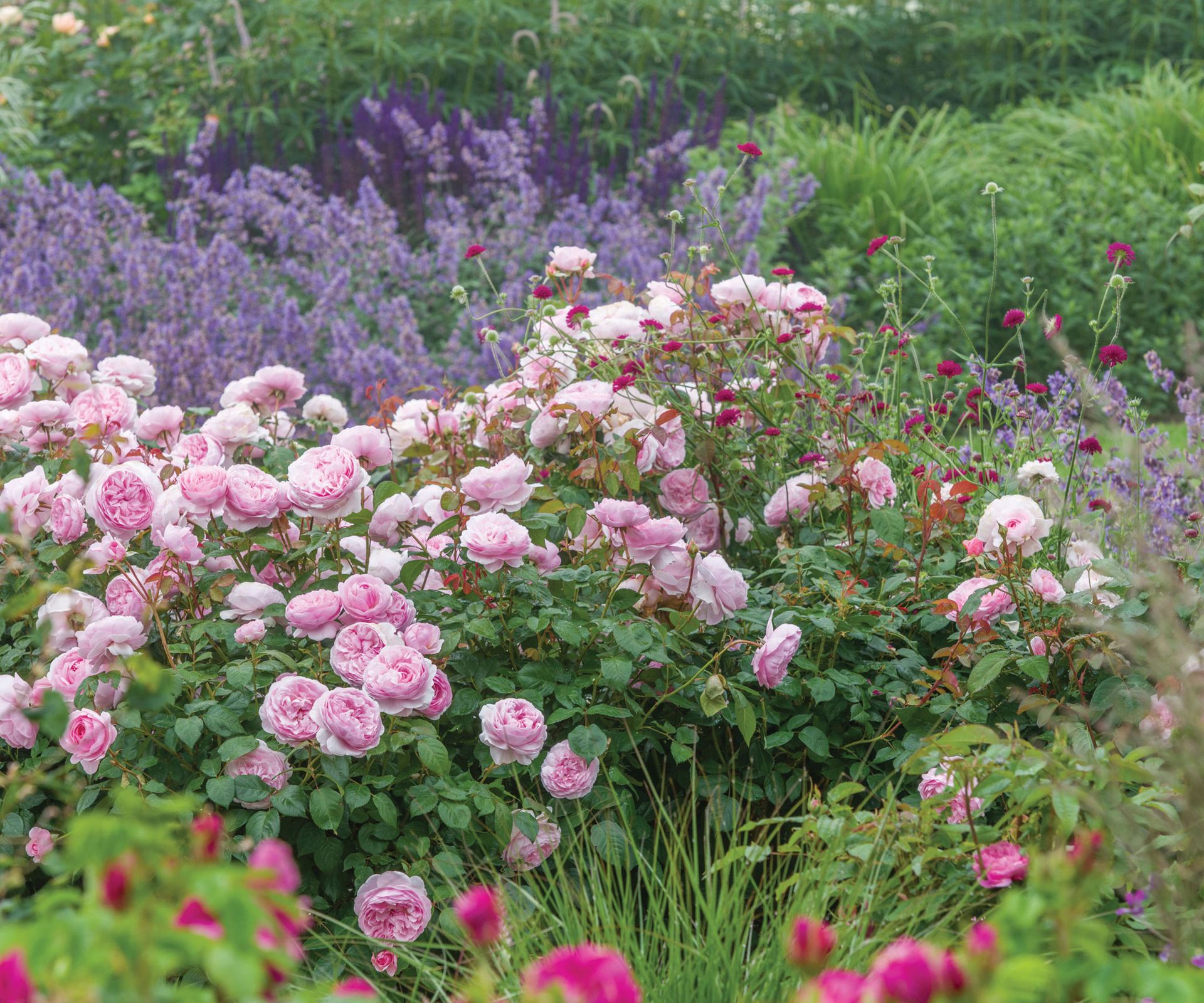 'One of the top trends in outdoor design is organic style,' says Alison Messner. 'A movement away from the rigidity of modernism and a renewed appreciation for the joy of organic shapes and textures. Organic style draws on many of the hallmarks of English cottage garden ideas, and features abundant shrubs and flowers.'
The great news is that organic style works so well for flower beds. It's inherently low-maintenance and habitat-supporting, embracing a little bit of the wildness of the natural world with the fluid movement of pollinator-loving flowers and shrubs.
More traditional flower bed plants such as roses, lilac, hydrangeas, and hollyhocks are seeing a surge in popularity as part of this trend. This means a more romantic palette of pink, lilac, and white flowers.
You can definitely never have enough hydrangeas as part of your flower bed ideas. John D Faerber is director of horticulture at The Lake House on Canandaigua in the Finger Lakes region of New York. He attests to the enduring appeal of these gorgeous shrubs as flower bed classics. 'Two of our most popular perennials are 'Bobo' panicle hydrangeas and 'Limelight' tree hydrangeas.'
Find John's favorite 'Bobo' panicle hydrangeas and 'Limelight' panicle hydrangea trees at Nature Hills.
3. Surround yourself with immersive flower beds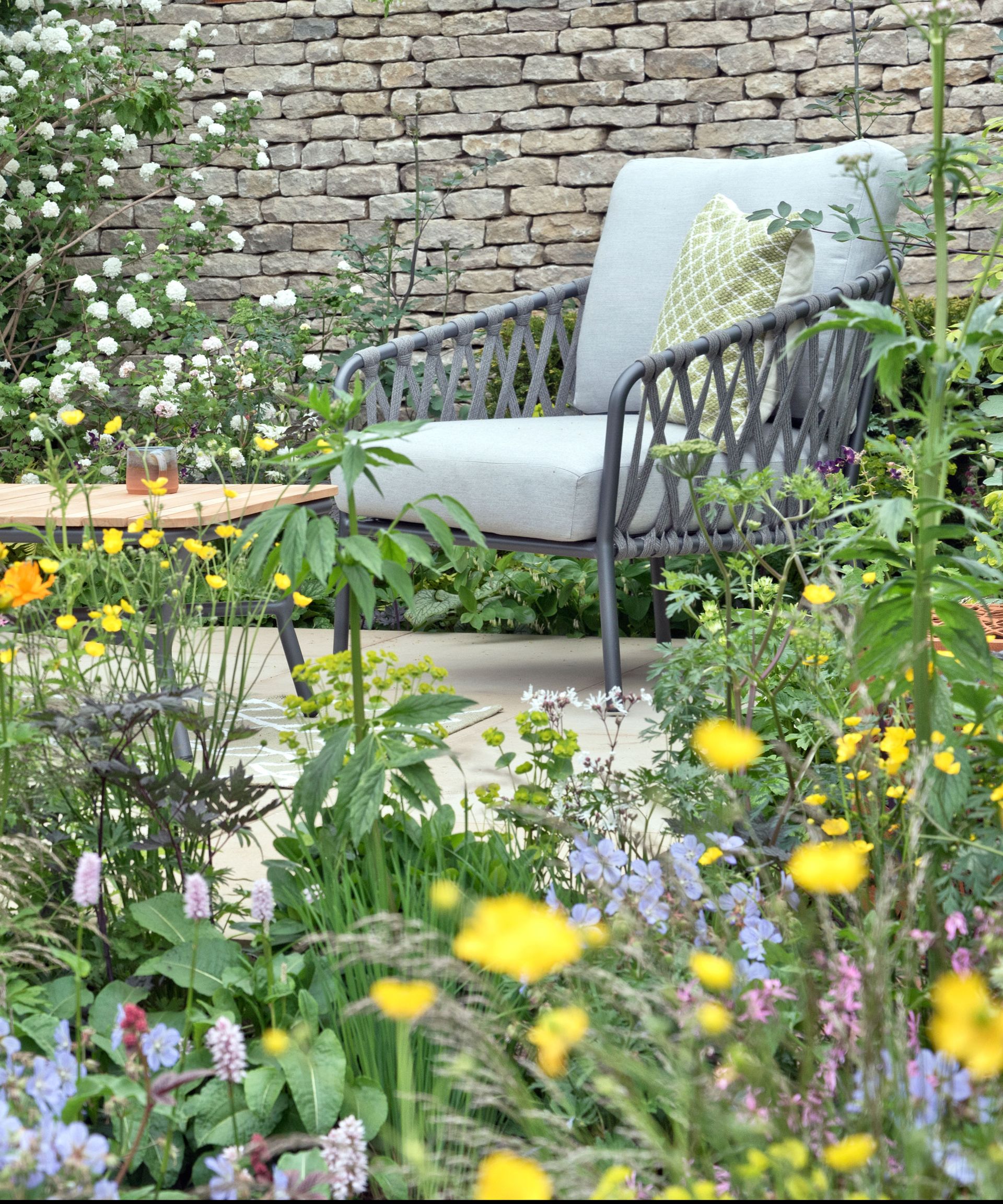 There are plenty of flower bed trends up for consideration if you want to make your garden a rewarding sensory experience that allows you to connect with nature. One idea is to create a seating area surrounded by flower bed planting that will envelop you with sensory garden delights.
Layer up a selection of plants in a soothing palette of green and white, with touches of color here and there, such as soft yellows and pale blues. Choose pollinator-friendly plants so your enjoyment is further enhanced by butterflies and bees visiting your space.
Include aromatic plants in the mix too. These can be enjoyed up close by brushing your fingers through them. Choose flowerbed favorites like lavender and scented geraniums, as well as herbs like rosemary, mint, sage and thyme.
4. Mix in edible crops with flowers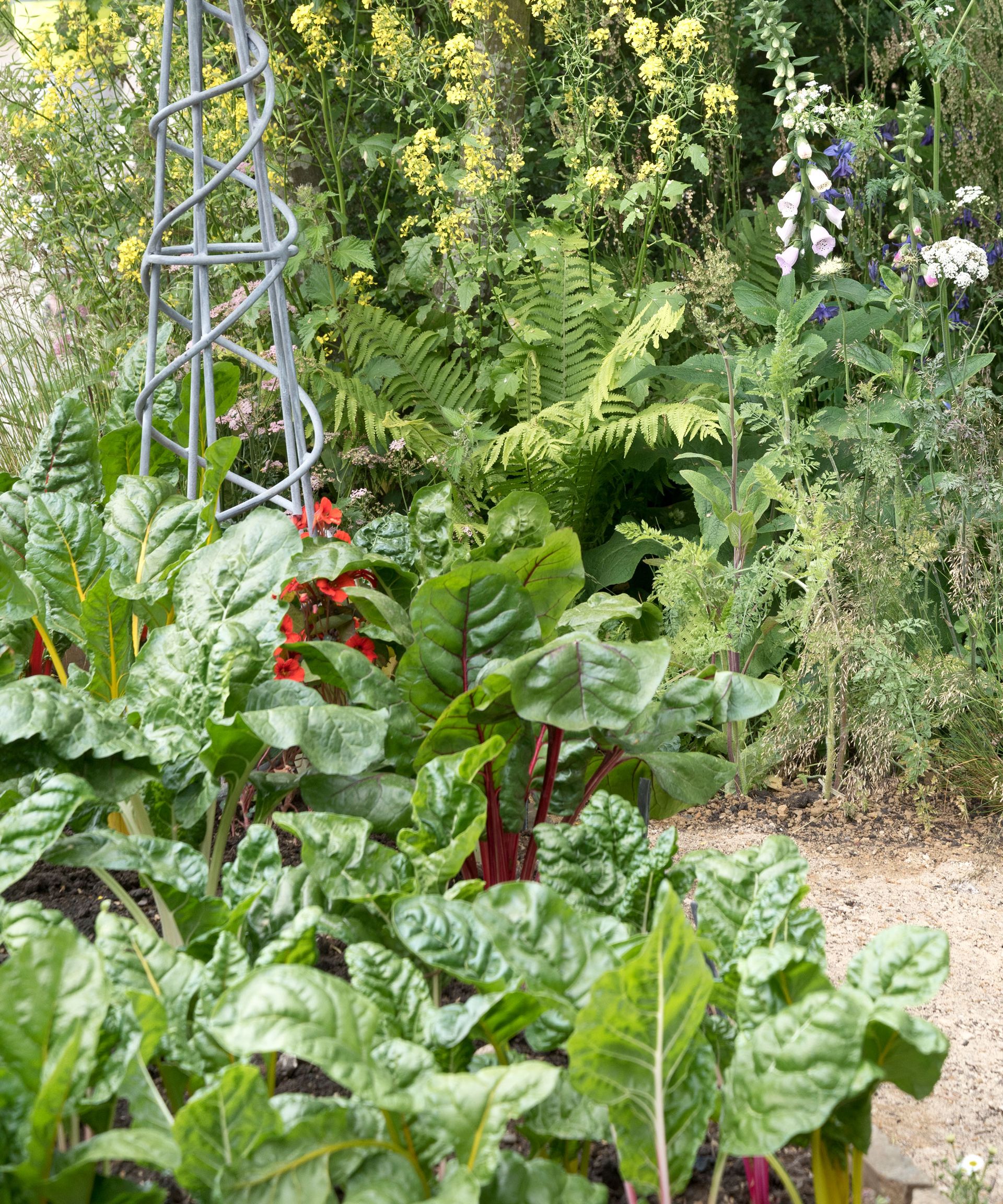 Try mixing edible plants and other vegetable garden ideas in with your flower bed design instead of limiting them to separate raised beds or their own patch. If you usually train a clematis to climb up an obelisk change to edible flowers like nasturtium or pole beans. Plant attractive leafy greens like Swiss chard, spinach and salad leaves in amongst perennial flowers, and add herbs to the mix too.
Homegrown vegetables and herbs can be combined with flowers to create a taste garden. This trend is also all about nurturing nature by incorporating pollinator- and bird-friendly plants, using organic products, and being mindful of soil health.
5. Make foliage count by using it to add texture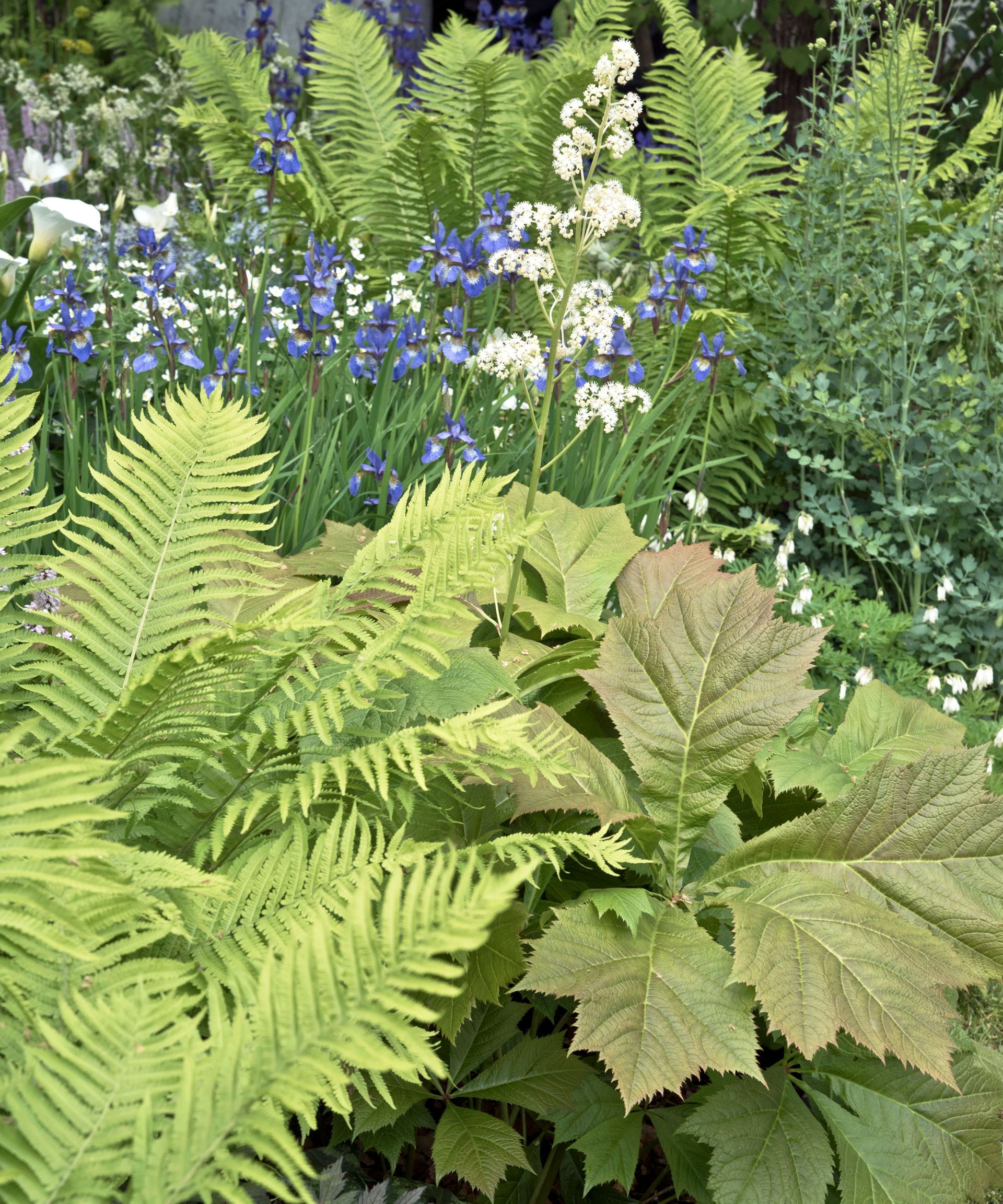 'Foliage is vital in a flower bed,' says plant expert Jenny Rose Carey, former professor in Horticulture and Landscape Architecture at Temple University, Philadelphia. 'Plants with great foliage are always an asset, and they provide a backdrop that enhances the flowers.'
If your goal is to have a full, fresh-looking flower bed for most of the gardening year, consider each plant's presence, advises Jenny. 'This is a combination of the plant's form, overall dimensions, leaf size, texture, color and shape.'
Always think about using a variety of leaves when you're tapping into flower bed trends to get that desired lush, full, effect as well as adding an interesting dimension. Ferns are the go-to for adding texture, shape and structure, and they're easy to grow too. Whether fine and feathery or lush and exotic, the intricate foliage will transform your flower beds, adding both depth and background detail to your planting.
Horticulturalist Jenny Rose Carey is author of The Ultimate Flower Gardener's Guide, and former senior director at the Pennsylvania Horticultural Society's Meadowbrook Farm.
6. Fill flower beds with water-wise plants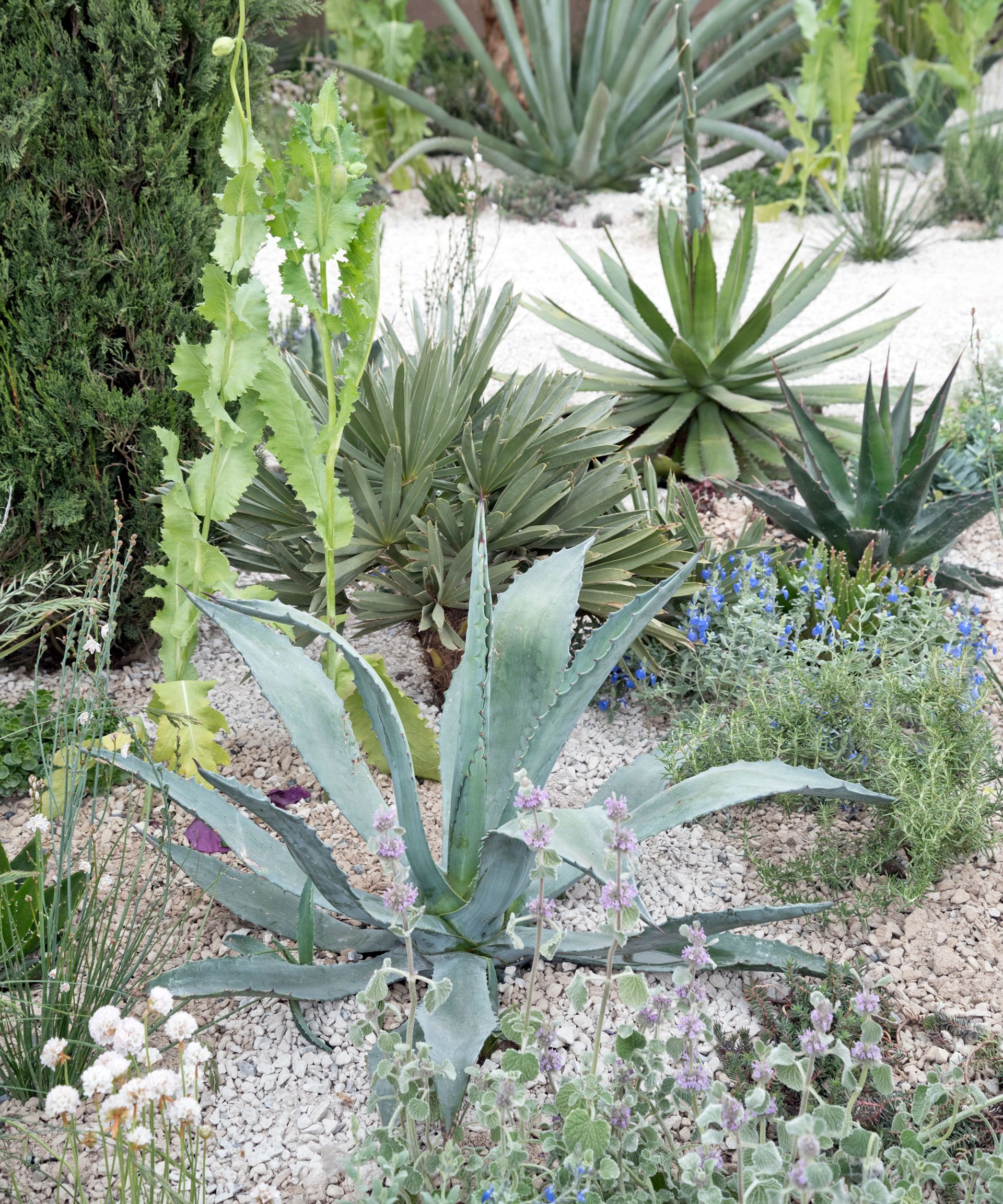 Droughts and other extreme weather conditions have led to increased awareness of our changing climate, and water conservation is top of the agenda. There is now serious interest in plants for flower beds that are climate-appropriate, with lower water needs but that also feature beautiful blooms, bold color and lush foliage.
'As awareness about environmental concerns increases, people are seeking low-maintenance options that are not only resilient but also have minimal impact on the soil and surrounding environment,' says Studio Arth's Rituparna Simlai. 'For drought tolerant planting ideas, we recommend varieties like sedums, agapanthus, and geranium, which thrive even in arid conditions.
'In our flower bed designs, we lean towards perennials over annuals, as they offer longevity and continuity to the landscape. We prioritize species that are native or adapted to the local region. They not only enhance and support the local ecosystem but they need less care and use fewer resources.'
7. Swap out lawn for bigger flower beds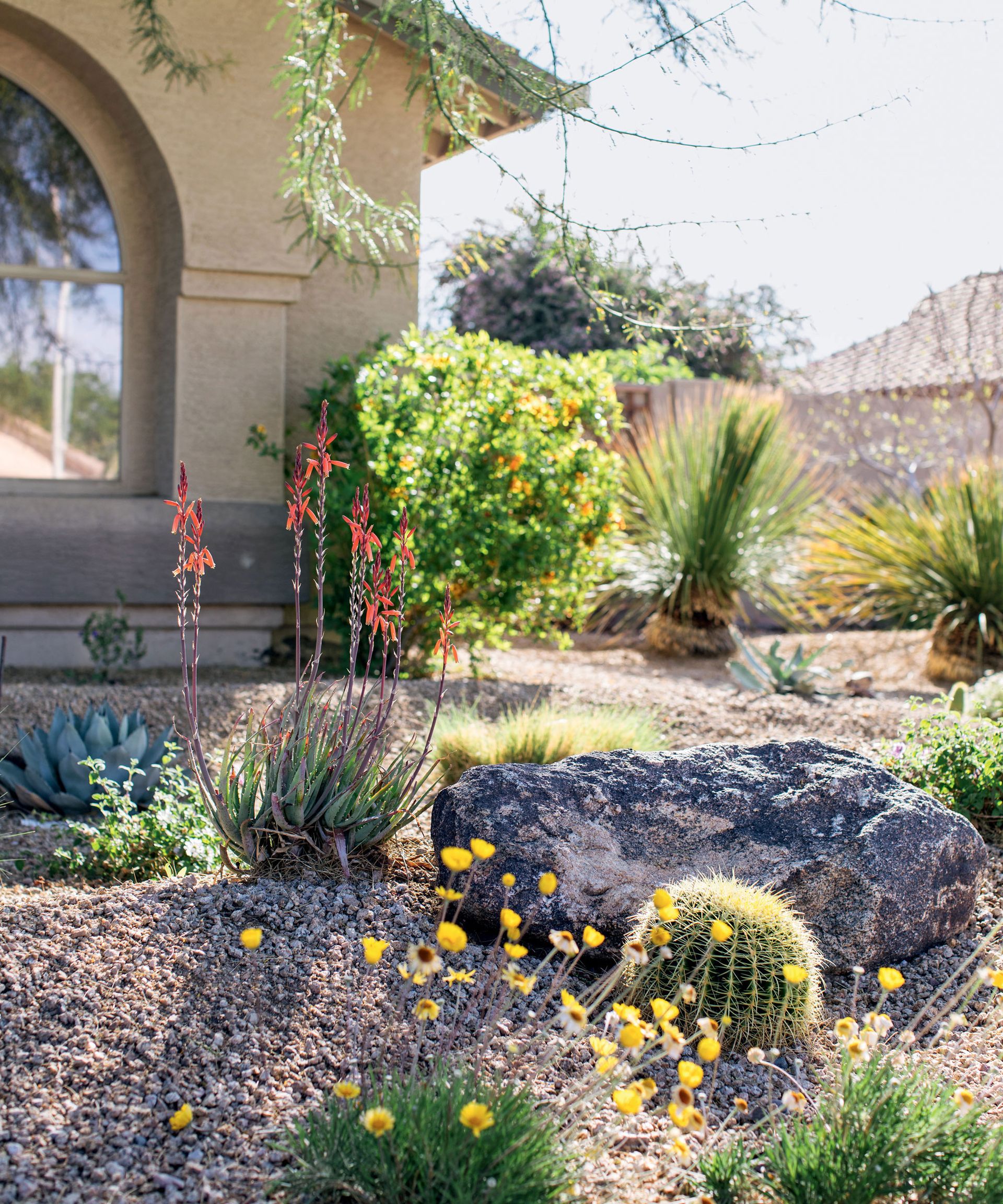 There is a real trend right now for either reducing or getting rid of lawns and planting deeper flower beds instead. This is especially relevant if you live in an area that is affected by drought. If this is the case drought-tolerant plants are usually a more viable option, and there's never been a better time to supersize your flower beds with an easy planting scheme.
'Grass lawns are thirsty and use three times more water annually than a swimming pool and up to ten times more water than a landscape filled with native and desert-adapted plants,' says horticulturalists and AZ Plant Lady Noelle Johnson, author of Dry Climate Gardening, available from Amazon.
Many arid-adapted choices are available for flower beds says Noelle, from those with lush green foliage, colorful bloomers, and even low-growing succulents suitable for use as ground cover. Find out how to grow ornamental grasses as these are also a great choice.
8. Plant vibrant flower beds to attract wildlife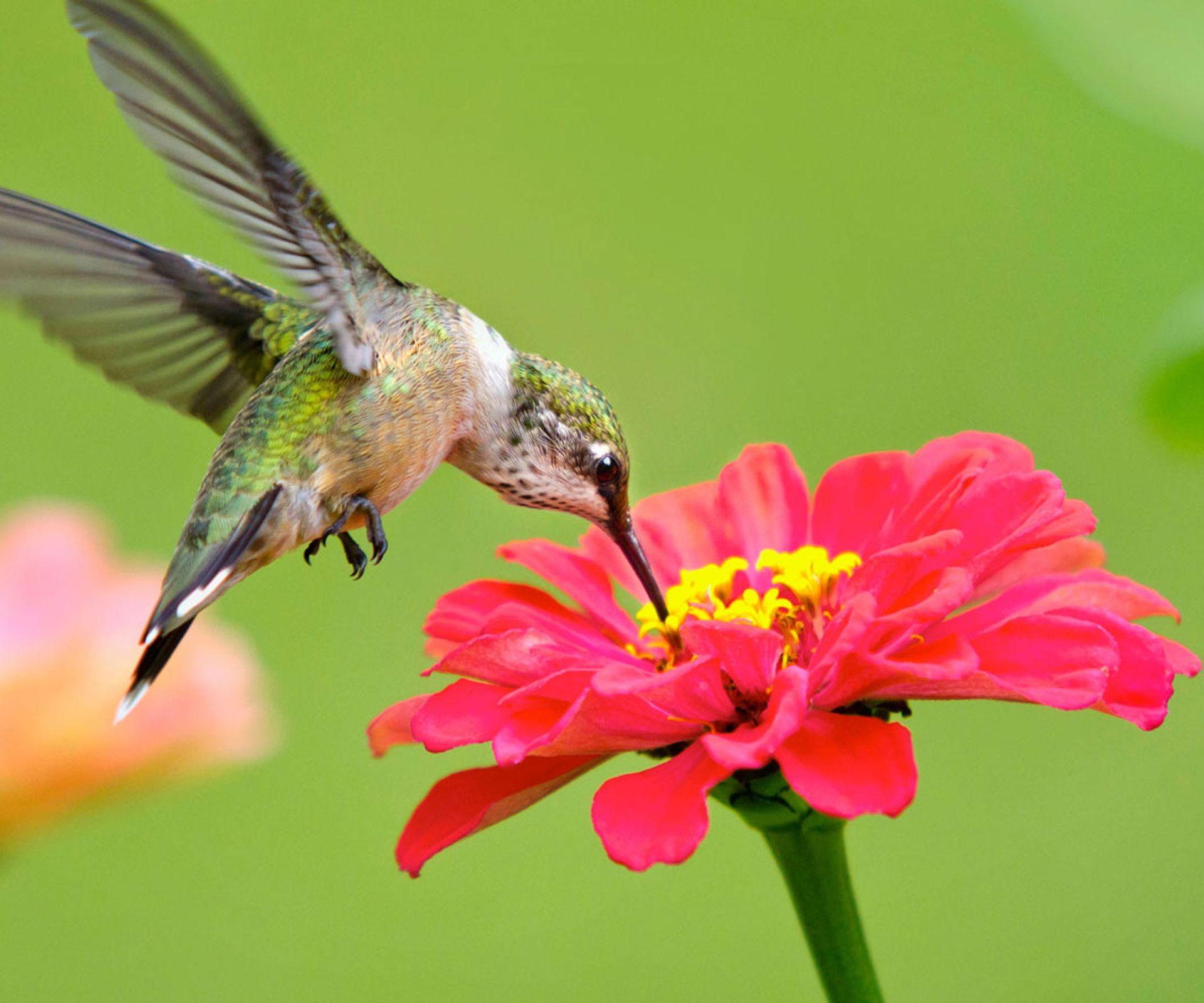 Another key garden trend is bringing pollinators and other creatures who are critical to the ecosystem into our backyards. To achieve this we need to incorporate natural wildlife habitats into the garden, and this is where flowerbed trends come in too.
'By planting a variety of flowering perennials and native grasses, you'll be inviting nature to share your garden with you,' says Amy Hovis, Principal of Eden Garden Design and co-owner of Barton Springs Nursery, both based in Austin, Texas. 'You can achieve this by using a mix of perennials and native grasses for sunny areas, or sedges and salvias for shady areas.'
Rituparna Simlai of Studio Arth agrees. 'Our advocacy for native species goes beyond sustainability, as we aim to create habitats for native hummingbirds and butterflies, promoting biodiversity and a healthier ecosystem. By embracing a rich palette of colors, textures, and vibrant planting in flower beds, landscape design can coexist harmoniously with the surrounding environment.'
9. Fill flower beds with sustainable, naturalistic planting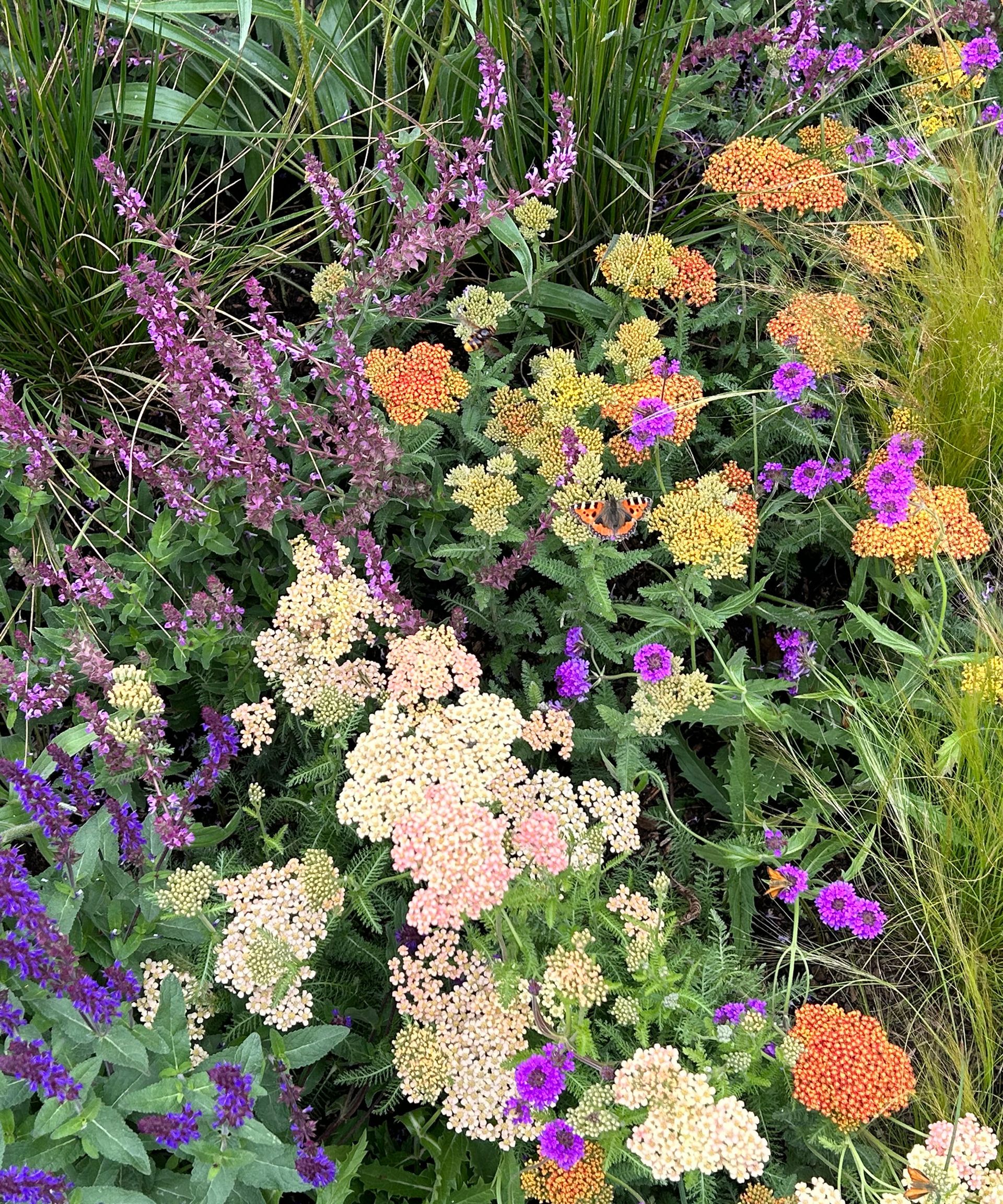 'We are definitely seeing increased demand for more sustainable and naturalistic planting, specifically using native species and drought-tolerant plants,' says Nikhil Arora, co-founder of organic gardening company Back to the Roots. 'As folks become more aware of the importance of conserving water and supporting local biodiversity, more natural designs for flower beds are becoming popular.'
Nikhil also feels there are one or two flower bed trends that have now had their day. 'This includes mass plantings of annuals. Although they look beautiful they're such high maintenance.'
Instead, choose from the best perennials as these earn their place in flower beds by performing for months on end, and they're low maintenance too. Many are good at attracting wildlife, and their nectar-rich flowers bring flower beds to life with butterflies and bees. Perennials come back year after year too, so they really are the plants that keep on giving.
10. Combine plants that work together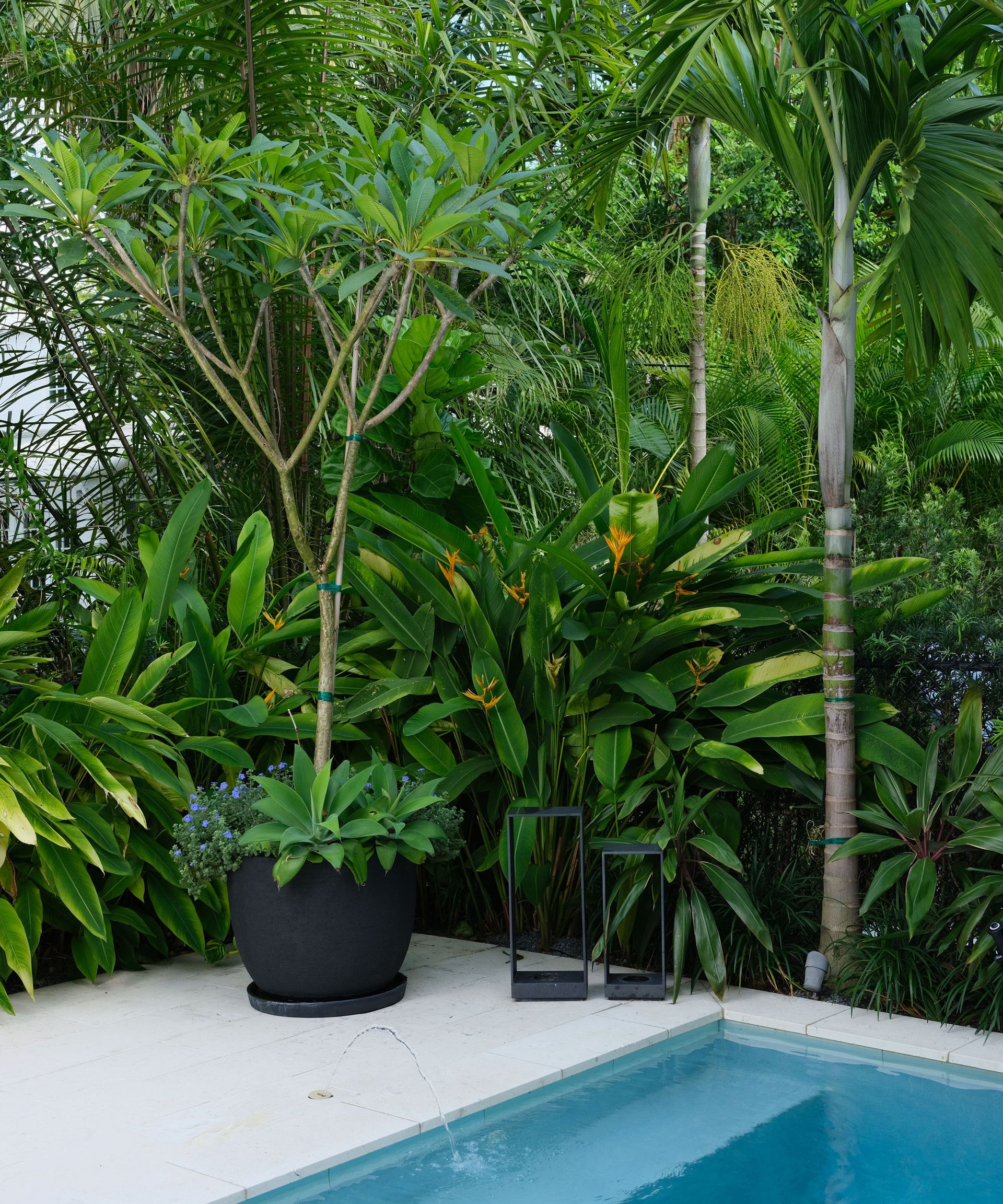 Flower bed planting design is all about embracing the ephemeral and ever-changing nature of plants. 'Design should focus on combining and grouping plants that have a symbiotic relationship, aiding each other's growth while creating artful masterpieces with plant forms and color,' says Studio Arth's Rituparna Simlai.
The key is making the plants in your flower bed feel like they belong in their natural habitat. 'It's essential to consider the shape of leaves, texture, and branching structures to add visual interest and dynamic appeal,' says Rituparna. 'Two popular design approaches are creating a matrix of plants, whether in a grid or organic pattern, with equal-sized clusters, or using layering techniques with strips of plants in varying heights.'
Moreover, ornamental and native grasses can be used as backdrops to enhance flowerbeds, providing a beautiful contrast in texture and form.
11. Make color central to your flower bed design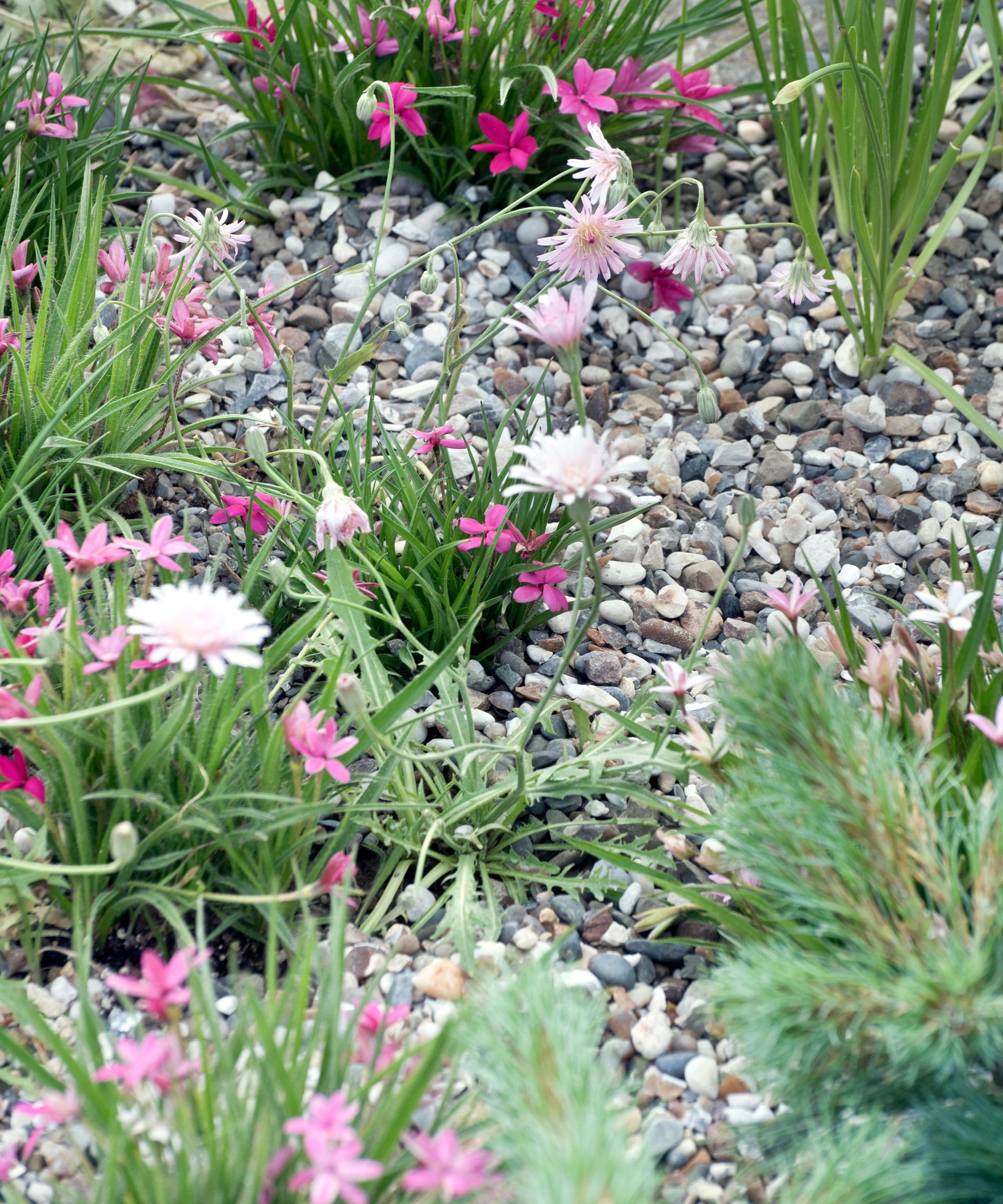 'Color holds a subjective power, resonating deeply with our emotions, and mindful design can evoke a powerful response,' says Rituparna Simlai. 'Embracing the beauty and cyclical nature of color in a planting scheme allows us to curate enchanting and captivating flower bed designs that evolve with the changing seasons.'
If you're relatively new to using color as part of your flower bed design it's a good idea to keep it simple and choose one color as your starting point. You can't go wrong with pink. Explore all the possibilities on the pink spectrum by experimenting with shades of coral, blush and magenta in a mix-and-match scheme that will transform your flower bed with pretty color.
12. Raise up flower beds to new heights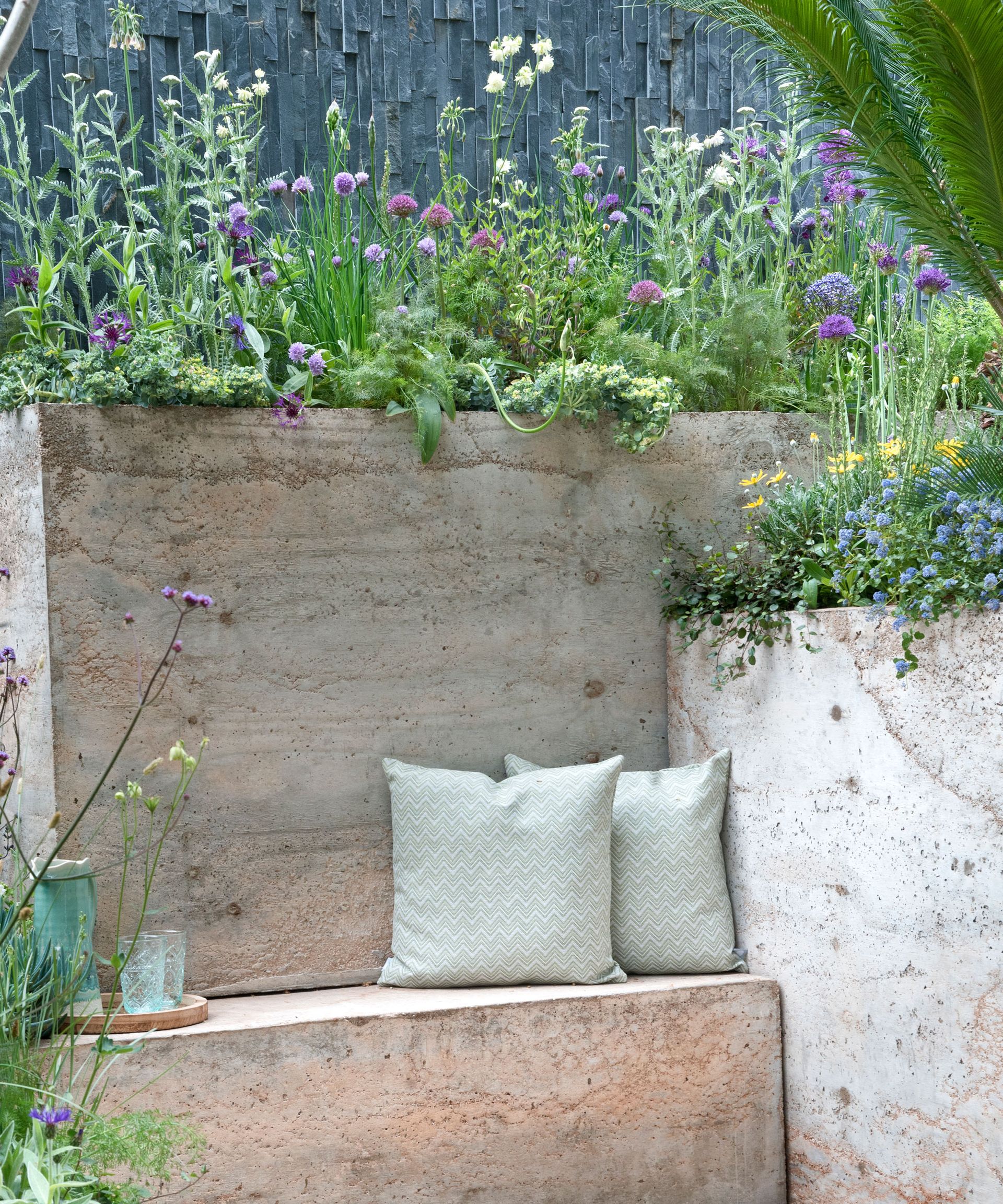 If space is tight in your backyard think creatively and consider integrating flower beds into walls or other raised bed garden ideas. Elevated flowers are easier to see. Raised flower beds are versatile too, and can be used to accommodate a wide range of flowers, plus to mix in scented herbs, salad crops and other easy vegetables. This way you max up your growing space.
It's also a great idea to help screen an outdoor space that is overlooked by neighbors or buildings and will help to enhance patio privacy. You can also use them to divide two garden areas or define a space.
Strategically planted raised flower beds can create a dreamy atmosphere, the pretty backdrop of planting making you feel at one with nature.
---
Take the aspects of these flower bed trends that most appeal and use them to turn your planting ideas into something really special. Don't forget the finishing details though. 'A distinct edge gives a finished look to your flower bed,' says Jenny Rose Carey. 'Raised edgings retain the soil in the bed and can be aesthetically pleasing, especially if you use materials that tie in with the overall look of your garden.'
Now find out how to edge a flower bed to add the perfect finishing touch to your landscaping scheme.
Sign up to the Homes & Gardens newsletter
Decor Ideas. Project Inspiration. Expert Advice. Delivered to your inbox.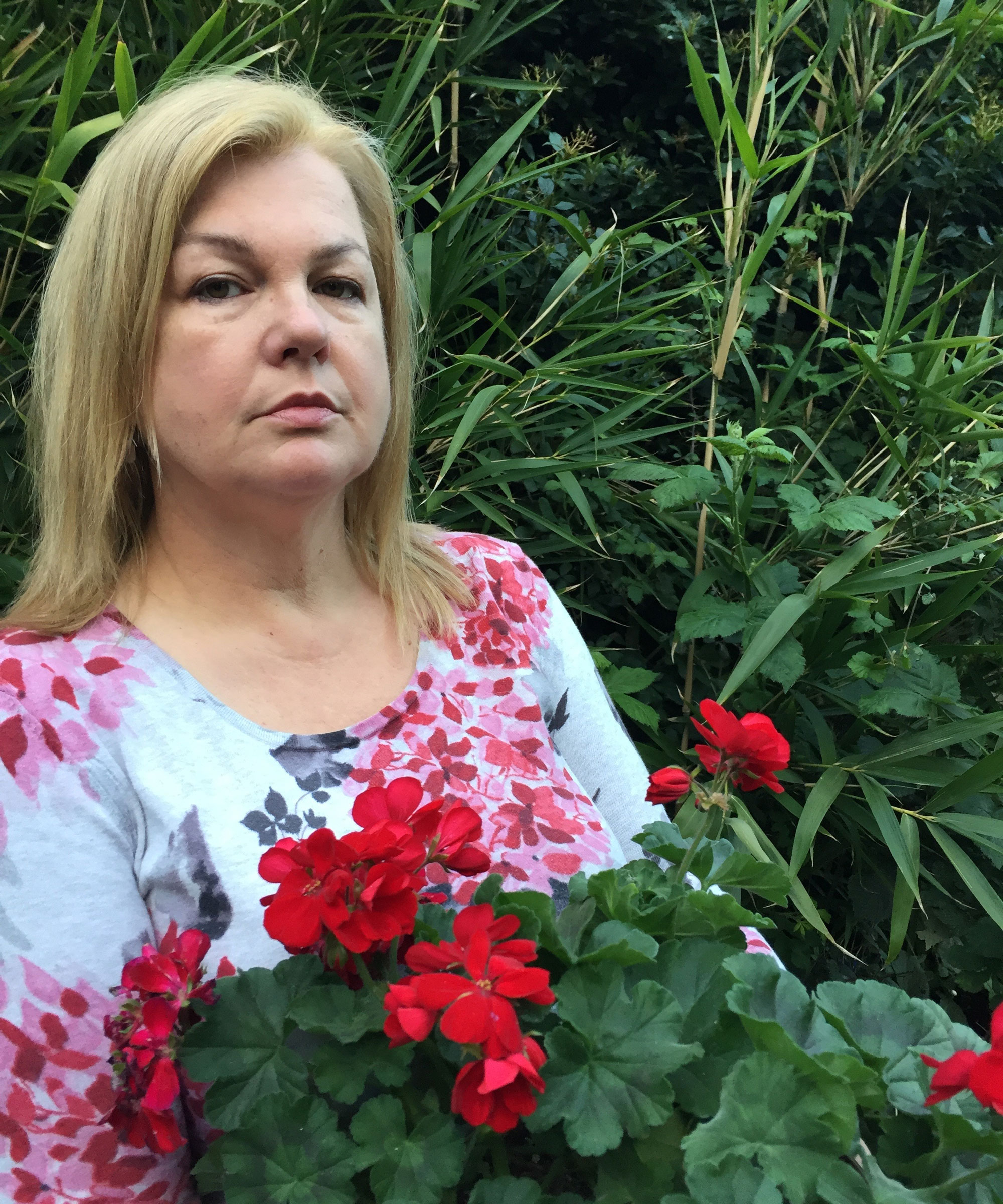 Lifestyle journalist Sarah Wilson has been writing about gardens since 2015. As well as homesandgardens.com she's written for Gardeningetc.com, Livingetc.com, Easy Gardens and Modern Gardens magazines. Her first job on glossy magazines was at Elle, during which time a visit to the legendary La Colombe d'Or in St-Paul-de-Vence led to an interest in all things gardening. Later as lifestyle editor at Country Homes & Interiors magazine the real pull was the run of captivating country gardens that were featured.