How to create a foliage border – for year-round texture and interest
Use different shades and shapes of leaves to add beauty to your yard with our expert step-by-step guide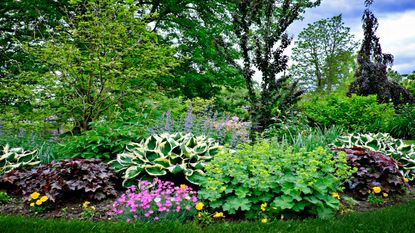 (Image credit: Getty Images/Vicki JOuron, Baylon and Beyond Photography)
Learning how to create a foliage border with plants famed for their leaves, not just their blooms, is super rewarding, as it offers an alternative way of bringing year-round colour and interest to your backyard ideas.
Don't fall into the trap of thinking that a foliage border will only involve one shade of green. As we know, there are so many shades of green to choose from, including neon lime, which is set to be one of the hottest 2024 plant color trends. Use your imagination and spice up a verdant palette with variegated plants and dramatic varieties that offer flashes of purple, red and bronze, too.
And don't feel you can't include flowering varieties. Of course you can - they add drama and pops of colour and will make the leaves stand out even more.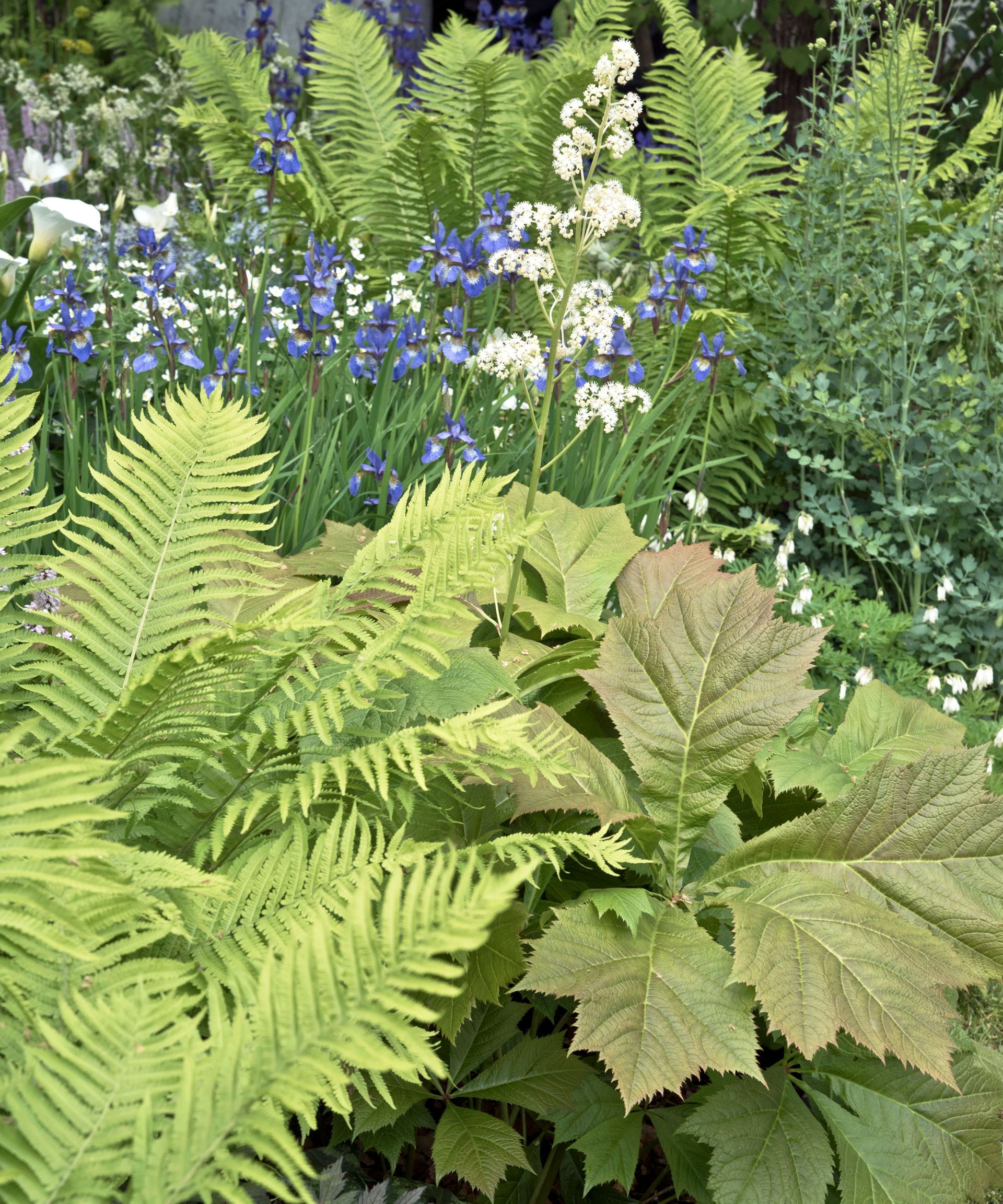 How to create foliage border
Because you are relying on leaves rather than flowers to create impact, you need to choose shrubs, small trees and perennials whose leaves and branches complement and contrast with each other.
Mix them with elegant ornamental grasses and red or copper-stemmed bamboos, and add low-growing colorful coral bells, elegant ferns and other plants loved for their foliage.
Create a layered effect by planting the tallest at the back and shorter varieties towards the front, and don't be afraid to add deciduous trees and shrubs, as their winter skeletons will provide an elegant foil for glossy evergreens.
What you need to create your foliage border
To create your foliage border you will need tools, well-rotted compost or manure and fertilizer. The essentials are:
The best time to create your border
The best times of year for planting a border that will contain trees, shrubs and herbaceous perennials is either fall or spring.
In the fall, soil will still be holding onto warmth from the summer and will be dampened by rain, making conditions ideal for planting. The residual warmth in the soil will also help roots get established before the plants shut down for winter.
The fall is also the time to buy bare root trees and shrubs. These are young plants sold with, literally, bare roots wrapped in burlap or plastic rather than in containers of potting soil. They are generally cheaper to buy and will grow quickly next spring.
You can also plant foliage borders in spring, when the weather and soil are starting to warm up. Trees, shrubs and plants will put on a growth spurt as the temperature rises.
When not to plant
Never try and plant anything when the ground is waterlogged or frozen. When you walk on saturated soil you run the risk of damaging its structure by compressing it with your weight.
Very wet soil can also kill plants because the water forces out the oxygen so roots 'drown'.
Frozen soil is impossible to dig and you risk injuring yourself. It is also inhospitable for new plants and they are unlikely to thrive.
Another bad time to plant is the height of summer, because the soil will be dry and plants will need a lot of watering to help them get established. Summer planting is rarely sustainable, especially in this time of climate change and water restrictions.
Choosing the right plants
Make sure the plants you put together all have the same requirements.
There is no point putting shade-loving and sun-loving plants together, nor acid-loving plants such as azaleas with varieties that need chalky, alkaline soil to thrive. You run the risk of losing some of your plants and becoming disheartened by your gardening efforts.
Low-maintenance trees and shrubs are always a good idea because they can be left to their own devices, especially if you have problems with mobility or a busy lifestyle juggling work, children and other commitments.
What plant goes where?
When I am planning a garden or putting together my ideas for a new border, I like to draw a rough plan of what I hope to achieve, with a list of varieties.
Once I have bought the plants I place them, still in their pots, on the soil then move them around until you have an arrangement you are pleased with.
Make sure the tallest are at the back, shorter ones in the middle and smallest ones at the front.
Break up evergreens with grasses and bamboos, mix wide leaves with narrow ones for delightful contrast, and don't be afraid to take your time in order to get things right.
How to buy healthy plants
Check the health of the plants you buy. When purchasing in person, make sure they look healthy and look under their pots to make sure roots aren't poking out the bottom.
This is a sign that they are pot-bound, with roots circling around each other making it harder to spread them out so they grow well after planting.
Also be wary of moss growing on the top of their pots as this might be a sign they have been standing in the garden centre for a long time and their compost is wet.
If buying online, use a reputable seller and make sure you have a right of return if you are not happy with the plant you received.
How to choose the right site for a foliage border
Choosing the right place for your border is as important as selecting the right plants.
A good site should be easy to access, so not on a steep slope or in a tight spot. Choose somewhere that shows off your plants to their best effect.
Be wary of selecting a spot that blocks out attractive areas of the garden, though a foliage border could be a useful way of hiding untidy areas such as a compost heap or shed, and also be an excellent way of protecting your privacy.
Also try to avoid areas of the garden that are prone to waterlogging or drying out, and never plant in frost pockets where cold air collects as this can stunt plant growth.
How to prepare the soil
Before planting you need to prepare the soil to make it suitable for planting. Weed it well and fork it over to break up large clumps of soil.
Add lots of well-rotted manure or homemade compost to add nutrients. It will also help poor, thin soils to hold onto moisture and open up clay soil, so it is less prone to waterlogging.
If you don't have access to well rotted manure or compost, chicken manure pellets are an excellent general purpose alternative as they will break down over several weeks, enriching the soil as they do so.
How to plant your border
Whether you are planting trees, shrubs or smaller perennials the method is basically the same.
Start by digging a hole that is slightly wider than, but the same depth as, the pot in which your plant is growing.
Then stand your plant, still in its pot, in a bowl of water to give the roots a good soaking and make it easier to slide the root ball from the container.
Plant bare root trees or shrubs at the same depth as the 'tide mark' of soil around their trunk. They should also be dunked in water for around 30 minutes before planting.
Once you have dug your hole, throw in some well-rotted compost, fertilizer or bone meal so the roots have something to feed on.
If you have clay soil, scrape around the sides of the hole with a fork to loosen then so they don't form a 'bucket' that holds onto water and drowns the roots.
Once you have done this, slide the plant from its container and spread the roots with your fingers before setting it in the hole and infilling around it with excavated soil and compost.
Firm it down as you go to support the plant and knock out air pockets. Once the hole has been filled in, tread around it and water well, then mulch with well rotted compost or manure.
Don't forget to add supports for young trees to keep them stable.
Make sure the soil stays damp, but not saturated while the plant gets established.
How to create year-round color in a foliage border
The easiest way of creating a border with 12-months of interest is to break it down into the seasons and choose plants that are at their best in each one.
In spring, consider yellow-flowering forsythia, Japanese flowering quince, flowering currant (Ribes sanguineum) or Daphne odora, and around their trunks grow coral bells, Helleborus niger, Vinca minor (periwinkle) and irises.
In summer, paper-flowered cistus (rock rose), beautifully scented philadelphus (mock orange), hydrangeas, and smoke bush all provide huge amounts of texture and interest. Herbaceous perennials, including variegated hostas, euphorbia, and Alchemilla mollis will flower well into the fall.
Throughout fall you can be bold with seasonal colors. Think of the red-leaved Acer japonica, fothergilla bushes, ornamental cherry, and perennials include Crocosmia 'Lucifer'.
In winter, consider evergreen coronilla with yellow scented flowers, dogwood varieties with red or yellow stems, sweet box - which has scented white flowers and glossy black berries - and holly varieties.
Plants with year-round interest
Some plants provide value all year round. Aucuba japonica 'Rozannie', for example, has glossy variegated leaves and vivid scarlet berries in winter.
Skimmia japonica is another all-rounder, with its fragrant white flowers in winter and early spring and red berries in winter, and variegated Euonymus fortunei are low-growing and attractive.
Think also of trees and shrubs with interesting bark, such as birches and eucalyptus, plus perennials with interesting flowers and foliage to offset the range of greens: silver-leaved curry plants, cyclamen and succulents.
FAQs
How far apart should I place my plants in a border?
When you buy the ingredients of your foliage border, study the label to see how big each plant may grow, and plant accordingly.
It is better to leave too big a gap that can be filled with low-growing perennials or a small shrub, than plant too close together so nothing has room to thrive and reach its full potential.
Bear in mind the spread of tree branches and the density of their leaves, and underplant with varieties that thrive in shady areas.
How long will a foliage border take to grow?
It all depends on the varieties you have planted. If you are looking fir speedy results, there are several varieties of fast-growing trees and shrubs that are worth including in your planting scheme.
Some, such as hydrangea, bamboos, willows, photinia and Portuguese laurel grow incredibly fast, while others take a few years to get going.
You can always fill gaps with containers of colour to catch the eye until your border starts to fill up.
---
As well as delighting you, your foliage border will also be a haven for wildlife, birds and beneficial garden insects that eat pests and help to keep your plants healthy.
Encourage birds by hanging feeders (make sure they are safe from cats and other predators) and placing bug hotels in and on the denser vegetation.
Sign up to the Homes & Gardens newsletter
Decor Ideas. Project Inspiration. Expert Advice. Delivered to your inbox.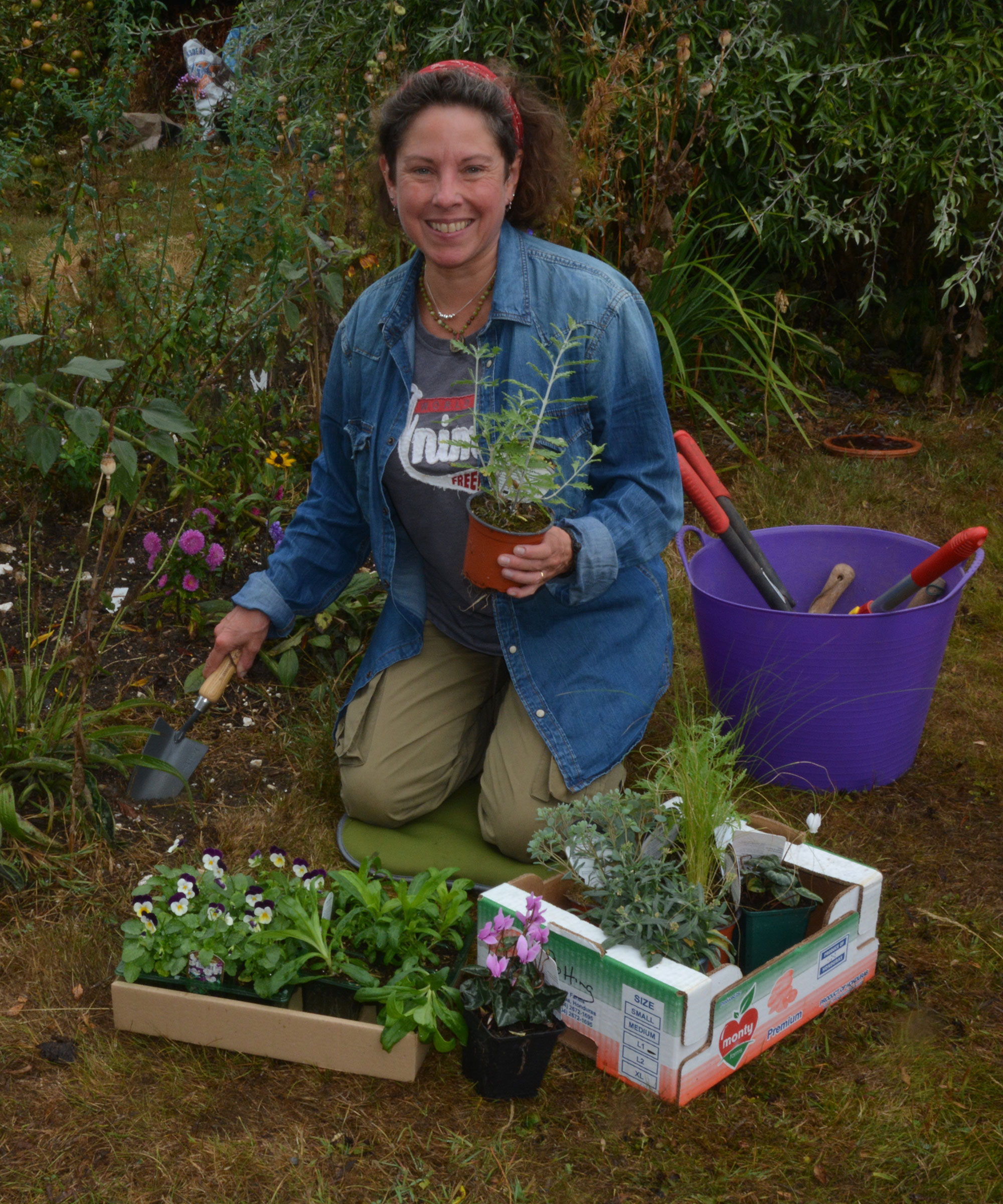 Gardening editor and writer
Ruth is a regular contributor to Homes and gardens. She is horticulturally trained and has qualifications from the Royal Horticultural Society. Ruth spends her working days writing about and photographing the gardening jobs that our readers should be carrying out each week and month, and tests many new products that arrive on the gardening market.