How do you incorporate a grill into an outdoor kitchen? Expert tips to help you get it right
Including a grill in your outdoor kitchen design is key to getting the most out of your backyard cook space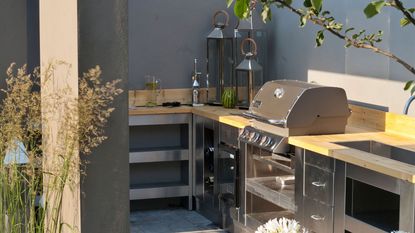 (Image credit: Mabo/Alamy Stock Photo)
A grill is always going to be the centerpiece of your outdoor kitchen whether it's used for those big occasion cookouts or small and simple family barbecues. Whether it's a gas, charcoal or wood pellet grill you're interested in, you'll definitely want expert advice on how to incorporate it safely into your outdoor kitchen space.
If you love the idea of creating a built-in grill with either a cart model or a sleek integrated style there are a few things to consider ahead of installation. It's always a good idea to start by reading and following the manufacturer's instructions and installation guide for your specific grill. You can also consult a pro if you have further questions you find haven't been covered.
We've also asked our team of experts to tackle the most commonly asked questions on how to incorporate one of the best grills into your outdoor kitchen to make grilling in your backyard both easy and a pleasant experience every time.
Expert tips on how to incorporate a grill into an outdoor kitchen
Whether you're looking to upgrade your outdoor kitchen this summer or are planning an outdoor kitchen from scratch, getting your choice of grill as well as its location within the kitchen correct, are key to the overall success of the space.
Here's what you need to consider.
1. Choose your preferred type of grill
First it's a good idea to establish what sort of grill you want. 'Choosing your grill depends on many factors,' says Ana Ro, founder and chief editor of Design Ideas Guide, who loves cooking for guests in her outdoor kitchen. 'This includes whether you're looking for a cart model or a built-in grill, and also if you prefer gas grills, charcoal, or pellet grills.'
Next determine the grill class. 'Economy is the cheapest but not recommended,' says Ana. 'Consider instead mid-range premium grills and luxury top-of-the-line grills. Your choice of grill class depends on your budget.'
Finally determine the size of grill you'll need to include in your outdoor kitchen. Will you be hosting big grill parties regularly or are you just going to be entertaining occasionally? 'The size very much depends on this,' says Ana.
A premium grill design like the Spirit II E-310 Gas Grill from Weber has a large cooking area of 529 inches so can easily cater for large groups. The side tables can also be left off if you want to slot it into a gap in your outdoor kitchen.
Determine if your grill needs accessories too, like rotisserie attachments or smoker boxes so you get the combination of outdoor grill station ideas that work best for you, and then plan the space accordingly.
Ana is the founder and chief editor of the Design Ideas Guide. Growing up with a father who would buy and flip homes as a hobby, she has always had a passion for interior design and DIY projects, and started the Design Ideas Guide to inspire homeowners. Ana is also a licensed real estate broker in California. She loves spending time with her family and friends, cooking and engaging in outdoor activities. Ana earned a Bachelor's in Economics from the University of California, Los Angeles (UCLA) and is currently working on her Master of Interior Architecture, a professional graduate program that is accredited by the Council for Interior Design Accreditation (CIDA) and the Western Association of Schools (WASC).
2. Decide how your grill will be installed
The easiest way to incorporate a grill into an outdoor kitchen is to build around a freestanding/cart model-style grill. 'You simply build a structure around the grill, and can easily move the grill as needed to clean or access the fuel tank,' explains Joe Raboine, vice president of design at Belgard.
Another, more common way, is to incorporate a built-in style grill to create the ideal cooking and prep combo for your backyard. 'This type of grill is made to be built into a permanent exterior grill island, and typically also benefits from a set of double doors below for access and cleaning,' explains Joe.
'This involves more work since you need a structure and must ensure that the cut-out for the grill is the correct size. Once built, the grill is then set into the opening and is held there by a flange that wraps around the base of the unit.'
The Napoleon built-in prestige 500 BBQ grill from Amazon is ideal for incorporating into an outdoor kitchen in this way. It will sit neatly on top of a suitable frame or unit to create a built-in grill station.
If you prefer the idea of a built-in kamado grill in your outdoor kitchen, it's hard to beat the appeal of the Classic Joe II from Kamado Joe. With its red ceramic finish, it would make for an eye-catching centerpiece.
In his current role, Joe oversees the Belgard Residential Program. Joe strives to promote the idea that outdoor living is not only a good investment for homeowners but can also fundamentally change lives for the better by bringing people together. Joe started his career as a contractor over 25 years ago.
3. Finalize the layout of your outdoor kitchen
Select a location for your grill that is safe and open, with a minimum of 10 feet of clearance from your house or any flammable materials.
'Opt for an L-shaped layout for your outdoor kitchen, which provides a clear separation between the hot zone (the grill and other heat appliances) and the dry zone (the countertop space),' suggests Artem Kropovinsky, interior designer and founder of the Arsight studio based in New York. 'To safeguard the wooden framing from heat, incorporate a built-in grill that comes with an insulating jacket.'
It's also best to place an outdoor kitchen not too far from the indoor kitchen, and near where your primary outdoor living space is. 'Having it too far from either may result in lack of usage,' says Joe Raboine. 'Consider too, what features will make it more usable. Adding an outdoor sink and refrigerator, as well as a bar ledge, will provide a practical space where people will want to congregate.'
Make sure you prioritize the foundation of the grill for your outdoor kitchen too. 'This means taking time to find high-quality modular cabinets that will enclose or surround your grilling equipment or serve as storage for your utensils,' says Michael Haas, pitmaster and founder of Angry BBQ.
'I suggest using modular cabinets made of powder-coated stainless steel. Doing so brings extra protection from fire and other hazards for your outdoor kitchen and grill. Install insulated jackets to protect the cabinets from heat. Likewise, ensure space for a gas line, power connections, and propane tank.'
Artem is an Interior designer and founder of Arsight, a NYC-based interior design studio. The company works on residential and commercial spaces, and loves using sustainable techniques like upcycling and repurposing to create unique, one-of-a-kind spaces that not only look great, but also make a positive impact on the environment.
4. Consider ventilation for a grill in a covered outdoor kitchen
If your outdoor kitchen is part of a covered patio, it should also have a vent for the grill. As heat rises it can be dangerous to have any kind of ceiling above you for high heat cooking.
'If the patio is vented well, has high ceilings, and has no combustibles nearby it may be okay,' says Joe Raboine. 'However, typically in a built-in kitchen, when under a structure, a vented hood is required and recommended. There are many options available, but most are powder-coated stainless-steel hoods. This is the safest route and will prevent the likelihood of a fire.'
Michael Bradford, a consultant at Barbecue Pals and backyard designer specializing in outdoor landscaping and kitchen renovations, also advises including a grill vent. 'A vent hood helps to remove smoke and fumes from the grilling area, preventing potential fire hazards and improving air quality,' explains Michael. 'The vent should be properly installed and vented to the outside to ensure correct ventilation.'
'If there was a gas or propane leak with the plumbing, the vents will allow the gas to escape the structure,' adds Joe Raboine. Not having vents can be extremely dangerous, as gas can build up and be ignited when the grill is lit. It's a good idea to consult the grill installation manual for recommended vent sizes and locations.'
5. Think about your power supply
When installing a grill in your outdoor kitchen, you should also think about electrical outlets.
'As part of the installation process, prepare for gas line or electrical wirings for the grill and electrical wirings for the rotisserie, lights, and any other appliances,' says Ana Ro. 'Plan everything and talk to a professional. Ensure you're making safe choices about installing gas lines and ventilation, and that construction is carried out in the correct way.'
Incorporating outdoor lighting in your plan at the same time will ensure you can use the space in the evening too.
---
Avoid what could end up being an expensive outdoor kitchen mistake by taking the time to properly plan the location of your grill. To get the best set-up you'll need to make sure it is practical, safe and looks good too.
Get the centerpiece of your outdoor kitchen right, however, and hosting backyard parties will be a breeze.
Sign up to the Homes & Gardens newsletter
Decor Ideas. Project Inspiration. Expert Advice. Delivered to your inbox.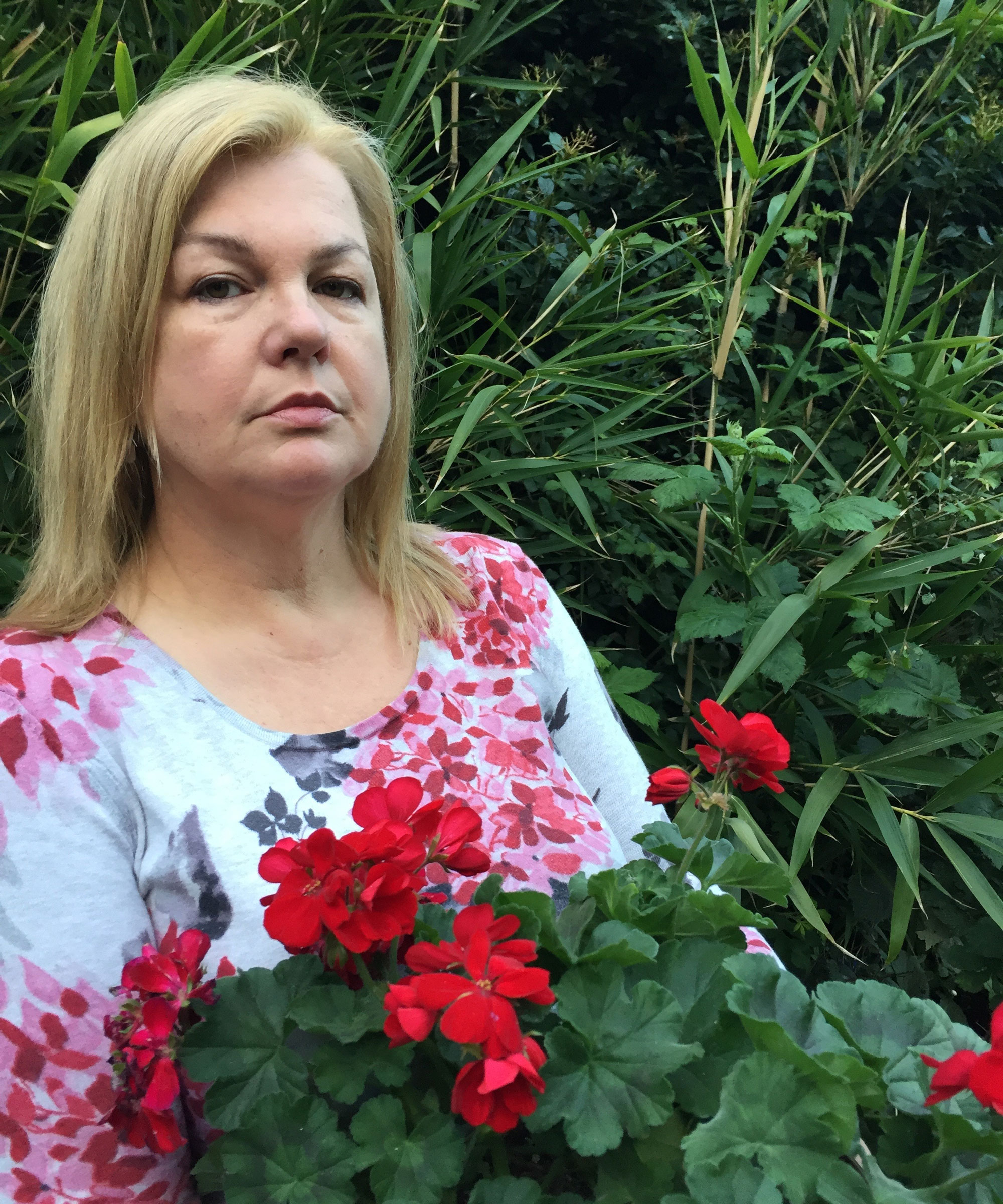 Lifestyle journalist Sarah Wilson has been writing about flowers, plants, and garden design and trends since 2015. Having already studied introductory garden and landscape design as well as a course in floristry she is currently adding to her list of qualifications with an RHS Level 2 course in the Principles of Plant Growth and Development. In addition to homesandgardens.com and livingetc.com she's written for gardeningetc.com, Modern Gardens and Country Homes & Interiors magazines.