11 compact plunge pool ideas that will revitalize both you and your yard
These chic designs are perfect for smaller spaces and budgets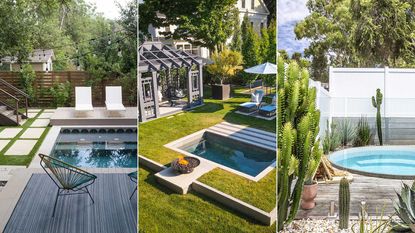 (Image credit: (From left to right) Texas Tiny Pools – Soake Pools / Photography: Jon Caron – Prestige Plunge Pools / Photography: Painted Rust Photography)
Sign up to the Homes & Gardens newsletter
Decor Ideas. Project Inspiration. Expert Advice. Delivered to your inbox.
Thank you for signing up to Homes & Gardens. You will receive a verification email shortly.
There was a problem. Please refresh the page and try again.
When temperatures soar, what could be more refreshing than dipping into a pool of cool water, in the privacy of your backyard? True, not everyone has the space or the budget for a full-sized swimming pool, but a plunge pool can offer a chic alternative that's equally as inviting.
You won't be able to swim laps in this type of pool, but for beating the heat, they're a winner. And plunge pools aren't for warm-weather use only – many can be transformed into hot tubs if hooked up to a heater.
Installing a plunge pool is usually more straightforward than a regular backyard pool, seeing as they're so much smaller. What's more, cleaning is easier, and running costs are cheaper. And, with the right landscaping around them, they can elevate any compact plot into a luxurious, spa-like space. What's not to love?
11 plunge pools that will elevate a plot, whatever the season
These looks will provide plenty of inspiration for your own small-yet-stylish plunge pool.
1. Create a botanical screen around your plunge pool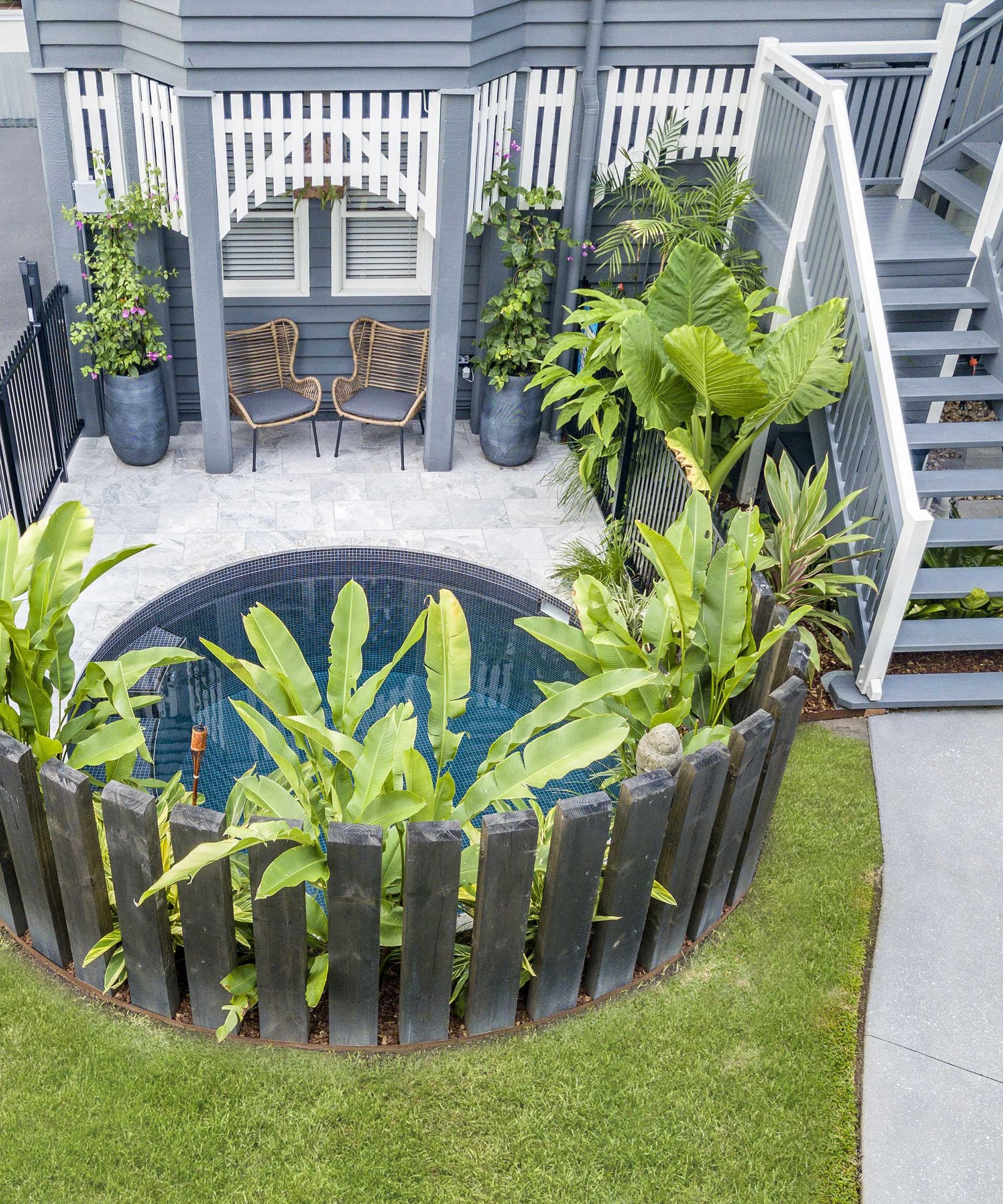 Creating pool privacy is essential for total relaxation, especially in more built-up areas. A pool fence will create a clear boundary (and is often mandatory for safety reasons), but a beautiful way to soften it, and add an extra layer of screening, is to line it with plenty of plants.
For a tropical vibe, opt for those with large, luxuriant leaves, such as banana trees (available at Fast Growing Trees). Vibrant flowers, such as hibiscus, can also be a welcome addition.
For a more traditional look, there are plenty of evergreen shrubs that can be clipped into neat hedges.
2. Up the drama with a fire pit nearby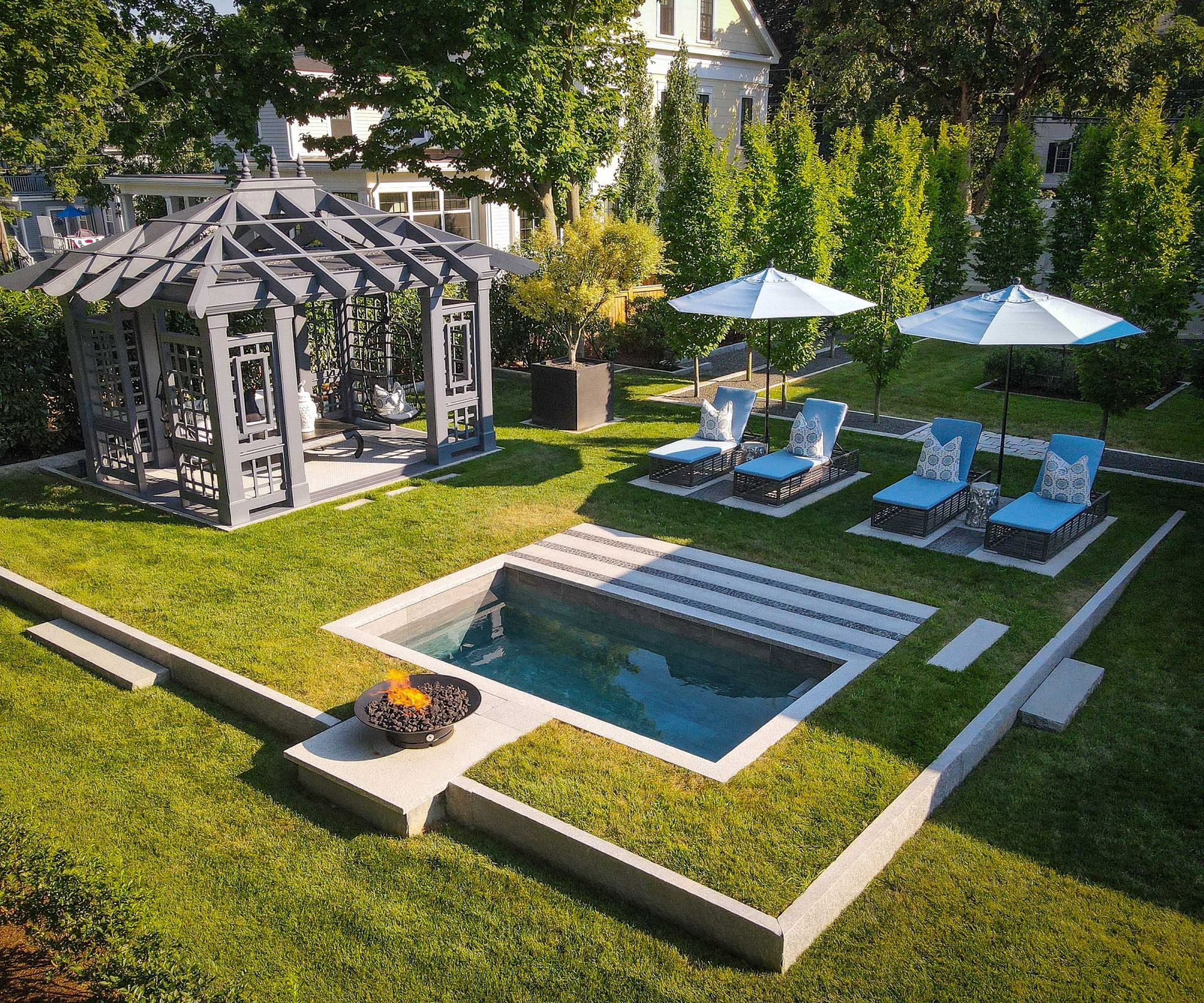 This gorgeous backyard setup features tons of chic features for relaxing alfresco in style. The Japanese-inspired teahouse provides a sheltered area for entertaining, while the loungers and parasols are perfect for soaking up the sun. And if the heat gets too much, the flush-installed pool is only a few steps away.
As demonstrated here, paving can be used to highlight focal points throughout the scene and tie a space together. What's more, it can provide a place to sit for dipping your toes into the cool water, while protecting a lawn from splashes.
And if you want to turn up the drama, why not add a fire bowl into the mix? It will offer an extra touch of luxury, especially once the sun sets.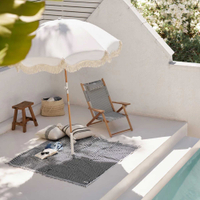 Premium Beach Umbrella | $240 from Lulu & Georgia
Screen the midday sun's rays with this patio umbrella. With its tassel details and muted colorways (including Antique White and Sage Stripe), its vintage style will add a touch of charm to any backyard scheme.
3. Maximize the use of space with a sliding cover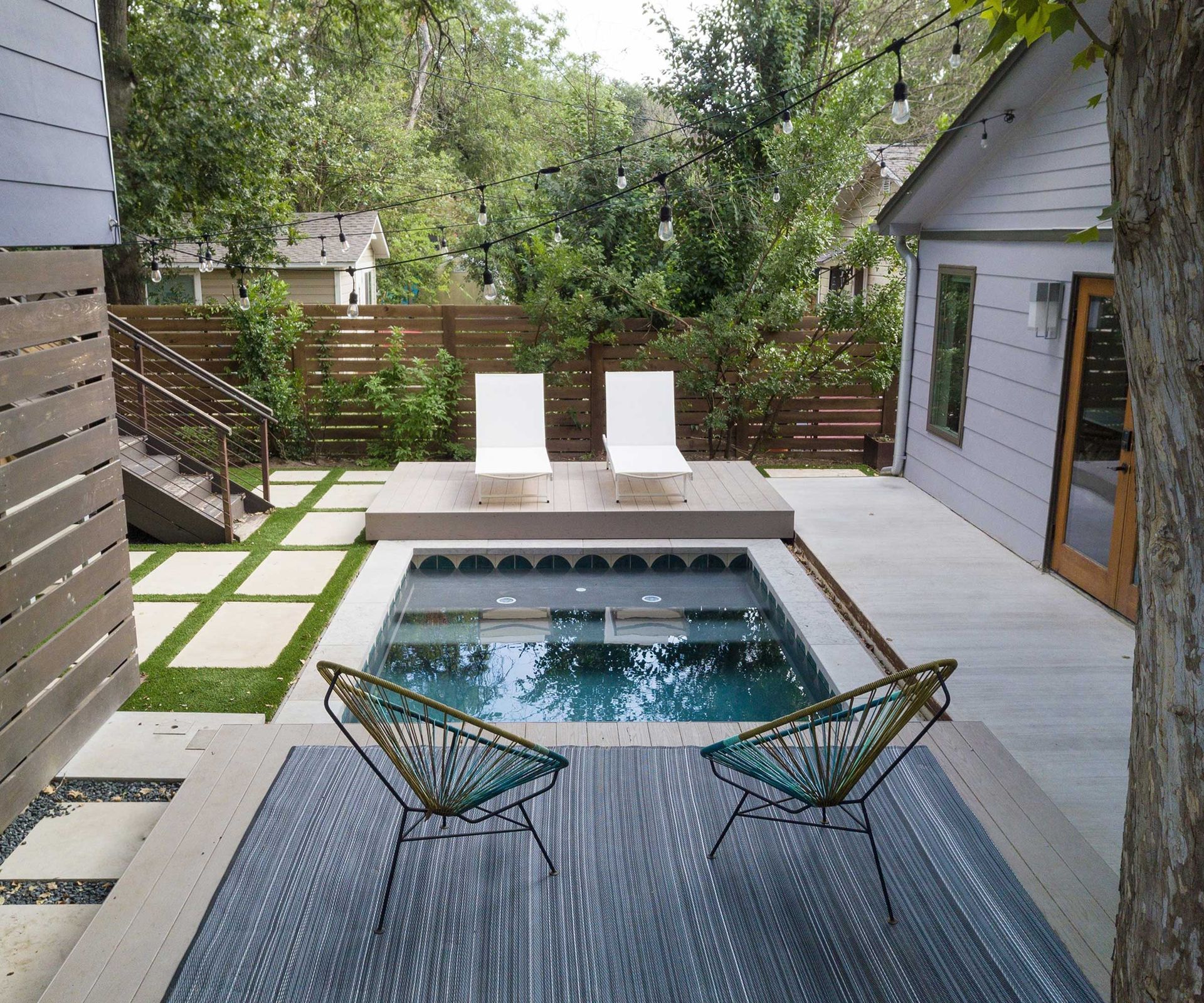 'Plunge pools and small swimming pools are great for homes that don't have a lot of extra space,' says Amy Hageman, the Owner and Founder of Texas Tiny Pools. She explains how many of their builds are for families who live in urban plots that have tight access, trees, or other utilities that make them unsuitable for larger pools.
To fully make the most of a small yard, it's worth considering a cover that doubles up as a deck when the pool isn't in use. The example shown above is made of an aluminum frame and capped PVC decking, so it's extremely durable and waterproof and can stand up to the elements, explains Amy. 'It is manually opened and closed, and glides on an aluminum track. It is strong enough to hold your patio furniture, and when it's closed, you can use your yard space for other activities.'
This cover is also good for pool safety, as it locks to keep kids and pets out.
Amy is the Owner and Founder of Texas Tiny Pools, an Austin, Texas-based pool design and construction company founded in 2017. Amy grew up with family in the construction industry, and after working for commercial real estate firms for over a decade, her own challenging yard led to the creation of Texas Tiny Pools. Involved in site visits, sales, and design, Amy's enthusiasm is contagious as she leads homeowners through the Tiny Pools process.
4. Pair your plunge pool with a patio shelter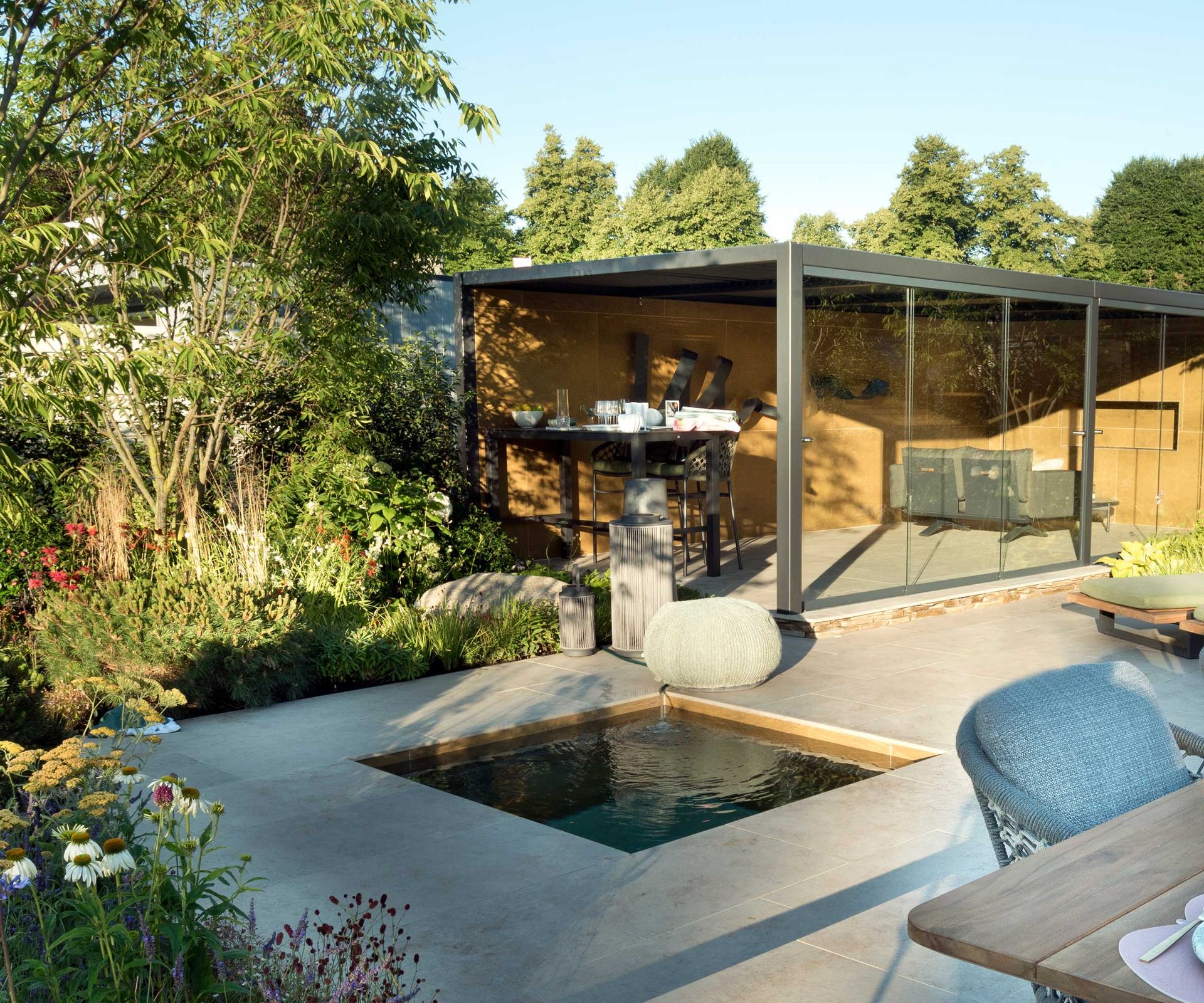 Some sort of patio cover to provide shelter will truly turn your plunge pool area into an extension of your home. They provide shade from the sun and protection from rain, as well as a chic focal point and entertaining zone, and there are various styles to choose from.
Wooden pergolas offer a traditional aesthetic and can be elevated with the addition of climbing plants. Paired with more rustic-style plunge pools, they can create a relaxed, Mediterranean vibe.
A louvered pergola is another option that's great for modern backyards. Popular for their sleek look and versatility, they complement a minimalist plunge pool perfectly, as demonstrated here. This design also features glass doors for extra protection from the elements when needed, and even a fireplace for cozying up in the evenings.
5. Create shade with palms for a resort-like vibe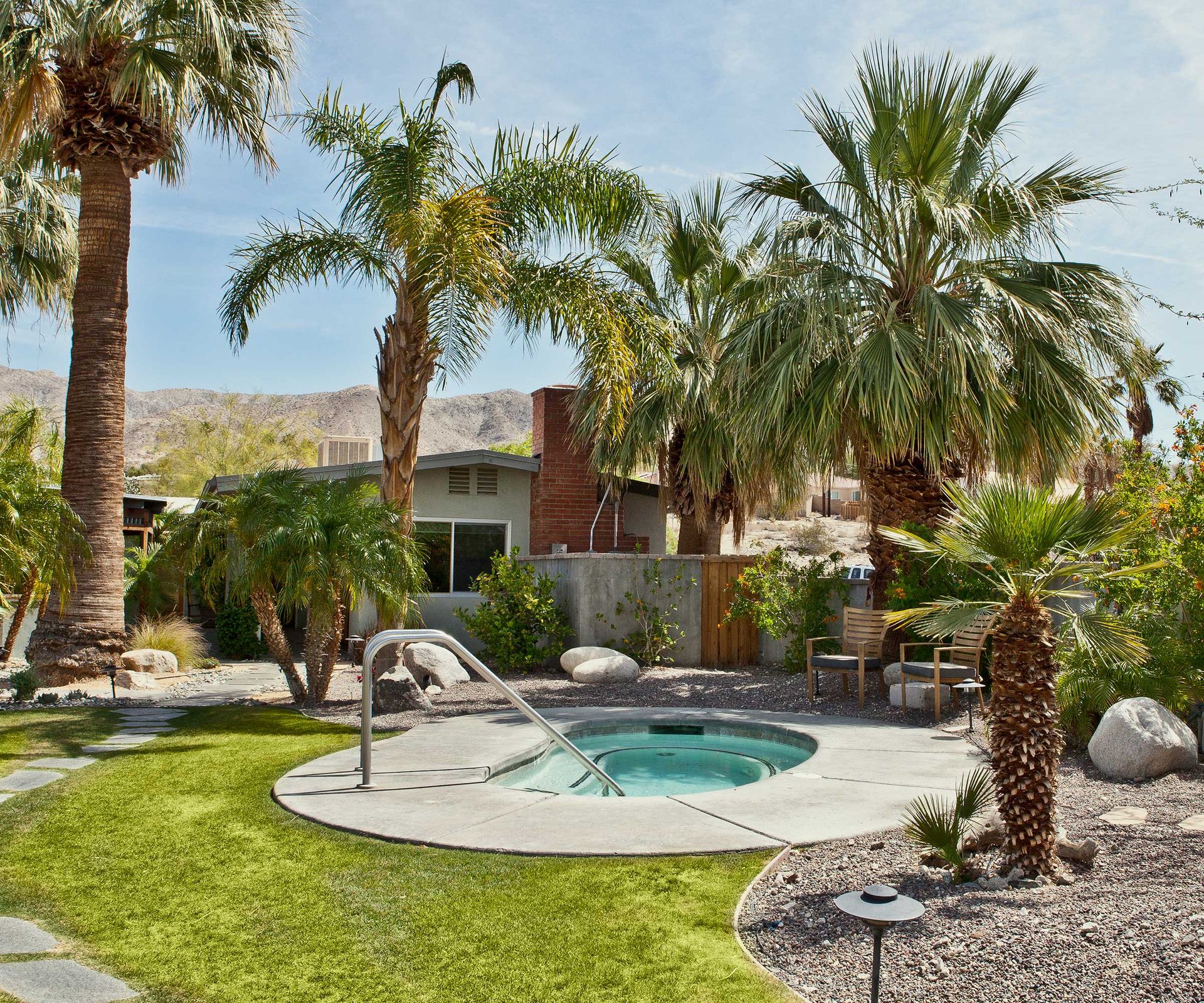 The planting choices in your pool area can transform the space into an oasis, as well as provide patio shade.
Palm trees offer a tropical-resort feel, and are often easy to look after. There are different varieties available to suit different spaces. For instance, the windmill palm tree, available from Nature Hills, can grow up to 40ft tall and has yellow springtime flowers, while the miniature date palm can be grown in a pot.
Ornamental grasses and boulders add to the naturalistic landscaping of this stunning space.
6. Embrace the stock tank pool trend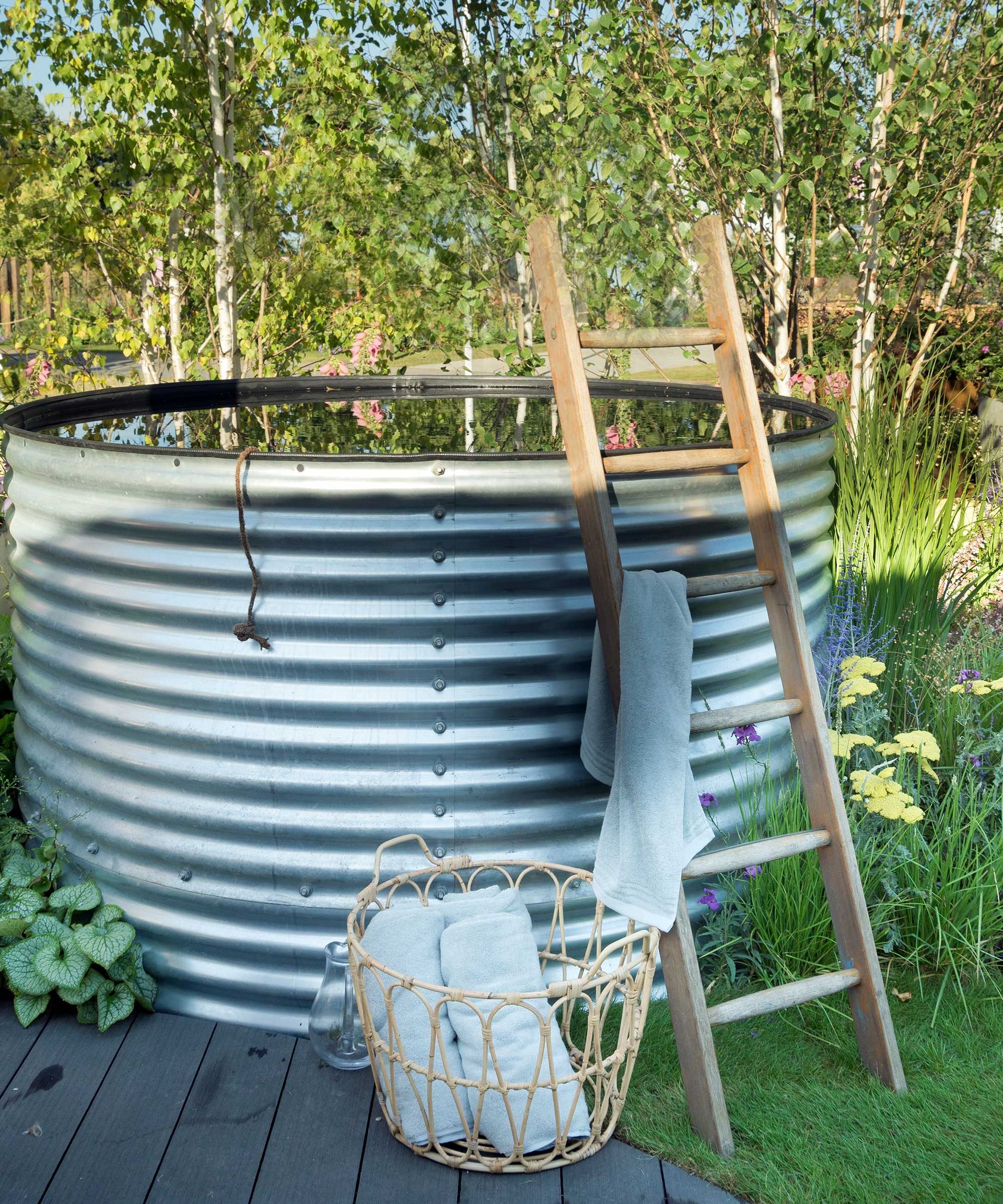 If you fancy a spot of DIY, upcycling a reclaimed stock tank into a plunge pool could be an option. It's a home-improvement project that's had a surge in popularity over the last few years – and the results are a sustainable and budget-friendly backyard addition that looks great, too.
A rustic ladder and lots of pretty planting soften the industrial edge of this tank. Alternatively, many homeowners choose to sink their stock tanks into a pool deck for easier access. And if you're not 100% sold on the metallic finish, a coat or two of spray paint can be used for easy customization.
7. Get creative with design details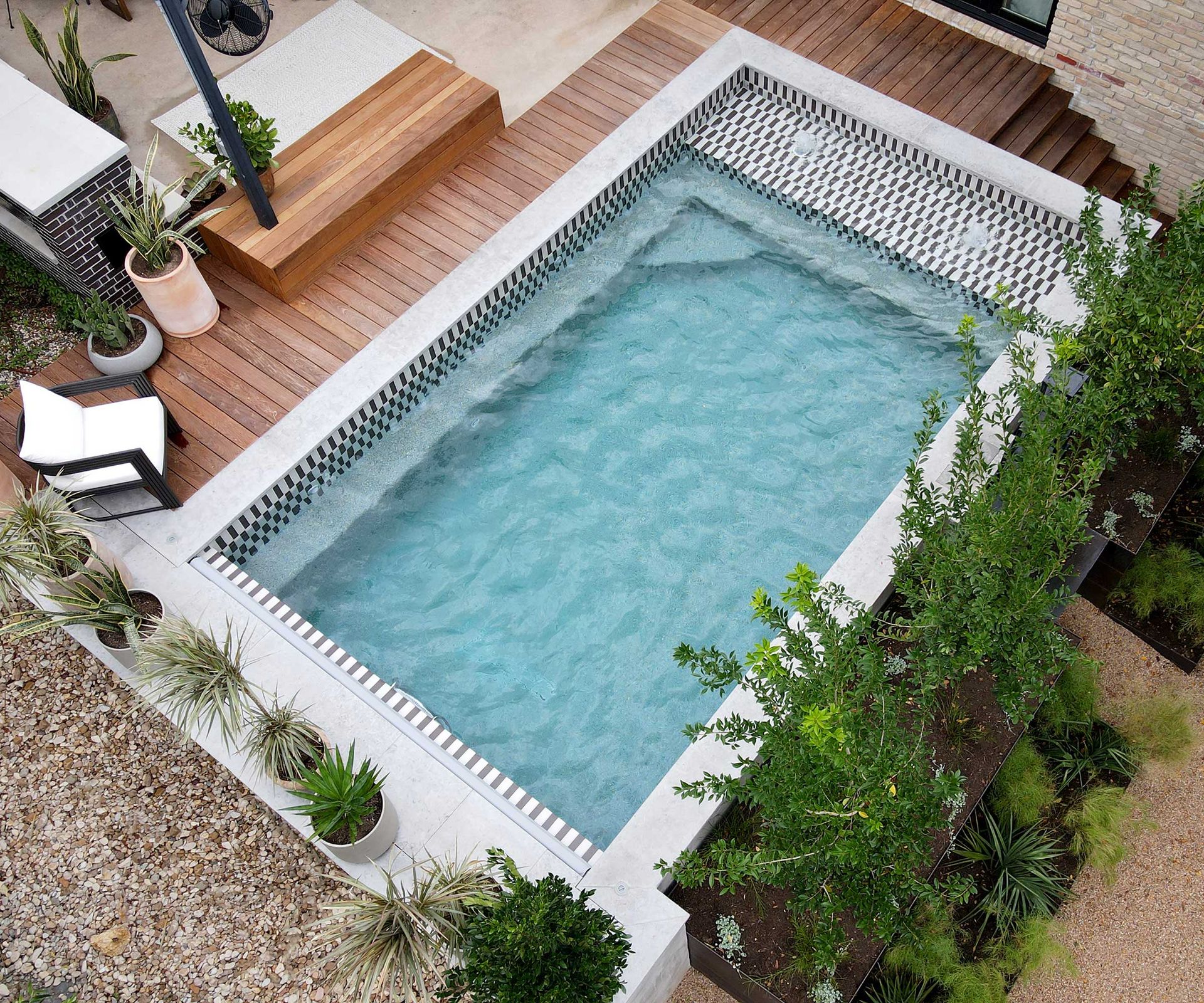 This pool is a great example of a unique design that reflects a personal sense of style.
The black and white surface is made from handmade recycled clay tiles from Fireclay Tile, says Amy of Texas Tiny Pools. The client happens to be an interior designer, so she was very involved in the design process. The tile colors and installation pattern were chosen to complement the home's extensive remodel, which was recognized on the prestigious AIA Austin Homes Tour.
'The pool creates a focal point for the surrounding deck and landscaping, used for relaxation and entertaining year-round,' Amy says. She adds that the pool is also heated, and has an automatic cover.
Karen Larson, Founder of Soake Pools, also comments on the trend of using creative materials to surround the outside walls of above-ground plunge pools. These include wood panels and large-format exterior tiles, she says.
Karen's background is in textiles and design. She enjoyed working in the interior design field and even owned a chocolate shop at one time. After raising two children, she co-founded Soake Pools and gets excited by the challenge and variety in each day. Karen oversees all day-to-day operations and sales, and has led the company to success over the past near-decade.
8. Up the sensory appeal with a built-in waterfall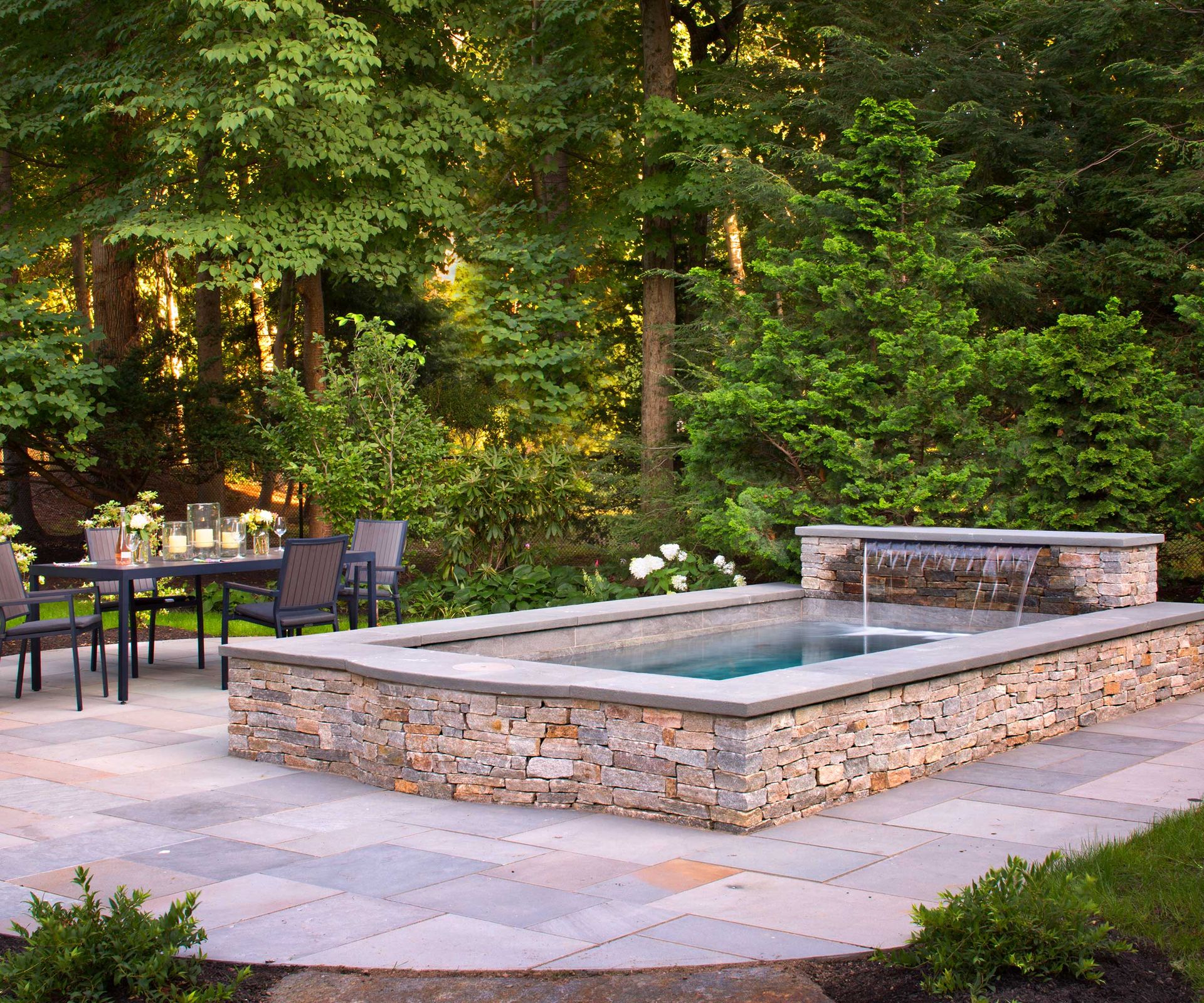 Karen reveals that their most frequent request from clients is to install natural stone on the outside of their pools. As shown in the setup above, the resulting aesthetic is attractively organic, and blends into the surrounding pool landscape beautifully.
A built-in waterfall enhances the laid-back look, as well as upping the sensory appeal. Just like a typical backyard water feature, the soothing sound adds to the ambiance of the space. Plus, it provides a degree of audio privacy.
9. Incorporate your plunge pool within a deck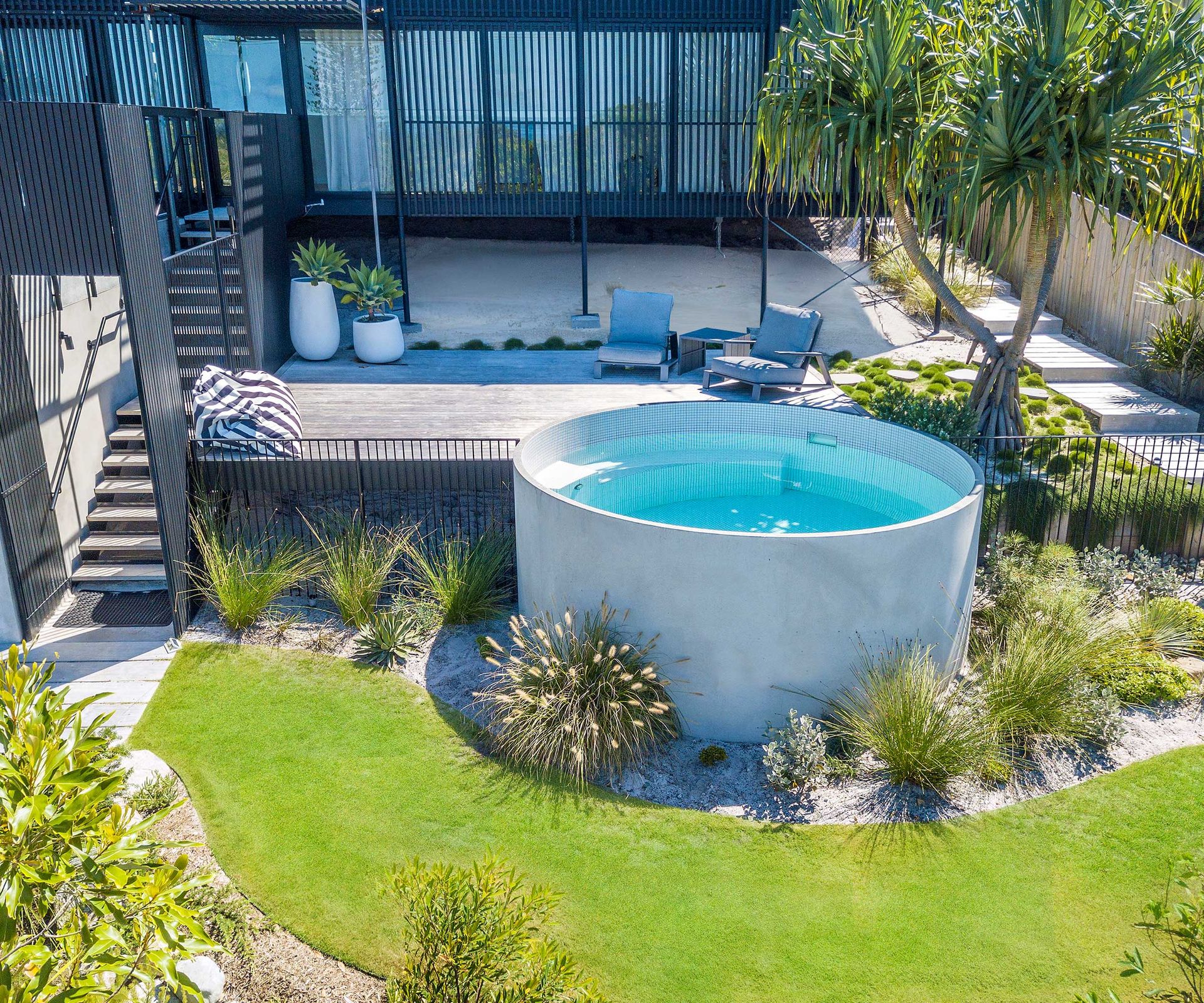 While some plunge pools can be built entirely onsite, others can be precast. These have the benefit of a much quicker installation – in as little as two days – as Geoff Smith, Co-owner of Prestige Plunge Pools reveals.
'Precast plunge pools also have a distinct cost advantage over traditionally built pools when installed above ground,' he continues. 'They can be up to 50% cheaper than pools framed up and formed onsite.'
This example sits alongside a raised deck, making access easy, while ornamental grasses around the base add texture and color.
Geoff co-founded Prestige Plunge Pools in 2016 with his wife Amy. It is now the largest and most awarded plunge pool installation company in Australia. Geoff is also a QBCC licensed builder and does all of the site inspections for the business.
10. Surround your plunge pool with low-maintenance plants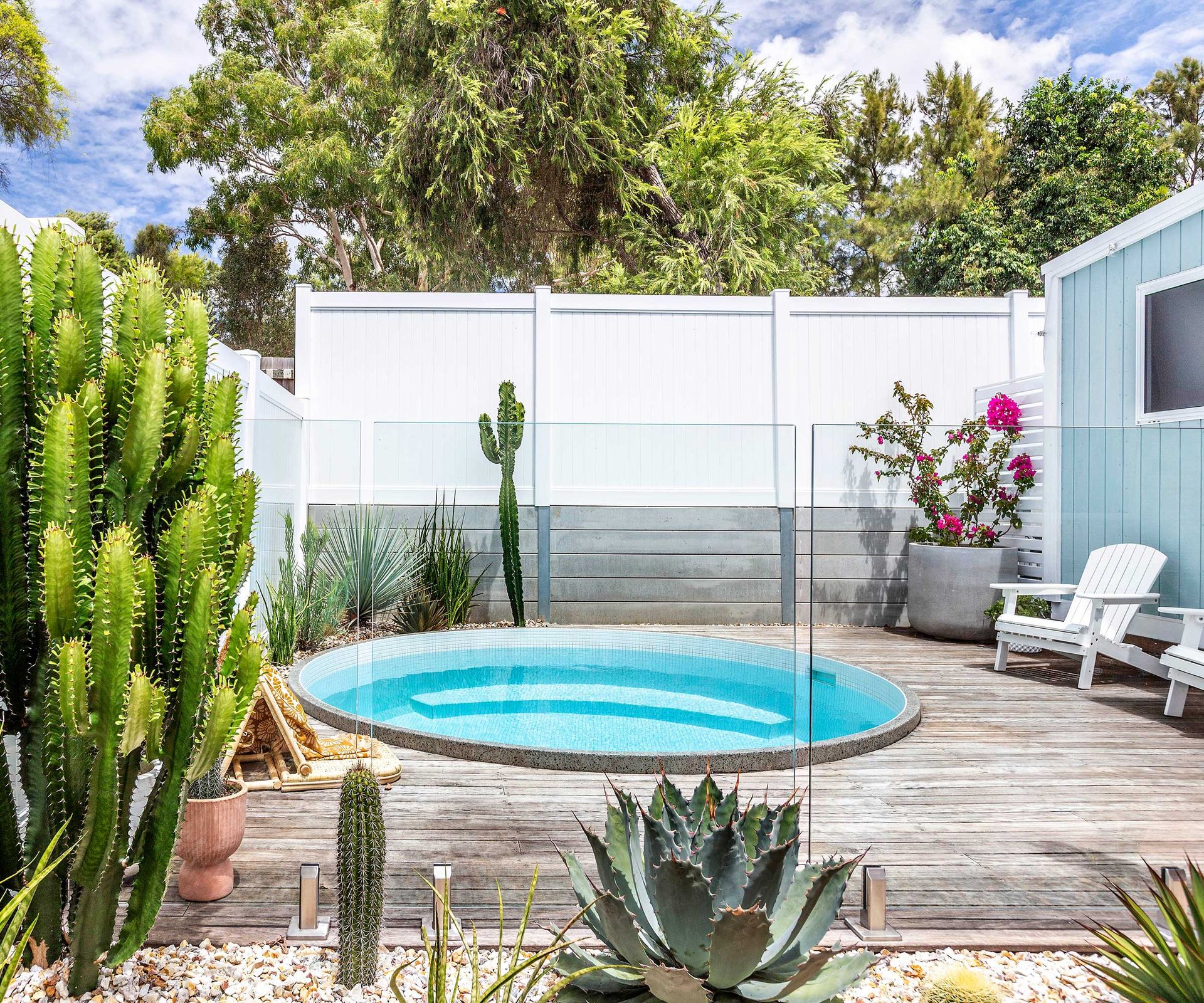 The interest in dry gardens is on the rise as homeowners look for low-maintenance spaces that are more sustainable. This means opting for drought-tolerant plants, such as succulents and cacti – which just so happen to look fabulous around a pool.
Try Agave attenuata x ocahui 'Blue Glow', available at Nature Hills, for its glaucous hue and architectural structure – just ensure you don't plant it too close to pathways. For something a little less spiky, Echeveria shaviana 'Truffles' (also from Nature Hills) will delight onlookers with its ruffled foliage.
Add them to planters as part of a poolside container display or sink them into a graveled bed or border.
11. Consider a cohesive color palette for your plunge pool patio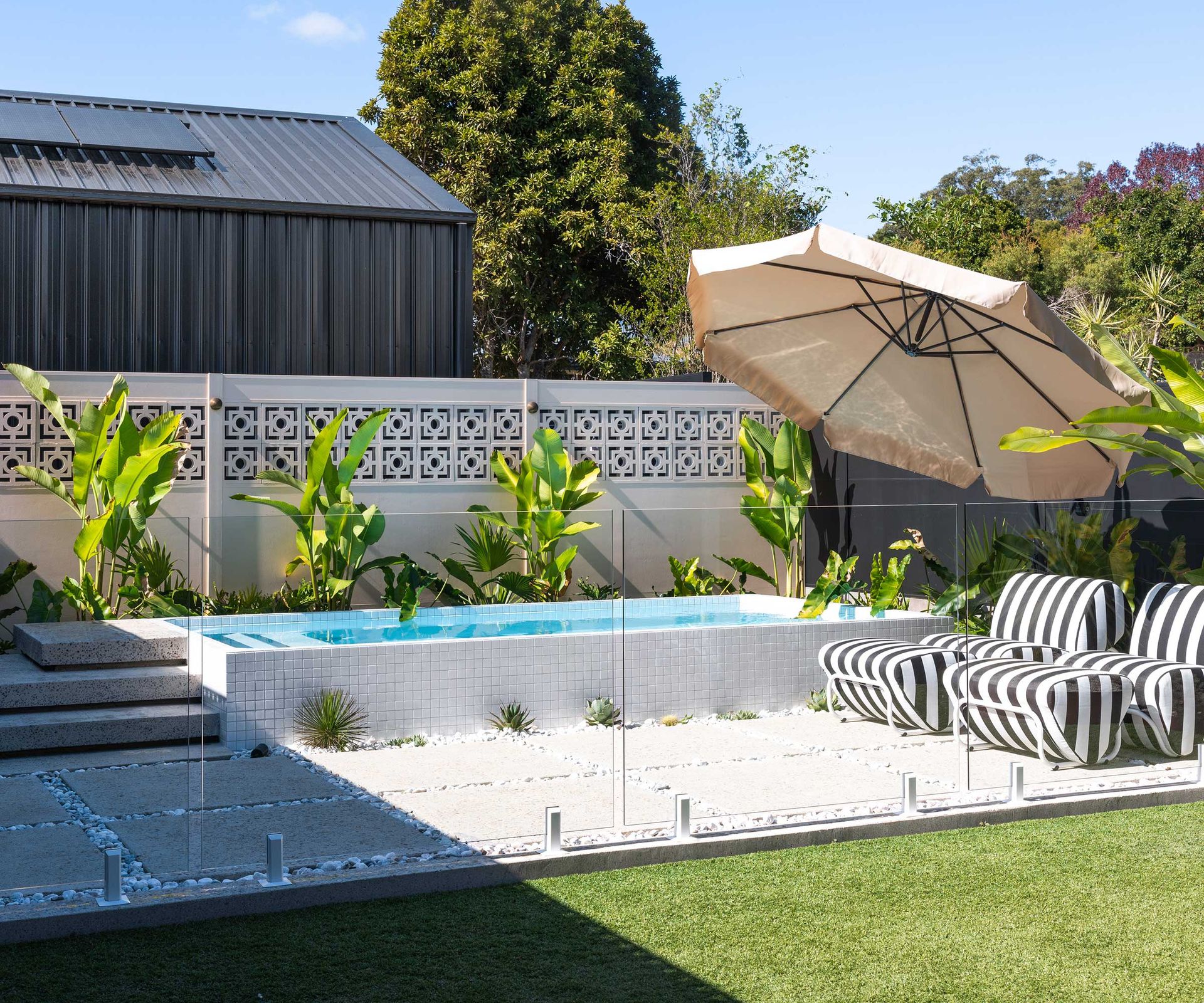 Sticking to a carefully-considered, minimal color palette is an easy way to bring a pool patio together.
The cream and white hues, contrasting with inky black, instantly make this setup above feel contemporary. The decorative fencing at the back for privacy and shelter has also caught our eye, while a glass fence at the front means the space can be admired from the rest of the plot.
Wide-format 'floating' steps up the style factor further. And we love the paving, too, which is interspersed with pebbles. Not only do these add textural interest, but they'll also help splashes drain away, rather than puddling.
How do you keep a plunge pool clean?
Proper pool maintenance is important, no matter what size of pool you have. Otherwise, green algae can develop, the water can become cloudy, and the pool won't be as safe or as enjoyable to use.
The good news is, a plunge pool will require fewer chemicals than a full-sized pool to stay sparkling, but you will still need to test and sanitize it regularly, including adding pool shock. Fishing out debris using a pool net and using a pool vacuum is also essential.
Do you need a permit for a plunge pool?
In some areas, you may need to obtain a permit for building a plunge pool, so do check with your local municipality, first. Also, bear in mind that some areas require a pool fence or a lockable cover to be installed for safety.
How big are plunge pools?
'Most of our pools are 5ft deep (or less), and average 12ft by 20ft or less, but we can build to any size, shape, or depth since our pools are custom,' says Amy Hageman, Founder of Texas Tiny Pools. Precast pool companies tend to have various sizes – and often shapes – to choose from, but these will typically fall within the same range of dimensions.
---
A plunge pool could be just what your yard needs to take it up a notch this summer (and beyond). You'll be hosting pool parties for friends and family in no time.
As with larger pools, just remember to clean it regularly to keep the water fresh, and bear those all-important pool safety tips in mind for a relaxing experience for everyone.
Sign up to the Homes & Gardens newsletter
Decor Ideas. Project Inspiration. Expert Advice. Delivered to your inbox.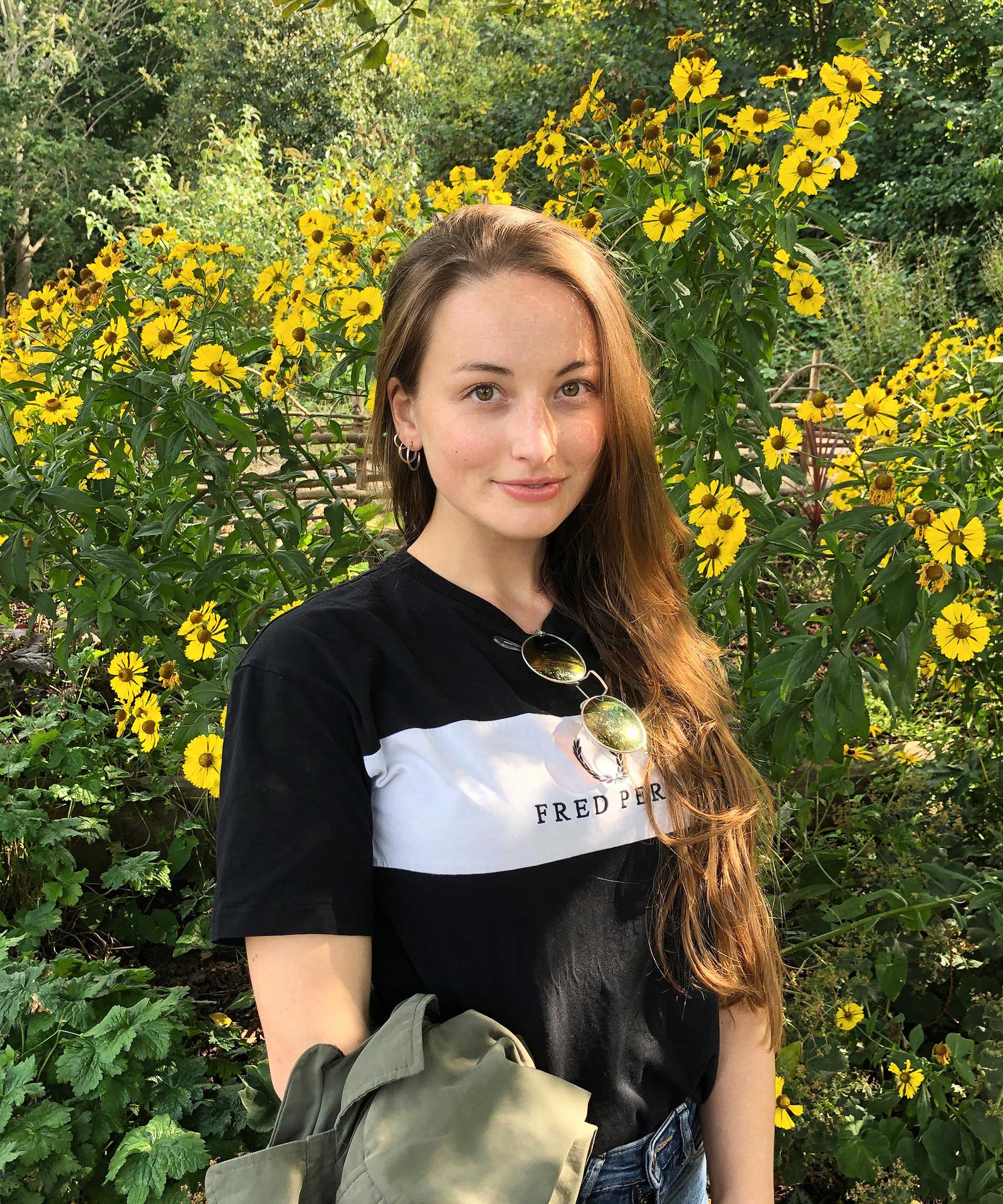 The garden was always a big part of Holly's life growing up, as was the surrounding New Forest where she lived. Her appreciation for the great outdoors has only grown since then; over the years, she's been an allotment keeper, a professional gardener, and a botanical illustrator. Having worked for Gardeningetc.com for two years, Holly now writes about plants and outdoor living for Homes & Gardens.