Patio shade ideas – 11 stylish ways to stay cool this summer
Escape the heat when relaxing outdoors with these stunning looks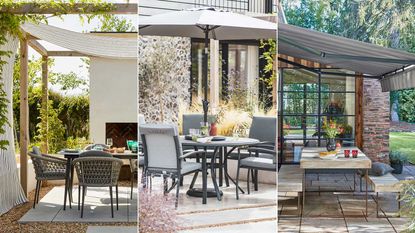 (Image credit: (From left to right) Bridgman – Atkin and Thyme – Thomas Sanderson)
Sign up to the Homes & Gardens newsletter
Decor Ideas. Project Inspiration. Expert Advice. Delivered to your inbox.
Thank you for signing up to Homes & Gardens. You will receive a verification email shortly.
There was a problem. Please refresh the page and try again.
If high temperatures and sunny days are ahead, creating a spot of shade for your outdoor living area is essential. That way, you can continue to entertain and relax alfresco whatever the time of day – and stay cool and comfortable while doing so.
Screening the sun on your patio is also important for protecting your skin from harmful UV rays, highlights James Scaife, Director of Olson and Baker. But, it's not just about the practical factors; many options will add aesthetic appeal to the space, too, transforming it into a stylish summer oasis.
With over a decade of experience in garden styling and outdoor living, James Scaife has become a trusted expert in the field. His company, Olson and Baker, shares a passion for designing outdoor and indoor spaces that blend style and functionality, and James has assisted countless clients in achieving their dream outdoor environments.
11 ways to shade your patio space
Create a shaded retreat in your yard with these ideas – there's one for every style and budget.
1. Update a traditional pergola with plants and drapes
'Pergolas make a great addition to any backyard design,' says Shane Stevens of System Pavers, who has more than 25 years of experience in outdoor living design, construction and real estate. 'They shape the layout of the space, create aesthetic appeal, and are functional to boot!
'While these structures are typically open, you can create a roof yourself with climbing plants,' he continues. Clematis and wisteria are pretty choices. However, if you don't want to add to your plant-care maintenance routine, Shane also suggests weaving a canopy through the rafters to block out the sun.
And, if you're looking to kick this upgrade up a notch, Shane recommends adding a swing. 'Not only does it provide extra seating in the yard, but sitting on the bench while moving back and forth will create a nice breeze for those especially hot days.'
Alternatively, you could invest in a high-tech, louvered design. These are similar to traditional pergolas, but you can open and close the roof. 'You can get the best of both worlds – sun when you want it and shade or rain protection when you need it,' says Stacy Elmore, Co-Founder of The Luxury Pergola. In custom designs, you could consider adding a fan to the structure, too, to keep the space extra cool.
Stacy is a well-seasoned outdoor industry expert, having co-founded an outdoor living company back in 2010. Her company decided to focus all their efforts on louvered pergolas as they felt they provided the best balance of form, function and price compared to any other patio shade product offered.
2. Keep cool without splashing the cash with a parasol
'Parasols are great for shade on your patio,' says James. 'Choose high-quality ones that are durable and protect you from the sun.'
Simple designs in neutral shades – think cream or gray – have a timeless appeal, while bolder hues add a summery splash of fun. Stripes, meanwhile, have a vintage resort vibe that's charming in coastal gardens. Just remember to keep your patio umbrella clean to keep it looking its best.
If you want to avoid adding a bulky pole and stand to the middle of your outdoor space, cantilever styles are worth the investment. These can provide plenty of shade while being positioned to one side of your entertaining zone, and many options can be tilted to follow the sun's rays throughout the day.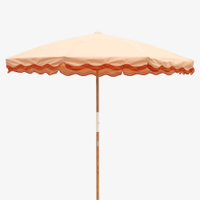 Amalfi Umbrella | $199 from Lulu & Georgia
This playful parasol is available in two shades – Riviera Green and Riviera Pink – which, along with the scalloped edge, give a nod to vintage style. Not only is it pretty, but it's practical, too; the fabric is rated UPF 50+, as well as water- and UV-resistant.
3. Make the most of backyard trees
There are lots of trees that can provide shade in a backyard, as well as natural beauty and privacy from neighbors. These include majestic oaks and tulip trees with their cup-shaped orange-and-yellow flowers. Even smaller trees can provide a useful spot of respite with their leafy canopies.
If you already have one that's established, consider setting up a bench beneath its branches, suggests Shane. It could soon be your new favorite summertime seating area in your yard.
If you're planting something new, opt for a fast-growing variety so that you don't have to wait too long to enjoy its cooling benefits.
4. Create a botanical sun screen with a trellis
You don't need a full-sized pergola to enjoy the dappled shade from a climbing plant or two. A garden trellis can be just as effective at creating shade during parts of the day. Try a trellis attached to a planter box for an easy solution that will also neatly divide your seating area from other areas of your yard.
The best climbing plants to use depend on the climate, says Samuil Iliev, a gardening expert. He suggests star jasmine (available to buy from Nature Hills) for year-round shade in warmer regions. Holboellia latifolia (sausage vine) is another option he recommends, or you could try passionflower for its exotic-looking blooms.
Don't forget about edibles, too. Grapevines and kiwi grow fast, have large leaves, and give delicious fruit at the end of the season, Samuil continues. You could even try an annual crop such as cucumbers or gourds.
Samuil Iliev is a certified permaculture designer and landscape designer. As well as this, he writes about permaculture, regenerative agriculture, farming, gardening, and more at SamuiIliev.com
5. Hang fabulous fabrics around your outdoor living space
Stylist Lisa Fontanarosa has decorated her garden gazebo and pergolas with bespoke textiles for as long as she can remember. Not only does this give the space privacy, but it also provides shade from the intense sun in New Mexico, she says.
It's a simple yet gorgeous idea that can totally transform a space and make it feel unique. 'The textiles are sourced on my travels from Fiji and France,' she reveals, adding how she changes them depending on the season. 'They act as a veil between spaces, indoor and outdoor,' she adds. Why not try it for your next garden party to elevate the occasion?
Lisa is a stylist, gardener, floral creator, and creative consultant who has traveled all over the world working with A-list style makers and collecting beautiful objects for her shop and home. She creates luxurious spaces for private clients and works with designers who create custom pieces for some of the biggest names in the business, including Bergdorf Goodman, Barneys, Colette, and Bon Marche.
6. Go for modern shapes with shade sails
'Shade sails are modern and stylish,' says James – they're the perfect option for contemporary backyards. 'They come in different shapes and can be positioned to block the sun. Choose colors that match your outdoor style for an inviting atmosphere,' he advises.
Usually installed as semi-permanent structures, they are more versatile than pergolas, and tend to be cheaper, too. Many designs are simply suspended from nearby fences, walls, or trees using durable string and fixtures. However, some larger designs come complete with a sturdy frame.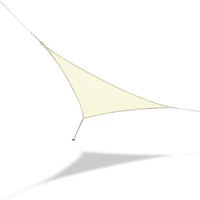 11' 10" Triangle Shade Sail by Hammaka | $46.12 from Wayfair
This shade sail comes in a range of eight colors, so you can be sure to find one that fits your outdoor space perfectly. With the installation hardware included, it's easy to set up, although you will need a drill with a boring bit.
7. Attach an awning to your home
'A simple awning off the back of your house or other suitable location helps provide shade,' says Joe Raboine, a landscaping expert from Belgard. 'Depending on your aesthetic, you can opt for one in varying fabrics or metal.
'If you have a bigger budget, you can invest in a retractable awning so you can adjust how much shade you'd like on your patio,' he adds. They can protect the space from light rain showers, too.
Awnings are also useful in built-up, urban areas for providing patio privacy, as they'll screen the view from neighboring windows up high.
Joe Raboine is the Vice President of Design at Oldcastle APG, the parent company of Belgard. He collaborates with both sales and marketing to ensure that Belgard's contractors and dealers are receiving best-in-class service, products and experiences. To that end, he often hosts webinars, assists with training events and trade shows, and presents at Belgard Universities and other industry events on current topics such as design trends, product innovations and industry best practices. As part of his role, he also oversees the Belgard Design Studio team. Belgard Design Studio is a resource to create customizable, 3D designs for Belgard contractors, dealers and design professionals.
8. Hide from the heatwave with a gorgeous gazebo
A gazebo will turn a corner of your patio into a cool and comfy retreat. While there are wooden options available, canvas versions, supported by metal poles, are more versatile – and more affordable.
Many designs come with additional curtains for extra shelter and privacy. These can often be cleaned in the washing machine for ease (check the product instructions beforehand).
Don't forget to add gazebo lighting to transform the space once night falls.
9. Add an arbor to your patio
Ideal for small patios, an arbor provides valuable outdoor seating that's already shaded.
Generally made from wood, you can customize one using a tin of exterior paint to suit your scheme and turn it into a stunning focal point. Then, add outdoor pillows for added comfort and style.
Consider planting a climbing rose to one side, too. It will soften the edge, plus you'll be able to enjoy the beautiful fragrance as you relax.
10. ...or a luxurious daybed, complete with canopy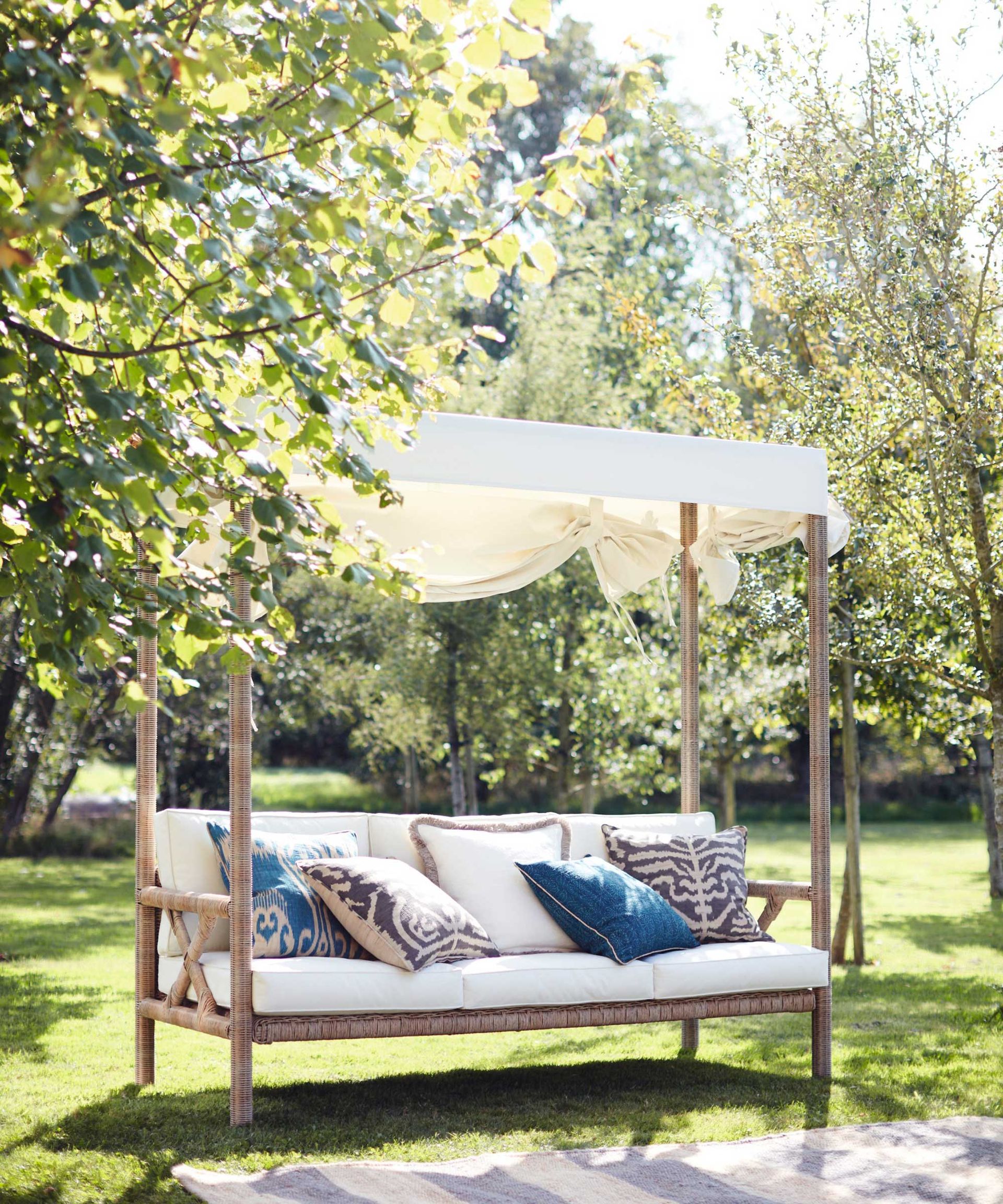 'One of my best tips is to find a piece of furniture that is as chic as it is functional,' says Sue Jones, Oka's Co-Founder and Creative Director. 'A beautifully designed daybed is the perfect example of this.'
Look for designs that have canopies included, as well as curtains that can be rolled up or down. 'I'd style it with cushions for added color and comfort and a coffee table to place my morning cup of coffee (or evening G&T) without worrying about spillage,' Sue says.
'The secret to investing in a statement garden piece is to find something that's versatile and equally as happy in a city patio setting as a country lawn. That way, you'll love it for years to come, and it'll always provide comfort, shade and a touch of luxury to your outdoor space.'
It's an easy way to make a patio look expensive.
Sue Jones founded Oka in early 1999 with two friends, Annabel Astor and Lucinda Waterhouse. Together, they identified a gap in the UK interiors market to sell a unique range of furniture, accessories and gifts by mail order. Since then, Oka has exceeded all expectations, growing into a fully-fledged omnichannel retailer operating 13 stores across the UK and three in the US, alongside a bespoke interior design service, a well-established online store, a quarterly magazine and a complimentary trade service. Today, Sue holds the role of Creative Director, overseeing the design and sourcing of the entire Oka collection.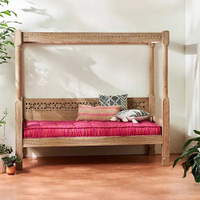 Carved Ezana Indoor/Outdoor Canopy Daybed | $2,698 from Anthropologie
Make a statement with this beautiful design built from acacia wood. Simply pair with an outdoor-suitable mattress and drape pretty fabrics over the top for a shaded space to relax.
11. Go for a cool custom build
If you have the budget and want to go for a shade structure that will truly wow, a custom-built design may be the way forward. This sleek example was spotted at a show garden and provides a serious dose of style, as well as plenty of space for entertaining.
For a more traditional route, a summer house to the side of your patio will provide a comfortable zone for escaping the midday heat while enjoying garden views. They're also a useful place for storing blankets, throw pillows, and outdoor games when the cooler months return.
What is the most affordable option for creating patio shade?
If you're feeling creative, a DIY shade solution made by hanging lightweight fabrics around your yard can be very affordable, and beautiful, too. However, for a quicker option that can last for years, a parasol or shade sail is your best bet.
---
Creating shade will seriously elevate your outdoor space, whatever the occasion. With the help of some pillows and plants as final touches – and an iced drink in hand – your patio will be chic and summer-ready before you know it.
Plus, not only will these options benefit you and your guests, but it can also help to protect your container plants from the heat.
Sign up to the Homes & Gardens newsletter
Decor Ideas. Project Inspiration. Expert Advice. Delivered to your inbox.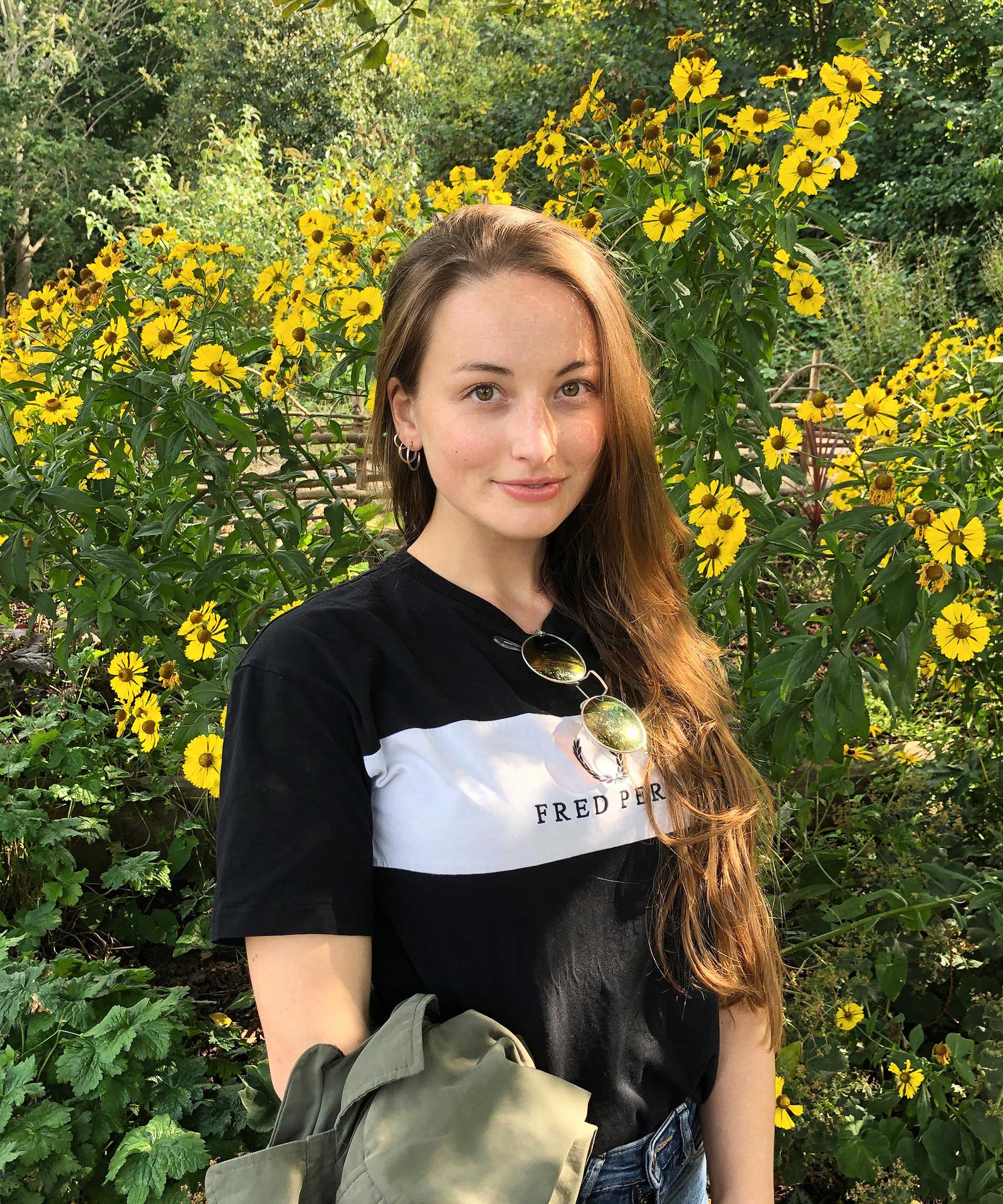 The garden was always a big part of Holly's life growing up, as was the surrounding New Forest where she lived. Her appreciation for the great outdoors has only grown since then; over the years, she's been an allotment keeper, a professional gardener, and a botanical illustrator. Having worked for Gardeningetc.com for two years, Holly now writes about plants and outdoor living for Homes & Gardens.