Should your bedding match your wall color? Designers argue the case and explain the effects
Explore how to choose the perfect bedding color to go with your walls – and whether matching matters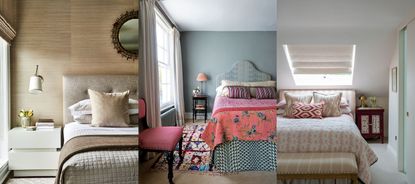 (Image credit: J Patryce Design | Future | James Merrell)
Sign up to the Homes & Gardens newsletter
Decor Ideas. Project Inspiration. Expert Advice. Delivered to your inbox.
Thank you for signing up to Homes & Gardens. You will receive a verification email shortly.
There was a problem. Please refresh the page and try again.
There is much to consider when picking the perfect bedding, from material to texture and style, with color, for many, the most important factor to decide on.
Choosing the best bed sheets in the right color for your bedroom will have a big impact on the overall look and feel of your space. Bedding that complements your wall color can establish a cocooning, cohesive design that celebrates a favorite shade, whereas opting for bedding in a different color can create a more colorful and visually interesting space.
But should bedding match or contrast with your wall color? We spoke to design experts to find out.
Should your bedding match your wall color?
To help you make the right decision for your design scheme, we have asked a collection of designers for their advice when choosing the perfect bedding color, and whether it it is best to keep things coordinated or establish contrast.
Yes – if you want to create a calming feel
Whether you keep things simple, for example, with white bedding to match with your white bedroom ideas, or coordinate with bright bedroom color ideas for a more impactful, immersive look, choosing bedding that matches with your wall color will create a seamless and united design, say designers.
Match with your wall color for a 'color-drenched' effect
This neutral bedroom by Lucy Ayres, principle at 22 Interiors, creates a soothing space of cocooned comfort, with the cream and white bedding, bed frame and cushions working with the cream painted walls and flooring to establish a soft and organic look that celebrates a calming, neutral palette.
If bold brights are more your style however, matching your bedding with colorful bedroom paint ideas will create a similar cocooning effect but with a more striking, saturated presence.
Use shades in the same color family
For a look that feels matched but with a slight hint of contrast, use shades in the same color family for your bedding and walls.
'Bedding can be of the same hue, but lighter or darker than the actual wall color. A big design mistake is having the same exact color for everything without variation in a room. You need highs and lows to make a room feel more interesting and draw attention to specific parts of the design' says California-based interior designer, Jen Dallas.
Jen Dallas is a California based interior designer, whose studio has its very own line of textiles tiles, rugs and lighting.
No – if you want to create livelier contrast
As we have explored, coordinating your bedding with your wall color can create a beautiful, calming design, however, it seems that the majority of our designers are in agreement that the bed is a perfect place to get creative with color contrasts.
Bring in accent colors for visual balance
When following basic interior design rules, color rules can help us to achieve a sense of pleasing visual harmony in a room, and using contrasting colors is often key to create an overall balanced color palette in a space.
'The 60-30-10 rule is a great guide to ensure balance. Think about using the main color (60% of the space) on the walls or large furniture. 30% will be your accent features such as rugs, bedding, chairs, and curtains, and 10% is the art, accessories and cushions you display,' says Emma Bestley, creative director and co-founder of YesColors.
In this bedroom, designed by Kimberley Harrison Interiors, the white walls act as the main color (60%), the gray painted window trim, bed frame and throw are the accent features (30%) and the beige blind, throws and cushions the remaining 10%.
Homegrown paint brand, YesColors, was founded by friends, John Stubbs and Emma Bestley. Alongside being a paint and color expert, Emma has worked in fashion buying and events within the media industry.
Create a colorful, layered look
Daniela Boleto, design director at UK-based bedding brand, Camomile London says, 'Our design philosophy embraces layering and the idea of a mix and match approach to interior schemes. Wall paint or paper can contrast beautifully with bedding to create a textured and cozy space, and this depth of interest can rarely be achieved with a perfect match.
'A bedroom should be a relaxing sanctuary where you feel truly at home and expressing yourself through contrasts is a lovely way to add character to a room.'
Daniela created London based bedding brand, Camomile London, with her mother, Helen Boleto. Both have, individually and collectively, enjoyed well-established careers in fashion, and developed Camomile London from a kids' bedding brand to a company that now creates designs for the whole family.
Match with your curtain color
Instead of matching with your wall color, why not match with your curtain ideas instead? If your walls contrast from your curtains, then matching your bedding to your curtains will create a sense of unity – whilst establishing a point of difference simultaneously.
'In this twin bedroom, we wanted the room to be filled with light and softer textures, so we coordinated the cream curtains with the cream white of the duvet. We also chose Swiss dot curtains to match with the pure white bed sheets. The Swiss dot texture of the curtains also gives interest to otherwise plain white "boring" curtains,' says Kristyn Harvey, founder and principal designer at Kristyn Harvey Interiors.
There is more guidance on choosing curtain colors in our dedicated feature, should your curtains match your wall color?
Kristyn Harvey is founder of Kristyn Harvey Interiors, a residential design firm specializing in home renovations and furnishings based in San Diego, California. Kristyn's philosophy is to compose efficient home spaces that also feel like a breath of fresh air, and she is known for creating light filled rooms, filled with warm natural textures.
Match and contrast walls with patterned bedding
With patterned bedding, you can not only enrich a bedroom space with color and personality, you can choose a design that contains a palette of colors that both match and contrast with your wall color.
Find the perfect balance with patterns
When decorating with pattern, Daniela Boleto from Camomile London advises, 'Start with the color palette or pattern you enjoy and use layers of interest from wallpaper or paint to duvets covers, pillows and throws. Be bold with contrasting patterns or pick out key tones and build them up through the space for a beautiful depth and texture.'
In this bedroom, the patterned bed frame coordinates perfectly with the soft, blue painted walls, with the eclectic mix of throws and cushions layered together as one to establish an eye-catching, colorful design that draws you into the space.
7. Layer together multiple colors
If you want to introduce a collection of different colors for your bedding ideas without embracing a patterned design, then use accessories such as pillows and throws to create an element of contrast.
In this modern bedroom, designed by Susie Novak Interiors, the black pillows and throw form a striking contrast with the white bedding and white painted walls, with the subtle, cream patterned pillow coordinating perfectly with the neutral bed-frame.
Our favorite bedding buys to shop now
Stonewashed Linen Sheet Set
Available in several versatile colors, the distributor, Machado Linen Mill, claims they're one of the most sought-after wedding gifts in Portugal.
Midnight Stripe Linen Duvet Cover
This Midnight Stripe duvet cover is made from super soft 100% stonewashed linen. Linen keeps you cozy and warm in the winter and cool in the summer.
FAQs
What color bedding looks best?
White bedding is often the most popular color bedding as it can coordinate with schemes of all styles with ease.
'White sheets are perfect for those who prefer a clean and fresh aesthetic in the bedroom, with white bed linen working well with wood and earthy textures. White bedroom decor can encourage a clear mind which is perfect for sleep' says Rhiannon Johns, interior designer and head of brand at Piglet in Bed.
However, white isn't always the most practical option, and as we have explored in this piece, embracing colorful bedding is an easy way to uplift a bedroom with color and character.
What color bedding makes a bedroom look bigger? Unsurprisingly, lighter colors.
---
The verdict
Whether your bedding matches the color of the walls can largely be decided by the mood you want to create: match the two for a color-drenched, womb-like effect. Contrast the colors of both for a livelier look.
The right bedding color should sit in perfect harmony with your overall design scheme for your bedroom. Whether you choose to coordinate, or contrast – the more popular option embraced by designers – ensure to choose a bedding design that brings you joy every time to step foot into the room, and cozy up in bed!
Sign up to the Homes & Gardens newsletter
Decor Ideas. Project Inspiration. Expert Advice. Delivered to your inbox.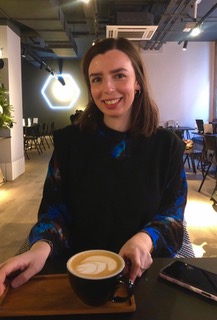 Zara joined Homes & Gardens in February 2022 as a Content Editor. After studying English Literature at University, she worked as an Ecommerce Website Editor, Content Writer and Buying Intern at multiple independent businesses within the luxury retail and lifestyle sectors. Her role at Homes & Gardens unites her love, experience and passion for the world of design and desire to create inspiring written content. She enjoys nothing more than discovering new trends, brands and products, whether that be in fashion, interior design or lifestyle.