Revealed: The bedding color that will make your bedroom look bigger
There is more to picking a bedding color than your bedroom's color scheme – this shade makes the space appear bigger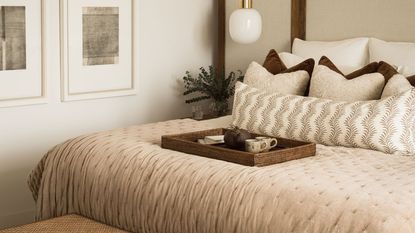 (Image credit: Albion Nord)
Picking out bedding is often a final flourish that ties a bedroom together. But, in a small space, your choice could make the room feel even smaller.
So what color bedding makes a bedroom look bigger? When trying to make a small bedroom look bigger, there are multiple design elements to consider, from the position of mirrors to the color of your walls and ceiling.
You may not think that bedding plays as important a role, but designers say otherwise.
What color bedding makes a bedroom look bigger?
Here, the experts have revealed that bedding in warm neutral tones can optically expand any space, while playing into relaxing bedroom ideas.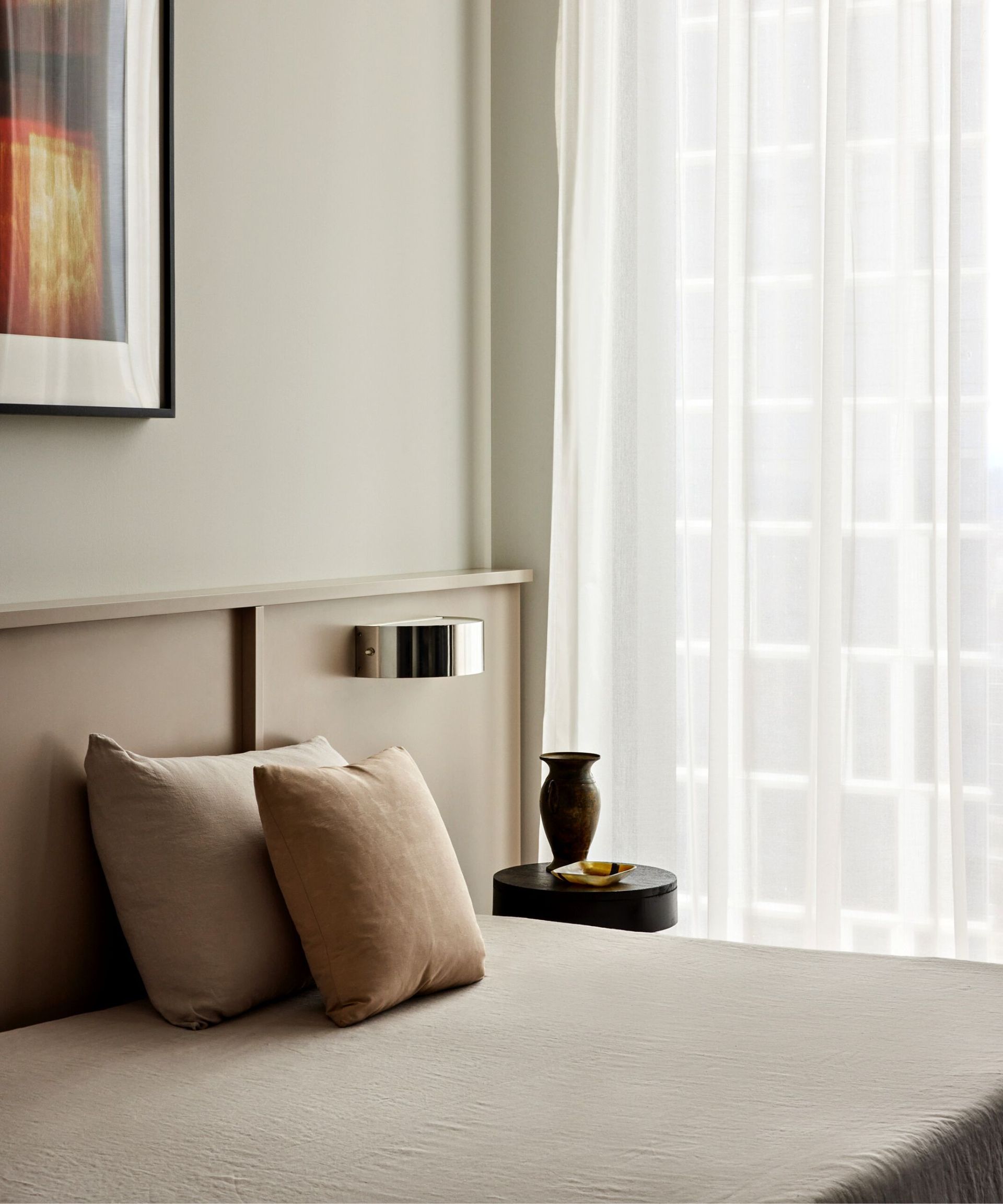 The general consensus amongst designers is that decorating with neutrals is the best option for making a small room look bigger.
'You can never go wrong with warm neutral colors for your bedding if you're trying to make the room look as big as possible,' explains Kathy Kuo, interior designer and founder of Kathy Kuo Home. 'Colors like beige, ecru and blush all make a bed look expensive without drawing the eye in a way that distracts from the rest of the space.
Neutral bedding lets you play around with mixing and matching throw blankets and decorative pillows to find the perfect combination that makes your room look bigger, too,' she adds.
Kathy Kuo founded KKH in 2012. Specializing in styles like French Country, Coastal Beach, and Modern Classic, KKH offers both a destination for sourcing the perfect furniture pieces and full residential interior design services
'When it comes to making a bedroom look bigger, the color of the bedding can play an important role. Lighter colors tend to make walls appear farther away, and ceilings appear higher. Therefore, lighter-colored bedding, such as white or light neutrals, can make a bedroom look bigger,' says Julio Arco, interior designer of Bark and Chase.
'Studies and research found that this is because lighter colors reflect more light, which can create an impression of more space. On the other hand, darker colors absorb more light, which can make a space feel smaller and more enclosed.'
In neutral bedrooms, there is also more opportunity to play with texture and pattern in smaller areas such as throws and cushions, helping to add interest to a small bedroom without overwhelming it with patterns. 'Using a combination of predominantly lighter colors for the duvet and sheets and darker colors on the pillows will create a lovely accent while keeping the illusion of a bigger space,' Julio continues
Julio Arco has been practicing as an architect, interior designer, and online interior designer for the past several years in the United States. He holds a degree in Architecture from ITESM and a Master's degree in Urban Design and Housing from McGill University. He is also a member of the Royal Architectural Institute of Canada (RAIC).
Carly Shafiroff interior designer and owner of Creative Interiors GB, Massachusetts agrees: 'we love to take advantage of the opportunity to bring in textures, patterns, and soft colors, neutral bedding allows this more freely. Patterns and colors greatly affect not only the mood of the space but how the room feels spatially. When we are trying to enhance the feeling of space in a room, we select soft neutral bedding.'
Carly Shafiroff is a professional designer and founder of her own boutique studio. Over the years, Carly has created a name for herself designing spaces that inspire, ground and offer a relaxed retreat.
What bedding patterns make a room feel bigger?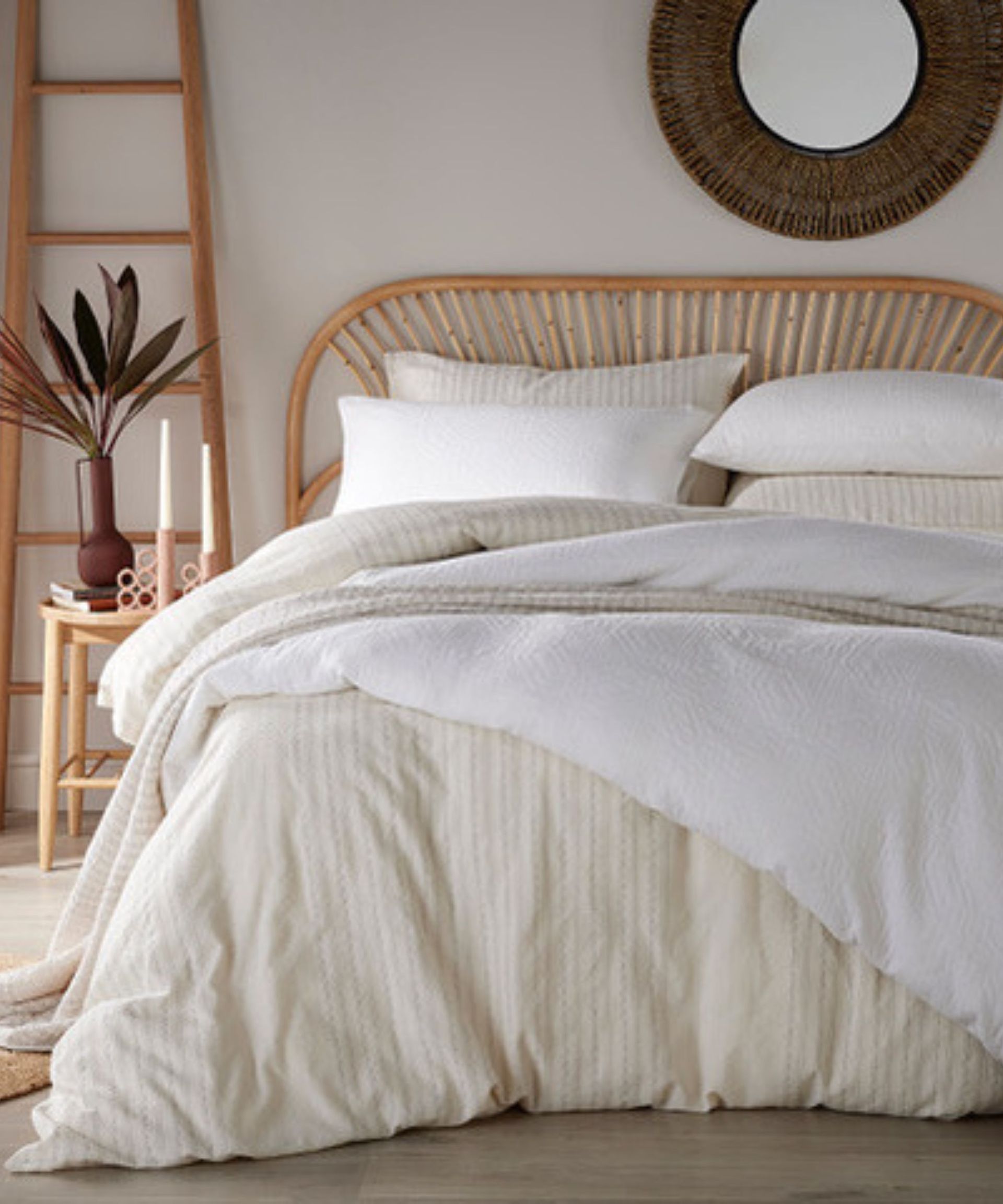 A common bedding mistake people make when trying to make a bedroom look bigger is avoiding patterns when, realistically, many patterns can help to visually expand space as well as add complexity to a neutral scheme.
'Suppose you want to add patterns to your bedding but also want to make the room feel larger; select patterns that use neutral or cool colors where the contrast between the design and the background is not as noticeable,' suggests Max Guidon, interior designer and founder of Guidon Studio.
'Larger scale patterns will also be easier for the eyes to "digest," making the room feel more spacious, for example, incorporating a repetition of thicker horizontal lines to create the effect that the room is more expansive than it is.'
Max Guidon is an emerging designer who recently won 1st place in the 2022 America Society of Interior Designers ASID | South Florida Chapter's Design Excellence Awards Emerging Professional: Residential – Contemporary Design and Emerging Professional: Residential and runs his own award-winning boutique interior design consulting firm based in Miami, Florida, specializing in high-end residential interior architecture.
Decorating with stripes is a technique used by many designers to make a space look larger, as designer Carly Shafiroff did in a recent project. 'In a recent primary bedroom renovation, we swapped out all of their dark charcoal bedding for a soft denim and cream striped duvet with a boucle throw. Swapping the old dark linens, for a brighter, more refreshed palette not only made the space feel bigger, but it brought in a palette that elevated the space and created a more timeless look.'
How bedding finishes affect how big a room looks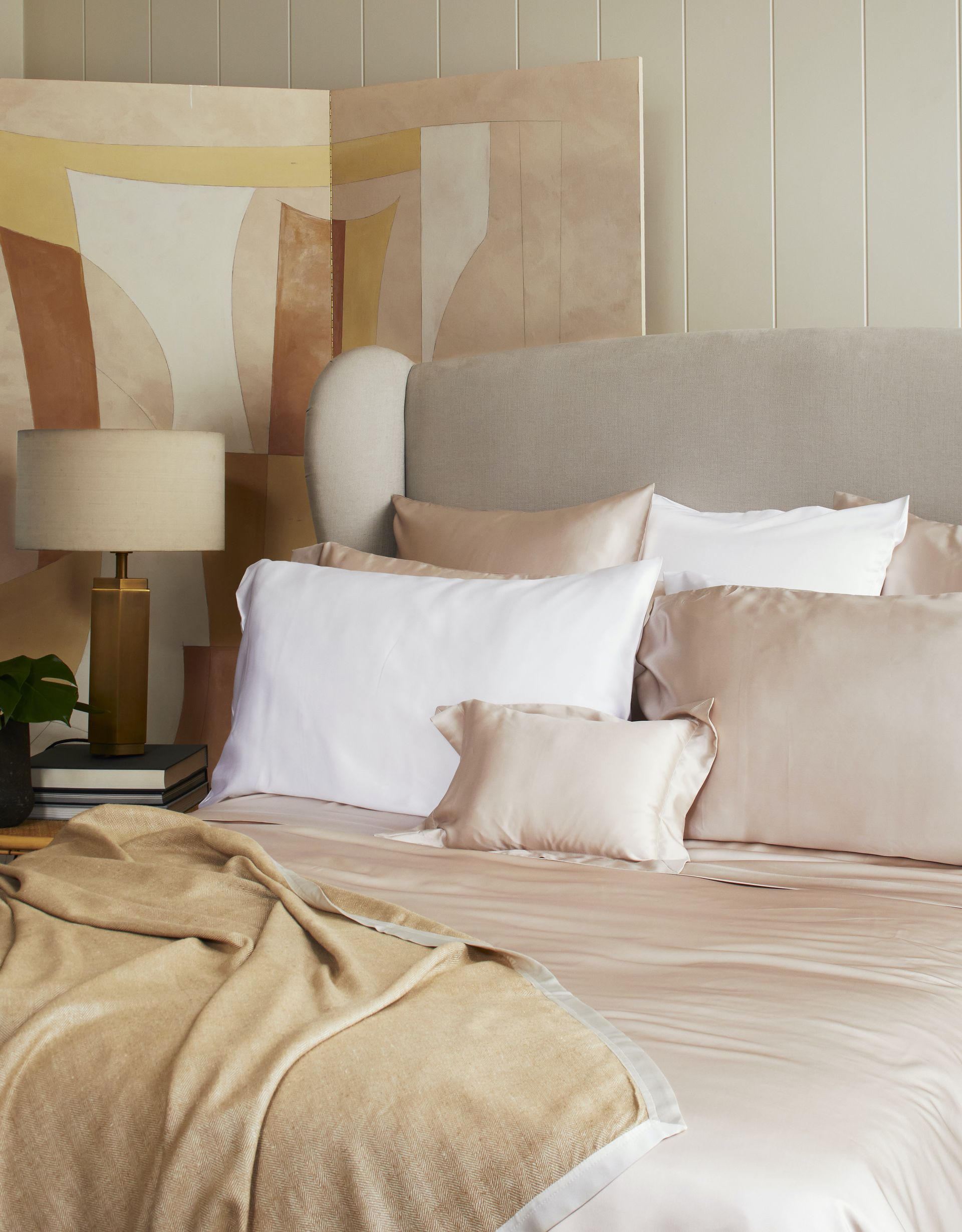 There is a range of bedding materials to pick from, so look beyond the feel against your skin and consider the overall visual effect. Many of the best bed sheets come in a range of finishes, from high sheen in materials like silk and satin to the relaxed matte look of 100% linen. The option you pick could impact how big, or small, your bedroom appears.
'Selecting bedding with a higher sheen will increase the light reflected off the bedding and put into the room. The brighter a room feels, the larger it will appear to be,' says Max Guidon, interior designer.
'A little sparkle is never a bad thing, especially when bought in the best luxury bedding, but generally, it is better to have more of a matt finish on the textiles – for throw pillows in front of the bed one can have a little pizazz, but if the duvet is a shiny fabric the light will reflect off of it and it tends to look inexpensive,' counters Louise Traficanti, creative director at Chicago-based bedding company, Eastern Accents.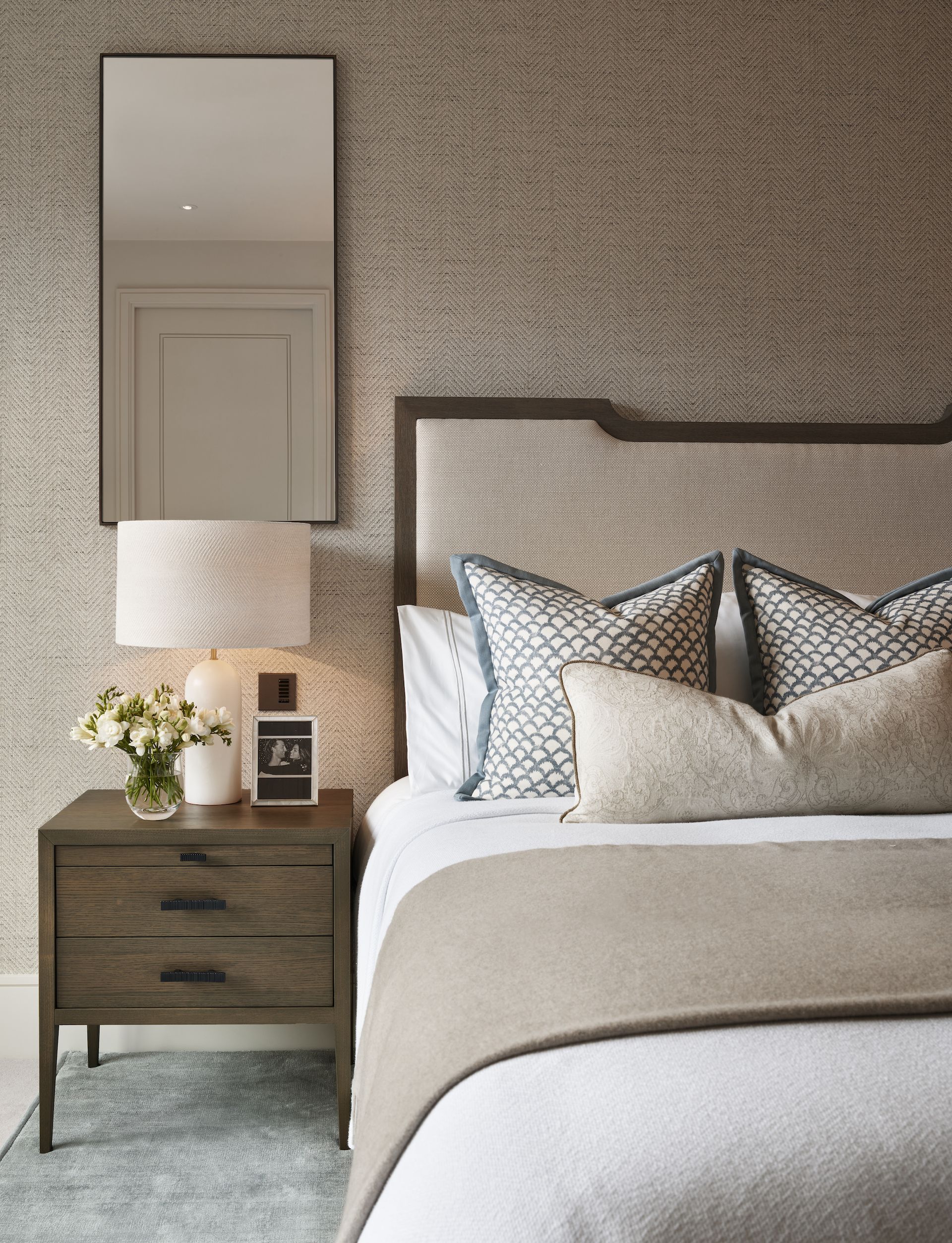 Texture is also not only important to how the bedding feels against your skin, but plays a huge part in the appearance of your bedding and the perceived size of your room, explains designer Juilo Arco. 'Textured fabrics such as velvet or corduroy can create shadows, making the room feel smaller. On the other hand, smooth and glossy fabrics such as satin or silk can reflect light and create an illusion of more space. It is important to take this into account alongside how much natural light the space gets, and your final bedroom lighting scheme.'
Stonewashed Linen Sheet Set
Available in several versatile colors, the distributor, Machado Linen Mill, claims they're one of the most sought-after wedding gifts in Portugal.
Midnight Stripe Linen Duvet Cover
This Midnight Stripe duvet cover is made from super soft 100% stonewashed linen. Linen keeps you cozy and warm in the winter and cool in the summer.
FAQs
How does bedding impact how big or small a bedroom feels?
Bedding plays a huge part in how big or small a bedroom feels, says Max Guidon, interior designer. 'In a bedroom, the bed is the main focal point. Selecting a beautiful bed is very important, but we should remember the bedding. Bedding will have a significant role in the design of any room since it's one of the most exposed surfaces attracting most of our attention. The selection of the bedding can have a significant impact on how the room looks and feels.'
What colors make a small bedroom look bigger?
When decorating a bedroom, picking lighter colors is an obvious go-to to help it look bigger as well as help make the space more relaxing. Alternatively, you may want to consider color-drenching the space in a darker shade, painting the ceiling the same shade to help blur the confines of the room and make it appear taller.
---
Opting for a warmer neutral bedding set can help to make a bedroom look larger as well as provide a calming base for more intricate decor pieces.
Sign up to the Homes & Gardens newsletter
Decor Ideas. Project Inspiration. Expert Advice. Delivered to your inbox.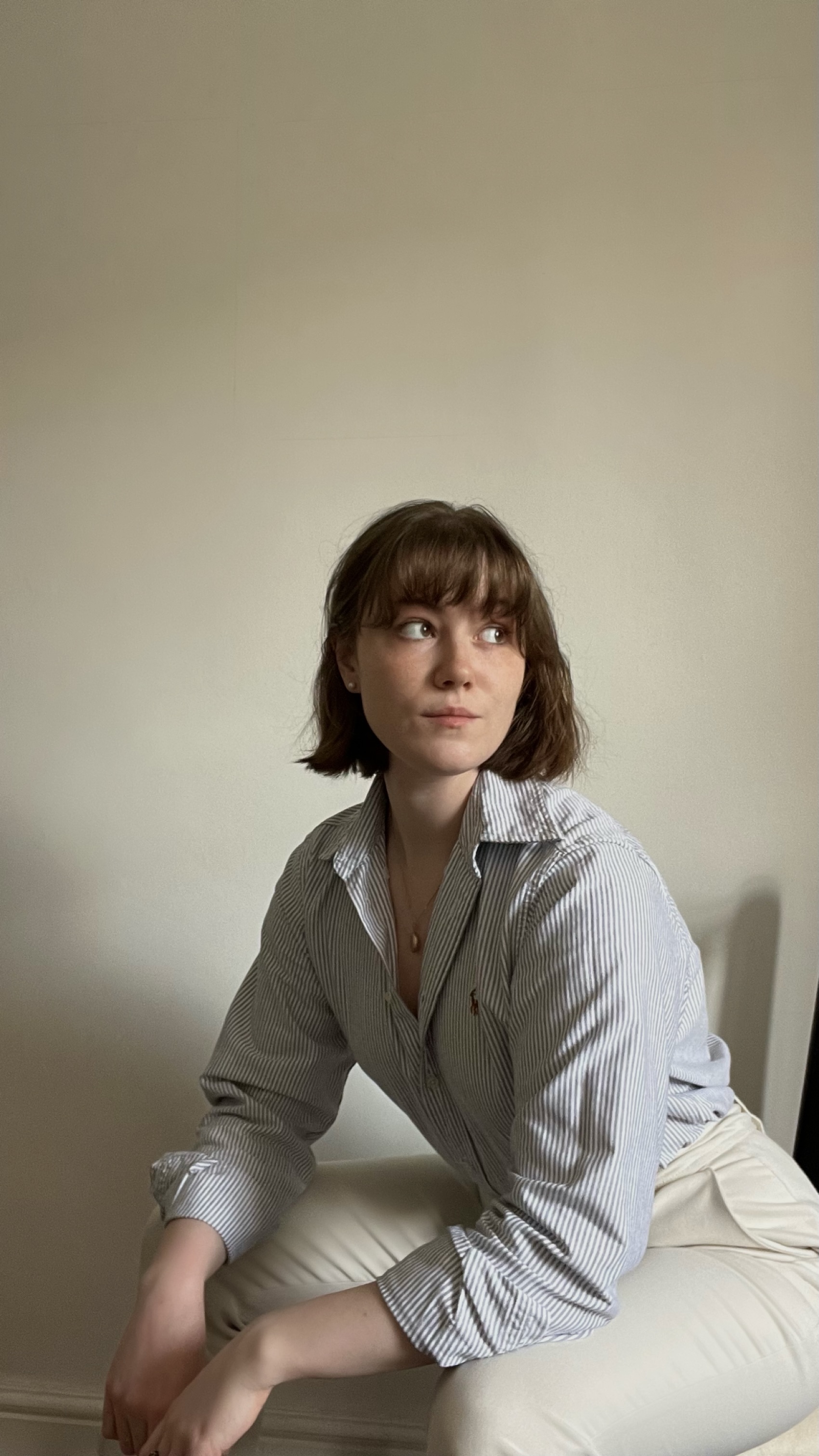 Chiana has been at Homes & Gardens for a year, having started her journey in interior journalism as part of the graduate program. She spends most of her time producing content for the Solved section of the website, helping readers get the most out of their homes through clever decluttering, cleaning, and tidying tips – many of which she tests and reviews herself in her home in Lancaster to ensure they will consistently deliver for her readers and dabbles in the latest design trends. She also has a first-class degree in Literature from Lancaster University.