I have a tiny bedroom – these are the 5 lessons I have learned to make the space feel bigger and brighter
Lacking square footage in your bedroom (or guest bedroom)? As a small apartment dweller, I can share some wisdom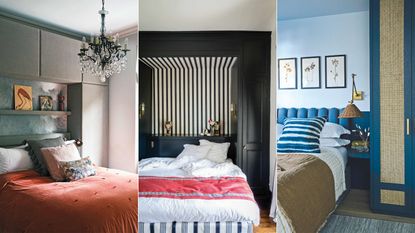 (Image credit: Future/Farrow & Ball)
Sign up to the Homes & Gardens newsletter
Decor Ideas. Project Inspiration. Expert Advice. Delivered to your inbox.
Thank you for signing up to Homes & Gardens. You will receive a verification email shortly.
There was a problem. Please refresh the page and try again.
Decorating my small, semi-open plan, apartment may have come with it's challenges, but it has also taught me so many design lessons and has been a joy to put into practice so many of the small space tips I read (and write) about.
It's been the bedroom, however, that has taught me the most about getting what you want from a tiny space, both in terms of practicality as well as aesthetics. It was the space I was most keen to make work as it was important to ensure that despite it's limited square footage it still felt like a relaxing room.
For me, and I'm sure this is true for most of us with small bedrooms or guest bedrooms, the key aim was to make the room feel as large and as light as possible. So these are the things I found worked best to achieve that – none of these tips require a total renovation, and they are tweaks you can make yourself too if you are up for a DIY project.
5 easy ways to get more from a small bedroom
So many of the lessons I learned about making my small bedroom look bigger are incredibly simple, focusing on tricking the eye and creating the allusion of more space. There were a few small bedroom mistakes I made along the way too, mostly to do with the furniture choices – because a small bedroom doesn't automatically mean small furniture, but more on that later.
1. Choose a minimal window treatment
The first thing I did when I started designing the bedroom was to take down the drapes. Honestly, if it was practical to do so, I would go without a bedroom window treatment at all. I instead opted for very subtle roller-blind and soft, semi-sheer drapes over the top. The roller blind is almost unnoticeable but means I can have the privacy and the darkness offered by heavier curtains without adding that extra visual bulk to the room.
My top tip for any window treatment is to ensure it doesn't obstruct the window as this will sap the natural light coming in. When I hang drapes I always allow extra room for them to be totally pushed to the side. And no matter where your window sits take the curtain pole a few inches higher and always take the drapes to the floor, this will instantly create the allusion of more ceiling height and it just looks more elegant.
2. Color drench the space (even if you are using neutrals)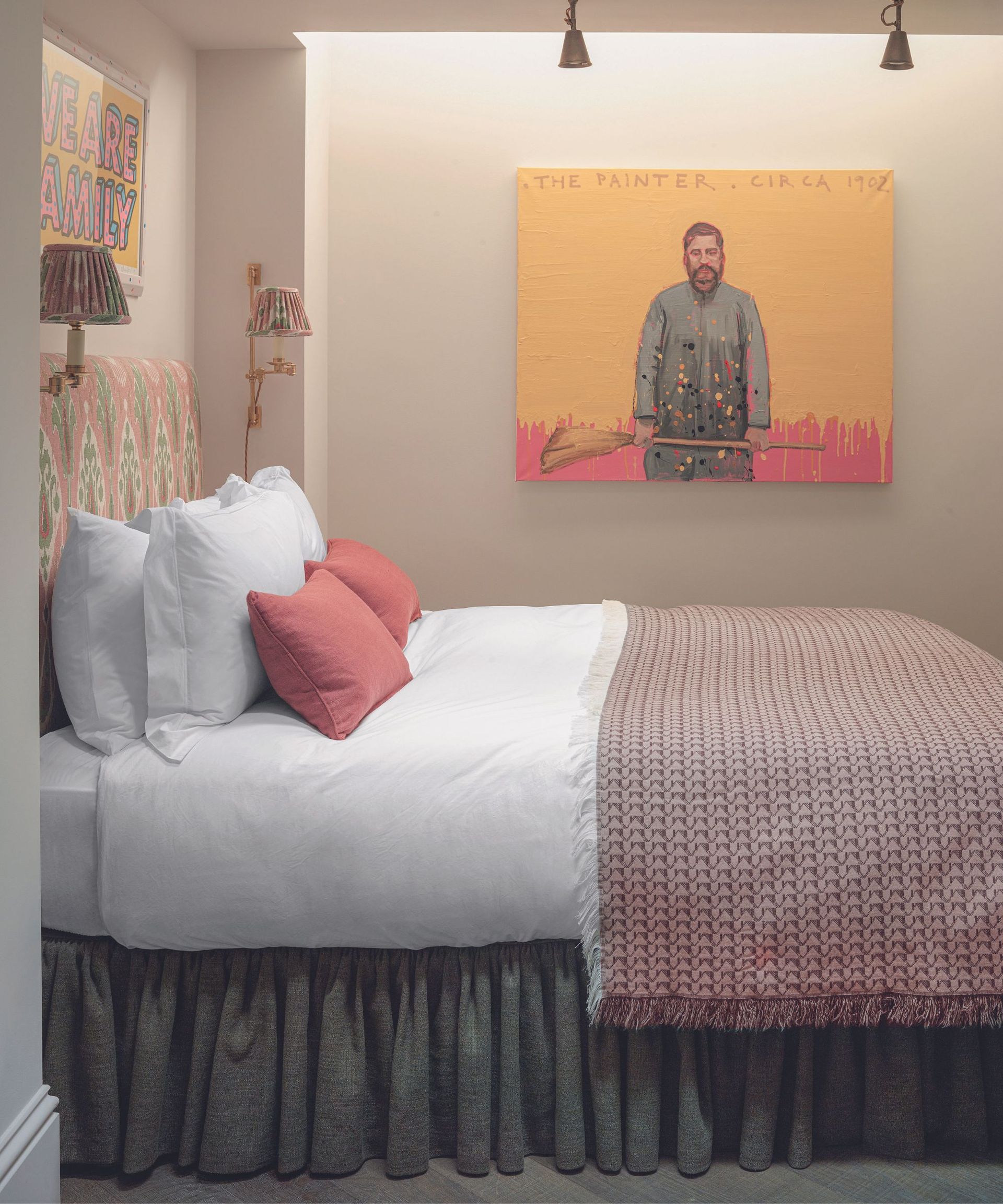 The color-drenching trend usually focuses on taking a bold shade over every surface in your home, but I have found when decorating with neutrals it can work just as well. Never again will I leave a ceiling white, as having that differentiation between wall color and ceiling color just highlights the dimensions of the room and brings the ceiling down too.
Instead, take the color of your walls over the ceiling and onto any woodwork too. I took it even further and painted the wooden flooring the same shade. Even though I wasn't working with a bold, or dark, bedroom color scheme, the effect still blurred the dimensions of the room and made it feel larger.
3. Use a cleverly placed rug to allude to more space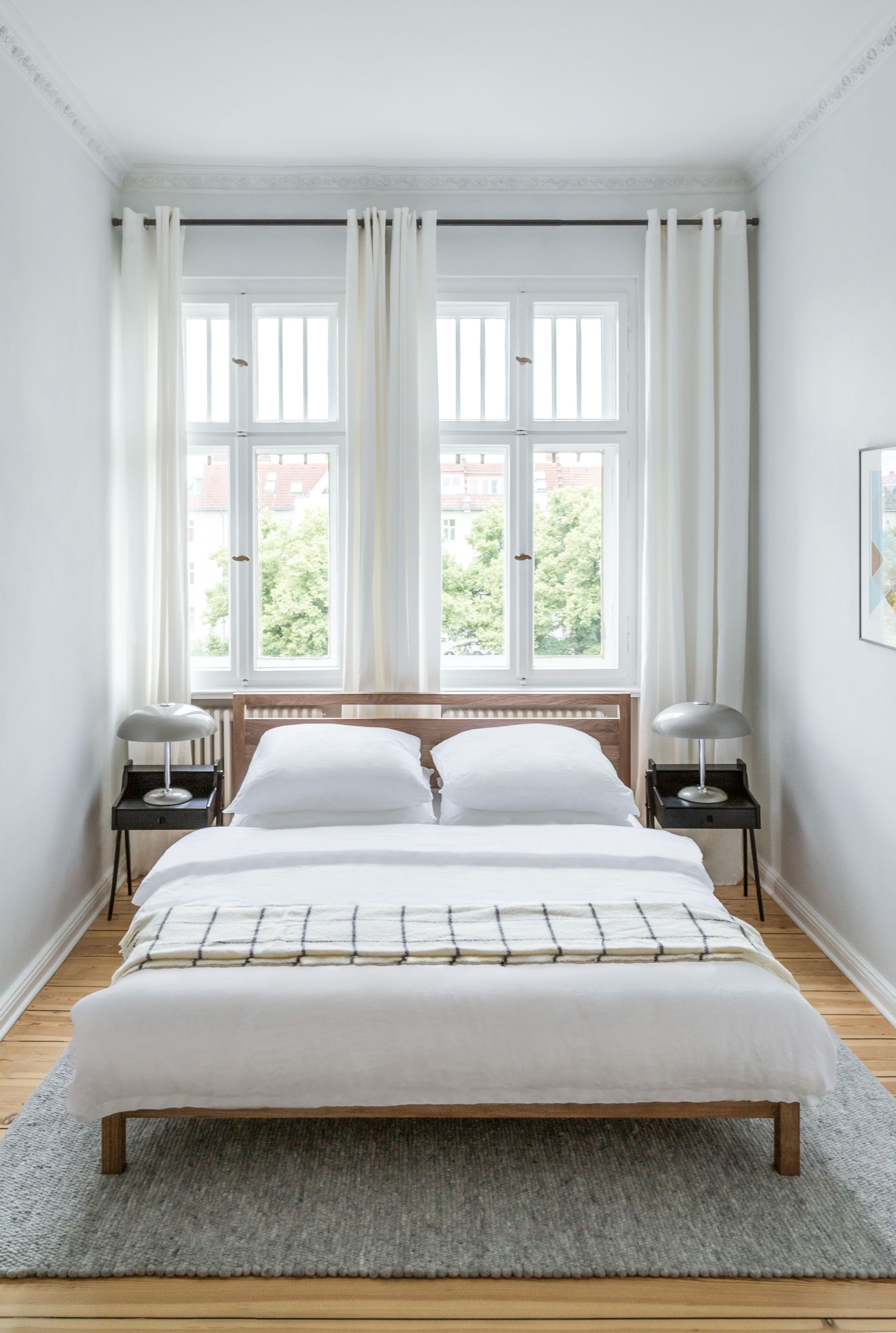 Nothing shrinks a room like the wrong-sized rug. A bedroom rug should not float, surrounded by a sea of bare floor, it should ground the room and sit under the majority of the furniture.
I tried a few different rugs and a few different layouts before I found what worked best. It will depend on the shape of your space and the bedroom layout, but I found positioning the rug at the end of the bed, just under the back legs, instantly made the room feel more spacious since it didn't overwhelm the room but equally didn't awkwardly float in the center.
And in terms of colors to go for, I kept it light, as we are all aware that lighter shades reign supreme when it comes to 'expanding' a room. But since the floor below was light too, I went slightly darker with a jute rug just to ground the pale scheme – even if you are going for lighter shades, you want to ensure there's some contrast going on.
4. Make the bed the focus with symmetry
In a small bedroom, the bed is always going to be the largest, most dominant piece of furniture, so lean into that and make it the focal point of the room. For me that meant symmetry – not an approach I often take as it does risk feeling a bit two-dimensional, but it worked.
A lot of small bedroom layouts will involve the bed being pushed against a wall, but while this makes sense theoretically, having more floor space visible, doesn't always result in the room feeling bigger. I found when I pulled my bed away from the wall and flanked it with bedside tables and wall-mounted sconces (save surface space where you can), the setup felt very suited to a much larger bedroom, and as a result gave the impression my room was much larger too.
5. Build in the closet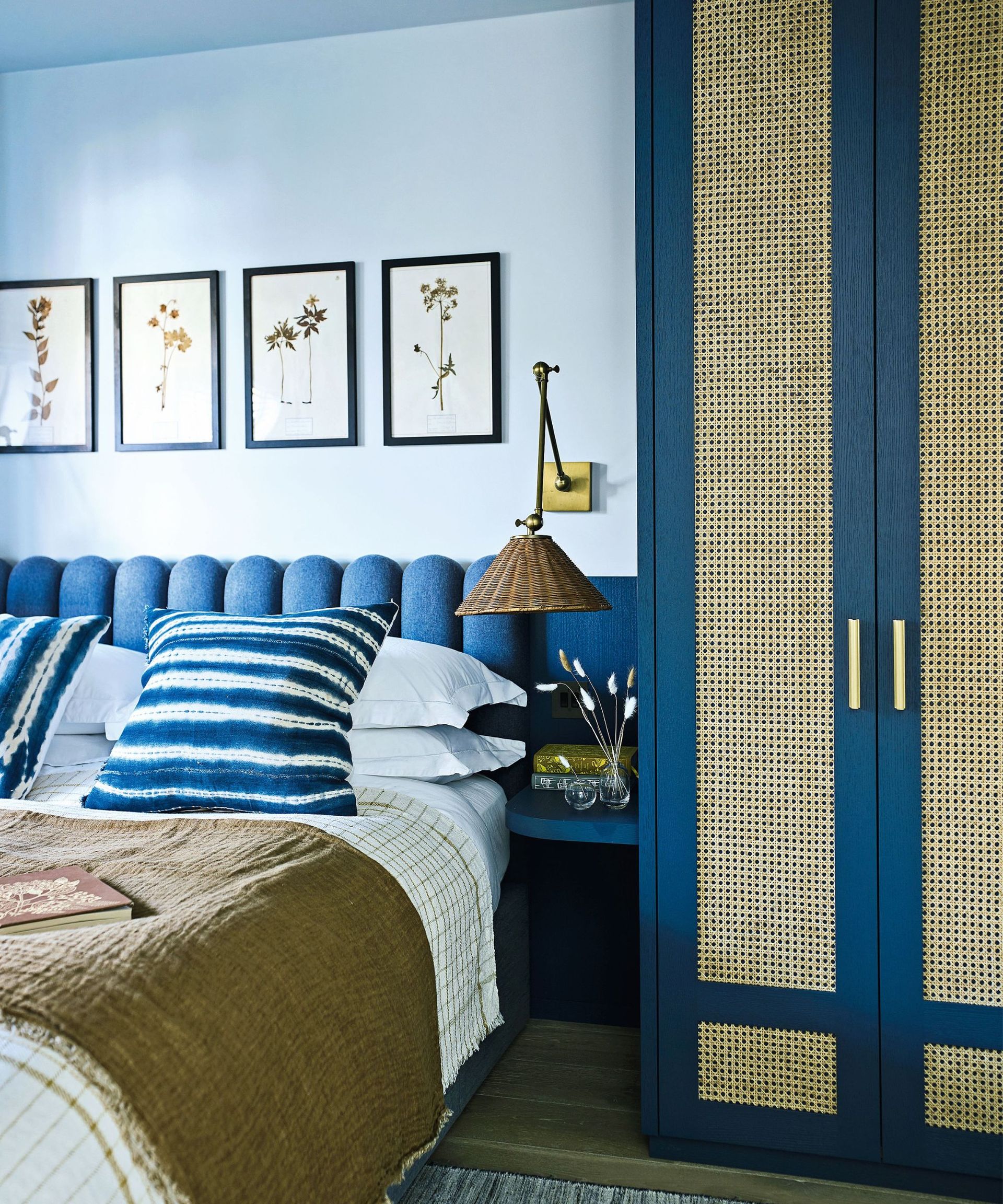 I really wanted to keep freestanding furniture to a minimum, so the room would remain feel as open as possible, and nothing stood out to break up space. So a built-in closet was a must.
Luckily, I had a bedroom alcove to make use of, but even if this isn't part of your bedroom's design, I would still recommend sacrificing some floor space to have built-in storage. Not only will it get the most from your space in terms of small bedroom storage, it also looks far sleeker and doesn't impose on the room as a piece of bulky furniture would.
Don't go totally built-in however, I found when I first installed the closets, I want to keep things really minimal and not bring in any larger pieces of furniture. But this resulted in me having very few pieces to add any decor or character, so I added a slimline chest to provide that extra surface space.
FAQs
What colors can make small bedroom look bigger?
The go-to colors to make a small bedroom feel bigger are on the lighter, more neutral side of the color wheel – soft whites, greys, beiges, etc. These will be your safe bets. However, darker more dramatic shades can work to expand a room too, if used in the right space. Color drenching a room in a dark shade can blur the dimensions of the room and trick the eye into thinking the space to bigger – however, there's obviously the risk that this will make your bedroom feel cave-like, so this approach is perhaps best for your lesser used rooms like entryways and powder rooms.
How can you make a small bedroom feel luxurious?
Symmetry works wonders to make a small room feel more luxurious. Note when you next stay in a luxurious hotel, the bed set up, more often than not, will be symmetrical. A bed in the center with matching bedside tables and matching lights on either side, looks far more elegant than a bed pushed up against a wall, no matter how much space you think it's saving you.
Sign up to the Homes & Gardens newsletter
Decor Ideas. Project Inspiration. Expert Advice. Delivered to your inbox.