10 colors that go with teal – it's time to embrace this bold shade
Vibrant and bold, we delve into colors that go with teal, there's more than you think!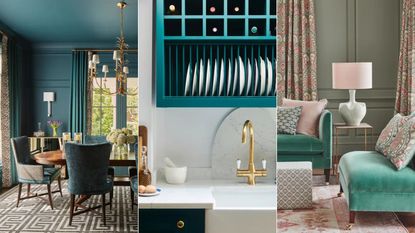 (Image credit: James Hare / Olive & Barr / Brad Ramsey Interiors/Zeke Ruelas)
Sign up to the Homes & Gardens newsletter
Decor Ideas. Project Inspiration. Expert Advice. Delivered to your inbox.
Thank you for signing up to Homes & Gardens. You will receive a verification email shortly.
There was a problem. Please refresh the page and try again.
Sitting between green and blue, teal is a delightful shade that's definitely worth considering when you're planning your next remodel. Choosing the right colors that go with teal could be a bit of a minefield – but never fear – we've asked our top interior design experts for their top tips on this contemporary shade that looks fabulous in any room of the home.
'For me, the home should be filled with bright room color ideas such as teal and bold patterns as they bring in personality and create a space that's truly your own,' says Emma Deterding, founder and creative director, Kelling Designs.
'Teal shades in particular are a great choice and one of my favourite colors, as not only do they add a bright and uplifting feel during the day, but in the evenings they can help create a cozy and relaxed atmosphere showing how versatile it is in a different light. Creating a statement in any living room, it can provide a bold and beautiful backdrop in the living room for coming together with loved ones.'
Colors that go with teal
So what are the colors that go with teal? It's actually more versatile than you may think, we've sourced 10 shades that look great with it, which will you choose?
1. Teal and sage green
Another popular color – sage green – has taken the interior world by storm in the last year, it's almost become a new 'neutral' as it works with so many other colors, and teal is one of them.
'Couches covered in a vibrant teal velvet are the main focus in this living room scheme,' says Saffron Hare, creative director at James Hare.
'The soft furnishings and drapes have soft pinks and greens, which has been picked up with the soft sage green wall color to create a very harmonious room. Using a color this way on the walls really brings the whole color palette together and will look smart whatever the season. Green is one of the most calming colors to use as it's so closely connected to nature, especially our outdoor spaces.'
2. Teal and white
There's nothing fresher than teal and white, it's uplifting and ideal if you have a smaller space as the white will help to lighten and brighten dark corners.
'When working with teal as an accent color, we would always recommend counteracting the more vibrant hues with a neutral shade, for example, white. A wonderful kitchen color combination; these two sophisticated colors work perfectly together to create a balanced scheme.
The rich undertones of teal add depth and character, whilst the white can help to ground the space, putting teal in the spotlight whilst avoiding overwhelming the space with too much color,' says Al Bruce, founder of Olive & Barr.
3. Teal and metallics
If you can't decide on another color, or feel it might not work, then consider adding a metallic or two instead. Brass drape rails and a chandelier will break up a color drenched room and there's no reason you can't introduce a chrome too.
'Most of the home is white, crisp, and neutral and so we wanted to juxtapose that with a cocoon-like dining space, bathed in color. That meant we had to find a rich color that was also not jarring,' says Brad Ramsey, principal and founder of Brad Ramsey Interiors.
'I thought a white ceiling would take away from the jewel box feel of the space and make it feel disjointed. Keeping all of the tones in the room the same accentuates the black & white hide rug, dining table, art and brass accents.'
4. Teal and yellow
If you adore teal and really only want a hint of a color to contrast against its depth, then have a look at yellow. It will add that pop of vitality and lift the scheme no end.
'A sumptuous mix of green and blue, teal is a standout shade that works wonders in the home. A rich statement shade can revive a dull room, whilst a more calming alternative will create a relaxing oasis. If you're dealing with a dark-toned teal, consider accenting the space with muted pink, coral, or yellow. These will bring out the warmer undertones of teal and add visual interest to the room,' advises Helen Shaw, director of marketing (International), Benjamin Moore.
You could then add in a third accent of apple green in the form of bedding, this trio of colors in this modern bedroom create a scheme that both stylish and fresh.
5. Teal and peach
A variation of pink and green, this color combo is a winning one for sure! Emma Bestley, creative director and co-counder of YesColours explains why:
'Capturing the perfect blend of warmth and coolness, peach and teal will work harmoniously together to create a soothing contrast, ideal for bathroom spaces. A perfect balance of comfort and vibrancy, these two shades can be used across the walls, floors and/or skirting to create an inviting interior scheme.'
This bathroom is a good example of how you can introduce an accent color without it being in the room. Painting your woodwork in a color can frame a space and this peachy doorway does that perfectly. You could introduce it in the bathroom with matching towels and accessories.
6. Teal and black
Teal is a strong color that can benefit from being teamed with one of equal strength – and black works beautifully.
'The color combination of teal and black in a space is a perfect way to create visual interest. The striking contrast they create can aid in highlighting your main design features.
Black and teal is a classic color duo that can be used as a starting point to build up to what you want your space to become. In this case, it acts as the perfect backdrop for bold pops of teal that make this space energizing and vibrant, perfect for entertaining,' says Eddie Maestri, principal architect and founder of Maestri Studio.
To make a color scheme like this work, it's worth adding in other pops of color to add vibrancy – we love this music room and its accents of orange, dark pink and neon.
7. Teal and ochre
Team teal with a warming shade of ochre. This could be wall color or as a wallpaper that has it as a main shade as shown here with this striking design.
'Bold and slightly retro in its appeal, pair this color combo with other tertiary colors (colors that are a combination of primary and secondary colors) for a distinct take on jewel tones,'s says Dan Mazzarini, creative director, ARCHIVE by Dan Mazzarini.
Ochre is an earthy color so it naturally grounds the rest of the scheme, this makes it ideal for brighter shades like teal.
8. Teal and orange
Complementary colors are created to work together harmoniously, and that's exactly what happens when you put these two shades together.
'Teal and orange work really well together as, although they are complete opposites, they complement each other perfectly adding that eye-catching contrast to the space.
Keep the orange in the highlights and brighter parts of the space, and bring in teal hints into the shadows to help create that all important balance. Add pops of monochrome and metallic accents to bring the whole look together and add that all-important balance, taking you from day to night with ease,' adds Emma Deterding.
9. Teal and slate
Dark grey or slate, perhaps not an obvious choice to use with teal, but one that works well as a contrasting color when used in a paler tone. It's for those who love a darker, more dramatic feel and want to introduce teal as an accent, rather than having it as the main color.
'Slate is a captivating color to bring into the home, infusing spaces with a sense of sophistication and drama. Its rich hue adds an air of elegance, making it the perfect choice whether you go for a statement wall, full color drench or introduce it on furniture pieces.
Pair it with warm neutrals for a harmonious, balanced design scheme that envelopes you in comfort or create a maximalist feel with pops of other jewel tones such as reds, teals, pinks and yellows. Whether in a modern or traditional setting, this color is versatile and will make a dramatic statement, says Anna Hill, brand director and color consultant at Fenwick & Tilbrook.
10. Teal and chocolate brown
A color combination that's unusual yet contemporary (with a hard nod to the seventies) is teal and chocolate brown.
Not for those who like a light and airy scheme, this color pairing is for you if you love deep grounding shades that create a warm and cozy feel – perfect for fall and the colder months.
Make sure your teal pieces are dominant though, in this fabulous living room the couch, footstool and ottoman are large enough to take the darkness of the chocolate brown walls and ceiling – balance in interior design is key.
FAQ
What is the opposite color of teal?
As teal comes under the blue/green section on the color wheel, the opposite colors are oranges and reds. Both can be used very successfully as accent colors with teal.
The color wheel is always a great starting point when it comes to working out which shades work best with each other.
Sign up to the Homes & Gardens newsletter
Decor Ideas. Project Inspiration. Expert Advice. Delivered to your inbox.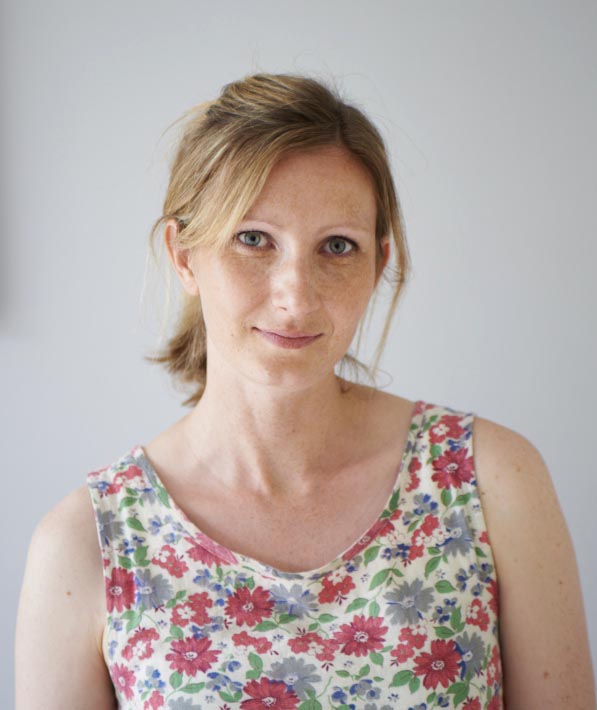 Sophie has been an interior stylist and journalist for over 20 years and has worked for many of the main interior magazines during that time, both in-house and as a freelancer. On the side, as well as being the News Editor for indie magazine, 91, she trained to be a florist in 2019 and launched The Prettiest Posy where she curates beautiful flowers for modern weddings and events. For H&G, she writes features about interior design – and is known for having an eye for a beautiful room.