6 colors you should never paint a small entryway – and what shades you should be using instead
Designers weigh in on the paint colors that just don't work in a small entrance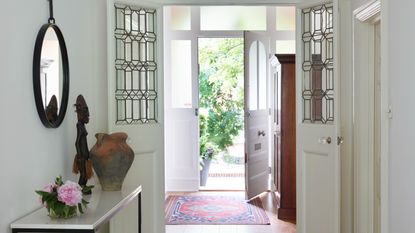 (Image credit: Future/Studio)
Sign up to the Homes & Gardens newsletter
Decor Ideas. Project Inspiration. Expert Advice. Delivered to your inbox.
Thank you for signing up to Homes & Gardens. You will receive a verification email shortly.
There was a problem. Please refresh the page and try again.
There are plenty of rules when it comes to designing and decorating small spaces, and while we do often say to play fast and loose with any interior design rules when it comes to color, these are the ones you are best off sticking with. Today we are tackling small entryways and what colors you should really be avoided if you want the entrance to your home to feel larger, loftier, and more inviting. And we were actually surprised by some of the advice we heard – neutrals are a no-go? Darker colors can, and should, be used in these often awkward narrow spaces. Maybe the rules are there to be broken...
So if you are redecorating a small entryway that's lacking in square footage, here are five shades designers recommend you avoid or approach with caution, and some extra tips on what colors you could be using instead.
5 colors to avoid in a small entryway
Colors are personal. And homes are personal. What works in one may not work in the other. So will we preface this advice on colors to avoid in a small hallway, with a note that if you are sold on one of these colors if you've done all the swatching and are convinced this is the color for your space – go for it. So many designers and color experts start their answers to these kinds of 'colors to avoid' questions in the same way – 'you shouldn't really be avoiding any color, but if I had to pick I would say *insert color here.*' So let this advice guide you but do not change your style if you know what suits your space.
As Karen Haller, color psychology expert and author of The Little Book of Colour says 'I look at it from a color psychology perspective. The only wrong color is the one that doesn't make you love the space. Forget whether it's on trend or if it's the must-have color. Go for the color or combination of colors that give you those feel-good feelings when you're in it. After all, you want a home that you love and loves you back.'
1. Brown
Brown is actually making a bit of a comeback in the world of color trends but it's not advised as a small hallway color or a color for any size entryway that doesn't get a lot of natural light. This deep, warm shade needs space and light in order to look its best, so if you are taken with a lovely rich warm color for your entryway look towards a muted yellow, a rusty terracotta, or a very warm, woody brown. Far more liveable and likely to work in a smaller space.
'When it comes to selecting colors for a modest entrance, there are certain hues that are best to avoid in order to create a visually appealing and spacious feel. Dark and intense colors, such as deep browns, should be avoided as they tend to absorb light and make the space feel even smaller,' explains designer Jennifer Davis. 'Additionally, vibrant and bold colors can overwhelm a small hallway, creating a sense of visual clutter. Instead, opt for lighter, neutral tones like soft creams, light grays, or pale pastels. These room colors reflect light and create an illusion of openness, making the hallway appear more expansive.
'By choosing the right colors, you can transform a small or narrow entryway into a welcoming and visually balanced space, so it pays to be mindful of the colors you should never paint a dark room, too.'
2. Off white
White was the most common response to colors that should be avoided in a small entryway. Surprising as so often you hear of whites' room-expanding effects and how it can make smaller spaces feel brighter. But neutrals can often feel cold too, or leave a space feeling flat and characterless – something you definitely don't want for the entrance to your home.
Designer Deborah Bass says 'In a small hallway, I would avoid neutrals unless going for an ultra-cool modern scheme in which case I would go for brilliant white walls and ceiling and a beautiful natural timber floor – with whites than a pop of bright color on something like a picture frame or side table is clean and slick.' Case in point, this wonderful small white entryway, does make a real case for a clean white color scheme.
'Off-whites and especially yellowy off-whites would be my ones to avoid in a very small space, I think these tones can look wonderful as a backdrop to furniture and artwork but if you have a small space with not much in it then the walls become the feature and so I prefer them to be a bit bolder; I think greens can look fabulous in small spaces, likewise charcoal greys!'
Jordan Cluroe and Russell Whitehead, the duo behind 2LG Studio, are also again using neutrals in a small entryway, they say 'We actually love the idea of a dark color. This will create a moment of compression so that the spaces from the hallway feel much larger. So we would avoid white or cream. Make a statement in your hallway. Be bold.'
From a practical point, avoiding whites and creams makes sense too, as James Sirett, head of product at Fired Earth says, 'walls are bound to get scuffed and touched more in a compact hallway than in a larger one, so try to avoid colors that will show every mark or handprint. Paler colors tend to be less forgiving than darker shades, and crisp whites are unlikely to stay looking pristine for long; they could turn out to be a somewhat high-maintenance option if you want to keep your hallway walls looking their best.'
3. Grey
Another well-loved hue. Specifically cooler, more steely-toned greys are what you should avoid in a small entryway. Avoid anything with a really strong blue undertone and opt for something warmer and softer, with brown undertones, something like a greige would work far better, as can be seen in this grey hallway. And pair it with shades that are going to help bring out those yellow tones – see the mute yellow drapes used here and the touches of wood in the decor.
'There are so many colors that can work in small areas, and believe it or not, dark colors can work really well,' says Jennifer Walters, founder of Folding Chair Design. 'We avoid the icy grays in these areas because they don't complement trim, they can dirty and the wear and tear just cheapen the already mid-level hue of the gray.'
'You may think you can't go wrong with basic colors such as grey, but it is possible that using coolers grey in halls and entrances could actually make your space look dark and smaller. Instead, it may be best to use a dusty grey that is more likely to stand the test of time. It all depends on the amount of natural light coming into the space and the accompanying details.' explains Catriona James, color expert at Tikkurila.
4. Bright red
'As a general rule of thumb, I would say best to steer away from bright reds and oranges within a small hallway,' says Anca Enica, Designer and Founder of Atelier Chelsea Design.'Earthier, deeper, and muted earthy tones are cozier and more welcoming, whilst helping cohesively transition between spaces.'
'If you have a small entryway and go for a string red or a strong pink, that color is going to advance towards you, making the room feel really small,' says Tash Bradley, color expert at Lick Home. 'If that to feel you want, great, but if you want to open up the space, I'd go for cooler colors like a blue or a teal.'
So while red isn't off limits for a small entryway, opt for the neutral end of the spectrum and look at terracotta shades rather than a vivid red. In this hallway, you still get that real punch of color as you enter the house, but the brown undertones and softer finish make it a far more livable shade.
5. Matt black
Dark shades can work wonders in a small entryway, but the key to getting the look right is to avoid very dark, very flat matt colors. If you want to experiment with a shade like black, go for something with depth – a brown or able undertone and a soft chalky, or eggshell paint finish so it doesn't appear so solid and harsh. Farrow & Ball's Down Pipe, which is used in this entryway is the perfect dark blue/black shade if you want to dabble in the dark side.
'One color that can divide the crowd is black,' says Catriona James. 'While it can offer a sense of luxury and style, it's possibly not the best idea to have it for your landing as an all-over color. When it's dark outside and you're trying to get some light, using black can make the house feel colder.'
'Really dark matte shades can be inclined to make a small hallway appear rather gloomy and even more compact than it already is. This is partly because if one dark wall is, in effect, reflecting onto another dark wall in a corridor-style hallway, the walls almost appear to be moving in on each other. This can create a somewhat claustrophobic effect, whereas a paler shade will help to open up the space,' adds James Sirett, head of product at Fired Earth.
'Dark color schemes, including dark colored walls and furniture, are a risky choice for a hallway that's on the smaller side,' explains Yvonne Keal, senior product manager at Hillarys.
'Although you might think that a dark color palette will add class and sophistication to the entrance of your home, walls painted in a dark shade will close the space that can already be quite small, making it feel even tighter and more claustrophobic than it actually is. If you want to add a little personality to your entryway, try hanging some wallpaper rich in delicate patterns instead. Again, just make sure the wallpaper is not too overly patterned as this could close the space even further.'
6. On trend colors
On-trend shades are a tricky business. Of course, we all love them, there's a reason they are on trend, but do you want to commit to painting a whole, high-traffic room in one of these short-lived colors? Probably not.
'As a studio, we focus on creating interiors that are timeless, trends are not something we advocate or follow. Whatever color of the year is trending, it may look pretty in a magazine or on Instagram, but your home is exactly that, yours, and it should reflect your personality and tastes not be dictated by what is popular,' explains Tom Rutt, founder of TR Studios. 'Often on-trend colors are bold and bright, the current trend for lavender is a perfect example. This vivid shade is hard to live with day in and day out, can make a small space, especially a hallway feel even smaller, and can be hard to furnish and accessorize in a contemporary and sophisticated way.'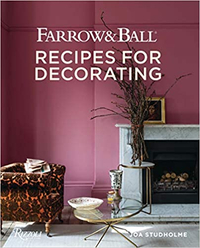 FAQs
What colors work best in a small entryway?
The best color for a small hallway does depend on your space, the style of your home, and how much light it gets, but in general, a lighter, softer shade will work in a small entryway. 'If you fancy some subtle color, that's still vibrant and impressionable, a pale pink hallway may be right up your street. The color is light enough that it won't impose on a narrow space but bright enough to give it some visual pleasure,' suggests Catriona James. 'Whilst we might assume that white walls can leave a space feeling open and airy, they require plenty of upkeep, and this can be very difficult to maintain - especially if you have kids. To keep the similar look and feel, but with less stress around the maintenance, an off-white may be the way to go. Try an off-white that has icy blue undertones, that will leave the rooms looking fresh and elegant, yet practical.'
And darker colors can also work in a small entryway, as Charlotte Cosby, Creative Director of Farrow & Ball suggests, 'Choosing a dark or bold color for a small hallway can create a cocooning feel, even if it feels brave! It will also make adjacent rooms feel lighter and brighter.'
'The key is using the same shade over walls, woodwork (and even the ceiling) in a small or narrow hallway can help to blur the boundaries of the space. This gives the impression of height and space, which can be tricky to achieve using contrasting colors. This has the added benefit of creating a cozy, colorful welcome to the home too!'
Sign up to the Homes & Gardens newsletter
Decor Ideas. Project Inspiration. Expert Advice. Delivered to your inbox.