5 curtain colors to avoid in a living room, according to interior designers
Want your living room curtains to look fresh and chic? These are the colors to steer clear of...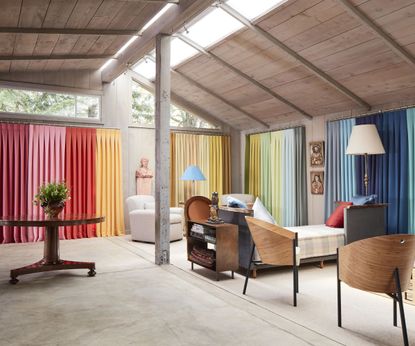 (Image credit: John Merkl)
Sign up to the Homes & Gardens newsletter
Decor Ideas. Project Inspiration. Expert Advice. Delivered to your inbox.
Thank you for signing up to Homes & Gardens. You will receive a verification email shortly.
There was a problem. Please refresh the page and try again.
When you think about choosing a color scheme for a living room, your probably first think of the big hitters – the dominant pieces and surfaces in the room. What color will the sofa be, what about the walls, what shade of rug will work best in the space? Curtains are so often an afterthought, but they are every bit as noticeable as the couch and far more visible than what's going on underfoot, so it's important to give some thought into choosing your living room curtains.
Here we are going to focus on curtains colors, more specifically what colors you should be avoiding in your living room. Think about it, pick the wrong color for your curtain and it risks becoming the focus of the whole room. So we asked designers for their tips on no-go shades and what you should be looking out for instead. Some of these answers may surprise you (neutral lovers you've been warned)...
1. Red
Red curtains have something nostalgic about them. Christmasses hiding behind heavy, jacquard, red curtains instantly comes to mind, or cozy B&Bs, or stately hotels, but really they do belong in the past. Red curtains have no place in modern living rooms (unless you are after a very traditional look, which can of course totally work in the right space).
'With the variety of colors and patterns available now, the options are limitless in so many colors we might not have even tried in years past. However, we're still leaving those red shades in the past! Remember the red-printed drapes your parents had in every room? It's just not a color that is bringing the life we want into living rooms today. Red darkens and pulls light into it, so it's a tricky color to make work in larger expanses of windows too,' explains Jennifer Walters, founder of Folding Chair Design.
Designer Deborah Bass, agrees that 'red curtains make me feel like I'm in a stately home so I would avoid (although I love a red gingham kitchen blind), likewise I'm not a fan of purples and pinks, in the right pattern, shade or scheme then of course anything can work but with patterns it is so important to bear in mind the scale of the pattern, something that looks fabulous on a small sample can be totally lost when made up in tall curtains.'
2. White
Despite being known as a super versatile shade that can work in any space, white, in its brightest purest form can be a tricky color to work with. And as a curtain color, it can come over as very formal and cold, especially if there are different warmer neutrals used elsewhere in the room, you'll notice the iciness of the shade.
'A curtain color to be cautious with is stark, pure white, as it can appear sterile against light-colored walls and draw attention away from other design elements. Instead, consider using soft white or cream shades to maintain a soft and elegant tone-on-tone effect. Additionally, avoid using curtain colors that clash with the furniture or decor in the living room. Choose hues that harmonize with the existing living room color scheme, creating a cohesive and visually pleasing atmosphere,' suggests Jennifer Davis, founder of Davis Interiors.
If you want a neutral curtain color, opt for something warmer as can be seen in this living room. 'Subtleness is key in living room curtains and using soft shades of creams and off-whites in semi-sheer fabrics will bring in warmth but also diffuse the natural light to create a relaxing atmosphere,' suggests Anca Enica, Designer and Founder of Atelier Chelsea Design.
3. Dark blue
Or any dark-colored curtain for that matter. Dark colors surrounding a window are just going to sap light that's coming into the space, instantly making the room feel darker.
However, if a dark color curtain is going to work with your space, our advice would be to keep the material sheer. Go for something like linen that's going to allow some light to filter through and won't look as heavy around the window. And ensure you can get the curtains well out of the way of the window, so expand your curtain pole slightly at either side and always hang curtains that go all the way down to the floor, a dark curtain that cuts off around the window is never going to look elegant.
4. The same color as the walls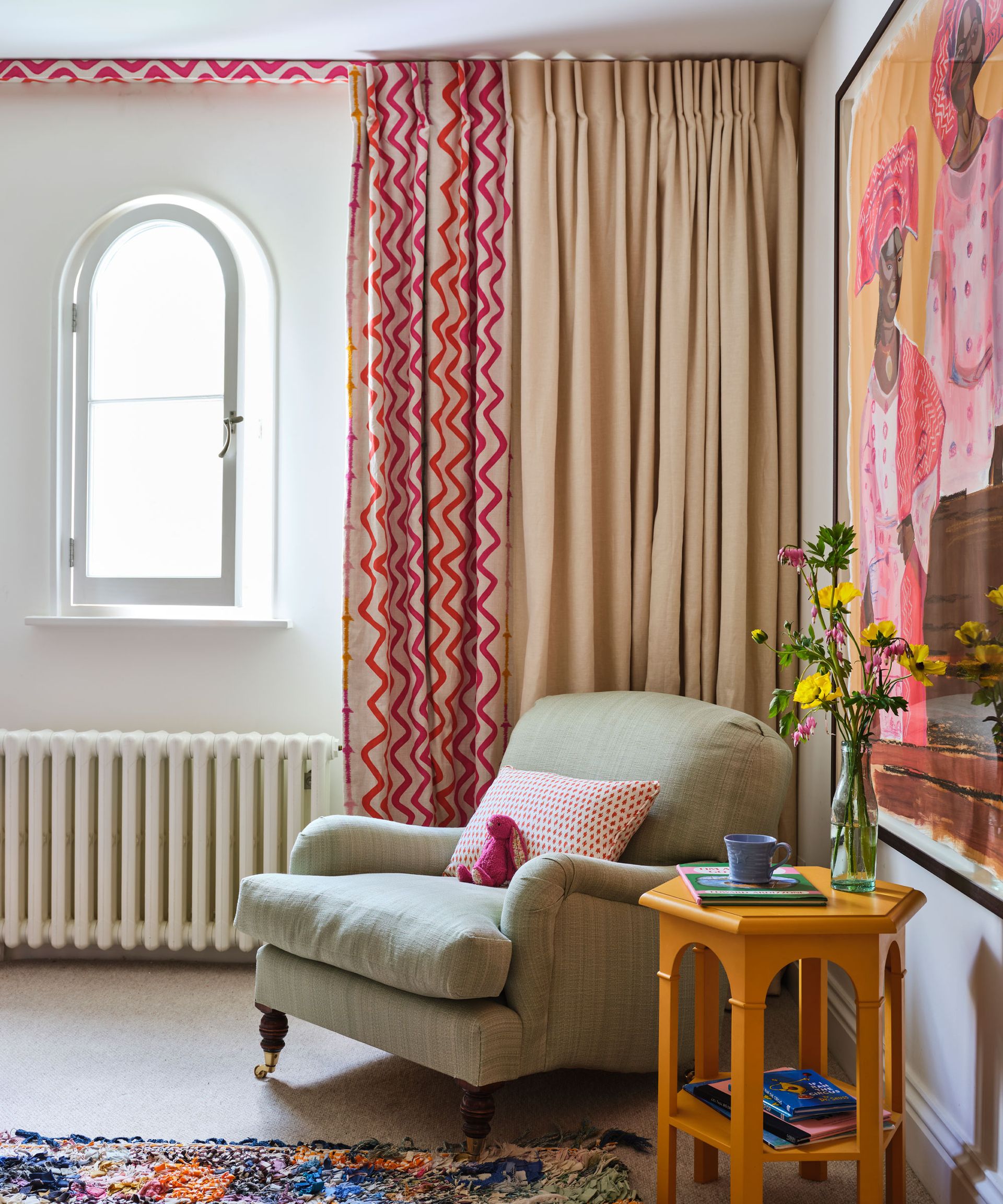 Not exactly a color, but still something to avoid when choosing a curtain color for a living room. You never want your curtains to match the exact color of your living room walls – curtains are an opportunity to add depth and interest to a room and even if you don't want to go for a contrasting color, opt for a more tonal effect so go a few shades darker than your wall color instead.
'When considering curtain colors for a living room, it's important to take into account the concept of tone on tone, which can create a pleasing and sophisticated aesthetic. However, there are certain curtain colors that should be avoided when aiming for this effect,' explains Jennifer. 'One color to steer clear of is an exact match to the wall color. While it may seem like a seamless choice, it can result in a monotonous, and bland look, lacking visual interest and depth. Instead, opt for curtain colors that are slightly lighter or darker than the wall color to create a subtle contrast.'
See how in this living room, the curtain color is very so slightly darker and warm than the wall colors, which is closer to a crisper white. The shade softens the white and there's just enough of a contrast to add some interest and intrigue. And let's not ignore that hint of bold pink to make all those neutrals far fresher and more exciting.
5. Overly patterned curtains
'Rather than avoiding a specific color, we would avoid patterned curtains' says Jordan Cluroe and Russell Whitehead, the duo behind 2LG Studio. 'Curtains are expensive to make and replace so go for a block single colour that will work with any future changes you may make decor. Pinks and creams or white always look fantastic.'
Designer Ann Marie Cousins agrees: 'Though I love pattern and texture when it comes to curtains, I would avoid specifically a heavy geometric pattern, as this can play funny tricks on your eyes. A geometric pattern can have a much stronger impact on upholstery.'
If you do want to opt for a pattern curtain, we'd advise going with something classic, that has longevity and can be switched up as your style and trends change. For us, the obvious choice is a stripe or some subtle take on a stripe. Not too broad, not too narrow, a neutral colorway, in a lovely slubby linen that's going to add texture as well as a subtle hint of pattern.
FAQs
What color living room curtains works best?
We think the best color for living room curtains is to pick the same color as your living room walls, and just go a few shades darker. Or if you want your curtains to be more of a focus, pick a pattern that has those same shades as a base so you are still tying it in with the color used around the rest of the room.
On the whole keep the colors soft and light – peaches, creams, pinks, off-whites, and pale soft greys are always safe bets.
Sign up to the Homes & Gardens newsletter
Decor Ideas. Project Inspiration. Expert Advice. Delivered to your inbox.