How can I divide a room with furniture? 7 ways to zone flexible spaces
Create stylish multifunctional spaces with these clever ideas for dividing up rooms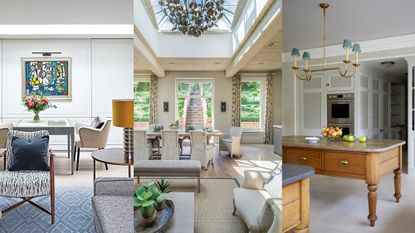 (Image credit: James Merrell / Mel Yates / VSP Interiors)
Today more than ever there is a huge demand for our homes to perform. They are used for day-to-day living, working, socializing, and hobbies but are also used by multiple generations, so having room layouts that allow for all these activities and people to coexist is essential and involves clever planning.
Open-plan rooms are hugely popular, and for good reason – they are spacious, airy, social, and flexible, but while they have multiple benefits, working out a layout that allows the space to be used for multiple functions can be tricky. Luckily, there are plenty of broken-plan living room ideas and room divider ideas you can use to zone spaces, from sliding partition walls to strategically placed furniture.
If you're wondering how to divide a room with furniture then you're in the right place as we've rounded up some handy ideas whether you're looking to make the most of an open-plan living space or open-plan kitchen diner or looking to zone a large bedroom.
How can I divide a room with furniture?
How to divide a room with furniture is a question a lot of interior designers get asked and something they tackle in nearly every project, so we reached out to some of our favorite designers for their advice on where to start.
'The first thing I do is ask how will the room be used in order to be functional,' says Seyie Putsure, founder of Seyie Design. Is this a large living room that needs to be divided up into smaller more intimate seating areas? Or, is this an open-layout kitchen/living space that also needs a seating, dining, and cooking area?'
Once the functional areas are identified, 'I look at the layout of the room to allocate the vignette, i.e. various functional groupings in the space. The architecture generally dictates that placement. After selecting the anchor furniture pieces, add in the complementary pieces to make a fully functional space.'
When selecting furniture to divide a space take care with scale say the experts – too large and it can compromise the open feel of the space, too small and it can easily get lost. 'In my opinion, scale is one of the most important aspects of design along with circulation – how you move throughout a space,' says interior designer Bradley Odom.
'If pieces are too large or too small, it can create an unnecessary focal point. It's important that things feel like they belong and that you can move throughout the space comfortably while giving the different areas – dining, seating, entry – equal visual weight.'
To help inspire your layouts we've rounded up a selection of key ways to use furniture to divide your space below.
1. Use a sofa to divide an open plan living room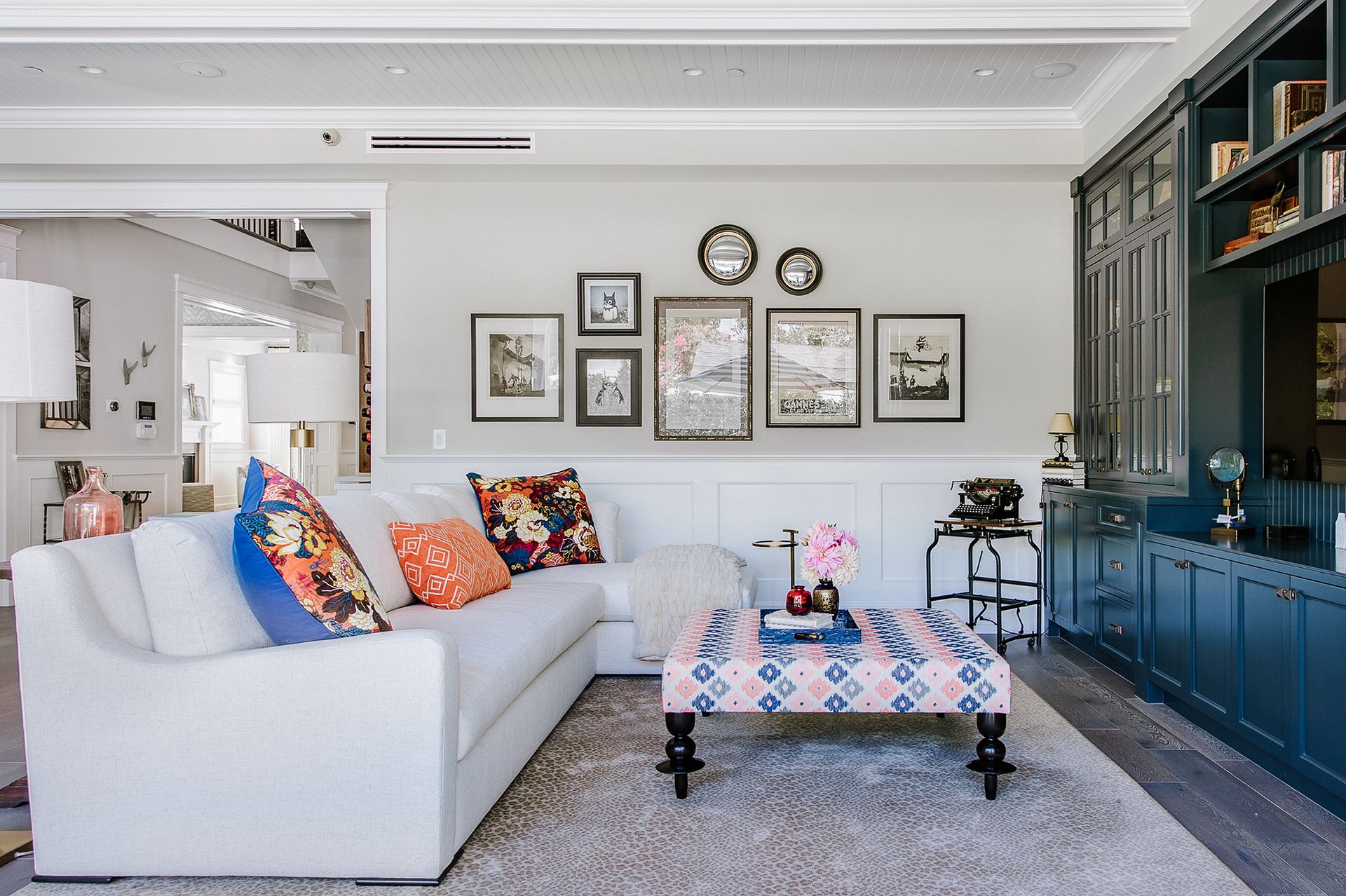 When it comes to open-plan living room furniture the 'two main furnishing items that help divide a space and anchor the vignettes are a sofa and area rug,' explains Seyie Putsure, founder of Seyie Design, but be sure to get the proportion right. 'Having the correct scale for these pieces (err on the side of going larger than smaller) will really help define the vignettes in a large open room,' she adds.
'Additionally, if there is space, a console with a pair of floor lamps behind a sofa is another layer that nicely divides the seating area. Besides the furniture items, using different shades of colors or making more color prominent through the fabric, further divides the spaces and makes each area into its own unique space.'
2. Zone an a large space with open shelving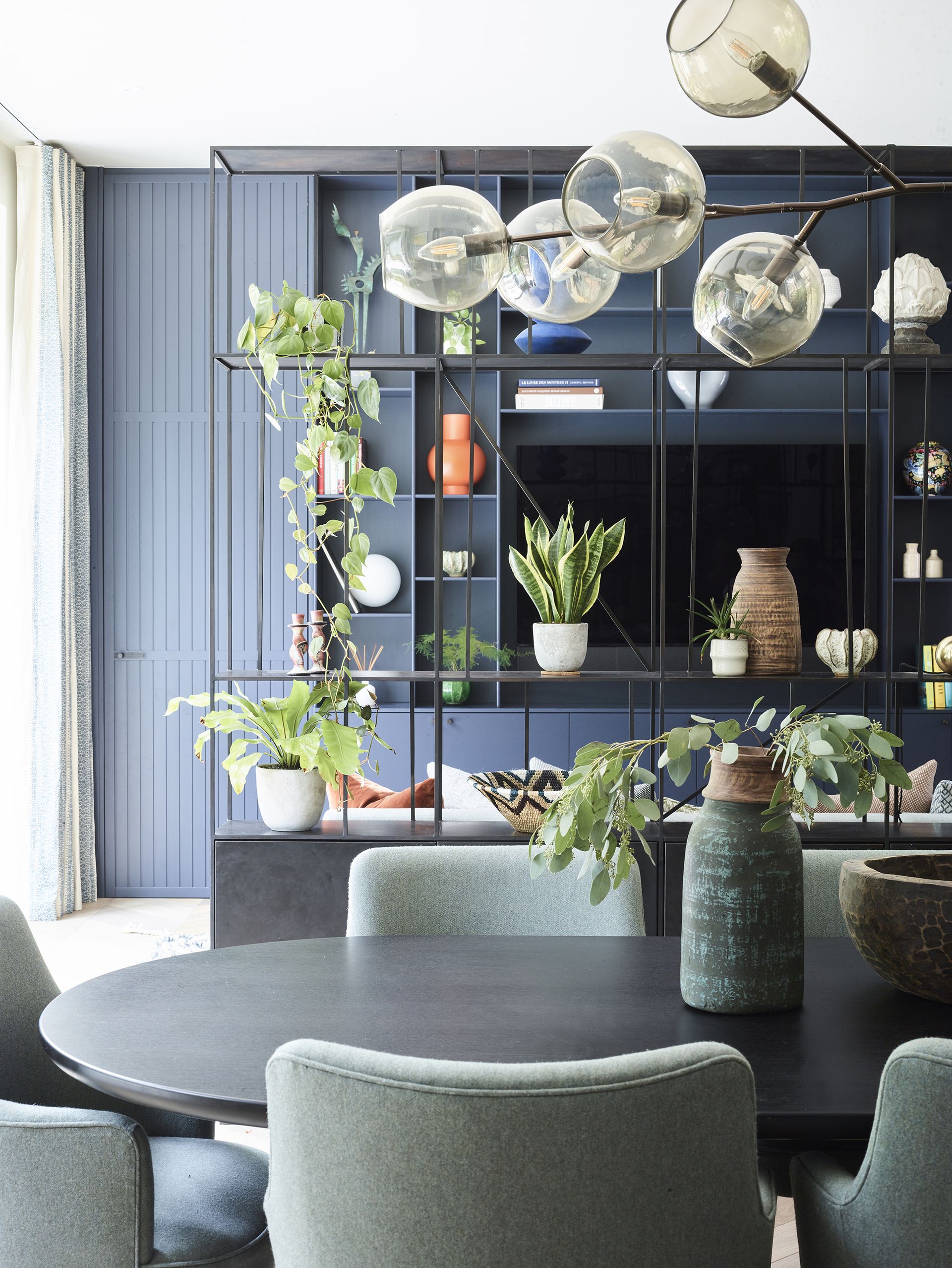 Discreet open living room shelving units are a practical way to zone spaces whilst keeping them feeling spacious and airy. This minimalist metal design with its slim profile bars allows maximum light flow through the space and does not obstruct sight lines. Decorating shelves with plants to create a form of green wall is a wonderful way to bring life and zest to the space without them feeling overloaded.
3. Use a bespoke storage unit as a room divider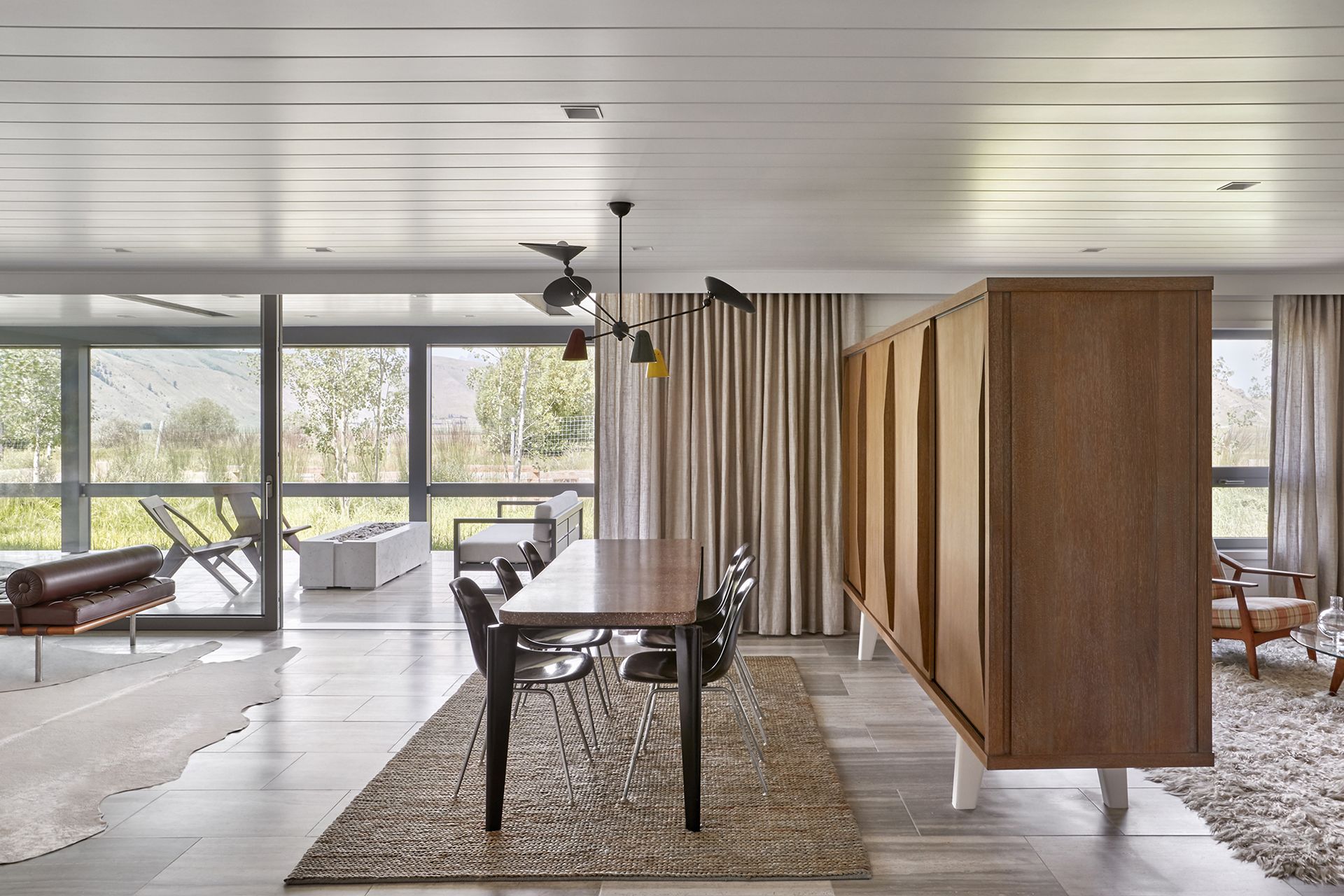 If floor space is at a premium, or if you're looking to keep a space feeling as open as possible, then opt for room dividers that double as storage ideas.
'This modest house only has a few rooms. The main living space is subdivided by millwork made by local craftsmen. These pieces, conceived as furniture, are deployed to define distinct areas: entry vestibule, living-dining, and den,' says Goil Amornvivat, AIA and Partner at Ammor Architecture LLP. 'They stop short of the ceiling and rest on sculptural legs maintaining the sense of openness and light observed from the windows.'
4. Use a low-profile bench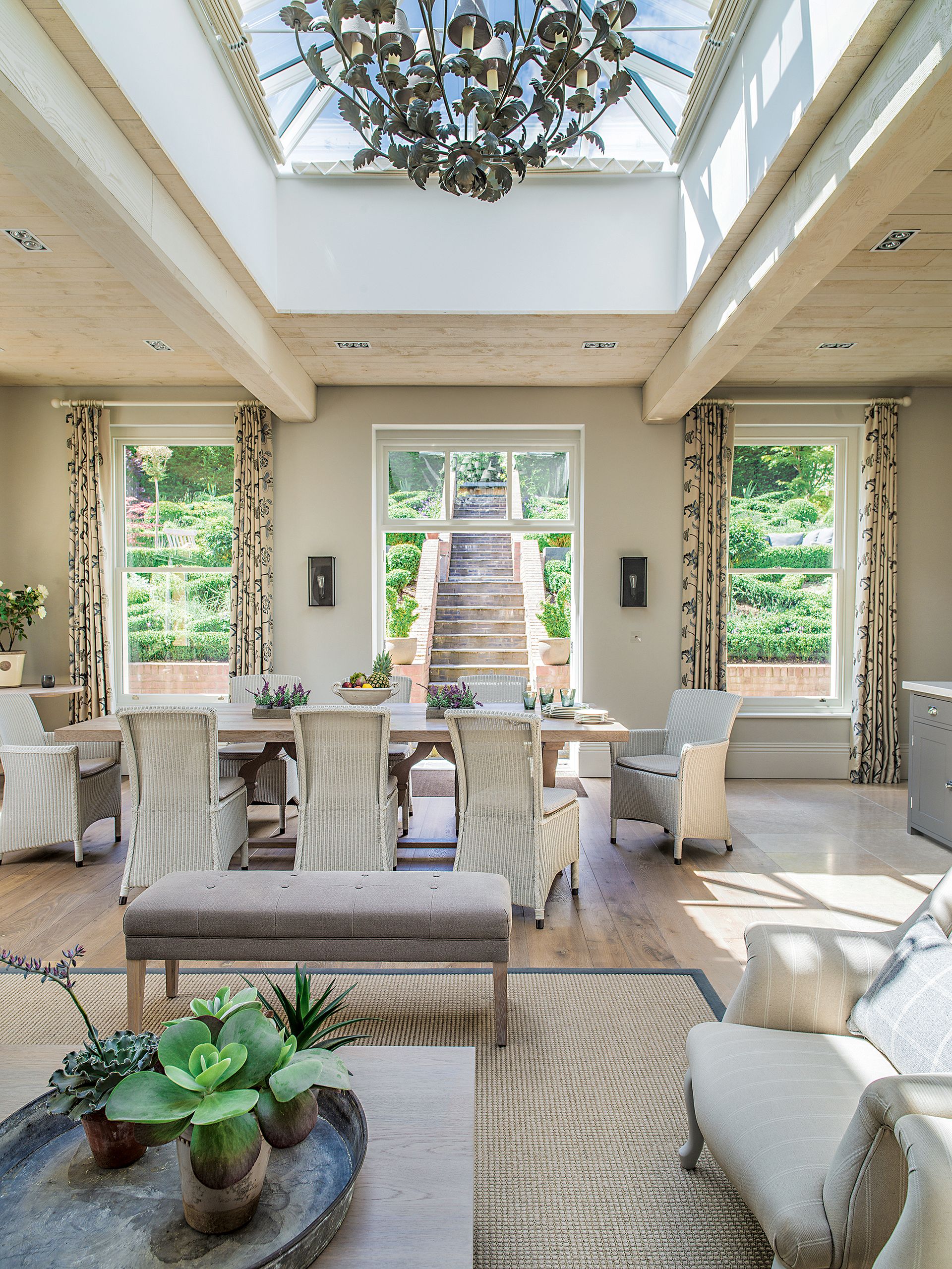 If you're lucky enough to have a large, light-filled living space then the last thing you may want to do is clutter it up with cumbersome pieces of furniture. To keep this room open and spacious the homeowner chose discreet pieces including a low-profile bench and a large rug to zone the space.
5. Divide a kitchen with a freestanding island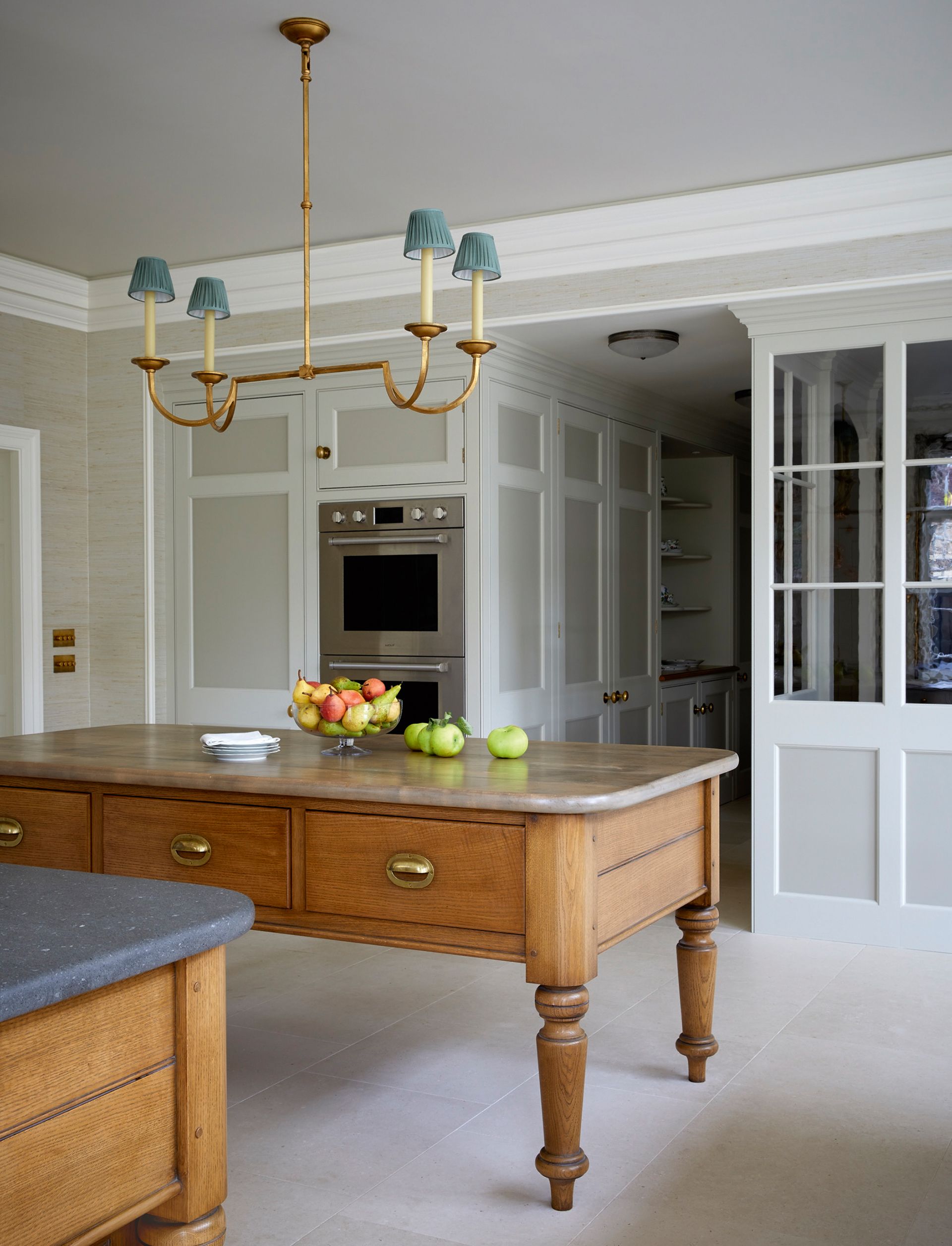 Kitchen islands are a popular way to separate social areas from practical cooking areas in a kitchen. Custom, fixed kitchen islands mean you are committed to a certain kitchen layout, however, the beauty of freestanding pieces such as tables, butchers' blocks, and bakers' tables is that they can be easily moved, making the space far more flexible. Choosing an antique wooden design can add real character to an otherwise neutral space, as demonstrated in this scheme by VSP Interiors.
6. Use chairs with light frames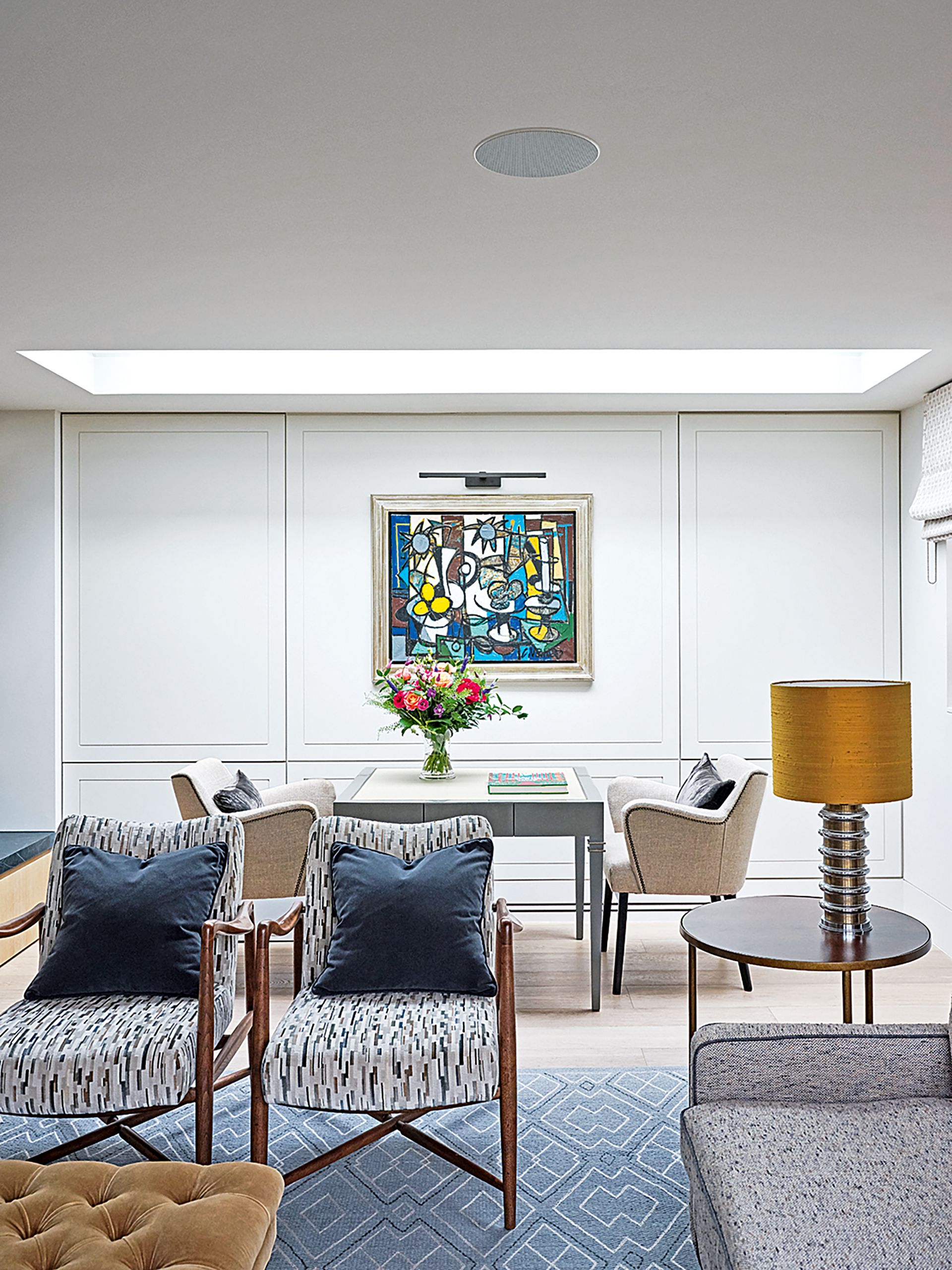 Choosing seating with slim frames is a wonderful way to separate large rooms while maintaining a spacious feel. The use of streamlined, mid-century-inspired pieces above keeps the space light and airy but also brings visual cohesion and balance.
'Balance is achieved through scale, symmetry, and both the proportion of the pieces in a room and the room itself,' says Bradley Odom. 'To achieve a great balance, you must consider the visual weight of each piece, whether that be a sofa or a patterned wallpaper, and offset that with pieces that provide a beautiful counterpoint. Visual weight should be dispersed evenly throughout the space - and ceiling - to create a great sense of intentioned design.'
7. Create separate seating areas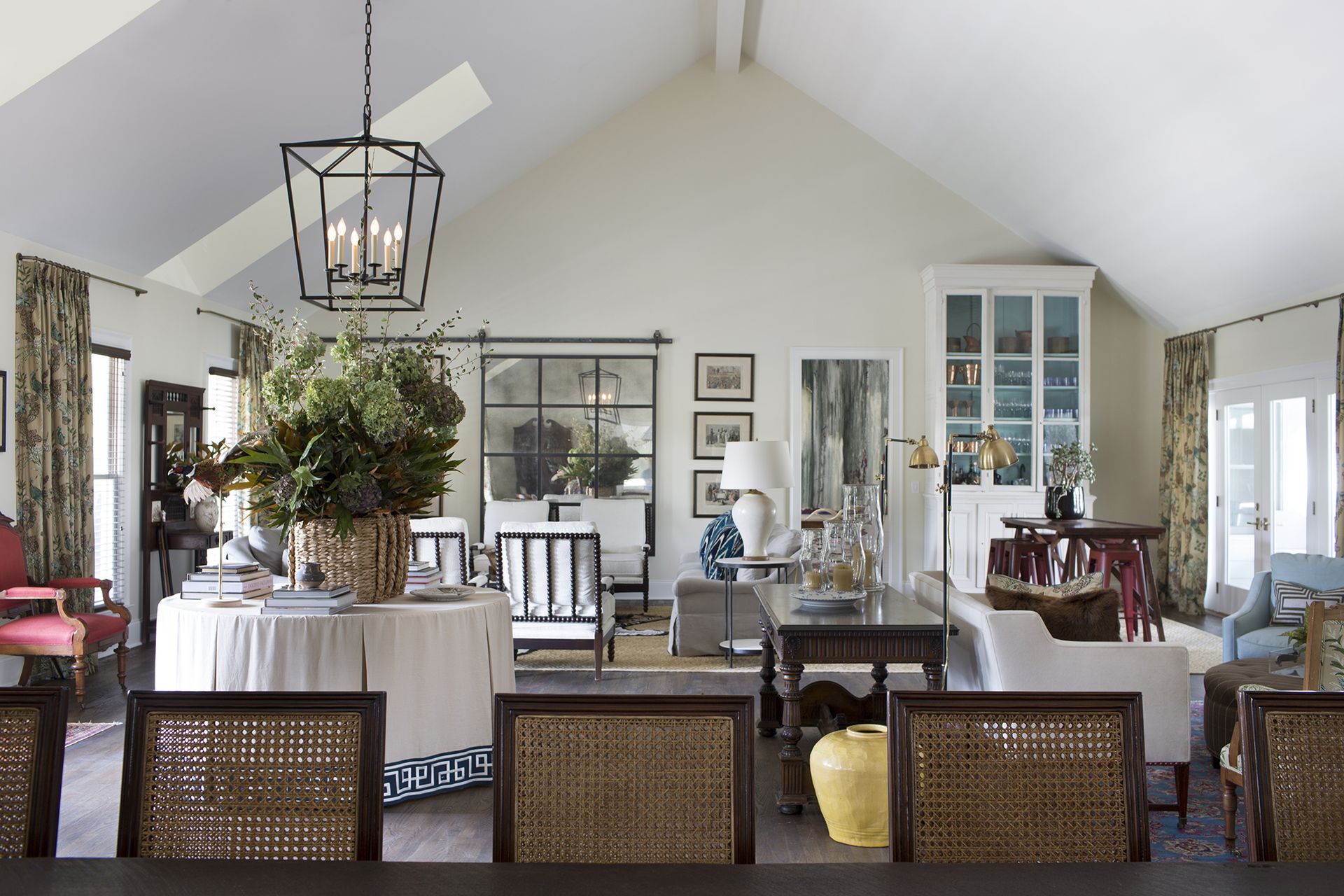 To make use of this large open-plan space Interior designer Bradley Odom, founder of the Atlanta design studio Bradley Odom Interiors combined a dining area with a series of small seating areas to make the room feel more intimate.
'Large open spaces are the perfect time to get creative with space planning and visual sight lines. We look to break up large rooms into separate, intimate seating arrangements that have inherent flexibility,' says the interior designer.
'They are perfect for smaller conversation settings, but we use chairs that can be easily moved or swiveled to accommodate a large gathering. Any unused space is often the perfect place for a pedestal and an amazing sculpture.'
This home posed a design challenge for Bradley as it had no foyer and instead the front door entered into a larger open place space. 'We planned that area to act as the visual entry point. We opted for a grand cloth-covered table like you may see in a more traditional foyer. We use a bar table to connect multiple seating arrangements while still keeping the sightline low to unify the space.'
How do you divide a room with furniture?
There are lots of ways to divide a room with furniture from tall shelving and storage units to discreet benches and console tables. What solution is best for your space depends on the type of room you are furnishing – and the functions it needs to fulfill. Kitchen islands are the obvious choice for kitchen-dining areas and in open-plan living areas sofas and seating are the go-to. If space is at a premium go for multifunctional pieces that have storage incorporated.
'Storage is essential in any home, and furniture that doubles as storage is a great way to divide a room. Physical clutter contributes to mental clutter, so aiming to make your physical environment more minimal can create more calm in your life,' says interior designer Julia Dempster. 'You can achieve this by selecting quality statement pieces that are multi-use and divide the room. I recommend storage ottomans, desks, or consoles with built-in drawers. These pieces can maximize your storage setup without demanding any extra space.'
Sign up to the Homes & Gardens newsletter
Decor Ideas. Project Inspiration. Expert Advice. Delivered to your inbox.
Pippa is Content Editor on Homes & Gardens online contributing to Period Living and Country Homes & Interiors print issues. A graduate of Art History and formerly Style Editor at Period Living, she is passionate about architecture, creating decorating content, interior styling and writing about craft and historic homes. She enjoys searching out beautiful images and the latest trends to share with the Homes & Gardens audience. A keen gardener, when she's not writing you'll find her growing flowers on her village allotment for styling projects.