How can I make a dining room look more expensive? Advice from design experts
How to create an expensive-looking dining room without paying luxury prices – interior designers share tips and tricks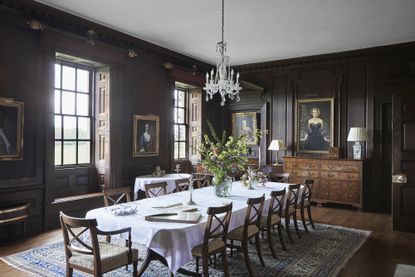 (Image credit: Brent Darby)
Dedicated dining rooms are expensive. Let's face it, having the space in a home for a single-purpose, occasionally used room for formal dining is already a luxury. It makes sense then to make the dining room extra special and enhance the feeling of opulence, good style, oh, and expense.
So how can you make a dining room look expensive? We've asked interior design experts for their dining room ideas, and in particular their thoughts on how to get that expensive, luxury look.
Minneapolis-based designer Jennaea Denhardt says, 'The key to making a dining room look expensive is truly to define what "expensive" means to you and investing in that.' That's a great starting point, and the good news is, that it's possible to make a dining room look expensive without spending a fortune.
How can I make a dining room look expensive?
What makes a home look expensive? And indeed what do people mean when they say something 'looks expensive'? Chances are when they're talking about home furnishings and interior design, it amounts to an overall look of luxury, high-end, and quality design, and not necessarily one with a high price tag.
That certainly seems to be how the interior designers we spoke to interpret the concept of an expensive-looking dining room. And with that in mind, they've shared their advice on how to get that 'expensive' look for dining rooms. Their tips encompass all the important elements of a dining room, including lighting, furniture, artwork, wall coverings and finishes, and even setting the table for dinner. There are many ways to make a dining room look expensive, as we found out.
1. Invest in statement lighting
Ask any interior designer what makes a room scheme and 9 times out of 10 they'll tell you it's the lighting ideas. We're not just talking finishing touches here, a room's lighting is the most important element of its design and can elevate the space instantly.
So while dining room lighting ideas need to balance with the other elements of the dining room's design, as interior designer Marie-Claire Mrad explains, 'One area where you should spare no expense is the chandelier. Positioned at eye level, this lighting fixture not only illuminates the space but also sets the tone for elegance,' she says.
When lighting a dining room do not skimp, urges Brooklyn-based interior designer Charlene Miranda. 'Investing in beautifully made light fixtures will really enhance the room's design trifold. I love an Apparatus or Allied Maker fixture that helps bring the design and space to life,' she says, adding, 'however when you invest in expensive lighting, you may have to cut back on other aspects of your design.' That's a sacrifice well worth making for the greater good of your dining room, we think.
For Jennaea Denhardt, lighting is more of a finishing touch but no less important for it, as she explains: 'Light fixtures are the jewelry of the space. It's a pair of earrings that you can put on and completely change an outfit. And the lighting doesn't actually need to cost much money at all – the value of it is in the impact or drama it has. Simple, minimal, and quiet, utterly dripping with crystals or a true art piece, it's all about making your heart beat fast when you walk into the space!'
2. Focus on standout chairs
Our second key dining room upgrade isn't, as you might expect, the table but rather the chairs. There are so many striking options around, so how do you go about deciding what kind of dining chairs are best when you want to make a dining room look expensive? Marie-Claire Mrad agrees that chairs are where it's at. 'Gone are the days when the dining table was the star of the show,' she says. 'In today's luxurious dining spaces, It's the back of the chairs that steal the limelight, with its shape, color and patterns.' That's certainly the case with the vivid blue chairs in Anne Hepfer's dining room design, above. Consider those elements carefully as you choose chairs for an expensive dining room look.
Valentina Piscopo, designer and founder of Kuky agrees that it's better to economize on the table and invest in the chairs: 'High quality dining chairs will give you more comfort and will be made of extra durable materials so will last longer. Their fabric will most likely be stain-resistant and will frame your dining table which on the other hand is something you can source more cheaply. Light wood, simple lines, Scandinavian-style tables or matt black rectangular tables both have the potential of looking like a million bucks if paired with high-end or designer dining chairs.'
Moe Drag, owner of Architrave Interior Design suggests that 'the table, chairs and other furnishings should look collected and not match. Maybe painted, or fully upholstered dining chairs with a wood tone table.' The result is a curated, thoughtful, and more expensive-looking dining space.
3. Add a talking point with some artwork
All the best – and most expensive-looking – dining rooms include interesting, but not necessarily expensive artworks. Some even make the art the starting point for the dining room's interior design.
However, if you're one of the many people who struggle with how to choose art for your home, it's worth bearing in mind that art is by its very nature highly personal. Don't try to please everyone with your choices, instead choose a painting or piece that you love and that will add something to the room scheme. Commit fully to your choice, making it confident and big enough to make an impact.
Designer Charlene Miranda adds: 'Oversized art is not only a statement in a dining room, but also a conversation starter and makes the room feel more lavish. Art is expensive, and the larger the art, the more expensive it typically is. I like investing in the right oversized pieces in a dining room that draws color inspiration from the chairs or the wallpaper or vice versa; something that makes the space more vibrant.'
4. Choose luxury wallpaper, millwork, or paint finishes
One sure way to get a well-put-together, expensive look for your dining room is to make the most of the room's existing features. Don't fight against what's already there, but enhance and accentuate its good points. Our design experts have some great tips for doing exactly that, see below for their dining room wall ideas.
Laura Hur, of Lorla Studio says, 'Expensive-looking dining rooms often have architectural details that contribute to the luxe feeling. If your dining room is lacking architectural interest you can add this through textured paint, like Portola Paints Roman Clay, a moody and interesting wallpaper, or by installing wainscotting. Wainscotting can be purchased at your local hardware store, and we recommend painting in the same color as the walls for an elegant look.'
If it's dining room paint ideas or dining room color ideas you're after, Valentina Piscopo recommends Limestone wash paints, which she says can be DIY'd and look expensive. Moe Drag suggests painting paneled walls all in one color or using wallpaper with a corresponding trim color. 'Using a singular deep color on the walls and trim will elevate the space and help unify the various elements in the room,' he says.
There's always been a lot of love from designers for dining room wallpaper ideas. Charlene Miranda swears by wallpaper for making a dining room look more expensive, but adds, 'If it's not in your budget, at least painting the baseboards, crown molding, doors, and millwork in the space a different color, will really alter the look of the space. This may seem like a small addition to the overall design but it makes a world of difference.'
Marie-Claire Mrad agrees that opulent wall treatments and finishes, such as sumptuous wallpaper will 'elevate your dining room into a realm of luxury', and also recommends investing in ornate mirrors to extend the luxe look, just as in the English country house dining room, above, where the wallpaper is an exquisite Juliet Travers design.
5. Mix luxury materials with antiques
There's a real skill involved in decorating with antiques, and a good design rule for the uninitiated is 'less is more', particularly when you're trying to create an expensive look for a dining room. One or two well-chosen antique or vintage items mixed in with lower-value pieces will create a better impression than a room crammed with antiques of varying quality.
'Mixing luxury materials like marbles and metals with antiques is a great way to give a dining room a unique and luxurious look,' says designer Laura Hur. 'Marbles and metals can be pricey, but this method allows you to introduce them in impactful ways, but at a lower price point, like mirrors, frames for artwork, lighting, vases, and other table décor.'
6. Find good quality floor coverings
Your dining room flooring ideas form the foundation of the room scheme. Get these right, and you're ready to build on that to create a beautiful and expensive-looking dining room.
So whether you're lucky enough to have quality wood flooring, or are dealing with tiled floors, or looking for dining room rug ideas, it pays to give careful thought to what's underfoot in your dining room.
Like the designers we spoke to, we're big fans of dining room rugs. The right size and kind of rug in the right place can help to make a dining room look expensive. However, if there are young children in the house a rug is going to take a battering so whatever you choose, make it easy to clean. If you entertain regularly there'll be the inevitable wine spills, and candle wax issues to deal with – they go with the territory – so you should definitely brush up on how to clean an area rug because a stained or grubby rug won't help to make your dining room look expensive.
7. Customize furnishings to create an expensive, bespoke look
Believe it or not, one of the best ways to make your dining room look expensive is to create your own furnishings. We're not quite talking about make do and mend, but simply by adapting or upgrading a piece of furniture or some of your furnishings, you can give them a bespoke, individual look that goes way beyond a price tag.
Designer Charlene Miranda agrees that going the custom route is a good way to make something look more expensive. 'And if you are trying to save a little,' she adds, 'you could look for vintage dining chairs with seat cushions that can be reupholstered in a beautiful fabric. Dining chair seats require, maybe one to two yards of fabric each, so even if you get fabric from Pierre Frey or Holland and Sherry, a little will go a long way.'
8. Think about your tablescape and accessories
In all this talk of how to make a dining room look expensive, it's important not to forget the room's raison d'etre! Anyone invited to share a meal at your table won't be thinking about how much things cost. They will, however, be ready to enjoy good company and good food, and will also appreciate the care that's gone into the dining room scheme.
It's when you're entertaining and hosting special family meals that dining table décor ideas take on extra importance, just as much part of creating a memorable occasion as any furniture, wall and floor coverings.
Interiors expert Marie-Claire Mrad says, 'Don't underestimate the power of a meticulously crafted table setup. From exquisite plates and cutlery to a strikingly unique centerpiece, it's a tactile experience that ensures your dining room exudes opulence at every turn, making each meal a luxury affair.'
As for choosing accessories, designer Valentina Piscopo warns: 'Too many times I see clients adorning their dining table with a few candles and a generic glass vase that just doesn't look right. Instead, make a statement by carefully curating the table display. Extra large, sculptural, statement vases, filled with fresh wildflowers or branches if your room has tall ceilings. And add tall plants in empty corners of the room to add richness to the space.'
Sign up to the Homes & Gardens newsletter
Decor Ideas. Project Inspiration. Expert Advice. Delivered to your inbox.
Karen is the houses editor for homesandgardens.com and homes editor for the brand's sister titles, Period Living and Country Homes & Interiors, and an experienced writer on interiors and gardens. She loves visiting historic houses for Period Living and writing about rural properties for Country Homes & Interiors, and working with photographers to capture all shapes and sizes of properties. Karen began her career as a sub editor at Hi-Fi News and Record Review magazine. Her move to women's magazines came soon after, in the shape of Living magazine, which covered cookery, fashion, beauty, homes and gardening. From Living Karen moved to Ideal Home magazine, where as deputy chief sub, then chief sub, she started to really take an interest in properties, architecture, interior design and gardening.