7 ways designers make an entryway feel cozy, for the warmest of welcomes
Coming home can be even more delightful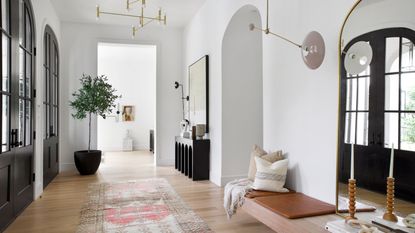 (Image credit: Matti Gresham for Urbanology Designs)
The entryway is one of those spaces that we often fail to define or give the attention that it deserves. Yet its job is an important one; it sends us off into the world, only to cradle us back home at the end of even the longest days. Surely, this should actually be the last space that goes without praise?
Marrying good looks and functionality is essential in every space, but this can be difficult to get right in the humble entryway that is prone to being a little awkwardly shaped, if not perhaps even on the small side. Thankfully, there is lots you can do to make yours feel cozy, warm, and inviting.
How to make an entryway feel more cozy
In every season, an entryway should be beautiful, and serve the first slice of sweet relief that your home has to offer from the outside world. An entryway can be a far more inviting and inspiring place to be, when approached in the right way. If yours feels a little cold or uninviting, we have some ideas that might make all the difference.
1. Ensure there is space to land, comfortably
As the first place you 'land' when you come home, your entryway needs some basic additions to make it work. A console, for example, can offer essential entryway storage, even in a small space; leaving more room for decorative elements on the surface.
'Welcoming elements in an entryway include a table or console for accessories and florals, a landing zone, seating for putting on or taking off shoes, and a mirror to check your look on the way in and out,' says Kara Smith, Founder of KES Studio.
Aim to include ornaments and more decorative pieces that have more about them than meets the eye is our first piece of advice for cozying up this space. All in the name of dual-function, alongside a styled console, a modern entryway bench can be a distinctive feature in itself while also offering an additional surface for people and/or all manner of items to rest.
Kara Smith, founder of KES Studio, is a self-taught designer with a passion for exploring new styles, curating art from around the globe, and integrating bespoke product design. Viewing each project as a chance to craft something truly unique, Kara believes that thoughtful design begins with understanding the client's aesthetic as well as the goals and challenges of the project and fusing it with her interpretation to create iconic and bespoke designs. While Kara is intimately involved with each project on a day-to-day basis, she continually seeks inspiration through travel, art, and culture. She is not only aware of emerging trends, but is a tastemaker herself, helping to influence the future of design.
2. Favor natural materials and textures that bring warmth
Texture and cozy go hand in hand. When adding essential elements to your entryway, especially if it is on the small side, favor materials and finishes that have warmth written all over them.
'Arriving home, we want to feel like we have just arrived at our sanctuary. A warm entryway where one can stop and unload and feel welcome and happy to have arrived. To cozy up your entryway, you want to add visual and physical comfort with warm tones and materials,' says Ami McKay, creator of PURE Design.
Decorating in neutrals and bringing in velour-upholstered seating, wooden elements, and dried or fresh greenery can all make beautiful additions.
Ami McKay founded PURE Design in 2000 on the belief that design is found in the art of giving. The work that she puts into each project reflects her personal life experiences and she believes they are at the heart of her business. Today, she is proud to be named one of Canada's Top Five Interior Designers.
3. Add artistic delight
What is an entryway if not a fine opportunity to welcome guests and share a little about your home's personality with them? 'Artwork or wallpaper will be impactful in a small space - there are so many options out there to find what it is that adds warmth to an entryway,' says McKay.
Whether it is a canvas or an accent wall, explore different ways that bring exuberant detail for a toastier invite.
4. Keep flooring luxurious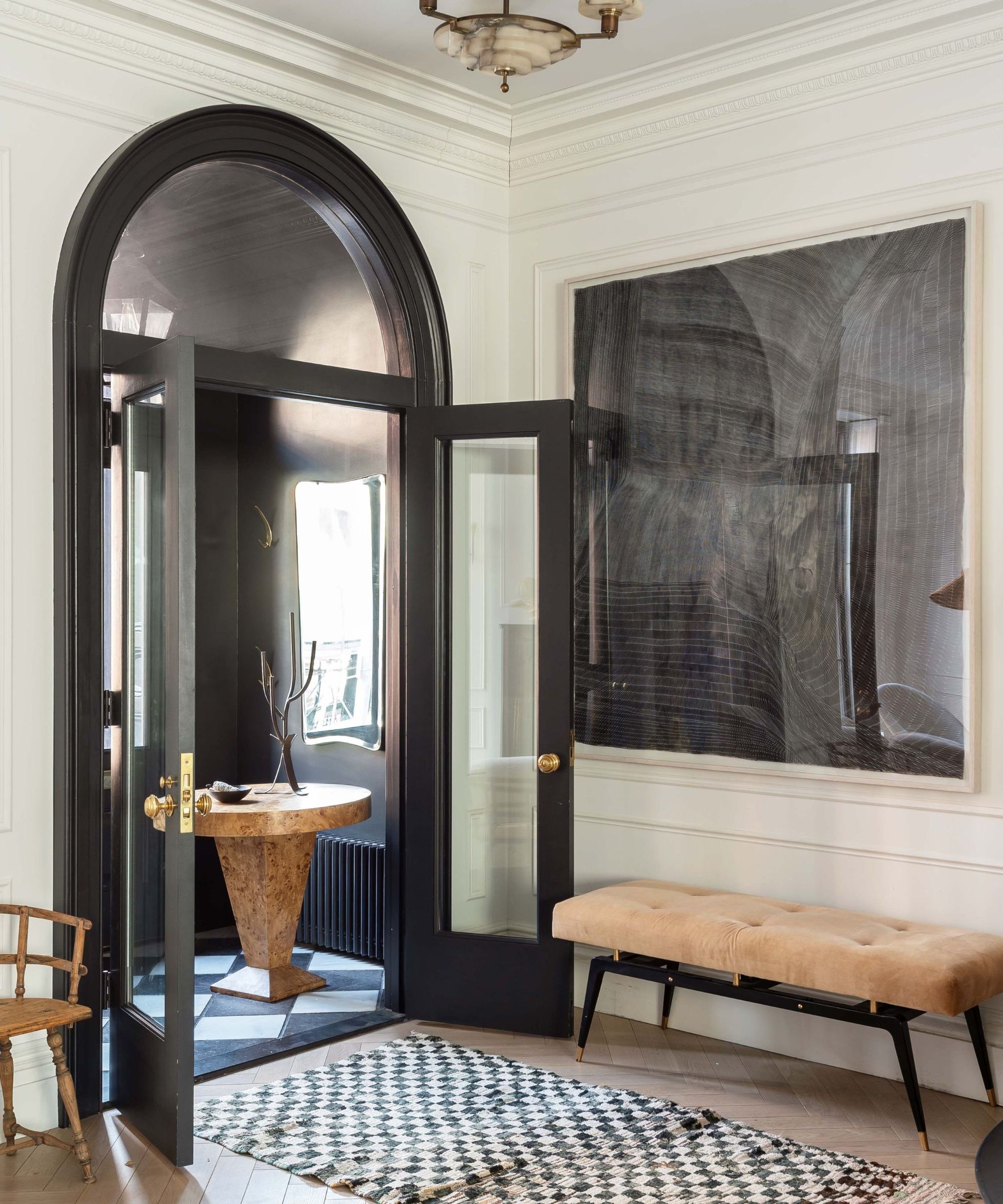 If you have the opportunity to design an entryway from scratch, or in a remodel, paying close attention to your flooring will help elevate the feel of the entire space.
'An entryway is the opening act for your home,' says interior designer Victoria Holly. 'This space should not be forgotten, but instead crafted with striking elements for a cozy welcome.
'One design choice that consistently stands out is a bold and gorgeous marble floor tile, which can instantly set the tone for the entire space. To truly define your entryway, add a marble 4" border to help make your entryway tile look even more elegant and the placement even more thoughtful.'
Whether you choose to bring your entryway flooring through to the connecting rooms in your home, or on the stairwell, will be a matter of preference. Either look will add interest and marble is sure to make your entryway look expensive too.
Victoria Holly Interiors is a full-service interior design firm that specializes in creating beautiful and functional spaces for both residential and commercial clients. They pride themselves on their ability to deliver high-quality projects that meet the unique needs and preferences of their clients. Victoria Holly Interiors offers a wide range of professional services, including project management, interior design, construction assistance, and renovations.
5. Let unexpected mirrors add personality
Decorating with mirrors comes with both practical and beautiful benefits, so it is no wonder one belongs in this space.
'A mirror also allows for the practicality of checking yourself before you head out, but it also helps to open up the space. An entryway is the perfect opportunity to include a unique statement mirror that you might not use in a more practical place such as a bathroom,' Holly tells us.
For a cozier and more remarkable finish, aim to do things slightly differently, be that in the design of the mirror itself, or in its placement.
'Especially choosing an asymmetrical mirror or bold material or color is the perfect pop for an entrance,' adds Holly.
Flora Round Mirror (was $258)
This mirror is crafted from mango wood and finished with antique brass, giving it both a vintage and beachy look. The porthole-style roundness is a welcome change from standard rectangles and complements a coastal scheme.
Archer Brass Metal Framed Mirror
Adding a mirror like this is almost like having another window in the room. It's a great way to embellish your perceived space. The elegant arches make a great pairing with an entryway or mantel. The brass frame, because it taps into so many different style trends too.
6. Always include statement lighting
A comfortable entryway must be well-lit, and if natural light is not on your side, you will be able to explore more exciting designs for a toastier finish.
'Accent lighting is also crucial to a gorgeous entryway. A lot of homeowners may have an entryway light that is recessed, but getting a converter kit and putting in a flush mount light or pendant light is a much better option. When you opt for a statement light, you're adding in another dramatic statement and something unexpected,' says Holly. 'A distinctive fixture can instantly elevate the ambiance, casting a warm and welcoming glow.'
Consider layering lighting for the perfect balance. Wall sconces are another brilliant way to make an entryway more welcoming Smith tells us. For a brighter than bright finish, see how you can increase natural light in your entryway first of all, then consider how to best complement this with task and accent lighting.
Do not overlook the type of bulb you choose either, warm over white light may have a noticeably more comfortable finish on the eye.
7. Pay attention to the fifth wall
Much like the entryway, our ceilings are often overlooked, but if you have decided to switch out your ceiling light, helping it stand out with a beautiful background makes perfect sense.
Joshua Smith, Principal and Founder of Joshua Smith Inc. tells us why this forgotten wall is worth investing in, decoratively: 'Sometimes the ceiling is the last to be considered but can truly uplevel a space, especially in a foyer where it creates a dramatic sense of arrival and hints at the spirit of the rest of the home.'
For a more luxurious finish, see how decorating with gold could bring warmth and flair to this space. It is all about creating impact, after all.
'Adding coffered detailing can add immense architectural interest and make the space feel cozier due to its enveloping nature. Instead of simply painting the insets of the coffered areas, utilize a dose of patterned wallpaper to create a greater "wow" factor,' continues Smith.
With projects on both coasts, Joshua Smith Inc, offers full-service residential interior design – and life-changing spaces. Joshua draws on decades of experience transforming functional spaces into inspiring environments that engage the senses and nourish the soul. By cultivating the connections between mind, body, spirit, and space, he helps his clients elevate their experience each day. He was named a Rising Star by House Beautiful and is part of Traditional Home's New Trad Class of '23.
How can I make my entryway feel warm?
Adding texture to a space will help the space feel cozier and more inviting but for a particularly cold-feeling space, perhaps one with stark white walls or that is very expansive, combine a few different approaches for best results. Accent lighting, with a carefully placed mirror and a console, will elevate a bland space quickly. Then it is all in the finer details as McKay tells us: 'Include a place to sit with some beautiful cushions, a natural fiber area rug, baskets, a mirror, and plants or a beautiful flower arrangement.'
Contrasting textures and layering elements will naturally add depth. 'Wall sconces and a rug are great ways to add warmth and a layer of texture,' adds Smith.
---
Finessing a cozy entryway will be enjoyed every day so it is worth adding those special touches. And it can be done with just a few small switches too - adding in some layers of textures, ensuring the lighting is soft and choosing shades from the warmer side of the color wheel.
Sign up to the Homes & Gardens newsletter
Decor Ideas. Project Inspiration. Expert Advice. Delivered to your inbox.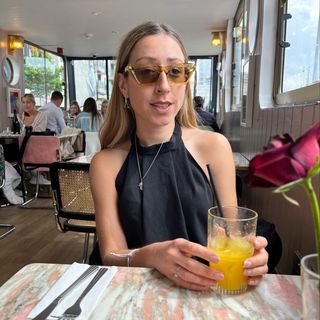 Camille is the former deputy editor of Real Homes where she covered a broad range of topics, including house tours, small space design, and gardens. She studied English language and Italian at the University of Manchester and during a year abroad studying linguistics and history of art in Bologna, Italy she started documenting her adventures and observations in a blog. Camille is always creating and spends her downtime painting, taking photos, traveling, and writing short stories.