7 simple ways to make your entryway feel more luxurious, according to interior designers
Elevate your entryway with these decor ideas that will create a feeling of luxury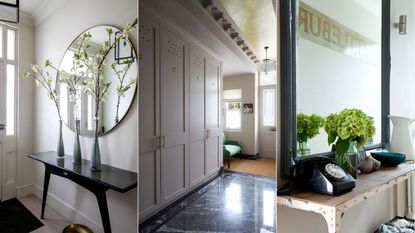 (Image credit: Future, Talbot Photography | Paul Massey | Future, Lizzie Orme)
Since the entryway is the first impression guests receive upon entering your home, you will no doubt want this space to set a welcoming feel while looking stylish to reflect the decor of the rest of your home.
'An entryway is the opening act for your home,' says Victoria Holly, Principal and Founder of Los Angeles-based Victoria Holly Interiors. 'This space shouldn't be forgotten but instead crafted with striking elements for a cozy welcome.'
When designing an entryway, you may also want to consider how you can elevate the space to make it feel more luxurious, aiding in it becoming an inviting space for not only guests but your household each day.
How to make an entryway feel more luxurious
Here, we talk through some really simple ideas to help make your inviting entryway feel and look more luxurious, whilst also ensuring it remains a highly practical space that's designed for the heavy footfall it no doubt receives each day.
Whether you're just starting out with designing your entryway and are deciding on bigger decorating decisions such as the flooring, or you are looking for some simple and easy decor updates to refresh your entryway, these ideas will no doubt give you some inspiration.
1. Opt for statement tiled flooring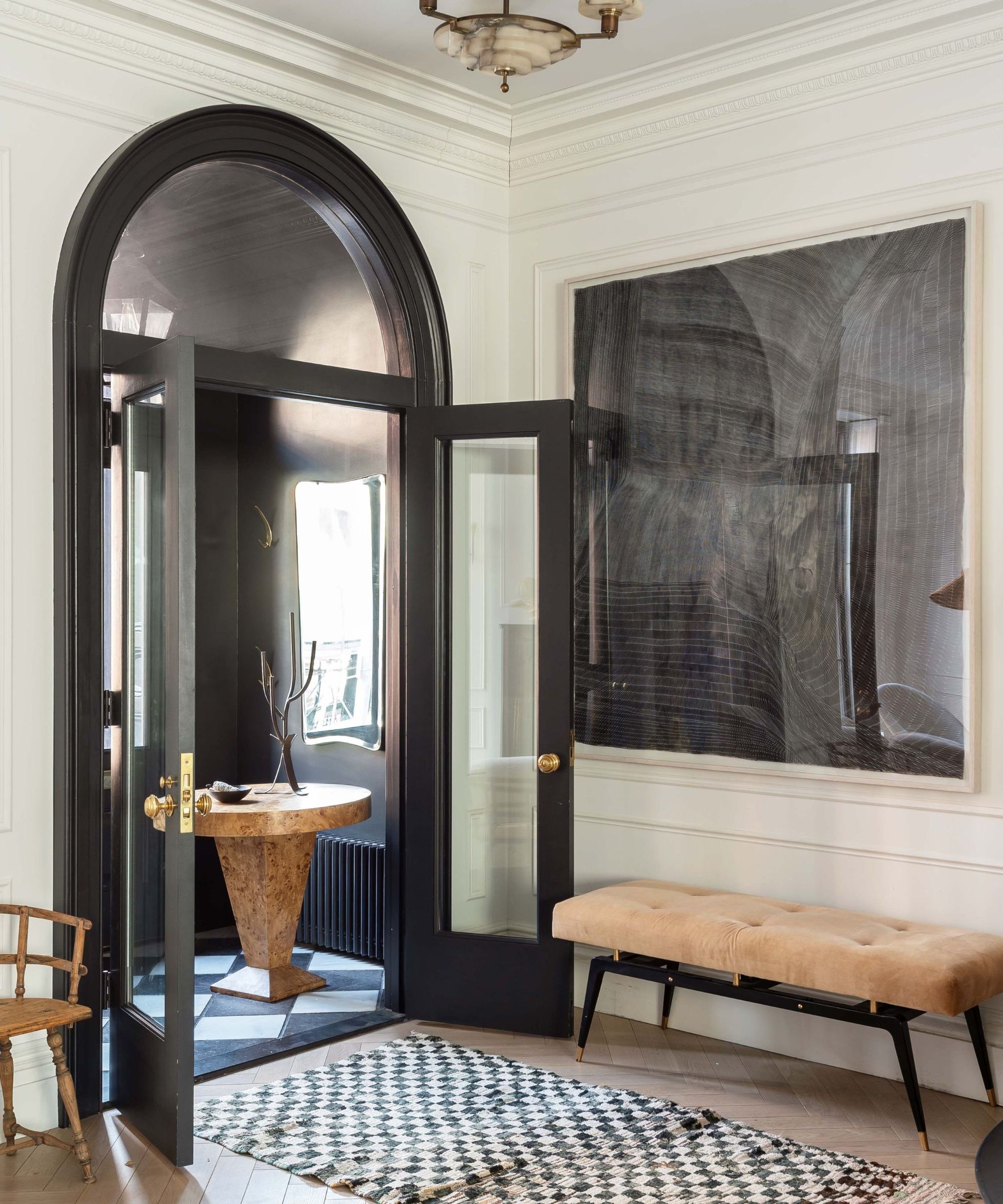 'One design choice that consistently stands out is a bold and gorgeous marble floor tile, which can instantly set the tone for the entire space,' advises Victoria Holly. While this is a bigger decorating decision, if you're in the process of choosing entryway floor ideas, statement tiles will no doubt set the tone to one of luxury. Opting for tiled flooring also creates an incredibly timeless look, so it will remain looking stylish for years to come.
There are endless ways of decorating with flooring tiles, but for the entryway, you could opt for a border to create a traditional look, as Victoria suggests: 'To truly define your entryway, add a marble 4-inch border to help make your entryway tile look even more elegant and the placement even more thoughtful.'
2. Decorate with mirrors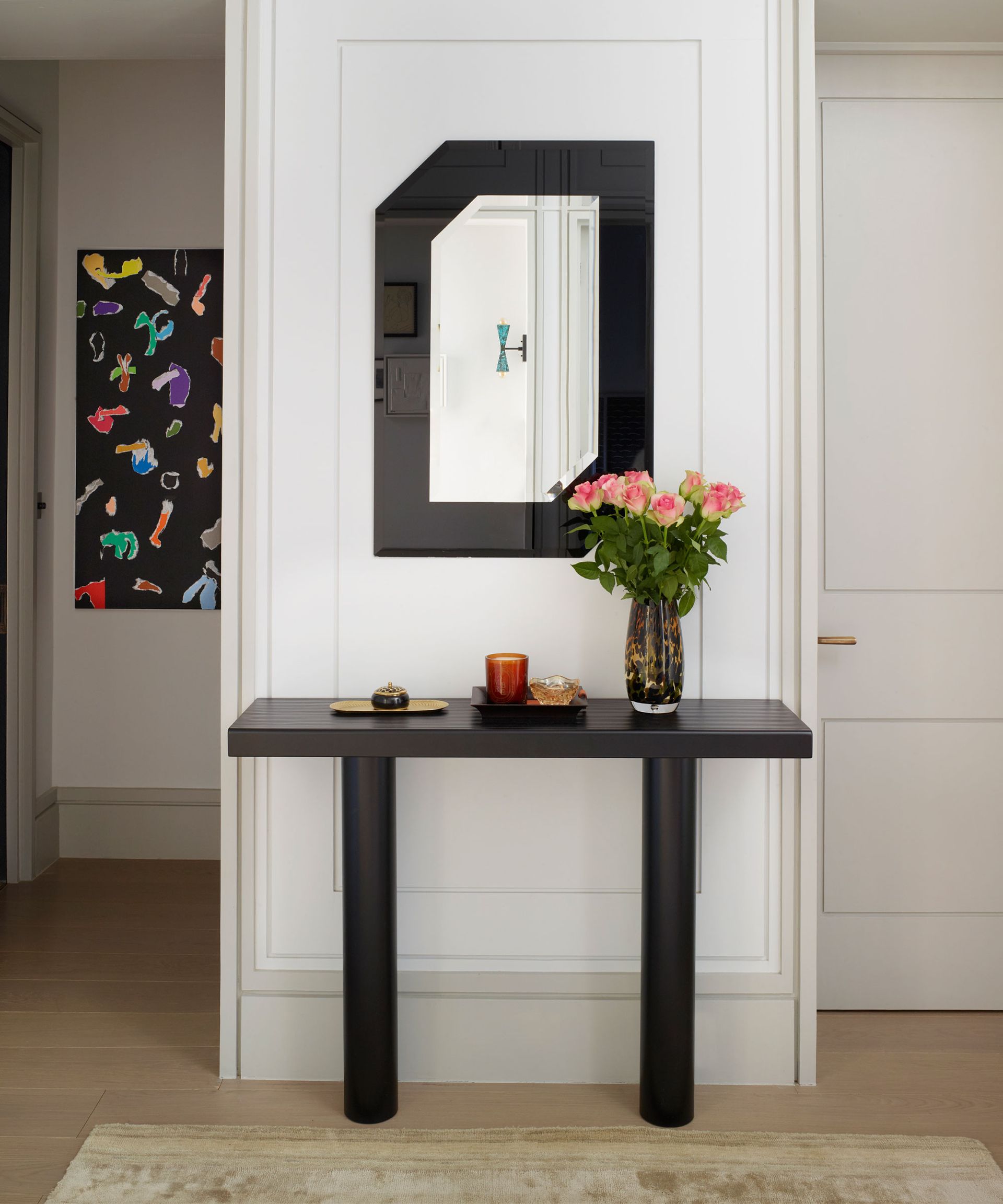 Not only a practical decor idea, decorating with mirrors in an entryway can also reflect light to make the space feel more open, whilst creating a feeling of grandeur by opting for a statement or vintage-inspired design.
'A mirror allows for the practicality of checking yourself before you head out, but it also helps to open up the space. An entryway is the perfect opportunity to include a unique statement mirror that you might not use in a more practical place such as a bathroom. Especially choosing an asymmetrical mirror or bold material or color is the perfect pop for an entrance,' explains Victoria Holly.
3. Set an ambience with accent lighting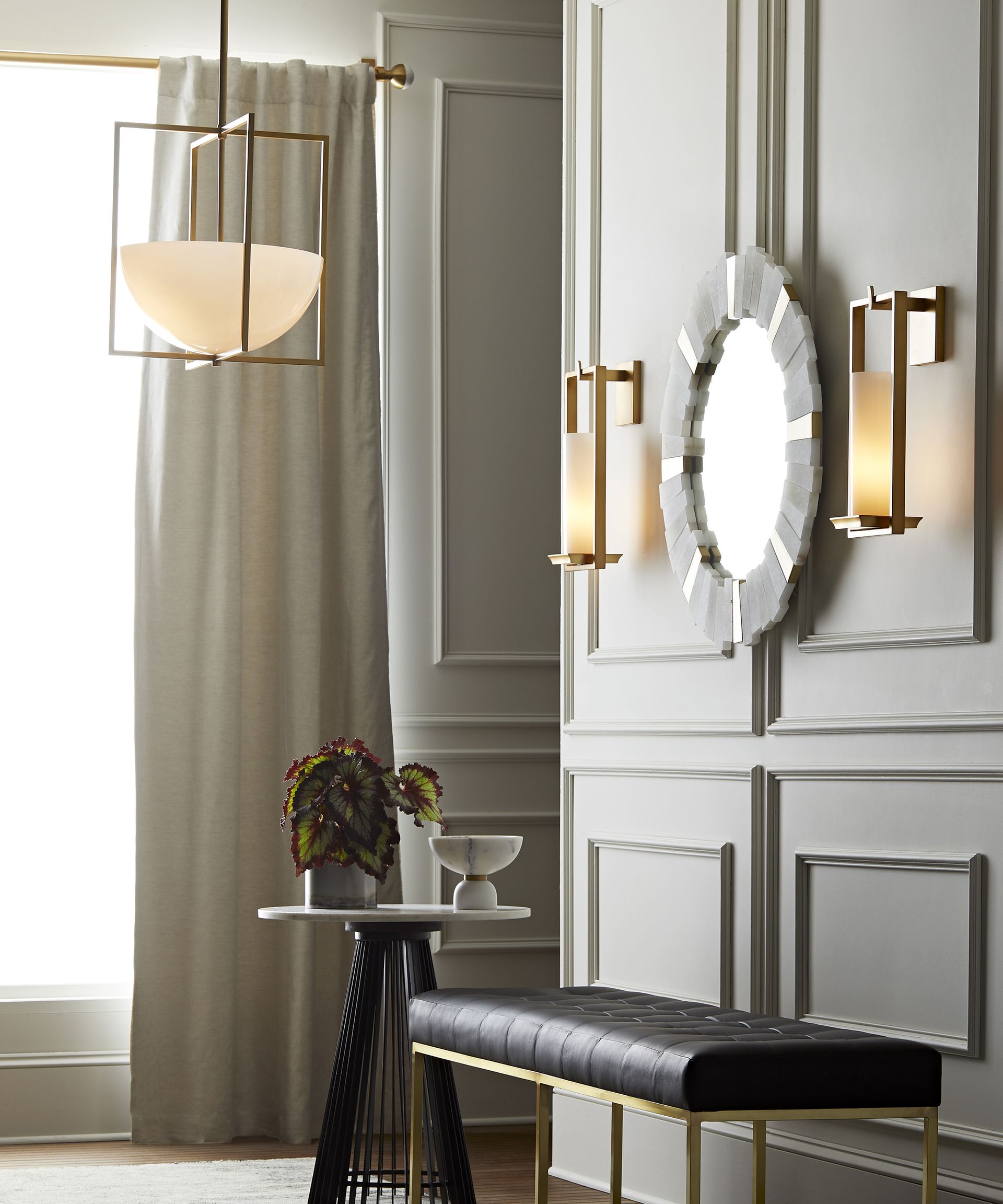 Lighting is an incredibly important design choice throughout the home, including in the entryway. In the evenings, having ambient lighting will create a cozy feel which promotes an elegant look, which is important if you want the space to feel more luxurious.
'A lot of homeowners may have an entryway light that is recessed, but getting a converter kit and putting in a flush mount light or pendant light is a much better option,' says Victoria Holly. 'When you opt for a statement light, you're adding in another dramatic statement and something unexpected. A distinctive fixture can instantly elevate the ambiance, casting a warm and welcoming glow.'
Melissa Read, Creative Director at Studio Burntwood also recommends entryway lighting ideas to create a luxurious feeling, saying: 'Well-placed and balanced lighting can make all the difference in creating a luxurious entryway. I would recommend installing wall lights on either side of an oversized mirror to achieve this. Wall lights will provide a soft and warm glow, which is perfect for creating an inviting atmosphere.'
Melissa Read attended the KLC School of Design in Chelsea before working at London's best-regarded interior design studios. Now Creative Director of Studio Burntwood, an interior design studio that specializes in luxury residential interior design for private clients and property developers.
4. Make the ceiling a focal point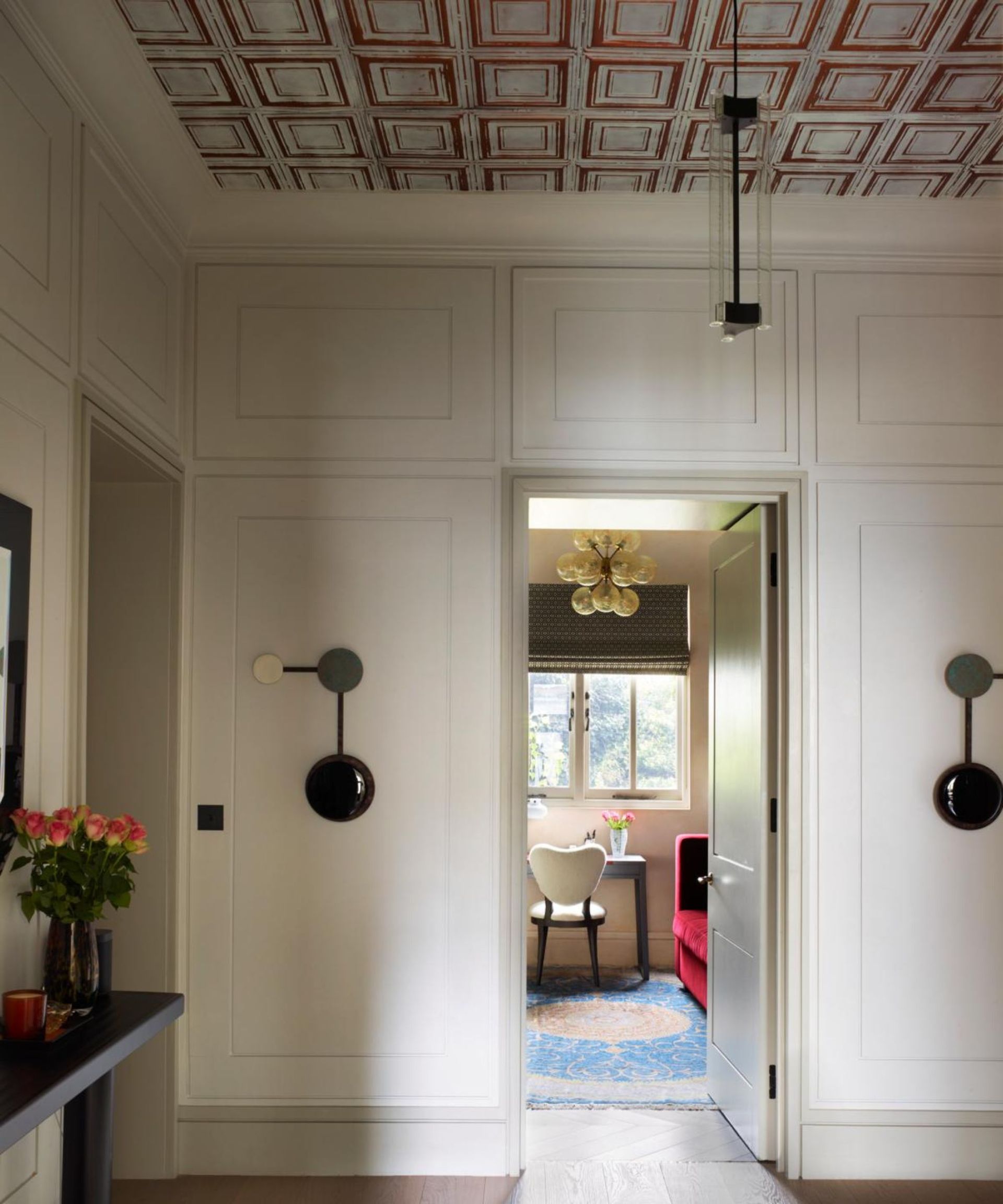 'Sometimes the ceiling is the last to be considered, but it can truly uplevel a space, especially in an entryway where it creates a dramatic sense of arrival and hints at the spirit of the rest of the home,' explains Joshua Smith, Principal of Joshua Smith Inc.
While this is a decorating idea that relies on the existing architectural features of your home, Joshua recommends maximizing the impact of these classical features to create an inviting feel to the entryway: 'Adding coffered detailing can add immense architectural interest and make the space feel cozier due to its enveloping nature. Instead of simply painting the insets of the coffered areas, utilize a dose of patterned wallpaper to create a greater "wow" factor.'
Named a Rising Star by House Beautiful and part of Traditional Home's New Trad Class of '23.
With projects on both coasts, Joshua Smith Inc, offers full-service residential interior design – and life-changing spaces. Joshua draws on decades of experience transforming functional spaces into inspiring environments that engage the senses and nourish the soul. By cultivating the connections between mind, body, spirit, and space, he helps his clients elevate their experience each day.
5. Layer tactile items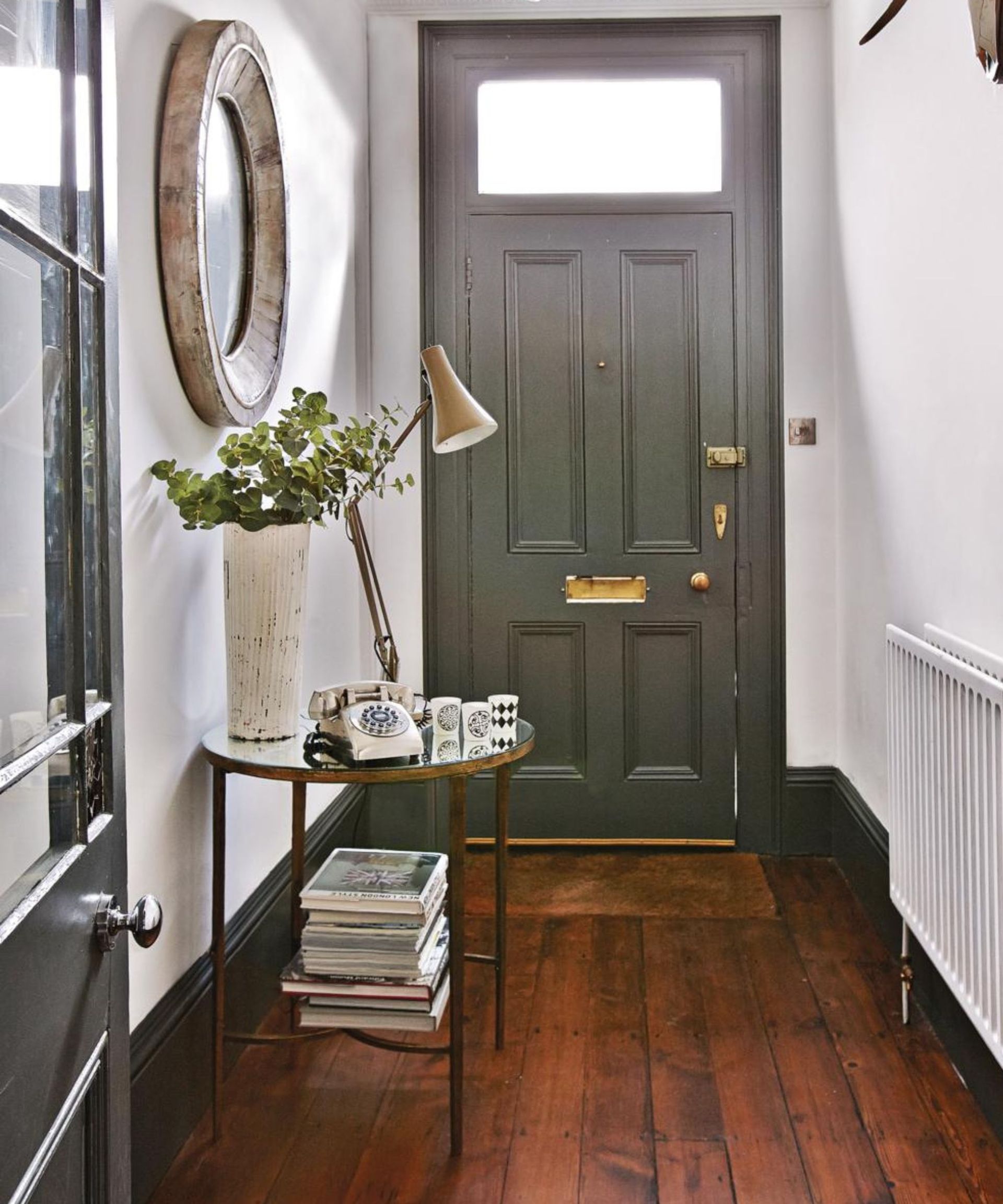 To help an entryway feel inviting; a key part of creating a feeling of luxury, it's all about layering different tactile elements to give the space depth and interest. 'Having tactile surfaces will make an entryway look more luxurious,' observes Luis Carmona, owner at VERDE Interior Design.
'A textured floor runner, a wooden console table paired with a metal mirror all add a sense of touch to the space,' he continues. 'Functionality is key to a space feeling more luxe.' While there are many different ways to achieve this look, take inspiration from Luis and consider adding a floor runner to achieve a layered look, or add decorative and practical items to a console table to create a '"lived-in" feel.
6. Integrate storage for an uncluttered look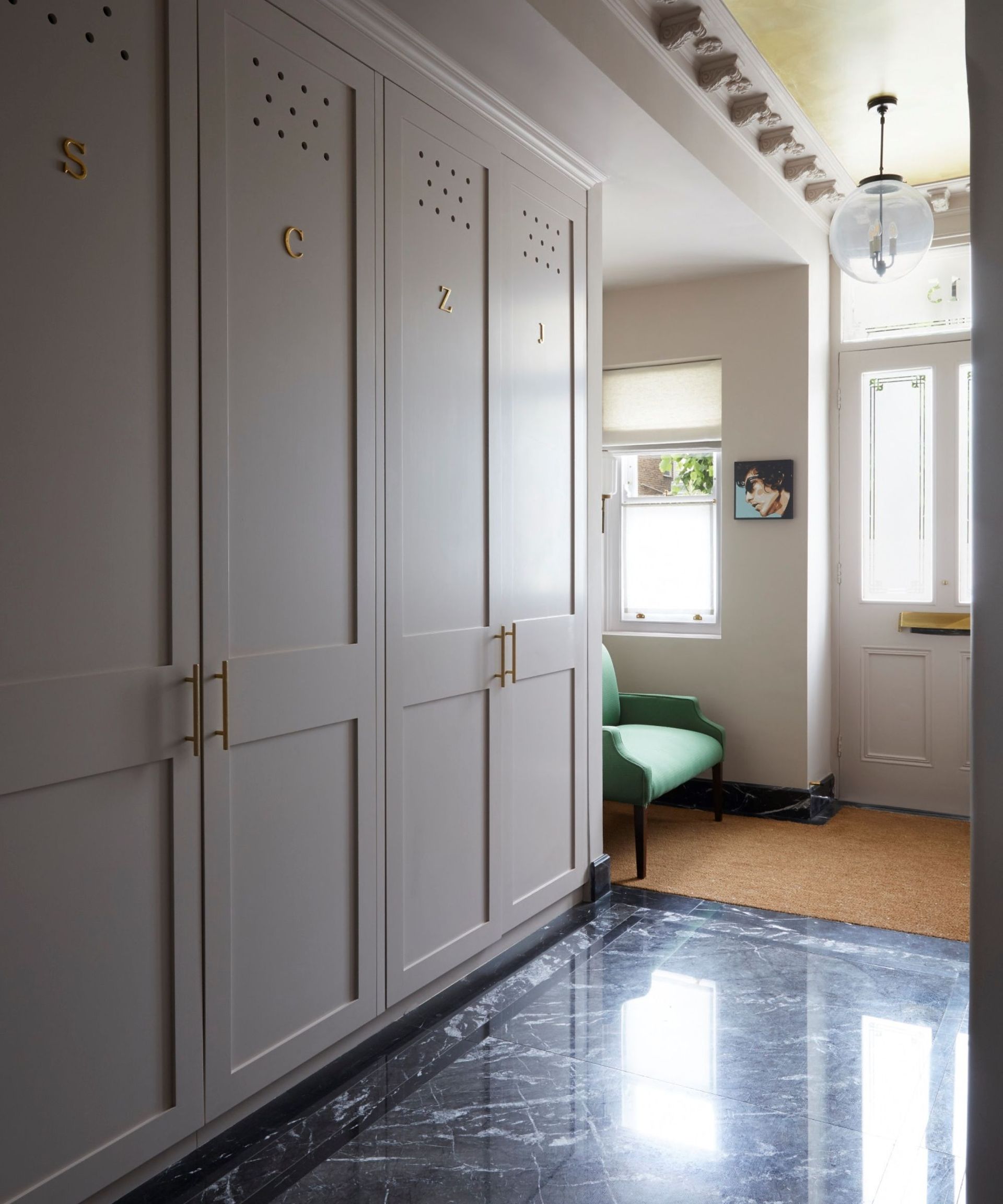 Having an entryway that feels luxurious is not just about adding decor items; it's as much about ensuring the space is designed with practicality in mind. Considering storage ideas in the entryway will allow items to be easily stored out of sight, avoiding a cluttered look which is essential if you're aiming for a luxe feel.
'First impressions are so important and ensuring that the entrance to your home is clear and tidy might seem like a simple thing but as every parent knows, this is much easier said than done,' explains interior designer Naomi Astley Clarke. 'My trick is to make it as easy as possible by creating throw-in storage – think tall cupboards and pull-out drawers under benches – for coats, bags, kids' sports equipment, and everything in between. If nothing else it makes the last minute clear up before guests arrive that bit quicker to manage.'
Named as one of Andrew Martin Top 100 in the World 2022, Naomi is a highly experienced interior design practice with expertise in the sympathetic renovation and refurbishment of residential and commercial properties. Naomi has worked in the industry for over 25 years and is now one of the most sought-after designers with a client base that includes world-famous movie stars, producers, music moguls, professionals, and entrepreneurs.
7. Don't forget to add a fresh scent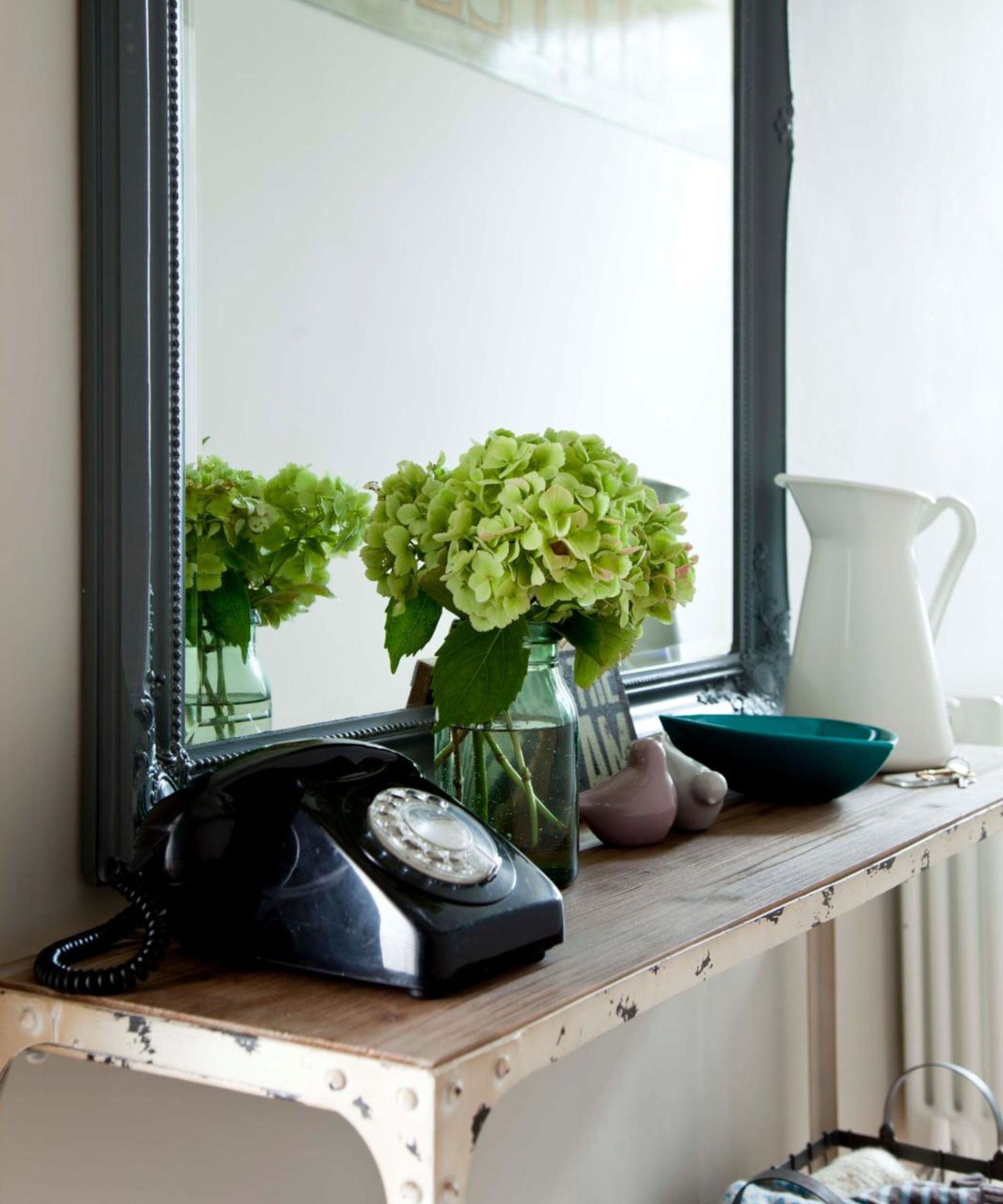 Ensuring your entryway smells fresh is an essential part of creating a luxurious feel. Whether you prefer the scent of fresh flowers or a scented candle in the evening for a cozy feel, there are lots of ways to add lovely-smelling scents. 'Scents play a large role in what one automatically thinks when they walk into a space,' explains Luis Carmona. 'Having a lighted scented candle or a vase with fresh eucalyptus on a console table will create a pleasant aroma upon entry.'
Below you can shop one of our current favorite best candles, perfect for creating a warming entryway this winter.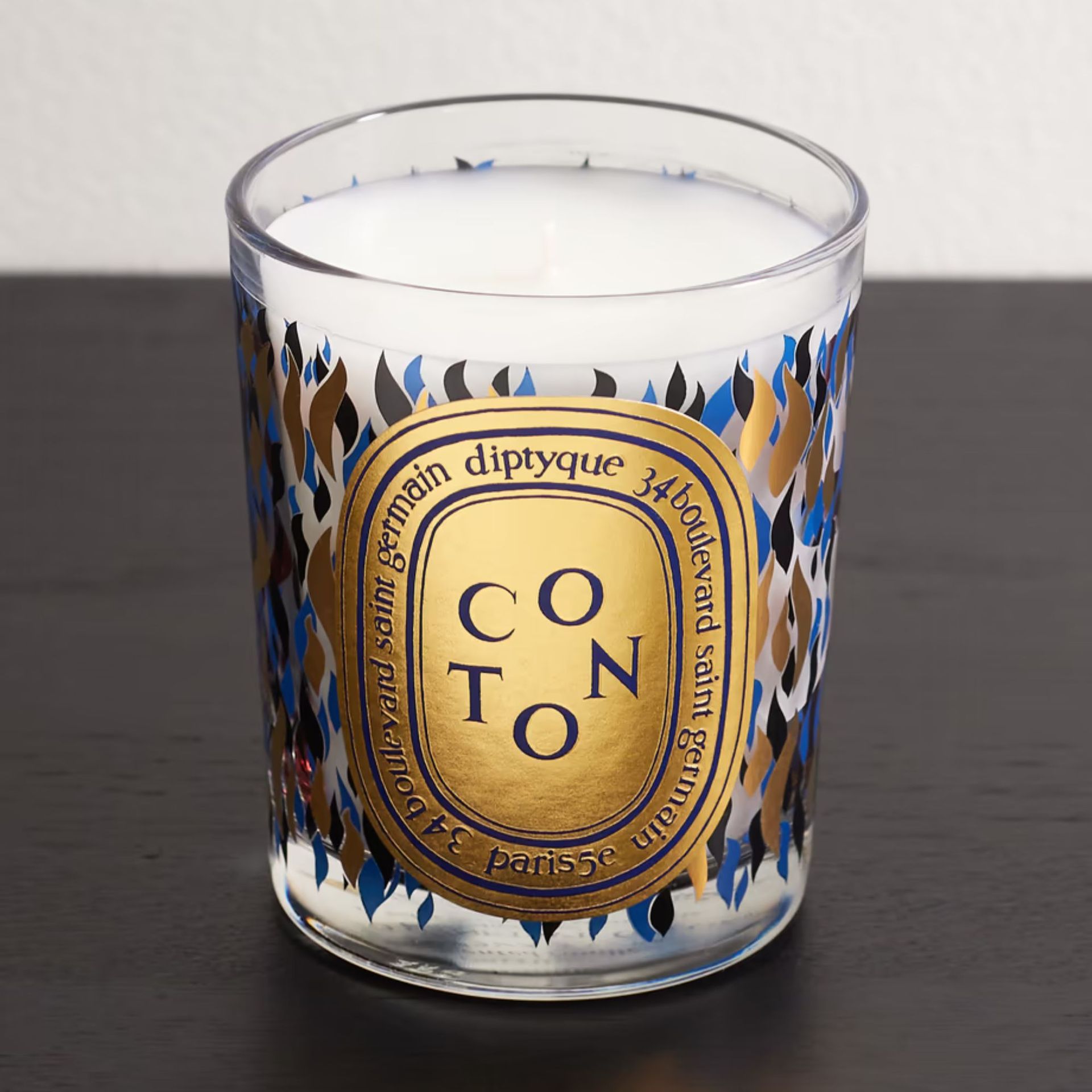 Diptyque Scented candle, Cotton, 190g
Create a fresh-smelling entryway with this Diptyque candle, complete with luxe packaging to elevate your space.
---
There are so many ways to create a feeling of luxury in an entryway, from opting for opulent floor tiles to adding smaller decor items such as scented candles. It's important to keep your design style front of mind, however, to ensure the feel of your entryway is in keeping with the rest of your home's decor. And, as interior designer Marzia Dainelli of Dainelli Studio explains below, make sure you don't overwhelm the decor in the entryway to avoid making entryway mistakes.
'Be careful not to mix too many textures and colors. Remember that the balance between elements is crucial. Even if you want the entrance hall to convey luxury, avoid excessive accumulation of ornaments,' explains Marzia.
Sign up to the Homes & Gardens newsletter
Decor Ideas. Project Inspiration. Expert Advice. Delivered to your inbox.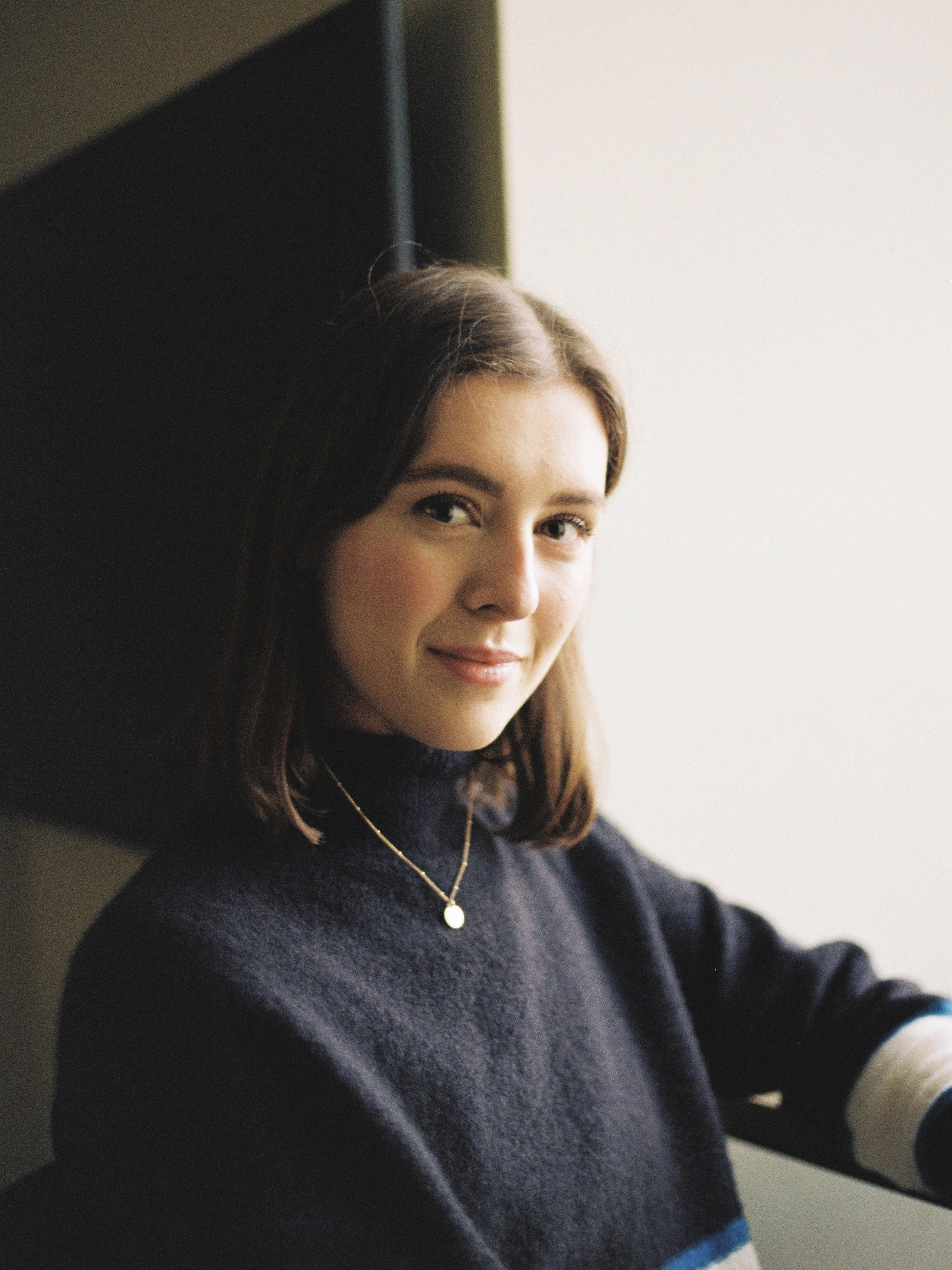 Emily Moorman is a News Writer at Homes & Gardens, working across a range of topics spanning interiors, celebrity and emerging trends. With a background in the fashion industry, Emily is well-versed in the world of design and trend cycles. Her undergraduate degree was in Fashion Communication and Promotion which she studied at Norwich University of The Arts, specialising in writing and digital communications.