Labor Day decorations – fun ways to celebrate the last long weekend in summer
Labor Day decorations are a must-have backdrop when you're celebrating your fellow hardworking Americans ... and the end of summer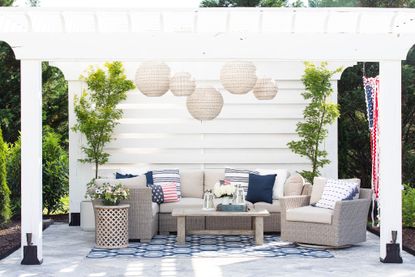 (Image credit: Jenniy Reimold)
Labor Day decorations can go one of two ways. On the one hand, the holiday is a celebration of the contributions that American workers have made in building the nation, and is the finale in a string of patriotic holidays scattered throughout the summer calendar, including Memorial Day, Flag Day, and the Fourth of July. So, red, white, and blue decor is a natural fit.
On the other hand, Labor Day also marks the unofficial end to summer, and is the perfect time to bring out all of your summer-themed decor and BBQ essentials for one last hurrah.
Whichever way you plan to celebrate the weekend, these Labor Day decorations will help you set a festive scene.
Labor Day Decorations for a festive long weekend
From simple to over-the-top, these decorating ideas are key to a celebratory long weekend.
1. Layer throw pillows
Throw pillows are one of the easiest ways to decorate for any holiday, Labor Day included. For a festive but elevated setting, mix a selection of red, white, and blue pillows in various patterns, and add one or two patriotic-themed versions to the mix.
2. Go all out for the end of summer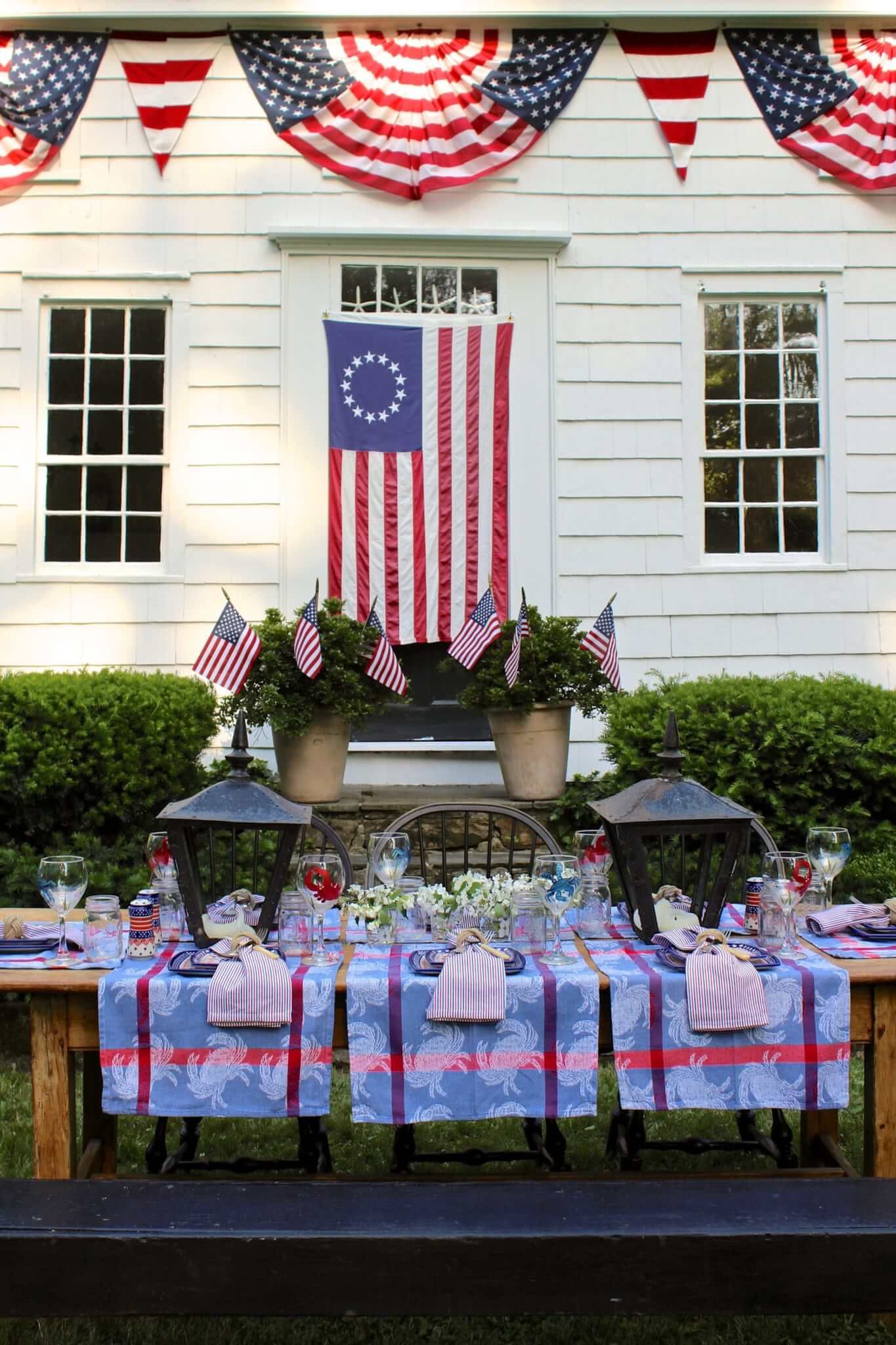 If your Labor Day celebration is also feting the end of the summer season, why not go a bit over-the-top? Celebrate the last hurrah with an Americana-themed tablescape, and give your flag bunting one last time to shine before tucking it away until it's time for Memorial Day decorating next year.
3. Use lanterns for an evening affair
If your Labor Day weekend celebration is at night, an assortment of lanterns and outdoor lighting ideas may be all the decor you need to create a festive ambience. Hang them from a pergola or patio cover, and use a combination of sizes and colors for the most dynamic display.
4. Dress up the dessert table
If you're hosting a Labor Day gathering or barbecue, let the party fare double as decor. Add red and blue berries to the tops of desserts, serve watermelon wedges, or skewer mozzarella balls and cherry tomatoes.
5. Use flags in lieu of flowers
For an all-American tablescape with vintage appeal, fill apothecary bottles, mason jars, or amber glassware with miniature American flags and stagger them down the table. Bonus points if you can find vintage flags, too.
6. Hang a bunting
Buntings are a fun and versatile way to decorate for Labor Day. For one, you can use them indoors or out. Inside, string them across your fireplace mantle or hang them across the top of a doorway. Outside, hang them from the ceiling of the front porch or on the side of the picnic table to add a patriotic touch to your tablescape.
A simple, flag themed fabric bunting can also be re-used for multiple holidays year after year
7. Wrap plants in cloth napkins or fabric
Instead of decorating tables with flower arrangements, use potted plants you already have on hand. Give them an All-American glow-up by wrapping planters with cloth napkins or fabric scraps in patriotic colors.
8. Use your favorite summer decor
Before you dig out the fall decor, celebrate the summer season to the fullest one last time with all of your favorite summer entertaining essentials. Use anything that screams 'summer!' before you pack it all away. Think: things like rattan placemats, coastal colored table linens, nautical stripes, melamine dinnerware, or brightly colored service pieces.
9. Make a flag the star of your decor
Your decor doesn't need to be overly complicated. For a simple statement, all you'll need is a large flag. Hang it over your front door or use it to add an All-American touch to your end of summer porch decor.
10. Use red, white, and blue tableware
For an easy way to celebrate the holiday, simple disposable dinnerware is all you need. Stack red, white, and blue paper plates, and set out red and blue solo cups. Bonus points if you use a gingham tablecloth, too.
Are Labor Day decorations red, white, and blue?
Like Memorial Day and the Fourth of July, Labor Day decorations are typically red, white, and blue. The holiday is considered patriotic because it celebrates the accomplishments of American workers.
However, because Labor Day has also come to signal the end of summer, there's no need to stick to a strictly Patriotic palette. Beachy brights, neon hues, and saturated shades that evoke the beauty of summer are also appropriate, especially if the purpose of your Labor Day party is to celebrate the final long weekend in summer.
Is Labor Day the end of summer?
Labor Day may be synonymous with the end of summer because it's around the time children go back to school and summer break is over, but it's not the true end of summer. The season officially ends on the day of Autumnal Equinox, which happens around September 22-23 each year.
Sign up to the Homes & Gardens newsletter
Decor Ideas. Project Inspiration. Expert Advice. Delivered to your inbox.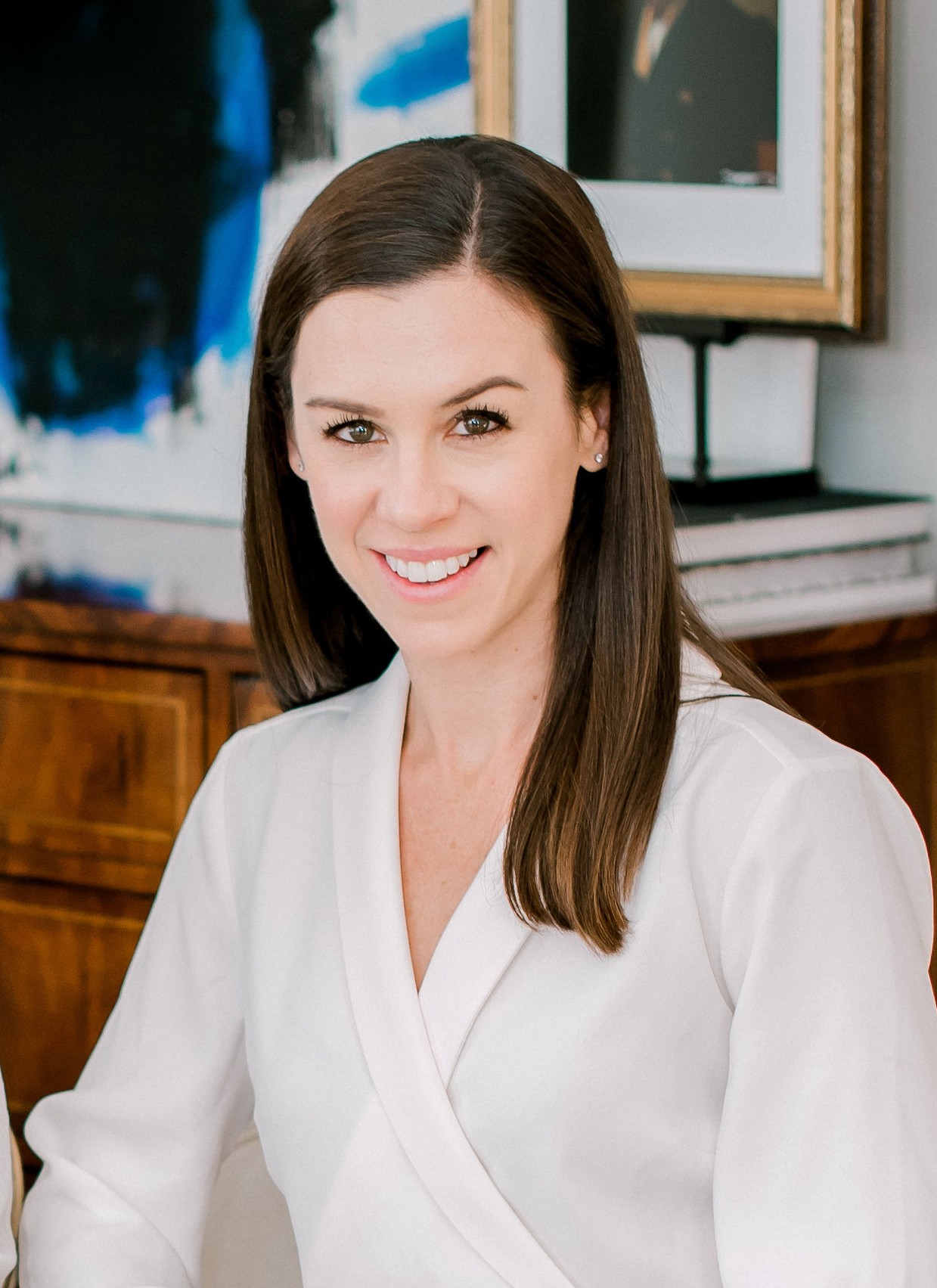 Executive Editor, Homes & Gardens
Kaitlin Madden Armon is a writer and editor covering all things home. Her work has appeared in Real Homes, Architectural Digest, Martha Stewart Living, Refinery29, Modern Luxury Interiors, Wayfair, The Design Network, and lots more. She graduated from Northeastern University with a degree in journalism and currently lives in Connecticut with her husband, three kids, and black lab.