Should every wall have something on it? Interior designers settle the blank vs decorated wall debate
Explore professional advice for whether walls should be decorated or left blank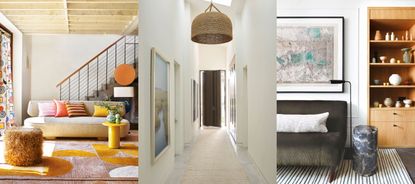 (Image credit: Sarah Kaye Representation Ltd. | Lucie Ayres, 22 Interiors | Christian Bense, Alexander James )
From artwork to mirrors, wallpaper to shelving, there are so many beautiful ways you can decorate walls in the home; helping to enrich a room with characterful decoration and unique style.
However, are wall decor ideas essential for all walls?
Designers are in agreement that not every wall in the home needs to be decorated. With each individual interior design, the aim is to always ensure that there is a feeling of harmonious visual balance; for some spaces this may mean adorning every wall with beautiful decor, whereas for others, empty wall space triumphs.
Should you put something on every wall?
'As a general rule, every wall does not need to be covered. Often, the best design is completed in stages, with time dedicated to taking in each new layer and letting your eye wander as it discovers blank pockets that need attention, or areas of concentration that should be more evenly dispersed,' advises Brenda Petrunick, interior designer at Simply White Interiors.
Ultimately, how you style the wall space in your home is completely down to you – and as Brenda advises, it usually takes a little tweaking over time to achieve a design that feels just right, but our expert advice can can help you on your way in making the right design decision for the walls in your home.
Interior designer, Brenda Petrunick, is the founder of Simply White Interiors, a full-service design studio based in Niagara-on-the-Lake in Canada. An experienced designer, Brenda is at the helm of every project at the firm, from creative concepts to seamless installations.
1. Find the perfect balance
When whether to adorn a wall, the most important factor that comes into play is balance. A design that has a successful sense of balance will have equal visual weight distributed across the room. This weight is created through each design element in the space, from furniture to lighting, color to accessories, so it is important that your wall decor (or lack of) works in tandem with the overall design of the room.
Interior designer, Amanda Shields comments, 'when choosing wall decor, one idea is to create a focal point on one or two walls in a room and leave the others blank. This approach allows the eye to focus on the design elements that you want to showcase, with the empty space creating a more significant impact and overall sense of balance.'
As shown in this minimalist, white hallway, designed by Lucie Ayres of 22 Interiors, one wall has been decorated with multiple artworks, the other, left blank. As this is quite a narrow hallway, artwork on both opposite walls will have made the entrance feel smaller, leaving one wall blank helps to both create balance and establish a feeling of openness – ideal for a small hallway, too.
Amanda Shields is an award-winning decorator and designer based in Newmarket, Canada. With a Bachelor of Design and experience working alongside Joseph Mimran as a product designer, Shields then went on to set up her very own design firm.
2. Make room for negative space
'Does every wall need something on it? Not necessarily – this goes back to the idea of negative space in the home being important to create a feeling of space.
For example, in a home with large windows, the view outside can take the place of art, and having opposite walls filled with decor may be too much. Finishes such as wood wall paneling ideas, wallpaper ideas, tile or stone slabs can finish off walls without the need for anything to be hung.
You also need to consider the function of the room – for example, a narrow corridor might be better left without anything on the wall if it will only be getting bumped or knocked down,' advise interior designers, Trish Knight and Nicole Varga, co-founders of Knight Varga.
A blank space shouldn't always be seen as showing something incomplete, when used in the right way, this emptiness can help drive focus to other important design elements a space, and, you guessed it, help the overall design to feel balanced.
Trish Knight & Nicole Varga
Designers Trish Knight and Nicole Varga are both co-founders of Knight Varga Interiors. Collectively with two decades of experience this Vancouver-based multi-award-winning design firm has become known and sought after for creating well-curated interiors. The firm provides complete bespoke residential design services throughout Vancouver, BC Canada and North America.
3. Assess the size of the wall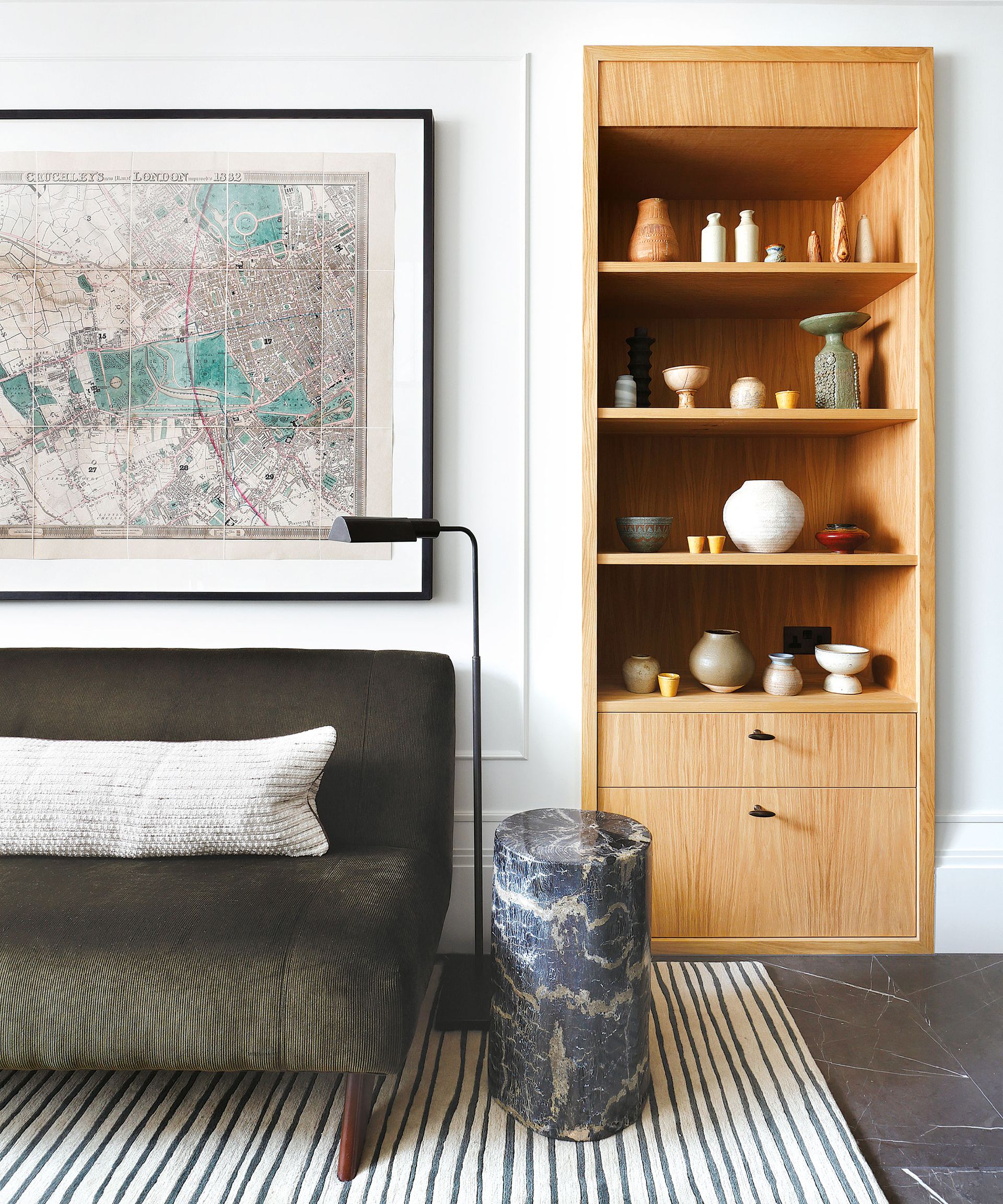 Interior designer Amanda Shields says, 'always consider the size of the wall and the overall size of the room. For example, a large, empty wall can overwhelm a space, whereas a small piece of art on a large wall can look lost. It's crucial to consider the proportions and scale of the wall decor in relation to the size of the space.'
Of course, everyone's style is different, a large empty wall may work perfectly for a more minimalist design, and a gallery wall in a small room can achieve an impactful, maximalist effect, but often, the largest walls in a room are the ones crying out for decoration, with the smallest providing that essential element of blank contrast.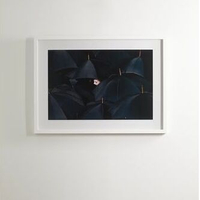 AP8 Guy Bourdin framed print | $1,865 at Net-A-Porter
Dramatize your walls with a piece of art that provides a striking design statement.
4. Consider the other design elements in the room
'Walls are just one plane in a multi-dimensional space, so when considering what to put on your walls, it's important to measure them against all the other elements in the room vying for your eye's attention,' says interior designer, Brenda Petrunick.
'A heavily furnished room with lots of pattern and color doesn't need an abundance of wall art to tie the design together. On the contrary, a more minimalistic furniture layout lends itself to featuring large prints on walls, or a collection of prints in a gallery configuration.'
A successful interior design is one that beautifully blends contrasting and coordinating design elements, with design principles such as symmetry, repetition and rhythm, helping to achieve this. Thinking about your room's overall design, and how all elements work together as one, will help you decide if artwork, shelving or any other kind of wall decor is necessary for the space.
5. Assess the existing architectural features in the room
Interior designer, Dana Feagles adds, 'there are two types of walls: those that are completely empty, and those with architectural features such as windows, doors, openings and fireplaces.
'For walls with architectural features that break up the space, such as windows, doors, openings and fireplaces, the rules are much more nuanced. Generally, if the width of your wall space is 24 inches or less, you do not need to worry about needing to hang any wall decor. Chances are, there is enough visual interest to balance out the wall already.
'If the width of your wall space is more than 24 inches, make sure you can balance it out on the opposite side of the architectural feature with a picture frame, a tall vase sitting on a console table, or perhaps a tall reading lamp next to a seating area. I always stand back and look at my walls as a whole to determine if they feel balanced. If one side feels heavier, either because of furniture, windows, a fireplace, etc., it's a good idea to balance out the lighter side, and wall decor is an easy solution.'
Dana is the founder and principal designer at Revelry Interior Design, an interior design firm that serves the Napa Valley, Sonoma County, and Marin. For 10+ years, Dana Feagles has designed homes from San Francisco to Nantucket, from some of the Bay Area's most discerning entrepreneurs to casual families looking for function and comfort.
6. Incorporate a mix of wall decor
When planning ideas for your walls, Amanda Shields advises, 'incorporate a mix of wall decor, including decorating with art, mirrors, shelving, or wall-mounted lighting. This approach can help to create enhanced visual interest and add depth to a room.'
If you feel every wall in a room needs some kind of decor, then embrace a collection of varied designs, all four walls do not need to match, remember, contrast is key, and as Amanda notes, there are a whole host of options to choose from – both practical and beautiful.
FAQs
Is it ok to leave walls blank?
Not every wall needs to be covered floor to ceiling with decor, it's all about creating a sense of balance in the space, so it is definitely ok to leave some walls blank.
Negative, empty space can act as a design statement in itself, and help an overall design feel more calm and harmonious – there are no rules to say every wall should be decorated!
When deciding on wall decor, consider the other design elements in the room, and ask yourself if a blank wall is needed to act as pause where the eye can rest, or, if it needs to be filled to enhance the overall design of the room – sometimes it takes time and a little experimentation to get it right.
---
It is important to note, that every room in the home will be different when it comes to choosing wall decor and leaving walls empty.
In busier areas with lots of furniture and appliances, such as bathrooms, kitchens and living rooms, blank wall space may be needed in order to help the spaces feel more grounded, calm and balanced; whereas in other rooms, such as a bedroom or study, there may be more walls to fill.
Always consider the size of the room and the other design features in the space when planning which walls need to be decorated.
Sign up to the Homes & Gardens newsletter
Decor Ideas. Project Inspiration. Expert Advice. Delivered to your inbox.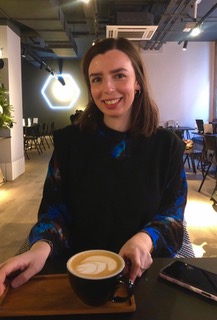 Zara joined Homes & Gardens in February 2022 as a Content Editor. After studying English Literature at University, she worked as an Ecommerce Website Editor, Content Writer and Buying Intern at multiple independent businesses within the luxury retail and lifestyle sectors. Her role at Homes & Gardens unites her love, experience and passion for the world of design and desire to create inspiring written content. She enjoys nothing more than discovering new trends, brands and products, whether that be in fashion, interior design or lifestyle.