Traditional hallway ideas – 11 ways to make a good impression
Create a welcoming and timeless entryway with traditional hallway ideas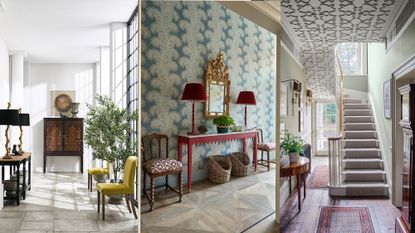 (Image credit: Oka | Vanrenen GW Designs | Brent Darby)
Traditional hallway ideas are all about balancing functionality with timeless charm. As high traffic areas, hallways need to be practical, but they are also the first space that people enter, so it's essential that they are both beautiful and welcoming, too.
Whether you're doing a quick refresh or redesigning your hallway, finding the right balance between style and function can be tricky. We've curated a selection of our favorite hallway ideas to help you envision the space of your dreams, along with some tips from the experts.
Traditional hallway ideas – 11 beautiful designs to inspire
When designing a traditional hallway there's plenty to think about, from flooring and storage ideas to paint ideas and light fittings, all of which will have an impact on the look and feel of the space. When it comes to traditional decorating, the key is longevity, so to keep the space feeling fresh and timeless across the years consider creating a neutral foundation and investing in high quality materials and fittings.
Hallways are areas of high footfall, therefore choosing hardwearing hallway flooring is a good place to start – choosing a durable material in a neutral tone such as stone, wood or engineered wood is guaranteed to endure throughout the years, and can often look better with age.
Hallways can easily become a dumping ground, so it's important to factor in plenty of hallway storage, too, in order to keep the space feeling tidy and welcoming, be it built-in for a seamless look or with freestanding pieces such as a console table or storage bench.
1. Add a console table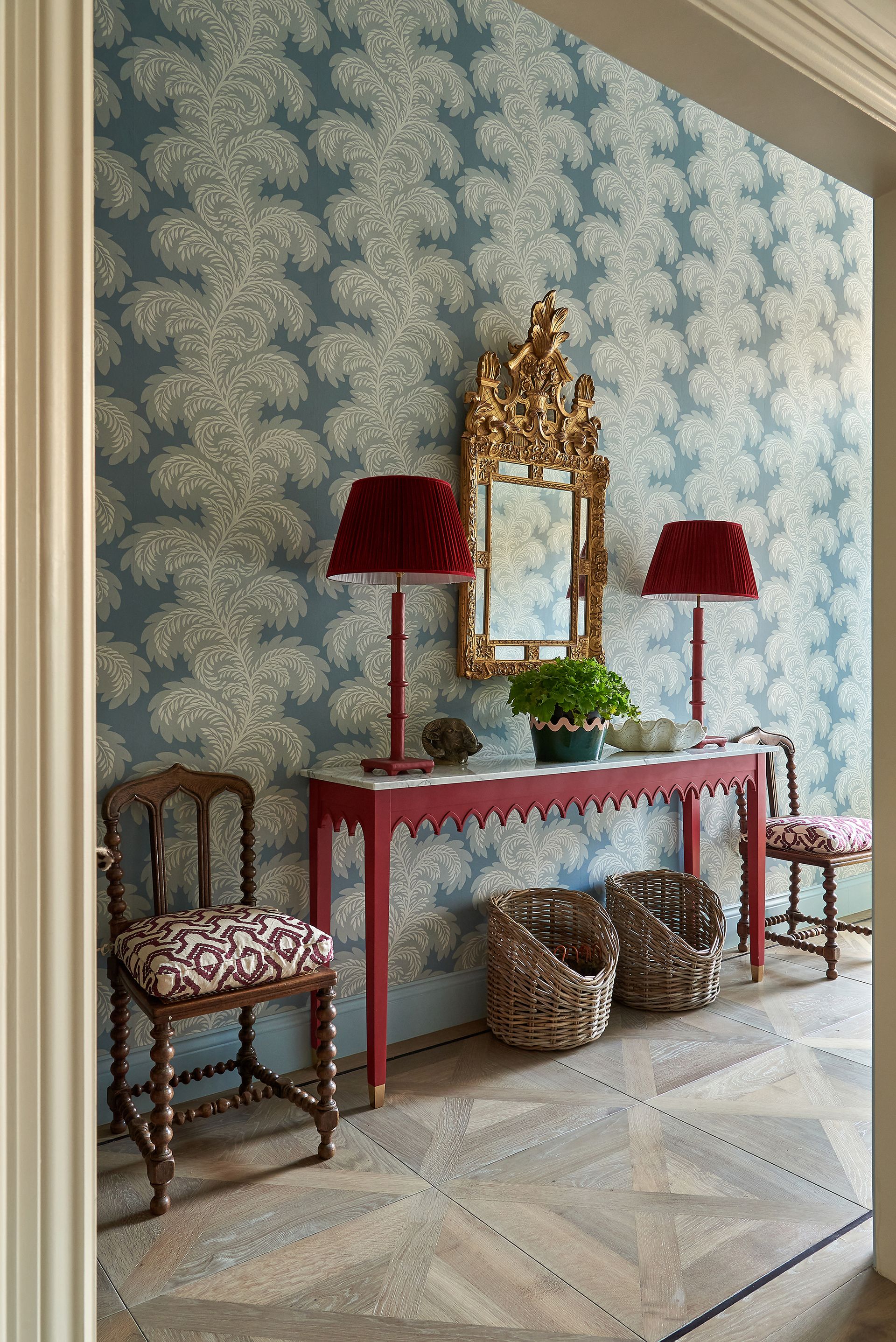 A classic hallway idea, a console table is both practical and stylish. Not only do they provide a handy surface space to place practical pieces like table lamps and letter racks, they can also be styled up to create a pretty seasonal display to welcome guests.
As hallways are often small spaces that we spend little time in, they can make great places to be a bit experimental with décor. We recommend choosing a striking design such as this eye-catching red piece with statement scallop detailing?
'We wanted to make a real statement on entering this hallway so that you didn't just walk past the hall table without noticing it,' says Louisa Greville Williams co-founder of Vanrenen GW Designs. 'Proportions of console tables are essential, and we think this looks elegant with a classical feel but with a modern twist.'
2. Choose traditional Victorian floor tiles
Victorian hallway tiles are sought-after original features of Victorian and Edwardian homes, so if you're lucky enough to have them then be sure to preserve and showcase these rather than replacing them.
Comprising of quarry and encaustic tiles laid in a variety of geometric arrangements, Victorian tiled floors, are beautifully decorative yet also hardwearing. If you don't have a period home or are looking to reinstate a tiled floor that has been damaged or removed then there are companies that offer reproductions.
3. Create an entryway display
If you have a large entrance hall then it can be tricky to know what to do with the space – why not wow guests with a beautiful floral centerpiece on a central table? 'A round table can be a great way to fill the space of a larger entrance hall,' says Louise Wicksteed, design director at Sims Hilditch. In addition, a round table is easy to manoeuvre around and will beautifully echo the shape of a bouquet.
4. Bring softness with a floor runner
A hallway runner is a brilliant way to bring softness and warmth to hard floors but can also add personality. 'A hallway runner gives instant color and a welcoming touch as well as adding warmth and softening sound,' explains Andy Guard, creative director at Roger Oates Design. However, if adding a runner then, 'always use antiskid under flatweave runners on wooden or stone floors,' he warns.
When it comes to design you can't go wrong with a classic stripe, plus they can also make a handy visual device explains Andy Guard. 'Stripes are timeless and the variations infinite, from classic fine pinstripes to contemporary asymmetric bands of color. Stripes along the hall will lengthen it whilst stripes across the hall will make it appear wider.'
5. Add pattern with a door curtain
Many period properties are susceptible to drafts around the front door, to help prevent this try hanging a curtain in front of it which will act as a layer of insulation. Simple and practical, a door curtain also offers the chance to make a decorative statement so why not bring cheer with a colorful, folksy design?
6. Maximize light with a mirror
Hallway mirrors ideas are a brilliant way to instantly maximize the feeling of light and space in a hallway, helping to create an uplifting welcome for guests. Particularly handy in a small hallway, there are a huge array of mirror designs to choose from to complement your décor, from traditional gilt frames to relaxed circular designs.
'We often like to use a round mirror. The curvature sits in nice contrast to the sharper lines of a console table or a light fixture in a hallway, bringing a softer edge to the space,' says Louise Wicksteed, design director at Sims Hilditch. 'Alternatively, a large rectangular mirror brings an elegance and gravitas to the room, particularly when source from an antique dealer.'
7. Get creative with paint
Beautiful paint ideas are a brilliant way to bring unique personality to an entryway, and can be used to create all sorts of decorative room ideas and effects. If you're lucky enough to have beautiful paneling then why not highlight it by painting it in a different color to the walls?
If you're thinking about paneling paint ideas in a hallway then be sure to use the right paint finish says Andy Greenall, head of design, Paint & Paper Library. 'As a high traffic area, a hallway paint finish should be hardwearing and durable, particularly on the lower half of your walls. Opt for a durable water-based paint with a subtle satin finish that has been specially formulated to be durable, then use a chalky matt finish above.'

8. Make a statement with patterned wallpaper
Often used as thoroughfares, hallways offer the opportunity to be a little more bold with décor. Hallway wallpaper ideas are a fabulous way to make an impression and for a traditional look you can't go wrong with a classic Toile de Jouy design.
Ornate prints charactersized by their bucolic landscape scenes, Toile de Jouy designs first emerged in France in the 18th century, however the designs are still popular today with many fabric and wallpaper houses today offering refreshed versions of the prints.
9. Create a warm welcome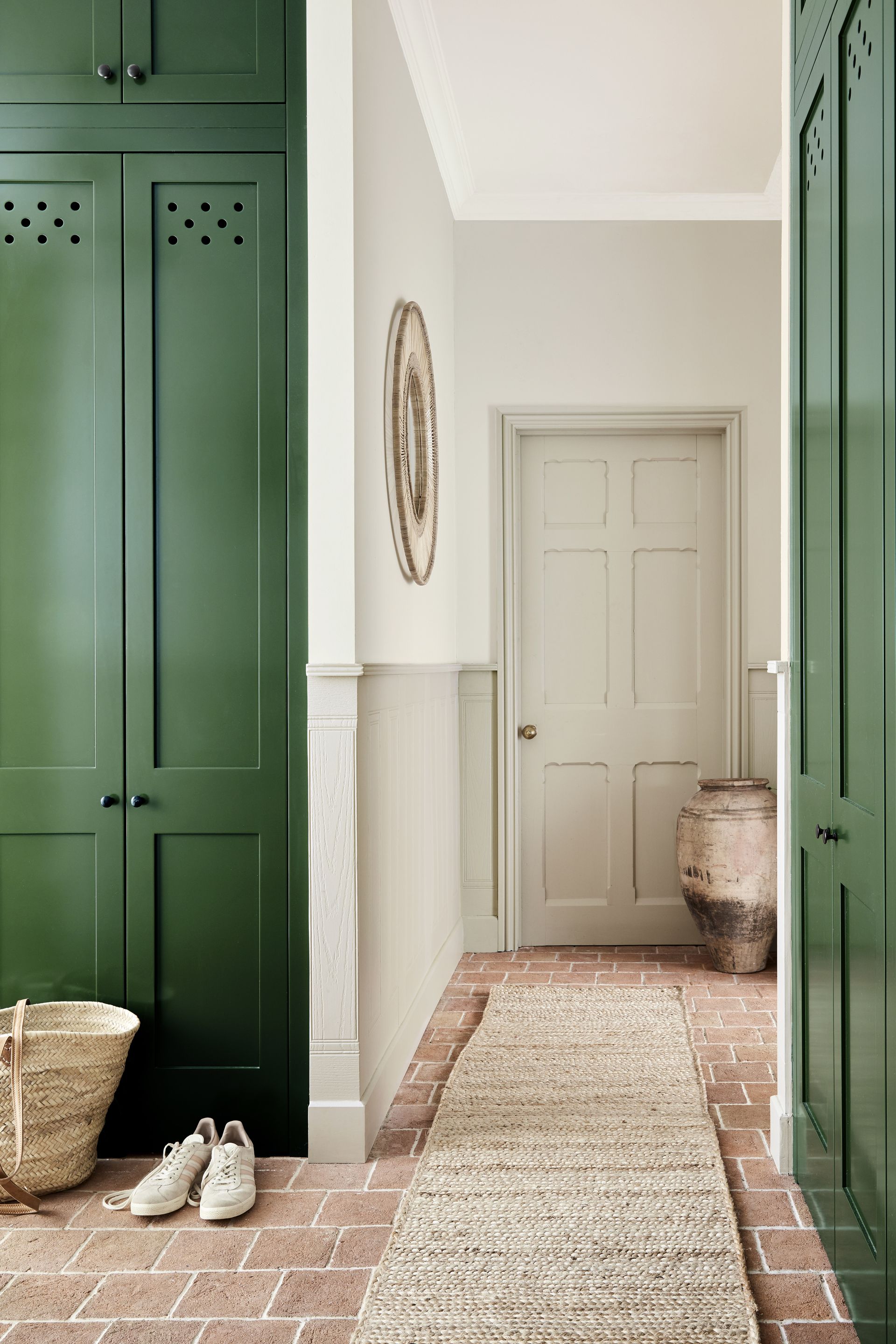 Narrow hallways can often feel dull and dreary – to warm them up consider using a warm neutral paint which is guaranteed to endure across the years.
'Recently we've seen a shift away from cool gray to warmer, more natural tones, often termed the 'new neutrals,' says Ruth Mottershead, creative director at Little Greene. 'We're seen almost a decade of gray so people are now beginning to look for those warmer tones. This isn't about a return to magnolia or beige, these are natural tones for a timeless interior.'
10. Try an antique runner
Often unrivalled in quality and showcasing exquisite craftsmanship and natural dyes, antique rugs and runners are a perfect compliment to period homes or traditional hallways. If you have a beautiful solid wood floor, then runners are also a great way to bring warmth and softness whilst still showing off your hard flooring.
From Persian carpets to Turkish kilims, there are a dazzling array of designs available from across the globe which showcase unique manufacturing methods and have designs characteristic of different regions.
11. Factor in plenty of storage
Connecting spaces and hallways are a brilliant space to factor in storage, helping to free-up valuable living space in rooms like kitchens and living rooms. Make the most of tall hallways by factoring in floor-to-ceiling cabinetry; for a traditional feel choose for shaker-style door.
Opting for bespoke timber joinery will mean cabinetry can be fitted around the architecture of your space, including around doorways and in rooms with particularly high ceilings.
How do you decorate a traditional hallway?
Are you wondering how to decorate a traditional hallway? Traditional hallways are practical spaces that stay looking stylish across the years, so when it comes to design decisions longevity is key.
Before decorating be sure to plan carefully and design the space around your lifestyle, thinking about how the space might need to evolve in the future. Opting for high quality flooring and fittings in neutral colors will provide a timeless backdrop which will ensure the space stays functional throughout the years.
If you're looking to add personality then think about adding a statement floor runner or wall decor that can be easily changed as and when trends or tastes change.
If you live in a historic property with original features such as floor tiles or wall panelling then highlight these as part of your design as these are sought after features that will bring valuable character to our home.
As high traffic areas flooring is a key consideration in hallway design and one of the biggest decisions you'll make about the space so consider practical, hardwearing solutions such as natural stone and porcelain tiles in neutral tones that will stand the test of time.
'Purchasing a stone or porcelain floor is an investment for the home and one that often takes careful consideration. Our advice is to always go neutral in your chosen floor covering for ground floor spaces and instead inject color through paint colors and accessories. A lick of paint is far easier to change in years to come than a different floor.'
How can I make my hallway look good?
There are many ways to make your hallway look good. As the first space you and your visitors will see when entering your home it is important that the space reflects your personality as well as being practical, too. 'First impressions count, so consider this space carefully as it will set the mood for your interior,' advises Andy Greenall, head of design, Paint & Paper Library.
Hallways can easily become a dumping ground, so to keep them looking tidy, clutter-free and welcoming be sure to think about storage ideas. As narrow spaces wall- mounted storage such as coat hooks work well, or is space allows you could add a bench-cum-storage unit to give a handy perch for taking shoes off and on. For a seamless look tailored to your space try a bank of built-in cupboards, suggests says Emma Deterding, founder and creative director, Kelling Designs.
'If built-in joinery can be incorporated into the design, then consider using the space under the staircase or creating a run of cabinets along one wall. Not only will this provide excellent storage ideas for things like coats, shoes and bags, but it'll keep everything organized and out of the sight.'
Mirrors are another simple way to make your hallway feel more bright and uplifting. 'Mirrors can be so much more than a practical object in which to check your own reflection; they're great for emphasizing light and creating the illusion of a larger space,' says Sue Jones, co-founder and creative director of Oka. 'If you're decorating a dark or windowless hallway, I'd recommend positioning a mirror near a couple of table lamps or candles – this will instantly make the space feel bigger and brighter.'
Finally, depending on the size of your hallway, you could consider adding in a table or console to showcase entry table decor ideas or a floral display, after all there's nothing like a bunch of fresh blooms to instantly lift a room.
Sign up to the Homes & Gardens newsletter
Decor Ideas. Project Inspiration. Expert Advice. Delivered to your inbox.
Pippa is Content Editor on Homes & Gardens online contributing to Period Living and Country Homes & Interiors print issues. A graduate of Art History and formerly Style Editor at Period Living, she is passionate about architecture, creating decorating content, interior styling and writing about craft and historic homes. She enjoys searching out beautiful images and the latest trends to share with the Homes & Gardens audience. A keen gardener, when she's not writing you'll find her growing flowers on her village allotment for styling projects.