What color couch makes a room look bigger? 5 professional tips on choosing the perfect color
In the market for a new couch? Struggling to decide on the right color for your small space? Explore our expert advice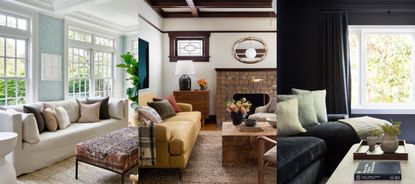 (Image credit: Ryann Swan Design | Heidi Callier Design | Genna Margolis, Shapeside Design)
A couch is one of the biggest purchases you will make for your home, and choosing the right color can make all the difference in the overall look and feel of your design scheme.
When looking for the best couches, and thinking about how to buy the right couch for a small living room, there are many factors to consider, such as size, material, and shape, but your chosen color will often have the biggest impact.
The right couch color should work in harmony with your overall design and sense of style, and work hard to help your small space feel a little more spacious. To help you make the most out of every inch of space in your home, we ask the experts, what color couch makes a room look bigger?
How to choose the right couch color for a small space
'One of the most significant aspects of interior design is the choice of furniture, especially the color of your sofa. The color of the sofa can make or break the overall ambiance of a room, and it can also impact the perception of the room's size.
Choosing the right color sofa to make a room look bigger is a task that depends on many factors, such as the size of the space, the natural light that enters the room, lighting in general and the color of the walls. By choosing the right color of the sofa, you can give the impression of a spacious, airy and bright living room,' says NYC-based interior designer, James Stanley.
Whether you're exploring living room sofa ideas and need further color guidance, or are looking into what colors make a small room look bigger, we explore the best couch colors for small spaces.
Interior designer, James Stanley is the principal and founder of James StanleyNY, a boutique Architectural Design firm in Tribeca, New York. JSNY specializes in high-end luxury residential renovations. James' creativity and attention to detail can be seen at The Plaza, Tiffany & Co, and throughout residential homes in Manhattan.
1. Coordinate your couch with your walls
'The most simple way to create the illusion of space with the color of your couch is by choosing one that synchronizes with the main palette of the room. The sofa sits at the center of a living room and therefore should tie everything together – rather than interrupting the flow of the aesthetic.
As long as your sofa has been upholstered in a fabric that belongs to the same color family as your paint, you will avoid a space that looks disjointed and cluttered. It's all about creating continuity,' advises Lubo Todorov, product expert at Raft Furniture.
Coordinating your couch with your living room paint ideas can result in a flawless finish and cohesive look. Whether your room color ideas are light or dark – as shown in this stand-out, cozy black living room by Genna Margolis from Shapeside Design, matching a couch to the wall color is a trick often utilized by designers to help enhance the sense of space for small living room ideas.
Furniture expert, Lubo Todorov, is the head of visual merchandising at UK-based, sustainable designer furniture company, Raft Furniture, established in 1999. Lubo directs the visual merchandising of all showrooms, including Raft's new flagship store in Westfield London.
2. Opt for a calming neutral shade
Some of the most popular couch colors to embrace in spaces of all shapes and styles are calming, grounding neutrals – and you'll be glad to know that these shades are the perfect choice for not only neutral room ideas but for smaller rooms, too.
'A light-toned sofa in neutral colors, such as beige, cream, light gray, or white, can create a sense of openness in any room. These soft hues reflect the natural and artificial light that enters the room, making the space look brighter, airier, and more spacious.
If you're craving more color, accessorizes your sofa with colorful decorative pillows and throws – the easiest and most affordable way to accessorize seasonally,' says interior designer, James Stanley.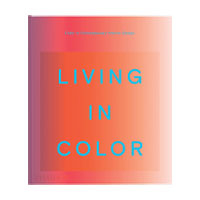 Living In Color – published by Phaidon | $39.95 at Design Within Reach
From the purest white to the deepest black, explore 200 interiors from 130 designers organized by color.
3. Choose a bright and bold couch color
For those exploring more impactful, colorful room ideas, a colorful couch can serve to distract the eye from the actual size of the room.
Julie Brown, founder and principal designer of Brownhouse Design explains, 'bright and bold couches draw the eye and can help create the illusion of a larger space. Balance and symmetry are always helpful tools to create a nice flow. The color of your upholstery is always crucial, as you have to consider the room as a whole, all pieces and players need to work together for a successful design.'
Brianna Untener from Brianna Scott Interiors also supports this and advises, 'if a client is interested in a bolder vision and wants a dark-colored sofa, I recommend pulling in coordinating tones around the space so it feels balanced. With small spaces, be sure to stick to fewer colors and use them in intentional places so the space doesn't feel overwhelming.'
In this living room, designed by Heidi Caillier Design, the muted yellow sofa establishes a colorful accent whilst complementing the warming tones of the dark wood and brickwork.
Julie founded Brownhouse Design in 2005 after a career in video and event production. She's proud to have fostered BHD from a design table in her bedroom to the ever-growing company that exists today.
As a NCIDQ certified and trained designer with a background in both residential and commercial interiors, experience working for one of Interior Designs' Top 100 Giants and a celebrity interior designer, Brianna is an expert in creating visually stunning yet functional spaces. Her design firm is based in NYC.
4. Take into consideration the surrounding landscape
Sometimes we spend so much time focusing on the inside of our homes, that we forget to consider the impact of the outside, and how it can influence the look and feel of a design scheme.
'The environment is critical to playing with color in ways that change our perfection of space. For example, if your living room overlooks luscious lawns and gardens, then a bold grass-green sofa will pull the outside in, giving the illusion that the space itself is larger. If your room is in a high-rise building and overlooks a cold blue or gray urban surrounding, a bolder navy blue or sapphire blue sofa punctuates the landscape, helping to make the space feel larger,' advises interior designer, Julie Brown.
Establishing a relationship with your outside space through coordinating color choices will help to create a sense of rhythm and a calming indoor-outdoor flow; drawing focus to the outdoors and helping a smaller room to feel less compact.
5. Choose pattern wisely
If you're thinking of choosing a patterned couch for your small space which showcases multiple colors, let the pattern's palette influence your color choices for the rest of the room; as this will help to establish a well-thought-through and cohesive color scheme – with the color repetition helping to make the space feel less overwhelming and cluttered.
'While patterns can add interest and personality to a room, they can also make a small space feel cluttered and busy. If you're looking to make your room feel bigger, avoid bold patterns on your couch and instead opt for more subtle designs such as a small stripe or a tactile, textured design,' advises interior designer, Jeanette Fusco.
We explore decorating with patterns further in our dedicated feature.
For over a decade, Jeanette has been an interior designer for private residences and businesses, as well as working as an expert consultant at online furniture retailer, HiHomePicks.
FAQs
What kind of sofa is best for a small space?
Brianna Untener advises, 'no matter what color sofa you choose, I always take these considerations in mind when choosing the actual piece:
Make sure the sofa is the right size for your room. This is crucial especially when choosing a piece for a smaller room. If you choose a sofa that is too long or deep in a small room, it will take over the space and make the room feel so much smaller. I recommend choosing a sofa with a smaller profile to ensure it feels in proportion with the rest of the room.
Choose a sofa with clean lines and minimal details. In a small space, less is always more. This will help the space feel softer and less busy.
Opt for a sofa with legs instead of a base. Choosing a sofa raised off the floor will visually help the space feel lighter. It's a little detail that makes a big difference.'
Do low sofas make a room look bigger?
As Brianna Untener has commented above, couches that are raised off the ground can actually help a room feel bigger by creating more space. Interior designer, Jeanette Fusco, also supports this and says, 'a couch with legs or a raised base can create the illusion of more floor space.'
A low couch can create a wonderfully relaxed and cozy aesthetic, as well as free up wall space for storage or decoration, but that is not to say raised sofas cannot also be considered too, it all comes down to personal preference and the overall look you prefer.
Is a light or dark sofa better in a small room?
As we have explored in this piece, both light and dark sofas can work wonderfully in a small room.
Lighter sofa colors are often the more popular option, coordinating with lighter paint ideas to make a room feel lighter and brighter, but dark colors can also coordinate with dark paint ideas to enhance on the feeling of space – and they can be more practical!
Your chosen sofa color completely depends on your style and the overall look you are wanting to achieve – whether light or dark, your sofa should always be beautifully integrated into your design scheme.
---
'There is no right or wrong answer when choosing anything with color for a small space. It all depends on the client's taste and then working from there,' says interior designer, Brianna Untener.
From a sofa that matches the walls and blends into the surroundings, to bold, bright couches that draw attention away from the size of the room, no matter your style, there are couch colors to suit all manner of small spaces.
Sign up to the Homes & Gardens newsletter
Decor Ideas. Project Inspiration. Expert Advice. Delivered to your inbox.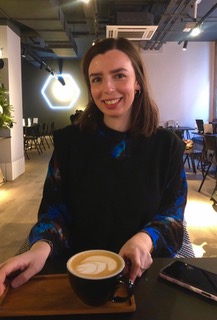 Zara joined Homes & Gardens in February 2022 as a Content Editor. After studying English Literature at University, she worked as an Ecommerce Website Editor, Content Writer and Buying Intern at multiple independent businesses within the luxury retail and lifestyle sectors. Her role at Homes & Gardens unites her love, experience and passion for the world of design and desire to create inspiring written content. She enjoys nothing more than discovering new trends, brands and products, whether that be in fashion, interior design or lifestyle.