How to remove peel and stick tiles – easy steps for a quick refresh
Ready to refresh and remove peel and stick tiles? Our step-by-step guide covers everything you need to know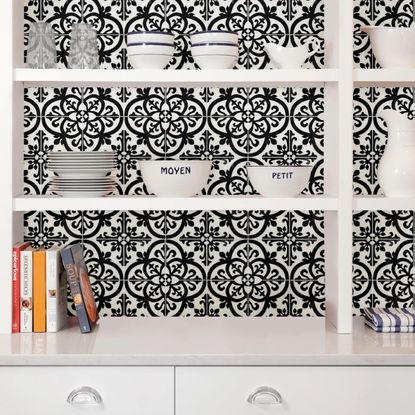 (Image credit: Lancashire Wallpaper)
Removing peel and stick tiles, also known as self-adhesive tiles, should be an easy job. Peel and stick tiles are the novice DIYer's savior. Brilliant for speedily revamping of walls and floors, peel and stick tiles are currently enjoying a huge popularity surge on social media.
No longer solely targeted at renters looking to boost beige walls, recent improvements in the design and durability of peel and stick tiles are increasing their appeal for homeowners wanting a simpler task than laying and grouting tiles, too.
While there are plenty of excellent reasons to check out the peel and stick tile trend, what happens when you fancy a change? Or need to remove them before moving on from a rental?
Easier than removing wall tiles but not nearly as easy as removing or applying peel and stick wallpaper, only a few peel and stick tile products are designed to be as simple to remove as they are to apply. In particular, those designed for use underfoot tend to be far trickier to remove than those aimed at walls. They can't afford to budge when being walked upon.
Peel and stick tiles come in many guises, including glass, stone and even metal, but vinyl is the most commonly available material type as it is inexpensive and comes in a ton of design options. Whatever peel and stick tile you are removing, most require a little effort to be fully displaced, especially if you want to leave the surface behind completely smooth and adhesive-free.
Our step-by-step guide covers the most common scenarios, with tips along the way to ensure the best results.
How to remove peel and stick tiles
If you have ever thought about removing floor tiles that are stuck down with wet tile adhesive and grout, you'll be aware of the extreme levels of mess involved. Happily, peel and stick tiles are far less messy to install, and this applies to the removal stage, too. However, there are a few tools that will keep mess to a minimum and help this DIY task run quickly and smoothly.
You may need:
1. Apply heat
Peel and stick tiles are generally stuck down in a similar way to double-sided sticky tape, but the adhesive used is stronger and stickier! When removing peel and stick tiles, always aim to get each tile up in one piece, two pieces at the most, otherwise you'll end up spending hours chipping away at tiny fragments of tile.
'The best way to get peel and stick tiles to lift up in one go is to first apply heat,' says Harriet Goodacre, Tile Consultant, Topps Tiles. 'Heating the tiles can help as it softens the adhesive – try running a hairdryer over the tiles, an inch or two from the surface.'
If you have a large area of tile to remove, consider using an iron or heat gun instead to prevent your hairdryer from potentially overheating and breaking. A heat gun can be used in a similar way to a hairdryer but take care not to scorch the tile as the fumes could be unpleasant or even dangerous.
When using an iron, always place a towel between the iron and tile, again to prevent noxious scorching. Depending on the thickness of the tile and your heating method, it shouldn't take more than 30 seconds to a minute to melt the adhesive beneath a tile.
2. Lift from the corners
Once the glue has been sufficiently softened, the corners of the tile should easily lift when you insert a pry bar or chisel under the edge. Work from one corner to the next, gently prising up the tile. Don't apply too much force, or the tile may snap, especially if it is old and brittle.
To speed up progress, you can take the flat end of your pry bar or chisel and hammer it gently beneath the tile at a slight angle, about 40 degrees, until the whole piece lifts up. Take care not to gauge the floor or wall as you hammer your tool under.
3. Keep removing tiles
Continue the heating and prising process one tile at a time until they have all been removed. It's wise to work methodically, from left to right or vice versa, disposing of the lifted tiles as you go.
If you spot a large gloop of glue on the floor or wall, take your scraper and attempt to scrape it off while still warm. An old piece of timber or strong cardboard will be handy for removing this glue from your scraper!
4. Remove any remaining adhesive
Once all the tiles have been lifted and removed from the room, it's time to assess the damage. What you do next will depend on your plans for your newly tile-free surface.
If you are re-covering the floor or wall, either with fresh peel and stick tiles or alternatives, it's not always necessary to remove every last scrap of adhesive. However, you will need to achieve a reasonably smooth surface so focus your attentions on any major lumps and use a scraper to get rid of them. A light sanding should sort minor glue spots. Any holes or patches of lifted plaster should be remedied using a suitable filler.
Some people choose to scatter baking soda over the floor and then vacuum to blot any remaining stickiness before new flooring is installed. This is a smart move if you are laying carpet, click-fit laminate or fresh peel and stick tile.
In the case of ceramic/porcelain tiles or any other flooring installed using wet cementitious adhesives, you will need to ensure the sub-floor is dust-free and non-porous, which means baking soda is out. 'Instead, remove any remaining adhesive using a scraper tool. For the excess glue left behind, use a good quality specialist glue remover and follow the instructions supplied,' advises Mike Head, director, Atlas Ceramics.
How long do peel and stick tiles last?
Modern peel and stick tiles are designed to stick and stay stuck, which is one of the reasons removing them can prove tricky. You can expect peel and stick tiles to last at least five years, if not longer. The longevity of peel and stick tiles depends on several factors.
The quality of the product will have the biggest impact on lifespan, and if you are not aiming for a quick-fix solution, it does pay to invest more in high quality peel and stick tiles. Look for manufacturers that offer product guarantees as standard. Thickness is also a good indicator of quality, and it's worth reading customer reviews, if possible, to check for complaints regarding tiles lifting or installation issues.
Many peel and stick tiles are not suitable for use in moisture-rich environments or anywhere they will come in direct contact with water, such as around a sink. Always check the manufacturer's recommendations before you buy.
Does peel and stick tile damage floors?
Peel and stick tile can usually be removed without excessive damage to the subfloor beneath. Any problems are likely to be caused by overzealous installation, whereby extra adhesive has been applied unnecessarily. There may also be issues if the subfloor has suffered water damage, with significant water (from a flooded washing machine for example) settling underneath the peel and stick tile.
As with any flooring removal, successfully extracting peel and stick tile without ruining the surface beneath is heavily dependent on just how sound that subfloor was in the first instance. A dry, level subfloor, with no weak spots or dust, should not be damaged when it is time to remove peel and stick tile.
The good news is that any damage should be minimal and easily resolved using basic filler – applied with a putty knife or trowel. For extra peace of mind before installing any new solid floor, many builders recommend applying a thin layer of levelling compound.
Sign up to the Homes & Gardens newsletter
Decor Ideas. Project Inspiration. Expert Advice. Delivered to your inbox.
Linda graduated from university with a First in Journalism, Film and Broadcasting. Her career began on a trade title for the kitchen and bathroom industry, and she has worked for Homes & Gardens, and sister-brands Livingetc, Country Homes & Interiors and Ideal Home, since 2006, covering interiors topics, though kitchens and bathrooms are her specialism.