5 luxurious larders with a living room look – how designers are redefining kitchen storage
Explore these good-looking and practical storage solutions to help keep your kitchen both beautiful and neat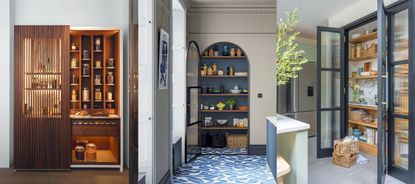 (Image credit: Lanserring | Magnet | Harvey Jones, Chris Dyk, Inhouse Photography)
Beautiful materials, striking shapes, and thoughtful decoration are defining a new wave of stand-out larder designs; helping to elevate kitchens from the practical and the functional to show-stopping decorative spaces.
To help with your kitchen storage ideas, we have spoken with a collection of kitchen designers who take us through a list of luxurious larders with living room looks, and how this latest kitchen storage trend can have a transformative effect on the design of your kitchen space.
5 luxurious larders to inspire
Whether you've been browsing similar pantry ideas, or are in the process of designing a larder for a new kitchen, be inspired by our five favorite larder designs that embody the luxury of a living room.
1. Showcase the contents within
This bespoke Pickling Cabinet from Lanserrin is an exquisite example of larders that are taking design cues from living room furniture.
Crafted from American walnut, patinated brass and marble, with sleek, slatted sliding screens offering glimpses of lighted internal spaces, the small shelves make a beautiful statement for each pickling jar; creating an eye-catching display space and storage area all in one.
Of course, pickled goods may not be on everyone's pantry staple list, but we adore how the design makes a feature of the contents within, and that each jar is perfectly framed on a platform rather than lost in the space.
2. Stay ahead of the curve
As one of the biggest interior design trends for 2023, it's fair to say, curves and arches are definitely having a moment – and it only takes one to turn simple storage into a special feature.
'An arched pantry or larder is an interesting accent, softening lines and adding character to a kitchen,' says Jennie Nash, design excellence manager at Magnet Kitchens.
A kitchen is often defined by sleek straight lines and harsh edges. By adding curvaceous details, whether that be through a beautiful larder or pantry entrance like above, or a stunning, round kitchen island, these soft silhouettes can help make your kitchen feel more calming and inviting.
Jennie Nash has worked with Magnet Kitchens since 2021, and has over 15 years' experience in the kitchen furniture and design industry.
3. Stylishly curate the inside of your larder
Melissa Klink, creative director at Harvey Jones, flips the aesthetic focus from the larder exterior to the interior, expressing the importance of thoughtfully curated cupboard interiors.
'Instead of being hidden away, these organizational havens are beautiful and as appealing as a statement marble backsplash.'
Just like the decorative beauty of styling a shelf, use your larder shelves and surfaces to establish pretty vignettes; helping to bring beautiful decoration and stylish detail to the storage space.
From wicker baskets filled with dried goods to cookery books and elegant displays of glassware and kitchenware, get characterful and creative with the inside look of your larder.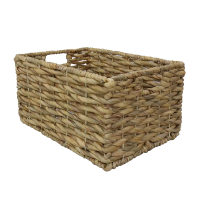 Everyday Wicker Basket | From $17.99 at Kohl's
Available in small, medium, or large, this practical woven wicker basket can elevate your larder or kitchen cupboards with stylish storage and natural, organic texture.
Melissa Klink is an American designer and the creative director at British kitchen brand, Harvey Jones. Before joining Harvey Jones in 2017, Melissa had her own interior design firm in Los Angeles.
4. Re-think a traditional larder design
When many of us think of larders, we think of a large cabinet or closet, or a separate small space similar to a walk-in pantry, however in today's modern kitchens, anything goes.
In this beautiful kitchen, designed by Poggenpohl Chelsea, we love how space has been cleverly utilized at the base of the large kitchen island, creating an elegant display and storage area; ideal for keeping all manner of objects, from food to kitchenware and more.
The luxurious use of material, from the sleek glass doors and shelves to the warming wooden base, creates a design that mirrors a beautiful display cabinet; with the internal lights adding the final finishing flourish.
The striking hanging shelf that sits proudly above the island also enhances on free space available, creating another unique storage platform. Natasha Wegrzyn, studio manager at Poggenpohl Chelsea, comments on the design, 'this bespoke shelf features the same smoked oak veneer as the furniture, while LED strips offer vital task lighting.'
Natasha Wegrzyn is the studio manager at luxury, London-based kitchen brand, Poggenpohl Chelsea. Natasha has been with brand since 2011, and has extensive past experience has a senior kitchen designer.
5. Elevate your larder with elegant glass doors
Worried the reeded glass kitchen trend was a flash in the pan? Danish brand Vipp reassures us that its many benefits will secure long-lasting appeal, and show us how this material can elegantly enhance the look of your larder.
'Fluted or reeded glass cabinet doors are one of those additions that instantly elevate a scheme, bringing a sense of real refinement,' says Kasper Egelund, Vipp CEO.
'In darker kitchens, fluted glass lends a sense of airiness, while the ribbed texture allows for a semi-transparent view into what's inside.'
CEO and 3rd generation owner of Danish design brand, Vipp, Kasper Egelund has great experience in the world of design, with Vipp creating and selling everything from beautiful kitchens to luxurious living room furniture.
FAQs
What makes a good larder?
A good larder has plenty of storage space and meets the needs of your kitchen and lifestyle.
From bespoke designs that feature fitted wine racks, roll-out draws and pickle plinths, to a larder that has been thoughtfully organized into zones with the help of storage baskets and trays, if you plan out exactly what you will be using this space for, it will only help to create a more personalized and functional design that fits in perfectly with your kitchen space.
What is the difference between a pantry and a larder?
The terms 'larder' and 'pantry' are often used interchangeably when discussing modern kitchen design, however, there are some subtle differences to know.
A pantry is usually much bigger than a larder and is often a separate room that is attached to or close to the kitchen. Larders tend to be large, cool cupboards integrated into the kitchen, so are often much smaller in size.
Both can be used to store dried goods, tins, jars, kitchenware...the list goes on and on!
---
A larder's purpose is to provide a practical storage space in which to keep food and kitchen objects and accessories neat and tidy, however, our exploration of luxurious larders with living rooms looks show that this space is an opportunity to create a beautiful design feature in the home; helping your kitchen look and feel more beautiful, decorative and unique.
Linda graduated from university with a First in Journalism, Film and Broadcasting. Her career began on a trade title for the kitchen and bathroom industry, and she has worked for Homes & Gardens, and sister-brands Livingetc, Country Homes & Interiors and Ideal Home, since 2006, covering interiors topics, though kitchens and bathrooms are her specialism.