Should a living room and kitchen match? Designers have this vital advice
Whether you're decorating an open-plan kitchen/living space or two separate rooms, this is how to get it right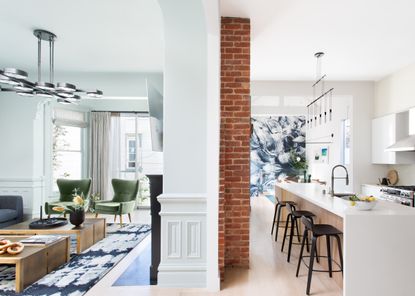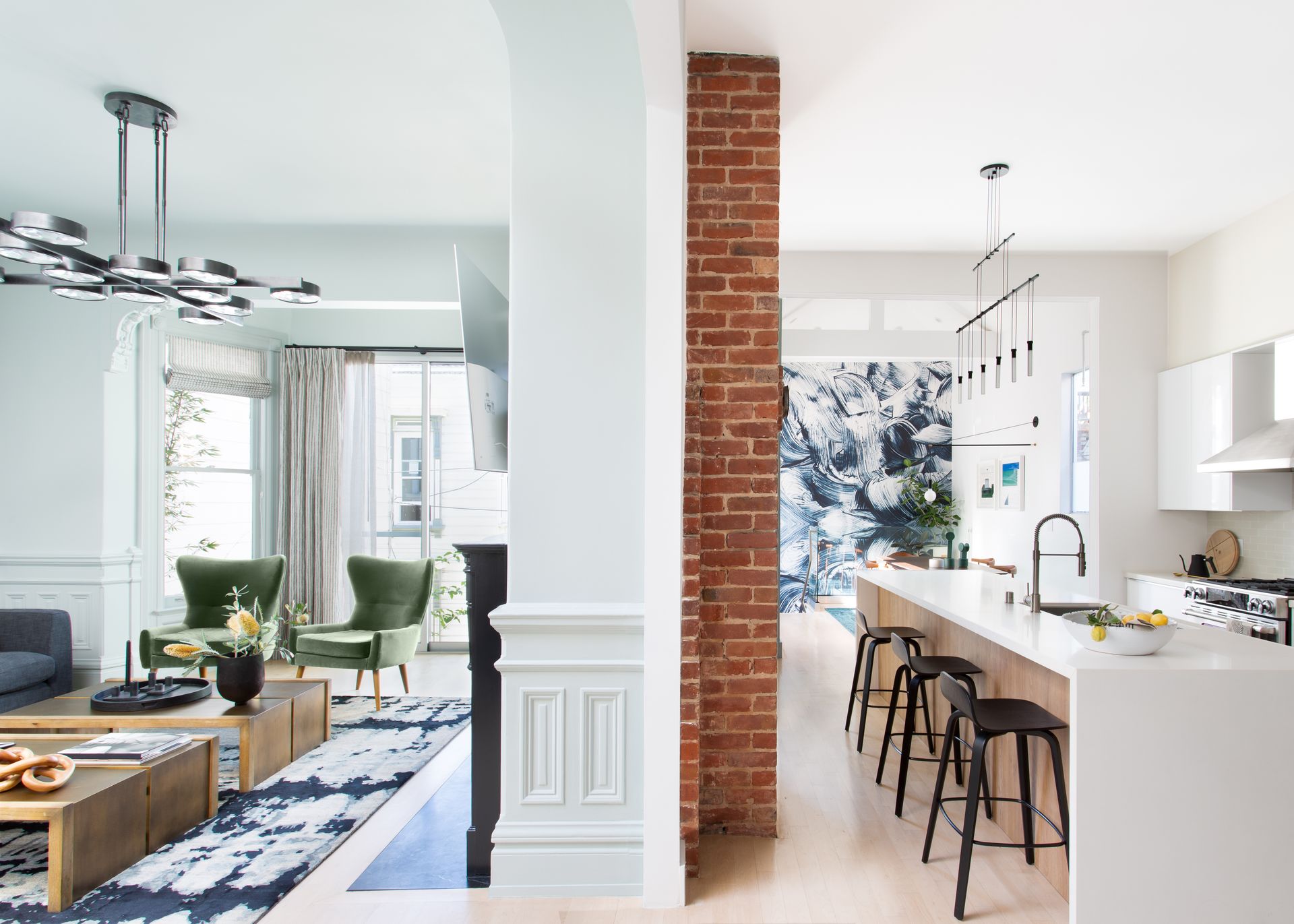 (Image credit: Regan Baker Design/Suzanna Scott)
Sign up to the Homes & Gardens newsletter
Decor Ideas. Project Inspiration. Expert Advice. Delivered to your inbox.
Thank you for signing up to Homes & Gardens. You will receive a verification email shortly.
There was a problem. Please refresh the page and try again.
Design experts agree: a common thread that runs from room to room in your home will create a more harmonious scheme. So, yes, to a degree, your living room and kitchen should match.
But how to achieve this in two spaces with such different uses and atmospheres without laboring the point? The key is to choose complementary colors, materials, flooring and even hardware.
Below, we show you how, whether you are designing an open-plan kitchen combined with a living space, or two entirely separate spaces.
Should a living room and kitchen match?
If your living room and kitchen are in one open-plan space, it's a resounding 'yes' from designers, who suggest a number of ways to match them up, below. And if they're in separate areas, it is still advisable to create a cohesive scheme with subtle design techniques. Here's how to match up living room ideas with kitchen ideas.
1. Link joined spaces with color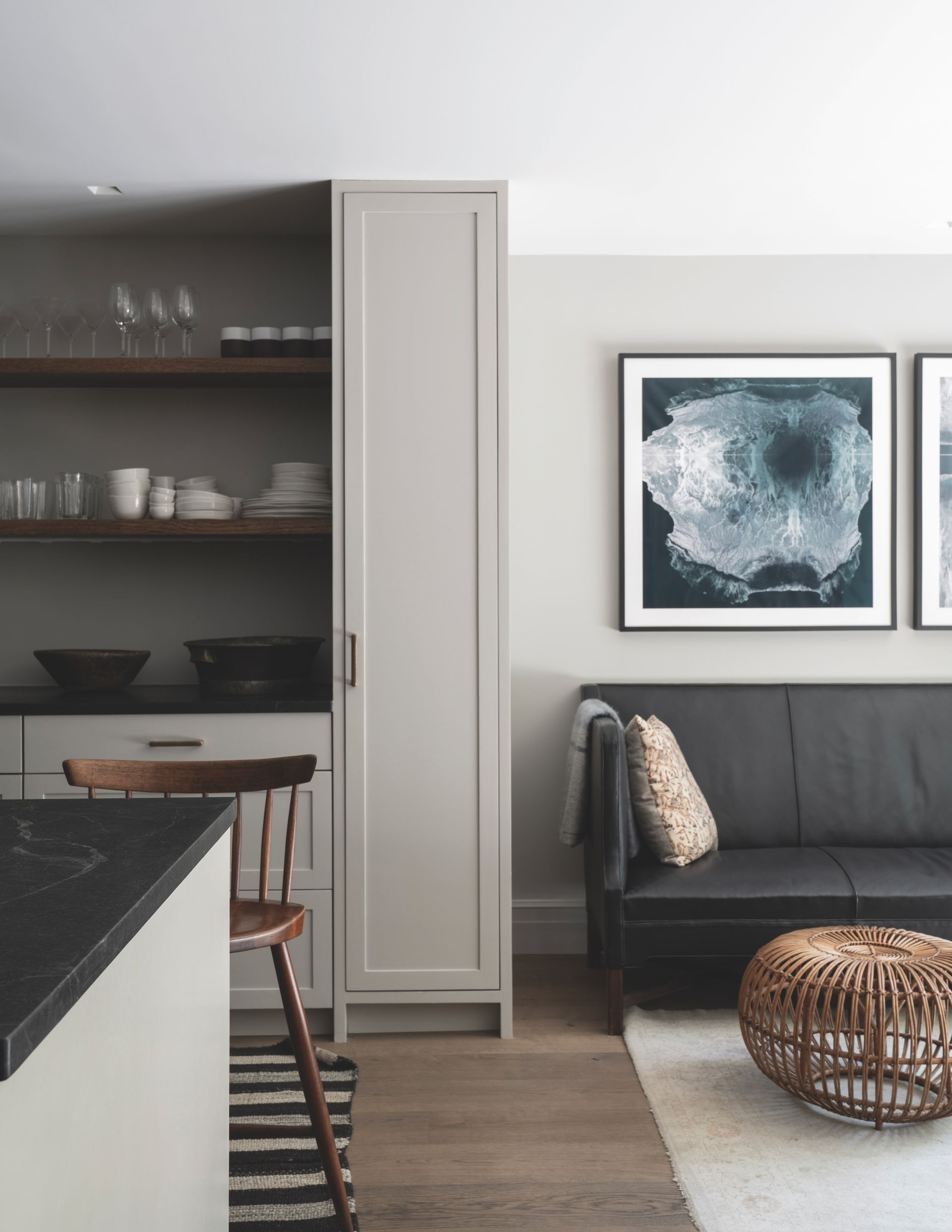 Decorating with neutrals as a backdrop to link the two zones of the room is the simplest way to make a living room and kitchen match seamlessly.
We asked Patrick O'Donnell, color consultant and brand ambassador at Farrow & Ball, how to chose the right shade if you'd like these two rooms to match. He chose gray as an example.
'As with all color choices, think about the natural light when selecting a gray – and the time of day you would use the space – this will determine whether you err on warmer grays (brown-based) or cooler grays (black/blue-based). If the light is an issue (such as north-facing), embrace this limitation by venturing towards the dark end of grays and create an atmospheric space using a warmer shade such as Mole's Breath.'
However, if you did want to keep one space gray and team it with another shade, Patrick has this advice:
'Gray can be surprisingly versatile for a living room and will happily layer with many colors such as inky blues, smoky greens and rose pinks. Grays such as Ammonite or Purbeck Stone, are often considered a cleaner aesthetic, whilst gray used at the deeper end of the scale can beautifully stand up to more traditional design.'
2. For cohesion, use the same flooring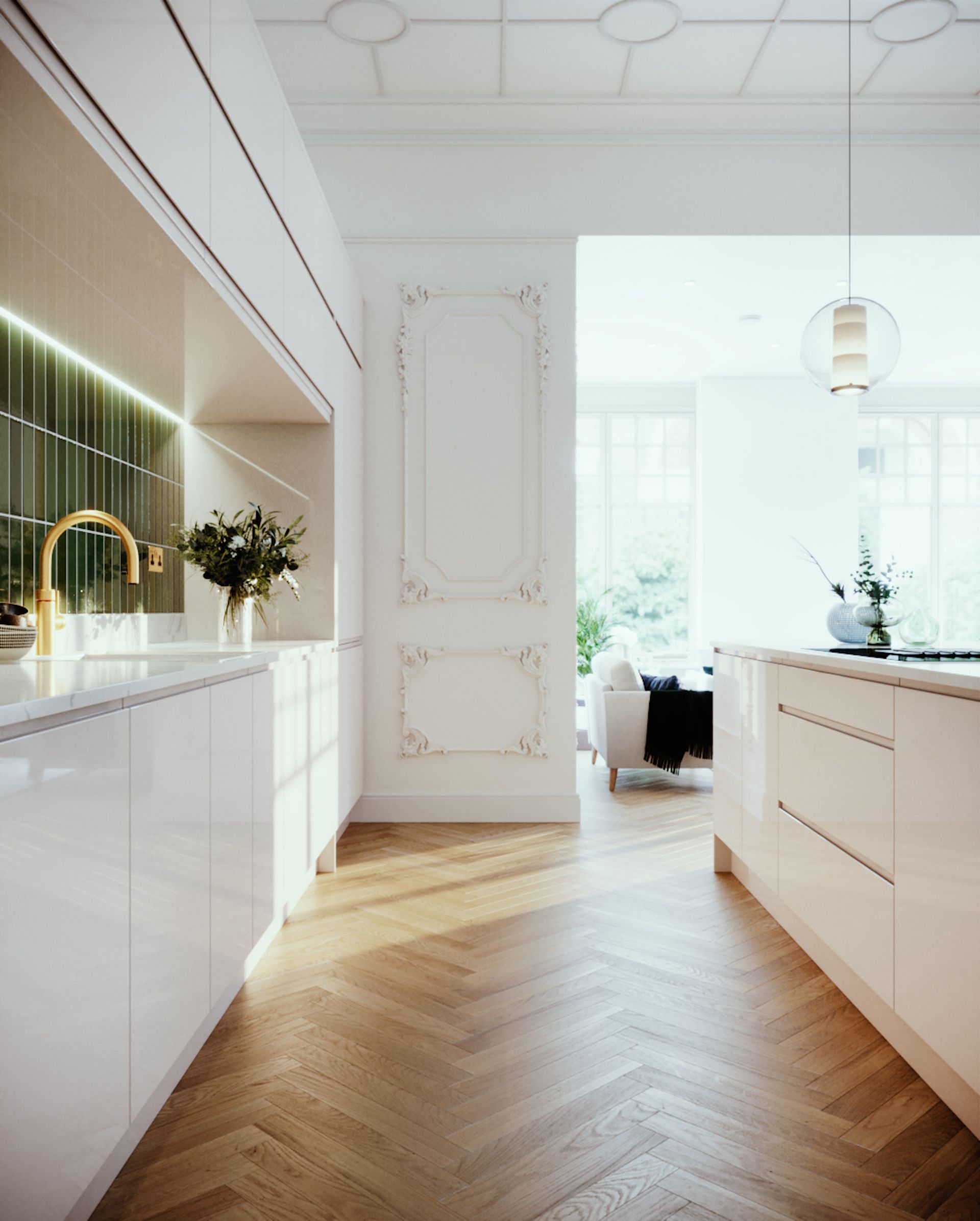 'Running kitchen flooring through to the living room can visually link the two zones together especially if it's open plan. For separate rooms, this only works as a visual link if the same flooring is run throughout the whole floor,' says Jo Bailey, deputy editor, Homes & Gardens. 'I would encourage this, as it will create a cohesive feel overall, though this will almost certainly mean using wooden flooring, which will suit all rooms.
'If you are looking to link an open plan kitchen/living room, I would suggest the flooring is further zoned with kitchen rugs and living room rugs. I think these work best if they complement each other in terms of color and design but don't match. This helps link but define the two spaces.'
3. Use the same decorative element in both spaces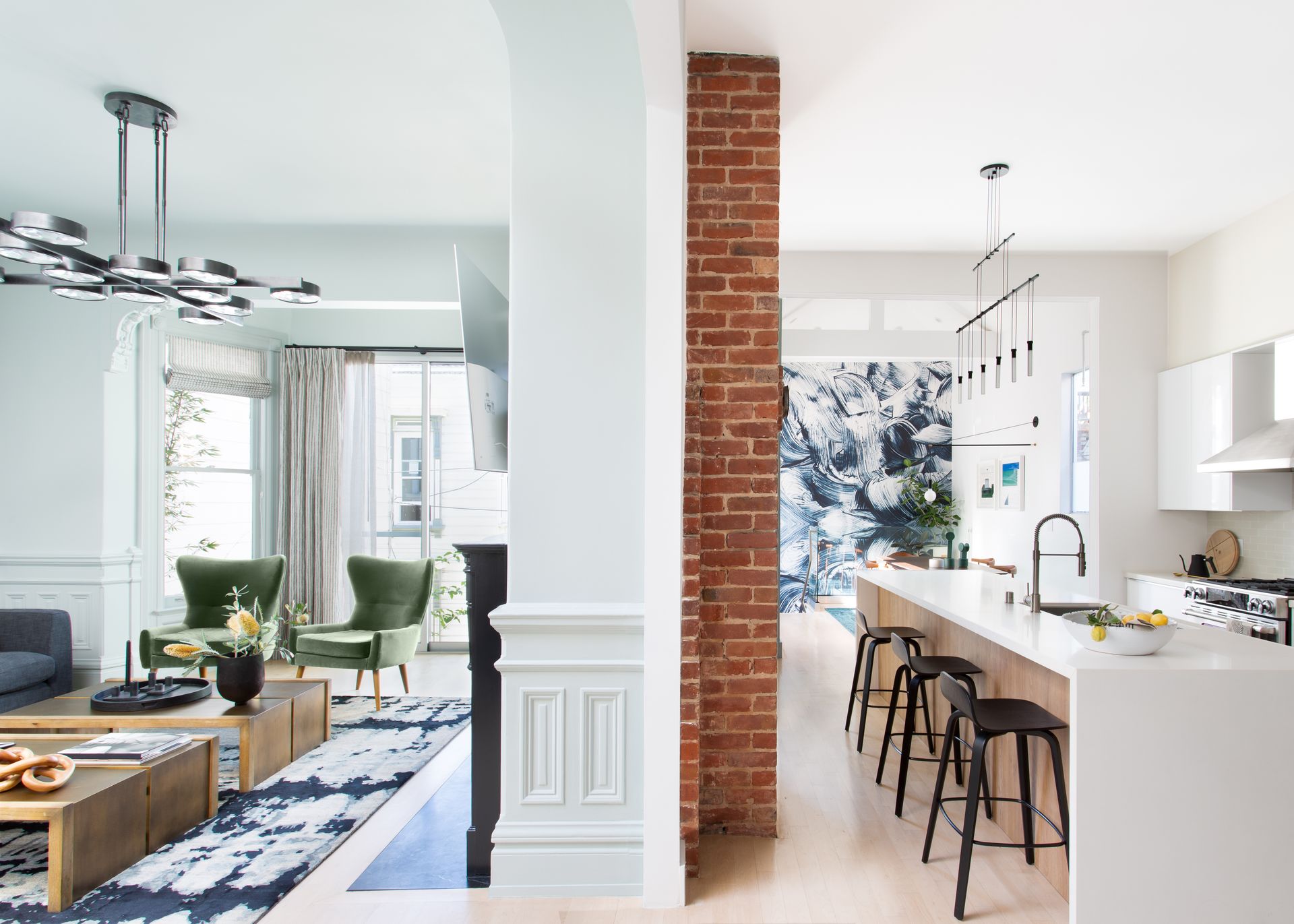 'Aside from the obvious white walls, the two standout features in each of these spaces is the painterly rug and wall mural. Cleverly chosen – one being one the wall and one on the floor, they create a subtle link in this semi-open plan space perfectly, yet they still have their own style,' says Jo Bailey, deputy editor, Homes & Gardens.
4. Choose hardware that works together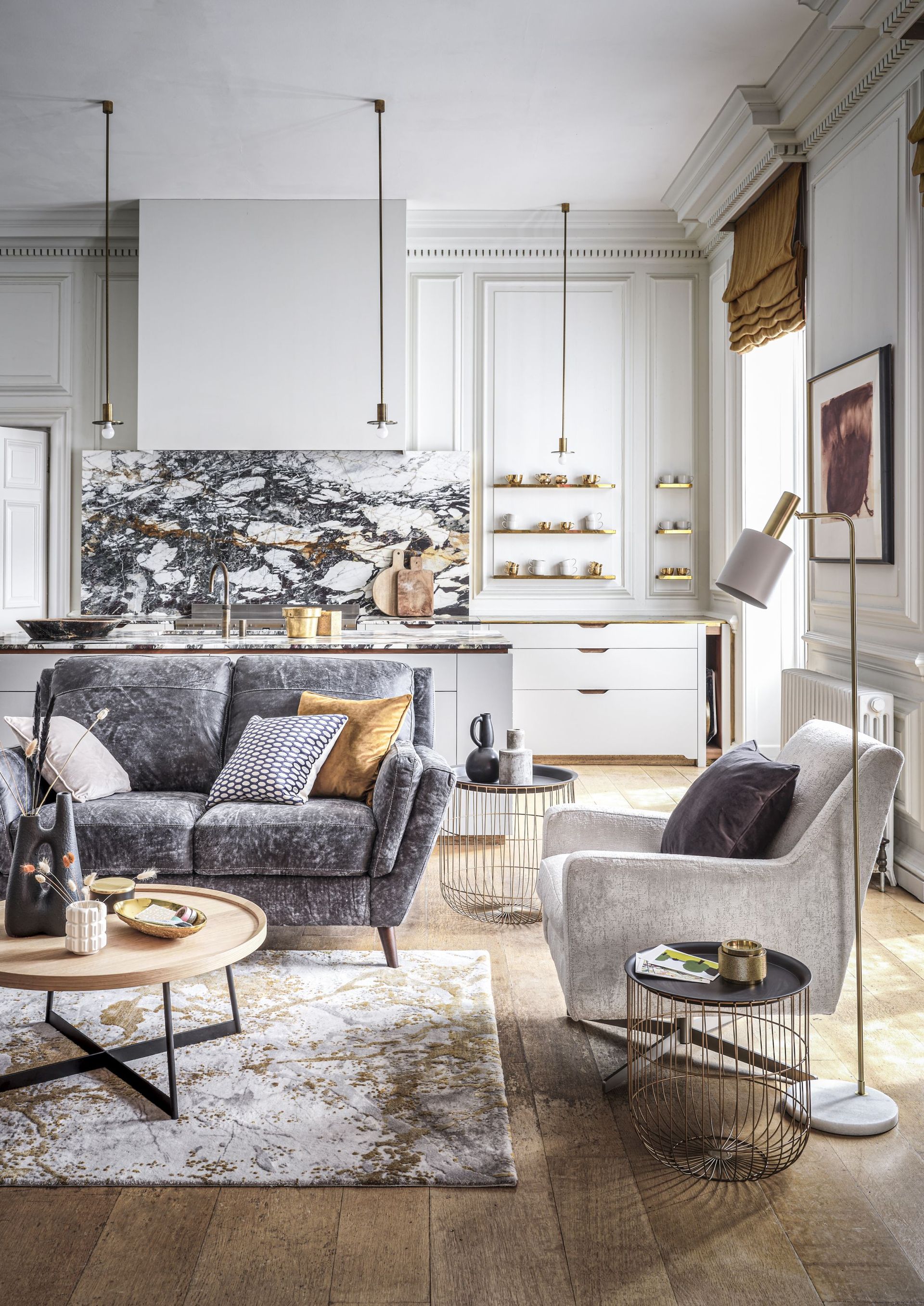 'Good design hinges on creating a common thread through each of the rooms in our home,' says Gisela Lancaster, buying manger at Sofology. This can be achieved by choosing materials for kitchen lighting ideas that complement cabinetry hardware and living room furniture in the space beyond.
'When you are designing or redecorating a space, start by creating the color palettes for each. Sit them next to each other to ensure they flow and work together. You don't have to design a matchy-matchy scheme in order to create harmony. Whilst using the same color or similar shades will create a cohesive feel in both the living room and kitchen, something that works well in open plan designs, you can also employ complementary shades to ensure the rooms feel like they have a similar handwriting. This leaves you with the opportunity to introduce statement pieces of furniture without worrying that there's too much contrast between the spaces.'
In the case of this space, the linking aspects are the grey and metallic accents. Choosing the same metal finish like warm brass and flowing it through will create a unified space.
5. Choose cabinetry and furniture to suit your home's period style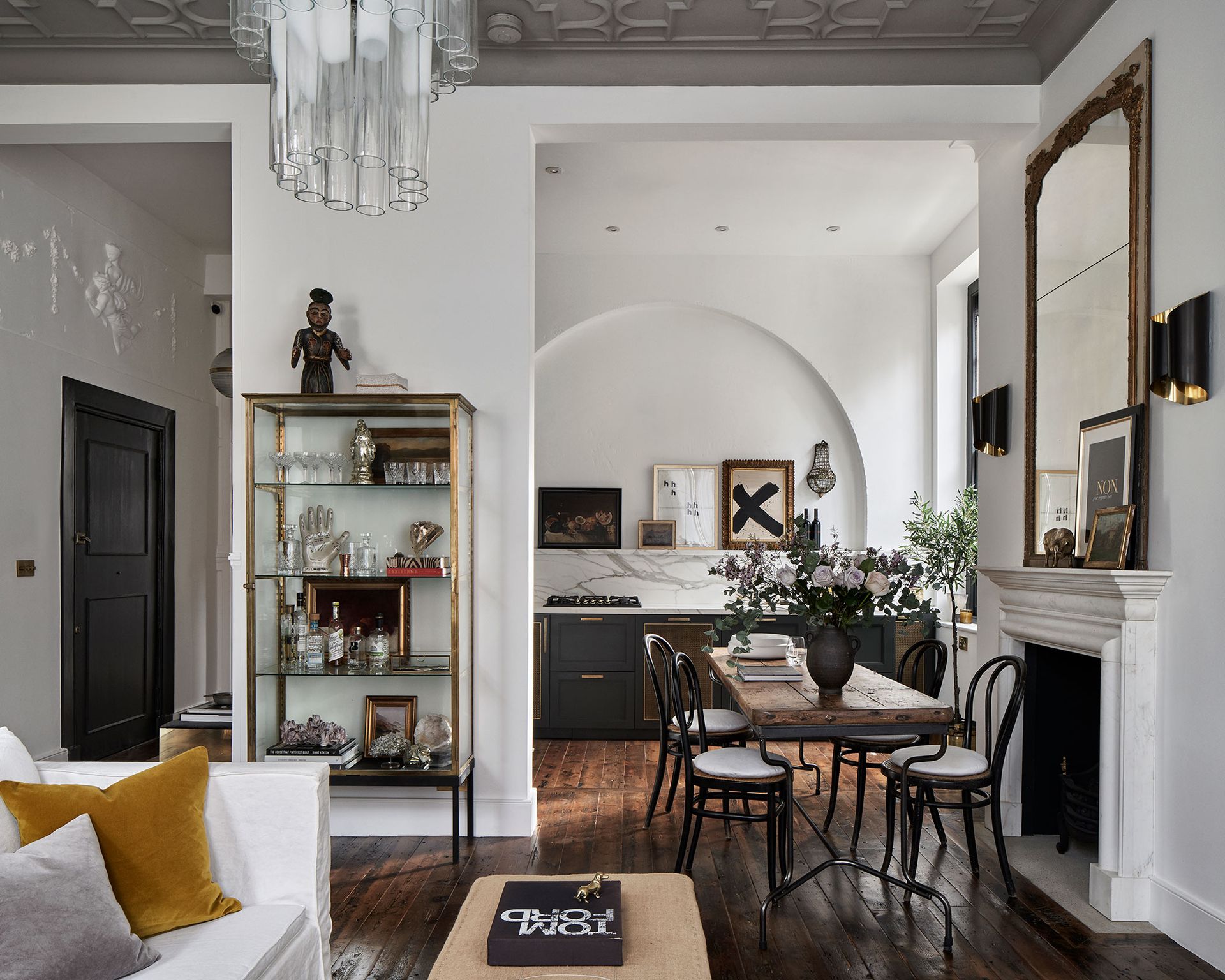 'Decorating a home successfully means defining the look you are going for and being consistent throughout it,' says Lucy Searle, global editor in chief, Homes & Gardens.
'So, if you live in a modern farmhouse, it makes sense to have a farmhouse kitchen, with suitable cabinetry and a color scheme, then, it makes sense to continue this through to your living room, whether or not it's within the same space. And, of course, this will be further reinforced if you continue the theme all the way through your interiors.
'I would start by defining the style of your interior, letting your property's architecture or period guide you; then, choose furniture, from kitchen cabinet ideas right through to living room side tables that fit this aesthetic.'
6. Link spaces with accent colors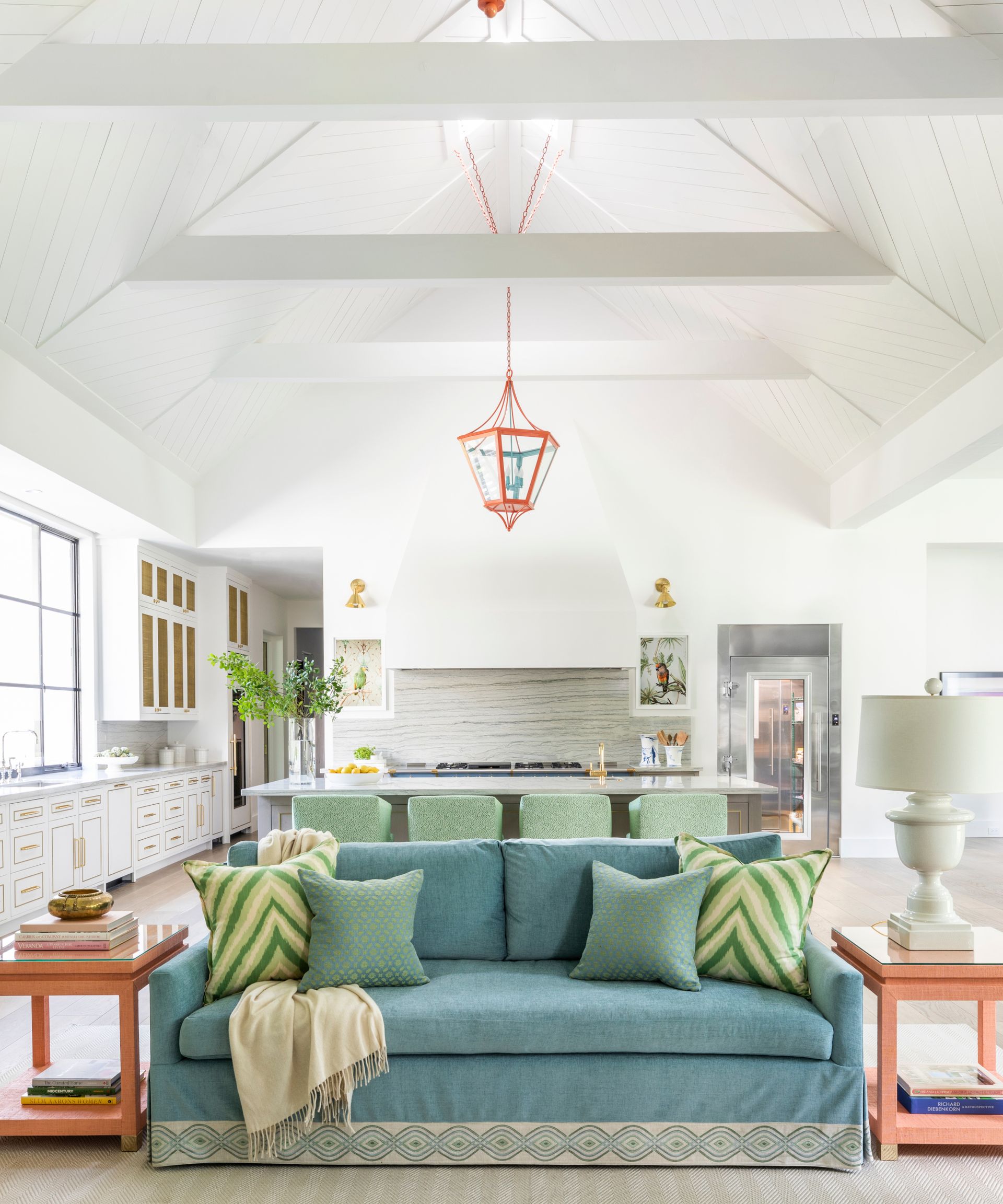 'This open plan living room and kitchen have been cleverly linked with accent color ideas,' says Jen Ebert, digital editor, Homes & Gardens. 'The blue/green of the sofa connects to the upholstery of the bar stools; less overt is the light central light fitting painted the same color as the side tables.
'This use of accent colors can be run as a "red thread" through the rest of an interior in varying degrees, with the warmer color used to greater degree in cool, north- or east-facing rooms, and the cooler color used to a greater degree in warm, south- or west-facing rooms. Their use won't necessarily be obvious, but they will create a harmonious scheme that's so easy to live with.'
7. Connect spaces with upholstery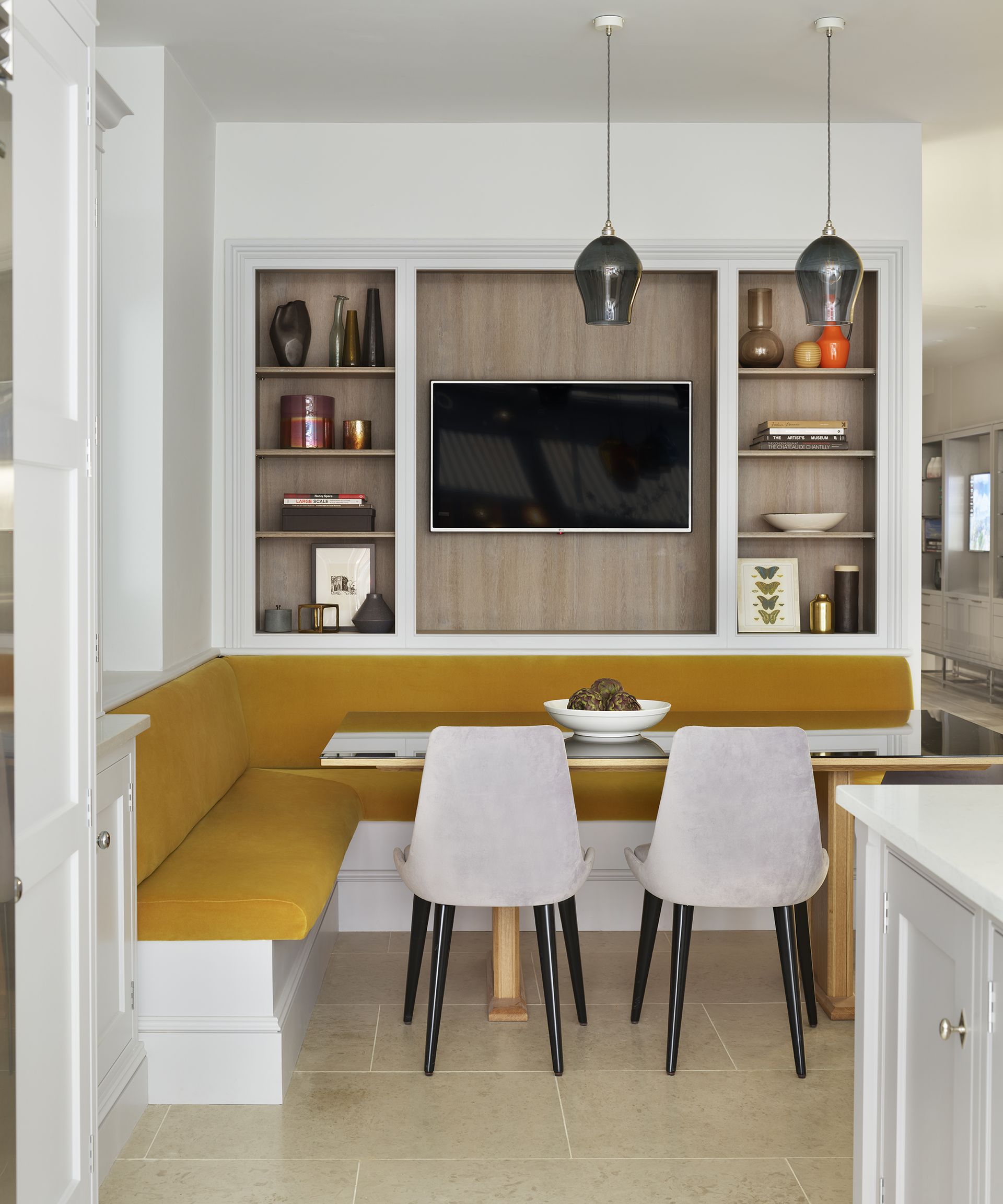 As we note above, upholstery is a clever way to match a living room and kitchen, and in small or open-plan spaces, using upholstered banquette seating is a clever way to blur the lines between a kitchen and living or dining zone.
'Introducing softer elements to a kitchen will always make it feel more welcoming,' says Lucy Searle, 'and banquette seating is the ideal way to do so. Incredibly space-efficient – it can also conceal storage beneath the seating – it is often most successful if covered in a bold, stand-out fabric that draws the eye. This allows you to have a safe, neutral kitchen, but still indulge your love of color and pattern.'
8. Change the mood by softening the angles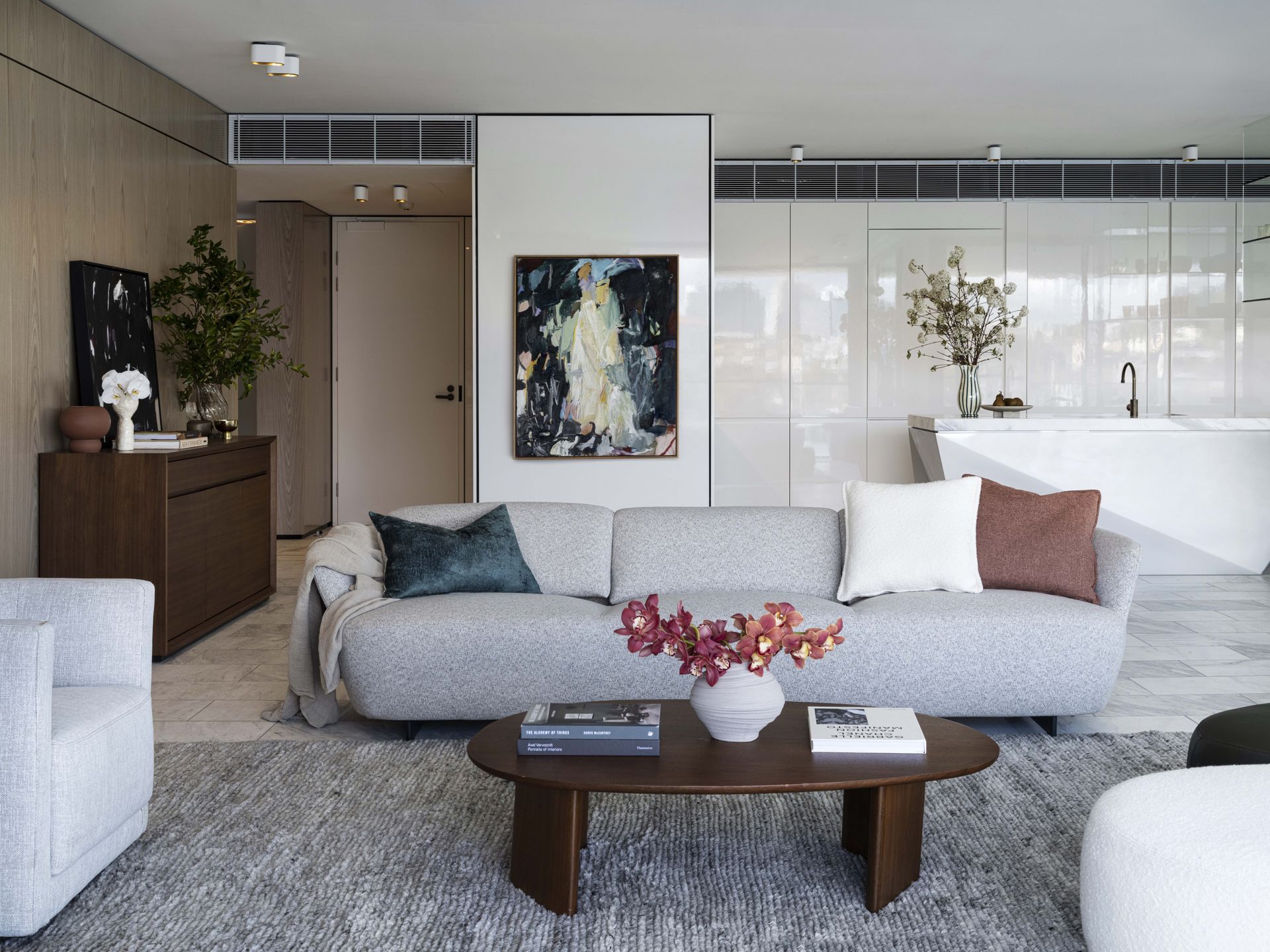 There is one important distinction to make between a kitchen and living room, and that is the one between the hard lines of a kitchen and the softer curves of a living space.
'A kitchen is about practicality and function, and although it can and should have softening elements, choosing curvaceous living room furniture for an open-plan space is the easiest way to create contrast and definition.
'Here, the kitchen is very angular and modern with straight lines and a high-gloss finish. The living area is the opposite – softer colors, matte finishes and curvy furniture; note the oval coffee table too,' says Jo Bailey, deputy editor, Homes & Gardens.
Should a kitchen and living room be the same color?
If the kitchen and living room are in the same open plan space, it makes good sense for the color scheme across the two zones to be complementary. 'I have this arrangement in my home and while the two spaces are defined – my living room area has all white walls and my kitchen are has one wall in a deep color – that deep color is picked up in upholstery in the living space,' says Lucy Searle, Editor in Chief, Homes & Gardens. 'This means that the two areas feel defined but don't jar, which is important in any scheme.'
How do you blend a living room and kitchen?
The easiest way to blend a living room and kitchen is to choose a color scheme that runs through the two spaces. Pick one dominant color for your kitchen cabinetry or walls and ensure this features heavily in your living space. You can further blend a living room and kitchen by choosing flooring and hardware (from kitchen cabinet handles to lighting to furniture finishes) that match in the two spaces. Lastly, use accent colors across both areas in differing degrees to both define and blend the two zones.
Sign up to the Homes & Gardens newsletter
Decor Ideas. Project Inspiration. Expert Advice. Delivered to your inbox.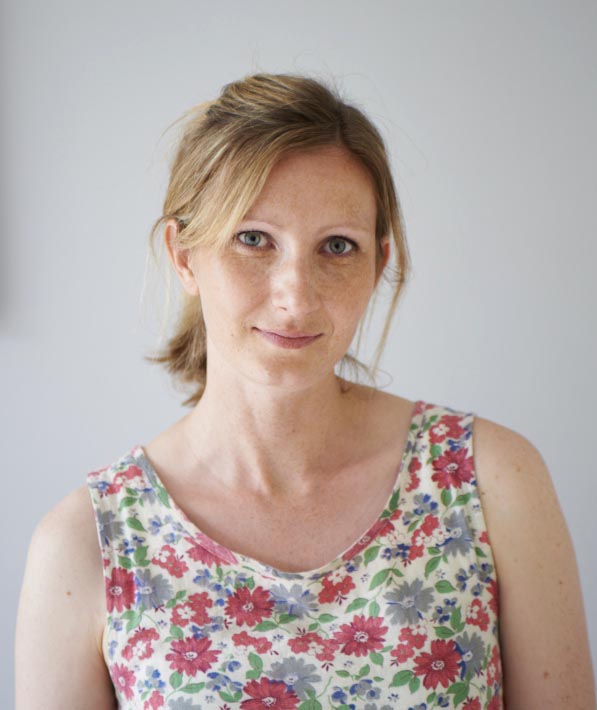 Sophie has been an interior stylist and journalist for over 20 years and has worked for many of the main interior magazines during that time, both in-house and as a freelancer. On the side, as well as being the News Editor for indie magazine, 91, she trained to be a florist in 2019 and launched The Prettiest Posy where she curates beautiful flowers for modern weddings and events. For H&G, she writes features about interior design – and is known for having an eye for a beautiful room.