What's the best kitchen color for your lifestyle? Design and psychology experts reveal the top picks
Whether you are a cozy homebody or like to live it up as an entertainer, there is a perfect kitchen color for your lifestyle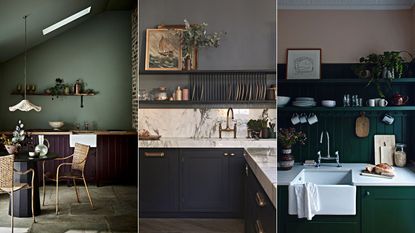 (Image credit: Little Greene / Farrow & Ball)
Sign up to the Homes & Gardens newsletter
Decor Ideas. Project Inspiration. Expert Advice. Delivered to your inbox.
Thank you for signing up to Homes & Gardens. You will receive a verification email shortly.
There was a problem. Please refresh the page and try again.
What stories could your kitchen tell? Is it the place you regularly host family and friends? Or does it see you spending a quiet night in baking or cooking a nice meal for your partner? Perhaps it's a chaotic family space where everyone gathers to cook, do schoolwork or just hang out?
Whatever your lifestyle and however you spend time there, your kitchen color ideas should match up. After all, while our spaces are an expression of our decorative tastes and personalities, color psychology undoubtedly comes into play, too.
Here, we chat with kitchen, color and psychology experts for their thoughts on the best color for your kitchen based on your lifestyle so that you can perfectly personalize your space.
The best color for a kitchen according to your lifestyle
Color psychologists recommend warm, natural colors for making living spaces feel comforting, and soothing, cool shades, such as blue, for making bedrooms restful, so why should kitchens be any different?
1. The best color for busy, stressed cooks
It's green or blue, especially if the space is small, too. Green kitchens are a safe choice because they're not only calming and restful – important if you get stressed when cooking – but if you use paler shades, can also make a small kitchen look bigger. Plus, adds Helen O'Keeffe, Color Psychologist from EZ Living, green is an 'optimistic color that works in every room of the house', so you can take it through into living spaces.
As Ruth Mottershead, Creative Director at Little Greene suggests: 'Kitchens are often functional spaces that can feel separate from the rest of a home. Consider the kitchen as an extension of your design scheme carrying your color palette through into the space; this is especially useful in open plan spaces where you want to create a harmonious transition between, living, dining and kitchen spaces.
Want your kitchen to be calming but welcoming, too, especially if you eat there? 'Consider embracing the size of the space with sumptuous, deep tonal colors such as 'Harley Green' paired with 'Tea with Florence' (see below) to provide a luxurious, nurturing, and intimate feel,' she recommends.
Helen Shaw, UK director of Benjamin Moore agrees: 'When working with a small kitchen, you want to keep it light and bright whilst also avoiding the clinical feel,' she begins. 'This can be done by adding a splash of color to the walls, cabinets, or furniture. Popular color choices include light blues and greens as these bring reminders of the outdoors and wide open spaces, such as the ocean and sky.'
Lick's Head Color Specialist, Natasha Bradley, is a fan of blue kitchen ideas, suggesting, 'A light blue helps to relax the body and prepares us for sleep, whereas a darker shade of blue will cause the body to produce a chemical that is calming and provide a feeling of tranquillity.'
2. The best color for a family kitchen
It's green and blue (again). Family kitchen ideas are almost always high-energy spaces, with a full range of activities from cooking and eating to schoolwork being undertaken in the room, so don't just think color, think tone, too.
'It's not just your color choice that will affect the atmosphere you create in your kitchen, the tone of the color will have an effect too,' says Ruth Mottershead of Little Greene. 'Bright and bold green will create a vibrant and energetic feel, whilst a muted and more gentle tone will create a calming environment that is well suited to open plan living.'
'A family kitchen is the prime place for activities and eating. Paint can cleverly be used to create a happy, playful space without being overbearing,' Benjamin Moore's Helen Shaw concurs. 'Colors such as yellow and orange are key examples that can be used subtly on backsplashes, woodwork or furniture.'
With a high-traffic space such as a family room, sometimes the best paint for you is not always about color, as Patrick O'Donnell, brand ambassador at Farrow & Ball explains. 'Color is less important here but practicality is key – the appropriate paint finish is paramount when decorating – your walls will need to have a washable/wipeable finish and cabinetry needs to tolerate knocks and scrapes so get advice from your chosen paint manufacturer on which finishes are fit for purpose.'
3. The best kitchen color for frequent entertainers
It's either dark neutrals or bright primaries, depending on how you answer these questions: Do you host in your kitchen regularly? And how?
Colorful kitchen ideas are great for the adventurous party thrower, while dark kitchen ideas are better suited for the sophisticated dinner party host.
'If you're an entertainer whose lifestyle often involves hosting lots of dinner parties and get-togethers, you want to create a space of intimacy and glamor,' says Lizzie Beesley, Head of Design at Magnet. 'It might sound too bold at first, but dark hues such as black and charcoal grey, are the colors that are going to let you create this drama. This dark color palette in a room evokes feelings of sophistication and elegance that will create a sense of seductive grandeur at your dinner parties that you, and your guests, won't want to let go of.
'From a practical perspective, a dark kitchen for entertainers also serves as a versatile canvas that you can elevate with different accessories and themed decor depending on the agenda of your get-together,' Lizzie continues. 'But, that moody and intimate atmosphere will always be there as a backdrop to bring people together.'
Black kitchen ideas or grey kitchen ideas?
'The size of your kitchen and the amount of cabinetry will also have an impact on your color selection,' adds Patrick. 'One 'go to' palette that often creates a successful look is strong, deep blues or elegant, muddy greens but mix it up a little and bring in a complementary accent shade on a kitchen island or larder cupboard.
'A wonderful combination would be French Gray on your main cabinetry and bring in something like the aptly named Eating Room Red on your island for a smart color pop and keep everything else (walls & trim) in something discreet like Shaded White to unify everything in a subtle fashion.'
For a more out-there host, however, brighter more saturated colors such as bold yellow kitchen ideas are perhaps the way to go, suggests Ruth.
'The kitchen really is the heart of the home, it's a central hub, a hive of activity, and a place for entertaining friends. It's therefore an ideal place to make a statement and experiment with adventurous and vibrant color choices such as the vibrant yellow. A kitchen is the ideal place to make more adventurous color choices and certainly a space where you can really experiment with vibrant colors.'
However, Psychologist and Wellbeing Consultant Lee Chambers lists these two choices as colors never to paint a kitchen: 'Dark grays and browns can leave a kitchen feeling cold and uninviting, and have the potential to induce a lower mood,' he says. 'As for vibrant yellow, this can bring a sunny presence into a kitchen and boost creativity, but it can increase stress levels.'
4. The best kitchen color for a cozy homebody
It's earthy pink.
As more people strive to make a house look cozy over sleek, this color has become more popular in kitchens – especially for homebodies or introverts.
'Earthy pinks add an unexpected look to kitchens and work beautifully on cabinetry,' says Patrick O'Donnell. 'Think Setting Plaster or its deeper sister Templeton Pink to create a cozy yet gentle look for your kitchen. This would layer beautifully with soft greens on your walls, say Cromarty for a charming pastel look that is wonderfully easy to live with and full of delicate charm – add a splash or richer detail by painting your chairs or kitchen table in Mouse's Back which will layer beautifully with these softer colors.'
With pinks being labeled the most beautiful color for a room by experts, it is unsurprising that this hue is also popular for a calming, relaxing space with some warmth.
As an alternative, however, opt for a deeper pink or red shade, suggests Ruth Mottershead of Little Greene. 'If you are looking for a restful ambiance, consider a combination of the deep red 'Arras' and soothing green 'Windmill Lane' which will create a soothing natural interior. Combine with exposed brick, rattan, and natural wood finishes for a warm, cozy, and natural feel.'
How do I pick the right kitchen color for my lifestyle?
To pick the best color for your kitchen according to your lifestyle, think about how you want the room to feel, not just when you are standing back looking at it but when you are cooking in it, when it's full of people, when it's dimly lit for an atmospheric dinner. Also think about when you mostly use your kitchen. This might allow you to choose a bolder shade that will look more muted at night, for example. If you are unsure about choosing paint colors, keep your kitchen cabinets a neutral, light shade, and introduce colors that can influence the atmosphere of the space on walls, at windows, on floors and in furniture. The basics are that light colors will make the space feel airy and light, but potentially cold; warm colors will make the kitchen feel welcoming; dark colors will make the space feel cramped in the day but marvellously atmospheric in the evening.
Sign up to the Homes & Gardens newsletter
Decor Ideas. Project Inspiration. Expert Advice. Delivered to your inbox.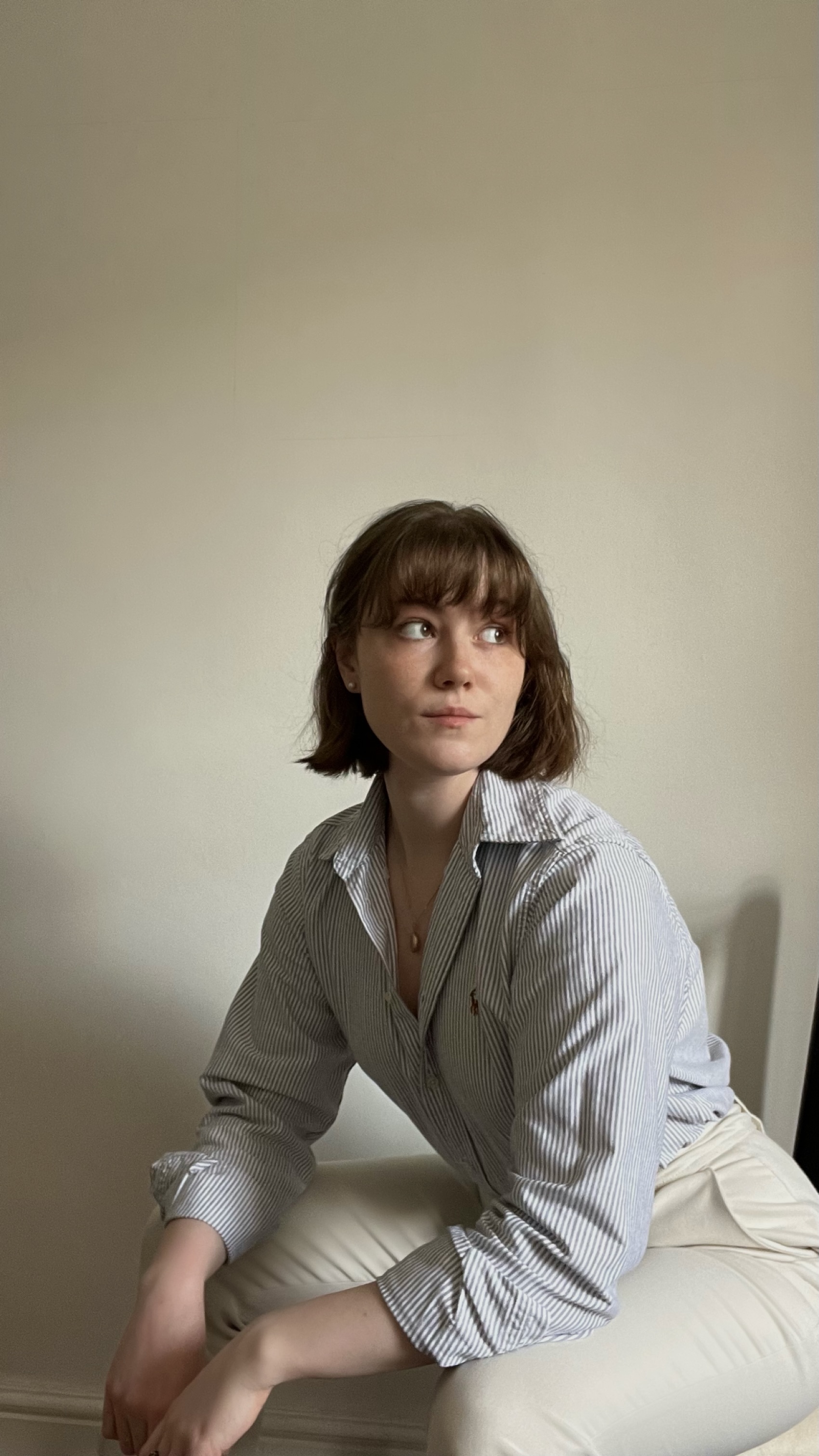 Chiana has been at Homes & Gardens for a year, having started her journey in interior journalism as part of the graduate program. She spends most of her time producing content for the Solved section of the website, helping readers get the most out of their homes through clever decluttering, cleaning, and tidying tips – many of which she tests and reviews herself in her home in Lancaster to ensure they will consistently deliver for her readers and dabbles in the latest design trends. She also has a first-class degree in Literature from Lancaster University.