Revealed: the biggest paint color trend predictions for fall into 2022
We're going to be turning to some soft and soothing pastels, says Dulux color expert Marianne Shillingford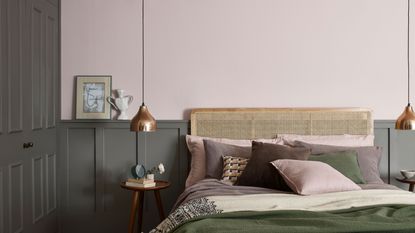 (Image credit: Dulux)
While we don't advocate the rigid following of trends, we're always curious to hear what the interior industry experts are predicting. That said, we didn't see 2021's rattan revival coming, nor the newfound love of walk-in pantries.
One person who is ahead of the curve when it comes to paint trends is Dulux's creative director Marianne Shillingford. The paint color queen has shared her thoughts, and she sees big things for pastels over the coming months.
Here, we share her tips on how to introduce these subtle but uplifting hues into your own space, looking at paint ideas for every room.
Pastel green
Gentle pastel tones have been making a big appearance in the fashion world, so it makes sense that they are a burgeoning interior design trend. What you see on the catwalk ends up on the cushions, as the old saying goes.
If the past year has taught us anything, it's to focus on decorating for ourselves and thinking about how we want a room to feel. So, what do pastels bring in terms of feeling and ambiance?
Muted green pastels are said to be calming, promoting a serene atmosphere. To avoid things looking too hospital corridor, you can experiment by complementing green room ideas with contrasting dark tones, or bright whites and sophisticated gray.
Pastel blue
It's not surprising that the color of the sea and the sky is a firm favorite when it comes to home decorating, comments Marianne. She cites many studies that have pointed to the mental and physical benefits of surrounding yourself in the soothing color palette of blue room ideas – and you simply can't beat blue when it comes to creating a peaceful vibe.
Blend a cool blue tone with warm whites and grays to strike a pleasing balance between fresh and cozy. Marianne goes on to say that blue and white are a timeless, versatile duo.
Upcycle old furniture with some fresh white paint for a coastal feel or introduce black to give the space some edge.
Pastel pink
Marianne also says that we tend to associate pastel pink tones with playfulness, harmony and romance. But pink room ideas can also be very grown-up. For a modern look, she suggests using it alongside a muddy neutral, tying the room together with matching throws and accessories.
Petal pinks were also a favorite in Edwardian interiors, adding a light, bright, breath of fresh air, which we still look for in our homes today.
This year, we have seen lots of earthy tones like Dulux's color of the year, Brave Ground, and we've seen a huge a rise in green kitchens. Marianne's pastel predictions for the next big color trends reflect a new leaning towards color and playfulness.
Is there a room in your home waiting for a pastel makeover?
Millie Hurst is a news writer across Future PLC's home brands. When she isn't writing about interiors trends and expert tips, she's finding ways to make her small London flat feel more spacious and luxurious. She also spends a lot of her time hunting down vintage bargains, trying out upcycling hacks, and advising friends on their renovations. Her personal style is modern rustic, and she leans towards an autumnal color palette of rich earth tones.