10 decor mistakes we're making with modern farmhouse style – and how to turn them around
Nail the modern farmhouse trend without over-committing...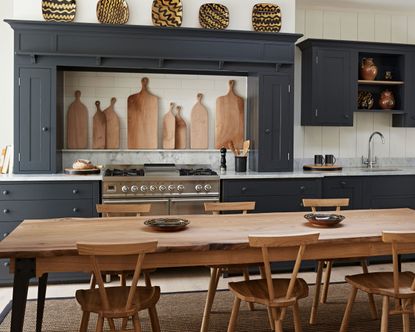 (Image credit: Adrian Briscoe)
We saw a real rise in the popularity of modern farmhouse decor last year, and the look is definitely here to stay.
Modern farmhouse perfectly blends contemporary finishes with cozy elements for a refined rustic aesthetic. The key is to always remember the importance of the word 'modern' in your decor. You want to keep the look fresh as well as inviting by celebrating imperfections and mixing natural elements, like wood and linen, with contemporary touches, like brushed metals and neutral color palettes.
See: Modern farmhouse ideas – creative ways to perfect this style in your home
The modern farmhouse style takes the charm and warmth of country elements and ensures they're given an updated look that fits with modern life; it's fuss-free and functional. Problems can sometimes arise when we take the 'farmhouse' theme too literally and run like the wind with it.
To make sure we're not over-committing and adopting the right tricks to create the perfect aesthetic, we've rounded up 10 mistakes we're making when decorating with farmhouse style – and how to turn them around.
1. Taking 'modern farmhouse' too literally
The last thing any decorator worth their salt wants is for a home to look themed.
'Think about the essence of farmhouse and not the literal interpretation,' says Kirsten Krason, co-founder of House of Jade Interiors (opens in new tab). For example? 'Don't buy signs to hang on the wall that say "farm-fresh eggs", instead have a vintage egg gathering basket displayed on your shelf.'
2. The look is more shabby than chic
Don't go all shabby chic with your furniture – stencilling on your chest of drawers is not cute.
Kirsten says: 'Bring in some modern elements to mix up the style and keep things unpredictable. Often, we see people doing "farmhouse" as very simple and basic but that doesn't mean your finishes and appliances need to be basic. Bring in a few high end finishes to make your farmhouse feel more custom.'
3. Your color palette's gone wild
Neutral tones are a key element for a curated modern farmhouse look. It acts as a perfect backdrop for blending styles, and also ensures your home doesn't feel too eclectic or rustic. Layer your neutrals, like creams and soft grays, for a warm look that's fresh.
Remember to keep your materials mixed for added interest. Emma Sims-Hilditch, of design studio Sims Hilditch (opens in new tab), suggests: 'When it comes to choosing fabrics, try pairing multiple patterns and materials such as a chunky linen with a smooth velvet in a similar color palette.'
Jenni Kayne (opens in new tab) perfectly showcases a neutral-toned room with mixed materials above.
See: Neutral room ideas – light, dark and timeless ways with color
4. Neglecting to add color contrast
See: Kitchen ideas – decor and decorating ideas for all kitchens
Make your neutrals pop with just a touch of a darker hue, whether it's pendant lighting or a decorative object, like a statement black clay pot. This helps add the 'modern' edge to the finished look.
If you do want to introduce other colors, look to inky blues and greens that sit well in a natural setting. Use them on textured surfaces like wall panelling to add depth.
We love how Becki Owens (opens in new tab) added edge to the farmhouse-style kitchen below with a black-framed door and decorative vase.
5. Buying 'fast furniture' to get the look
Modern farmhouse celebrates the historic and allows us to enjoy a simpler way of life while adding a contemporary design-led perspective. Don't get rid of lived-in pieces, or replace them with get-the-look furniture. Authenticity is key; make the patina a focal point. It's all about longevity and character, and a beautiful rustic kitchen table will be a talking-point piece as well as a practical social hub.
The stunning room by M. Elle Design (opens in new tab) above shows how a rustic table can be paired with shiplap and modern Crittall-style doors for the perfect meeting of old and new.
6. Not mixing modern and vintage
Be sure to throw in some vintage-style pieces to add character to that crisp all-white backdrop. Finding harmony between old and new is essential to the look.
Interior designer Marie Flanigan (opens in new tab) says: 'Whether passed down through the family over generations or found at a local flea market, antiques are an important factor in the modern farmhouse design formula. The character and patina of vintage furnishings lend a welcome sense of warmth and texture to every space, creating a cozy vibe that feels lovingly collected over time.'
Vintage-style rugs are a beautiful way to breathe life into the space, or an antique piece used in an individual way to add personality.
7. Overlooking the importance of art
The simple addition of well-placed vintage-style art can lift a space by injecting life and character. Still life scenes work particularly well in the kitchen, think fruits and culinary depictions, while bucolic landscapes are another great choice. Add them to open shelving for that perfect mix of old meets new.
8. Covering original features and not using natural materials
Interior designers all agree that reclaimed wood is an essential element of the modern farmhouse look. Expose those old wooden beams and, if your home doesn't have them, you can always use shiplap to get the look, on ceilings as well as walls.
Emma Sims-Hilditch says: 'One way to get this look (if budget allows) is to open up ceilings to expose the rafters and make the most of the height. Alternatively, adding materials such as limewashed timber cladding to walls and ceilings can immediately transform a room.'
Marie Flanigan advises not to underestimate the power of shiplap, calling it an 'architectural staple'. She says: "It's an element that can be incorporated into virtually any room in your home, and it has an uncanny ability to blend into nearly any aesthetic.
'From the most intimate reading nook in a coastal cottage to the living room of a rustic mountain home, shiplap is a wonderful farmhouse element that contributes depth and character to any space.'
She adds: 'Treat shiplap like any other wall – don't be afraid to break it up with windows, doors, and art for visual rest.'
9. It's all too cluttered
Semi-mininalism is key to modern farmhouse decor – this is not higgledy-piggledy country-cluttered. Keep things contemporary by ensuring your shelves and consoles are dressed simply with only your favourite curated objets and antiques. There's no room for dusty knick-knacks here.
10. Forgetting to add industrial elements
See: Country decorating ideas – ways to bring stunning rustic style to your home
Comforting and cozy 'farmhouse style' needs to be mixed with another style to add the 'modern' – and industrial features are perfect for this. Whether it's pendant lighting or steel or concrete kitchen islands or worktops, the addition of industrial elements injects that grit needed for a fresh edge.
Ruth Doherty is an experienced digital writer and editor specializing in interiors, travel and lifestyle. With 20 years of writing for national sites under her belt, she's worked for the likes of Livingetc.com, Standard, Ideal Home, Stylist and Marie Claire as well as Homes & Gardens.