The biggest room color trends – according to Instagram
These are the color trends you need to know about – if you are rethinking your room schemes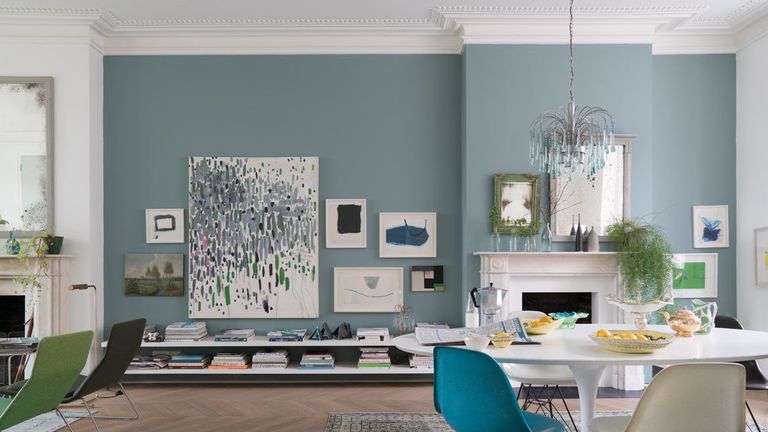 (Image credit: Farrow & Ball)
By Lucy Searle
If you are browsing room color ideas for your next remodel, you might like to take a look at the latest trending shades on Instagram – after all, it is a great benchmark for how the design-conscious around the world are decorating their rooms.
As luck would have it, we have discovered new research* which has analyzed Instagram hashtags to reveal which colors are currently trending for each room in the house. And the results are surprising – although pleasing. The data show that pink is the most popular room color on Instagram, trending for bedrooms, bathrooms, nurseries, playrooms and staircases. Green and blue make an appearance on the list, too.
Yet while pink features so heavily on the list, other research and polls reveal that we are still most likely to choose white for the majority of our rooms – perhaps showing a lack of confidence with color or a realization that we might tire of on-trend colors quickly?
Either way, we thought, why not show you how to use this year's most popular colors in with rooms that will inspire you – and that we are sure will not date or bore you quickly. And if you need more ideas? We have plenty of beautiful living room color schemes to browse.
Biggest living room color trend: green
Living rooms are the spaces we search most at Homes & Gardens – and for good reason: they are where we spend most of our time (awake) and they are increasingly not just living spaces but combined with kitchen and dining zones, too. There were 6,738 green living rooms on Instagram when the research was completed.
This is one of our favorite takes: it's a warm, mid-green that works with both contemporary and traditional schemes, with florals, plains and even geometrics.
Biggest dining room color trend: blue
Blue was the most Instagrammed dining room color, with 1,251 posts. This might surprise you, because we generally think of blue as a cool color, and dining rooms should – ideally – be inviting, warm spaces where guests will want to linger.
However, if you look at the color above (Oval Room Blue by Farrow & Ball), you can see how it can work: this blue is a versatile, warm, calming shade that is perfect for a multi-purpose space. Combined with white and deeper tones, it can look both relaxed and welcoming or smart and formal.
Biggest kitchen color trend: green
With a huge 57,230 posts, green is by far the most on trend paint color for 2020. It is an easy colour to work with in kitchens – dark shades like that used in the kitchen above are wonderful in bright, airy, modern spaces, while softer apple greens work beautifully in rustic or farmhouse kitchens.
In both cases, green kitchens works wonderfully with wooden worktops or stone surfaces. And, of course, the fittings you choose can pivot the kitchen's style seamlessly: add a gold cooker hood as above and you have a glamorous space; pair your green with a ceramic Butler's sink and the room will have a country appeal.
Biggest hallway color trend: blue
Blue is the most popular hallway color, with 552 posts in total. We suspect most would go for a pale blue that reflects light in what is usually a space that's narrow and starved of natural daylight.
However, we wanted to show you this beautiful hallway space in dark blue – it's a shade you can use if you are lucky enough to have a hallway that's flooded with light or is cleverly lit artificially.
Biggest bedroom color trend: pink
Pink has seen a resurgence of popularity as a room color in the past couple of years – as this research highlights. There were 39,134 pink bedrooms on Instagram when the research was done.
This shade – Sulking Room Pink by Farrow & Ball – gets the vote from the Homes & Gardens team. In fact, one of the team has even used it in a bedroom... We can, therefore, attest that it is moody but wonderfully warm, especially by lamp light – and it is a beautiful match for traditional dark wood furniture, but works brilliantly with more modern pieces, too.
Biggest bathroom color trend: pink
Pink is a surprising shade for bathrooms, and while you can find perfectly beautiful pink fittings, we'd like to suggest that the majority of the 27,175 pink bathrooms on Instagram have traditional white sanitaryware, leaving pink for the decor.
The easiest way to add this on trend room color to your bathroom is to paint the walls pink, but there are some beautiful tiles that can be matched with deeper paint shades to create a unique space. These Marais Rose tiles are from Porcelain Superstore.
Biggest nursery color trend: pink
There's little surprise that pink tops the list with 18,518 images – it really was going to be pink or blue, wasn't it?
If you are thinking pink, but want to create a nursery that is a little different to the norm, why not use pink as an accent shade and use a more neutral shade for the walls, like in the room above? The bonus of picking a darker shade like this is that it is gender-neutral, can be accessorized around if you want to switch up the scheme, and is dark... which might make baby sleep longer.
My first job was writing a DIY column for a magazine for the over 50s (which seemed a long way off back then). I then moved to a DIY magazine as deputy ed, then freelanced my way around the homes departments of most women's magazines on the market before working on Your Home and Family Circle magazines as homes editor. From there, I went to Ideal Home magazine as associate editor, then launched 4Homes magazine for Channel 4, then the Channel 4 4Homes website before going back to freelancing and running a social media business (you can see where I had kids from the freelancing gaps!). I was tempted back to the world of big business by the chance to work with the great team at Realhomes.com, where I was Global Editor-in-Chief for two and a half years, taking it from a small website to a global entity. I've now handed the reins of the website to our American managing editor, while I take on a new challenge as Editor-in-Chief of Homes & Gardens.