OXO Brew Compact: petite perfection, sip after sip
Single-serve cold brew seekers with compact kitchens will love the OXO Brew Compact. It's a premium model with cold brew that packs a punch.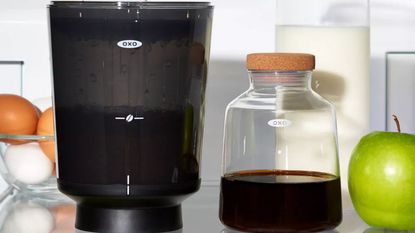 (Image credit: Target)
The OXO Brew Compact is perfect for small kitchens. It's like a mini version of the OXO Good Grips and it will make cold brew that's just as good. Even though it's smaller, the price doesn't drop relative to size, so it's relatively expensive.
Reasons to buy
+

Looks beautiful

+

Makes good cold brew

+

Container is easy to store

+

Feels premium

+

Makes good cold brew
Reasons to avoid
-

Expensive

-

Quite wide

-

Sensitive spring valves
You can trust Homes & Gardens. Our expert reviewers spend hours testing and comparing the latest products, helping you choose the best for you. Find out more about how we test.
Sign up to the Homes & Gardens newsletter
Decor Ideas. Project Inspiration. Expert Advice. Delivered to your inbox.
Thank you for signing up to Homes & Gardens. You will receive a verification email shortly.
There was a problem. Please refresh the page and try again.
If you like making cold brew at home, you've probably tried a range of cold brew coffee makers. There are plenty of home brewing techniques, but not all of them are as compact and stylish as the OXO Brew Compact.
After the success of the Good Grips cold brew coffee maker, OXO made a miniature version: the Brew Compact. It has all the premium features of larger cold brew coffee makers, without any of the space-consuming drawbacks.
As a qualified barista, I tested this in my home over a few weeks. I wanted to make sure that this smaller model could still make cold brew better than my local barista. OXO didn't disappoint.
Their stylish design is only a snapshot of the cold brew delights that the Brew Compact has to offer. If you'll only be making cold brew for one and you're short on countertop space, this is the best option for you. I was impressed with my cold brew, which was as refreshing as it was energizing. Having tested a wide range of the best cold brew coffee makers, I have to admit: as someone with a small kitchen, I wouldn't use anything else.
Specifications
Swipe to scroll horizontally
| | |
| --- | --- |
| Dimensions | 7 x 5.1 x 4.3 inches |
| Materials | BPA free plastic and glass |
| Filter type | stainless steel |
| Weight | 0.4 lbs |
| Capacity | 12 fl oz |
| Brew time | 12-24 hours |
Unboxing
Smaller products will go one of two ways. They're either straightforward and simple, or fiddly and annoying. Thankfully, OXO falls into the former category. It's made up of only six parts: a glass decanter with a cork stopper; a brew vessel; a stainless steel filter; a trademarked rainmaker; and a lid. Each part comes wrapped in plastic film, which isn't great for the environment, but there are increasing numbers of places where you can recycle these.
OXO has mastered the balance of size and stature. This feels and looks premium, but it's also petite. I gave it a quick test in my refrigerator and it fit on every shelf, but not in the door, because it's quite wide. That gives me plenty more options than other models, which required me to re-arrange my refrigerator shelves.
Who would it suit?
Most obviously, the Brew Compact is well-suited to small kitchens. If you start every day with a cold brew, seven days a week, the OXO is the perfect size for you. I made a full batch on Sunday night and it lasted me through to next Sunday morning.
This is an excellent starting point if you're new to cold brew. It's not a massive investment, nor is it difficult to use. OXO's trademarked rainmaker lid evenly disperses water over your coffee grounds, so you would have to try extremely hard to make a bad cold brew.
What is it like to use?
Aside from a precautionary rinse, the Brew Compact arrived ready to use. OXO couldn't have made things any easier. Just before brewing, I would recommend that you use a grinder, like the KitchenAid grinder, available at QVC, to grind your coffee beans. Fresh, coarsely ground beans are the best way to make the sweetest, smoothest brew.
Once you've ground your coffee, you can add it to the brew vessel, which has a bean icon on the side. If you fill up to this mark, you'll have 6 oz of coffee grounds. I filled up to the line, but sat the brew vessel on some coffee scales, like these coffee scales from Walmart. After all, brewing is a science as well as an art.
If you fill the glass decanter with water, you can use the line on the side to measure 12 fluid ounces of water. This makes the perfect 1:2 ratio for cold brew concentrate. Again, I measured my water out, so that I didn't over or under saturate my grounds. If you use a filter jug, like the Brita water filter jug, which you can buy from Walmart, you'll have much more consistent cold brew. The impurities in non-filtered water can create unusual, acidic and bitter flavors in your brew.
Once I had measured my water, I poured it over the rainmaker in a circular motion. When I've used OXO's rain maker on other products, water pooled in the middle. However, the Brew Compact didn't have this problem. Within a minute, all the coffee grounds were neatly and quickly saturated.
OXO recommends that you leave your brew vessel on the side, out of sunlight, for 12-24 hours. When I moved my vessel, I knocked the spring loaded valve on the bottom and some cold brew dripped out. This isn't something you're likely to encounter often, because you shouldn't move your brewing container around when it's full. However, it's worth noting that the springs are sensitive.
I left my first batch for 18 hours before filtering my cold brew into the glass decanter. Simply sitting the brew vessel onto the glass decanter creates enough pressure to open the valve, letting your cold brew filter through. If you push down harder, the coffee won't filter out any quicker. Whilst it might look slow at first, the steady drips will make faster progress than you think. It takes about five minutes to filter the full 12 ounces of cold brew.
Even though this is a singular metal filter, it worked well and I only had some sediment in the bottom of my decanter. You could double filter and line your brewing container with a reusable filter bag like this one from Amazon if you want a cleaner, smoother cold brew.
I kept the glass carafe in my refrigerator for a week, diluting my coffee in a 1:2 ratio of cold brew and filtered water. I found that the Brew Compact enhances deep and earthy notes in coffee, rather than sweeter ones. I tried brewing for 12 hours and 24 hours, but that didn't change the sweetness. Although, less brewing time did make my coffee taste more chocolatey.
Cleaning, Storage, and Maintenance
Thankfully, the brew container and glass decanter are wide and easy to clean. The parts, aside from the cork stopper and filter, are all dishwasher safe. I wanted to give these a thorough clean, so I washed everything by hand, using warm water and some dish soap.
I recommend taking care when cleaning the filter. It's slim and could easily get lost in a mass of bubbles. The tight mesh structure easily harbours old coffee and stray grounds, so use a fine washing brush to ensure you don't leave any residue in the filter. I normally use a straw cleaning brush ike this from Walmart, because they can reach all the tight spaces without much effort.
I can't overstate how easy this is to store. It's small and compact, so you can put it in your cabinets or leave it on your countertop. Even when you're mid-brew, the minimalist aesthetic of the Brew Compact is pleasant, something which doesn't apply for every machine.
How does it rate online?
Unsurprisingly, reviewers and customers alike love the Brew Compact. They praise its bold, full-bodied flavors, as well as celebrating how easy it is to use.
I was surprised that people didn't think it was too expensive. It has a 16 oz capacity, which is less than half of the Toddy Cold Brew (you can click through for our review), but it's still roughly the same price. Even though this seems expensive, I found a number of reviewers going over the numbers. They pay $5 at their local coffee shops for a cold brew, so at $30, this has more than paid for itself within a week.
I couldn't find many complaints about the Brew Compact. Some people found the cork stopper to be a little loose, so questioned how air tight it would be. However, the proof is in the brewing. It kept my coffee fresh week after week.
How does it compare?
As a small cold brewer, the most natural competitor for OXO is the Bodum Bean Cold Brew Set. This uses a French press style of infusion to make cold brew. Both the Bodum and OXO are easy to store and they look attractive too. However, the small Bodum looks huge in comparison to the OXO. If you're looking for a compact cold brew coffee maker, the OXO is a better fit.
The Bodum isn't as thorough at filtering your cold brew as the OXO. Lots of customers reported slightly grainy cold brews, especially when they plunged the plunger too quickly. Bodum also doesn't provide a carafe to store your coffee concentrate in, so you'll need an airtight bottle to keep it fresh.
Should you buy it?
In the few weeks that I've been using the Brew Compact for I've fallen in love. If you have a small kitchen and you need to make cold brew for one, the Brew Compact is a must-have. It looks beautiful and it can make a good cold brew concentrate. I haven't had to sacrifice much countertop space for my coffee and I don't wince when I look at it. In fact, it looks sleek and stylish. If you can't tell, I'm sold on this excellent cold brew coffee maker.
How We Test
We test all our cold brew coffee makers before we recommend them to you. They'll either go to our test kitchen, our experts' homes, or both. We aim to replicate a domestic environment, so that we can feedback on how these perform in everyday use.
I used the OXO Brew Compact in my home for the last four weeks. This meant that I noticed the day-to-day quirks, such as the sensitive springs. We put taste at the top of our list, but we'll also think about all the external factors and processes that involve cold brew. From unboxing to cleaning up, we make notes on each part of the process, so that you don't have any surprises when yours arrives at home. If you'd like to find out more about how we test coffee makers, you can read our dedicated page.
Sign up to the Homes & Gardens newsletter
Decor Ideas. Project Inspiration. Expert Advice. Delivered to your inbox.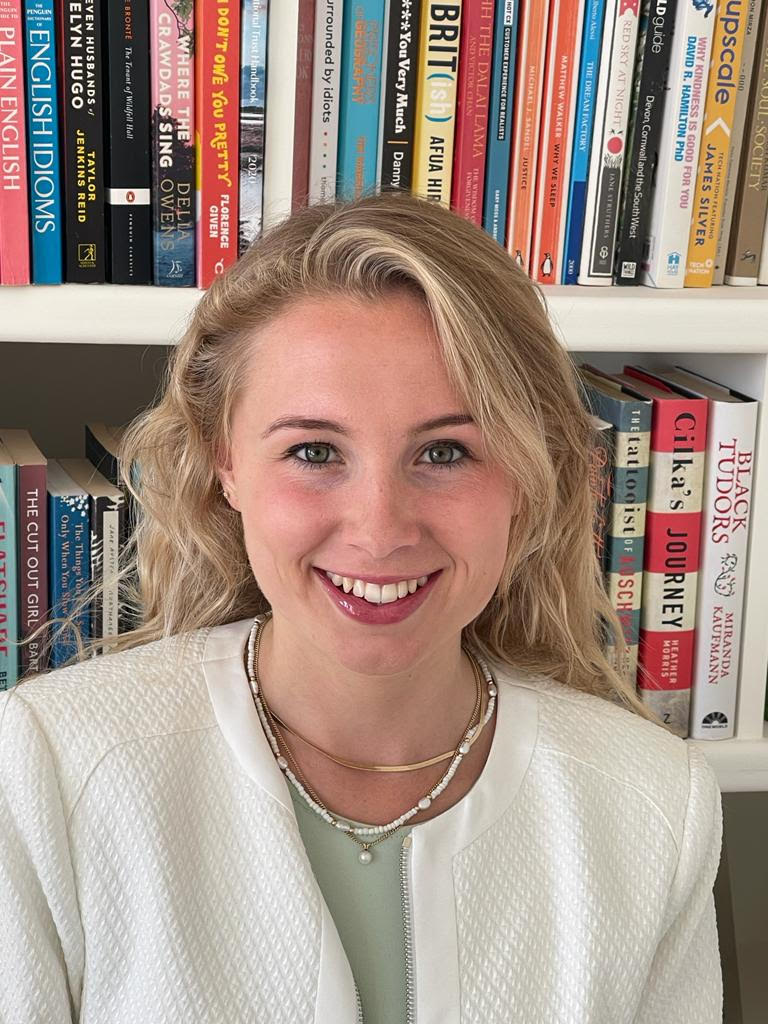 Laura is our eCommerce editor. Before Homes & Gardens she studied English at Oxford University. Alongside her studies, she qualified as a barista and trained as a master perfumer. This makes her our certified expert for all things coffee, candles, and fragrance. She has passed our five-step tests to become a certified Customer Advisor, making her our resident expert. Laura has worked for luxury retail brands, reinforcing the importance of quality and style over quantity and fads. She looks for products which have been designed with thoughtful finishes.