Ultenic K20 Double Zone Air Fryer review – budget- and beginner-friendly
The Ultenic K20 makes crunchy fries, crispy bacon, and some of the best Mediterranean veg I've tasted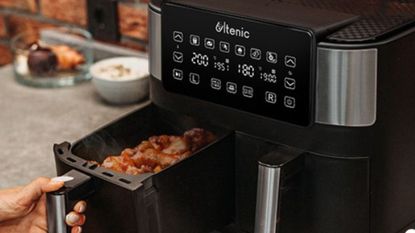 (Image credit: Dooxly)
With two baskets and independent controls, the Ultenic Double Zone Air Fryer could be a game-changer for busy families on a budget. It's easy to use and quick to clean, but I found a few design flaws.
Reasons to buy
+

Dual zones with independent control

+

Option to sync finish

+

Excels with meat, vegetables, and potatoes

+

Generous 8-qt. capacity

+

Quick and easy to clean
Reasons to avoid
-

Maximum temperatures of 390°F

-

Some plastic packaging
You can trust Homes & Gardens. Our expert reviewers spend hours testing and comparing the latest products, helping you choose the best for you. Find out more about how we test.
The best air fryers claim to do all the thinking and cooking for you. But if you've ever scrambled around the kitchen as you try to get your wings to finish at the same time as your fries, you know that isn't always the case.
If you want to make quick and balanced meals in an air fryer, you need a machine with multiple baskets. Enter the Ultenic Double Zone Air Fryer. Each basket is independently controlled, so that you can set the right cooking times and temperatures for different types of food. When you opt for a sync finish, you can schedule each ingredient to cook at its ideal rate, but finish at the same time.
Here at H&G, our expert testers have tried dozens of the best air fryers. We know what makes a good machine, and we can spot a flaw in design from a mile away. This Ultenic can't cook as quickly as one of the best Ninja air fryers, and it isn't as easy to use as a Philips Essential Air Fryer XL.
With that said, the Ultenic Double Zone Air Fryer is one of the best I've tested. I put this machine through its paces, cooking Quorn nuggets, French fries, Mediterranean vegetables and rashers of bacon. I also documented the unboxing and cleaning process to give you the fullest possible picture of what it might be like to use this product.
Ultenic 2-Basket Air Fryer Specifications
Swipe to scroll horizontally
| | |
| --- | --- |
| Dimensions | 14.4W x 12.3H x 10.5D" |
| Weight | 15 lbs |
| Power | 2850W |
| Adjustable time | 1-60 min (Dried Fruits Mode = 1-24h) |
| Adjustable temperature | 175-390°F |
| Modes | Potato; Meat; Fish; Baking; Fruit; Vegetable |
Unboxing the Ultenic 2-Basket Air Fryer
While the recipe guide and user manual are wrapped in single-use plastic, which is a shame, the Ultenic Dual Zone Air Fryer is otherwise sustainably packaged. It comes in a large cardboard box that opens from the top, suggesting you should pull the air fryer up and out.
Since this Ultenic Air Fryer weighs just under 15 lbs, it proved a little tricky to lift, especially for a shorter user working with a high countertop. Once I'd reached down and grabbed hold of a handle, I was alright. With that said, a box with a lift-off lid would have made the unpackaging process a whole lot easier.
Once I'd got it out of the box, I was immediately struck by the air fryer's easy-to-use interface. The Ultenic Dual-Basket Air Fryer incorporates six pre-set cooking modes for potatoes; meat; fish; baking; fruit; and vegetables. All you need to do is click the corresponding icon to see the suggested cooking time and temperature for your food. If you like to take control in the kitchen, you might prefer to use the manual settings.
This air fryer comes with two baskets, which can be individually controlled. That means you can set separate cooking times and temperatures to suit different foods. There's even an option to sync finish, so that each basket stops cooking at the same time. You can sit back and relax while your machine takes care of the timings.
Test 1: Quorn Nuggets and Fries
When I took this air fryer to the test kitchen, I was catering for two vegans and a vegetarian. That's why I opted for Quorn nuggets over chicken. I placed my Quorn bites inside the left-hand basket, and shook some oven-ready French fries into the right.
Turning to my Ultenic recipe guide for inspiration, I decided to cook my nuggets for six minutes at 350°F and my fries for 10 minutes at 400°F. I soon discovered that this machine maxes out at 390°F. As an experienced chef, I know that 10 degrees doesn't make much of a difference, and I didn't mind turning down the heat. However, it seemed odd that Ultenic would recommend a setting that wasn't available.
I selected the sync finish function and waited to see what would happen. The fries started cooking straight away, while the nuggets were put on hold until the six-minute mark. Once that second basket kicked into gear, the noise went up a notch. I recorded a maximum volume of 78 dB, which is about as loud as a vacuum. This level of noise isn't a dealbreaker, but I definitely noticed the difference.
I also noticed a strong smell coming from the air fryer as it cooked. This would be par for the course with a regular frying pan, but it's worth knowing that some of the best air fryers come with odor erasers. The smell emanating from the Ultenic wasn't unpleasant, but it could easily overpower a small kitchen.
Sound and smell aside, the most important test of any air-fried food is how it tastes – and this food tasted good. The fries were crisp and crunchy, the nuggets were golden brown, and all of it was evenly cooked.
Test 2: Frozen Mediterranean Vegetable
Considering how well the Ultenic Dual Basket Air Fryer handled nuggets and fries, I wanted to see if it could tackle tougher textures and lower temperatures. I decided to roast a pack of Mediterranean vegetables I found in my freezer. I poured chunks of zucchini, eggplant and red pepper into the left-hand basket and set them to cook for ten minutes at 150°F.
This time, the air fryer worked so quickly and quietly that I almost forgot it was on. Ten minutes later, I had perfectly roasted vegetables that were charred on the outside and juicy on the inside − just the way I like them. My only complaint is that a few chunks got stuck to the bottom of the crisping rack. I had to scrape them off and take extra care when cleaning.
Test 3: Bacon
When testing the best air fryers, I always like to lay out a few strips of bacon. I want to see how quickly evenly the meat cooks, and how well the fat renders to reach that perfect crispy crunch. Since I was the only meat-eater in the kitchen that day, I tested and tasted all three rashers myself.
I was pretty impressed. Even though I forgot to turn my rashers, the Ultenic Dual Zone Air Fryer produced crunchy, crispy bacon that was cooked all the way through. I paired my bacon strips with my Mediterranean vegetables for a more balanced meal and enjoyed every bite.
There wasn't the same depth of flavor you get from cooking with fat in one of the best non-stick frying pans, but this air-fried bacon was far healthier, and almost as delicious.
Cleaning the Ultenic 2-Basket Air Fryer
Although each crisper plate and basket is technically dishwasher-safe, Ultenic recommends hand-washing these components to preserve their non-stick coating. It's a little less convenient, but I don't mind: I always like to hand-wash my pots and pans to ensure thorough cleaning.
Within seconds, the fat from the bacon and the remnants of the frozen vegetables were washed away. Each piece took a few minutes to air-dry and then they looked as good as new. As for the rest of the machine, all it needed was a once-over with a damp cloth.
How does it rate online?
The Ultenic Double Zone Air Fryer has hundreds of five-star ratings online, praising its versatility, as well as the ease of use and cleaning. A few customers have noted the absence of specific settings for foods, such as beef and sausages, which might suit slightly different cook times and temperatures than the general 'meat' setting. If in doubt, I'd recommend switching to manual mode to better suit your needs.
How does it compare to other air fryers?
The Ultenic Double Zone Air Fryer is one of the best air fryers I've tested. Its dual zones with independent controls are a game-changer for home cooks who are tight on time but want to make a balanced meal. Plus, it's budget- and beginner-friendly.
If you're in the market for a multifunctional machine, you might appreciate the KitchenAid Countertop Oven and Air Fryer. Proof, bake, broil, and fry: this machine can do it all. For smaller kitchens with limited counter space, I'd recommend the Instant Vortex Slim Air Fryer, which fits a 6-qt. capacity into a neat and narrow machine.
Should you buy the Ultenic 2-Basket Air Fryer?
The Ultenic Double Zone Air Fryer retails for around $110, and I'd say it's worth the money. If you're tight on time, but you still want to make quick and balanced meals, then you can't go far wrong with this two-basket machine. Each basket has a generous four-qt. capacity, so that you can make multiple servings to eat now or save for later. This Ultenic air fryer might not cook as quickly as a Ninja, or as evenly as an Instant, but it fries very good food.
About this review − and the reviewer
Emilia is one of our eCommerce Editors here at Homes & Gardens. She spends her days trying and testing some of the best small appliances on the market. She knows what makes a good air fryer, and she was excited to test the Ultenic 2-Basket in our test kitchen. She put the machine through its paces before sending it back to Ultenic, who kindly lent it to her for this review.
Sign up to the Homes & Gardens newsletter
Decor Ideas. Project Inspiration. Expert Advice. Delivered to your inbox.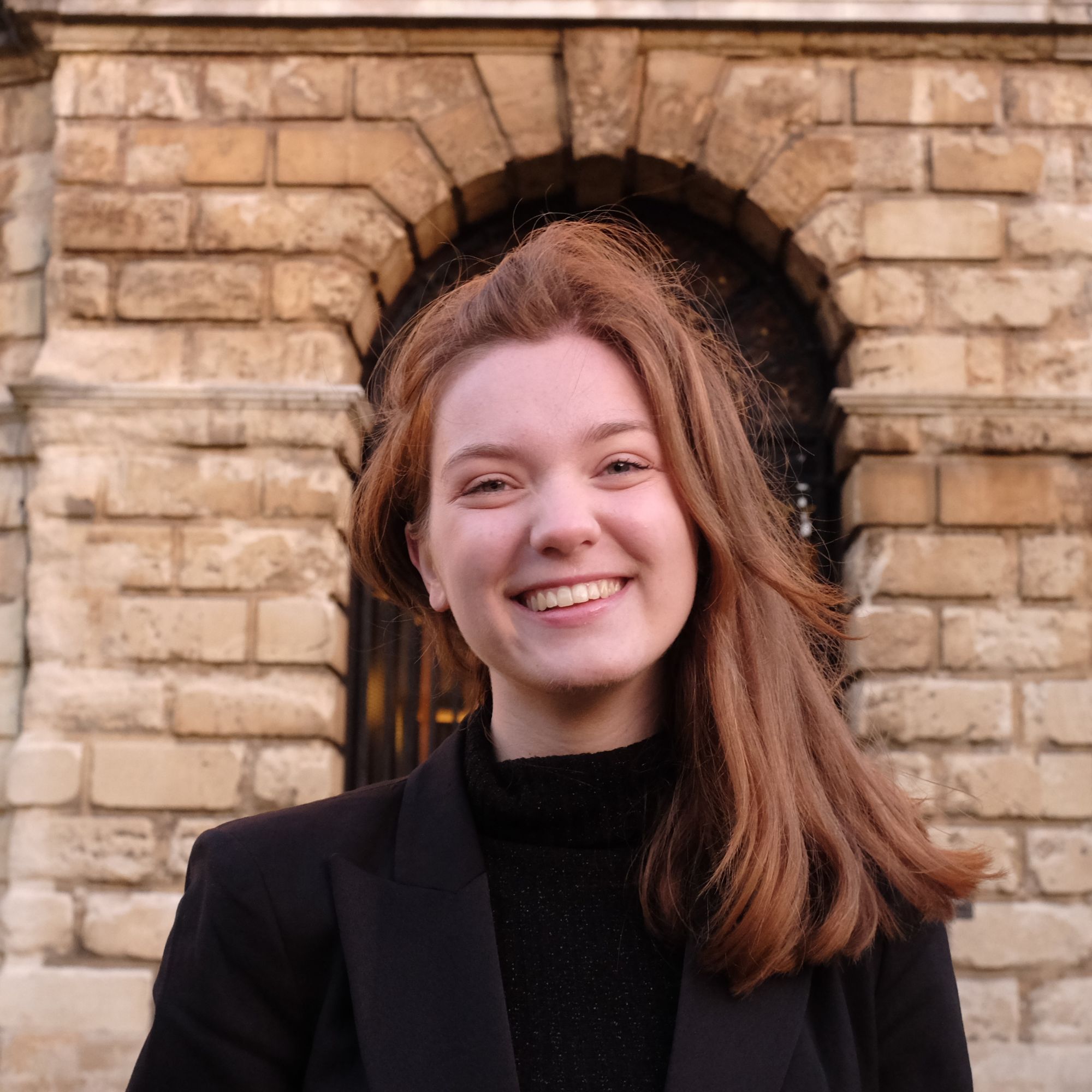 Before she joined Homes & Gardens, Emilia studied English at the University of Oxford, where she sharpened her critical writing skills. She also worked on the other side of the aisle writing press releases for regional newspapers and crafting copy for Sky. Emilia combines her business savvy with her creative flair as our eCommerce Editor, connecting you with the products you'll love. When she's not in the office, Emilia is happiest when entertaining friends al fresco or out in the country.