'We need to start uncomplicating coffee' – experts explain why simpler is better
Uncomplicating coffee is liberating. It's easy to get stuck in over-optimized routines, but experts recommend adopting a more relaxed approach to your rituals.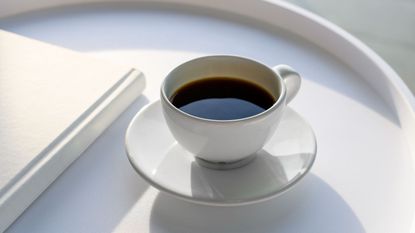 (Image credit: Getty Images)
If you're on TikTok, you'll probably have seen some very complicated shots of espresso. People use all sorts of WDT tools and fancy tamps, and while I'm all for thoroughness, the increasingly complicated – and expensive – people are integrating into their coffee rituals can seem a little daunting, even to baristas like me.
When people get into coffee for the first time, they tend to go all-in. It's a fun hobby, which snowballs into obsessive measuring and monitoring until brewing a cup of coffee becomes more like an over-optimized lab experiment.
In reality, all you need is a decent grinder, speciality coffee beans, and a good quality coffee maker. Luckily, I've spoken with Ashley Palmer Watts, the founder of Artisan Coffee Co, who says 'we need to start uncomplicating coffee. You only need to know about six types of coffee beans. The rest can wait for later'.
Here's a breakdown of everything you need to keep in your coffee routine; what you might be doing wrong; and how to get started if you're feeling lost.
Uncomplicating coffee makers
TikTok is full of very involved coffee processes. The videos look amazing (and they're weirdly hypnotizing) but if you're a beginner they look far too daunting.
Unless you're a specialist barista or mixologist you don't need to invest in a high-tech machine with scientific measuring instruments. I've tested a range of the best coffee makers and you don't need to spend hundreds to make a good coffee, you just need a good quality machine for your favorite brewing method.
I've written about the different types of coffee makers on the market, because the range is vast and varied. However, if you don't know where to start, there's a simple process which you can follow. Ashley Palmer-Watts, founder of Artisan Coffee Co recommends 'starting with coffee bags if you're a coffee novice. They're a convenient option, which are inexpensive and inoffensive. These bags contain 8g of coffee, which you dilute into a cup'. The universal standard for filter coffee should be 6g for half a cup, so they're more gentle and subtle than the average brew.
Coffee Expert
Coffee Expert
Ashley Palmer-Watts
Ashley spent years as a double Michelin Star chef before turning his hand to coffee. In 2021, he founded Artisan Coffee Co. Using his chef's palette and passion for quality, he has developed a simple, but incredible coffee business.
Instant coffee or coffee bags like these on Amazon are the most uncomplicated ways to make coffee. However, if you're itching for more, there are some great options on the market. Ashley recommends 'transitioning from coffee bags to French presses, single serve, and espresso machines when you want to make proper coffees'.
Plenty of people buy a good French press and that's it. They never buy an espresso or single serve machine because this is all they need. The infusion method can make a full-bodied coffee with minimal effort. It's very forgiving, so you can use approximate quantities and temperatures whilst still achieving a good coffee.
Ashley made coffee in his French press whilst we were talking and it was the perfect example of an uncomplicated coffee ritual. He scooped a spoon of coffee grounds into his French press, filled the carafe with water, let it brew, and then gave the grounds a stir before pressing his coffee. He didn't use digital appliances to measure out anything. I could practically hear coffee snobs fainting behind me.
When I do our reviews, I use thermometers and scales so that we know we are giving each French press a fair test. On a Sunday mornings, I adopt the relaxed 'Ashley' approach and nothing bad happens. My coffee still tastes smooth and well balanced. It's relatively consistent and indistinguishable from the precisely measured coffees that I make when I'm in our test kitchen, plus I have less to wash up and tidy away. The extra gear is nice to have, but not necessary.
if you're going to be more relaxed with your coffees, make sure that you're buying a good quality coffee maker. For example, if you'll be stirring up your coffee and using uneven amounts of grounds, you want to make sure your French press has a good filter, so that your coffee still tastes smooth. There's no need to buy another filter or special coffee blend, one good coffee maker will suffice.
Best overall
Even though this is the most expensive French press on the market, it's worth every dollar. The tight seal and double filter results in a smooth cup of coffee every time. Plus, the insulated walls keep your coffee warm for hours.
Best value
Decidedly delicate, this French press is a classic. The timeless design is also really functional: it pours smoothly, filters nicely, and lets you check on your coffee without too much disruption. It's an essential.
Easiest to clean
Fellow makes some of the best coffee products on the market and this is one of them. Tactile, easy to use, and effortless to clean, it's excellent. This is on the expensive side, but your coffee is worth it.
Espresso machines are every barista's favorite option, because they're about as techy and hands-on as you should go. Good models will come with tampers, milk frothers, and portafilters. These are essentials, but you can still overcomplicate them.
There are tampers which regulate pressure, specialist milk frothers for different milk varieties, and portafilters which can cost you up to a thousand dollars. However, in all honesty the average coffee drinker wouldn't detect the difference. You can make pretty great espresso in a relatively cheap espresso machine without having to splash out on a load of accessories.
Best overall
This is a faultless espresso machine. It has all the features you need, plus a few extra to ensure you're making the best possible coffee.
You can find out more in our Breville Barista Pro review.
Best value
TikTok made me test this and I don't regret it. This is excellent value and kitted out with useful and not superfluous accessories.
You can find out more in our Casabrews 5700 Pro review.
Best multifunctional
If, however, you want a truly uncomplicated, hand-free coffee, a good bean to cup machine will make you the perfect coffee without you having to do anything. You don't need to buy or monitor anything with a bean to cup machine- you just pour in your coffee beans and press a button. These will do the job of a barista for you – as long as you invest in speciality coffee beans.
Best overall
This is the best coffee maker on the market. It can make up to five different types of coffee and is especially good at frothing milk. Our experts were impressed how fast this is too.
You can read more in our full Philips 3200 Series review.
Best small
If you like drinking a different coffee every day, this is the one for you. With ten different options and really consistent flavors you won't need to lift a finger to make incredible coffee.
You can read more in our full Jura ENA 8 review.
Best design
Aside being beautiful, the Café Affetto is effective, speedy, and simple to use. We loved every coffee it made and the app was useful for customizing too.
You can read more in our full Café Affetto Automatic Espresso Machine review.
Uncomplicating coffee grinders
You can buy coffee scales, pressure tampers, metal pins, and plastic lids, but the only accessory you need is a good grinder. As soon as beans are ground, they delicious oils begin to degrade, tasting stale and flat within a week. If you can't see a crema on your coffee, it's probably because your beans are off. Storing your leftover coffee grounds properly is all you need to do in the way of coffee prep.
When you look at the coffee aisle, the pre-ground packets on offer could be up to a month old. If you buy your beans and grind them freshly, they can be less than a minute old.
I asked Alex Spampinato, barista trainer, about grinders and he recommended some of the more simple models. 'Breville's grinder is more than enough for baristas and home coffee drinkers. it's excellent value and the results rival some of the most expensive grinders that I've tested'. He told me 'people don't need to make coffee complicated. Price, buttons, and screens don't make better coffee. People who enjoy making coffee make better coffee'.
All you need to know before using your grinder is that big coffee grounds taste more acidic and light and finer grinds are sweeter. The difference is slight, so you might not notice at first. If you're not sure what you like, start with a medium grind and you won't be offended by the results.
Barista trainer
Barista trainer
Alex Spampinato
Alex has been making coffee for over twelve years. He has trained as a barista and now teaches new baristas the tricks of the trade. He's passionate about good, proper coffee, but always emphasises that it's a personal choice and shouldn't be overcomplicated.
Best overall
Without a doubt, this is the best grinder on the market. It's slick, small, and effective at grinding consistent coffee grounds. It's the one I use and I wouldn't give it up.
Best manual
You don't need a motorized grinder and this is the perfect example of why. It produces consistent grounds quietly, quickly, and effectively.
Most simple
You might not know KitchenAid for their coffee accessories, but get to know them. This is an excellent grinder with a range of settings and auto-dose function.
Uncomplicating coffee beans
I think coffee beans are the most cryptic and overcomplicated part of the coffee process. If we're not misled by images of forests and mountains, there are blackboards with words like 'varietal' and 'altitude' which don't translate to taste for the average coffee drinker (and quite a few baristas too). This means that lots of people won't step out of their comfort zone with coffee beans, or they try to 'fix' the flavor with sugars, syrups, and creamers. Ashley Palmer Watts, founder of Artisan Coffee Co believes in making simple, understandable coffees. He asked, 'if you had to add lemonade and juice to a wine so that it would be palatable, you wouldn't keep drinking it, so why should coffee be any different?'
Thankfully, there's no need to enrol on a degree in coffee geekery, because there's six easy categories to learn. Ashley created these out of frustration with the coffee industry. He says that the six different categories 'span the flavor profiles for everyone, from a construction worker to a banker to a teacher. They're the people who live on your street. Q Graders (coffee experts) might look for something more specific, but these are all you need to know'.
Ashley attributes a character to each category to help them connect to what flavors you need and want. He's created his own blends for each character, but you could easily learn the notes and look for coffee in your local store.
His first, most popular character is The Heroine. He says, 'this is like your best friend. They're always there, dependable and never offending anyone. It's a chocolate, nut, and caramel blend - simple, sweet, and appealing to every coffee drinker'. If you're starting out with coffee, keep your eyes peeled for chocolate, hazelnut, and caramel notes in your coffee blends. These tend to have Mexican or Columbian origin.
The Big Shot is Ashley's second coffee category. He says 'this is also a very straightforward coffee. It's like The Heroine, but it's bigger and brasher. It's more intense, like a gooey chocolate brownie. It's no more complex, just richer'. This type of coffee will have notes of dark chocolate, fudge, and vanilla. Lots of Ethiopian beans will suit this type of coffee, but always check the notes on the packaging.
Ashley then switches into more complex bean types. He calls the next one The Smart Cookie. This is a lot lighter and a much more elegant cup of coffee. It has notes of honey and florals, which are characteristic to African beans. This is my favorite sort of coffee.
If none of those sound appealing to you, Ashley suggests looking towards a 'richer, malty, more nutty and complex coffee'. He calls this The Genius. He says to look for pecan notes rather than sweet hazelnut, because they offer more of a bite.
There's a touch of acidity to them, which he said 'are a bit like a raisin. They're sweet, with a little something else at the end'. Ashley recommends using these when you make cold brew coffee (which takes us on another tangent, where Ashley explains that your plastic water bottle will make cold brew to rival even the best cold brew coffee makers. I'm testing this theory at the moment and will update you with my thoughts).
The next character is The Enigma. This tastes like a plum cobbler. It's not acidic, and it has a brighter finish than the other coffee types. It's dark and delicate with a jammy sweetness. At this point Ashley pointed out that 'you don't need to match your coffee to your brewing type. I choose a flavor and blend by different beans to meet a flavor profile. My pods, whole bean, and coffee bags taste the same, even though they have different composition. I just wanted a consistent end result'.
Ashley's final character is The Dreamer. This is his caffeine free blend, but he thinks it suits a different kind of coffee drinker. It's light and delicate with notes of honey and walnut. It's evidence that there's good decaf coffee out there you just have to know where to look and what to look for. I've written a full debrief of everything you need to know about decaf coffee if you're interested in finding out more.
The secret trick
If you often feel like coffee is an enigma you can't crack, Ashley showed me the ultimate way to enhance coffee notes. I tested this on a number of people, from fellow coffee enthusiasts to novices and this trick worked on every single person
– even a friend who never drinks coffee.
Ashley told me 'when people say they can't taste notes in coffee, it's because they aren't confident. When you put coffee and chocolate together, people's eyes light up. We understand chocolate much better than coffee; they're very similar. It's a perfect duo'.
Ashley has worked with a chocolatier to match the characteristics and natural notes of his coffee to the bean. You could roughly recreate this by looking at the notes in your coffee and the finding a good quality chocolate which matches those notes. I would recommend Divine chocolate which is available on Amazon, because I used these in my tests. Eat a square of your chocolate and sip your coffee. If you alternate between the two, you'll find the notes in your coffee are much more distinct. I'll take any excuse to add chocolate to coffee and this is the perfect one.
FAQs
Why is coffee so complicated?
Coffee making is a brilliant hobby and as more people have become coffee enthusiasts, more meticulous measures have been put in place. It's good to care about your coffee, but it doesn't have to be complicated.
How hot should my water be for coffee?
The perfect temperature should be between 195 and 205 degrees Fahrenheit. If you have it too hot, your coffee will burn and taste acidic, but you don't need to measure your water temperature too closely. You'll taste it if there's anything wrong.
How hot should my milk be for coffee?
At between 155 and 165 degrees Fahrenheit your coffee will taste smooth and sweet. If you burn it, your coffee will taste almost cooked. It's not nice. I use my palm on the side of a coffee steamer and when it's too hot to hold my palm on, that's when it's done.
What kind of coffee beans should I use?
Ashley has split coffee beans into six categories. These will suit different palettes, so make sure to look through them. If you're getting started, look for a coffee with chocolate, hazelnut, and caramel notes because these have close to universal appeal.
---
Final Thoughts