How to get your home guest-ready for the holidays – 8 ways to make friends and family feel welcome
'Tis the season to celebrate, so get your home guest-ready with these simple steps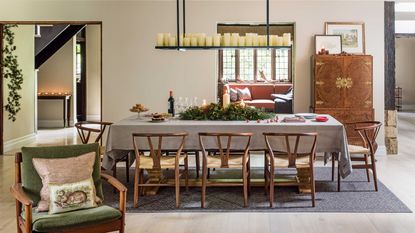 (Image credit: Future PLC)
As party season approaches, it's time to prepare your home for planned gatherings, unexpected drop-ins, and the occasional overnight guest – sometimes at very late notice! Beyond a good declutter and tidy-up, there are lots of ways to get your home guest-ready for the holiday season.
The ultimate goal is to create a space that looks – and feels – welcoming and comfortable. Organizing guest rooms and the kitchen in readiness for entertaining, adding creature comforts, and prepping favorite treats... getting organized for Christmas well ahead of guests arriving is the best idea, last-minute panic vibes don't give the best first impression! Familiarizing yourself with a pre-guest cleaning checklist should help keep these at bay, too.
How to get your home guest-ready for the holiday season
The run-up to Christmas is just as enjoyable as the day itself, so whether you're hosting family, planning parties with friends or inviting the neighbors, we'd recommend starting preparations early so you can enjoy it.
To help, we've compiled a checklist of how to get your home ready for the holiday season, all of which can be done well in advance. A quick clean and tidy on the day they arrive, and you're guest-ready guaranteed.
1. Ensure a warm welcome by decluttering the entryway
As the first thing guests see when they arrive, the entryway is one of the best places to declutter before Christmas. As well as ensuring a festive first impression, practically you'll need the storage space.
Professional organizer Brenda Scott of Tidy My Space recommends you tackle the closet situation first, decluttering and adding extra hangers; 'doing this will ensure your guests feel at ease and appreciated – there's nothing less welcoming than seeing your jacket crammed into a space that's already overstuffed'.
Stylish woven baskets like these from Wayfair, fit in with any festive scheme and make great temporary drop zones for shoes, scarves, and hats, as well as gifts and goodies. Position them next to the front door so you've got your hands free for hugs and greetings.
Brenda Scott is passionate about home organizing, decluttering, and creating a safe home. At Tidy My Space, she helps people to keep their homes tidy when life gets busy. Brenda shares useful tips and gives practical help with sorting and editing her clients' spaces, leading them to feel less stressed and bringing the luxury of time to be spent with family, friends, or on themselves.
2. Give your guest bedroom a cozy overhaul
If your guest room doubles as a catch-all for storage throughout the year, be sure to declutter any 'non-bedroom' related items ahead of your guests' arrival (especially anything techy) so it feels intentional and cozy.
'There's nothing worse than having to live out of a suitcase! I recommend organizing a closet so there's enough space for guests to unpack if they choose to do so. It can make a big difference to how comfortable they feel while away from home,' says professional organizer Meredith Goforth, founder of House of Prim.
After traveling, a comfy bed made up with fresh linens makes for a most welcome sight. Even if you're hosting guests without a guest room, simple touches like a pair of slippers and a bathrobe give a luxe-hotel feel, while a bottle of water, glass, and a spare phone charger on the bedside table are purely practical.
Meredith Goforth has a passion for stylish organizing. Before founding House of Prim, Meredith was a Bookings Editor for magazines, where she planned, produced, and executed cover shoots and fashion stories, making sure every detail was picture perfect. A former New Yorker, she now lives in Westport, CT with her family. With three boys being born within three years of each other, and having moved house six times in five years, Meredith says the only way to stay sane was to become truly organized.
3. Pare back the bathroom
You want the bathroom to become a neutral space, so start by removing anything personal – toiletries and medications, as well as products from the shower and side of the bath; these can go into a temporary storage box for now. Line newly-empty shelves with open baskets, or use drawer organizers such as these collapsible fabric versions from Target, so everyone has their own designated space.
Before guests arrive, switch in clean hand towels (leave clean bath towels neatly stacked on the bed so there's no confusion), spare toilet rolls, and luxury hand soap. Try hiding a scented reed diffuser either above or below a cabinet; a seasonal fragrance makes for a lovely finishing touch.
Don't forget to keep on top of the downstairs cloakroom throughout the holiday season, too. 'I like to leave a pack of anti-bac wipes in a drawer close by so I can give it an extra clean before friends drop in,' adds Millie Hurst, Solved section editor at Homes & Gardens.
4. Organize the kitchen
From festive tipples and warming dishes to big breakfast buffets, cooking for more people than normal can quickly lead to chaos if you've not prepared for it in advance.
Take stock of any items you may be missing or need more of, whether that's cooking equipment, serveware, or even chairs and tables, so you can rent or borrow it in advance of guests arriving. Organize your kitchen cabinets so essentials are at the fore, saving you rummaging around for what you need.
'You may be hosting, but the pressure of serving festive feasts doesn't need to fall solely on your shoulders – having your loved ones stay is a fantastic opportunity to pitch in together. Ask them to bring a dish with them or to get stuck in with washing up or wiping down surfaces at the end of the meal,' says Jennifer Ebert, digital editor, Homes & Gardens.
5. Stock up on tasty treats…
Take the opportunity to declutter your pantry and stock up on non-perishable items such as crackers, chutneys, and nuts, so you've always got nibbles at the ready – you never know when guests might drop by unannounced.
'I like to designate a separate storage in the pantry for my long-stay guests, filled with all of their favorite foods or dietary requirements. That way they can help themselves without feeling guilty about looking through cupboards!', says professional organizer Andrea Gagliano, founder of Ace of Space Organization.
6. … and set up a drinks station
Take the pressure off yourself by creating a space where guests can help themselves to refreshments. A few spirits, ice at the ready, sparkling water and some sliced fruit for garnish. If you don't have a bar cart, designate a section of the countertop or kitchen island, or if you'd rather keep guests out of the kitchen, repurpose a storage unit in the living room or dining room.
If you've got guests staying for a few days, you could do a similar thing with tea and coffee. Organize kitchen countertops so you've got the kettle and coffee machine grouped together, along with canisters of tea bags, coffee pods, sugar and biscuits.
7. Take stock of bed linen and towels – and sort a laundry schedule
If you haven't had people to stay in a while, look through your linen cupboard and make sure your guest linens and towels are still in tip top condition. If they're not, invest in a new set. Be sure to wash it a few times so it becomes super soft.
'If you have guests staying for longer than a few nights, it's worth popping a laundry basket in the room to corral used towels, clothing, and linens. This helps keep the room neat and tidy and makes it easier for you to whizz around with the vacuum cleaner, too. When doing laundry for overnight guests, be sure to ask them about their product preferences and ensure they don't have any allergies,' says Millie Hurst.
8. Give the house a thorough clean
'A clean home is essential for creating a welcoming ambiance. Focus on high-traffic areas such as the kitchen and bathrooms and don't forget to dust, vacuum, and mop all rooms, including often-overlooked corners and baseboards. Freshen up with seasonal scents and ensure there's always clean bedding and towels for guests to use,' says cleaning expert Hashi Mohamed, President of Ivy Cleans, a premier cleaning and lifestyle solutions company based in Minneapolis.
Really you don't want to be doing too much in the way of deep cleaning over the holidays – unless you've got a turnaround of overnight guests (in which case you will need to deep clean in between), general maintenance and tidying as you go on Christmas day should be enough to keep things ticking over, in readiness for a post-Christmas declutter once the last guest leaves.
'If you've got guests dropping in for a quick drink last minute, fluffing cushions, opening windows, and lighting a scented candle are effective ways of fake cleaning a house – they'll never know!' says Millie Hurst.
FAQs
How do I prepare my house for holiday guests?
Aside from the obvious cleaning, decluttering and tidying, one of the best things you can do when preparing for holiday guests is to prioritize personal touches; the little things that make friends and family feel truly welcome in your home. Have they got somewhere to hang to hang their coats when they arrive? What about space in a closet or dresser drawer to unpack their things? Have you filled the pantry with favorite treats, taken their dietary needs into account?
'Whether it's fresh flowers on the table, luxe toiletries in the bathroom, slippers and charging cables by the bed or a personalized welcome hamper ready and waiting, creating a warm and inviting home really is all in the details. They may feel like a hassle, but they're worthy of top spot on your guest-reasy to-do list, for sure', says Wendy Trunz, partner and head organizer at Jane's Addiction Organization in Port Washington.
---
Most of these guest-ready tips are applicable when hosting at any time of the year, but there's a few simple things you can do to 'festive' things up, particularly if you have people with you for a few days. A seasonally scented candle, christmas decor ideas or a stocking on the end of the bed, for example, are all great ways to style an inviting guest room, and loved ones will be touched by your thoughtfulness, too.
Sign up to the Homes & Gardens newsletter
Decor Ideas. Project Inspiration. Expert Advice. Delivered to your inbox.
For 10 years, Tara King worked as a Content Editor in the magazine industry, before leaving to become freelance, covering interior design, wellbeing, craft and homemaking. As well as writing for Ideal Home, Style at Home, Country Homes & Interiors, Tara's keen eye for styling combined with a passion for creating a happy – and functional – family home has led to a series of organization and cleaning features for H&G.