How to make the most of dead space in your kitchen – tips from interior designers
Here is how designers would make use of empty corners and wasted space in your kitchen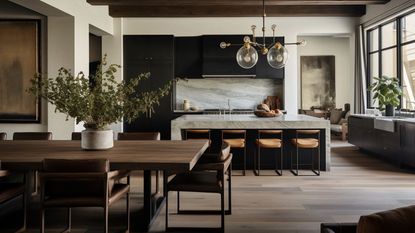 (Image credit: Superdwell)
Dead space is those areas of a room that don't serve any purpose and, while it is good to have some negative space, it is often a compromise in a busy room like a kitchen.
Whether you try out some new kitchen storage, or design a new set of seating, utilizing dead space in a kitchen is essential to curating a perfectly practical home.
Here is how designers would eliminate empty space in your kitchen no matter what nook and cranny you have free.
How to make the most of dead space in your kitchen
'Dead space can be found in various kitchen areas,' begins Raf Michalowski, interior designer and founder of Meble Furniture. 'One of the most common dead spaces in a kitchen is the area between the top of cabinets and the ceiling. I must say, this space often remains unused or becomes a dumping ground for kitchen tools and appliances that are rarely used, but it can also be an island without storage, or an abandoned corner collecting dust.'
Here is how to make the most out of all of them:
1. Add in new cabinets or wall shelving
When faced with floating cabinetry and space between them and the ceiling, it is a good idea to add in some shelving or even additional cabinets to help bridge the gap, says Raf Michalowski, interior designer. There are plenty of kitchen items to put in high cabinets to make the most of these new storage ideas too, such as dinnerware sets you only use for hosting, or seasonal table decor, so you don't end up storing something up there that you need the step ladders for every single day.
2. Add pullout systems to awkward cabinets
Organizing corner cabinets can be a nightmare, which is why they often turn out to be dead space. One smart solution is to add in dedicated pull-out systems to help reach every last bit of these awkward storage spots, suggests Cyble Rizwan of Persimmon Design:
'Installing pull-out or rotating shelves in corner cabinets makes items easily accessible as well as optimizes storage and prevents items from getting lost.'
You can get specific systems when you plan a kitchen redesign or find good corner cabinet organizers on Amazon for existing cabinetry.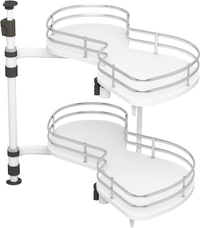 Swing Pull Out Organizer | $229 at Amazon
These pull out organizers can make any corner cabinet a breeze to work with, and you can easily install them yourself.
3. Add bookshelves to fill empty wall space
When we think of kitchen shelving ideas, a bookshelf doesn't always come to mind. However, not only are they good for organizing cookbooks, but they can be made into a makeshift pantry if you are trying to organize a small kitchen without a pantry built in, suggests Rosie Elliot, chef, and owner of Kitchen Appliance Answer.
'Get creative by putting a narrow bookcase against a blank wall or an unused patch of wall between cabinets. I'm currently working on a kitchen where we're installing a cubby shelving above the sink to display cookbooks and ceramic chickens – a fun personalized touch for the homeowner who collects them.'
Rosie is a professional chef with experience in Western, Mediterranean, and Italian cuisine who has been cooking professionally for over 15 years.
4. Consider built-in seating for corners
One of the best kitchen seating plans for dead space is built-in banquette seating to fill corners and empty wall space, suggests Raf Michalowski, interior designer.
'This not only provides extra seating but also adds an inviting and functional element to the kitchen,' he says.
If you don't have space for a breakfast nook, you can also consider designing a kitchen island with seating to add practicality and take up floor space in the center of the room instead.
5. Use ceiling storage with hanging racks to keep pots
Ceilings are not typically thought of as dead space, but in small kitchens every inch counts. As a result, designer and tiny home specialist Erica Fecundo, of Hauslein, recommends 'hanging racks to stow pots, pans, or utensils.'
'Don't overlook the inside of cabinet doors either,' she urges, 'hooks or racks there hold lids and chopping boards.'
6. Fill empty space with art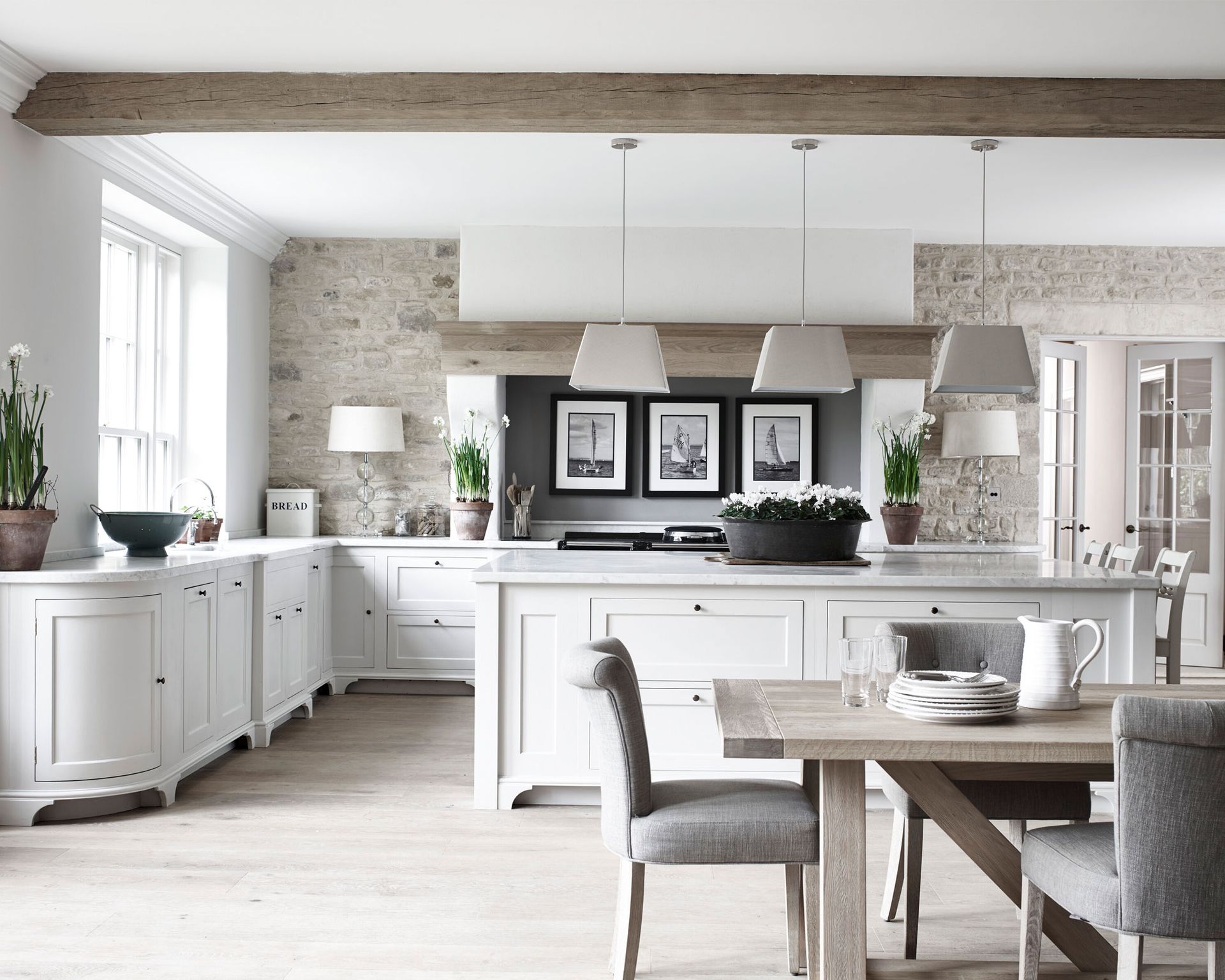 Just because a kitchen is a mainly practical space in a house, doesn't mean it has to be void of personality. Dead space can also be filled with kitchen decor, adding a touch of charm to your cook space, says Raf Michalowski, interior designer
'I love to add decorative elements like plants, artwork, or small sculptures to create visual interest and fill up the empty space.'
FAQs
How do I make my kitchen look less empty?
If your kitchen is looking a little sparse, then consider filling in the gaps with some beautiful storage such as open shelving with cookbooks and nice dinnerware, or adding in artwork and decor to help add a curated clutter look for a more lived-in feel. You can make counter decor out of practical items, such as a tray with your salt and pepper mills, or a pot of your most used utensils to keep your kitchen practical too.
How do you fill an awkward gap in a kitchen?
If you are left with an awkward gap, such as between counters or under an island, then it can be helpful to add in some storage. There are plenty of pull-out shelving units on wheels that could fit into the space, but you can also go bespoke and create a niche nook for keeping your spices, dried goods, or even cleaning products concealed but in easy reach.
---
When filling in dead space in your kitchen, it helps to remember that not every wall of your room needs to be filled with floor-to-ceiling kitchen storage. This can make the room feel more chaotic and crammed in. Instead, have two or three walls of storage depending on your needs and the size of your room, and have a wall or two dedicated to a seating space or artwork to help break up the scheme and liven the space up.
Sign up to the Homes & Gardens newsletter
Decor Ideas. Project Inspiration. Expert Advice. Delivered to your inbox.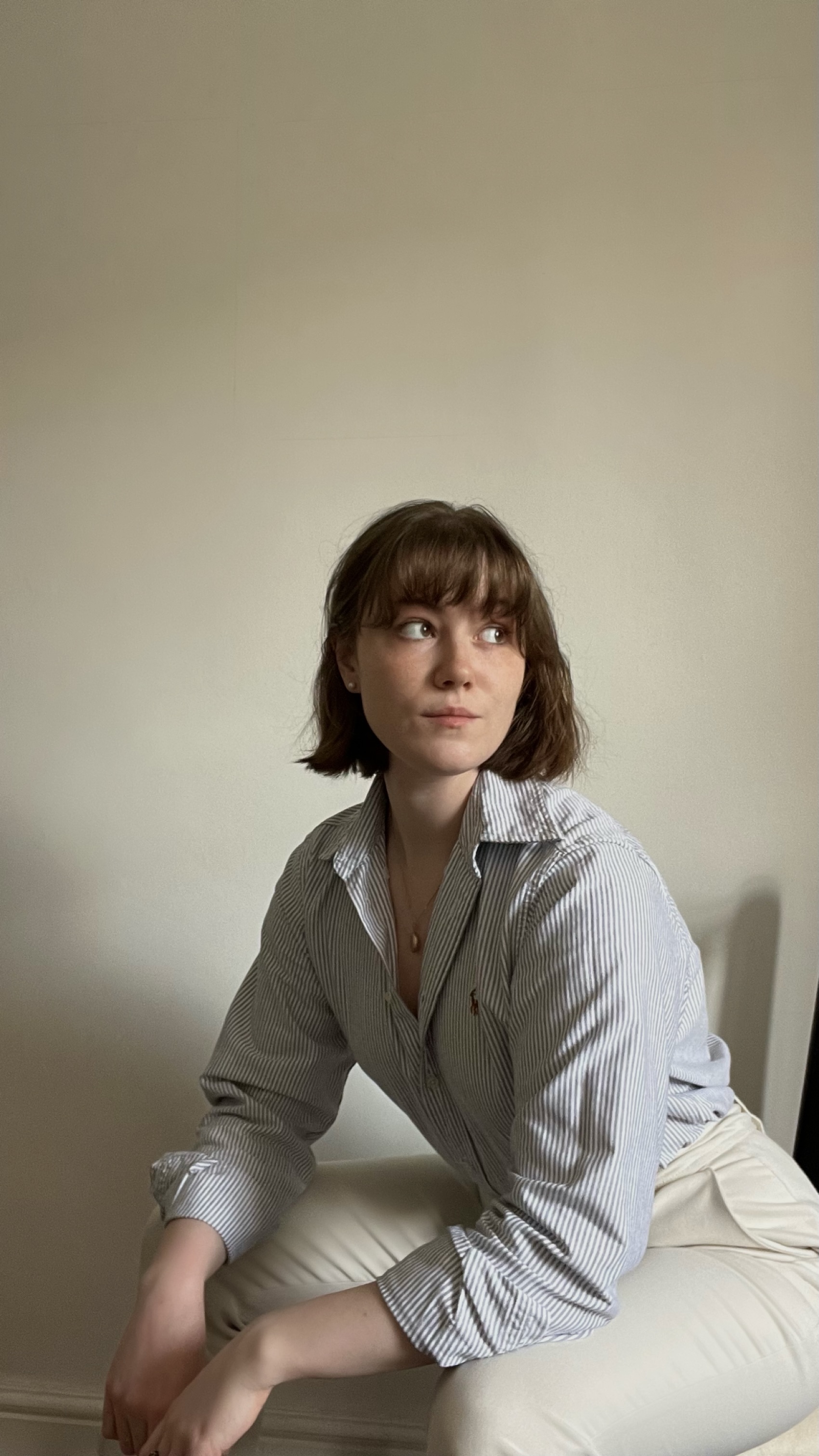 Chiana has been at Homes & Gardens for a year, having started her journey in interior journalism as part of the graduate program. She spends most of her time producing content for the Solved section of the website, helping readers get the most out of their homes through clever decluttering, cleaning, and tidying tips – many of which she tests and reviews herself in her home in Lancaster to ensure they will consistently deliver for her readers and dabbles in the latest design trends. She also has a first-class degree in Literature from Lancaster University.