How to eliminate empty space in your kitchen – 9 expert designer solutions our editors love
Empty space is often wasted space – here is how designers make the most of it in the kitchen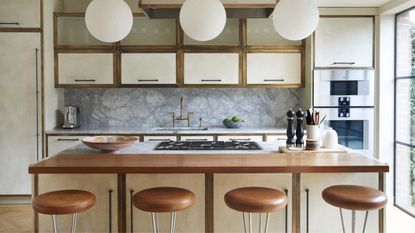 (Image credit: Bryan O'Sullivan / Helen Cathcart)
Sign up to the Homes & Gardens newsletter
Decor Ideas. Project Inspiration. Expert Advice. Delivered to your inbox.
Thank you for signing up to Homes & Gardens. You will receive a verification email shortly.
There was a problem. Please refresh the page and try again.
As the busiest spot in our homes, the kitchen often cannot afford to have empty space left unused.
Our kitchens need to work hard to keep up with daily life, so utilizing empty space is paramount, whether you integrate smart kitchen storage or squeeze in a breakfast nook.
Here, interior designers have explained how to eliminate empty space in a kitchen, from awkward corner counters to large swathes of floor space.
How to eliminate empty space in a kitchen
The first step to eliminating empty space in a kitchen is to understand your kitchen layout and think about how you use the space every day. This can help you determine what it is you need to add to your kitchen to make it that little more functional for your family and lifestyle.
1. Build a drop zone
If you have a busy household, then creating a designated 'drop zone' is one of the best options, suggests Ashley Macuga, interior designer and founder of Collected Interiors.
'One of the top requests that we get from clients is to have a better home organizing solution for all of the items that typically go into a junk drawer. You know the space where extra packs of gum, iPads in need of a charge, and bills go - just to be layered on top of one another.
'At our Grand Callahan project, there was a small empty space to the left of the kitchen door. Instead of keeping it bare, we decided to utilize the space for the ultimate drop zones. Cabinets equipped with electrical outlets for charging, apothecary drawers are perfectly sized for holding keys, and enough vertical storage for all of the other miscellaneous items that never seem to quite have the perfect home.'
2. Use a magnet or pinboard
Not all empty space has to be used up with fitted furniture or a storage unit. Bethany Adams, interior designer and founder of Bethany Adams Interiors sees some empty space as essential for flexibility.
'I've noticed that clients tend to want cabinetry on every wall, but I always try to keep one wall open in any kitchen space to accommodate the inevitable stages of life. Maybe you'll need a spot for the baby's walker, or your toddler's art easel for a while. If you don't have kids, think about where your pets' feeding station will be – a blank expanse is a perfect spot to keep items you'd otherwise be tripping over.'
That is not to say that the spot should be left completely bare, she adds: 'Take advantage of the space above by hanging a beautiful piece of art that complements your kitchen's style. I also like to mount an attractive oversized magnet or pin board on an open wall.'
Bethany Adams has over 15 years of experience designing and project-managing high-end residential projects all over the US. She started her design firm in Louisville in 2015 and before worked for several designers and architects over the course of a ten-year career in Chicago.
3. Play it safe with added shelving
One of the more obvious answers to using empty space is, of course, to add in more kitchen shelving, recommends Manny Sahmbi, professional organizer and director of Happy2Move.
Shelves can be styled with general kitchen decor if you can't fill them with organized kitchen appliances or cookbooks, he suggests. You then have the assurance that you have space to expand your cooking collection.
4. Consider a coffee station
Coffee makers are a big part of our morning routines, so making an empty spot into a coffee station or breakfast bar can really elevate that breakfast experience, suggests Ashley Macuga, interior designer.
Whether you have a new built-in added with cabinets to organize coffee mugs or add in a pull-out appliance garage for coffee supplies, these are perfect for keeping wires and appliances off of your everyday counters, she explains.
'The combination of pullouts and small drawers, perfectly sized for filter and coffee bean storage maximizes functionality for our clients while making it easy to put it all away when the morning caffeine rush is over.'
5. Build in a breakfast nook
Similarly, for larger kitchens, a breakfast nook can offer additional seating for families to gather around first thing in the morning, says Erica Fecundo, tiny home designer at Hauslein – they also have the ability to add aesthetic value to your eat-in kitchen, she adds.
In a tighter space, use banquette seating around the breakfast table to make for a cozier, more intimate spot while maintaining comfort.
6. Use the side of a refrigerator for spice storage
A commonly wasted spot in the kitchen is the sides of refrigerators – they are also incredibly unaesthetic, whether they are a sheet of plain metal, or encased in a cabinet, their sheer blank sides can be rather drab.
Anastasia Casey interior designer at IDCO Studio recommends using this spot as spice storage, to keep these handy ingredients in easy reach and organize your kitchen like a chef.
'In one project, we created a multi-tiered built-in rack to house all of our spices and oils. It keeps them close at hand, making me more of an adventurous cook having them front and center! Aesthetically, it breaks up the solid slab of color for a more interesting, lived-in look.'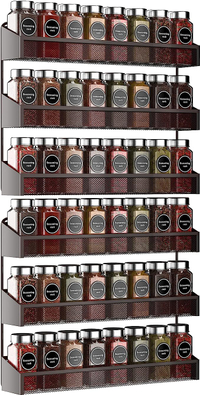 Wooden Spice Rack | $22.99 at Amazon
You can achieve a similar look at home without renovations with this simple wall-mounted spice rack, that can be added to any stable wall or door in your kitchen.
7. Add in a mini pantry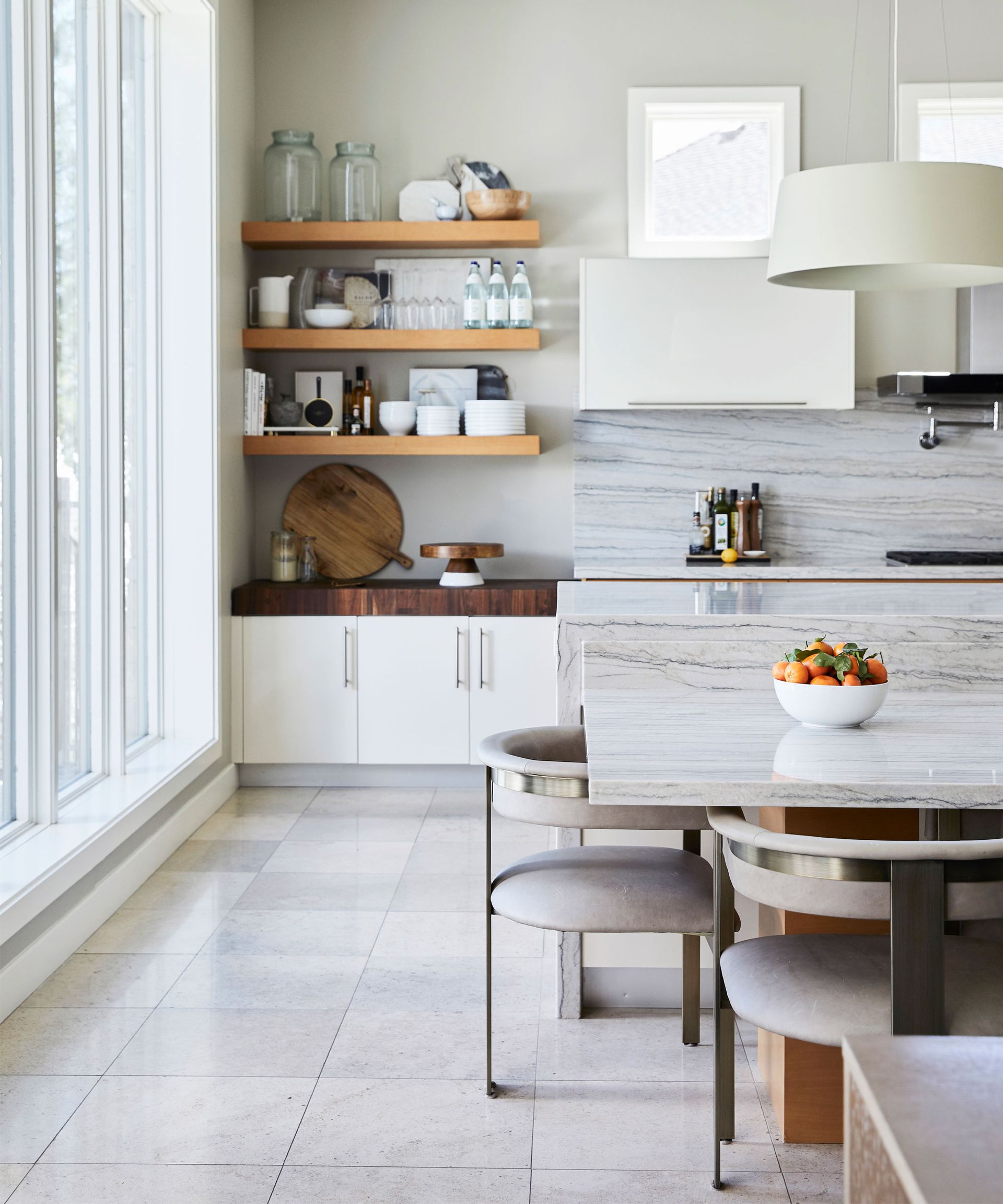 Even if the empty space is small, there is always enough space for an added pantry, says Erica Fecundo, tiny home designer.
Even the smallest of stand-alone small pantries or storage units can help keep dried goods neat and tidy, especially if they are decanted into pleasing glass jars, while closed-door units can hang onto anything left over from buying in bulk.
8. Use hooks to display essentials decoratively
Kitchen wall storage needs to provide space for more than bulky appliances. Other essentials such as oven gloves, dish towels, and aprons can make for functional kitchen decor when left on display, so consider making use of empty wall space with some handy hooks, recommends Manny Sahmbi, a professional organizer.
'You could upgrade to storage rods to hang baskets for storing produce like onions or garlic,' he adds 'It's a practical solution that keeps these items within reach while freeing up drawer and counter space.'
9. Make way for cookbooks
'I am a little old-fashioned and still love working with recipes right from a book,' shares Ashley Macuga, interior designer. 'There is something sweet about the pages all rumpled from use over time, and frankly, I have a hard time scrolling when my hands are covered in the night's preparations. So when it came to thinking through the space in my kitchen, I knew that a cookbook nook was essential – and we had just the awkward corner looking for a solution!
'Awkward spaces are perfect for adding in book storage, whether it is a traditional bookshelf, or a narrow ledge with a bar to stop them slipping off. I love having my favorite cookbooks at arms reach, and I am constantly rotating new ones that are recommended by friends.'
FAQs
What do I do with dead space above my kitchen cabinets?
Empty space above kitchen cabinets can be used to store baskets with non-perishable goods (such as overflow from buying in bulk). You can also decorate above kitchen cabinets with plants to help brighten up your cook space and lesser-used cookbooks. It is essential to only store things up here that you do not use regularly, as it can be an awkward spot to access while preparing dinner.
Furthermore, it is important to remember to keep this spot clean, as it is a magnet for grease and dust. Cleaning with a tough degreasing spray before laying down newspaper can help make cleaning the dust away easier next time.
How do I free up space in my kitchen?
If you have too much in your kitchen and not enough storage or space to move around, then it is time to declutter. Start with kitchen gadgets – more often than not we have multiple gimmicky tools that we have either used once or not at all. Once they are gone, work through your pots and pans, getting rid of any that are a little worse for wear, and then food, disposing of anything out of date, and donating anything unopened and in good condition that you are not going to eat yourself.
---
It is not just empty space that you need to eliminate, but wasted space in a kitchen too. Before adding in new storage, assess how you use what you already have, decluttering and allowing your kitchen habits to guide you into making the right design choices for your space.
Sign up to the Homes & Gardens newsletter
Decor Ideas. Project Inspiration. Expert Advice. Delivered to your inbox.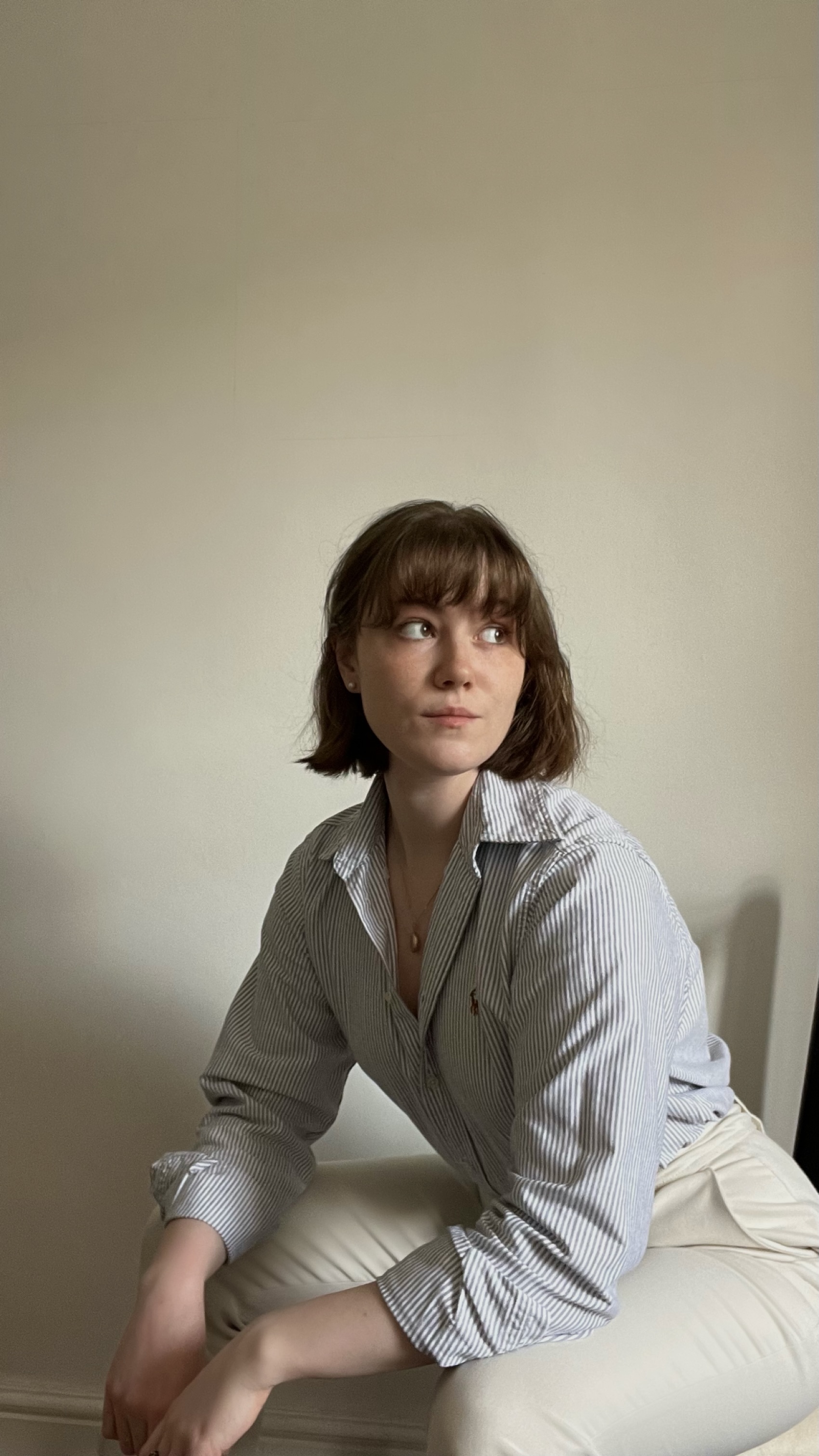 Chiana has been at Homes & Gardens for a year, having started her journey in interior journalism as part of the graduate program. She spends most of her time producing content for the Solved section of the website, helping readers get the most out of their homes through clever decluttering, cleaning, and tidying tips – many of which she tests and reviews herself in her home in Lancaster to ensure they will consistently deliver for her readers and dabbles in the latest design trends. She also has a first-class degree in Literature from Lancaster University.