Kitchen wall storage ideas – 10 stylish ways to make walls work harder
Whether it's smart storage hidden behind closed doors, or a stylish shelf display, transform your cooking space with these practical wall storage ideas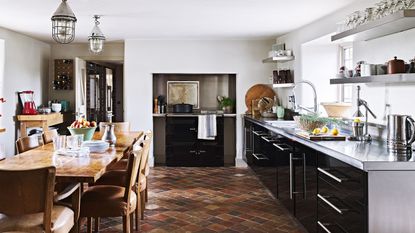 (Image credit: Future PLC)
Sign up to the Homes & Gardens newsletter
Decor Ideas. Project Inspiration. Expert Advice. Delivered to your inbox.
Thank you for signing up to Homes & Gardens. You will receive a verification email shortly.
There was a problem. Please refresh the page and try again.
When it comes to kitchens, there's no such thing as too much wall storage.
The last thing you want is overflowing, disorganized cabinets and drawers when you're trying to cook dinner, so utilizing every inch of space is paramount – this is where kitchen wall storage ideas really come into their own.
Nowadays, stylish kitchen storage ideas go well beyond traditional wall-mounted cabinets. There are all manner of options available that fully maximize on vertical space, from well-positioned open shelving to racks, rails and customizable pegboards, all with the added benefit of freeing up floor space – handy when organizing a kitchen of any size, although smaller ones in particular, for sure.
Kitchen wall storage ideas
As well as being a practical addition to your kitchen, vertical storage solutions also have the ability to truly enhance its aesthetics, without compromising on prep and cooking space.
'Wall-mounted hooks are one of the most creative (and homely) solutions. They can turn your apron collection into textured wall art, your chopping boards into wooden focal points and your backsplash into an untapped storage spot, all while freeing up other space, too', says Al Bruce, founder of Olive & Barr.
Whether you're designing an all new kitchen layout, or looking for ways to introduce new kitchen shelving ideas into your current one, we've pulled together ideas that utilize wall space in the best possible way, to help you achieve the perfect balance between 'sensible' storage and style.
1. Create a spicy wall display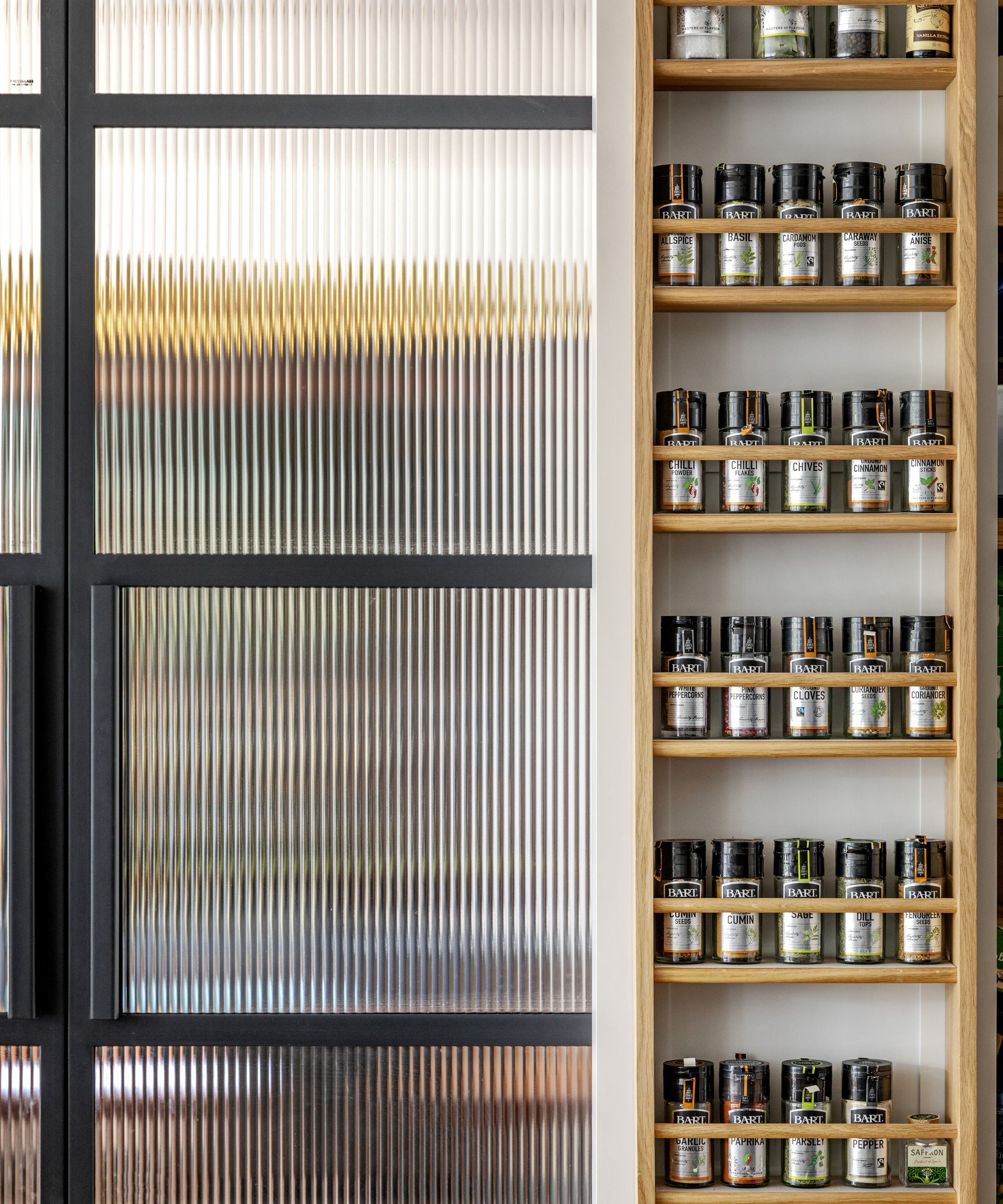 Working out where to store spices in a small kitchen can be tricky, particularly if you want these notoriously space-consuming items positioned near the stovetop. Luckily, their lightweight and petite proportions mean they fit perfectly into wall-mounted racks, like this magnetic version from Wayfair.
'Magnetic spice racks are great for smaller kitchens – they free up both counter and cabinet space, and they don't need any permanent fixtures,' says professional organizer Michelle Hansen, founder of Practical Perfection. 'Simply attach the magnetic rack to your refrigerator or metal backsplash, and store your spices in small magnetic tins or jars.'
As with anything that's 'on show', you'll need to think about appearance as well as functionality. Organizing spices so they're neat, orderly and uniform can make for an attractive focal point, so Michelle recommends decanting them into matching jars and adding uniform labels.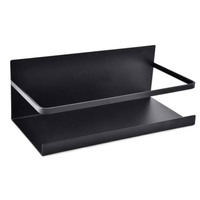 Magnetic 8 Jar Spice Rack |was $24.99 now $18.99 at Wayfair
This spice rack has a strong magnet and is great for getting spices off the counter and into their own designated space. Available in black and white.
2. Hang a rail for pots and pans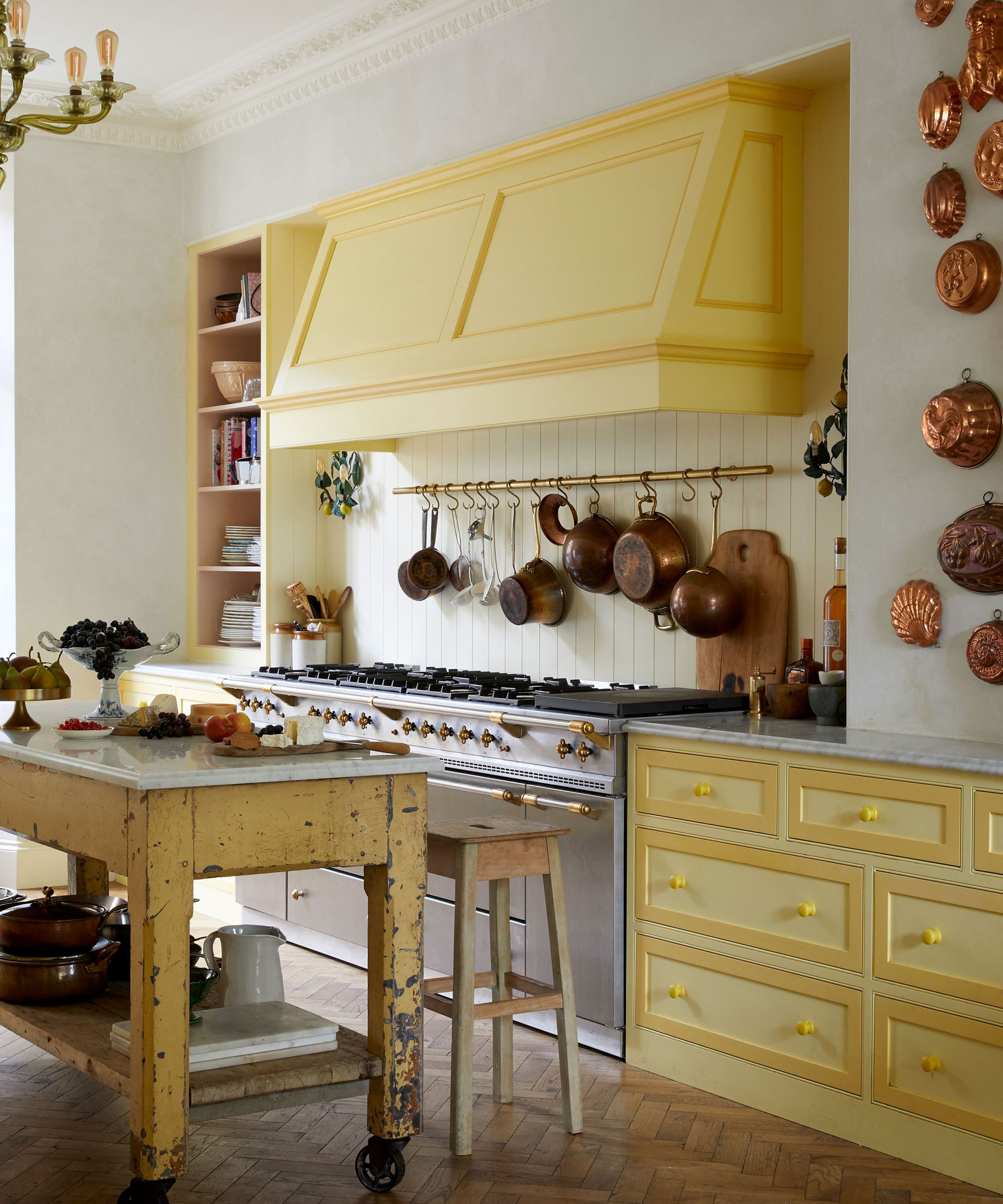 You'll need to organize pots and pans properly if you want your cooking to run smoothly, but they're big and bulky to store – not ideal when you're limited on space. Rather than trying to cram them into cabinets, hang them from a length of rail positioned above worktops or a backsplash. If you're clever about it, you can also use the rails to store pot lids. Either hang by the handle, or if yours have knobs, slide them into the gap between wall and rail so they sit neatly side by side.
3. Keep shelving open and accessible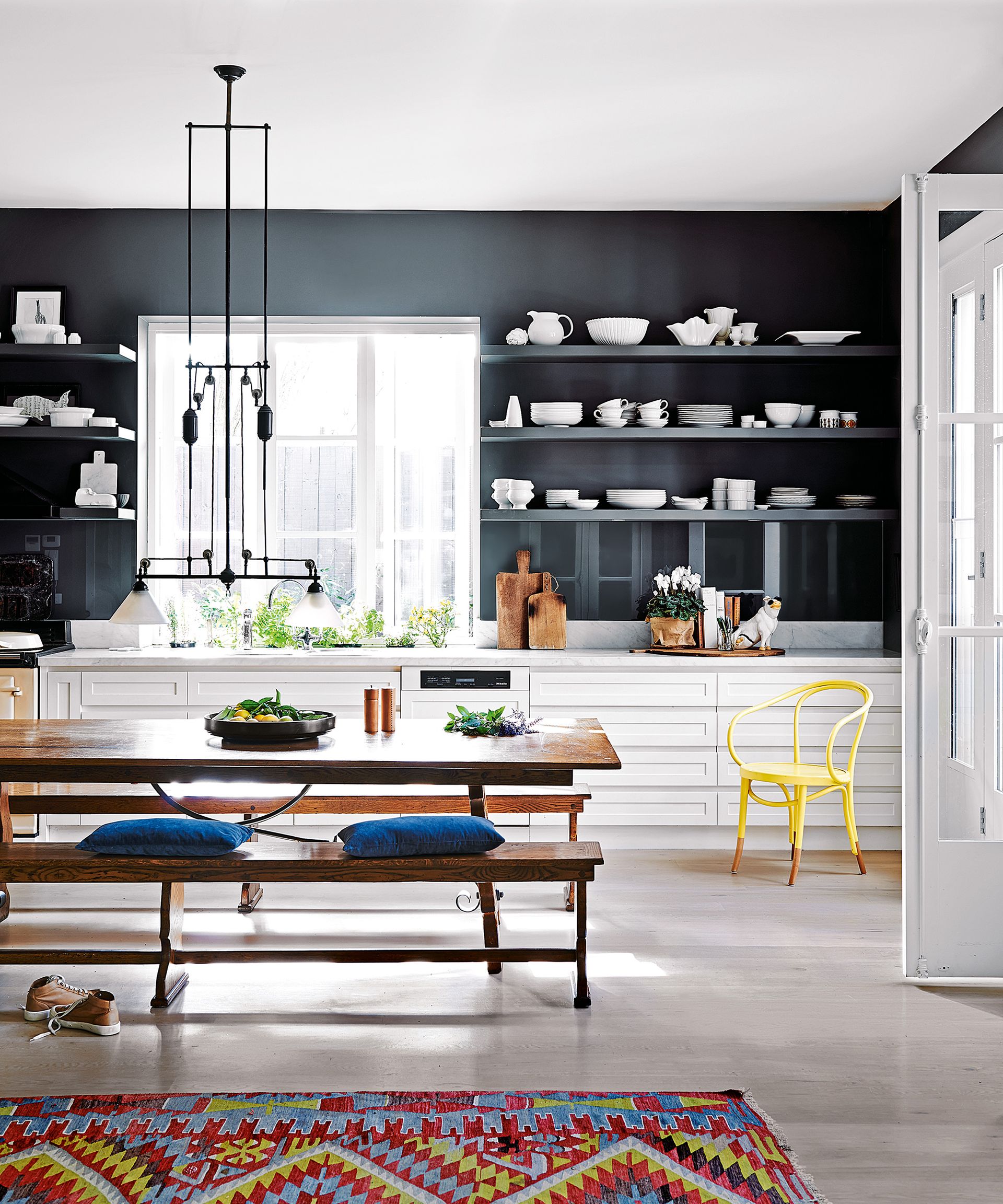 A full bank of wall cabinets can feel imposing, particularly when it comes to small kitchen ideas. Instead, choose rows of open shelving, or position floating shelves at random to maximize on wall space. It's also a chance to add some stylized touches.
'Many people shy away from open shelving as a storage option, fearing that it might leave the kitchen looking cluttered or untidy, but, done well, it can create a lovely sense of space,' says Tom Howley, Design Director at Tom Howley.
The trick to achieving the right balance between style and substance is to spend some time curating your arrangement. 'Try not to jumble too many pieces together. If you're stacking items, make sure they're of the same or similar design, color and tone. Glass or ceramic jars with essential ingredients can look fantastic, and help you keep on top of restocking, too,' says Tom.
4. Customize a pegboard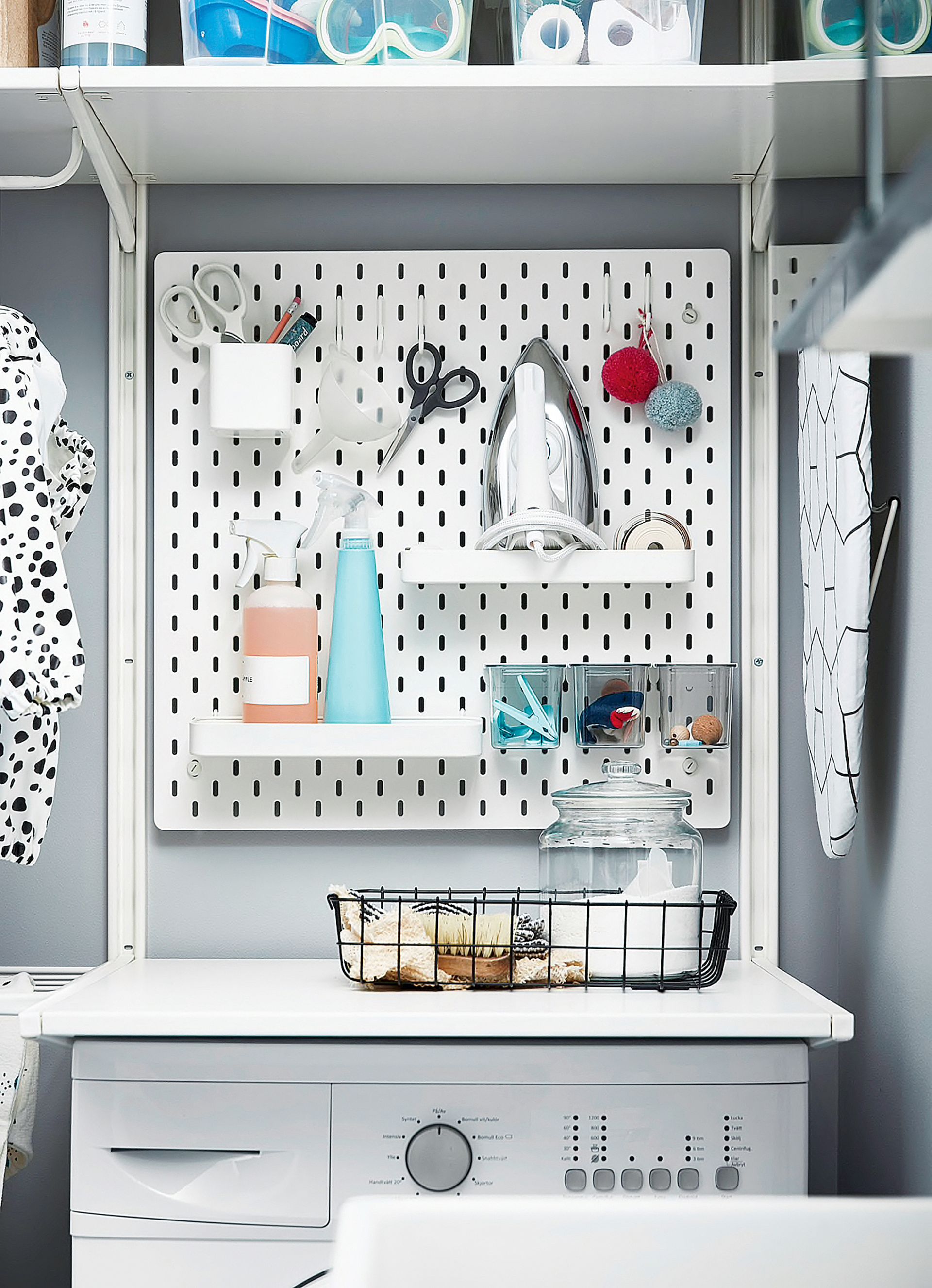 Pegboards make for a versatile wall storage idea in general, but they're particularly useful in kitchens, where cooking styles among family members can vary. Depending on who's doing dinner, you can move around storage solutions to suit.
'Sturdy baskets are great for holding cutlery, and can also be used for corralling countertop clutter, such as mail, keys, and takeout menus. Be sure to categorize so you stay on top of organization – labels are useful, so everyone knows what goes where. Individual hooks are handy for utensils and linens, while a small shelf could be lined with potted herbs for a pretty finish', says Millie Hurst, section editor, Homes & Gardens.
Millie Hurst is Section Editor at Homes & Gardens, overseeing the Solved section, which provides readers with practical advice for their homes. Millie has written about countless organizing, storage and decluttering methods in the six years since she became a journalist, and has worked in both London and New York.
5. Go for magnetic attraction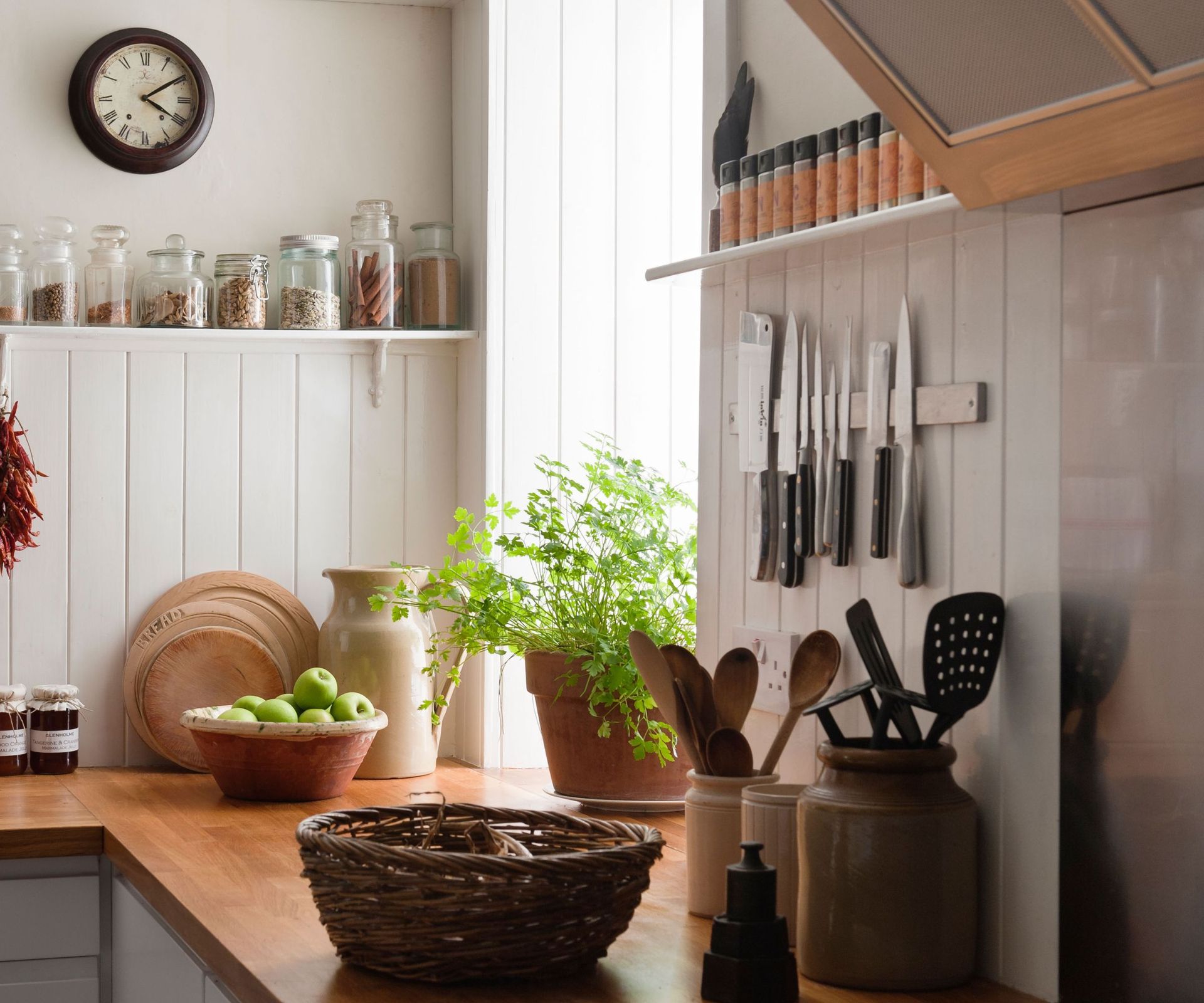 A wall-mounted magnetic panel, at Amazon, makes for a stylish – and safe – way to show off your knife collection, just be sure to position it up high, out of reach of children and pets. Larger, sharper knives such as bread and butcher's knives are best stowed away in drawers out of harm's way, but you can always fill the gap with utensils instead. Choose the more 'awkward' ones, such as ladles, whisks and tongs, that are otherwise tricky to store.
Customizing them with magnetic accessories, such as these handy wire baskets at Amazon, means you can store non-metal items on them as well.
6. Look to the sides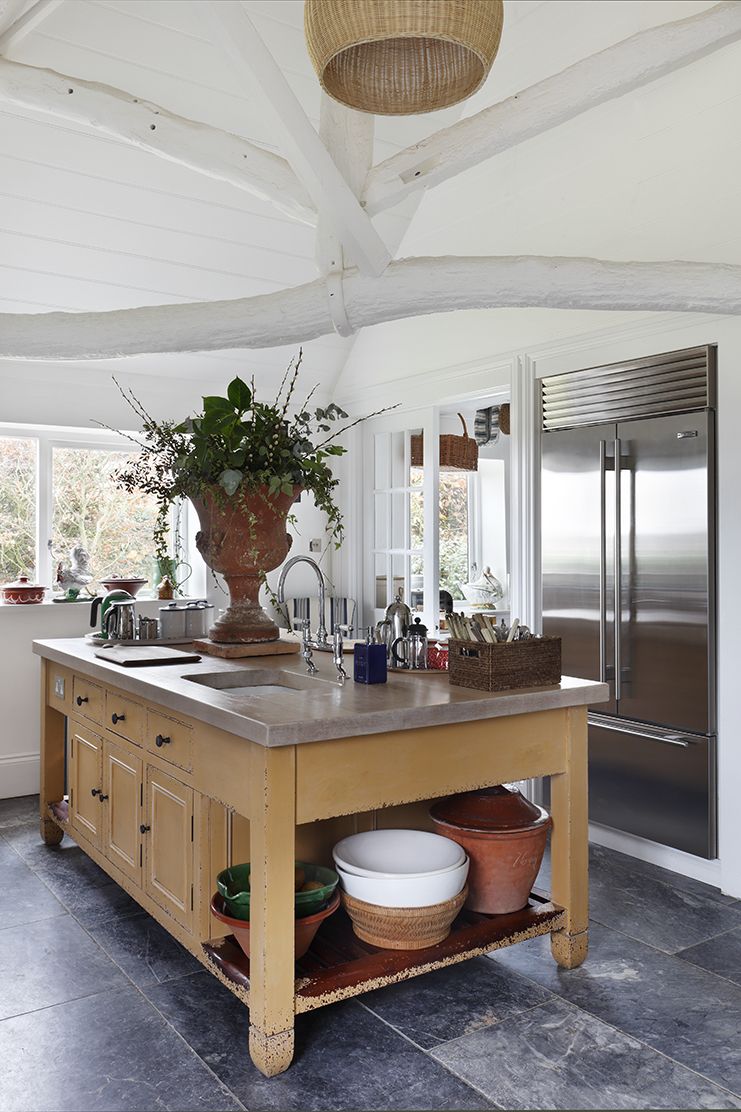 Whilst technically not a wall storage idea, the exposed sides of your kitchen island or cabinets offer untapped vertical storage potential in a prime location, so they're well worth mentioning. Add hooks or a rail to hang tea towels and oven gloves, or opt for slimline shelving to stash everyday cooking essentials.
7. Think beyond your kitchen walls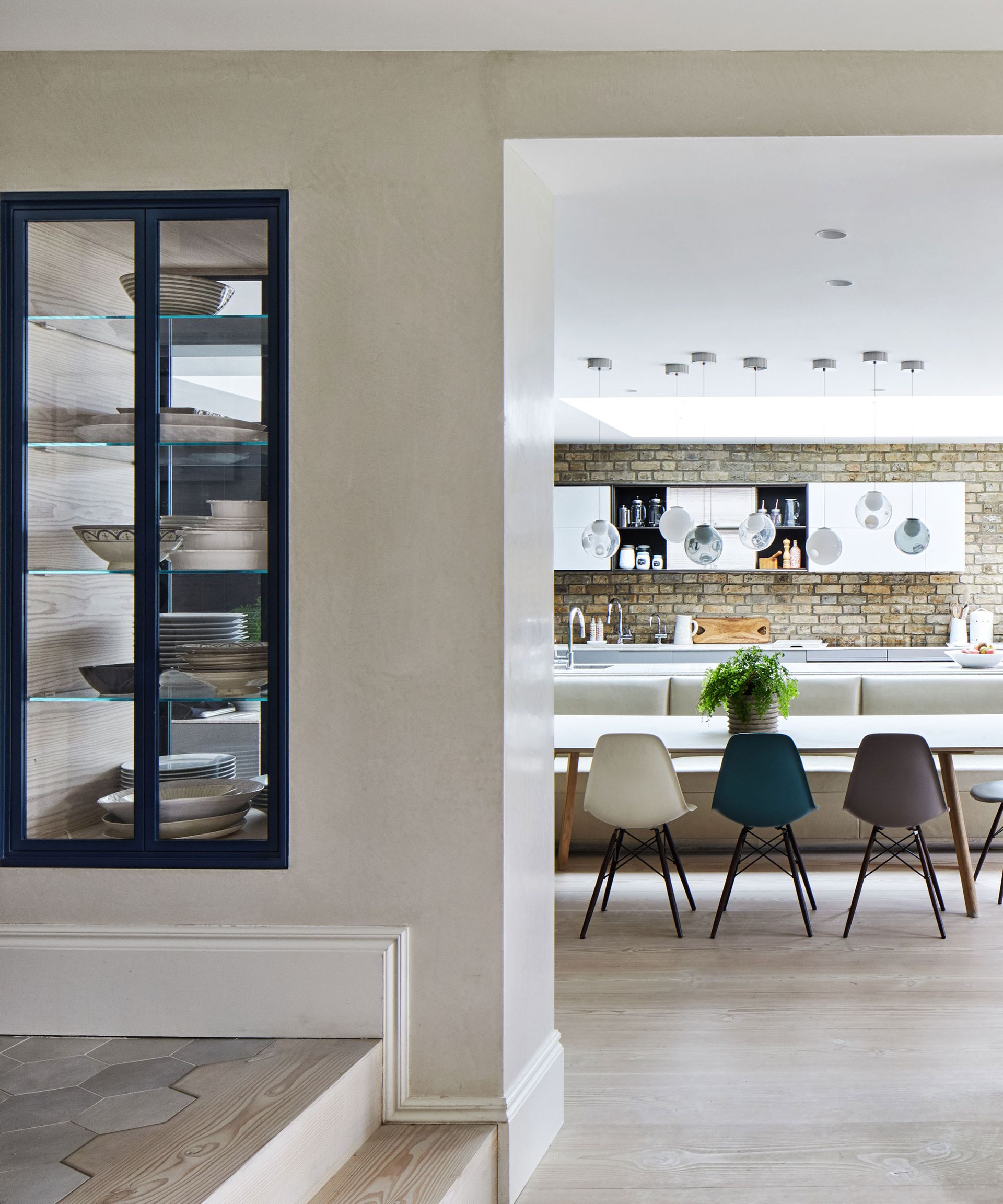 Don't feel constrained to the kitchen – make the most of open-plan living spaces by using walls outside of your main cooking area for storage, lining them with cabinets in a similar colorway for continuity. Depending on your kitchen layout, you could also make use of both sides of a dividing wall, too.
'This is a great use of space and opens up new possibilities in terms of usable storage areas,' says kitchen designer Megan Dufresne, owner of MC Design. 'One side can act as a spacious pantry idea, while offering full height storage on the other side for all your essentials – and those you use less often, too. Pull-out drawers and shelves in lower cabinets are a great addition, maximizing usable storage space while keeping everything within easy reach.'
8. Take storage from top to bottom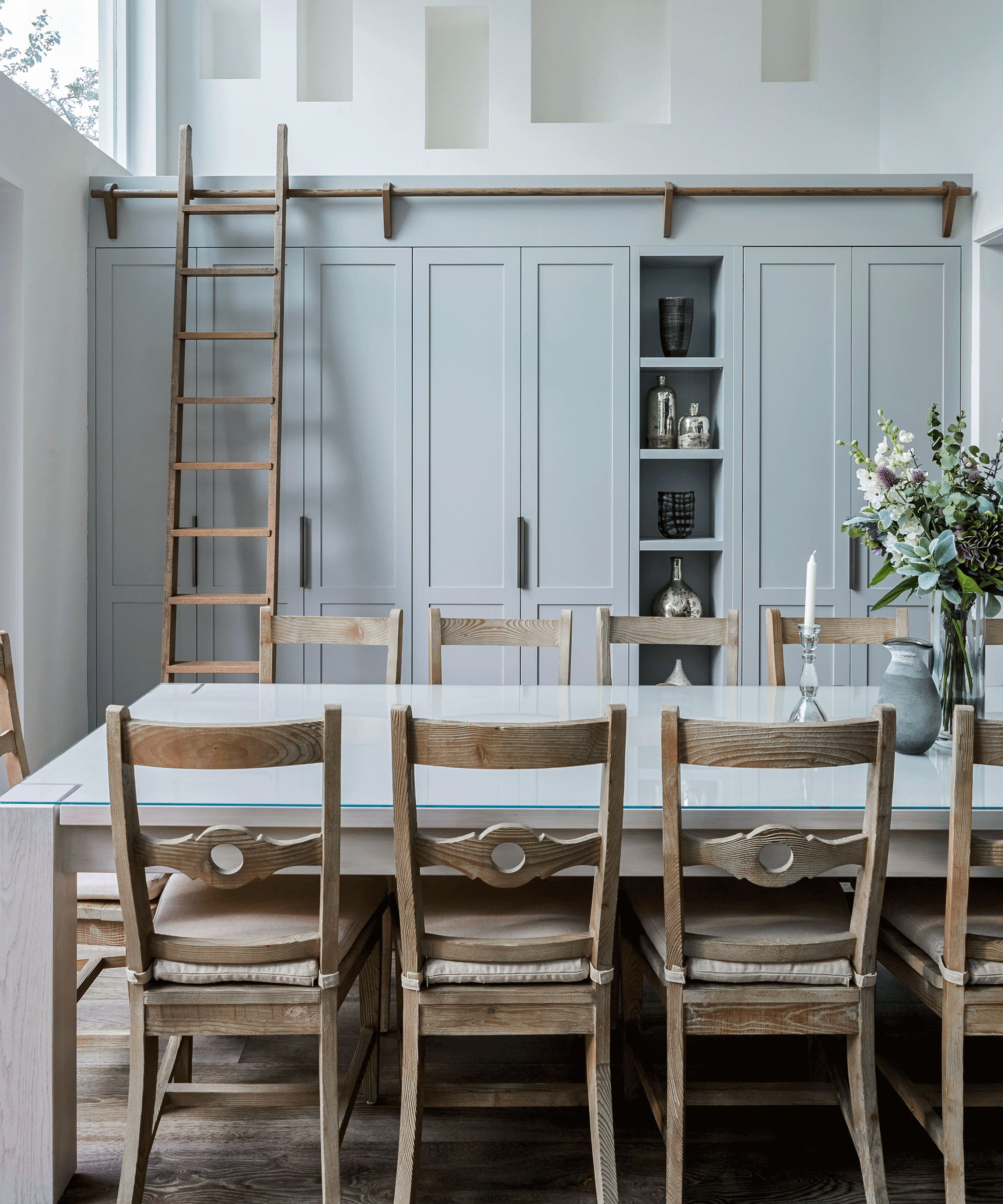 Make the most of vertical space by taking storage all the way from floor to ceiling. Exposed shelving can work well, but if you've got the space, double-height cabinets might be a more preferable option. Either way, you'll need to keep on top of organization if you want it to remain practical.
'A large amount of storage space can quickly become chaotic unless it's well organized,' says Daniel Bowler, director of Eggersmann UK. Try zoning the space, with designated shelves for certain ingredients or food types. Dedicated baskets or pantry boxes are a good idea to help categorize, while pull-out racking and turntable storage systems make it easy to reach right into the back without knocking things over.'
If you wanted to break things up a bit, consider using a mix of closed and open storage solutions, or choose glass fronts to prevent them from looking too overpowering. Storing lesser-used items up high makes sense, but keep a stool or sliding ladder handy for when you do need access.
9. Play hide and seek with 'invisible' storage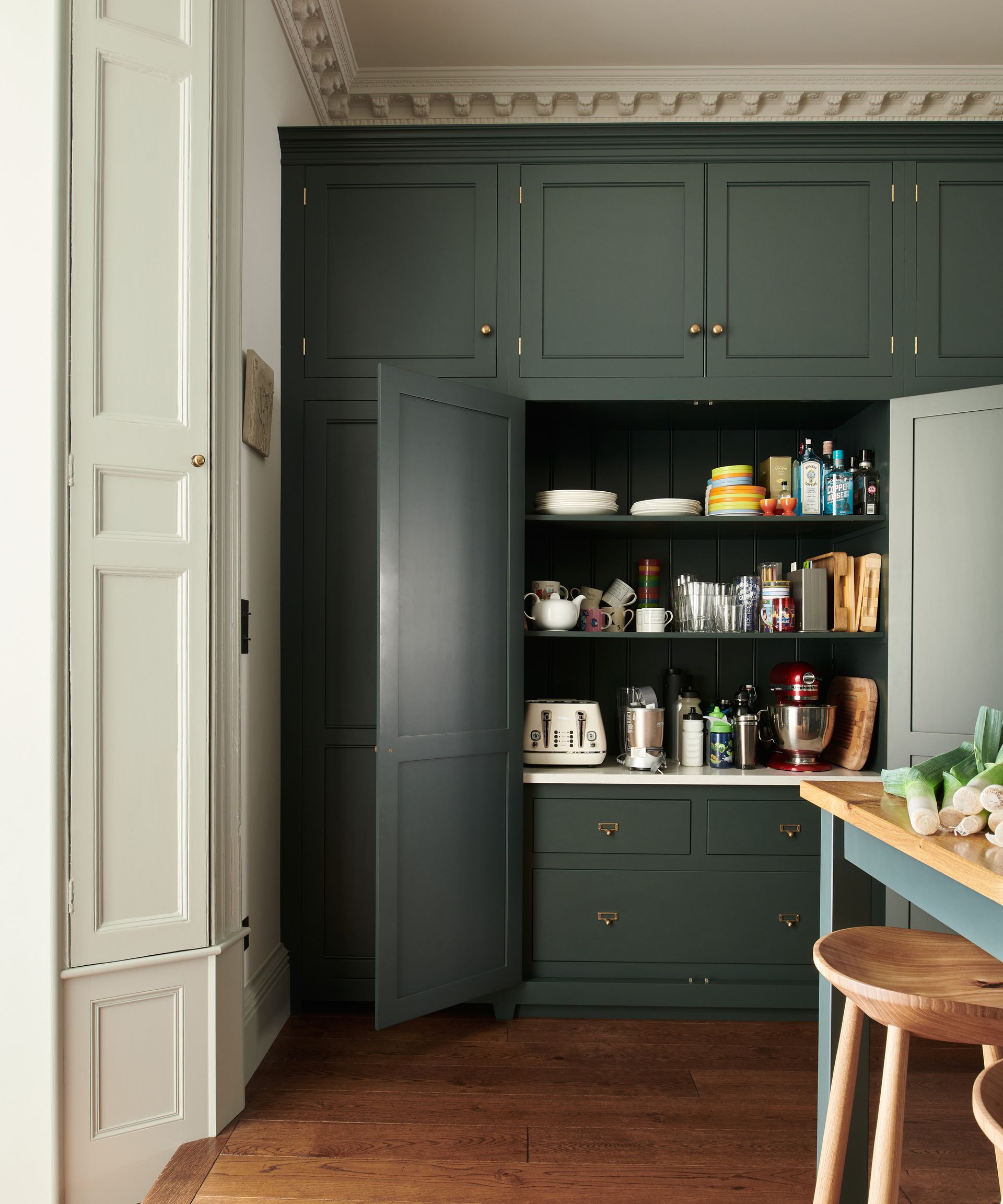 Wall storage ideas don't always have to be 'out there'. In fact, invisible kitchen ideas are growing in popularity day by day, thanks to their sleek, slimline designs and ability to hide away kitchen mess at the push of a door.
'With small appliances such as mixing aids and coffee machines much more commonplace in the modern kitchen, design features such as bi-folding breakfast cupboards enable these to be hidden away yet still easily accessible for an uncluttered finish that frees up worktop space,' says George Forsyth, Director of Drew Forsyth & Co.
10. Rack things up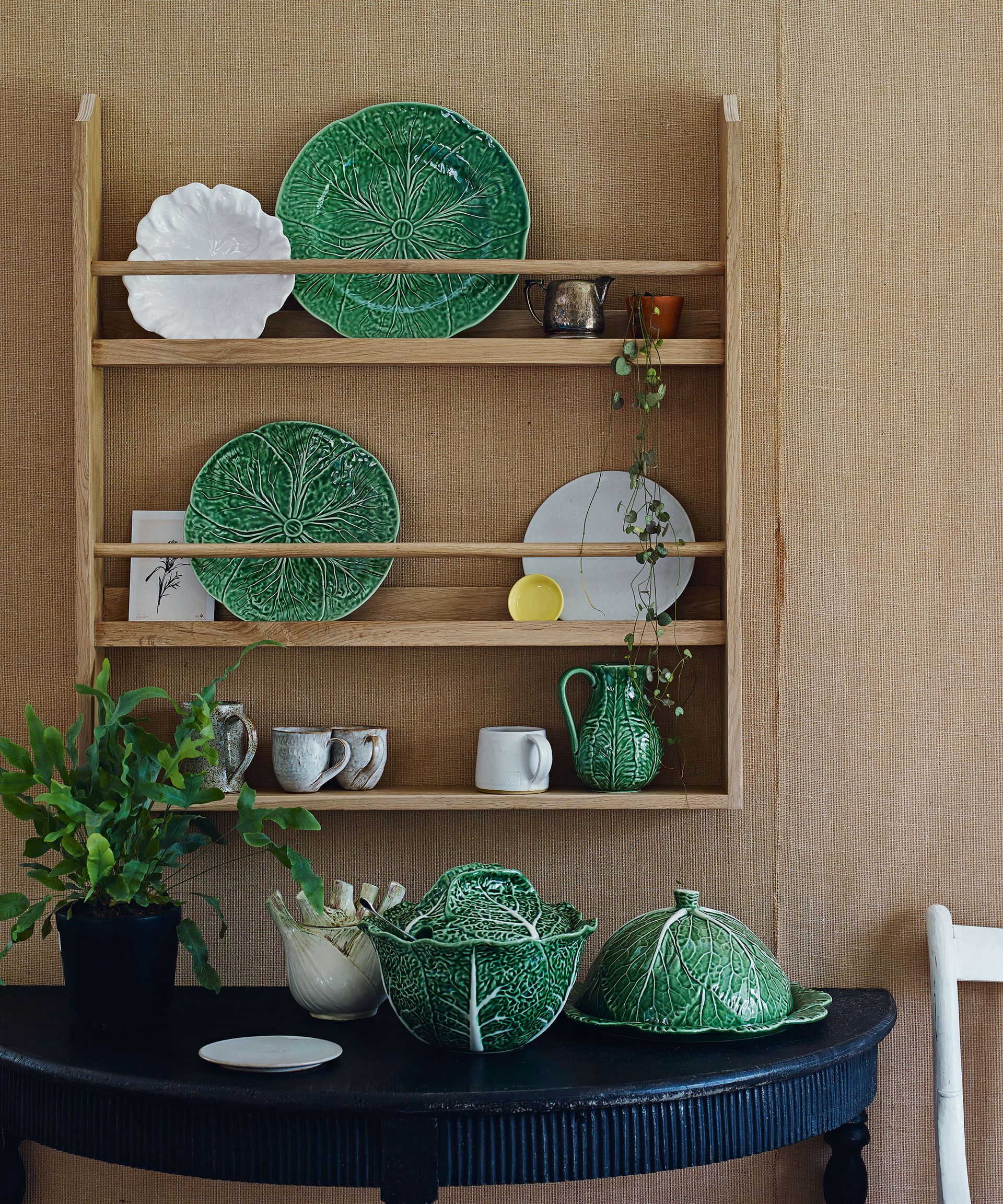 'We've noticed a return to visible plate racks,' says George Forsyth. 'As your cookware collection expands, you may want to dedicate some wall space for one of these – it adds a lovely homely feel to the kitchen, too'.
An advantage of storing crockery individually like this is that it leads to fewer breakages, plus frees up space when organizing kitchen cabinets. Position it close to the dishwasher or sink, and near to where food is prepared, to better your kitchen's workflow.
FAQs
How do I organize my kitchen walls?
The best way to organize a kitchen in general is to create designated 'zones', so any storage you're using on your kitchen walls should very much correlate with this. For example, if you're hanging a rail for pots and pans, hang it above the backsplash, so it's close to the hob. Similarly with wall-mounted spice racks and utensil holders. Plate racks and knife strips might go nearer to the prep zone and sink, along with any baskets and containers that contain cutlery.
If you're organizing a small kitchen, bear in mind that too many wall-hung cabinets can be overbearing, so opt for open shelving as an alternative, particularly if you're taking them all the way up to the ceiling. If you're after a storage solution that requires less upkeep, it's worth considering 'invisible' kitchen storage solutions, using bi-fold or pocket doors.
---
So, wherever you are with your kitchen design, it's well worth factoring in vertical space. Clever kitchen wall storage ideas can transform a clutter-prone cooking space into one that's neat, tidy, and organized, without compromising on precious floor space – and with a little extra planning and upkeep, they can look really lovely, too.
Sign up to the Homes & Gardens newsletter
Decor Ideas. Project Inspiration. Expert Advice. Delivered to your inbox.
For 10 years, Tara King worked as a Content Editor in the magazine industry, before leaving to become freelance, covering interior design, wellbeing, craft and homemaking. As well as writing for Ideal Home, Style at Home, Country Homes & Interiors, Tara's keen eye for styling combined with a passion for creating a happy – and functional – family home has led to a series of organization and cleaning features for H&G.