The one area to organize before fall – according to professional organizers
The cooler months mean we use this spot more than the rest of the year, here's how to keep it tidy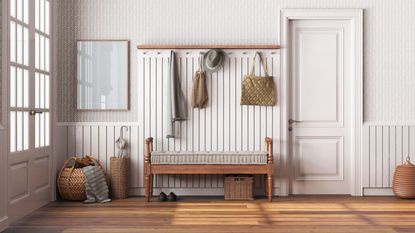 (Image credit: Getty Images)
Sign up to the Homes & Gardens newsletter
Decor Ideas. Project Inspiration. Expert Advice. Delivered to your inbox.
Thank you for signing up to Homes & Gardens. You will receive a verification email shortly.
There was a problem. Please refresh the page and try again.
As cooler, wetter weather draws in we will find ourselves spending a little extra time in our entryways and mudrooms – and professional organizers say getting them in shape before fall is essential if we want a smooth sailing season.
Organizing entryways and mudrooms may seem like a never-ending battle, but experts are saying that leaving this spot off of our fall cleaning checklist could result in chaos further down the road.
Here is why we have to organize entryways before fall, and how to ace the space.
Why you need to organize your entryway before fall
Although mudrooms and entryways should be organized every season, swapping out coats and jackets according to the weather, sorting the space before fall is essential to replace all your winter coats and boots that may have been in storage over summer, says Millie Hurst, Solved section editor for Homes & Gardens.
'Establishing some good home organization with smart storage ideas will help to wrangle all the extra bits we use over the cooler months too, such as hats, scarves, and gloves, while also providing a space to deal with mud and water before it is trailed through the house.
'It is, without a doubt, a must before fall arrives.'
Millie Hurst is Section Editor at Homes & Gardens, overseeing the Solved section, which provides readers with practical advice for their homes. Millie has written about and tried out countless cleaning and organizing hacks in the six years since she became a journalist, and has worked in both London and New York.
1. Use baskets for smaller items
One of many storage products professional organizers can't live without, storage baskets are essential when dealing with smaller 'floating' items such as hats and gloves in fall and winter, says Heather Aiello, professional organizer and founder of The Organized You.
'We usually dedicate a basket for each person in the family and add a label. This makes it much easier to put things away and to grab them when you are running out the door – and you don't end up with two odd gloves, one far bigger than the other.'
These woven storage baskets have built in labels making it easy to designate them to individual family members.
Heather Aiello is the founder of home organizing company in the Boston area, The Organized You. She believes in creating solutions that you can live with when she and her team leave your home – her goal is to develop a customized solution for you to maintain now and in the future. She is also a member of the National Association of Productivity & Organizing Professionals (NAPO) and various Boston area business groups.
2. Only keep your winter jackets out on hooks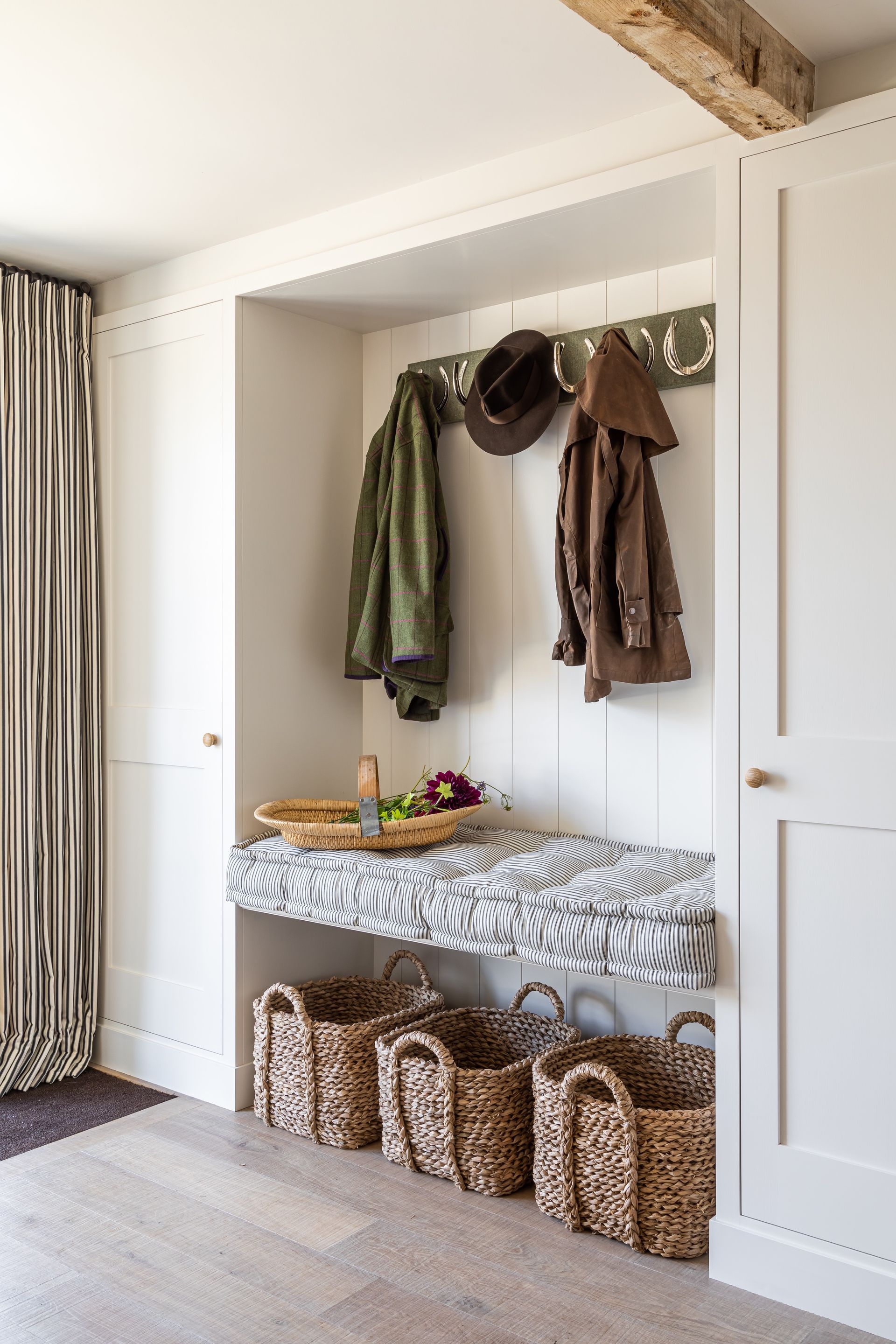 Just as you would organize your closet, you should rotate your coats and jackets seasonally to make extra space to move in your entryway or mudroom, says Allyson Van Wagnen, professional organizer and owner of Organized Indy: 'In colder months, keep your most worn items near your entryway. This doesn't mean every single coat or jacket your family has. Try to narrow it down to one to two per person,' she recommends.
This is an especially important tip if you are organizing a small entryway where you have to squeeze everyone's winter clothing into one tight spot.
3. Designate a wet-item drop zone
When designing a mudroom or laying out an entryway, it is a good idea to designate one spot as a wet item drop zone, Heather Aiello, professional organizer, suggests.
'I would also have a designated drop area or hanging area for wet items. If you have kids or not well-trained husbands, a weatherproof drop area (like this boot tray from The Container Store) is best to help contain mud, snow, and rainwater before it has the chance to muddy your floors.
'For everyone else hooks or a coat rack will serve the same purpose.'
4. Use off-the-floor storage to make cleaning easier
Whether you have a large mudroom or small entry, keeping things off of your floor and in storage organizers will make cleaning a floor without streaks easier when muddy footprints are unavoidable.
'With designated storage solutions in place, cleaning up becomes more efficient,' Karina Toner, operations manager at Spekless Cleaning assures. 'Entryways are high-traffic zones prone to collecting dirt, leaves, and debris during fall. Easy-to-clean surfaces and storage solutions can simplify maintenance and make cleaning a breeze.'
Karina is the Operations Manager at Spekless Cleaning, a trusted maid service based in Washington D.C. The team has over five years of experience providing top-quality cleaning services for both residential and commercial clients. Karina oversees every aspect of the business, ensuring that every client gets the same top-notch service and a spotless clean every time.
FAQs
How can you prevent mess in an entryway in winter?
To prevent mess in an entryway in winter, you should add doormats both inside and outside of your front door to catch any mud and debris from boots and shoes as people are coming in. Wipe your feet on the exterior door mat, and use the interior mat as a place to stand and remove shoes if they are particularly dirty.
It also helps to have good storage in your entryway or mudroom where boots and shoes and be stored off of the floor to prevent sitting water from damaging floorboards or marking tiles, while well-spaced wall hooks for coats and jackets with a bench or tray underneath will catch any drips of water as they dry.
What should you do with wet shoes in fall and winter?
Wet or muddy shoes in fall and winter should be cleaned off and dried outside to prevent trailing mud and dirty water into your home. Use a doormat to remove your shoes, then use a shoe-cleaning brush to remove loose debris. Use a shoe stand to stand the shoes somewhere warm and dry off of the floor to allow them to dry off, before cleaning again with a brush to remove any remaining debris.
If you can't clean your boots right away, leave them on a covered porch, or wrap them in a plastic bag, in the meantime.
---
Although it is probably far more exciting to think about your fall entryway decor than your organizing approach, getting your cold-season items in order before the bad weather hits means you are well set for the holiday season.
When planning your entryway or mudroom space, remember to leave some extra spots for guest coats and shoes too, so as to keep your space consistently neat and tidy.
Sign up to the Homes & Gardens newsletter
Decor Ideas. Project Inspiration. Expert Advice. Delivered to your inbox.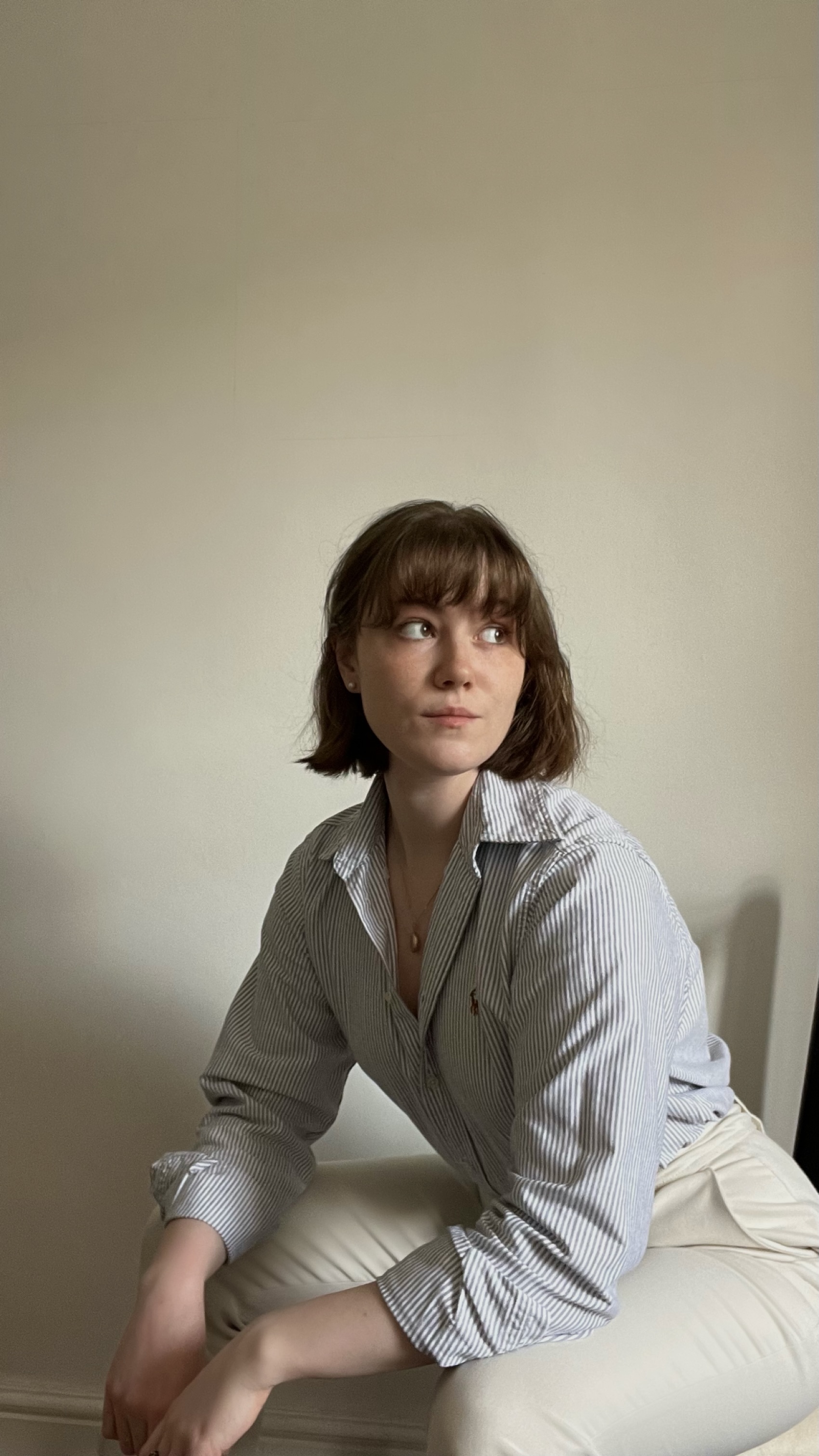 Chiana has been at Homes & Gardens for a year, having started her journey in interior journalism as part of the graduate program. She spends most of her time producing content for the Solved section of the website, helping readers get the most out of their homes through clever decluttering, cleaning, and tidying tips – many of which she tests and reviews herself in her home in Lancaster to ensure they will consistently deliver for her readers and dabbles in the latest design trends. She also has a first-class degree in Literature from Lancaster University.