Where to live in Wales
Come to Cymru for breathtaking scenery, beautiful homes and a brilliant work-life balance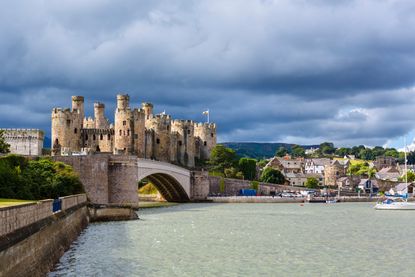 (Image credit: Alamy/Ian Dagnall)
Sign up to the Homes & Gardens newsletter
Decor Ideas. Project Inspiration. Expert Advice. Delivered to your inbox.
Thank you for signing up to Homes & Gardens. You will receive a verification email shortly.
There was a problem. Please refresh the page and try again.
We've scoured the property agents and spoken to locals to ask them where to live in Wales now.
Whether you're a local looking to make a change, or a newcomer taking the leap to find new opportunities and a forever home, Wales has so much to offer.
Known for its music, poetry, literature and heritage, this is a landscape of stunning contrasts, from sandy beaches in the South to the rugged mountains of the Snowdonia National Park in the North.
So take a virtual tour of its high streets and property honey spots with us, and find the location that best suits you and your lifestyle.
1. Crickhowell, Powys
Atmospheric castle remains 
lie on the edge of the 
quiet Welsh market town 
of Crickhowell in Powys. Further 
out lies Table Mountain, once home 
to an Iron Age fort from which the town takes its name, pronounced 'Crick-owl'.
The castle may be past its glory days, but the town is thriving. Set in the beautiful Usk Valley, just inside the Brecon Beacons National Park, its independent high street is characterised by painted frontages and old-fashioned awnings. When 
a national supermarket tried to 
get a foot in the door, locals sent them packing, then crowdfunded to buy the site for community-spirited shops.
No wonder they scooped both the UK's Best High Street award in 2018, and the Best Place to Live in Wales, 2019, in the Sunday Times.
Property market
The Brecon Beacons has many perks, but a bustling property market isn't one of them. 'There are never enough houses to go round,' says Steve Morgan of estate agent Clee Tompkinson Francis. 'There are restrictions on new builds within the national park, and recent publicity has only made things harder.' His advice is that cash buyers are best placed. Houses are commonly mid-Victorian, with small terraced cottages being typical in town.
Shopping
Everything you need is 
on your doorstep, and each shop 
is a true gem. Webbs department store has been selling 'anything and everything', as one local puts it, since 1936, while Cashells Butchers and Delicatessen has been run by the same family for generations. Newer on the scene, Natural Weigh is 
the go-to place for packaging-free pantry staples. Book-ish is a bibliophile's dream. Black Mountains Smokery is just a small detour from the high street and sells smoked salmon, meat and cheese.
Country life and culture
The Green Man Festival, a folk music extravaganza, takes place every August just a short walk from town. Book groups run year round above Book-ish, 
and the Cosy Cinema Club screens films at the town hall.
Schools
The three main primaries are all rated 'Good' under Estyn 
(the Welsh equivalent to Ofsted). Plus, Crickhowell High has been awarded 'Good' for Teaching and 'Excellent' for Wellbeing.
Getting around
Sitting on the A40, Crickhowell is well connected to 
the road network. The nearest train station is Abergavenny.
In the area
Michelin-starred The Walnut Tree in Abergavenny is a great treat, and locals love alfresco afternoon tea at Gliffaes Country House Hotel in the summer.
2. Conwy, Caernarvonshire
The imposing castle and walls, built in the 1280s by Edward I, still define this town. The name 'Conwy' derives from the old Welsh words 'cyn' (chief) and 'gwy' (water) after the mussel-rich tidal inlet that flows from the Irish Sea south through its undulating valley towards the high peaks of Snowdonia.
Always a popular tourist destination for those in the North West, thanks to its crabbing-friendly quay, sailing-fraternity waters and deep sense of Welsh history, Conwy and the surrounding Conwy Valley now attracts out-of-towners looking to set up home – many of them commuting to Birmingham and Manchester (both with international airports) and even London (Llandudno Junction to Euston is 2 hours 48 minutes with Virgin). Holyhead is just a two-hour ferry crossing to Dublin.
Property market
In the heart of the town within the castle walls, you'll find small cheek-by-jowl terraces – tiny but full of character with prices starting at £120,000. Go west along the coast and you'll find Conwy Marina, home to new developments and stunning views of the yachts, the Vardre and Conwy Mountain; prices from £190,000. Detached country pads with land abound just out of town; higher in price but you get a lot for your money – £350,000 plus.
Shopping
Smack bang in the High Street, you'll get a welcoming 'Bore Da' ('Good morning' in Welsh) at award-winning Edwards of Conwy known for its master butchers, an award-winning bakery and deli, and a qualified chef – all under one roof.
Workers and visitors alike pop in for a take-out lunchtime pie or bap and sit on the quay to eat it. It's no surprise that the local Welsh lamb is one of its most popular buys.
The annual Conwy Feast, planned for 22-23 May 2021, is a food festival with serious air-mile-free credentials from local cheese, meats and honey.
Country life and culture
Step into Plas Mawr (or Great Hall), one of the finest Elizabethan houses in the UK. Then cross the road to the antiques emporium owned by local lad Drew Pritchard of TV's Salvage Hunters fame, where you'll discover super-stylish country house furniture mixed with time-worn and quirky decorative buys.
Schools
Conwy youngsters are served by Ysgol Porth-y-Felin, named after the impressive Mill gate entrance. It is a voluntary controlled School of the Church in Wales from nursery up to Year 6.
Getting around
The A55 takes you from the M6 to Conwy and onto Bangor and Holyhead. Or head up the A470 from Blaenau Ffestiniog (slate mining country) through the heart of the Snowdonia National Park. A new map, snowdonia360, highlights 360 miles of stunning driving through this area. Conwy Valley railway starts in nearby Llandudno. A 27-mile long journey through the Conwy valley to your final stop at Blaenau Ffestiniog.
In the area
For those who love gardens in all seasons, The National Trust's Bodnant is world renowned for its 80 acres of national collections. 'Bodnant is a garden of firsts,' says the Trust, 'home to the earliest and grandest laburnum arch built in 1880, to Britain's earliest magnolias introduced from China in the late 1800s and to unique rhododendron hybrids which were born and bred here from the 1920s.'
Buy pieces by some of the finest artists working in Wales, including Gerald Dewsbury and David Grosvenor, at Oriel Ffin y Parc, a country house and gallery, Llanrwst.
3. Tenby, Pembrokeshire
Even on a cold and windswept day, there is a twinkle of spring about Tenby, a seaside resort on the western side of Wales' Carmarthen Bay. On the esplanade, cheerful Georgian townhouses stand out in yellows and purples and blues – residents painted them ever brighter as the Pembrokeshire Coast National Park gradually relaxed rules over the years.
In winter the streets are quiet, but the 8000-strong population swells by hundreds of thousands in summer. They throng fully pedestrianised streets, as well as four pristine sandy beaches. Original mediaeval walls encircle the town, though these did not stop Henry VII fleeing to France in the 1400s via a secret tunnel that still exists today. Other historical gems include the iconic lifeboat station and the tiny seafront chapel of St Julian's, where sailors would receive last blessings before setting off to sea.
Property
Prompted by lockdown, properties have been selling fast, according to Gwen Horne of Chandler Rogers estate agents. 'Many received offers before they were even viewed!' she says. This doesn't make for easy pickings for first-time buyers – The Clicketts and The Glebe are good areas to try. Terraced townhouses in and around the town walls are particularly in demand, costing about £385,000 for four bedrooms.
Shopping
For an island nation, the UK is surprisingly scarce on fishmongers – but in Tenby, they are ten a penny. Simply Seafood is among the best, with a varied daily catch plus pots of cockles to go. The town is also big on pubs and bistros, tucked among alleyways, serving up specialities such as laverbread and bara brith.
Country life & culture
The Tudor Merchant's House is one of Tenby's oldest buildings and a great visit for a rainy day. Churches host coffee mornings and concerts by male voice choirs. Bust out the Lycra in September for Carten100, a hundred-mile bike ride from Cardiff to Tenby, and epic fitness challenge Iron Man. Then in November the Blues Festival changes the mood considerably.
Schools
Among primaries, Ysgol Hafan-y-Mor is 'good' under the Welsh Estyn inspection system and Tenby Church in Wales is 'good' in some areas, but requiring improvement in others. St Teilo's High School is 'good', while Ysgol Greenhill Secondary achieved 'significant improvements' in 2019.
Getting around
It's five hours' drive to London on the M4, via the A477, the A40 and the A48 – but remoteness is part of the charm. Tenby train station takes you to Swansea, where you can change for London or Birmingham, also five hour journeys.
In the area
Caldey Island has been home to Cistercian monks since Celtic times and remains a haven of tranquillity.
Is it expensive to live in Wales?
The cost of living in Wales is around 15% lower than the rest of the UK, making it an affordable and attractive option for anyone contemplating a permanent move to the country.
Salaries are 11% lower than the UK average, but property costs 35% less than elsewhere in the UK. And with better prices for food, travel and entertainment, you're likely to enjoy a better standard of living in Wales.
Cowbridge in the Vale of Glamorgan, Usk in Monmouthshire, Newport in Pembrokeshire and Crickhowell in Powys are the most expensive areas to buy a home. Property prices range from an average of £353,000 in Crickhowell to £480,000 in Cowbridge.
Up and coming regions include Caerphilly, Rhondda and Anglesey, which have seen a jump in property sales as people seek larger gardens, open spaces and easy commutes.
What's living in Wales like?
With a strong sense of culture and identity, Wales is a country where locals love to stay and newcomers increasingly come looking for a better work-life balance.
The beauty of the landscape is a big draw, particularly Pembrokeshire, Snowdonia and the Brecon Beacons. And there are diverse work and career opportunities in the cities, with the traditional industries of coal and copper mining being replaced by digital and technological innovation, creative media, and sciences. Sustainable innovation is enshrined in law.
Wales's eight universities score highly in UK and world league tables, and more than three-quarters of its primary and secondary schools are rated 'good' or 'excellent'.
And with its vibrant music, arts and social scene – thriving in small villages as well as Cardiff and the major city centres – there's always a festival or performance to see. Fine dining to enjoy, with local ingredients. Plus surfing, walking, climbing and more in the great Welsh outdoors.
One highlight of the country is Portmerion – 'Port' to signify the coast; 'Meirion' the correct spelling of Merioneth, the county in which it's located – a tightly grouped clifftop village overlooking the beautiful Dwyryd estuary on the North Wales coast.
The village is a fantastical curation of colour and Italianate styling, a project that Sir Clough Williams-Ellis had conceived some 20 years previously, before coming across the Aber Iâ estate near his home. Surrounded by 70 acres of woodland gardens and sandy beaches, the village was built in two stages, from 1925 to 1939, then once post-war building restrictions had been lifted, from 1954-76.
With its scaled-down mansions, quaint cottages, grottoes and towers all grouped around a central piazza, Portmeirion feels almost like a stage set where you can immerse yourself in iconic architecture and scenic views. Indeed, the village formed the surreal set for cult TV series The Prisoner, from 1966 to 1967 – and fans still gather here for annual conventions.
Can I live in Portmeirion?
Sadly, not. Now owned by a charitable trust, the buildings are all heritage listed and the site is a Conservation Area. However, Portmeirion's huddle of historic, kooky cottages and scaled-down grand houses scattered about the site are available for overnight stays and self-catering holiday lets.
A network of walking paths thread along the coast and through the forested peninsula, which includes the ruins of a castle, and a profusion of exotic plants, nourished by the warm microclimate.
Free guided tours of the village are held most days, the 'forest train' touring the woodlands from April to October. For real railway buffs, the Ffestiniog and Welsh Highland Railways take in nearby Porthmadog, whose steam-train line is also connected to a rail heritage centre. There's also a spa and shopping, if you're looking to unwind.
What's the weather like in Wales?
With its impressive mountain ranges and position jutting into the Atlantic Ocean, it's no surprise that the weather in Wales can be wet, windy and wild – although glorious sunny, warm days will surprise you in the summertime.
The best months are July and August, when the temperature can reach 66°F/19°C. Otherwise, prepare for rain – around 60in/1500mm a year inland, 33-40in/850-1000mm around the coastline.
Fogs and mists are common, which can be breathtakingly beautiful but also cause problems in areas such as Snowdonia, where walkers and climbers can be caught unawares by the weather.
Winter can be cold, with temperatures falling to 21°F-5°C on the coast, and slightly lower inland.
Pack your waterproofs and wooly jumpers but don't let the weather deter you – it's all part of the splendor of this wonderful country.
Sign up to the Homes & Gardens newsletter
Decor Ideas. Project Inspiration. Expert Advice. Delivered to your inbox.
Andrea has been immersed in the world of homes, interiors and lifestyle since her first job in journalism, on Ideal Home. She went from women's magazine Options to Frank. From there it was on to the launch of Red magazine, where she stayed for 10 years and became Assistant Editor. She then shifted into freelancing, and spent 14 years writing for everyone from The Telegraph to The Sunday Times, Livingetc, Stylist and Woman & Home. She was then offered the job as Editor on Country Homes & Interiors, and now combines that role with writing for sister title homesandgardens.com.