13 bathroom design mistakes to avoid at all costs, according to experts
A surprising number of people make these errors when designing their bathrooms – how many are you guilty of?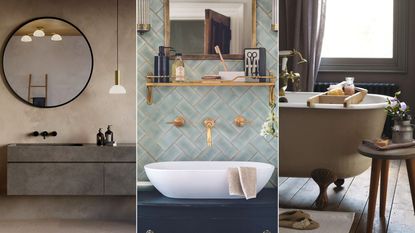 (Image credit: Lights & lamps / Simon Bevan / Future)
Sign up to the Homes & Gardens newsletter
Decor Ideas. Project Inspiration. Expert Advice. Delivered to your inbox.
Thank you for signing up to Homes & Gardens. You will receive a verification email shortly.
There was a problem. Please refresh the page and try again.
Given the functional nature of what is often the smallest room in the house, it's easy to see why bathroom design mistakes happen. Either, we're too preoccupied with where the plumbing goes and whether the electrics are up to code that we play it too safe with our design choices, or we focus so much on one dream feature (roll-top bath anyone?) that we forget about useful things like storage space.
There's nothing wrong with being adventurous with your bathroom ideas, as Diane Hyde, marketing manager at Craven Dunnill Jackfield explains. 'If you're looking to experiment with bold colors and decors and inspired layouts and patterns, the bathroom is the perfect space to make a distinctive design statement that is uniquely individual.'
Although many people focus on avoiding or fixing important bathroom remodel mistakes, design mistakes are just as important to rectify so that you can have a spa-like sanctuary within your own home.
Here, experts offer their advice for avoiding bathroom design mistakes and creating a bathroom to impress.
Bathroom design mistakes
Before diving into bathroom design options, consider what kind of space you would like your bathroom to be. Whether it be a spa-like retreat or an exciting hotel-type statement, setting your intentions before a redesign will ensure that your space will have a luxury and coherent final look.
1. Having solid wood flooring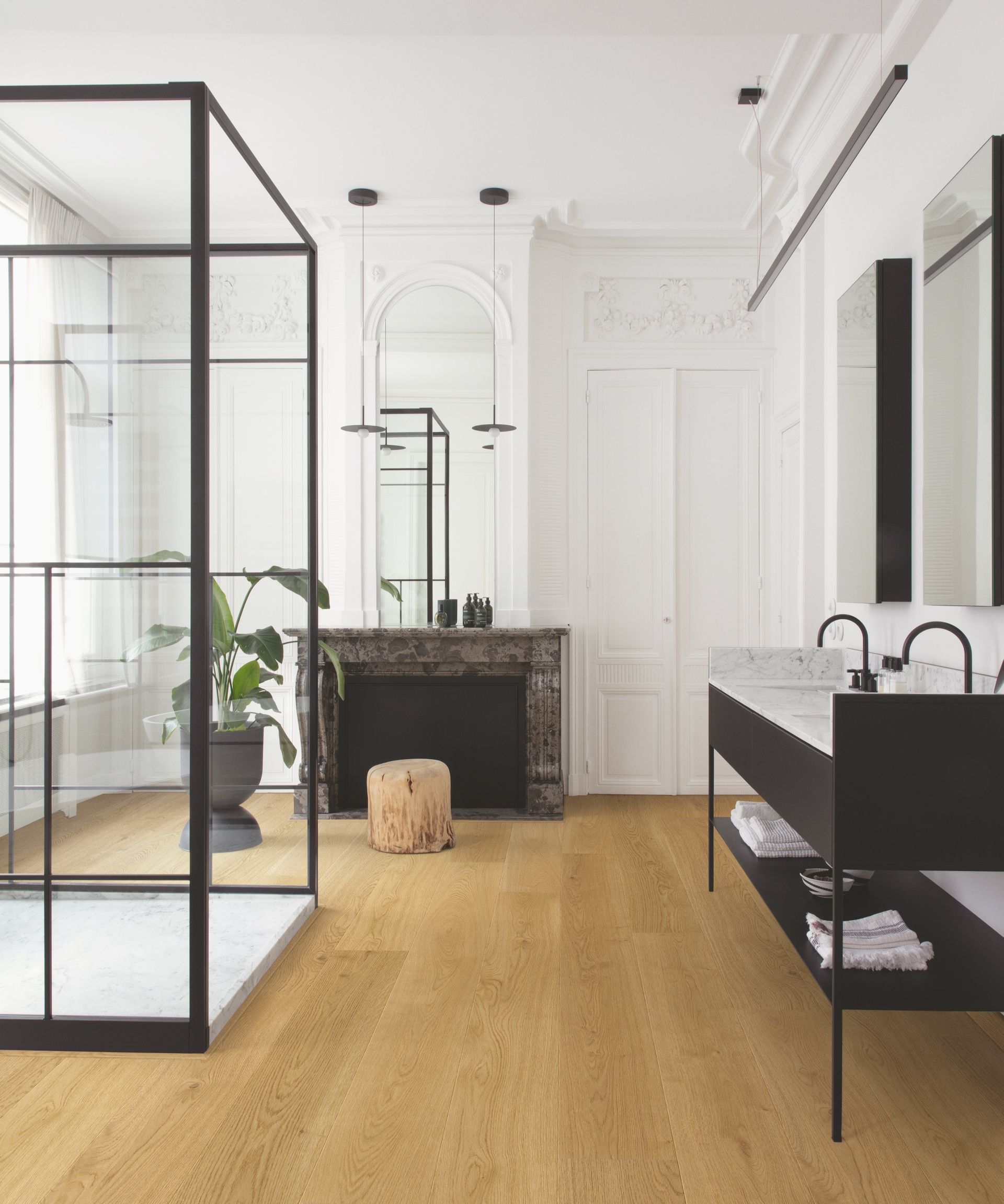 Any plans for sanded back wooden floorboards should probably be shelved if the room in question is a bathroom. While wood isn't a total no-no, solid wood could prove problematic. As Havwoods Brand Ambassador, Simon Myatt is well placed to know why.
'As a rule, wood flooring is not the most practical of floors to use in any set environment, so we'd avoid using solid or reclaimed wood boards in the bathroom,' he warns. 'If you are set on introducing wood bathroom flooring, then an engineered board option is the best. The multi-layered construction of an engineered plank means it is far less susceptible to warping in areas where moisture is present and temperatures fluctuate. This means your floor is less likely to stain, swell, shrink, cup or gap.'

If you're considering underfloor heating – and we think you should – engineered wood is the only way to go. 'Due to its stability, most engineered wood flooring is suitable for installing over underfloor heating, which is not the case for solid wood,' Simon explains.
Havwoods has a strong range of engineered timber, or you could consider, Cascada an engineered wood from Quick-Step with a water-repellent coating that protects the surface and edges against dirt and moisture. It also has a watertight click system to stop any water from seeping through the planks.
2. Squeezing in a separate bath and shower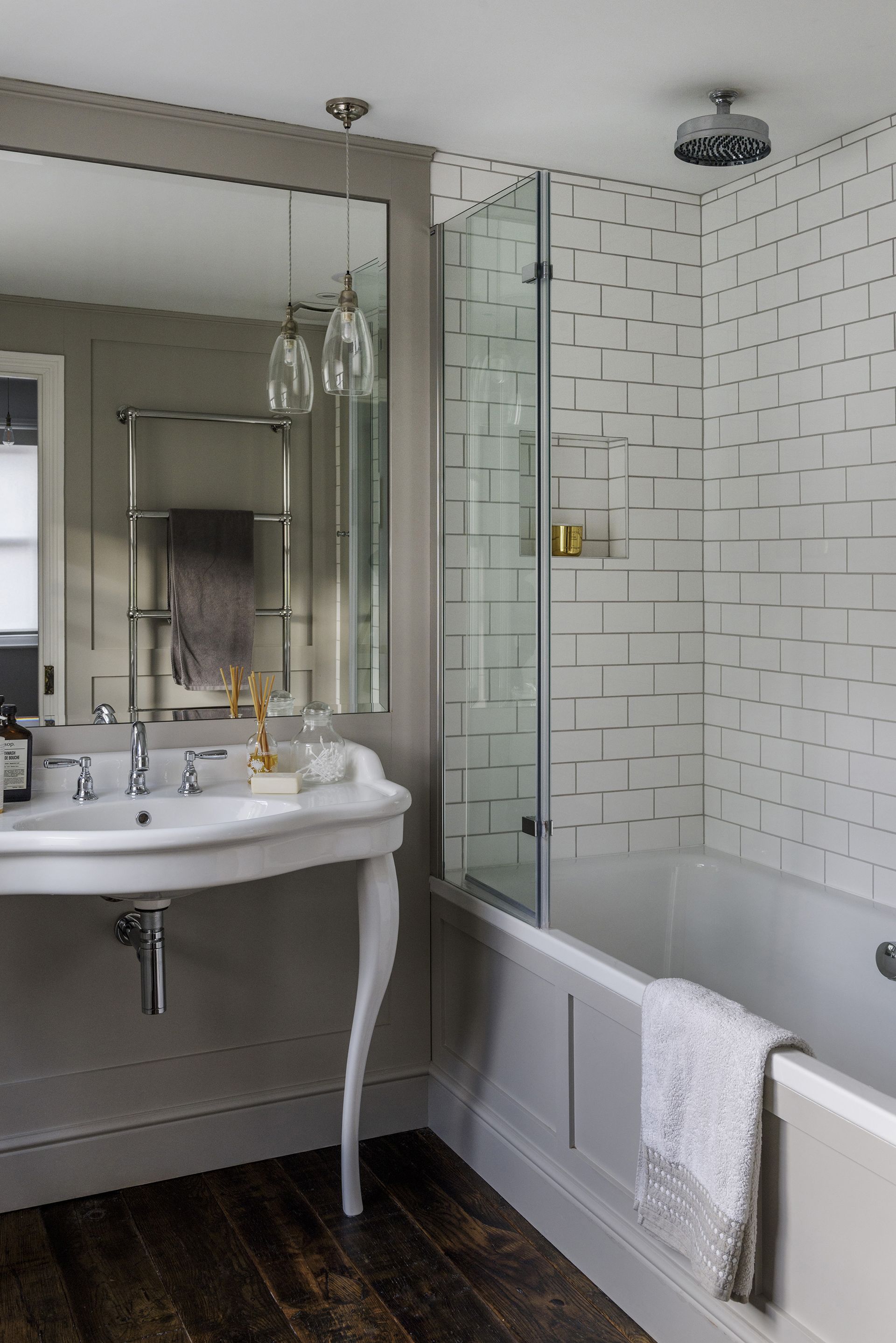 According to Barrie Cutchie, Design Director at BC Designs, 'sales of freestanding baths have increased by 50% since the start of 2020 and remain high on everyone's wish list when it comes to bathroom renovations'. But are they always a good idea? Not necessarily.
If your bathroom is a limited size, it's best to be realistic about the 'bath versus shower' debate. If you're going to use a shower over a bath 90 per cent of the time, trying to fit in both a freestanding bath and a separate shower cubicle is a bad idea. You'll either end up with too small a shower – and if you've never tried washing in a claustrophobic cubicle, believe us, it gets old VERY quickly. Or you'll end up with a very cramped, unusable space in general, with the bruises to prove it.
There are solutions. Over-bath showers can be stylish, particularly vintage models. Or you can simply focus on luxurious shower room ideas, for example, a wet room-style design with multiple shower heads.
If you have a large main bedroom, you could always pop a bath in there instead, but do factor in the plumbing work and whether your ceiling can take the weight. Or you could steal some space to make your bathroom bigger. Just don't try to do too much in a small room.
3. Assuming a small bathroom needs compact features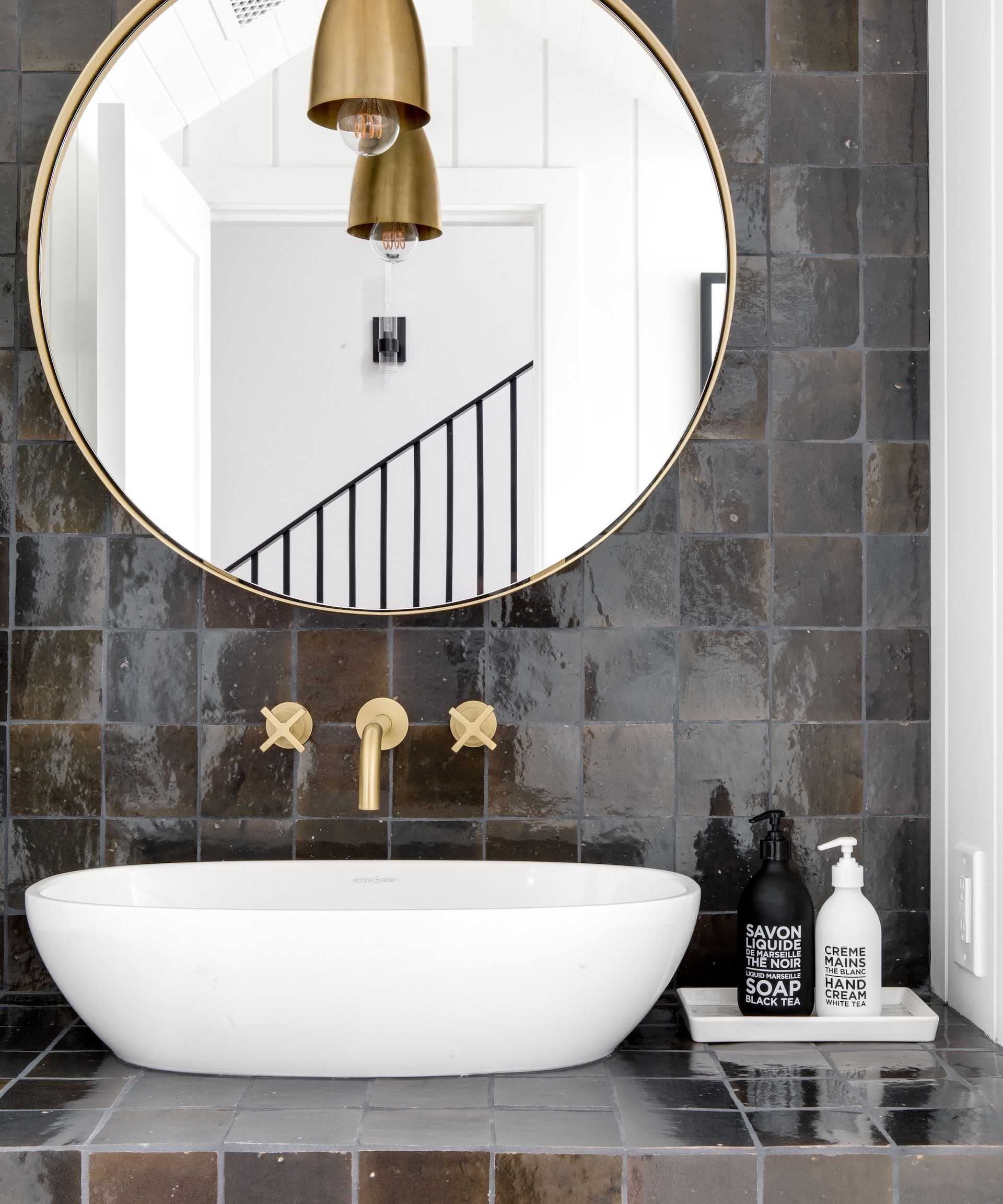 'It is easy, particularly in compact bathrooms, to opt for key elements that are too small,' says Emma Joyce, brand manager, House of Rohl. 'For example, the sink and toilet need to be large enough to be both comfortable and practical. A small sink will save space, but you may end up with water on the floor while washing and shaving. These are high use areas so focus on the functionality of the product and ensuring it is fit for purpose.'
'Countertop basins are increasingly popular as they make a design statement without taking up much space. They can work well atop a compact wall-mounted shelf or compact vanity unit. Wall-mounted taps complete the look, offering space-saving functionality paired with sleek design.'
4. Choosing hard-to-clean finishes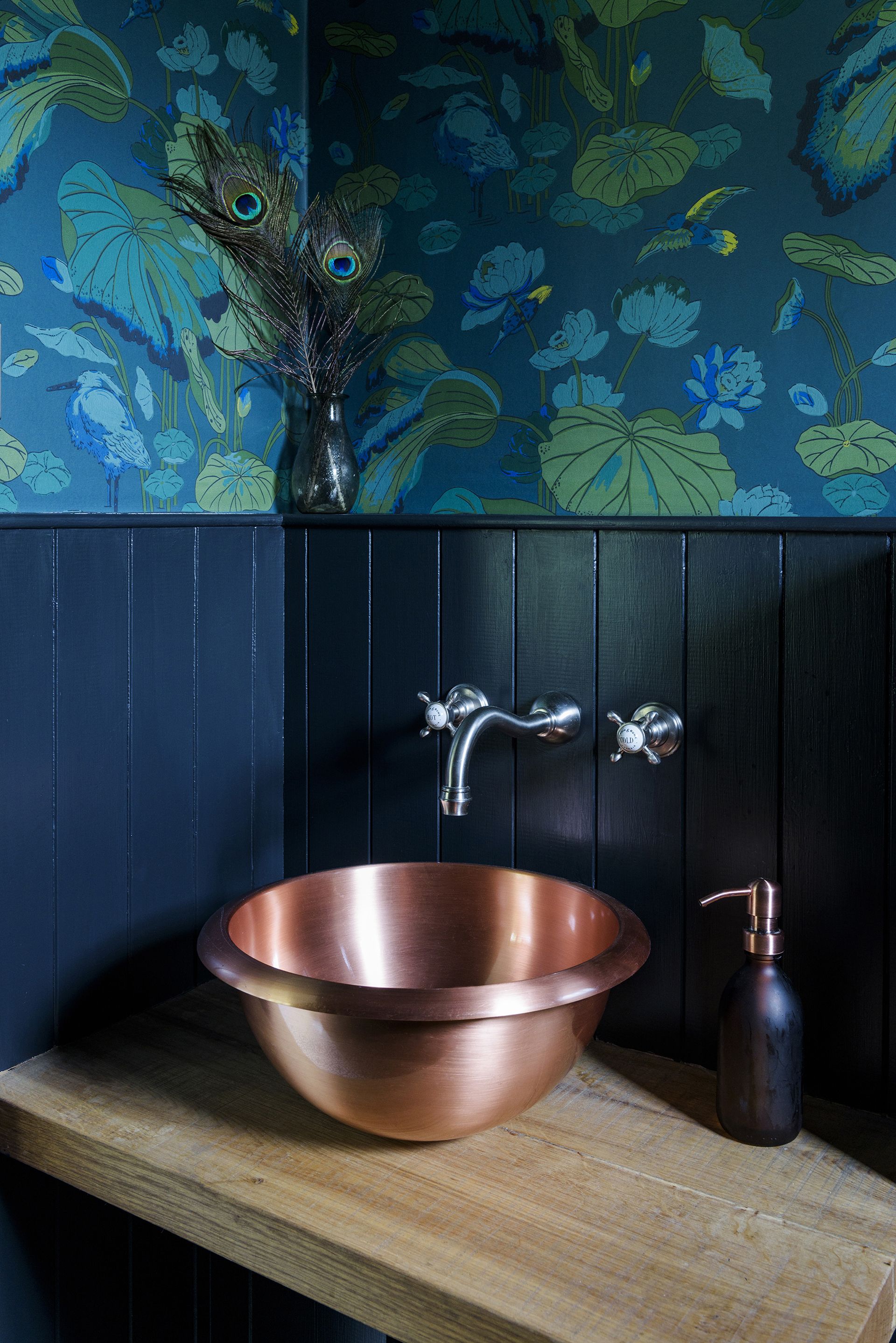 It may look great in the showroom, but there are certain features and finishes that could be the undoing of your bathroom long term, given the time and care needed to look after them.

Bathroom tiles are a particular minefield. Mosaic tiles may look pretty in theory, but all that grout will need plenty of cleaning, and will quickly look unsightly when mildew and mold get a chance to build up. Porous natural stones like travertine or limestone or marble are again beautiful to look at, but they can be easily stained by your bathroom beauty and hair care products, and if not treated properly, prone to water damage.
Take the same care when it comes to sanitaryware and bathroom faucets. That black basin might look stylish, but will it show water marks? Copper sinks and taps are also renowned for staining easily, whereas a brushed steel finish is almost impervious to finger marks.
5. Overlooking lighting fixtures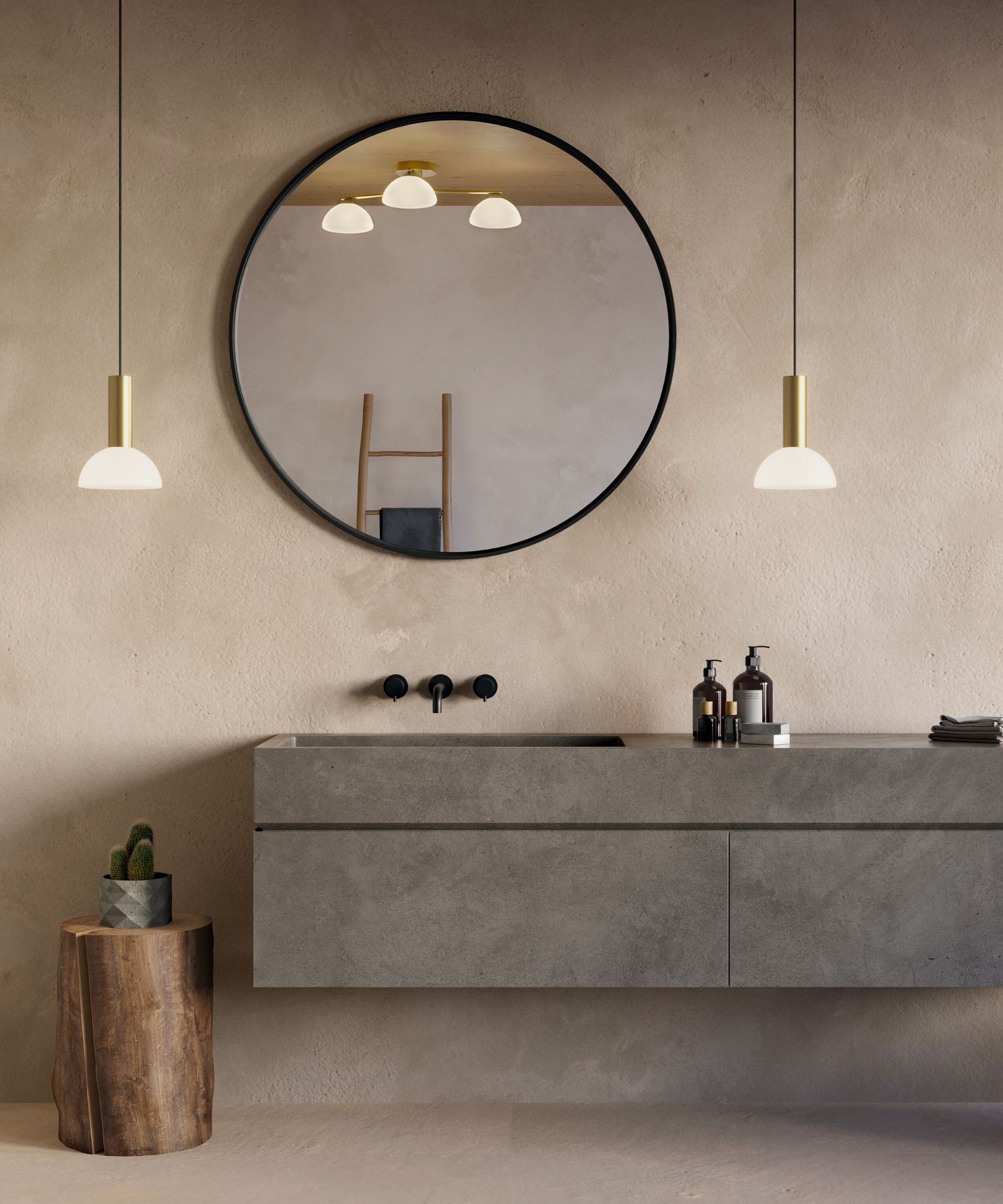 Inadequate bathroom lighting is one of the most common bathroom design mistakes. Bathroom lighting needs to be both functional for everyday use and also able to set a mood for a relaxing experience - placing one ceiling light in the center of the room is no longer enough for a luxury bathroom look. Consider a range of bathroom lighting ideas to set the right tone.
'People are becoming more adventurous in the design of their bathrooms,' explains Niki Wright, co-founder of lights&lamps. 'Designing lighting that complements those schemes and pushes the boundaries of what is "normally" seen in these spaces is another trend we will continue to fulfil.'
'Lighting is one of the most important elements of interior design as it can completely transform the look and feel of a room. Layer lighting and use multiple light sources to make a room flexible and versatile,' suggests Martin Waller, founder of Andrew Martin. 'Choose bold pieces featuring structural shapes, interesting texture, or colored glass to make a style statement, even if the lighting is switched off.'
Making sure you have the correct standard of lighting is also another mistake commonly made – and not planning bathroom lighting properly could have dangerous results. 'First of all, you need to adhere to the zones and use the relevant IP-rated lighting,' warns Scarlett Hampton, co-founder of lights&lamps.
6. Relying on a window for ventilation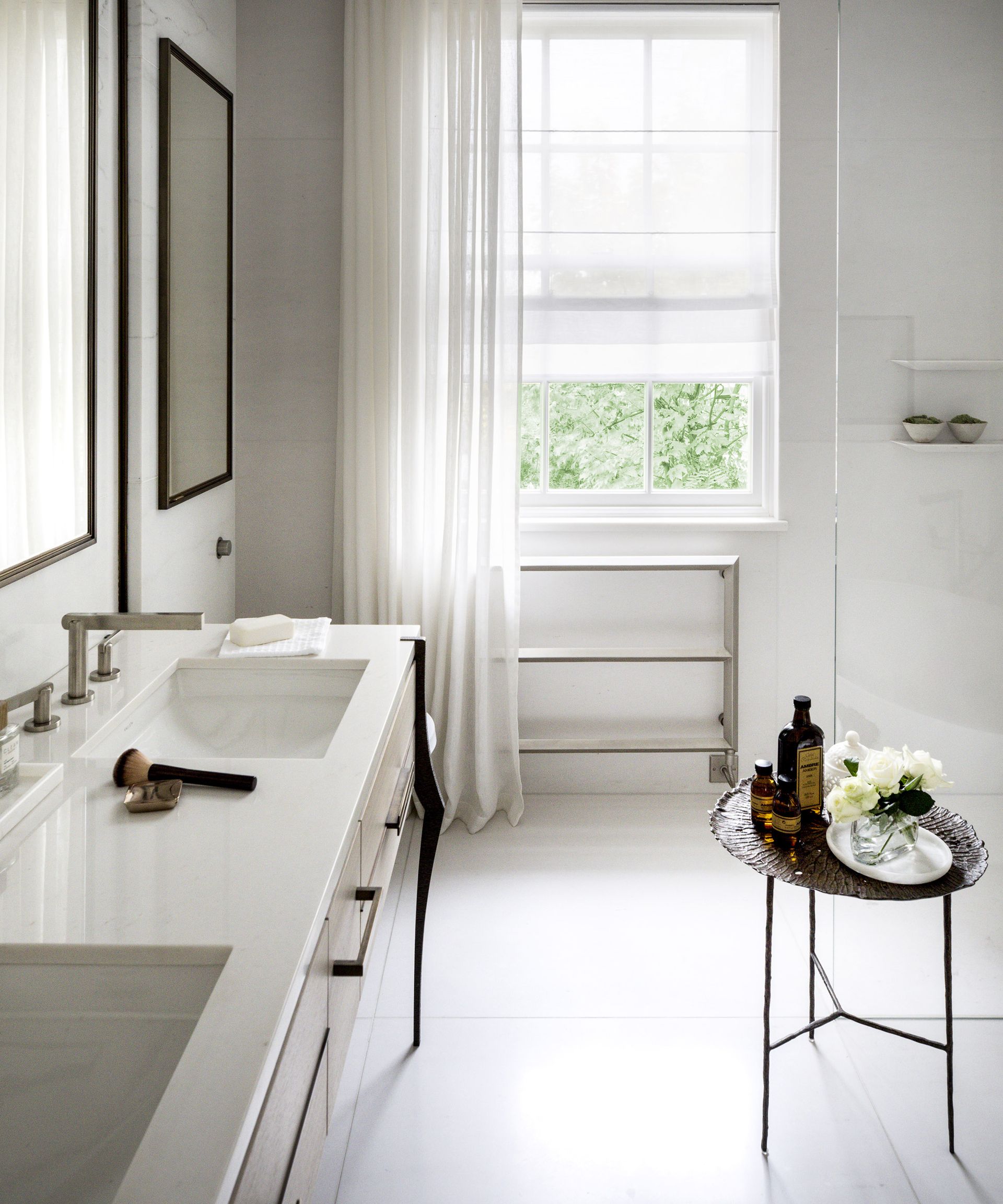 An open window is unlikely to be enough to ventilate a bathroom, particularly not one ensuite with a bedroom. And having inadequate ventilation could prove disastrous – not just for your decor but for your health. The mold, mildew and rot that build up in a damp, humid bathroom can damage woodwork, grout, brassware and furniture, but worse, they can trigger asthma and other breathing and allergy issues.
Dave Johnson is Head of Technical at The Underfloor Heating Store and explains that moist rooms like bathrooms and kitchens 'are at the greatest risk of mould infestation due to the high amount of steam and moisture produced in both'. He advises that simply opening the bathroom door to the house won't cut it. 'Allowing the moisture to travel into different rooms will cause more issues in sites that are typically safe and dry,' he explains.
So the best way to combat the issue is with an exhaust-style bathroom fan that pulls the moisture from the air and releases outside through an outside wall. It won't bring fresh air in, so you will still need to open that window if you have one.
'Wall- and ceiling-mounted fans are the most popular options, says Homes & Gardens' Editor and experienced renovator Lucy Searle. 'The latter will pipe air to the outside through ducting, and many will double as lights or Bluetooth speakers, which potentially makes them a more attractive retrofit purchase. Braun, Panasonic and Delta are good brands to consider.'
To work out the extraction rate of the fan you need in CFM (cubic feet per minute), you can do a simple calculation based on the measurement of the room. So say your bathroom is 8ft long by 5ft wide and has a ceiling height of 9ft. Then just multiply 8 x 5 x 9 by 0.13 to get the minimum CFM extraction rate – in this case 46.8. If you have a lot of ducting, you'll need a slightly higher extraction rate. Don't go too far over the required CFM rate, as you may end up with a noisier fan than necessary.
7. Not embracing floor tile trends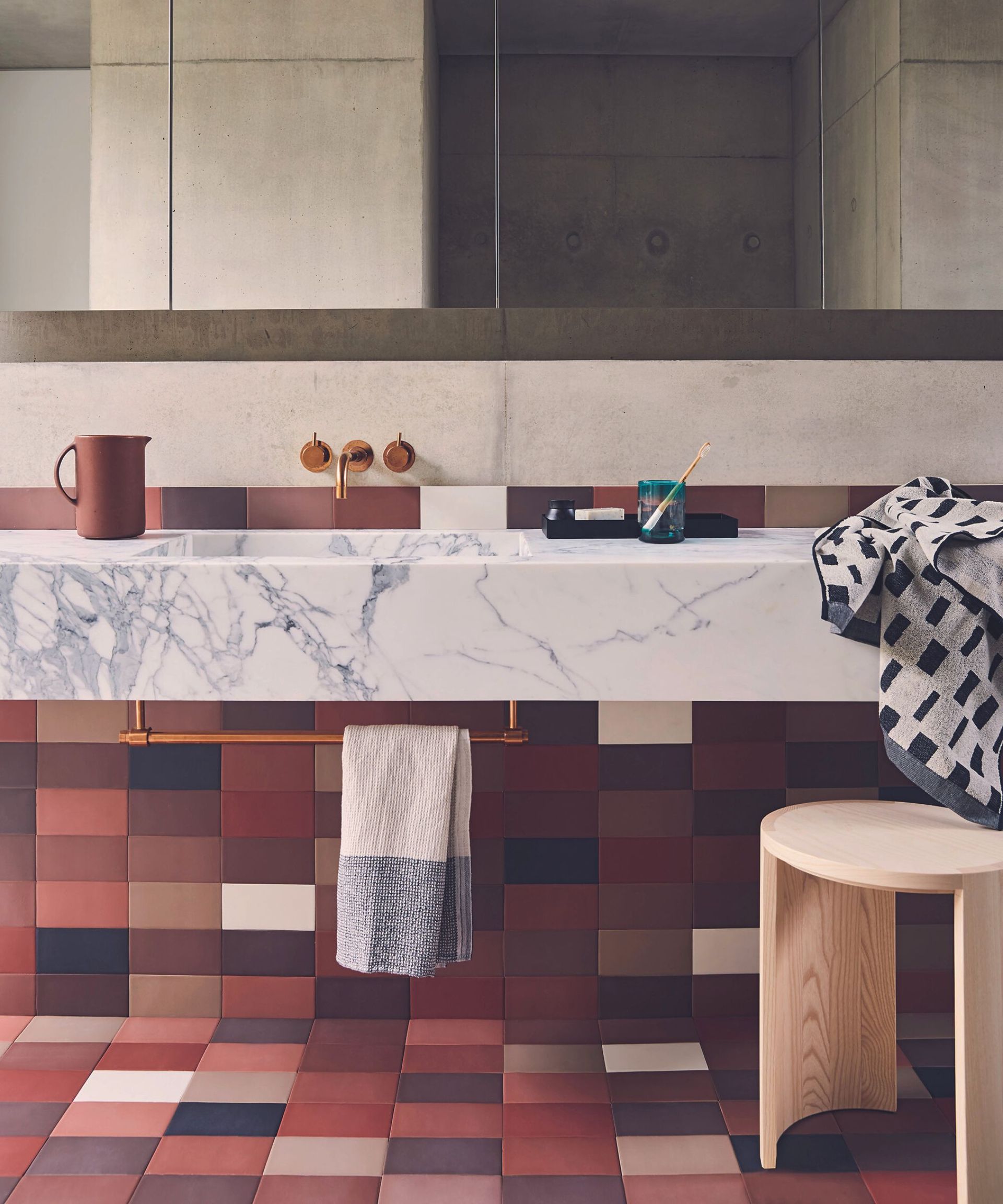 Neglecting the bathroom floor is a common bathroom design mistake and missed creative opportunity that can take away personality. Rather than sticking with traditional white tiled flooring, consider playing with popular bathroom trends and select an interestedly patterned tile or chose characterful tiles that could move up the wall for added visual effect.
'Bringing texture up onto the walls through tiles adds tactility and allows light to beautifully reflect off the glazes, bringing vitality to a space, explains Diane.
8. Sticking to the same old hardware finishes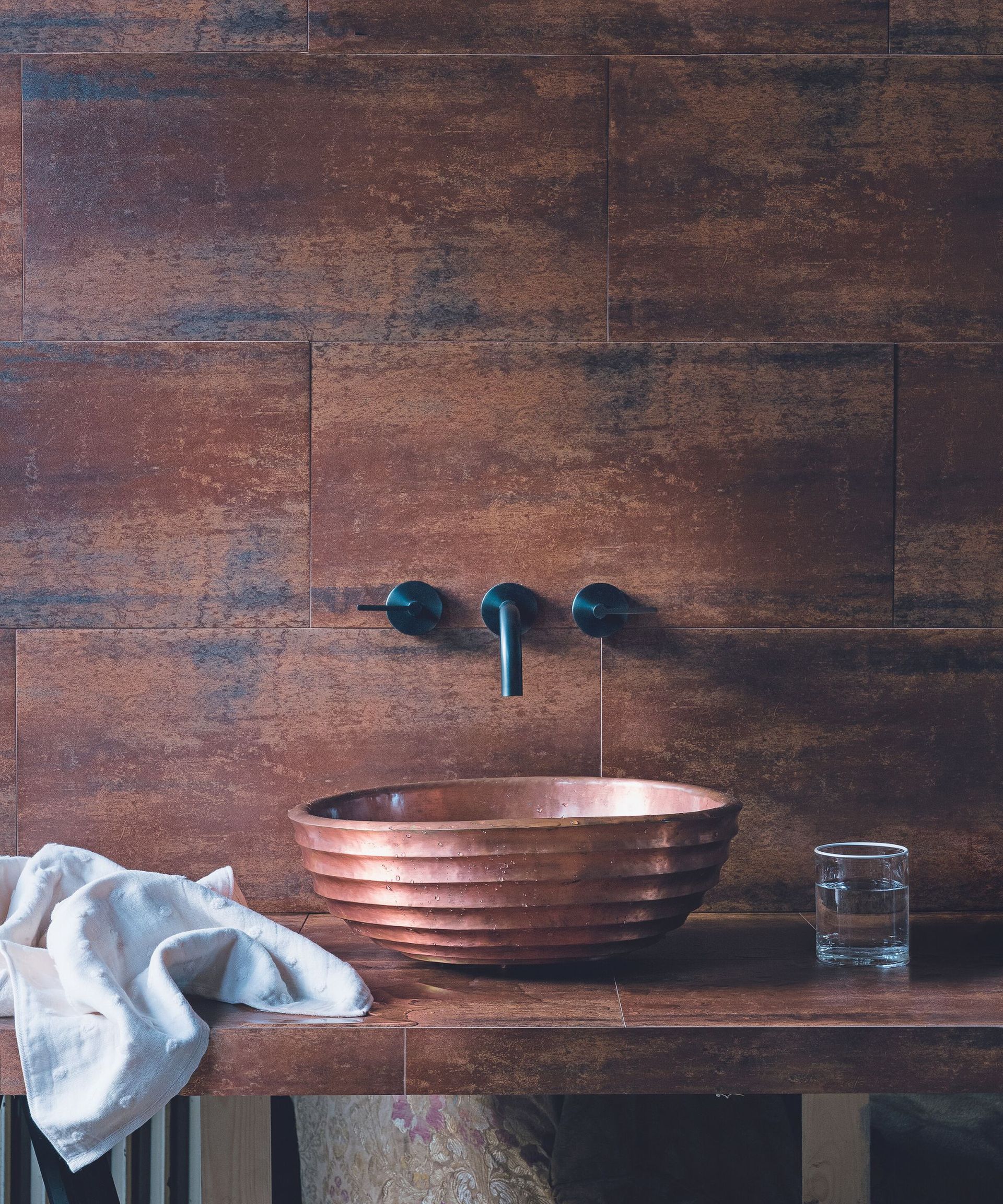 Chrome hardware is a popular finishing choice for bathrooms, but it is not the only one. Different hardware finishes can change the character of the space, for example, copper finishes can add a chic touch, while black suggests a sleek, more modern look. Gold, on the other hand, can ooze opulence and fits well into many pre-existing bathrooms.
'Think about who is going to be using the space and whether you want it to be simply functional or somewhere you want to spend a lot of time,' advises Yousef Mansuri, director of design for C.P. Hart. 'With the lines between contemporary and traditional design becoming more and more blurred, the 'Cool Classics' trend offers a way to update looks by using more modern finishes. Alternative plated finishes are available on a selection of our brassware ranges, but the options do vary.'
What's more, consider different finishes for sink basins, such as this copper wash basin, for an alluring textural addition to your bathrooms.
9. Shying away from 'personality'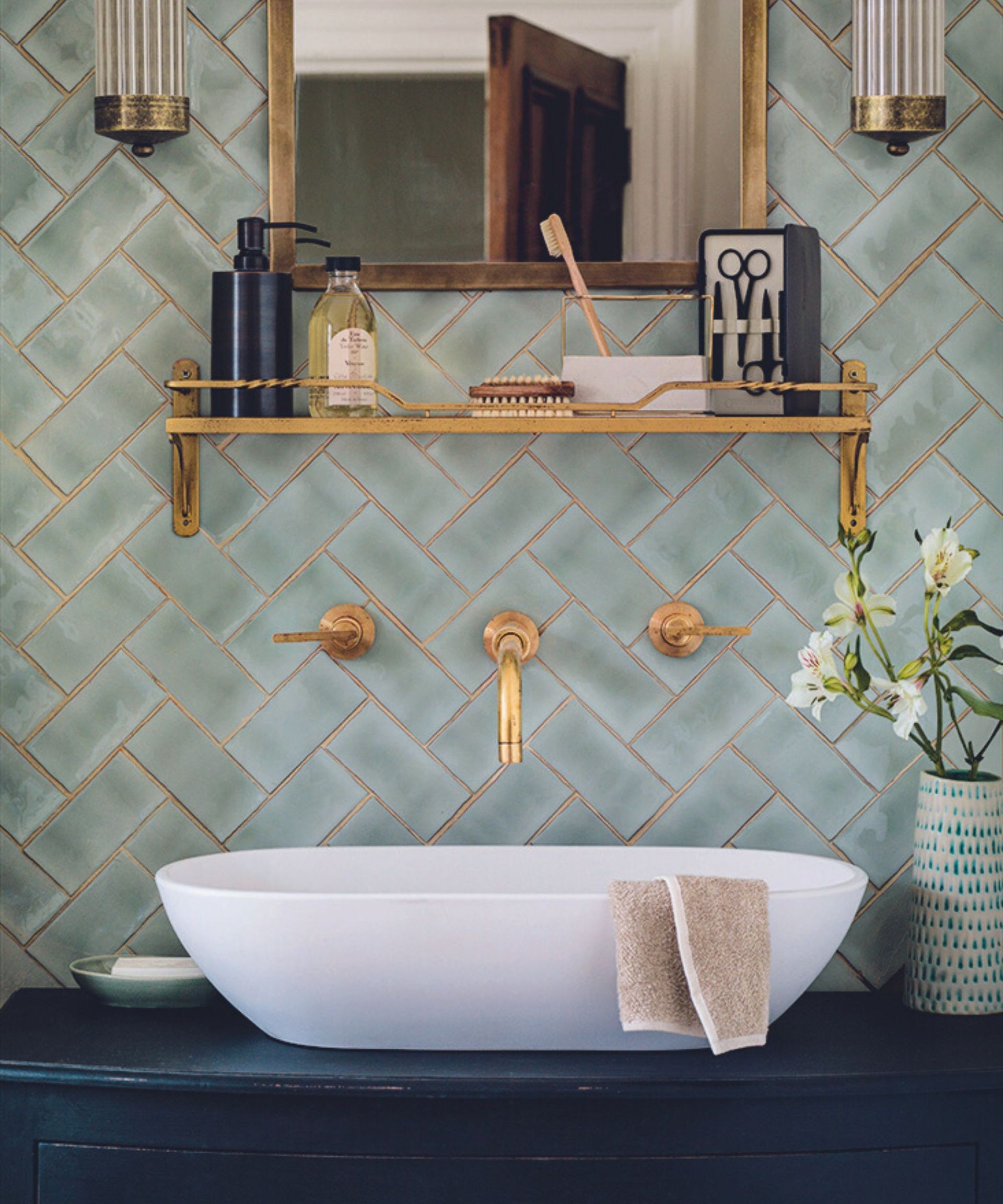 The biggest and most common bathroom design mistake is creating a lackluster room that lacks personality. The bathroom does not have to be a white or monochrome area that sits apart from the rest of your home, instead, bring elements of your personal style into the bathroom to create a home that is coherent and not disjointed.
Consider introducing textures or colors that could be found in other areas of your home for a fluid, effortless finish, or be adventurous. In small bathroom ideas, for example, stay away from stark whites and utilize dark, moody colors or playful patterns that can be used to great effect as a conversational starter to impress guests. Bold schemes work well in small spaces as they can enhance the dramatic appeal.
Another way to add personality is by infusing the space with functional items that also look beautiful. Put elegant or traditional shaving kits, or guided brushes on display but hide bulky appliances and make-up in clever bathroom storage.
10. Rushing to choose tiles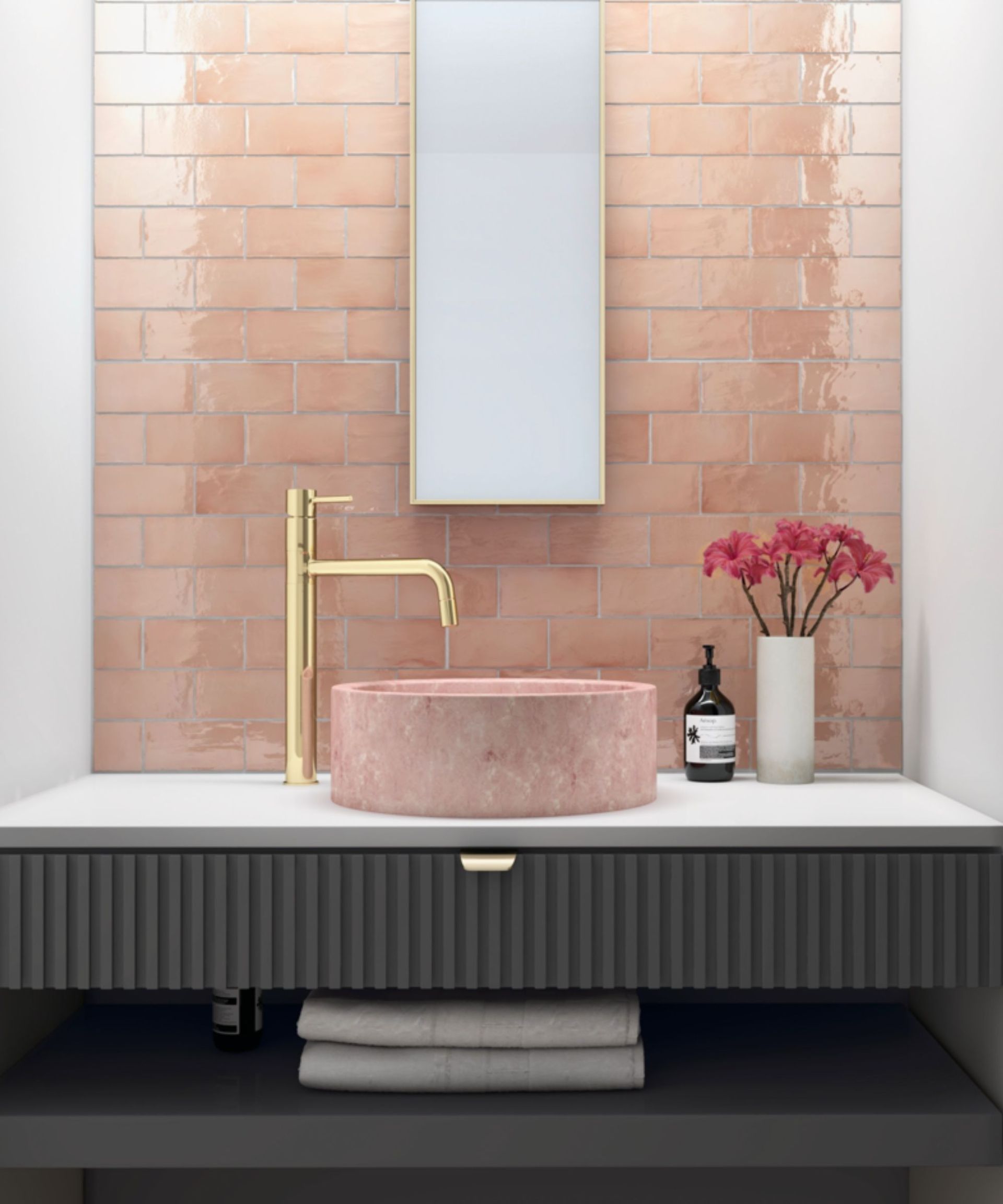 'Tiles are beautiful pieces of art on their own and have the power to utterly transform a room,' says Diane.
Choosing the right tiles can make or break a bathroom, so choosing the right size, color, and material should take time. Selecting a grout color could change up the look of your bathroom or alter the overall appearance of your tiles too, so consider taking extra time to plan your tiling choices.
'If you know you love color, then make a statement by going bold with your tile choice,' suggests Fredi Maria Rees, designer at C.P. Hart. 'Add colorful tiles in certain areas of the room, for example around the shower area. Small format tiles can also be used to create a feature wall; adding some texture to the space. We like using 60x60mm floor tiles paired with small wall tiles for depth and dimesion,' she adds
11. Going basic with mirrors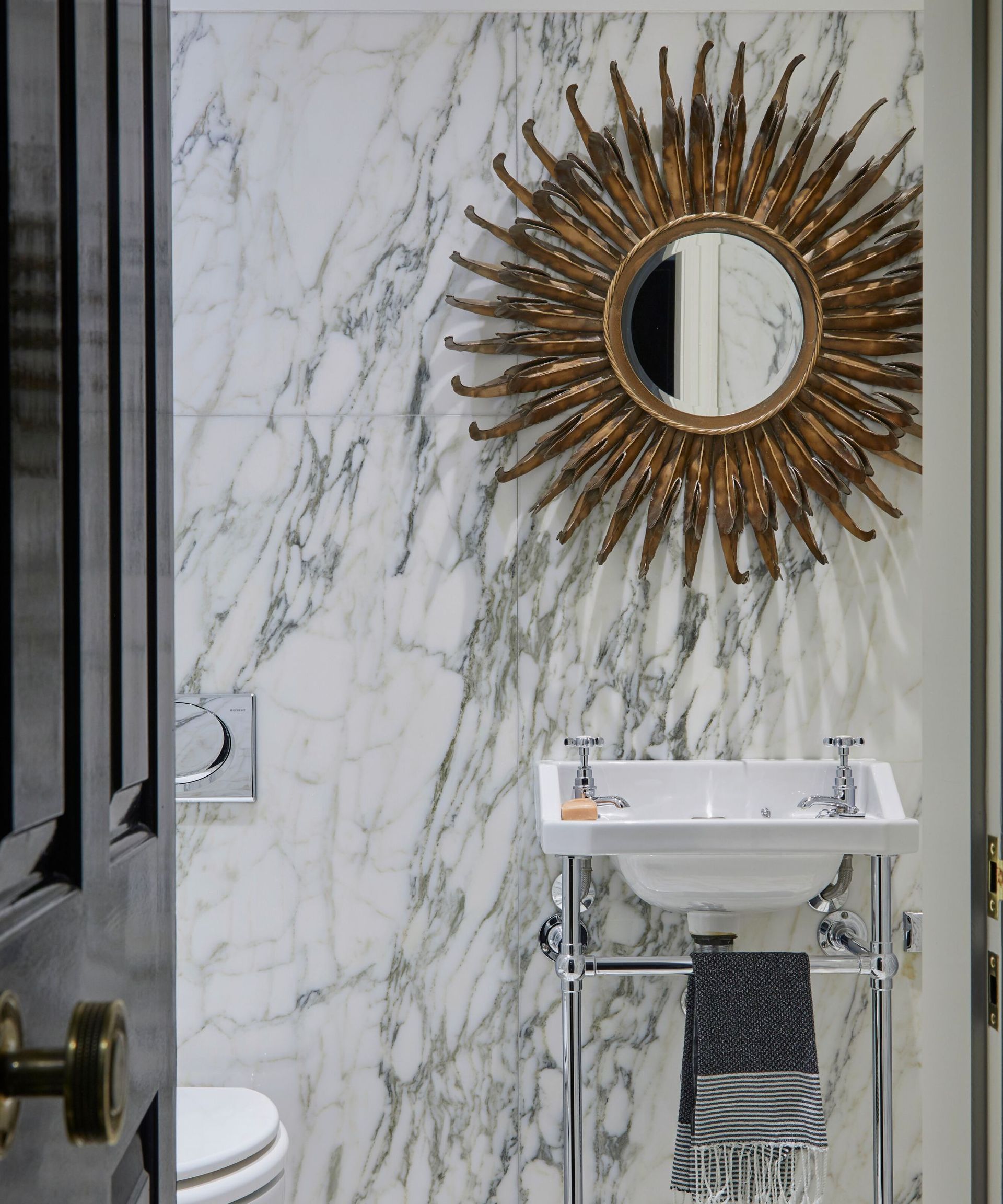 The bathroom mirror is somewhere many people spend a lot of time. It is not only a practical bathroom feature but also one that can make a huge difference to the final look and feel of your room, even having the ability to affect how big or small the room looks. 'Mirrors have long been a creative design tool of interior designers for their versatility and ability to make a statement in almost any room of the house,' says Owen Pacey, founder of Renaissance London.
Be bold with your bathroom mirror ideas – they should enhance the design of your room, as well as be large enough to see your reflection clearly. The area around the mirror should also provide the proper illumination for applying make-up or shaving.
'Statement mirrors come in all shapes and sizes. From Italian gilt mirrors of golden acanthus leaves to 1970s Murano glass in the glossiest pinks, emeralds, and sapphires, vintage mirrors are true conversation starters,' Owen continues. 'They also serve the purpose of reflecting large portions of the room back at you, increasing space perception for a more generous feel.'
12. Forgetting to accessorize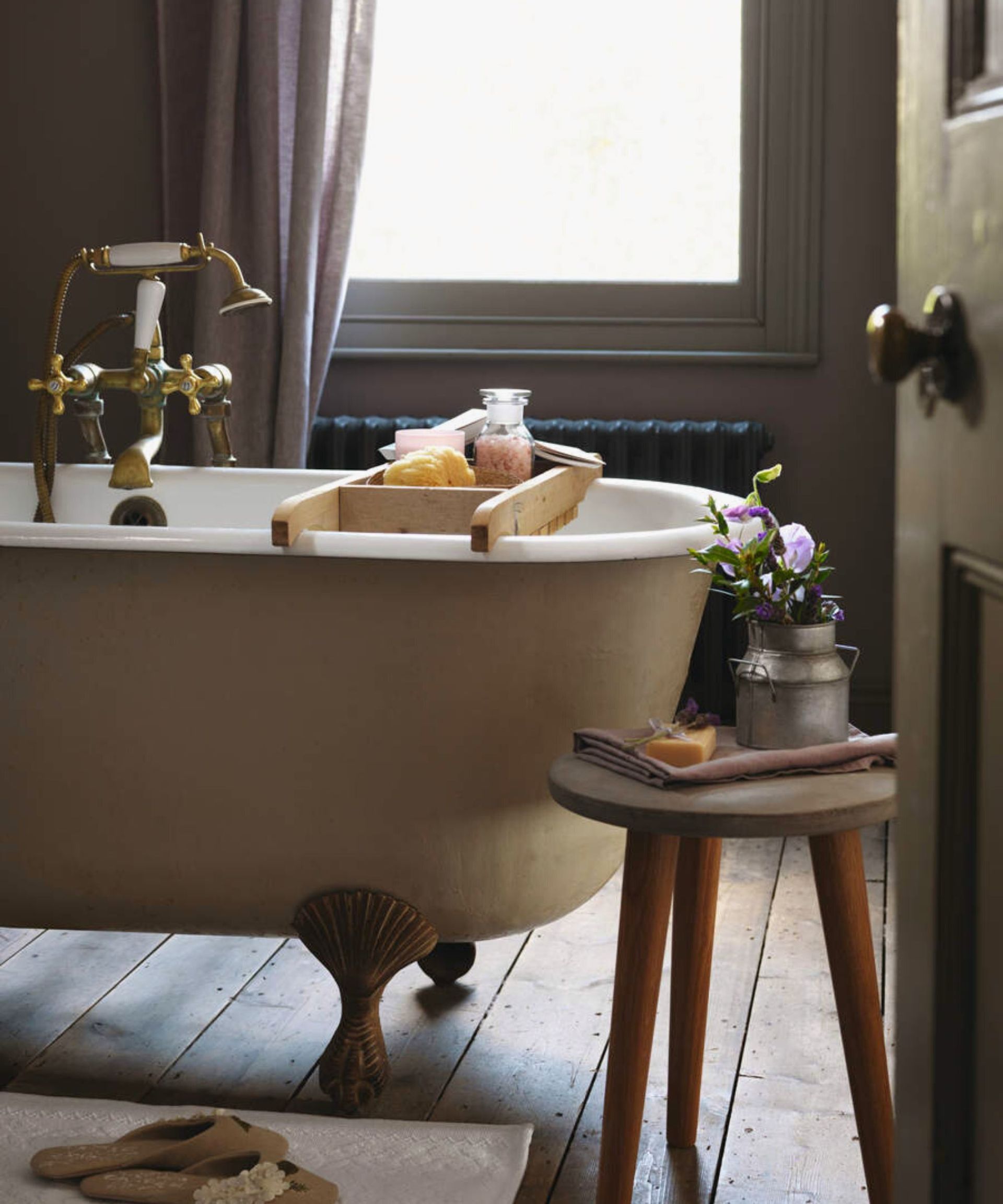 Because the bathroom is often seen as purely functional, it can be easy to forget to accessorize the space. Adding décor pieces through functional items as well as purely decorative adds another layer to the space and can contribute to the relaxing, spa-like retreat many people are looking for.
'The bathroom is the place to bring in soft and nurturing textures. They are also key to creating a spa-like feel in your bathroom. Nothing says spa quite like a fresh stack of plush towels placed over a towel bar, rolled in baskets, or stacked neatly on a shelf.' suggests Joanna Ross, general manager of Design at Sheridan.
'It's important for your towels to be incredibly soft and superiorly absorbent, but longevity is also imperative. Colors are also key and have the ability to transform a room. Whether it's adding a pop of color with a bold red or toning down a bathroom with a calming blue.' she adds.
13. Putting wall paneling everywhere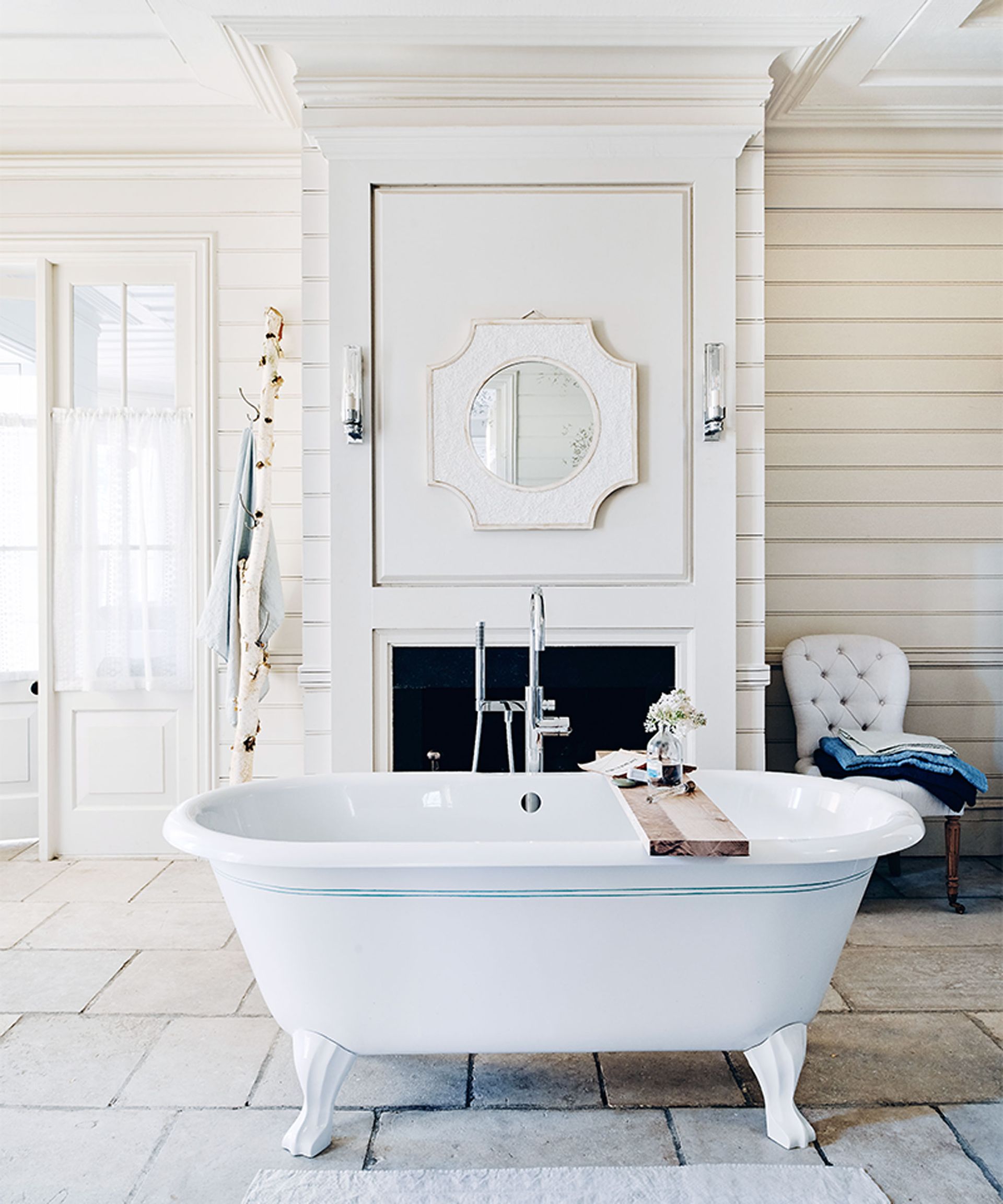 Wood panelling and cladding has long been a popular choice for bathrooms – and particularly traditional ones. It's the perfect antidote to the cool minimalism of wall-to-wall tiles, but should again be approached with caution.
Bathroom paneling should be made of MR (Moisture Resistant) MDF and treated with a primer before painting to protect it from water damage. it should not be used in a shower area, because while treated MDF is impervious to water, it's not likely to stand up to direct contact from a shower – instead will likely warp and the paint will peel.
If MDF panels don't appeal, you could also consider porcelain tiles with a wood finish. Thanks to contemporary manufacturing methods, they are surprisingly realistic, and are also a good alternative to wood bathroom flooring.
What should you pick first when designing a bathroom?
There's no definitive answer to the question of what to pick first, but it's a good idea to think about what type of bathroom this will be, and then you can focus on its features.
In a family bathroom, both a bath and good storage will be essential, so it's good to pick these out first, then look surfaces and hardware that complement your choices.
In a master en suite, you might want to focus on a luxury shower, matching basins, or luxe tiling as your first design choice.
A cloakroom or powder room can present an opportunity to have fun. Pick out tiling, a feature faucet, lighting or even a bathroom-friendly wallpaper as the jumping-off point of your scheme.
Starting with the item you have your heart set on will lead to a bathroom you will love to get ready in each day.
In what order should I buy things for my bathroom?
Two things will hugely influence the order in which you buy things for your bathroom. They are the lead time on the fixtures and fittings you've chosen, and then the order of the remodel.
Lead times can vary hugely. Expect longer lead times on bespoke furniture, natural stone products like countertops, some tiling, freestanding baths and designer basins. Deliveries can delay things, too, depending on where in the country (or the world) the product is coming from.
Fragile items such as tiles, glass cabinets and shower screens could arrive damaged, so you may want to order these early in case they need to be replaced.
Bathroom remodels generally happen in an order similar to that below, although it's worth checking in with your contractors well before ordering and work begins:
Make good the plumbing and electrics
Add ventilation
Plaster or skim walls and ceiling if necessary
Install bath (if fitted), shower tray and/or tanking
Tile or lay floor and wall coverings
Install toilet, furniture, bath (if freestanding), basin(s) and taps
Paint and wallpaper
Install lighting and heating (e.g. towel rail)
Add finishing touches, such as window treatments, mirrors and wall holders
If you have plenty of storage space, you can obviously wait until everything has arrived before you start your remodel. Also, remember that in order to ready the electrics and plumbing for your heating and sanitaryware, your contractor may want the products on site from the get go.
Otherwise, stagger deliveries to fit in with that timetable.
Items such as wall cabinets, window treatments, mirrors, and other finishing touches, can arrive late into the project.
Sign up to the Homes & Gardens newsletter
Decor Ideas. Project Inspiration. Expert Advice. Delivered to your inbox.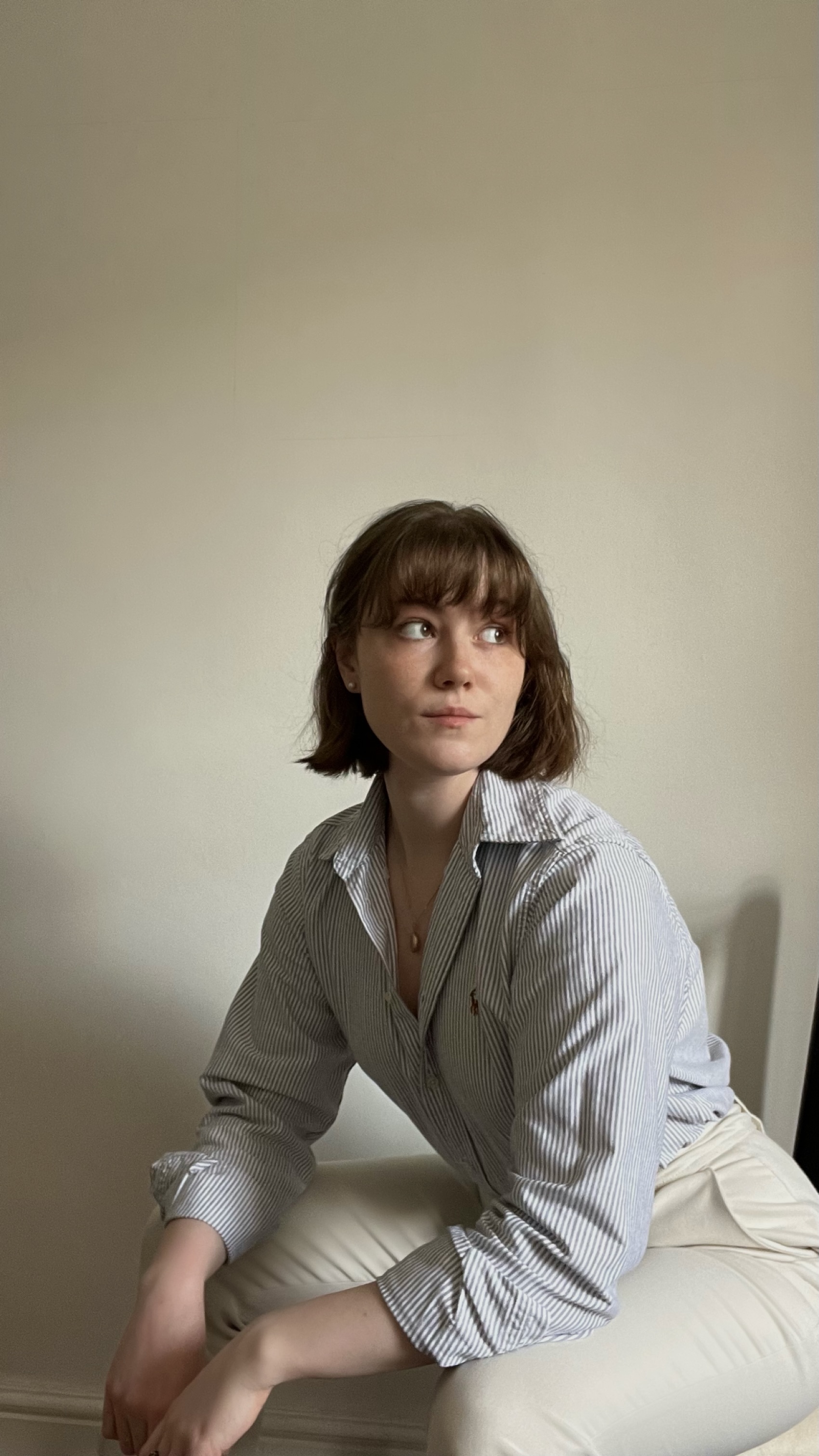 Chiana has been at Homes & Gardens for a year, having started her journey in interior journalism as part of the graduate program. She spends most of her time producing content for the Solved section of the website, helping readers get the most out of their homes through clever decluttering, cleaning, and tidying tips – many of which she tests and reviews herself in her home in Lancaster to ensure they will consistently deliver for her readers and dabbles in the latest design trends. She also has a first-class degree in Literature from Lancaster University.