9 things to get rid of from your medicine cabinet right now – according to experts
One of these things may surprise you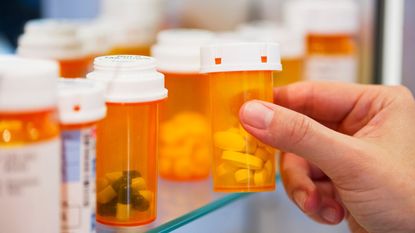 (Image credit: Getty Images)
Sign up to the Homes & Gardens newsletter
Decor Ideas. Project Inspiration. Expert Advice. Delivered to your inbox.
Thank you for signing up to Homes & Gardens. You will receive a verification email shortly.
There was a problem. Please refresh the page and try again.
The medicine cabinet is for so much more than just medication, holding many of our daily face washes, body scrubs, and fragrances. But should all of these things be kept together?
Often the most accessible bathroom storage idea to include in your space, it's the logical place to store all your important essentials, right? Not so. Experts suggest that myriad common items should never be kept in a medicine cabinet at all.
This list includes the nine top items to get rid of from your medicine cabinet right now, and where to keep them instead.
Things to remove from your medicine cabinet right now
As one of the warmest and most humid spots in our homes, the bathroom is less than ideal for long-term storage, making bathroom cabinets of any kind poor locations for this range of products.
1. Medicines and vitamins – in-date and expired
When organizing a medicine cabinet, safety is all. So, it may be shocking to learn that you shouldn't store medicines in a bathroom medicine cabinet at all.
'You shouldn't store your daily medications in a medicine cabinet, especially if your medicine cabinet is placed in the bathroom. Most medications should be stored in cool, dry places, and storing them in the bathroom will damage them from heat and moisture,' explains Chi Ip, founder of Tidy Here Cleaning Service, Boston. 'I suggest storing them in your bedroom or kitchen, where you can easily spot them, or readily get water to help you take your medicine.'
It is not just daily medications that should be kept out of the medicine cabinet, however. 'Dispose of all expired medicine,' adds Brenda Scott founder of Tidy my Space. 'Never throw them in the garbage or flush down the toilet or sink. Always return meds (liquid and solid) to your local pharmacy for proper and safe disposal.'
If you must keep your medicines in the bathroom, there are a few things you can do, besides investing in a dehumidifier, to help reduce the damage done by moisture and heat, Brenda assures.
'Make sure to run the exhaust fan or open a window before, during, and after a shower or bath. This will help the mold and mildew build-up and also help retain the quality of any pills in the medicine cabinet. Moisture can be the enemy of pills. You can also store open pill packages in plastic baggies to help keep the moisture out,' she adds. 'If you use a plastic pill weekly organizer, make sure the lids are down firmly – this keeps the moisture out and also keeps the pills in the correct cubby.'
Brenda Scott is a certified professional organizer and adaptive home specialist in Canada, as well as the founder of Tidy My Space CA.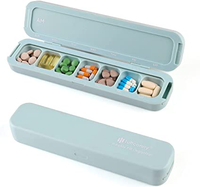 2. Razors
When organizing a small bathroom, it can be logical to keep razors in a medicine cabinet rather than in your shower, but this could deteriorate them more quickly, professional organizers warn.
'Razors and other sharp objects should be stored in a safe place, away from children and pets, and in a way that the blades are not exposed. A secure cabinet or drawer can be used for this purpose, suggests William Henry, former professional organizer and CEO of LEDask.
'I recommend storing used razors standing up in a washable cup,' continues Brena Scott of Tidy My Space. 'This storage system takes up less shelf space than having the razors laying down. This also keeps the hair, and skin fragments contained instead of messing up the shelf for easy cleanup. I suggest having the blade end in the cup and the handle up. This reduces the chance of cutting your hand on the blade,' she adds.
3. Perfume
When planning a spa bathroom, creating a space for your perfumes and fragrances can be a nice finishing touch to your bathroom vanity or medicine cabinet for getting ready in the mornings. While the dark interior of a medicine cabinet is ideal for preventing perfume from losing its potency, the warm, humid environment may be degrading your signature scent.
Instead, consider storing perfumes in a dressing table drawer or bedroom vanity.
4. Face masks
If you are into skincare, chances are you have some expensive face products in your bathroom. When investing in luxury skincare, it is equally as important to invest in proper storage – and your medicine cabinet is far from ideal. 'Keep any products such as facial mists, sheet face masks, and eye masks in your fridge. Not only does it free up space but helps with puffiness when used cold,' says Eve Daws, lifestyle blogger at Glamour and Gains.
Just make sure to organize a refrigerator carefully to prevent contamination between face and food products, or even invest in a beauty fridge (see below) specifically for skin care.
Eve Dawes is a blogger, podcaster, philanthropist, and model. She is also the founder of Dawes Custom Cosmetics.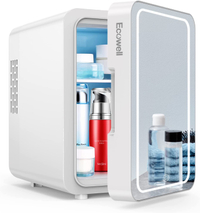 Beauty Minifridge with Mirror | was $52.99, Now $47.70 at Amazon
This mini refrigerator with mirror and LED lights is specially designed for makeup, allowing you to put your facial products in a climate-controlled environment to prolong their life.
5. Open packaging
Open packaging should never be stored in a bathroom cabinet, just as it shouldn't be stored in a pantry to prevent products from expiring more quickly due to improper storage
'Always remove unneeded packaging to reduce the clutter in the medicine cabinet but remember to keep any important information in a drawer for reference or in case of emergency,' says Brenda Scott owner and professional organizer at Tidy My Space.
6. Cleaning supplies
'Keep your cleaning supplies out of the medicine cabinet, as they can be toxic and pose a risk of accidental ingestion,' warns Charlie Victor, Florida-based interior designer and DIY expert behind My Modern Cave, a home improvement blog.
Cleaning supplies are also one of many things you should not store in a bathroom cabinet either, Charlie adds. 'Instead, store them in a separate, secure location away from children and pets.'
A good location is a cabinet under a kitchen sink, complete with a child safety lock if you have any children or inquisitive animals around.
Charlie Victor is a go-to source for things including, home improvement, DIY projects, and backyard makeovers. Based in Florida, he has been transforming homes and businesses across the state since 1992.
7. Products free from preservatives
A whole range of products are made free from preservatives, from facial and body care products to specific medications like acne treatments with Benzoyl Peroxide – more often than not these products require special storage conditions to prevent rapid deterioration.
'Avoid storing anything requiring a specific temperature or conditions, such as prescription eye drops or ear drops,' highlights Charlie Victor of My Modern Cave. 'These items should be stored according to their instructions to ensure their efficacy and safety.'
Always check your product container or pamphlet for dedicated instructions.
8. Snacks and food
You wouldn't, would you? In the experience of professional organizers, it's not unheard of.
'A bathroom should be a sanitized space and eating isn't recommended,' says Brenda Scott of Tidy My Space. 'You wouldn't want to eat your lunch in a public washroom so the same goes for your own bathroom. Germs can be carried on food or candy and be ingested. Leave the snacks in your food storage in the kitchen.'
9. Excess items you haven't opened yet
Medicine cabinets are often the tiniest storage spaces in your bathroom, so storing excess items that you haven't opened yet could be considered a waste of useful space.
'Remove excess stock or backup items, they should be stored in a labelled container in a nearby drawer or closet,' suggests Brenda Scott, professional organizer. 'Never overstuff the medicine cabinet because it causes items to fall off of bathroom shelves, leads to confusion with other items, losing things towards the back, and, most importantly, makes your morning routine hectic and frustrating!'
FAQs
What should you keep in a medicine cabinet?
There are plenty of things you should keep in your medicine cabinet but the most important things include a first aid kit with sealed bandages and band-aids in case of injury, medicines sealed in plastic pots, and a hot/cold pack. These are all items that are essential to be able to find and grab in a pinch, especially in the case of an emergency or accident. Ideally a medicine cabinet should be somewhere cool and dry, such as within a pantry or mudroom, locked safely so that children cannot access it.
Are medicine cabinets in bathrooms outdated?
While the concept of a medicine cabinet in a bathroom is not outdated, the appearance of some medicine cabinets may make a bathroom look outdated or cramped. Consider a cabinet that is set into the wall to help disguise the storage unit, or make a distinct feature of cabinets on either side of a mirror unit to prevent a blocky protrusion from dating your space.
Are you shocked at some of these medicine cabinet storage no-nos? We certainly are. We will be straight off to fix our bathroom storage mistakes without delay – will you?
Sign up to the Homes & Gardens newsletter
Decor Ideas. Project Inspiration. Expert Advice. Delivered to your inbox.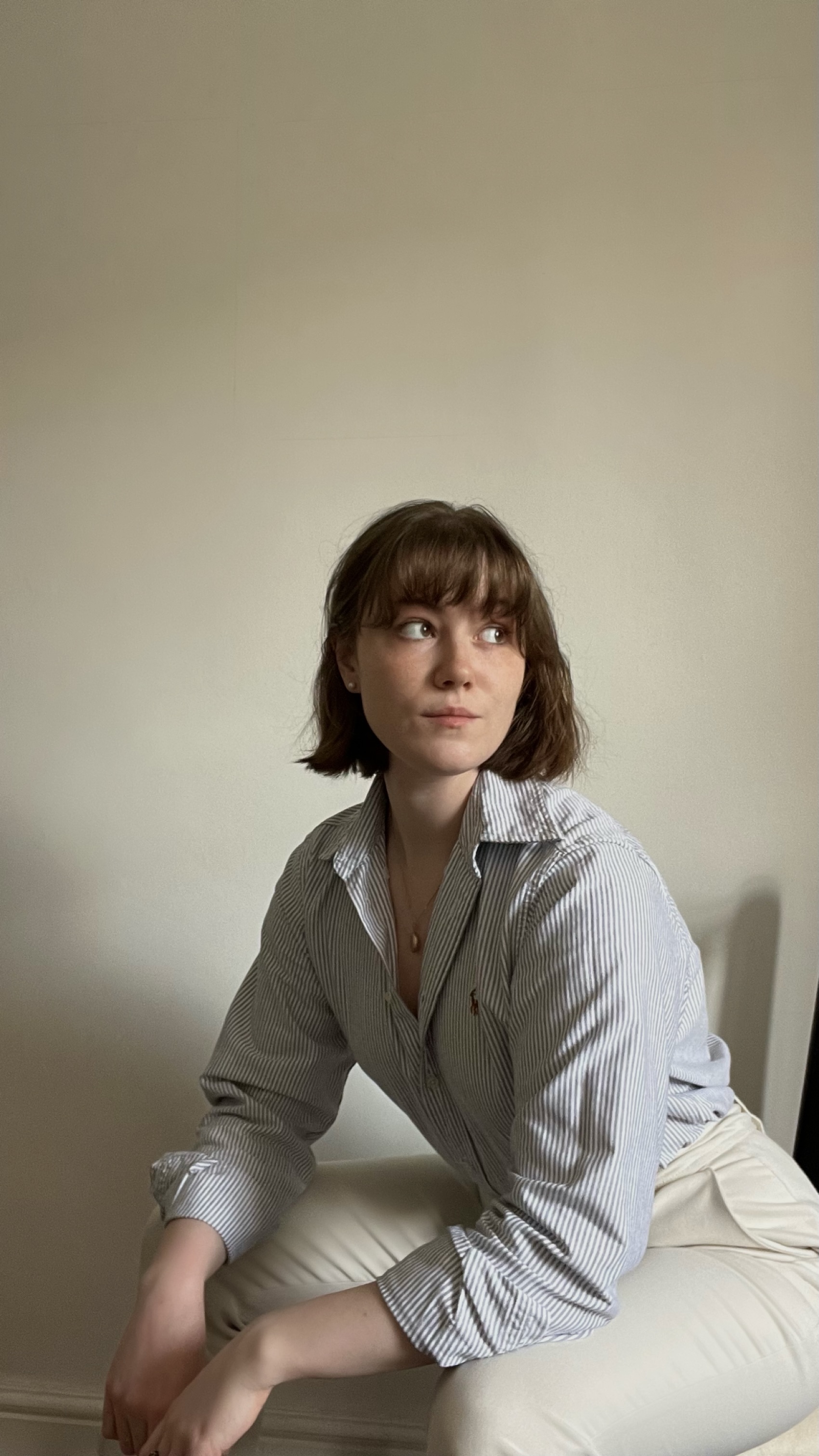 Chiana has been at Homes & Gardens for a year, having started her journey in interior journalism as part of the graduate program. She spends most of her time producing content for the Solved section of the website, helping readers get the most out of their homes through clever decluttering, cleaning, and tidying tips – many of which she tests and reviews herself in her home in Lancaster to ensure they will consistently deliver for her readers and dabbles in the latest design trends. She also has a first-class degree in Literature from Lancaster University.