6 colors that will transform your bathroom into a happier space
Make your bathroom more joyful with these designer-approved, happiness-inducing hues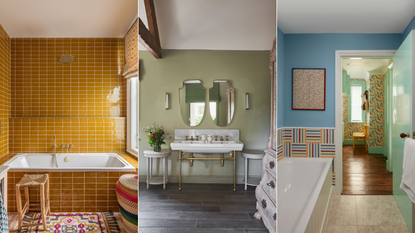 (Image credit: Barlow & Barlow/Edward Bulmer/Yellow London)
Sign up to the Homes & Gardens newsletter
Decor Ideas. Project Inspiration. Expert Advice. Delivered to your inbox.
Thank you for signing up to Homes & Gardens. You will receive a verification email shortly.
There was a problem. Please refresh the page and try again.
There was a time, not so long ago when beige, grey, and white bathrooms reigned supreme. So scarred by the colorful bathroom suites of the past, for decades neutrals have been to go to shades, but we are seeing a shift, and we are very much here for it. Bathrooms can be great spaces to get a bit more experimental with color. Compared to our more lived-in rooms like bedrooms, living rooms and kitchens bathrooms get relatively little screen time, so you can afford to be slightly bolder.
And why wouldn't you want to switch white for a more joyful color that gives you a lift each time you walk into your bathroom? There has been a huge surge in dopamine decor over recent years as a backlash against sad beige interiors that have dominated interior design trends for such a long time. And we think the bathroom is the perfect room to start bringing in these sunnier, happier shades. So we asked designers what are the happiest colors, what shades will fill you with joy, and how can we start using them in our bathrooms.
5 joyful bathroom colors to try
'When it comes to using color in any room, what is considered a "happy color" is, of course, subjective,' says Claire Powell, color consultant at Edward Bulmer. 'Perhaps a statement powder room brings you joy, deep and rich tones allowing you to melt into your bubble bath for some overdue 'me time'. Or maybe a rejuvenating, fresh color to welcome you into a new day, giving that extra boost to get out there and smash it!'
So when deciding on a bathroom color scheme that's going to bring you joy think about how the colors make you feel. Look to your wardrobe or makeup bag for inspiration here, what colors give you a lift when you see or wear them?
Of course, when choosing a color you need to consider the practicalities too. 'When choosing happy colors, it's essential to consider the size of your bathroom and the amount of natural light it receives. If the space is small or lacks natural light, make sure to test your colors before committing to avoid surprises. Colors can look completely different in natural light. A bathroom is a great place to experiment with different color combinations until you find the one that makes you feel most joyful and content without a huge commitment.' adds designer Kati Curtis.
So let's get into some glorious colorful bathroom ideas, so you can be inspired to let your design decisions be led by what makes you happy...
1.Light and bright blue
Blue is known for its incredibly calming and uplifting qualities, it's also known for being a classic bathroom color. The one risk with blue bathrooms is because it's on the cooler side of the color wheel, it can risk appearing a little too cold, especially when paired with white bathroom furniture. So, in order to get all those happy vibes blue can bring, but still ensure it feels inviting, we would recommend pairing it with some warmer hues – reds, oranges, yellows, and pinks.
Sounds like a bold bathroom color combination, but just look at how it works in this space designed by Yellow London. Just those few hints of warmer hues in the tile and wall decor tone down the coolness of the blue walls.
'Everyone knows that a powder room is a place to have fun with color and pattern, but we feel the same way for bathrooms too!' says Liv Wallers, co-founder of the studio. 'Bathrooms are a place to relax but also a space that you use to make yourself look and feel good so it is important to create an uplifting space.'
'When we use cooler tones of blue, we like to pair it with some warmer tones like pink or orange which helps to add depth to the scheme. We love using vibrant greens, reds, and blues which offset well with a paler marble to break the space up and make it not too overpowering.' she adds.
2. Rich browns
Not all dopamine shades need to be bold and bright, if it's deeper, darker shades that relax you and make you feel happy, bring those into your bathroom instead. Brown may sound like an unexpected color for a bathroom, but we promise you that color trends all point to brown being a super chic and sophisticated shade. And we can so see it, is more dramatic than a beige but not as harsh as black, it's the perfect deep but not too overpowering color.
Just look at how it works in this bathroom. The orangey, terracotta undertone makes it slightly more statement and less drab, and it does make you feel happy at the thought of being enveloped by this beautifully rich shade. Claire Powell, color consultant at Edward Bulmer explains that 'for those wishing to relax after a hard day and find their "happy place", I would advise not to be afraid of darker colors. The rich, smooth tones of London Brown, Pompadour, or Trumpington (to name just a few), have an incredible depth of color, almost wrapping the room in a warm chic hug.'
3. Uplifting greens
Of course, greens were going to make it on this list. A green bathroom is a thing of joy and no matter what shade you go for, it's going to make you feel happy. In its palest, most sagey form it acts almost like a neutral, so the perfect color if you want to move away from beige and cream but still keep things minimal. And then you have deep forests, which work a bit like the brown mentioned above, surrounding you in a deep, rich but relaxing shade.
Pick your green based on what makes you happy. 'If you find mornings are most when you need clarity and focus then the lighter colors can provide the perfect happy palette. I'm partial to a bit of "zing", colours like Pea Green, Cuisse de Nymphe Emue, or Brimstone add a lot of character and will definitely have you feeling like singing in the shower!' explains Clare.
'And a more vivid green brings the outside in so again this would be a top recommendation. It is a mood-defying hue, use it in combination with pinks or even oranges, it's like opening a box of Liquorice Allsorts…." she adds.
4. Calming neutrals and pale pastels
Soft, nearly neutral shades can bring you just as much joy as a brilliant yellow. And if you are after more of a spa bathroom feel, sticking with these gentler shades would be the best option. Super pale, barely there blues and greens mix with warm neutrals like cream and beige creating a serene color scheme that's so relaxing it's guaranteed to make you feel happy.
'We look at light in each space, and let that guide us in terms of color choices. We tend to prioritize variations in texture, too, all of which act as a starting point for bathroom color schemes,' explains Tanya Selway, co-principal of Stelly Selway. 'In this project, we used Zellige tiles in blues across a range of tonal finishes, mixed with slightly different shades to create a subtle sense of depth along the wall and in nooks. It offered a dose of calm, and remained bright and sunny.'
Anna Hill, color consultant, at Fenwick & Tilbrook agrees that 'If you prefer a more subtle approach, then pastels in pinks, greens, and yellows or even warm neutrals will introduce a softer and calming sense of joy. These shades are often synonymous with spa-style bathrooms and can really help to encourage relaxation and self-care. To add that luxury and sophistication, don't forget to include metallic accents or pops of rich jewel tones in emerald green or sapphire blue - they can bring a touch of opulence and help to elevate your bathroom.'
5. Joyful pinks
Pink is the big dopamine shade, pink rooms are joyful in any of its forms – pale pink, dusty pink but if you really want a dopamine dose, we would suggest going down the more coral pink root. As Kati Curtis explains: 'This lively and energetic hue adds a touch of playfulness and warmth to the bathroom. Just be aware this color can go too towards orange, so it's important to get it right f you want it to feel decidedly pink.'
You could choose to bring that orange side out and add in some orange and even reds to a pink bathroom. We love how this combo looks, so fresh and invigorating. But if you are after a more mute approach, a soft plaster pink that feels closer to neutral is still far more joyful than just going with white.
6. Sunny yellows
Surely the happiest shade of them all? Yellow bathrooms are wonderful spaces, but working with such a bold hue can be tricky so as we always suggest – swatch, swatch, swatch! Think about the size of your room, what light it gets, and what style you want to create.
As designer Jennifer Davis says, 'Yellow tones are known to evoke joy and happiness. However, for a bathroom, where freshness and cleanliness are desired, using pure yellow might not be the best choice. With that being said, the colors you personally gravitate towards are likely the ones that bring you the most joy, as long as they aren't too intense.'
So, if you want to ensure yellow is going to give you all those happy vibes but not overwhelm the space, we would recommend going with a more ochre-toned yellow. This bathroom designer by Barlow & Barlow feels joyful and playful but still sophisticated, thanks to the more muted tones. 'We always recommend being a little more daring when it comes to color and pattern in bathrooms. As secondary spaces they're a great place to experiment.' says the studio's founder Lucy Barlow.
'Color drenching is a brilliantly bold technique that can really enhance a smaller room and make it feel happy and mood-boosting. We went for mustard and pink in this family bathroom because it's appropriate for a child's space without being too sickly for any adults who have to use it as well. Adding a sink skirt is a great opportunity to incorporate some fun prints into your bathroom.'
Sign up to the Homes & Gardens newsletter
Decor Ideas. Project Inspiration. Expert Advice. Delivered to your inbox.