The best color pairings – learn what shades go together to help you transform your home
Discover our favorite color combinations as chosen by the experts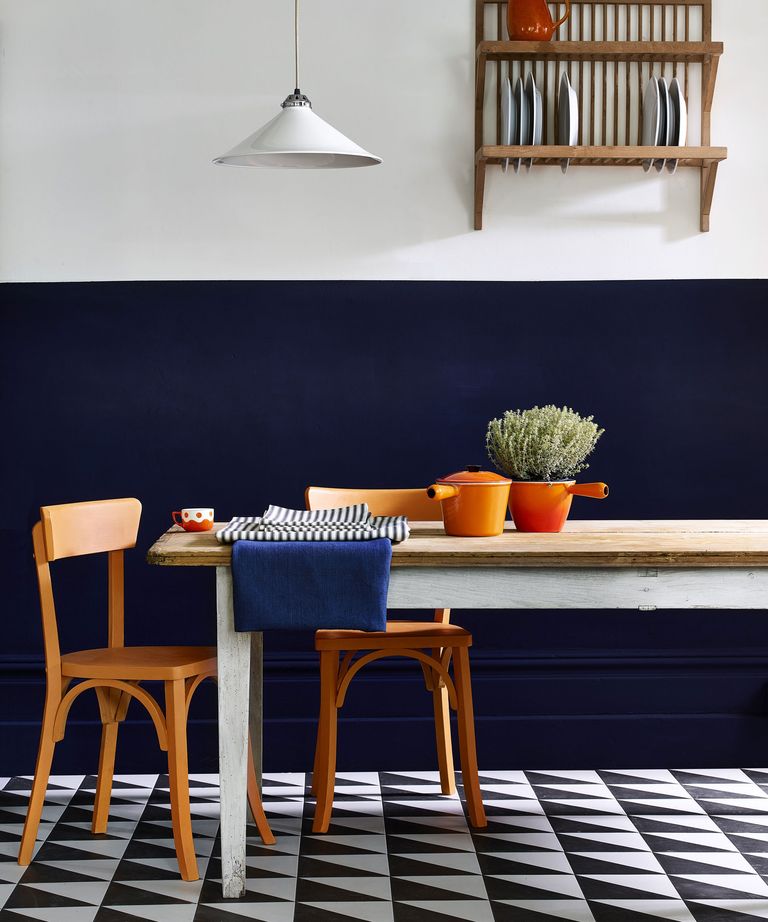 (Image credit: Annie Sloan)
2020 has been a rollercoaster year with the majority of us spending more time in our homes that we ever cared to imagine. Because of this, it's natural that the focus we place on our homes has shifted dramatically. 
Now no longer a place just to relax and unwind, our homes need to adapt to become multitasking spaces in the 'new normal', incorporating areas where we can work, rest and play. 
As a result, our decor needs to reflect this new flexibility, while also embracing a look that we won't tire of too quickly. 
We've asked a panel of industry experts for their views on what color pairings work well together and how these new combinations will have a positive effect on our emotional wellbeing.
See: Paint ideas for every room – how to choose the best paint colors every time
What colors are trending for 2020?
'The colors of nature, such as earthy beige and warm clay and all shades of green have been a firm favourite for the last seasons,' says Judy Smith, Crown Color Consultant.
'Over the past few months, nature has become even more important. The outdoors has been an escape, somewhere to go to recharge our batteries or even just take a break from everything. We now want to channel that feeling in our home too, with warm, cosy shades inspired by the natural world.'
Meanwhile, Pantone's color experts have their own interpretation of 2020's nature theme. While over the last two years, the institute had chosen a rich violet and a vivid coral as their colors of the year, this year they opted for a classic shade of blue for their chosen hue.
Joa Studholme, Color Curator at Farrow & Ball approves. 'Uncomplicated shades of blue feel familiar, like memories from our childhood, so they have a soothing effect in the home despite their cooler undertones.'
So what colors go well together?
Anyone who knows their way around a color wheel will be keenly aware that you can create a totally different look and feel in a room, by simply pairing an existing color with a new hue.
Marianne Shillingford, Dulux's Creative Director says, 'Creative decorating techniques like layering, adding shapes and painting the ceiling in a color rather than white can completely alter the appearance of a room and make it unique to you.' 
Is gray still in for 2020?
Rest assured, grey is still everywhere and its popularity shows no signs of abating. However, while its previous appeal lay in creating a simple, neutral scheme using varying shades and tints, now the trend is edging toward using it to replace white as a neutral pairing shade. 
The best color pairings for 2020
1. Dark green & cherry red
As we already touched on, green is a key colour for 2020 and there are various ways in which it can be paired successfully. 
Ruth Mottershead, Creative Director at Little Greene believes that the rich appeal of red is the way forward. 'The use of sumptuous dark shades in combination can create a really warm, cosy feel. A rich red like Baked Cherry pairs beautifully with the deep Invisible Green for an enveloping scheme that is perfect for bedrooms.' 
2. Navy blue & tangerine
Combining a deep navy blue with flashes of a particularly vibrant shade of orange as seen here makes an instant statement. It's ideal for kitchens or a dining space where you may want to make an impact or energise a space.
3. Coral & Sand
Soft, feminine and subtle, this pairing combines a classic neutral shade with a warmer hue. The coral is toned down by the pale sand shade on the walls to produce a relaxed, comforting palette.
4. Olive green & brown
In a darker pairing and in keeping with the trend toward naturals, green and brown create a soft, elegant combination that is both soothing and restorative.
'Strong greens,' says Creative Director at Little Greene, Ruth Mottershead, 'are particularly on trend and can be paired with striking tones such as a chocolate brown to create a real statement.' 
5. Petrol blue & white
For a more traditional feel, Joa Studholme, Color Curator at Farrow & Ball suggests teaming rich blues with a soft white hue or even a gray white. 'Together with white painted woodwork, blues will sing even more, especially when used in well-lit spaces or on central kitchen islands,' she says. 'However, when used in areas deprived of light or in evening rooms lit by table lamps, they become much richer and more luxurious in feel.'
6. Raspberry & Plaster
Combining colours of different strengths of the same pigment work really well in combination. These contrasting variations on pink, carried through to the woodwork and skirting, produce an elegant and harmonious effect.
7. Plum & pink
The deep eggplant shade on the walls, radiator and door provide a lush, deep background against which to drift off to sleep each night. The paler shades on the linen and furniture ensure the look stays fresh.
'Differing shades and tones can certainly change the way we feel,' says Ruth Mottershead, Creative Director at Little Greene. 'Pastels and soft tones often evoke a sense of calm and restfulness, while dark, rich tones can create a feeling of warmth and cosiness.' 
8. Primary hues
If the natural colors that are so predominant this year aren't for you, the predicted trends for 2021 edge to the bolder and brighter end of the spectrum. 
Judy Smith, Crown Color Consultant says: 'Next year, we will be seeing a lot more bright colours. A grown up way of using primary tones - bright red, blue and yellow look wonderful used in a graphic way with black and white.'
So regardless of what hues are on trend and what the best color pairings are for 2020, it's far more important that you choose the combinations that you love and that you can live with happily.
As Dulux's Creative Director Marianne Shillingford says: 'The beauty of colour is that it does so much more than just look good. The most important thing is to be inspired and just go for it.'
Hello there, I'm Ginevra Benedetti, 
Associate Editor on the Homes Content Team at Future. 
I've been fortunate enough to have been writing about interiors for the past 16 years on the majority of Britain's monthly interiors titles, such as Ideal Home, Country Homes & Interiors and Style at Home, as well as Livingetc and of course, Homes & Gardens. 
This naturally feeds into writing for wonderful websites like HomesandGardens.com and IdealHome.co.uk.
Over the years, I've interviewed some of the most talented designers in the business and I've pretty much written about every area of the home, from shopping and decorating, appliances and home tech, wallpaper and fabric, kitchens and bathrooms, even extensions and conversions.  
I never tire about reading or writing about interiors, from classic timeless designs to innovative smart tech - the subject is always evolving, just as our homes do, year after year.