Best milk frother: cafe-style beverages have never been easier
The best milk frother will upgrade your morning cup of coffee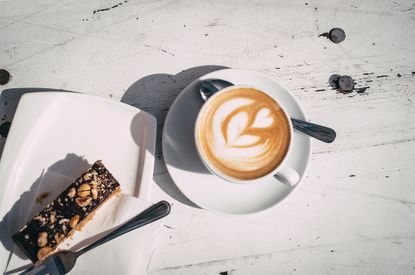 (Image credit: Getty)
Coffee, just black or with a splash of creamer just doesn't have the same allure after you add one of the best milk frothers to your morning routine. Lattes, cappuccino, cold foam brews, are all achievable at home, in just minutes. A milk frother turns an average morning into one that feels like a treat. So go ahead, indulge with some light and fluffy milk to make your beverages next level.
You can even become a true barista. Tip: add your favorite syrups on hand for the true coffee house experience. We can't guarantee you'll nail down the latte art right away, but frothing milk itself doesn't require much skill. In fact, that part is almost foolproof.
Seriously, once we added a milk frother to our coffee set up, we've never looked back. Consider ourselves, spoiled. We've examined the best milk frothers available and broken down the various types of milk frothers, so you can choose which type is best for you (electric, handheld, or manual).
Once you have the best coffee maker on hand, we promise that these milk frothers are the perfect counterpart.
Best milk frothers of 2021
You can trust Homes & Gardens. Our expert reviewers spend hours testing and comparing the latest products, helping you choose the best for you. Find out more about how we test.
1. Breville BMF600XL Milk Cafe Milk Frother
Best overall
Specifications
Type: Electric
Capacity: 8.4 ounces
Dimensions: 6.1 x 6.4 x 10.3 inches
Reasons to buy
+
Uses various "disks" for preferred froth style, with onboard storage when not in use
+
Dishwasher safe jug
+
Can make hot chocolate directly in the unit
+
3 cup capacity
+
Adjustable temperature and induction heating
If you're after the best of the best in milk frothing, the Breville BMF600XL Milk Cafe Milk Frother is pro-level approved, with tons of versatile settings to get the best frothing experience. Go ahead, add this little indulgence to your daily routine.
What we like
Options, options options. First, you can adjust the temperature between 120 and 160 degrees Fahrenheit as well as choose your milk consistency: silky and smooth, or light and frothy. Plus, it can make up make up to three cups of milk froth at a time, which is perfect for when you have guests or will be making multiple beverages.
The Breville is made of stainless steel throughout and uses an induction heating element that creates little bubbles to froth milk. This method also keeps the milk from sticking or scalding, making way for an easy care experience. The pitcher is even dishwasher safe!
What else?
For operation, it uses two interchangeable "discs" depending on your desired froth setting. Magnetic onboard storage in the back, however, keep them within easy reach, even when not in use. For instance, the Latte disc is for smooth and silky milk while the Cappuccino disc makes thick and creamy froth.
Additionally, while the Breville Milk Cafe has a cold stir frother, it does not create cold foam.
2. Nespresso Aeroccino 4 Milk Frother
Easiest to use milk frother
Specifications
Type: Electric
Capacity: 8 ounces
Dimensions: 8.3 x 7 inches
Reasons to buy
+
Makes both hot and cold foam
+
Dishwasher safe parts
+
Uses just one whisk
+
Easy to use
Reasons to avoid
-
Only available in one finish (unlike predecessors)
-
Only one temperature option
Nespresso lovers may already be tuned in to the ease of the Aeroccino milk frothers, but anyone looking to up their coffee and espresso recipes, will want to pay attention. The latest edition milk frother, Nespresso Aeroccino4 Milk Frother, conveniently adds dishwasher-safe components and an additional hot froth mode that's ideal for cappuccinos over earlier models.
What we like
The ability to choose from hot milk, hot froth, and cold froth at the touch of the button. It also uses the same whisk for all its features, so you don't have to worry about switching them out as you choose different settings. It's easy to use, with four buttons, just pour in and let the Aeroccino4 Milk Frother take on the heavy whipping. Plus, it can be made while your coffee or espresso brews. It heats up to 8 ounces of milk at a time or froths up to four ounces. The frothing jug is also dishwasher safe, so clean-up is hassle-free.
The majority of buyers enjoy the value and ease of café-style beverages at home, citing its dense foam, easy and quiet operation, that it has transformed their at-home coffee experience.
What else?
Nespresso recommends you use whole or semi-skimmed milk and avoid using milk alternatives, powdered milk, and syrups with the Aeroccino. Though, we have noticed several reviews that said it performed well with oat milk.
3. Zulay Original Milk Frother
Best handheld milk frother
Specifications
Type: Handheld
Capacity: N/A
Dimensions:: 9.84 x 2.87 x 2.83 inches
Reasons to buy
+
Many color options
+
Portable
+
Comes with a convenient stand
+
Lifetime Warranty
Reasons to avoid
-
Requires batteries
-
Can splatter
We could go on and on about the ease of a handheld frother. New to frothing and not sure if you want to indulge in a pricier model? Get a handheld. Want to take it on the go? It'll easy transport to work or wherever you travel. What about cleaning? A quick rinse means minimal maintenance. So go ahead, give the Zulay Original Milk Frother Handheld Foam Maker for Lattes to start. We think you'll be hooked. It's even a favorite of Heather Dubrow.
What we like about it
The Zulay has a one-touch operation that is super easy to use, and is available in a seemingless endless rainbow of colors. With 12,500 rotations per minute (RPM), it can froth your preferred milk, be it cow's milk or non-dairy alternatives like soy, almond, or oat to a fluffy consistency. It's versatility, goes much further than just your favorite coffee beverages; use it as a whisk for mixing milkshakes, matcha tea, bulletproof coffee, protein powders, cocktails, fruit drinks, eggs, soups, dressings, and even whipped cream.
What else?
The Zulay Milk Frother requires 2 AA batteries, which are not included. Also, be wary that since no lid is involved, your foam could splatter or overflow. You will have to actively pay attention to what you are doing, rather than setting and forgetting it like in an electric.
4. HIC 14 oz. Stainless Steel Milk Frother Pitcher with Handle and Lid
Best manual milk frother
Specifications
Type: Manual
Capacity: N/A
Dimensions:: 9.84 x 2.87 x 2.83 inches
Reasons to buy
+
Durable, dishwasher safe
+
14 oz.
+
Froth in 30-60 seconds
Reasons to avoid
-
Requires the most effort
-
Not microwave safe to heat milk
Keep things old school with the forever dependable with the HIC Stainless Steel Milk Frother Pitcher. The stainless steel design is durable and dishwasher safe, and no electrical components limit the chance of malfunction. However, as a manual design, you will have to pump it yourself, which also gives you the most control over your froth levels.
What we like
Beyond looking like a pro, something about stainless steel pitchers just look barista-quality, it's easy to use. Plus, the pitcher with a lid is a roomy 14 oz. that can double as a serving piece when you have guests. The spout also enables you to work on your latte art. It features a built-in double-mesh aerator to make froth and an easy-grip handle. Simply pump the handle for a minute, and you'll have silky, smooth milk froth for your lattes.
What else
You can heat milk on the stove but will need to use a separate container to heat up the milk in the microwave.
Additionally, there is a method to the pumping to make froth, as one reviewer on Amazon has pointed out. He found through trial and error that pumping milk at a "steady pace, deliberately but not too fast" resulted in the fluffiest milk. He also recommended frothing it cold and then warming it up in the microwave. In fact, the review section is a treasure trove of users offering up their favorite tips and tricks.
5. Capresso Froth Max Automatic Milk Frother
Best milk frother for non-dairy milk alternatives
Specifications
Type: Electric
Capacity: 8 oz.
Dimensions:: 6.25" L x 5.5" W x 7.5" H
Reasons to buy
+
Works well with both dairy and non-dairy alternatives like almond, soy or oat milk
+
See-through container lets you see frothing progress
+
3 settings
+
Makes both cold and hot froth, and hot chocolate
Reasons to avoid
-
Milk doesn't get super hot
As non-dairy substitutes like almond, soy, and oat milk continue to take over their share of the milk market, you need a milk frother that can handle the varying consistencies of each. And the Capresso Froth Max Automatic Milk Frother is our preferred contender.
What we like
You'll find so many uses with the Capresso milk frother, which has the ability to make hot and cold froth, heat milk, and whip up rich hot chocolate. It includes 2 frothing disks and a heating disk that store magnetically under the base. The BPA-free plastic pitcher lets you see the milk frothing in action, and is also durable and dishwasher safe. The pitcher has an 8 oz. capacity for frothed milk for cappuccino and 12 oz. capacity for non-frothed hot milk like lattes. Even better, it works well with both non-dairy and dairy milk.
What else
While it makes hot chocolate, some found that the milk did not get warm enough to their liking.
6. Kalorik Bartista Automatic Milk Frother
Best milk frother for versatility
Specifications
Type: electric
Capacity: 24 oz.
Dimensions:: 10.59'' H x 6.8'' W x 5.13'' D
Reasons to buy
+
Is also a French press, cold brew, and hot chocolate maker
+
Measurement lines to see how much to pour
+
Makes hot and cold foam
Reasons to avoid
-
Coffee components need to be cleaned in between adding milk
One small countertop appliance, eight beverage options. That's right. The Kalorik Bartista is a milk frother, French press, cold brew maker, and more in one, giving new meaning to multi-function.
What we like
Kalorik packs a ton of useful functions into one compact device. As for the milk frother, the Bartista uses a magnetic drive motor and frothing disc to create light and airy foam, both hot and cold, for your daily cappuccinos, macchiatos, and lattes.
When it comes to its coffee, tea, and hot chocolate features, it can heat up to 200 degrees Fahrenheit in just a few minutes, make French press with the included plunger, and an intense cold brew in as little as 30 minutes. Wow! And it's simple to use with a simple dial to control settings.
What else?
If you choose to make a coffee beverage and then use it for milk froth consecutively, you will have to be sure to clean it in between, so it's kind of superior for one or the other in the moment.

---
How to choose a milk frother?
So you can get to enjoying your coffee quicker, we've broken down the varying types of milk frothers available to you.
Depending on your needs and budget, there are many different options when it comes to selecting a milk frother:
How a milk frother works
It's all about aeration. A milk frother quickly stirs milk to aerate it, which in effect milk adds air to the mixture, causing the milk to form a lather on top. Hence, foam forms and can be light or dense depending on the type of frothing device used.
What milk is best to use in a milk frother?
Dairy milk froth's best, and the fresher the better. Low fat milks create dry, stiff foam while high fat or whole milk create wet, silky foam. Milk that previously was frozen will not froth.
Many reviewers across the models have noted that Oat milk has worked and led to frothy results, but milk alternatives like almond, coconut, or soy milk often have a harder time yielding consistent results. A lot of it comes down to experimentation, unfortunately.