Garden party ideas — inspiration for outdoor gatherings, from family barbecues to dinner with friends
These garden party ideas will help you host the perfect outdoor get-together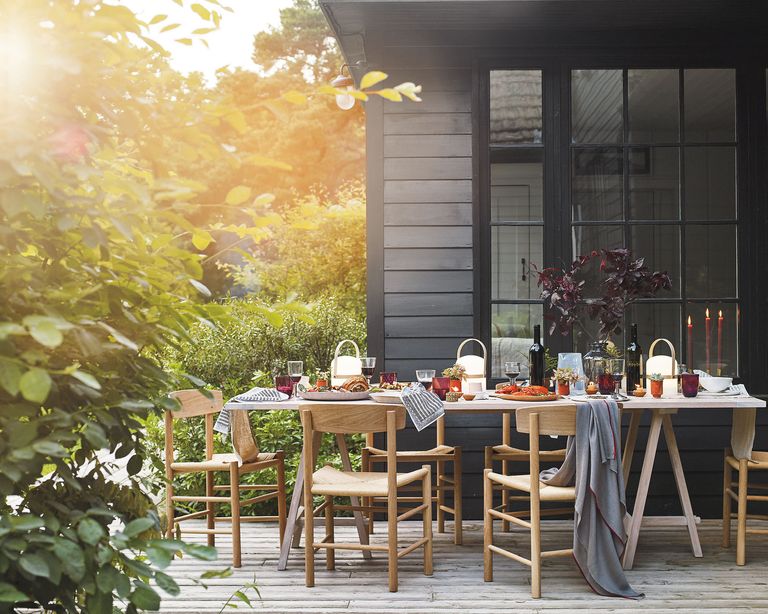 (Image credit: Future)
With inspiring and fun garden party ideas, alfresco gatherings are the perfect way to celebrate warm weather.
Whether you're simply taking the family outside for dinner, or hosting a big group of friends, bringing things outside creates a new and fresh dynamic.
In the middle of summer, you'll want to spend every moment possible outside. Whereas in the autumn, sometimes nothing can be better than cozying up around a fire with friends to enjoy the crisp air. There are ways to make a garden party work for (nearly!) any time of year or space available.
So, from intimate moments to family extravaganzas, we've curated our favorite garden ideas for every type of party.
Garden party ideas
1. How do you throw a garden party?
Throw a garden party in any style you desire, but one of the most special things about taking things outside is the joy of alfresco dining.
Take a traditional dinner party and move the fun outdoors. Menu-wise, why not choose summer recipes that can be cooked on the fire or in the oven, depending on how the mood takes you. Plus, this outdoor dining idea is a lovely, family-style way of entertaining.
For decorating your table outside, complement the season with your color choices. Dress the table with simple linens, terracottas and recycled glassware for an earthy, eco-moment. If you have kids running around, swap in hardy melamine platters and plastic glassware that look like the real deal.
2. How can I decorate my backyard for a party?
Depending on who's coming over or if you have a theme, the backyard really is your oyster!
We love keeping things relaxed, with layers of cushions, blankets and linens, shown in the garden picnic idea above. Sue Jones, Creative Director of OKA suggests to, 'treat your garden as an extension of your home and choose a colour palette for textiles and tableware to create a welcoming aesthetic.'
If you're looking for outdoor lighting ideas, stringing up warm festoon lights or tea lights placed in bright glass holders dotted all around the backyard adds a lovely touch.
Although remember to keep them away from foliage and don't place them directly on the grass. Additionally, if you have a large garden, you could have several different stations for drinks and nibbles.
3. How do I set up an outdoor party?
Demarcating zones is a great way to add intrigue and intimacy to a garden party.
If, when designing your garden, you have entertaining in mind, then consider using flowers and shrubs to define various sections. Planting beds can add a sense of privacy to smaller seating areas. Add in some herb pots here, too, for a natural way to scent a cozy area.
Tasha Green, Director of Weaver Green, suggests to, 'create hidden areas to escape the madding crowd. Create simple wooden brackets and attach them to walls and fences to use as hanging structures for textiles (large bull clips are perfect for a non-permanent attachment).'
Alternatively, invest in a tent or marquee for an opulent feel. This is an especially lovely idea at a birthday, to create a focal point for gathering.
4. What are some good party ideas?
Throw a memorable bash with a themed event or 'Olympics' style activity for your garden party.
5. How do you illuminate a garden?
Effective illumination allows you to 
use the garden for longer. Solar garden lighting ideas have become incredibly popular in the past few years as an eco-friendly option. They come in nearly every shape and size imaginable, meaning there will be something suitable for your needs.
In the same way you plan indoor lighting, aim for a variety of sources for extra ambience.
'When you bring pieces that you're used to seeing indoors out into garden areas, it completely shifts how room-like they feel,' notes Meaghan Hunter, Stylist at Neptune.
'Lamp light is one of the most interesting ways to do this, so one of my favourite additions to our collection was the Hanover cordless lamp, because it makes lamps in the garden so much more doable.'
In addition to lamps, Meaghan suggests to, 'nestle them amongst all the planting and mix them alongside hurricane lanterns and tea light holders to create a contrast of light. They all play off one another and keep things interesting.'
6. How do I keep my guests comfortable at a garden party?
Comfort is everything for your guests, especially when you're outside and will be lingering until the last rays of sun have faded away.
While seat and bench pads are of course useful, few of us will have the right number of chairs when throwing bigger garden parties. Instead, make use of your square footage and make the ground a new comfort zone, as in the outdoor living room idea shown above.
'We use lots of lovely outdoor scatter cushions, floor cushions and outdoor rugs to take the hard edges off,' says Tasha Green, Director of Weaver Green. 'Make sure your textiles are outdoor-proof and quick drying. Then they can be left outdoors with no ill effect.'
7. What is a fire pit?
Fire pits make wonderful outdoor fireplace ideas and they are a great way to add warmth and ambience to your garden party.
Unlike a barbecue, their main purpose is not to cook food, but to warm things up and create a radiant and inviting focal point to a gathering.
'The position of your fire pit and how you style it can really enhance the experience,' advises Nicky Marks, founder and MD, Raj Tent Club.
'Place it at the bottom of the garden for a destination zone, or on your patio to create a convenient relaxation area close to the house. Adorn trees with fairy lights, provide occasional tables for drinks and plates, and comfortable chairs to lounge in.'
8. How do I keep my guests warm at an outdoor party?
In addition to fire pits, add chic, modern country charm to your garden party by looking to unusual ways of displaying practical necessities.
A foraged branch strung up with rope, or perhaps across where a hammock would usually hang, is the perfect place to display blankets.
Attach stylish leather loops to throws in complementary colors. They'll look pretty during the day, and when evening rolls around, your guests will know exactly where to head to for an extra layer.
9. How can I be good at barbecuing?
Summer BBQ ideas go with garden parties like peanut butter and jelly. Getting the grill going sets the occasion, and the scent of charcoal heating up and food cooking never fails to perk your guests up.
'There are always going to be a few considerations you'll have to make when thinking about cooking outside,' notes Declan Kingsley-Walsh, MD of Morsø UK. 'Some things are a given. Don't let children play too near any open flames or coals and always ensure that any food you're cooking, especially meat, is properly cooked through.'
Hosting a barbecue is more that just the health and safety, however. To throw the perfect grilling party requires a few more considerations.
'It's useful to take into account other factors. For example how many people will you be cooking for?,' asks Declan.
'Do you want to go beyond the realms of traditional outdoor cooking, moving away from hot dogs and burgers and maybe cook something a bit different? This way, you can accommodate for far more tastes and welcome more people to your outdoor space.'
10. Should I invest in an outdoor kitchen?
If garden parties are one of your favorite ways to host, or you live in an area where you might be taking dinner alfresco more often than not, then you might consider installing an outdoor kitchen.
Outdoor kitchens can vary from a small built-in grilling area to a full on outdoor room with all the amenities you could imagine. 'For those who like to create beautiful outdoor spaces, then investing in a well-made, beautifully crafted outdoor kitchen is a natural aspiration,' notes Simon Burvill, Founder of Gaze Burvill.
Installing an outdoor kitchen depends on how big the project is, and for the larger designs, Simon explains how Gaze Burvill begin the process.
'Our design team will design the outdoor kitchen specifically to your space and work with the landscape contractors and designers right at the beginning of a project to install services such as water, electrics and gas.'
'For a sensible budget you can create a good area of worktop, fit a robust sink and have a BBQ that is proportionate to how you will use it,' notes garden designer Tony Woods of Garden Club London. 'The sink can also be filled with ice and used as a drinks cooler when needed.'
If you're going the DIY route, remember to include sufficient storage for all your utensils and maybe even extra gas canisters or bags of charcoal or wood.
To make sure your garden party can go off without a hitch, integrate a serving area where you can place plates and platters. Include pots of herbs, too, as a thoughtful touch so guests can garnish their own drinks.