Best climbing plants for shade – 10 pretty ways to bring flowers and foliage into light-starved areas
Choose climbing plants that shine in the shade to enhance gloomy parts of the garden where sun lovers will languish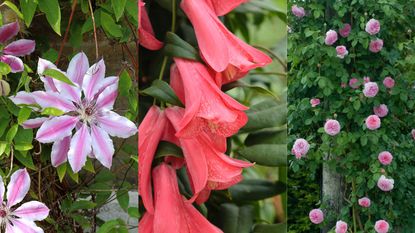 (Image credit: Getty Images, Alamy Stock Images, David Austin Roses)
Sign up to the Homes & Gardens newsletter
Decor Ideas. Project Inspiration. Expert Advice. Delivered to your inbox.
Thank you for signing up to Homes & Gardens. You will receive a verification email shortly.
There was a problem. Please refresh the page and try again.
Most of us have boundary walls, fences, or garden buildings such as sheds or studios that are in shade for part of the day, and in some cases all day long, especially if your garden faces north or east. Even if you have a south-facing space there will still be areas of the garden thrown into shade at certain times caused by buildings or trees as the sun moves around.
If you have previously given up on these areas because of planting fails or you assume it's not worth trying in the first place as nothing will grow, turn a negative into a positive by introducing shade-loving climbers to shady spots to add vertical interest. The good news is there are many climbing plants that can tolerate shade and some that actually prefer it.
Growing upwards with the best climbing plants is a great opportunity to add more flowers and foliage to your planting scheme without taking up too much space. In addition to helping lift gloomy places, growing up walls, fences, the exterior of your house, garden buildings, or pergolas and arches by covering them with climbing plants adds an interesting focal point and enhances your sense of privacy.
Now choose from our expert selection of the best climbing plants for shade.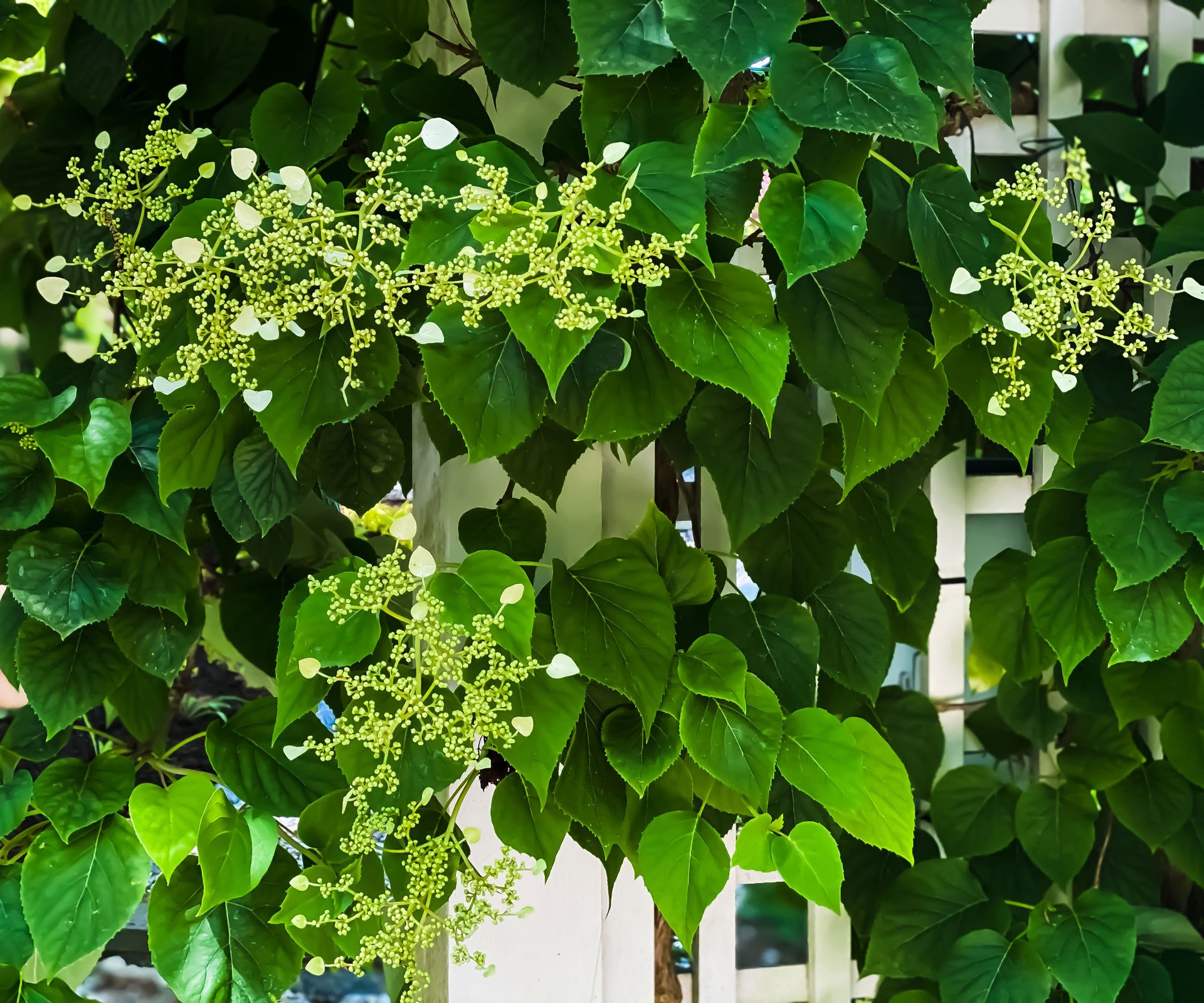 10 of the best climbing plants for shade
The key to success when choosing climbing plants and the best shrubs for shade is to work with what you have and be aware of your own little microclimate.
'When I moved to a townhouse I thought it was going to be great as there was so much more room to grow things,' says Robin Phelps, gardening coach at sowmanyplants.com, who is based in Carroll County, Maryland. 'Despite the fact I had so much shade in the backyard due to the huge mature trees, I didn't let that deter me and I had to learn the best way to grow in my new surroundings.'
The old adage of 'right plant, right place' works every time but particularly when choosing the best climbing plants for shade.
Robin Phelps is a gardening and preserving coach at Sow Many Plants, with over 20 years of experience in the gardening industry. As well as advising on planning and planting your garden, Robin specializes in growing fruit and vegetables, with a dedication to teach others how to preserve and keep what they grow.
1. Climbing hydrangea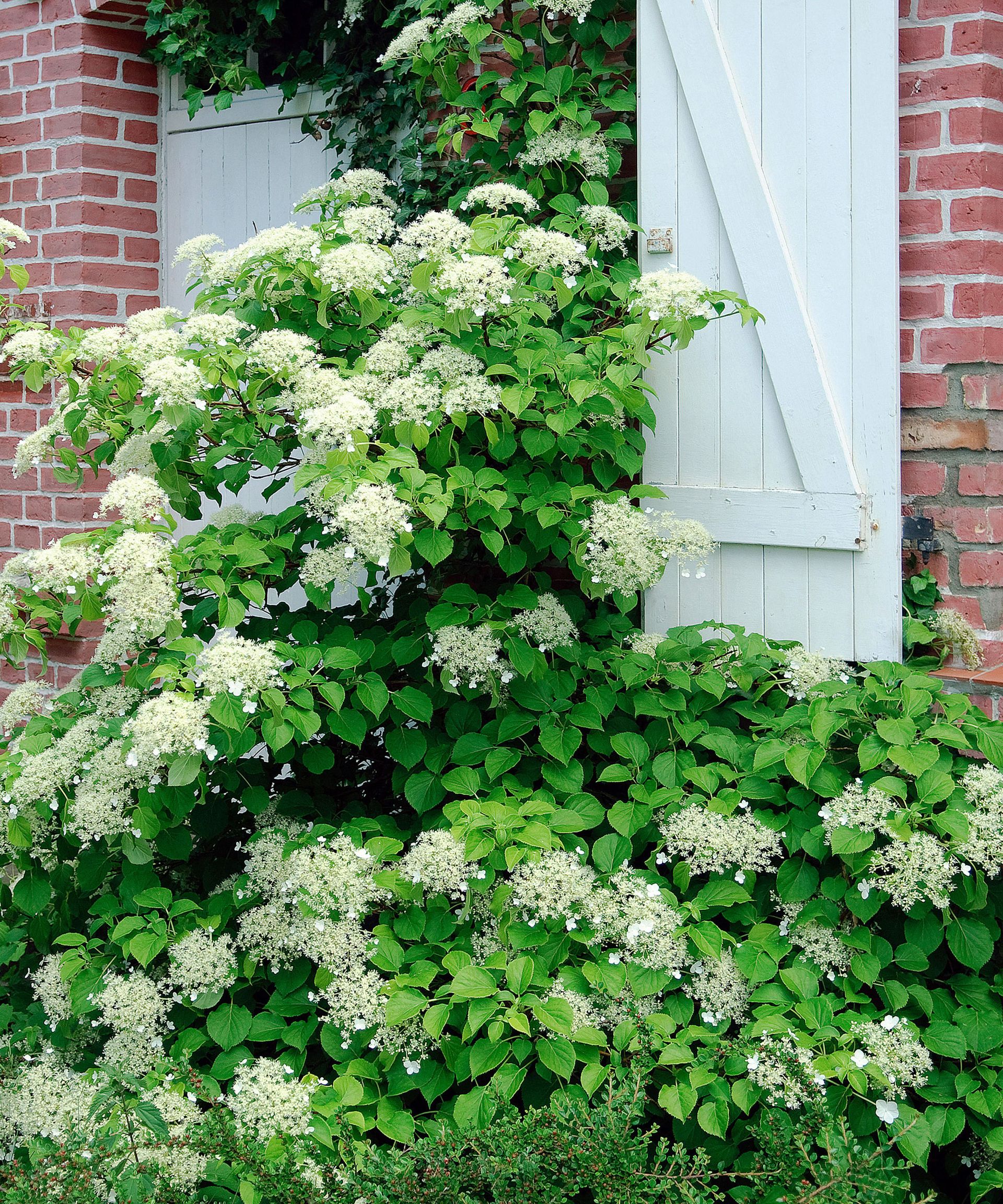 White flowers are a great choice for adding luminosity to shady yards, and many of the best hydrangea varieties excel at producing big white blooms that lighten a space. With its masses of showy flowers in late spring and early summer, the best-known climbing hydrangea is the petiolar variety.
This plant will creep sideways along walls, fences, and other structures, and the flowers help to brighten a shaded space. It's easily trained and looks attractive all year round. While many climbers benefit from a helping hand with climbing plant support ideas, Hydrangea petiolaris is an independent type that clings all by itself.
'Hydrangea petiolaris is one of the most sought-after climbers for its beautiful flowering cover and ability to climb up to 40 feet on vertical structures and trees,' says Rich Christakes, founder of the plant-based marketplace Ship My Plants. 'This hydrangea can thrive in areas with full sun, partial shade, and full shade, making it a versatile choice for any landscape.'
Training the stems of climbers horizontally rather than allowing them to grow vertically covers a bare expanse of wall more thoroughly as well as encourages flowers all over the plant rather than just at the top.
Rich Christakes is an Indiana State Accredited Horticulturist, founder of Ship My Plants, CEO of Alsip Home & Nursery, and co-founding True Mtn Marketing. With a 25-year background in the garden center retail industry, he has helped transform the way people interact with plants and gardening products.
2. Honeysuckle 'Graham Thomas'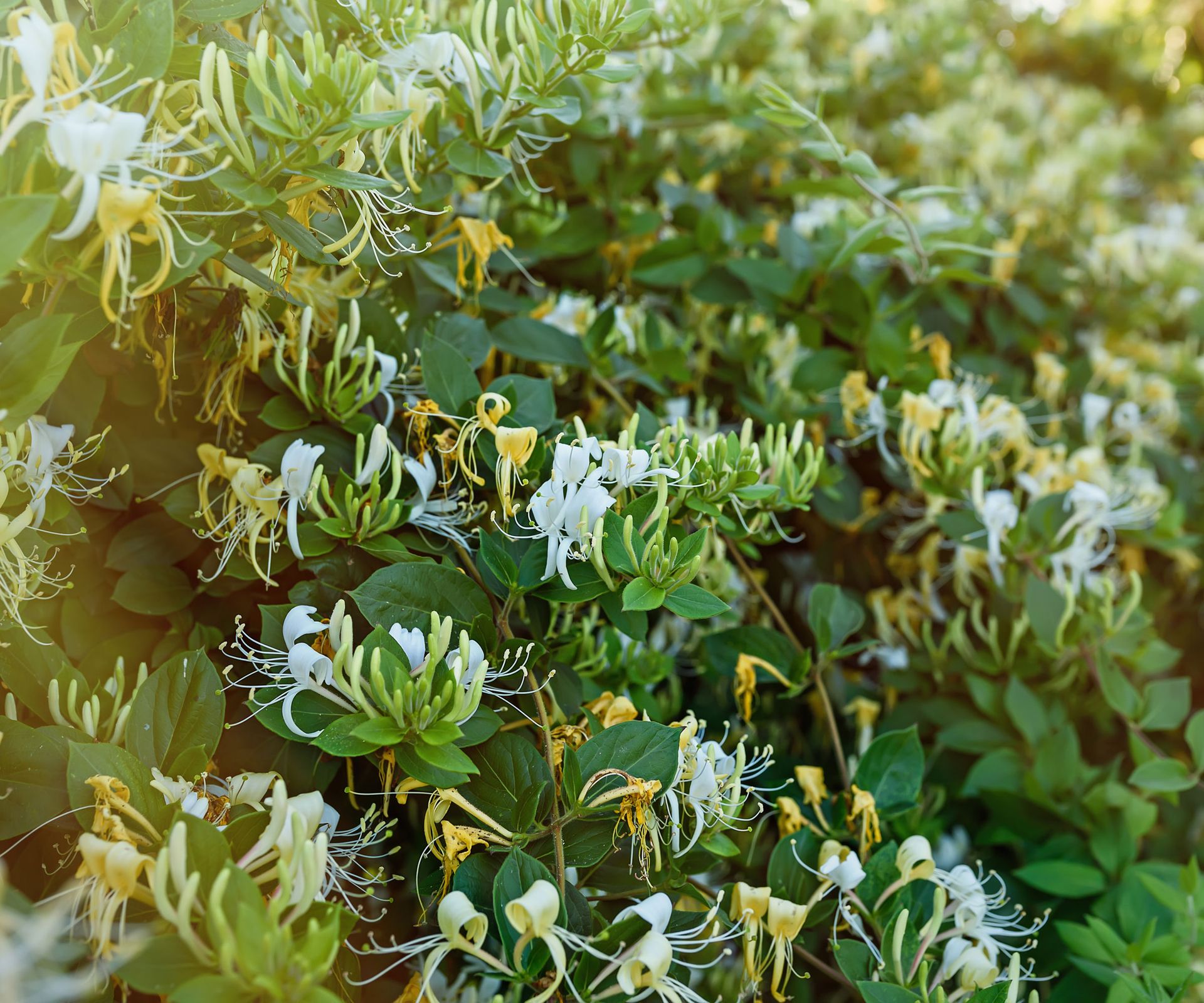 As well as being known for its evening scent and ability to flower multiple times in a growing season, honeysuckle 'Graham Thomas' loves nothing more than a partially shady location, especially when combined with moist, well-drained soil.
If you want to find out how to grow honeysuckle, 'Graham Thomas' is an easy, fast-establishing honeysuckle with large white, tubular flowers that mature to a pale, buttery yellow. It has a vigorous twining habit that is ideal for walls, fences, pillars and pergolas, and left to its own devices can reach an ultimate height of around 22 feet. Prune immediately after flowering to restrict this vigorous growth to its designated space.
This attractive plant is one of the best flowering climbers and is also an excellent choice for wildlife as the blooms attract pollinating insects and birds love the glossy red berries that follow.
Honeysuckle also combines very well with other climbing plants, weaving its way through roses, clematis and other climbers to provide beautiful coverage, plus of course, add its heavenly fragrance to the mix.
3. Star jasmine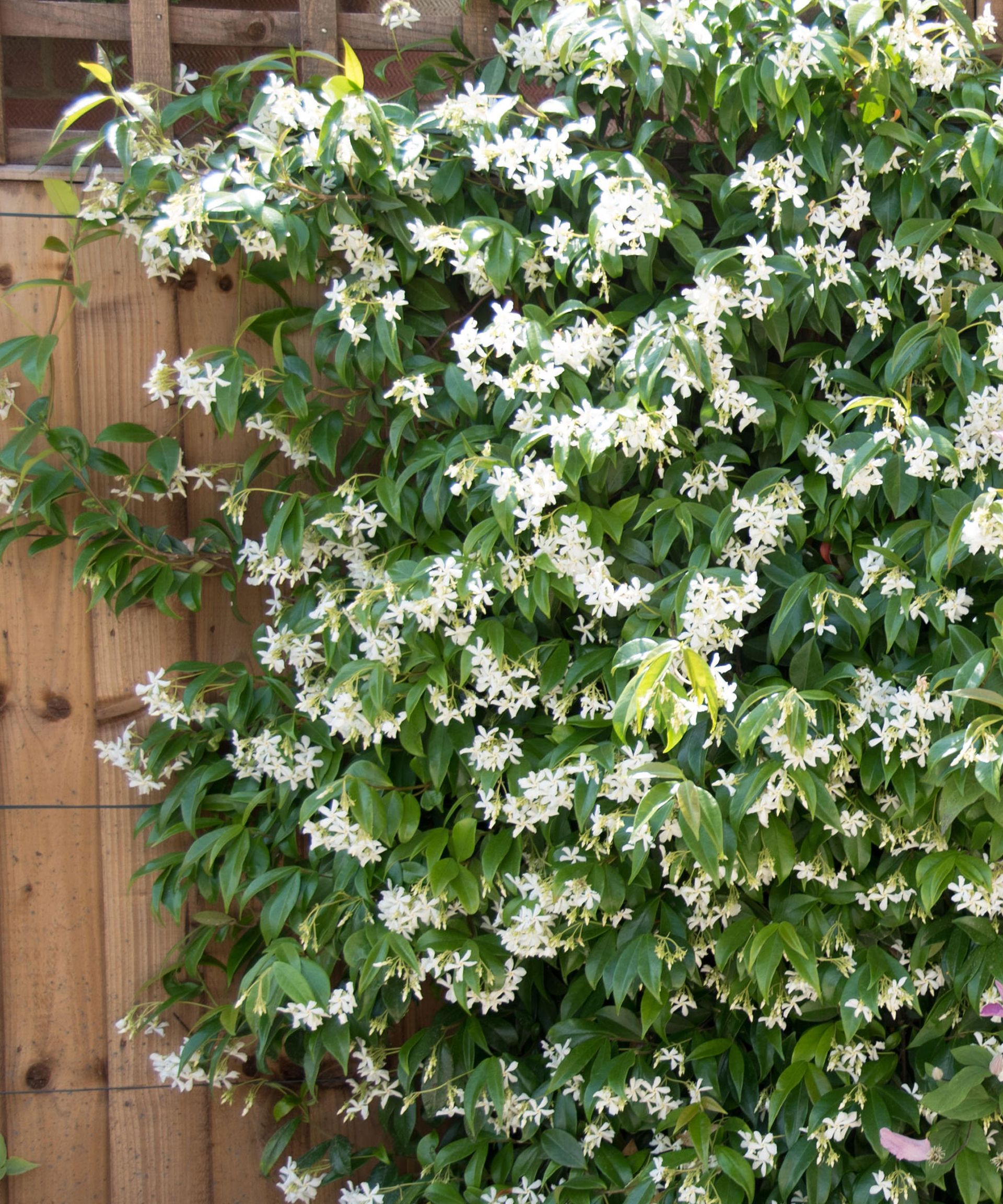 Star jasmine is a great choice for year-round interest in a shady spot as it's an evergreen variety. The leaves stay looking lush even if you live in a cooler climate. This versatile vine will add a touch of fragrance and luminous beauty to a shady yard. Star jasmine (Trachelospermum jasminoides) is also one of the best fast-growing flowering vines. It will rapidly cover walls, fences, trellises and anywhere else that pleases you.
This fragrant plant will do well in shady and notoriously difficult east-facing parts of your garden too. It's a great choice if you have an area of the yard you want to screen off, as it can reach up to 20 feet.
'Star jasmine thrives in partial shade as well as full sun, offering flexibility in terms of placement,' says Robin Phelps. 'It has an abundance of small, star-shaped, white flowers with a sweet, intoxicating fragrance. The scent adds a delightful sensory experience to your outdoor space too.'
Star jasmine is a low-maintenance plant that tolerates pruning well and can be shaped as desired, making it a go-to choice in your search for the best climbing plants for shade.
4. Climbing rose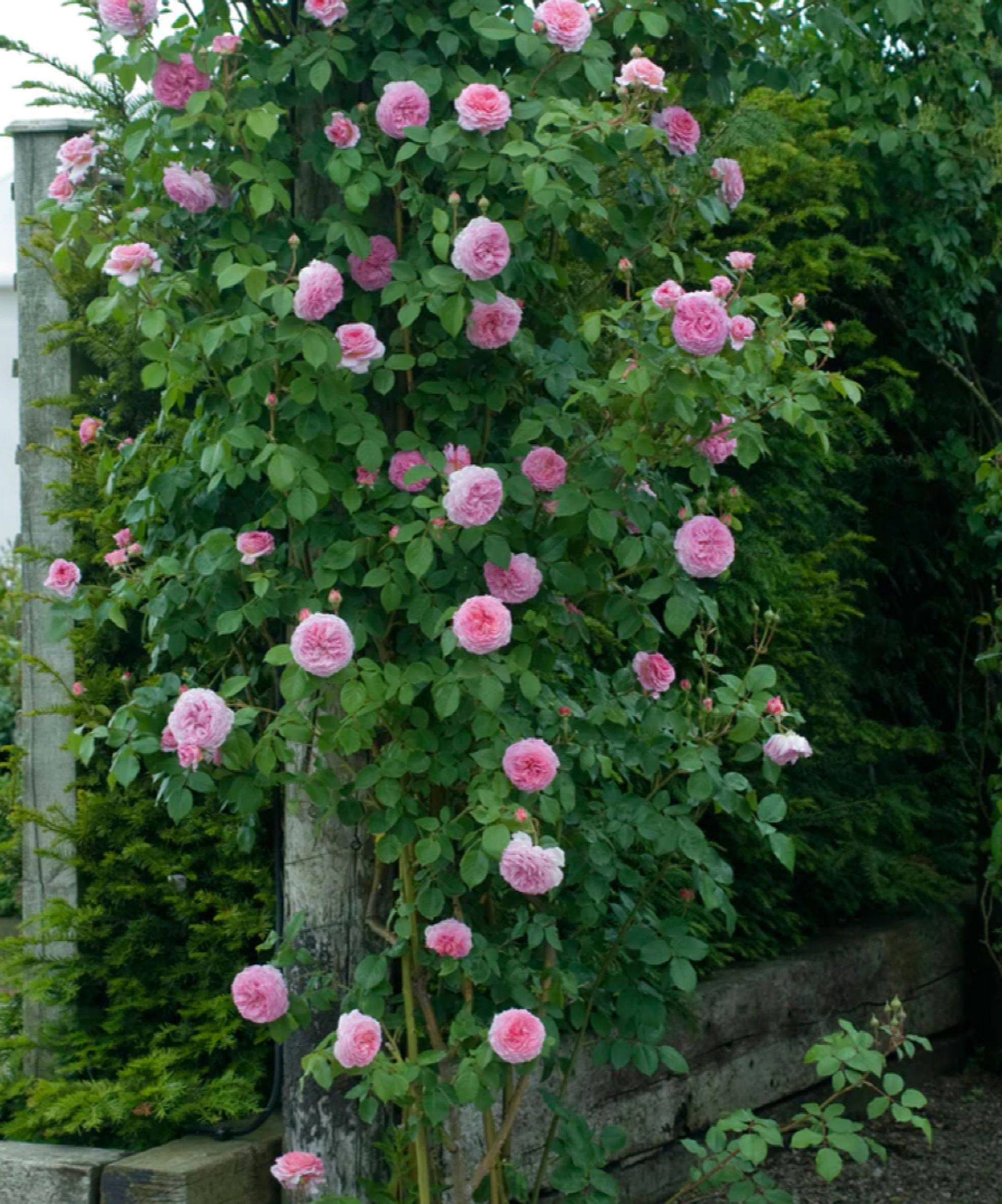 There are many climbing roses to choose from that are suited to growing in light to moderate levels of shade. Being planted in shadier conditions can also bring out the color in paler varieties, which would otherwise be bleached out in full sun. So if you're looking for the best plants for arches or the best climbing plants for the front of the house, be sure to put climbing roses, a natural choice for both of these, at the top of your wish list.
'Planting roses in shady positions is a great way of bringing color and interest to forgotten areas of the garden,' say the experts at David Austin Roses. 'The main consideration when planting roses in a shady spot is to avoid areas where there are overhanging branches and dry places, as this would mean too much competition from the roots of trees and other shrubs.'
They recommend the super-pretty repeat-flowering English climbing rose 'James Galway', which is suitable for a north or east-facing wall, as well as other partly shaded areas. This light pink rose is one of the best climbing roses if you're looking for a medium-sized climber, as it grows up to 12 feet. It has an old rose fragrance that is particularly lovely. 'James Galway' can be found here at David Austin Roses.
5. Clematis 'Nelly Moser'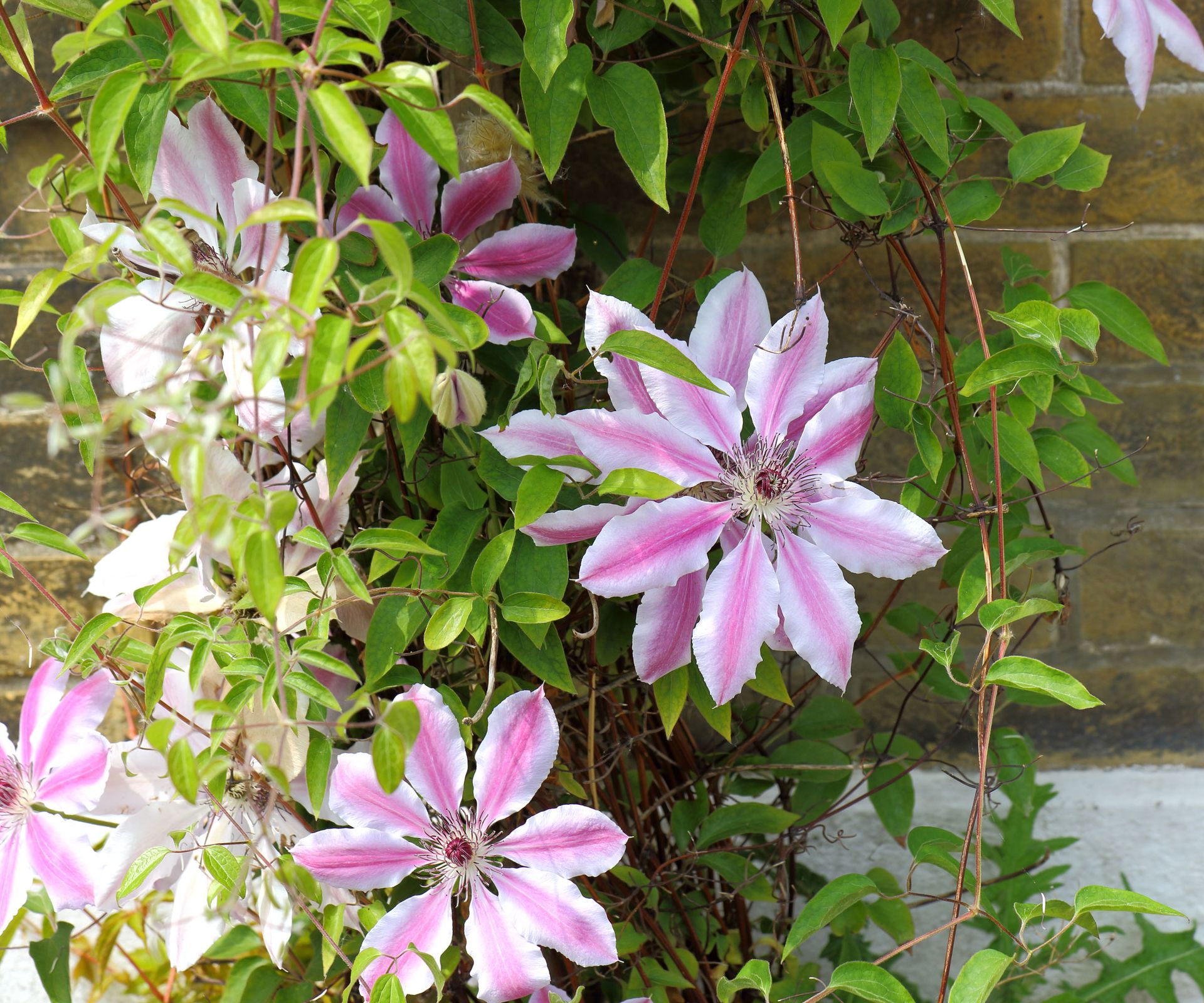 Many varieties of clematis are a great choice for shady gardens and there is one to suit every situation. Some clematis even give their best performance if grown in a heavily shaded area.
'Clematis 'Nelly Moser' is an outstanding vigorous cultivar that is perfect for a shady location,' say the experts at Nature Hills plant nursery in Omaha, Nebraska. 'It's one of the most popular clematis cultivars and will brighten any dark, shady area.'
If you plant this variety in full sun, the flower color will actually fade pretty quickly. Whereas if you plant it against a north wall, for example, the flowers are safe from the glare of direct sun so remain cool and moist in summer when the rest of the garden gets baked.
The prolific light mauve-pink petals have deep rose-pink central bars that give the large 8-inch flowers a pinwheel look. Flowering in late spring to early summer and again in early autumn, 'Nelly Moser' is one of the best clematises to choose from if you're looking for an easy-to-grow variety. Plant in rich, porous, alkaline soil with plenty of room for the roots to spread, and it will grow to around 10 feet high. 'Nelly Moser' can be found here at Nature Hills.
6. Ivy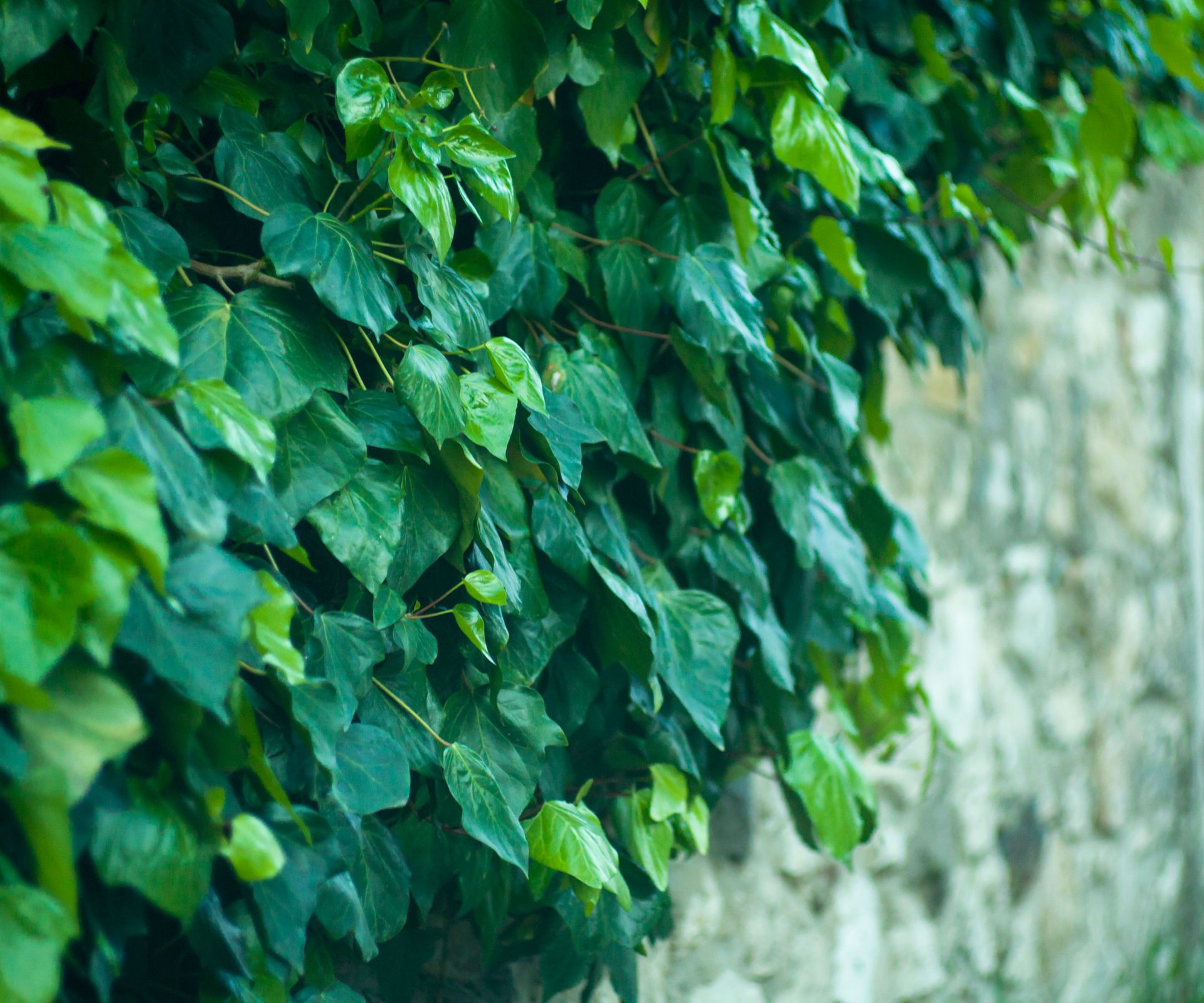 Ivy generally springs to mind whenever somebody mentions they're looking for the best shade plants, and it's a go-to if you're looking for a climber that adds a year-round green backdrop for a shady space. In fact, it makes it onto our very own hotlist of the best plants to cover a wall.
All varieties of ivy are great climbing plants for shade, where they will grow prolifically and only require minimal upkeep.
There are many different types to choose from. As well as dark green varieties there are also variegated ones splashed with cream or yellow markings. Self-clinging ivy varieties grip onto surfaces such as a brick wall by pushing aerial roots into the cracks and providing thick coverage so are a great choice if you want to disguise an ugly vertical boundary. The prolific fall berries will entice wildlife into your yard too, so they're definitely one of the best plants for birds.
If you choose one of these vigorous climbers be sure to clip it regularly to keep them looking smart.
7. Chilean bellflower vine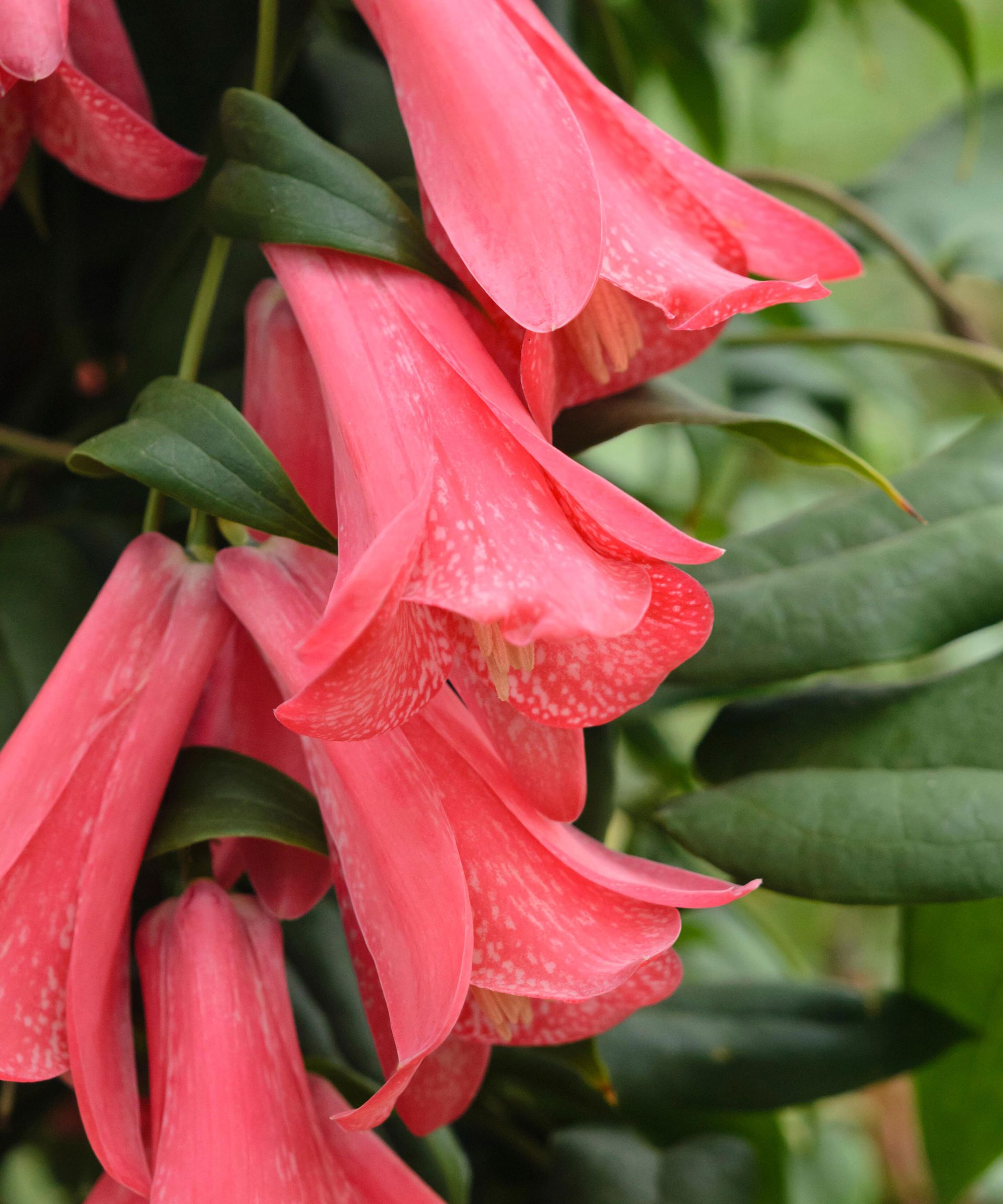 A twining climber that has gorgeous dark rose-pink, bell-shaped flowers that can be up to 4 inches long, this grows best in full to partial shade. Choose it for a wall in a shade garden, and it can grow up to 15 feet both in height and spread to offer great coverage if you have the space to accommodate it.
Also known as Lapageria rosea, the flowers have a waxy, hothouse texture that is shared by the leaves too. They are a common sight in the San Francisco Bay area, where the climate suits it perfectly. It's hardy only in USDA zones 9a through 11, where it will thrive as one of the best evergreen climbers. Although it copes with some frost any period of extended cold will kill it.
8. Silk tassel bush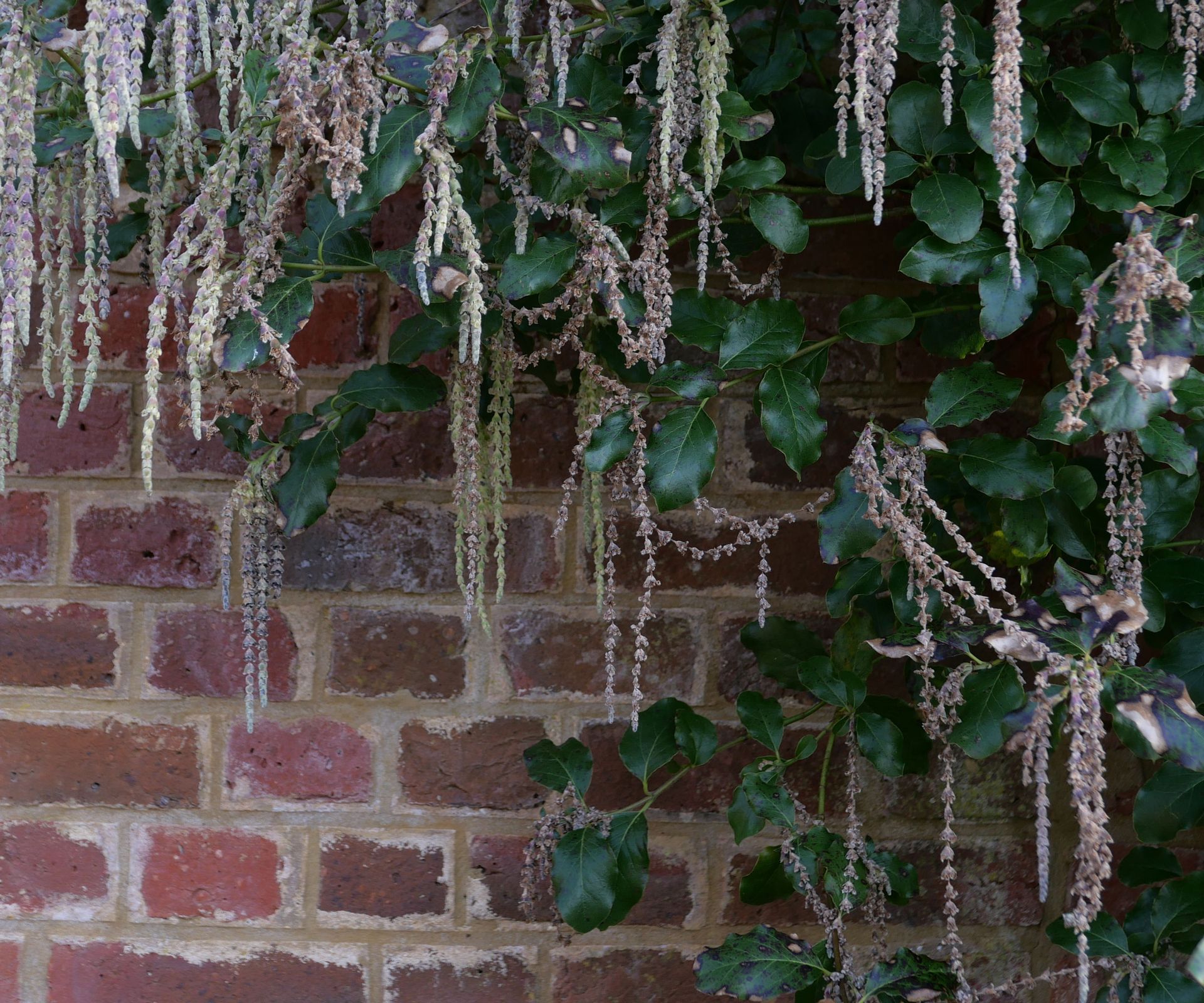 This beautiful evergreen plant, also known as Garrya elliptica, gets its name from the long, silky tassels that adorn it in winter. They start off cream then turn a silvery lavender-gray color. For the rest of the year, its wavy-edged foliage delivers a reliable backdrop for other, more showy, plants in the garden.
It's a good choice for partially shaded areas, grown against a wall, even a north-facing one, or used as a privacy screen, where it will grow to around 12 feet. Train a framework of stems out over the area to be covered and fix them in place by tying them to horizontal wires. This is a great way both to show off the tassels and create an attractive evergreen screen.
We're big fans of Garrya elliptica and this is the reason why it makes it onto our own list of the best front yard plants too, chosen for its ability to add vertical interest to walls and fences.
9. Purple grapevine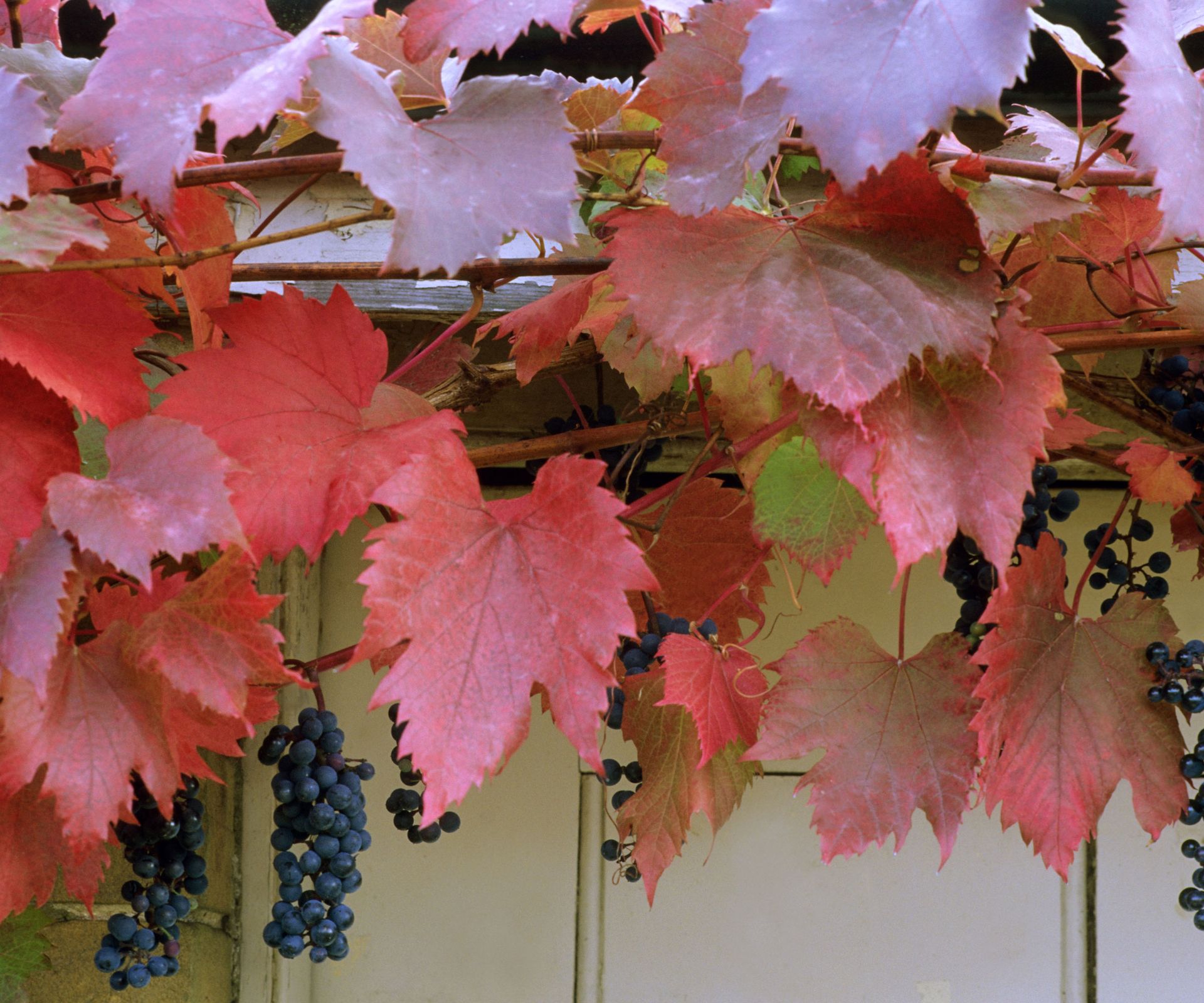 If you're a fan of purple plants you'll love this. Best known for its stunning foliage in summer and fall, this ornamental grapevine (Vitis vinifera 'Purpurea') is a vigorous climber that will thrive in partial shade as well as full sun. It's a twining vine that needs something sturdy to wrap its stems around, such as a pergola, wall, or fence, where it can grow up to 30 feet tall.
The leaves are deeply lobed and green in spring but soon turn a deep shade of burgundy as summer progresses. This erupts into a blaze of crimson tints in fall before the leaves are shed as this is a deciduous climber. There are also clusters of tiny purple grapes in late summer which are ornamental rather than edible as the skins are bitter.
The joy of this climber is that it needs little or no pruning, infrequent watering and is hardy to at least 0° F. Why not try it as part of your pergola ideas, as landscape designers love to use it in this way?
10. Winter jasmine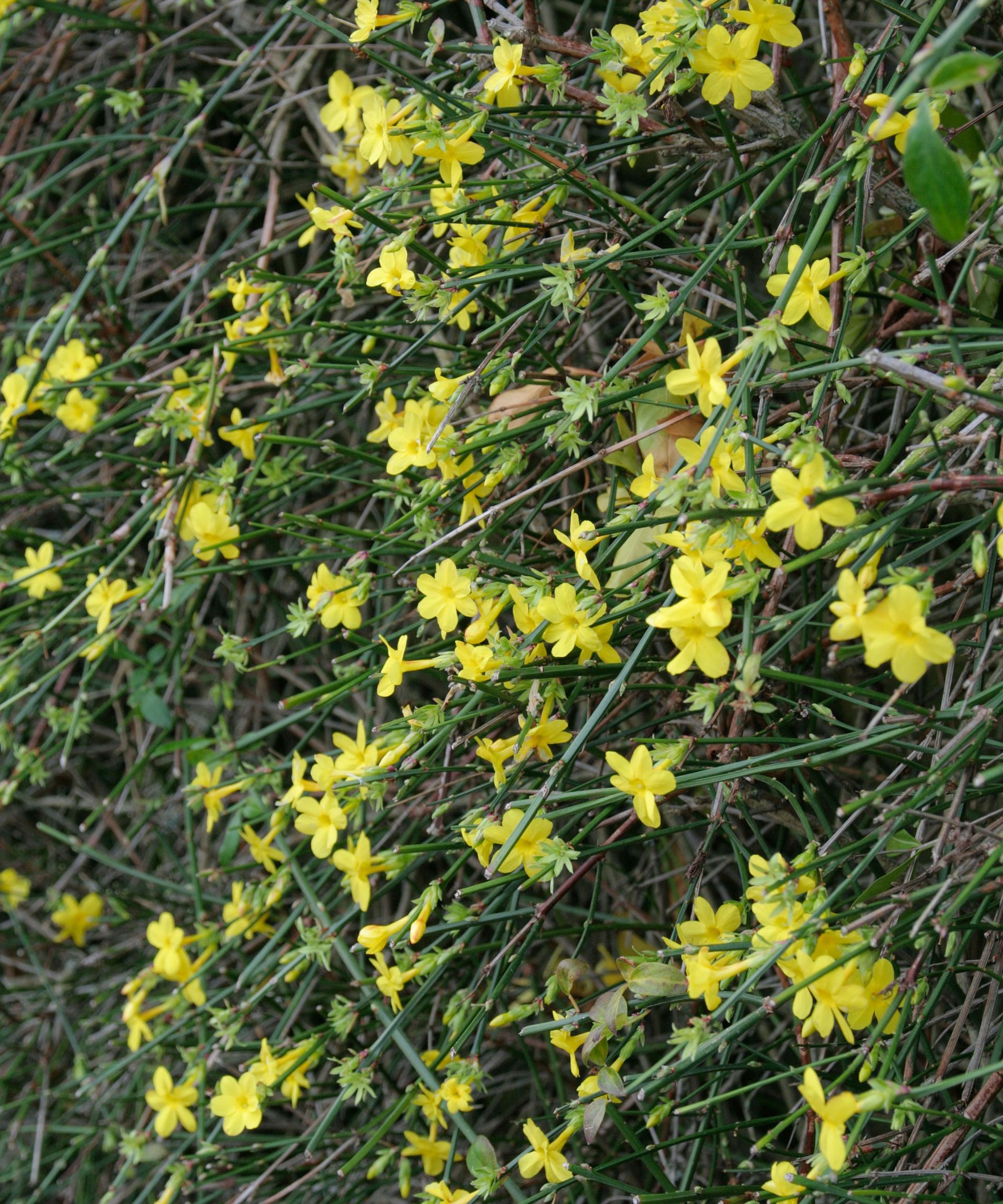 There's something magical about bringing a cool shady wall or fence to life with color. They can look as elegant as walls or fences that are bathed in sunshine provided it's lack of sun rather than lack of light that's the issue. If you're planning a winter garden be sure to include this beautiful flowering climber.
Winter jasmine (jasminum nudiflorum) can thrive in partial shade and is a great cover for a north-facing wall or trellis ideas, where it will grow up to around 10 feet. It will send out long creeping vines along a supporting trellis. In fact, it's sometimes known as winter jasmine vine because of this.
If you're looking to add a bright touch to the yard in winter and early spring, the prolific bright yellow flowers of winter jasmine are a welcome pop when there is little color on offer elsewhere in the garden.
The only drawback? This is one type of jasmine that isn't fragrant but we think the bright flowers and evergreen foliage in winter more than make up for this. So find out how to grow jasmine here, and don't miss the special section we've included on winter jasmine.
---
You're here so naturally you love plants but if space is an issue in your shady yard be sure to welcome climbing plants into your world. Choose the right ones and they work like magic, adding beautiful vertical screening while barely encroaching on your precious growing space.
If you are inspired by our selection of the best climbing plants for shade, be sure to include some of them in your small backyard ideas to add more flowers and foliage that will work in your own micro-climate.
Sign up to the Homes & Gardens newsletter
Decor Ideas. Project Inspiration. Expert Advice. Delivered to your inbox.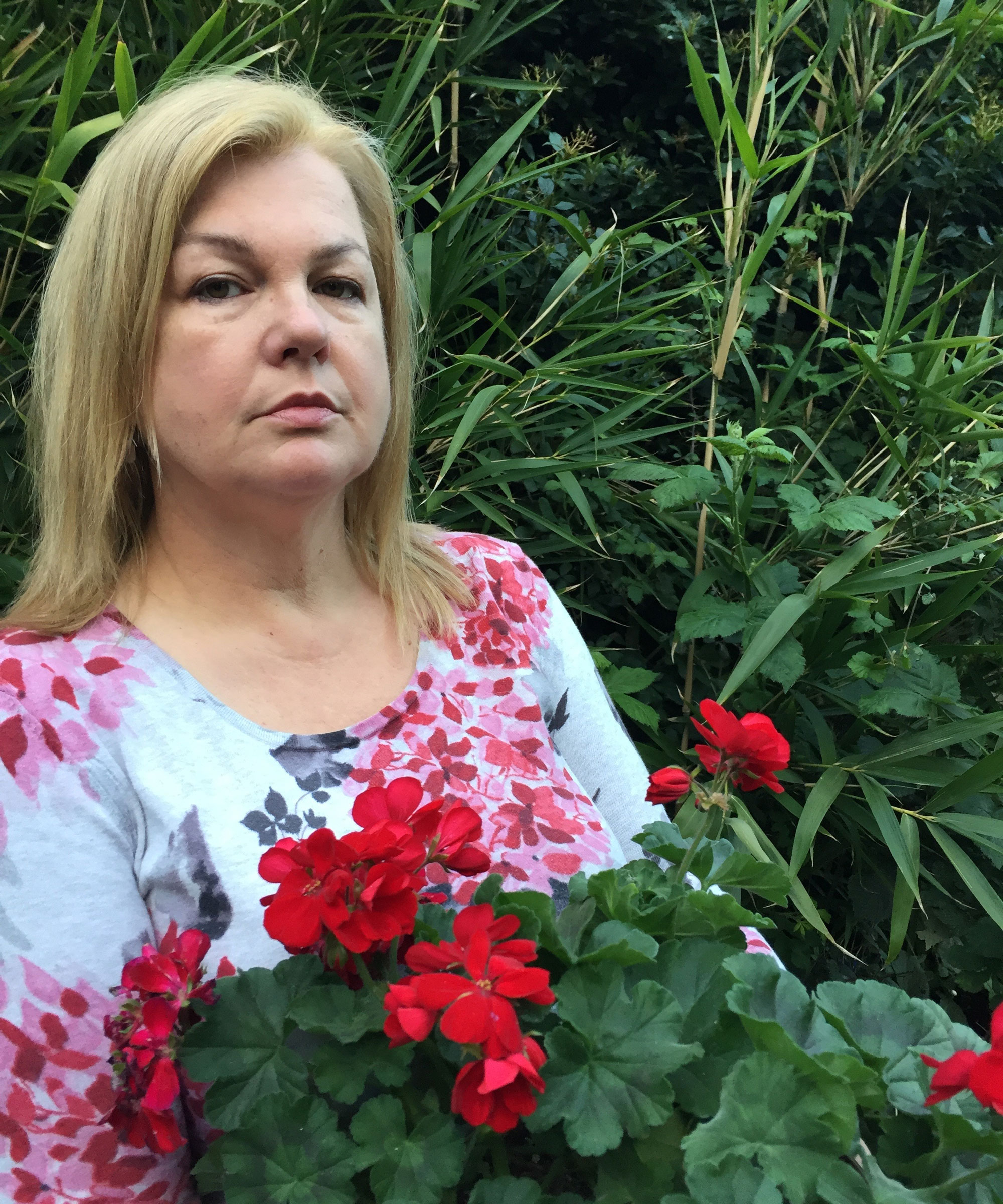 Lifestyle journalist Sarah Wilson has been writing about gardens since 2015. As well as homesandgardens.com she's written for Gardeningetc.com, Livingetc.com, Easy Gardens and Modern Gardens magazines. Her first job on glossy magazines was at Elle, during which time a visit to the legendary La Colombe d'Or in St-Paul-de-Vence led to an interest in all things gardening. Later as lifestyle editor at Country Homes & Interiors magazine the real pull was the run of captivating country gardens that were featured.