How to make a patio look bigger – 5 designer-approved ways to maximize the feeling of space
These space-enhancing ideas are easy to adopt if you're looking for quick fixes to get more out of your patio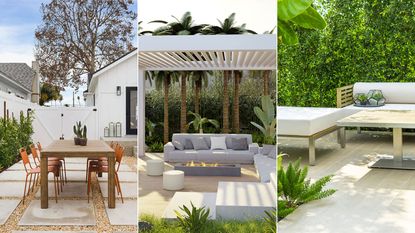 (Image credit: Yardzen; Getty Images; Getty Images)
There are plenty of easy ways to make a patio look bigger, whether you are going for a complete overhaul or an easy weekend refresh. A good way to start is by assessing everything that is currently on your patio and deciding if it stays or goes.
If your patio space is on the small side it's tempting to over-compensate by cramming in too much but this will simply turn it into a cluttered space that's the opposite of the restful retreat or smart entertaining area you have in mind. The exception to this is probably plants – in our opinion you can't have enough. But rather than filling precious floor space with pots and planters think vertically instead.
Nailing how to make a patio look bigger all comes down to the detail. The right choices about color, shape and size are important when you're considering furniture, patio flooring, and accessories if you're going to create the harmonious design of your dreams.
Tried and tested ways to make a patio look bigger
'There are a number of easy ways to make a small patio appear larger,' says Jamie Penney, home improvement and outdoor design expert and CEO of The Backyard Pros.
'These include vertical planting/living walls, picking appropriate furniture, utilizing mirrors to give the appearance of more space, picking the best flooring option, choosing the right paint color, and using privacy screening options.'
It's easy making the right choices with our expert-led tips and soon your patio will be the centerpiece of your backyard ideas.
1. Maximize patio space with your furniture layout
The most important aspect for any patio is the seating arrangement and getting your patio furniture ideas right should be your top priority. Use modern smaller scale furniture to make your patio appear larger. Light colors such as pale gray, white or driftwood for furniture and hard landscaping gives a more expansive feel.
'Create a small conversation spot with a love seat or small sofa along with a chair or two. Ground this intimate chat zone with a neutral textured patio rug,' suggests Robbie Maynard, an interior designer based in San Diego, CA. 'Another great set-up for a toasty cozy feel is three or four chairs surrounding a fire pit or fire table.'
Fire pits make a great addition to any outdoor furniture arrangement, and they don't need to take up a lot of space. 'The most important thing to consider when adding a fire pit is whether it's a pre-fabricated metal pit, or a permanent stone one,' says Adrian Tamminga, co-founder of Iron Embers. 'For safety, you can add a spark screen to contain the embers.'
Small side tables also work well for a conversation spot. 'I like to mix styles just like I do when designing an interior room,' says Robbie. 'A fun side table can add a spark to your space.'
An award-winning interior designer, Robbie Maynard is principal of Robbie Interiors. She has over 25 years experience and has earned a reputation as one of Southern California's top interior designers. Specializing in both residential and commercial interiors, Robbie's work has been featured nationally on HGTV's Designer Challenge. She is also NCIDQ and CCIDC certified, and holds a Bachelor of Arts Degree in Interior Design from San Diego State University.
2. Choose space-enhancing patio flooring
The right patio flooring ideas have a significant impact on how spacious your patio feels. A trick to remember is to aim for light-colored pavers in the largest size possible. You can also try mixing in innovative touches to break up the space such as gravel or planting pockets.
'Smaller tiles or pavers can make a space feel cluttered, while larger tiles create a more seamless and open appearance,' says designer Joy Aumann, founder of Luxury So Cal Realty, based in La Jolla, San Diego. 'When choosing your patio flooring, opt for bigger tiles or pavers in light, neutral shades to create the illusion of a larger area.'
The texture and color of the materials you select for flooring are an integral part of how to design a patio. Different materials add shape and color that will determine where the eye is drawn. If you have a covered patio that extends out into an open one, consider using matching flooring to create a seamless link. You can also create an indoor-outdoor link in this way.
Joy is the founder of Luxury Socal Realty and co-founder of the Luxury Socal Realty team at Compass. Joy has two decades of luxury real estate and design experience staging homes, and is one of the top luxury real estate bloggers and social media influencers nationwide.
3. Add depth by surrounding a patio with greenery
One of best things about decorating an outdoor space is adding plants and other greenery, and the patio is no exception, particularly as your planting choices can usually be enjoyed from inside the house too.
The aim is to create an immersive experience with your patio planting ideas where you're surrounded by nature to create a restful and therapeutic spot that feels airy and welcoming despite its small dimensions.
'Potted plants and climbing vines will not only make your patio space feel more inviting and tranquil, but it will also create a sense of depth,' says Emma Putrimas, VP of product and design at Teak Warehouse.
Vertical gardens and living walls are also a great way to increase your growing area without taking up valuable floorspace. 'This can draw eyes upward, making the patio seem bigger than it is,' says Kerry Sherin, consumer advocate at Ownerly.
4. Decorate with neutral colors to stretch the space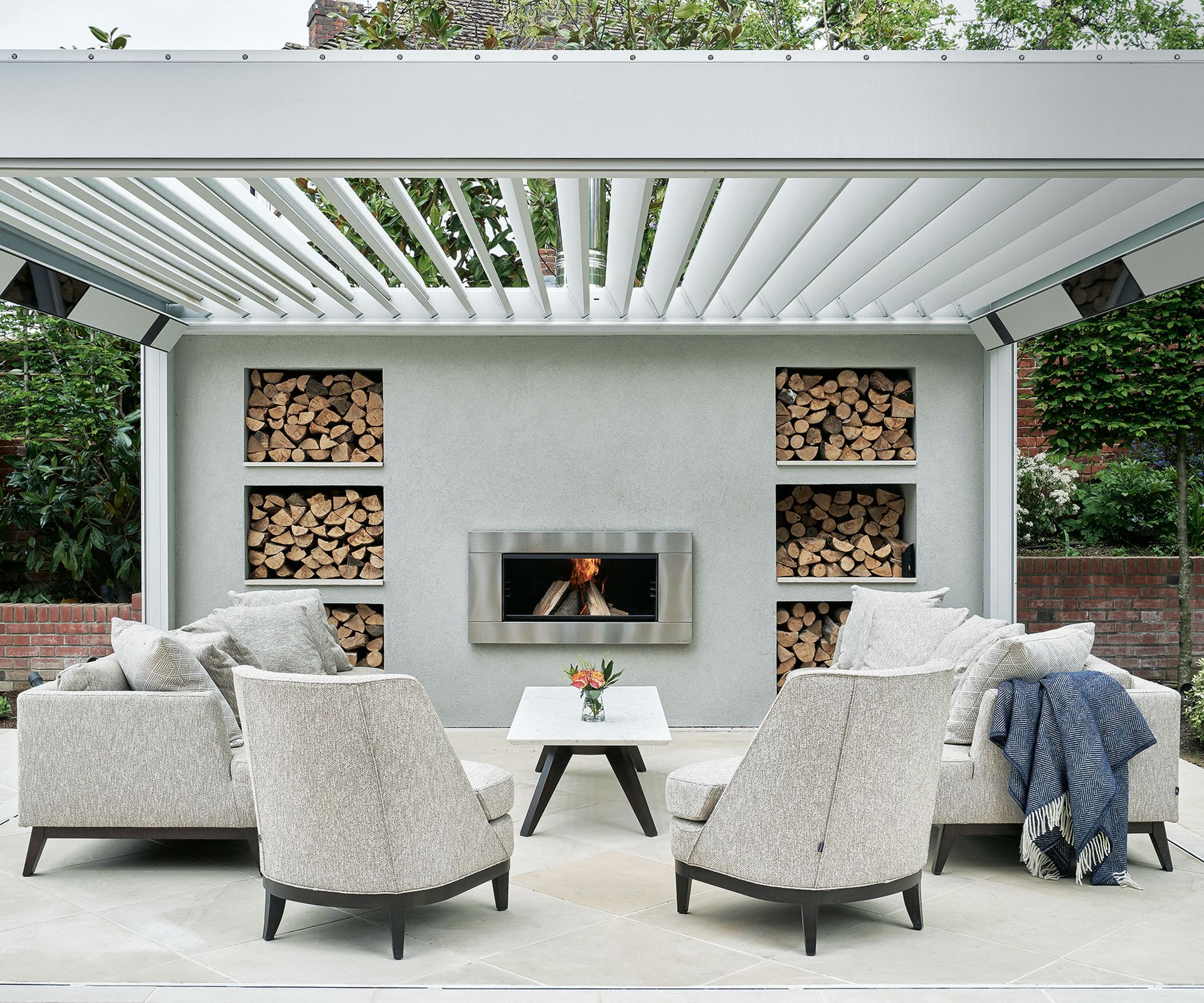 As with any space, selecting the right color scheme is essential. 'Light, neutral shades like white, beige, or soft gray can make your patio appear larger and more open,' says Joy Aumann. 'If you're feeling bold, consider a patterned stencil to add some personality to your space. Just be sure not to overpower the area.'
Choose garden wall paint ideas and other decorative touches that will make the most of your space. If you have a small patio, painting the walls and floors a neutral color like white and continuing the theme with furniture and accessories will help to give the impression of space. It will also help to reflect sunshine into the area.
Color schemes can also change the impression and feeling of a patio space. In addition to white, Emma Putrimas suggests griege like this design or pale gray, and choosing light-colored cushions, rugs, and umbrellas to accessorize the look.
If you want to get this look, we love this low-sheen greige eco-friendly exterior paint in 'Patina' by Montage from Amazon.
5. Keep things simple and uncluttered
Finally, it's important to keep things simple when designing a less-than-large space. Resist the temptation to cram in too much as this will detract from the overall look and make the space feel cramped and small.
'The key to outdoor living is creating a clean, streamlined look for a sense of spaciousness and a calming relaxing atmosphere,' say Nicholas and Harrison Condos, founders of hand-made furniture company Harbour.
Resist the urge to overdress the space with too many artefacts and accessories. Instead, it's best to pick a few key pieces that you love and let them shine. Follow this advice and it will make your patio feel more inviting and comfortable.

By keeping things simple, you can create a comfortable patio space that feels much larger than it actually is.
---
If you want a really quick fix for how to make a patio feel more spacious, we have one final expert tip that allows you to transform things pretty much instantly once you've clicked add to cart.
'Mirrors aren't just for admiring your fabulous outfit before heading out – they can also be a patio's best friend,' says Joy Aumann. 'Strategically placed mirrors can create the illusion of depth and space, making your backyard feel so much bigger. Consider hanging a large mirror on one wall or using mirrored decor elements to bounce light around and open up the area.'
Sign up to the Homes & Gardens newsletter
Decor Ideas. Project Inspiration. Expert Advice. Delivered to your inbox.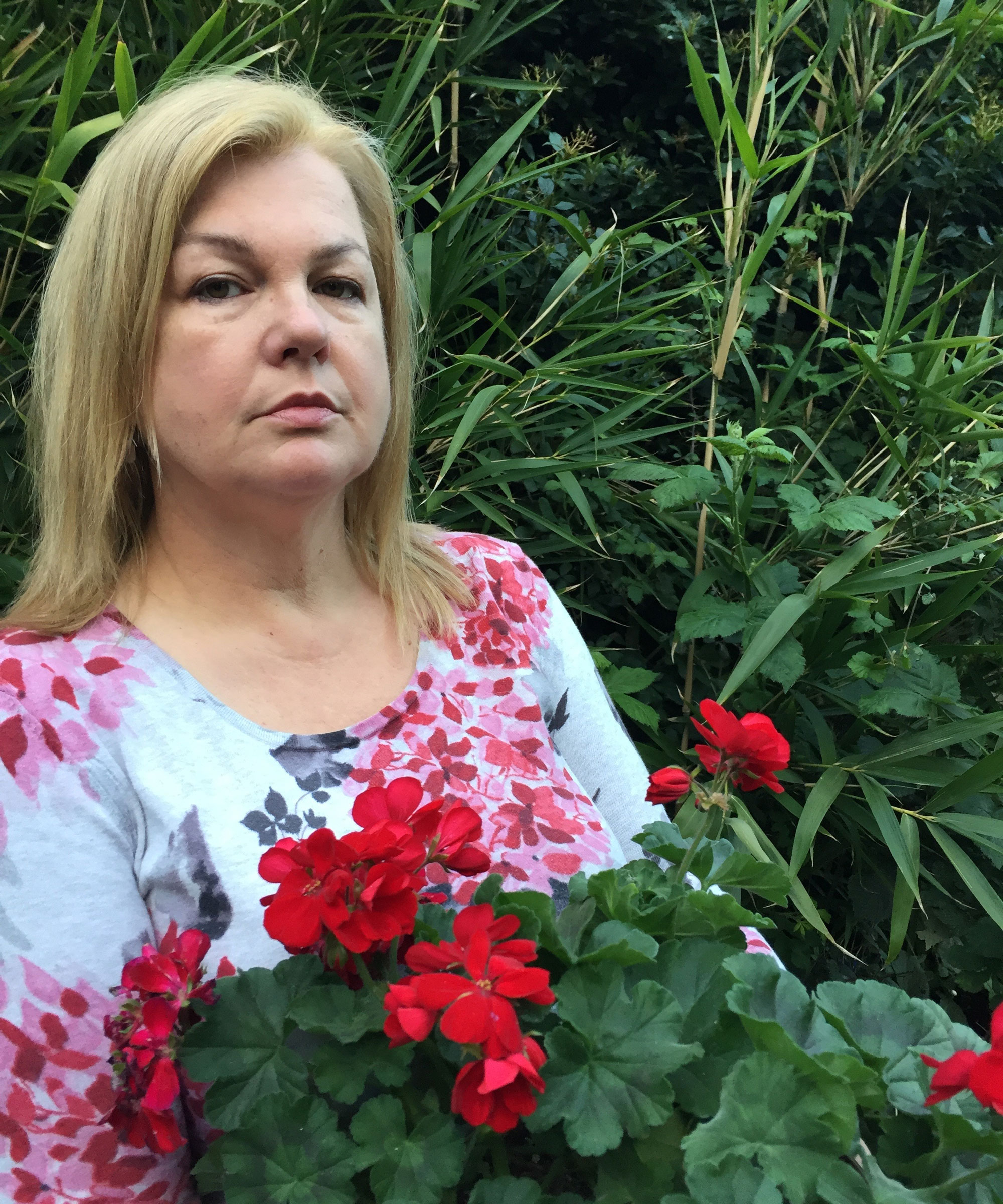 Lifestyle journalist Sarah Wilson has been writing about flowers, plants, and garden design and trends since 2015. Having already studied introductory garden and landscape design as well as a course in floristry she is currently adding to her list of qualifications with an RHS Level 2 course in the Principles of Plant Growth and Development. In addition to homesandgardens.com and livingetc.com she's written for gardeningetc.com, Modern Gardens and Country Homes & Interiors magazines.