How to prepare a small backyard for summer hosting – 6 space-saving suggestions from designers
Interior designers and landscapers share solutions for small backyard hosting deliver on practically and style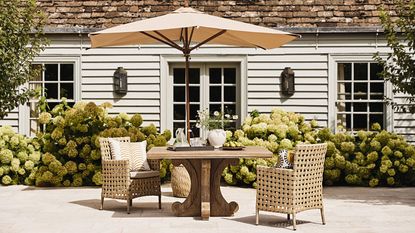 (Image credit: Oka)
Sign up to the Homes & Gardens newsletter
Decor Ideas. Project Inspiration. Expert Advice. Delivered to your inbox.
Thank you for signing up to Homes & Gardens. You will receive a verification email shortly.
There was a problem. Please refresh the page and try again.
It is a common misconception that hosting in summer requires a fair-sized backyard to accommodate your guests comfortably. Because even the smallest yard can offer a comfortable spot to sit down with friends and family – as long as you prepare the space correctly.
There are several quick tricks you can use to spruce up your small entertaining garden ideas, but designers say that it is all about the power of illusion.
Here, landscapers and designers have shared their top tips for preparing a small backyard for summer hosting.
How to prepare a small backyard for summer hosting
No matter if you have some contained outdoor dining ideas, or want a cozy retreat to sit back with some drinks and good conversation, these space-conscious solutions will have even the smallest of backyards ready for summer hosting.
1. Start with decluttering and cleaning
Big or small, you should always start by decluttering a backyard before having guests over, says Diana Cox, gardens expert and founder of The Gardening Talk.
'Tidying up the space, removing any unnecessary furniture and clutter, can trimming any overgrowing bushes can help to create space for our guests to mingle and sit comfortably.
'Don't forget to sweep or power wash the patio or deck too,' she adds.
Diana started her website as a way to help others who are new to the world of gardening and plant care. She has been growing plants since she was a little girl, and started to document her experience in gardening a few years ago.
2. Use lightweight seating for manoeuvrability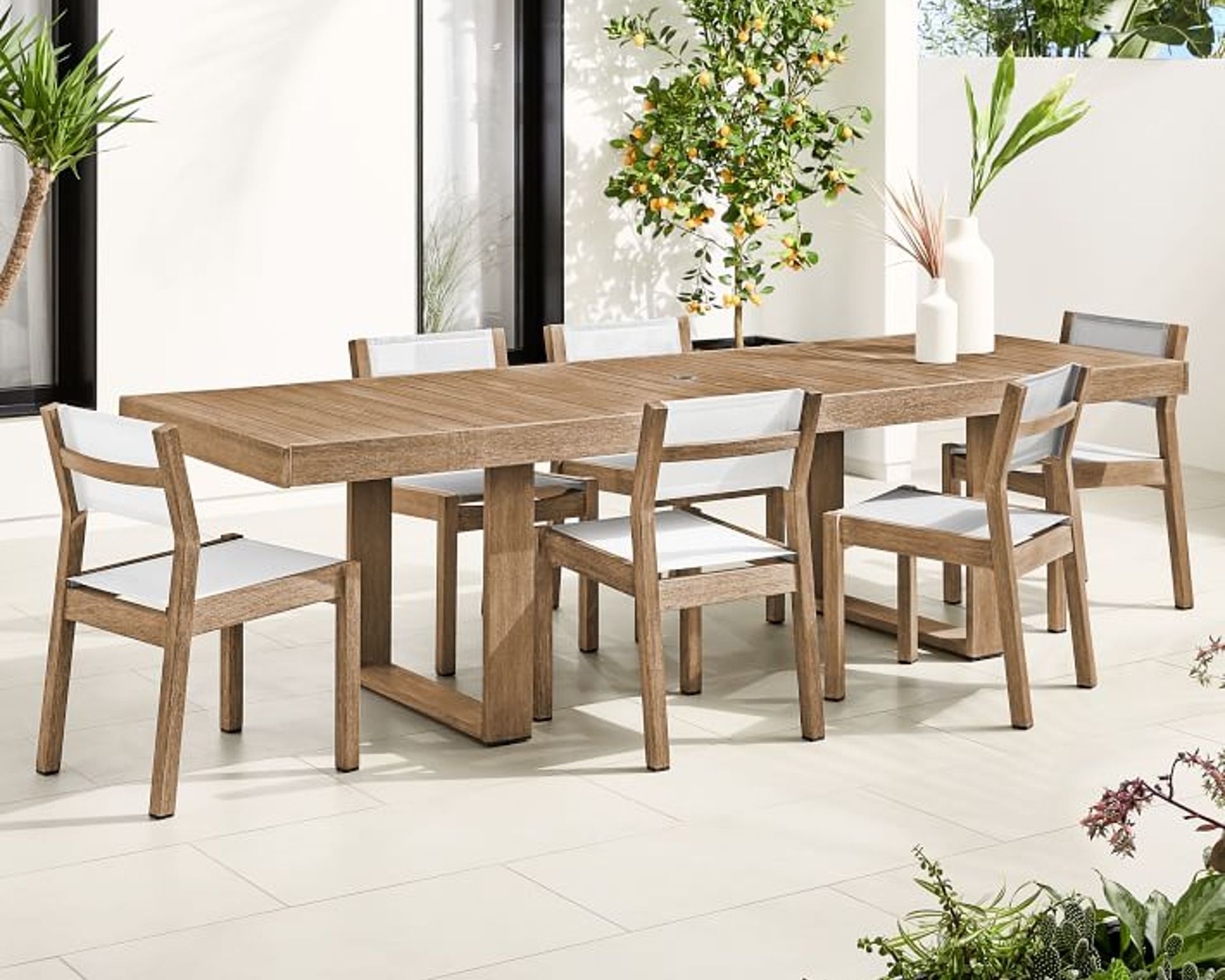 The best outdoor furniture for smaller backyard spaces is lightweight, but sturdy, recommends Kathy Kuo, designer, founder, and CEO of Kathy Kuo Home.
'Small backyards make for lovely and intimate outdoor gatherings, and if you're smart about furniture and decor, space really need not be an issue. I'd recommend lighter-weight outdoor furniture made from materials like rattan and wicker – it appears smaller visually than larger bulkier sets and is easier to move around based on how many people you're having over.
'I also love the idea of an outdoor bar cart that you can move in and out of the space as needed as opposed to a stationary sideboard for a more flexible entertaining space.'
Interior design expert Kathy Kuo founded her eponymous home store in 2012 – and it has since gone on to be an e-commerce destination for luxury furniture and decor essentials from a variety of beloved home vendors. Kathy and her store specialize in styles like French Country, Coastal Beach, and Modern Classic while offering interior design services to their clients.
3. Create a focal point for guests to gather round
When working with a small space it can help to have a focal point for people to gather around to make the space feel purposeful, and not cramped, says Diana Cox, gardens expert. It also works as an excellent distraction from the smaller-sized space.
'By incorporating a focal point, you can enhance the visual appeal and perceived spaciousness of your backyard. A fire pit, water feature, or prominent outdoor furniture piece, such as a dining set with excellent tablescaping, can serve as an eye-catching centerpiece.
'Continue to ensure there is ample room for guests to move around comfortably,' she adds.
4. Use multi-purpose furniture
As well as opting for light furniture that is easy to move, consider multi-purpose furniture when tackling a small space – whether you are decorating inside or out.
Wendy Wang, owner of F&J Outdoor recommends opting for a storage table or bench that can hold blankets and cushions when picking out patio furniture to help you and guests stay warm while dining outdoors without the soft furnishings taking up necessary space when it is warm out, for instance.
'For more relaxed settings, you can also choose an ottoman that can serve as a coffee table, or double as seating when you have more people over. These solutions save valuable floor space and add functionality.'
5. Zone off areas to make the space look larger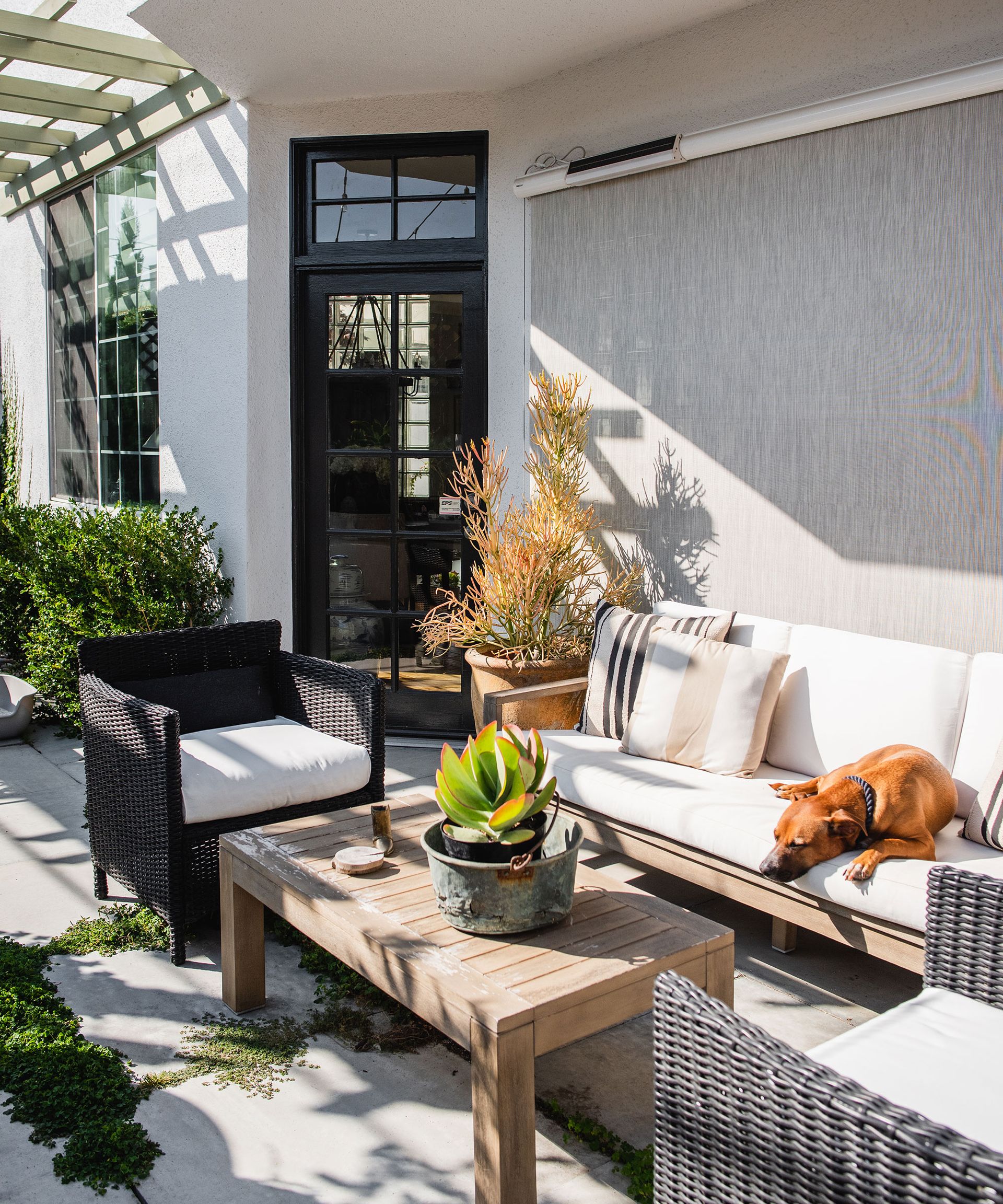 Creating zones is a common trick in interior design that can both make a large space look more cohesive and make a smaller space look larger.
When preparing a small backyard for outdoor hosting, segment off a seating area with a large outdoor rug, Wendy Wang, owner of F&J Outdoor suggests, or using 'distinct plant groups or trellises to help define lounging, dining, and cooking zones' if you have a grill, she proposes.
'This king of garden zoning enhances the hosting dynamics, making your backyard feel larger than it is.'
Surya Eagean Outdoor Area Rug | From $48.99 at Ashley Furniture
This blue persian styled rug is perfect for brightening up any outdoor space for summer dining, and comes in a range of sizes to fit your patio.
6. Play with light to visually expand the space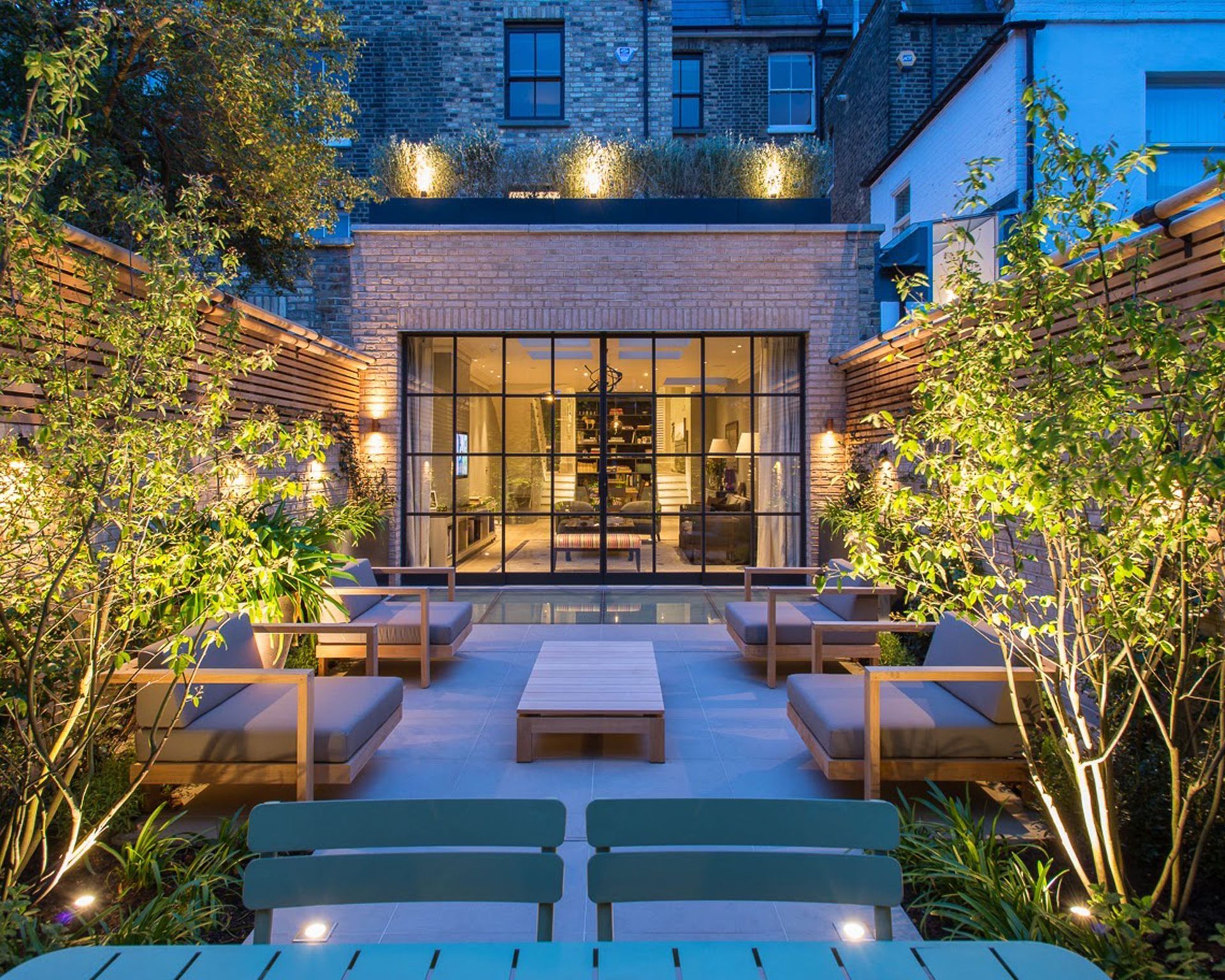 Just as lighting can make a small room look bigger, outdoor lighting can help to visually expand a small backyard to prevent the area from feeling too claustrophobic – especially at night, Artem Kropovinsky, interior designer and founder of Arsight explains.
'Incorporating different lighting levels, such as string lights, lanterns, like these mini garden lanterns from QVC, and spotlights, can create depth and allude to a larger space,' he says. 'Additionally, just like in interior design, mirrors can give the illusion of a larger space when used outdoors. Strategically placing a mirror to reflect a beautiful part of your garden can make a small backyard feel far more expansive – both in the daylight and with artificial lighting.'
FAQs
How do you make an outdoor space cozy?
When making an outdoor space feel cozy, it helps to have smaller areas or zones that you can fill with comforting items like patio furniture with soft cushions and blankets. High walls or shrubs for privacy can enclose the space, and be decorated with soft warm lighting both for practicality and to curate an intimate ambiance. Adding in other furnishings, such as an outdoor rug, can soften the space from below, too, for an added layer of comfort.
How can you entertain in a small backyard?
A small backyard is perfect for hosting intimate gatherings with friends and family. You could opt to host a cozy dinner party, encouraging guess to switch off from the outside world and enjoy an evening of games or conversation. Alternatively, you can make your backyard cozy and put up a projector screen to host a movie night outdoors, among others.
---
One of the most common small backyard mistakes homeowners make is underestimating just how much you can really do in a smaller footprint. If you select furniture in proportion to the space you have, there is nothing a small backyard cannot do in terms of hosting that a larger space can. Focus on making your events more convivial and cozy for an event that leaves an impression, and use your small space's unique features to your advantage.
Sign up to the Homes & Gardens newsletter
Decor Ideas. Project Inspiration. Expert Advice. Delivered to your inbox.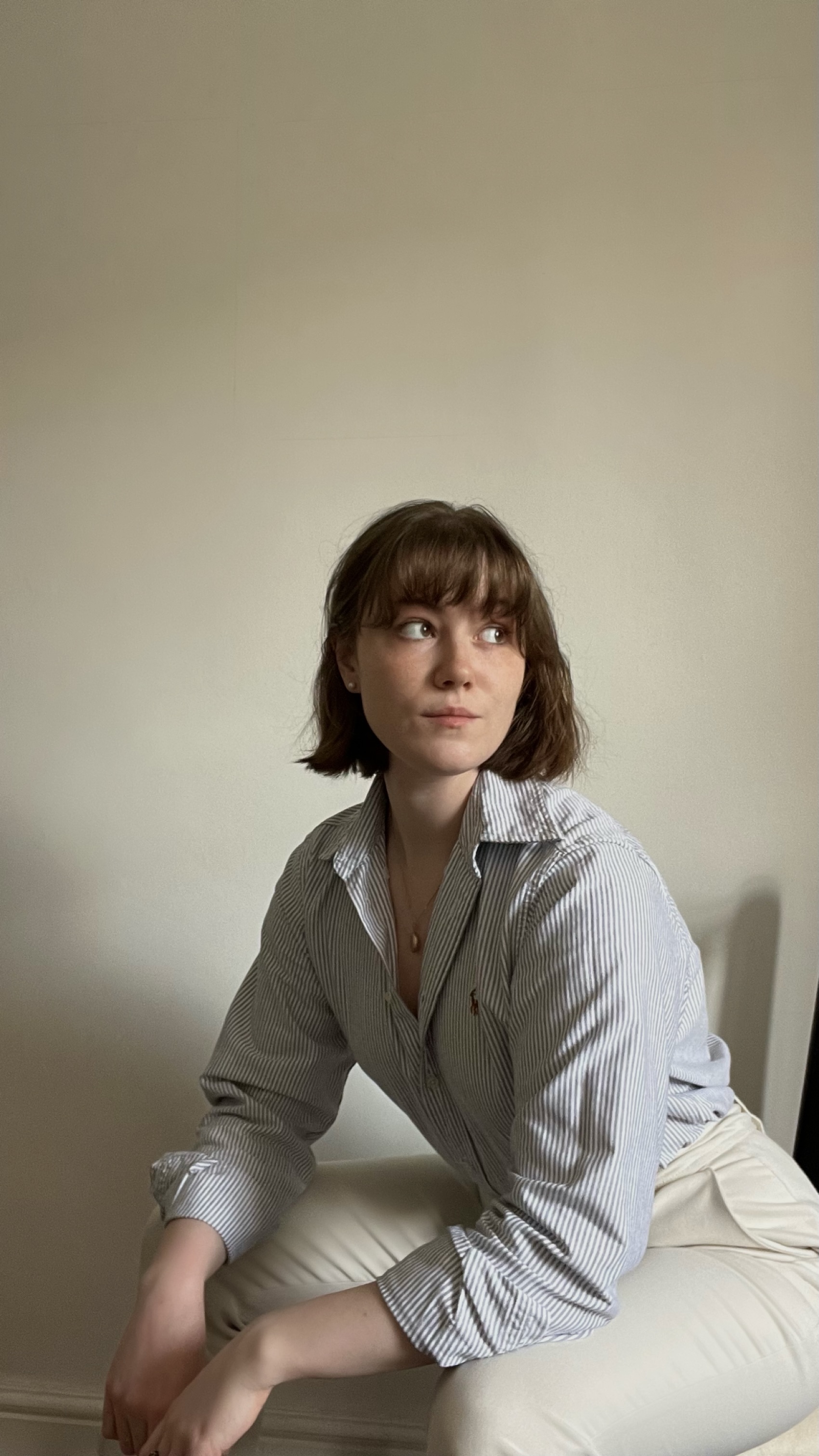 Chiana has been at Homes & Gardens for a year, having started her journey in interior journalism as part of the graduate program. She spends most of her time producing content for the Solved section of the website, helping readers get the most out of their homes through clever decluttering, cleaning, and tidying tips – many of which she tests and reviews herself in her home in Lancaster to ensure they will consistently deliver for her readers and dabbles in the latest design trends. She also has a first-class degree in Literature from Lancaster University.