Small boot room ideas – 15 ways max out a tiny boot room design
Keep shoes, boots, coats and outdoor kit tidy with these neat small boot room ideas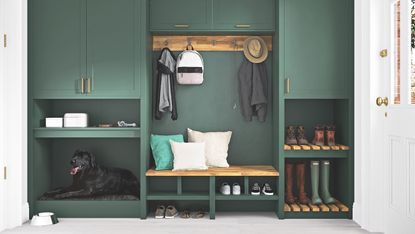 (Image credit: Future PLC)
Fitting these small boot room ideas into your available space can help you create an organized home that makes day-to-day life – heading for a dog walk, to the shops or the school run on a wet day – just that bit more straightforward.
A small boot room can still be the handy transitional space that creates a buffer zone between outdoors and in. It's where muddy boots and wet coats live. Where shoes can be neatly lined up and umbrellas kept handy – and easy to find – for rainy days.
It might be that your small boot room has to be incorporated into your hallway ideas, but using a shared space, or having a smaller home doesn't mean you need to sacrifice the entire list of small boot room ideas you've been building up – you just need to be a little more clever with your layout and storage.
We've looked at the best small boot room ideas and inspiration, and analyzed the tips and tricks that interior designers and homeowners use to maximize storage for outerwear, pet coats and leads, and other kit.
It's proof that you can fit all your small boot room essentials into narrow, tiny or shared spaces, and keep the rest of your home clean and clutter free.
Small boot room ideas – how to fit in everything you need
There are some principles that are true of all boot room ideas, whatever their size, which show that a compact room is no barrier to a smart, practical and stylish space.
'When designing a small boot room, whatever its size, we always make think about practicalities first,' explains Adrian Bergman, Design Manager at British Standard by Plain English. 'Incorporate plenty of coat hooks, shoe and boot storage. Think about having somewhere to sit – remember that a bench can also act as shoe storage. If space allows, a sink is also a must have to clean any dirty footwear.'
1. Make use of one wall
Keeping a small boot room defined within one wall of made-to-measure storage is ideal when you have a limited or shared space – perhaps you're incorporating yours into your front porch ideas or want to reduce the area a small boot room takes up within your home.
Factor in the elements you need, including shoe and boot racks, hanging rails or pegs for coats, and additional shelving or baskets – you might even find room to squeeze in a dog bed.
Opting for closed cabinets will keep the look neat and streamlined, so it doesn't overwhelm the space, while painting it in a dark, block color, as above, will hide dirt and give it a smart, zoned look.
2. Add wow factor with stylish flooring
A small boot room is often incorporated into a larger space such as a hallway or entrance, so you'll want to add style as well a substance. A distinctive floor, such as chequerboard tiles, or beautiful stone flags, will do the trick – and will be practical, too.
'A practical hardwearing floor is necessary,' explains Adrian Bergman, Design Manager at British Standard by Plain English. 'Make sure it's easy to clean and ready for muddy boots.
'Consider underfloor heating. After a cold walk in the rain, the warmth under feet is an indulgence but it also aids drying wet boots, shoes or dogs!'
3. Build around existing features
The beauty of bespoke joinery is that it allows you to build around architectural features to provide small boot room ideas and storage that are expertly tailored to the space available.
Consider shelving that can surround an interior window and extend over the door frame. Adapt the width and depth of cubby holes to ensure they're fit for purpose, accommodating pairs of shoes or tall boots, for example.
4. Make space for wash-ups and brush downs
Think of even a small boot room as a 'splash zone' where you can clean boots and shoes, rub down pets, trim cut flowers and wash vegetables dug from the garden.
Installing a sink is worth the space for this reason, and you may find you can accommodate laundry appliances, too.
'Consider storing utilities that don't fit in the kitchen,' suggests Adrian Bergman, Design Manager at British Standard by Plain English. 'It is very common and quite sensible to have the washer/dryer sitting bedside the sink, even in a smaller boot room.'
There's a natural crossover between small utility room ideas, too, so you can blend the best of both worlds to create the most functional space for you.
5. Include the basics
A small boot room idea can be as simple as a bench with cubby holes for shoes in the hallway, with a peg rail above for coats, bags and hats.
Allocate each member of your household (including pets!) their own peg and storage space to keep the area neat and organized.
6. Put up paneling for a streamlined look
'Paneling is a highly practical wall covering for boot rooms,' says Melanie Griffiths, Editor, Period Living.
'Originally conceived as a way to add insulation to walls, paneling was soon embraced for its decorative charm, and today is available in a wide range of styles to suit both period and contemporary homes.
'Paneling stands up brilliantly to a boot room's daily knocks and scrapes, and as long as it is painted in a good-quality eggshell or gloss finish, can easily be cleaned.'
Wrapping paneling around two walls and building in a storage bench as part of your design will turn a corner into a small but perfectly formed boot room space.
7. Include boot storage in the utility
The number of customers specifying multifunctional utility rooms has tripled over the past two years, according to Graeme Smith, Head of Retail and Commercial Design at Life Kitchens.
The trend can be seen in small boot rooms, which combine storage for coats and footwear alongside typical utility room appliances such as washing machines and dryers.
It can be useful to keep the two zones distinct, so you might have a bench and shoe storage on one side of the room, with laundry items on the other.
'Whether it is a compact space under the stairs, or an entirely dedicated room that links to the kitchen, multifunctional boot and utility rooms can be highly practical whatever the size,' says Smith.
'We recommend having an area no smaller than 2 metres squared to create a space that meets the demand of practical, everyday use.'
8. Tuck a small boot room under the stairs
The nook created by the turn of a staircase may not be large enough to house a powder room but you will usually find sufficient square footage to create a miniature boot room.
'For under-stair small boot room ideas, make the best use of space by fitting shelving as high as possible. 'Even the most awkward corner will create a space to tuck hats or scarves,' suggests Sara Bird, Assistant Editor, Country Homes & Interiors.
Add hooks or pegs for coats and shoe racks (or simply neatly arranged footwear) beneath and you'll have a small boot room in what otherwise would have been wasted space.
9. Suspend a rack from the ceiling
Tall and narrow boot rooms create their own challenges – ideal for a bench and shelf but limited on drying space, especially if you're a keen walker or dog owner who is likely to be outdoors in rain or shine.
Simply hanging a coat on a hook won't allow thorough drying and can risk mildew forming. The solution is to utilize vertical space and suspend a laundry drying rack for damp clothing. It will allow air to circulate (warm air rises) and the rack can be pulled up and out of the way until needed. Again, underfloor heating, natural ventilation and/or a dehumidifier will help keep the space dry.
10. Add decorative details
'The choice of beautiful hardware, or a decorative wallpaper, can elevate even the smallest boot room,' suggests interior designer Jojo Bradley.
Don't be afraid to have fun with these design details. Animal-head hooks, metallic wallpaper motifs, or pretty accessories that reflect your decor DNA will help to give this practical space a character all its own.
11. Use freestanding furniture
Traditional hallway furniture is a fast-track to establishing a small but chic boot room area, providing hanging, seating and stashing-away space without the need to build in storage.
Position a freestanding piece near the front or back door of your home, wherever you have the space. You can always supplement with additional accessories, such as hooks or an umbrella stand, as needed.
12. Keep pieces neat and petite
While we're used to seeing long benches, rows of hooks and stacks of shoe space in larger spaces, you can scale back the concept – and still get all the functionality you need – by downsizing for small boot room ideas.
The key is to take out your measuring tape and ensure that any furniture fits your space precisely. And be realistic about what you really need and what you have the space to include.
Keeping the decor in line with your kitchen cabinetry or the decor in adjacent rooms will also create a more streamlined, spacious effect.
'For color, you can continue the theme of your main kitchen when painting cupboards and furniture,' suggests Adrian Bergman, Design Manager at British Standard by Plain English. 'Painting bottom cabinets up to above the countertops in a durable gloss will help protect from inevitable wear and tear.'
13. Include retro details
By their nature, vintage hooks can be difficult to source in large quantities. That means they're a great idea for small boot rooms, where just a couple of stylish retro pieces can become a talking point as guests arrive and hang their coats.
Online auction sites, sale rooms and flea markets are excellent sources for interesting hangers, hooks, baskets and other accessories. Brass and other metals can be restored and polished to add a unique look to your boot room and entryway.
14. Remove a cupboard door
While being able to shut the door on coats and clobber can keep a small boot room looking neat and tidy, a door that opens outwards renders valuable floorspace out of bounds.
If you're able to commission bespoke cabinetry, a pocket or folding door can provide a neat boot room cover-up. When that's not an option, consider simply removing the cupboard door to create open but recessed storage for coats, boots and shoes.
15. Get your doorstep essentials in place
If you're looking for the simplest, easiest, small boot room ideas, it begins at the back door.
Ultimately, a coir mat for cleaning muddy boots and shoes; a basket for hats, scarves, gloves and dog leads; and a broom for sweep-ups can be all you need.
Interior designer Susie Watson also swears by an antique umbrella stand for keeping brollies and walking sticks in order. We love this ensemble by Garden Trading.
How do I get the most of a small boot room?
The key to getting the most of a small boot room is often the storage – with built-in systems that provide everything from hanging to drawer to shoe space included. Fitted small boot room furniture will help you make the most of every inch of space really efficiently, and it will look more streamlined, too.
For more guidance, see our what do you put in a boot room guide.
Sign up to the Homes & Gardens newsletter
Decor Ideas. Project Inspiration. Expert Advice. Delivered to your inbox.
Andrea has been immersed in the world of homes, interiors and lifestyle since her first job in journalism, on Ideal Home. She went from women's magazine Options to Frank. From there it was on to the launch of Red magazine, where she stayed for 10 years and became Assistant Editor. She then shifted into freelancing, and spent 14 years writing for everyone from The Telegraph to The Sunday Times, Livingetc, Stylist and Woman & Home. She was then offered the job as Editor on Country Homes & Interiors, and now combines that role with writing for sister title homesandgardens.com.