Front porch ideas – 14 ways to create a strong first impression
Create a strong first impression with our pick of the best front porch ideas for your home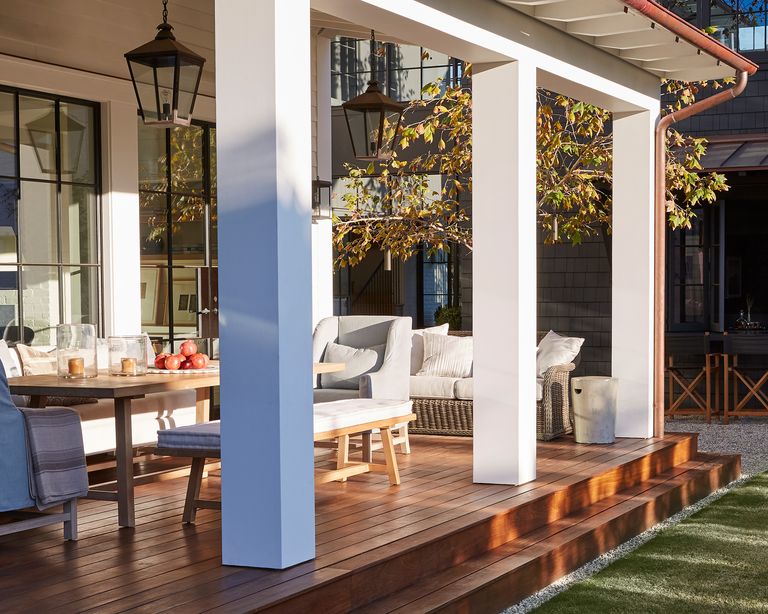 (Image credit: M.Elle Design)
Use these front porch ideas to turn your porch into an extension of your home, a place to relax in during the hot summer months and a haven of style and comfort.
Whether your porch is small and highlights the front door of your house, is a large extension of your home that wraps around the front or sides of your house, there are design tips and tricks that can enhance your space.
The porch has a fond following in most countries – Dutch settlers called it the 'stoop' and the Spanish named theirs 'portals'.
They epitomise indoor/outdoor living wherever you live and often have nostalgic roots that originated from communities from the past as they were seen as a social hub to catch up with the local news.
Today, they are used for all types of entertaining, be it a shared drink on an evening, an impromptu set from a local musician or a more organized event like Porchfest – an annual affair that is held across the US and Canada on front porches. They can also make a perfect extension of your garden ideas and make an elegant way to wine and dine your friends and families at the weekend.
Below we have curated some beautiful front porch ideas and designs for you to be inspired by...
Front porch ideas
1. Enhance your Victorian porch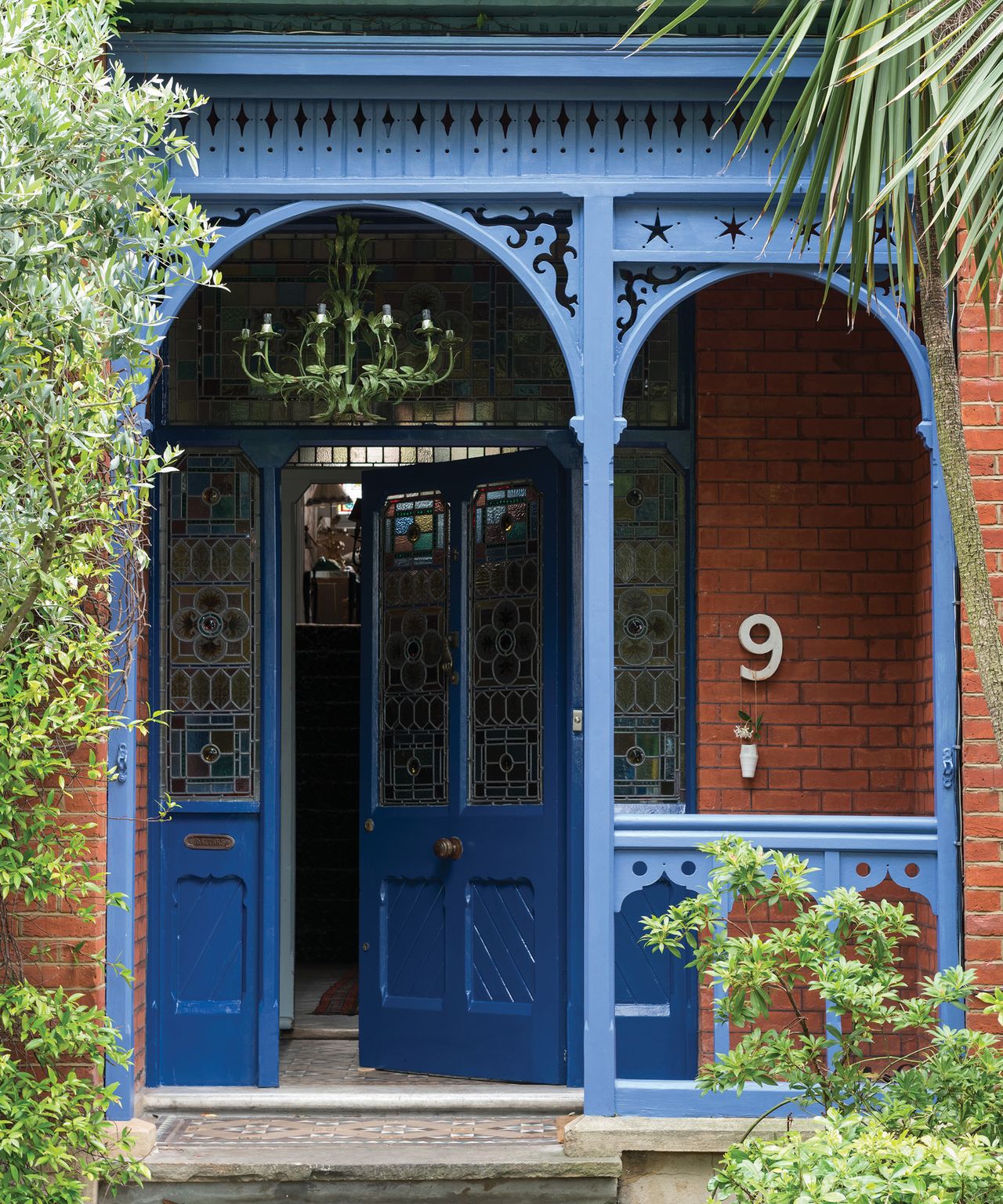 If you're lucky enough to have a traditional Victorian style porch complete with intricate gables then do keep it in tip top condition with a lick of paint.
'Your front door and surround is the perfect introduction to what lies beyond, consider elements such as the vernacular of the build and a palette that has empathy with the architecture.
If you're wondering how to decorate a front porch, one option is to carry the same front door color up and over the porch and other exterior wood elements for continuity – creating the simplest of decoration – this is also a great way to add scale to smaller doors.
Alternatively, work with colors that share the same undertone or several shades lighter or darker than one another – this again will create a considered look that is timeless and attractive,' says Patrick O'Donnell, Farrow & Ball Brand Ambassador.
2. Create a visual path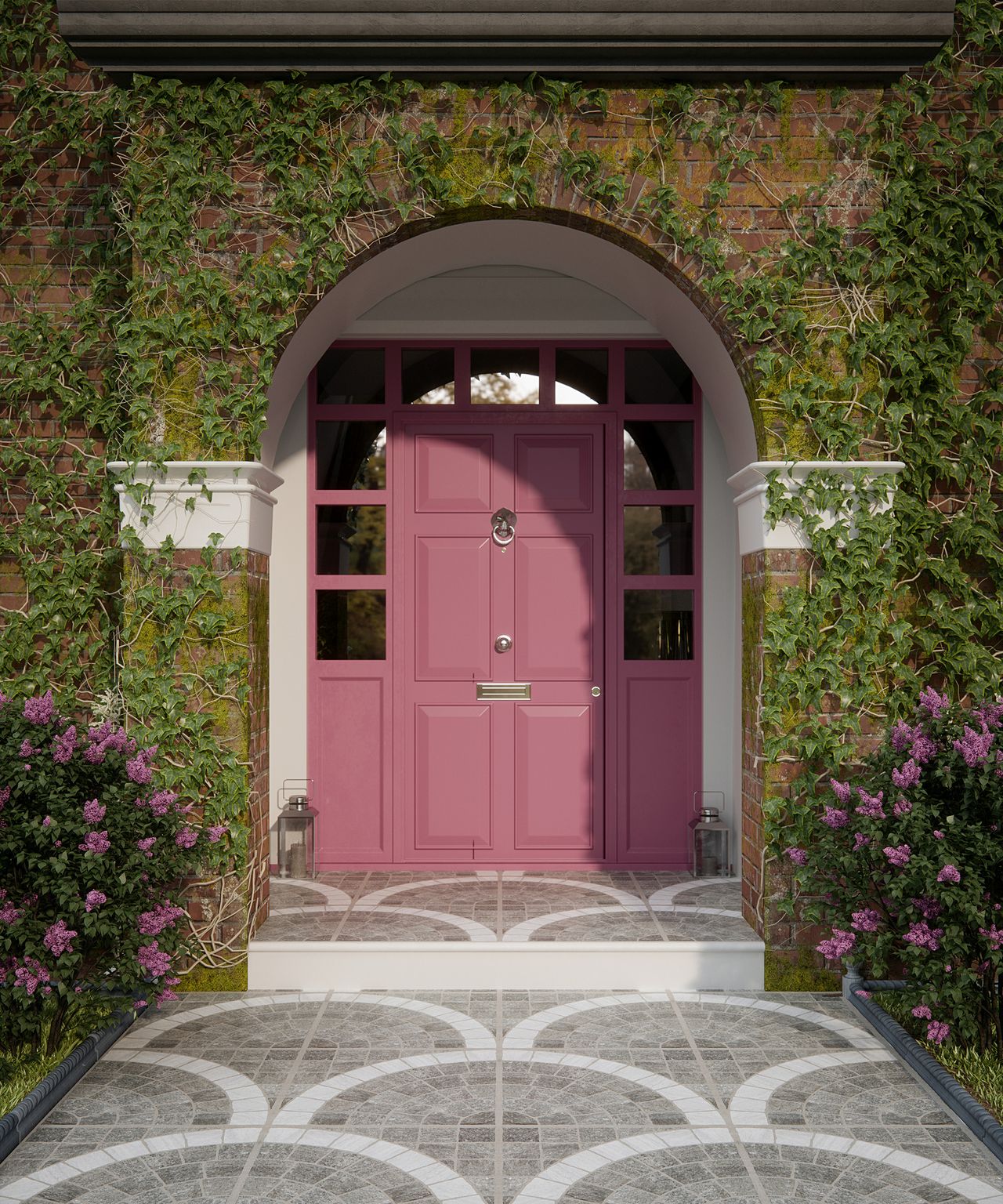 These beautiful stone tiles perfectly lead you up the path to this handsome porch and bold pink front door. They are inspired by the Sampietrini pavement found in the inspiring city streets of Italy and are made from thick porcelain so they will be hard-wearing for years to come.
3. In the detail
This is a good example of front porch design with traditional detailing, as the white gable addition frames the front and adds an aesthetic appeal. Keeping it white ties it in well with the white windows and door frame. Placing terracotta pots full of pretty blooms in front will add some bold color and extra interest.
4. Use intricate ironwork
This delightful traditional English porch has stunning intricate metalwork that is breathtakingly beautiful. Painted in classic black, the detailing stands out against the white paintwork perfectly and the symmetrical design aspect is replicated within the porch area by the two bay trees and planters with the result being a very stylish view.
5. Have a seat
Porches in the UK vary widely, they can be a stunning affair with metalwork and wooden gables, or they can be simple yet still beautiful like this front door with slight gable detailing and a small step up porch area. Yet it still looks grand and stylish, and who wouldn't like a lovely metal bench to sit on outside?
6. Create a room with a view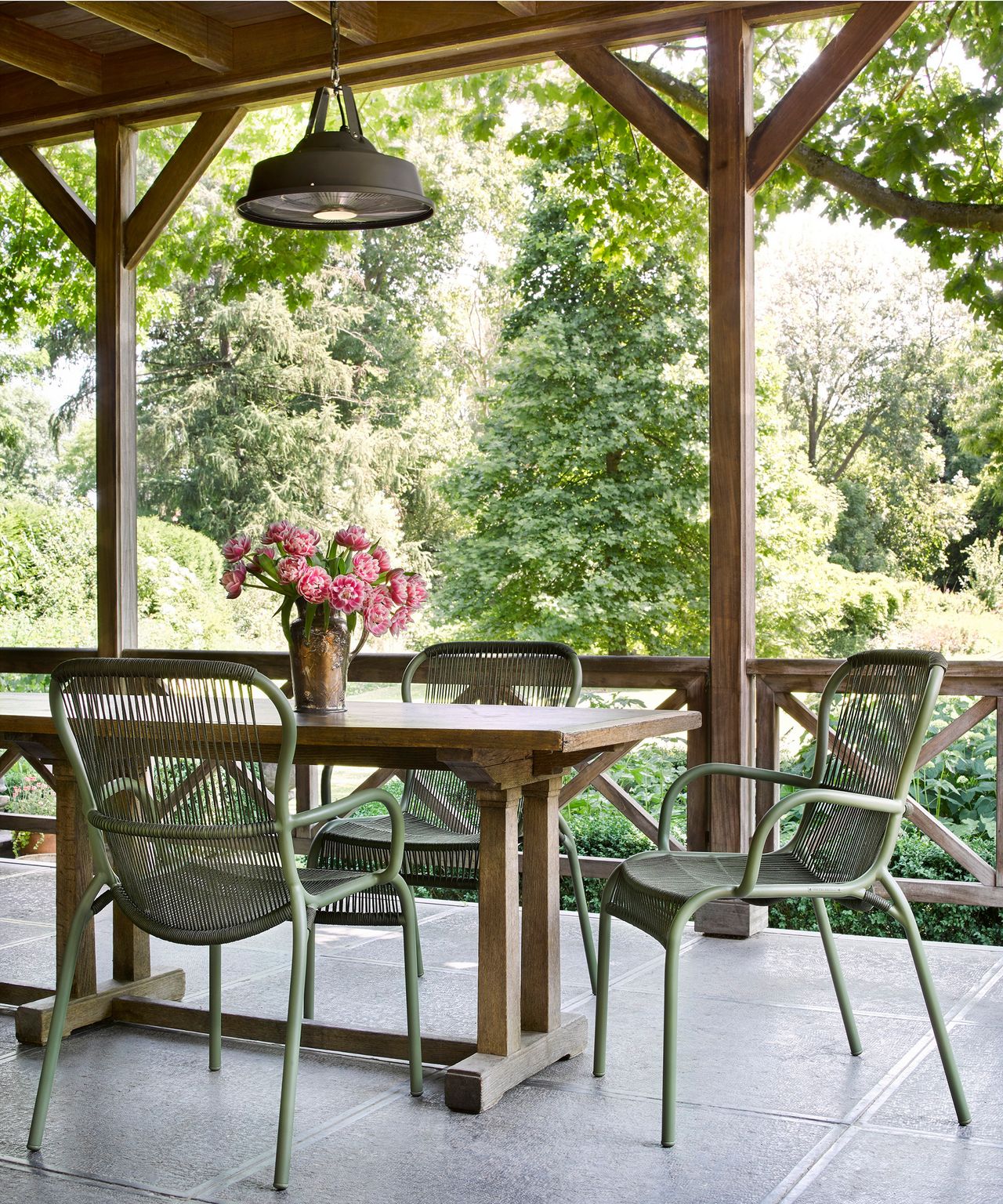 One of the main differences between British and American porches is the size. This porch nestled in the countryside is an extension of the home – rather how we would use a conservatory here in the UK.
Taking inspiration from backyard deck ideas, the timber frame visually links the porch to the solid wood dining table and the green chairs are the perfect shade that ties in with the stunning greens in the view.
7. Make it two tone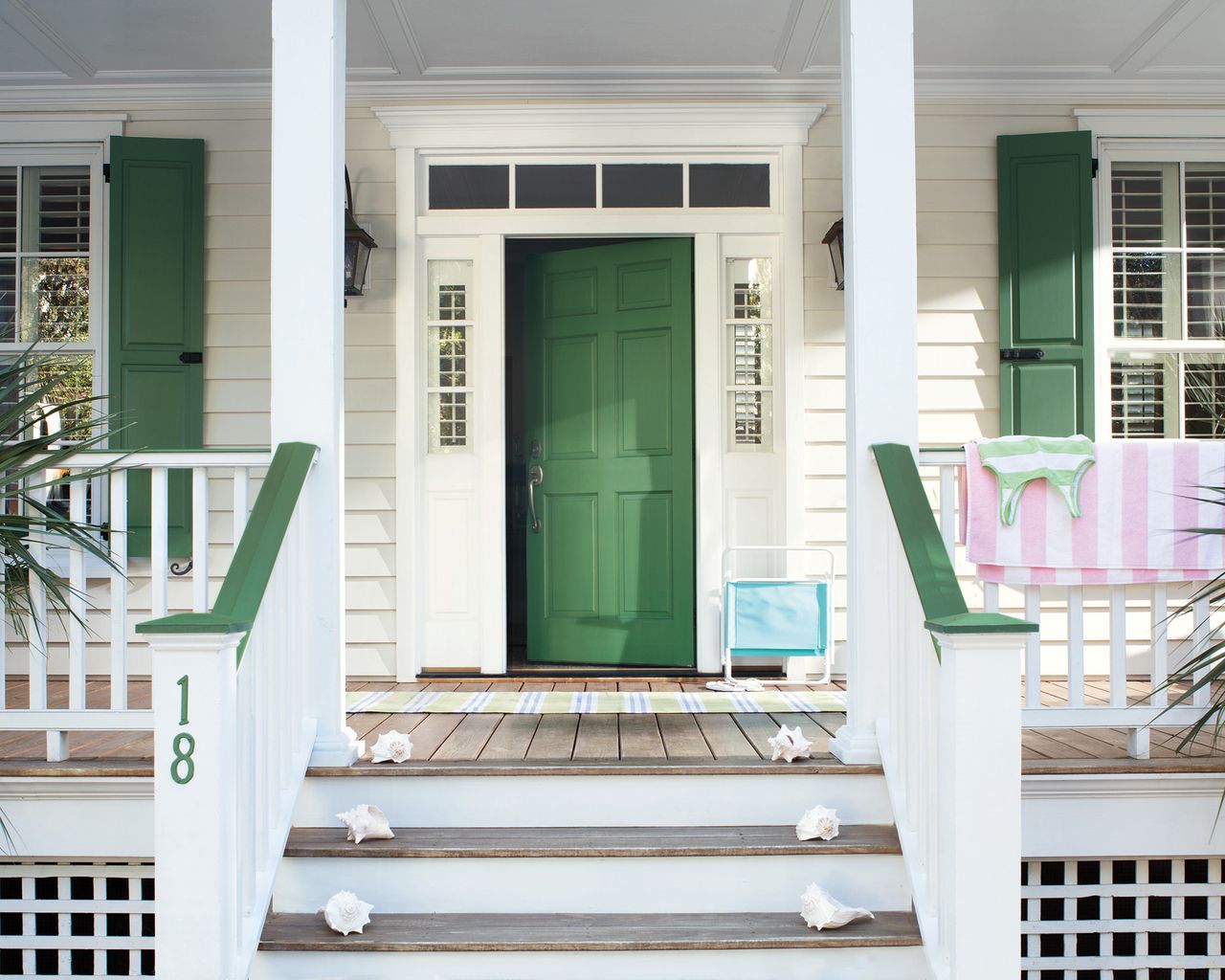 'The outside of our homes are often the poor relation to our interior decorating,' says Helen Shaw, Director at Benjamin Moore.
'Maintaining and refreshing your exterior masonry and woodwork not only protects the surfaces but it is a fantastic way of creating an impression, particularly if you embrace colour.
'Although the go-to paint is often a white or off white, choosing a bolder colour is a great way of creating a feature, especially if you have beautiful doors or windows in your property.'
8. Opt for a country style look
Create your own porch with a country element by using tongue and groove panelling, Lloyd Loom chairs and metal occasional furniture. The patterned tiles add a decorative element that creates a charming feel whilst being a key focal point to the overall scheme. Co-ordinate the tiles on your porch with your kitchen floor tile ideas to seamlessly blend your indoor and outdoor spaces.
9. Add an extra room
The beauty of a porch is that you really can create a relaxing, additional outdoor living room. Adding stylish and practical furniture is key – there's nothing nicer than sitting on a comfy couch with your legs tucked up under you with a cuppa and a favourite book.
If your space allows, then do consider a couch and coffee table – the rattan adds the most perfect texture to this wooden porch and you can set the scene by adding pots around them for color. Find inspiration in our guide to the best outdoor furniture or best Adirondack chairs.
10. Decorate with fresh greens and crisp whites
Choosing an accent colour to highlight certain key areas works really well when designing front porch ideas for the entrance to your home.
The bold green shade in the yard above looks great on the back wall and creates the ideal backdrop. The paler shade on the patterned cushions is a clever garden decor idea that adds a decorative aspect to the sofa, or you could ground a scheme by adding one of the best outdoor rugs in your chosen accent color. Crisp white and green has always been a classic combination that's fresh and stylish.
11. Incorporate outside dining
Designed by Marie Carson of M.Elle Design, this stunning porch oozes sophisticated style and comfort. A true extension of the interior, the neutral furniture looks fabulous on this cherry wood style decking.
'Porches remind us of a calmer, slower paced lifestyle,' says Marie. 'There is a romanticism about rocking in a chair watching the world go by. Make sure you have comfortable seating space and add planters and greenery.'
12. Combine styles
'A good Craftsman porch is a mix of the traditional and eclectic. Storied, warm, and inviting are words I associate with a welcoming front porch,' says Jamie Haller, Interior Designer at Jamie Haller. 'I like to bring the indoors out on a Craftsman porch, which is usually well covered.'
'An antique rug layered under traditional Adirondack chairs, fashioned with overstuffed pillows instead of outdoor cushions. A vintage marble side table is unexpected and used between them offering an inspiring place to put your glass. A drop leaf early century dinner table becomes an impromptu outdoor dining spot or a daytime work alternative.'
Much like the plants you would consider for patio ideas or balcony gardens, Jamie recommends using potted plants, or looking to the foliage around you, for some natural front porch decor: 'Using native flowers and branches cut from the tree act as a natural art in the space. Olive bushes are my favorite potted plant and offer moments of witness to the breeze. A porch should be a place of gathering and always offer a moment of escape.'
13. For small front porches, choose light colors
Emphasising the architectural details of a smaller porch with a crisp white shade works wonderfully, especially if you have features such as corbels, stonework and stucco. You can add interest to the space by choosing a different color for the door. A fresh blue or blush pink will brighten up a grey, urban street.
Genevieve Hurley, an interior designer who works in both London and Ireland, suggests painting the immediate surround of the door in the same shade. 'Visually it makes the door look wider,' she reveals.
14. Consider architectural features
The structural design of your porch may not be easily adaptable, but consider smaller changes. Speak to your architect about adding columns, railings or newel posts.
'If you have the ability to add a window to a covered porch area, then do so. It will provide much-needed light,' explains Nikki Rees.
Californian-based interior designer, Denise Maloney recommends adding wider, decorative columns in place of existing posts. 'It may sound counterintuitive, but it really does help elongate the space and give your eyes somewhere to land,' she says.
What is a front porch?
A front porch in England is very different to one in the US. British porches were more popular during the Victorian era and although smaller than their US counterparts, were beautiful and rather intricate affairs often with delicate looking ironwork decorating gables.
As well as indicating the main entrance of the house, they were designed to protect you from the inclement weather and more often that not where found on larger houses in wealthier areas.
These days in the UK they are less decorative and more practical - that place where you pop your coats and wellies after a long walk in the country and are often enclosed.
However, in the US, the front porch originates from the early 1900s and is more of an extension, an open room attached to the front of the house, for example. A front porch is very much part of neighbourly socialisation in small towns where people would visit their friends sitting on their front porches in the evenings.
What are the different types of porches?
There are several different types of porch as they cover a wide range of descriptions – balcony, sun porch and patio.
Large and with a roof, they are always found at the front of the house and are seen as an essential outdoor living space, some are screened in – due to insects and extreme weather - and essentially they provide shade and a place to relax in during the hot summer months.
A 'farmer's' porch is quite common and it is attached to a farmhouse-style home. It has a roof and railings and is the width of the entire house, making it large enough to accommodate family gatherings. Farmhouse-style front porch ideas often include furniture that can work both inside and out – a true extension of the interior.
How can I make a front porch look nice?
As a front porch is an extension of your home, it's important to decorate it so it feels like a room in your house, like you are simply stepping into another area in your home.
There are so many front porch ideas to choose from, but furniture is key and good comfy chairs are an essential part of the design. You can opt for outdoor styles that are made from wicker or choose classic wooden designs that will last for years. Don't forget to keep an eye out at antique fairs, unique pieces add character to a scheme whether it's for inside or out.
If the weather allows, add rugs layered up for a cosy feel during the cooler months or, if you are after a colder feel underfoot opt for tiles, they can also add a decorative and colorful feel to your porch.
Hanging baskets and potted plants will look great, you can tie in the colours so they match cushions or paintwork and why not frame your front door with a pair bay trees – a classic design choice.
Another great idea is to change your accessories seasonally, you could source bright cushions and throws for the summer months and swap them out for more muted fall tones when the seasons change, it will also prevent you from becoming bored with your look!
Create a welcoming glow with outdoor lighting ideas such as hanging wrought iron pendants overhead or placing candle lanterns on your steps so you can enjoy a cosy atmosphere after the sun goes down. Festoon lights and other outdoor string lighting ideas are another fabulous option and they can be strung up along the inner wall and ceiling for special occasions like Halloween, Thanksgiving and New Year.
What can I do with a small front porch?
Making your small porch into a functional, yet stylish addition to your home is key.
'Get the balance right, you need to make sure it feels open and spacious, but also allows for a practical space,' advises interior designer, Nikki Rees.
If you live in the country, an area for boot storage might be useful, whereas in urban areas your you might want to look into garden security lighting and how to make it work with the security lights on your porch. Speak to your architect or designer about the practical elements you need to consider before you start planning the decoration.
How do you decorate a small front porch?
'Keep it as open as possible – it will make the space feel larger,' says Nikki Rees.
Avoid fussy details and instead embrace symmetry with simple items placed around the front door. 'Whatever color you choose for your front door, opt for a high gloss finish,' advises Genevieve Hurley. 'Not only is it more hard-wearing, but it bounces light around, making your porch area look bigger.'
Choose lighting that enlarges the space and makes it feel more expansive. 'Use spotlights to highlight dark corners and open up your porch area,' explains Rohan Blacker from Pooky. 'By using a simple wall light to draw focus to feature elements, this will naturally give your space a larger feel,' adds Rohan.